Want to build a strong social media presence or strengthen your existing one? We've got tips to transform your social presence for the better … without going broke. Ever wondered how top brands have such a strong social media presence? They're easily recognizable, get mentioned frequently, and seem to just be everywhere you look.
But building a strong social media presence requires more than a big budget. In fact, it might not require one. But it does require time and focus. In this article, I'm going to show you how to build a strong social media presence organically, without spending a cent.
1. Be Consistent With Images
One of the biggest ways to build a strong social media presence is to adhere to your brand style guidelines. These should govern how your logo is displayed, your brand's color palette, and the style of images and text you use.
Huge corporations like McDonald's make this a priority online and offline, even with 38,000+ franchised restaurants around the world. It doesn't matter what country you're in, the logo and colors will look the same. The brand is so strong that they can do things like flip the iconic "M" arches to a "W" for International Women's Day.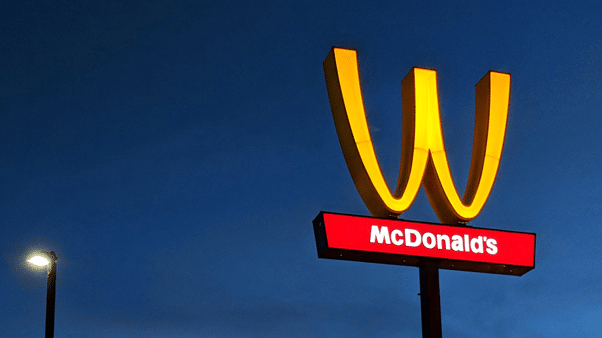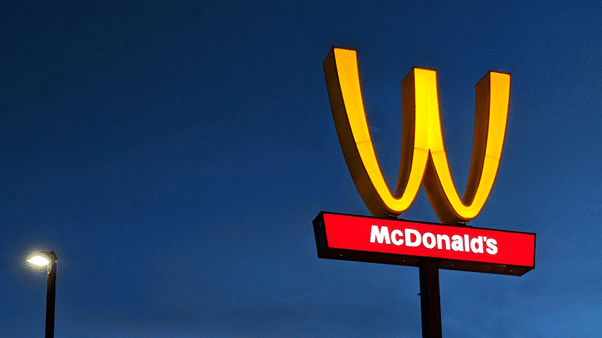 And display ads without the logo, simply listing their ingredients using their brand colors.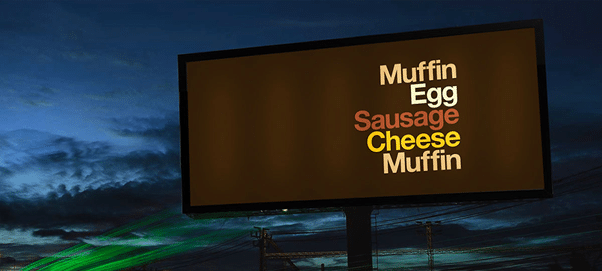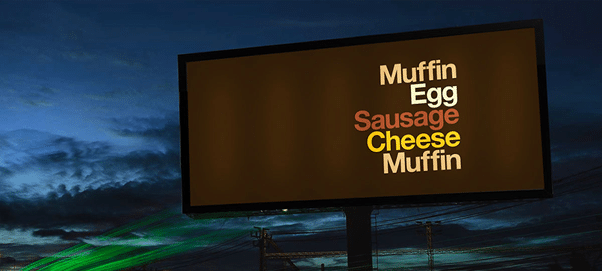 On social media, McDonald's image consistency remains strong with franchises adhering to the brand style guide and values.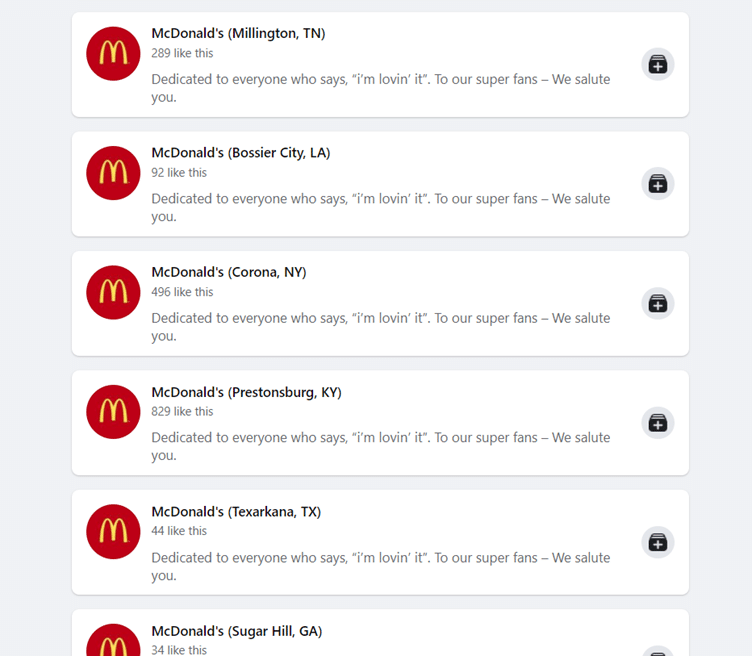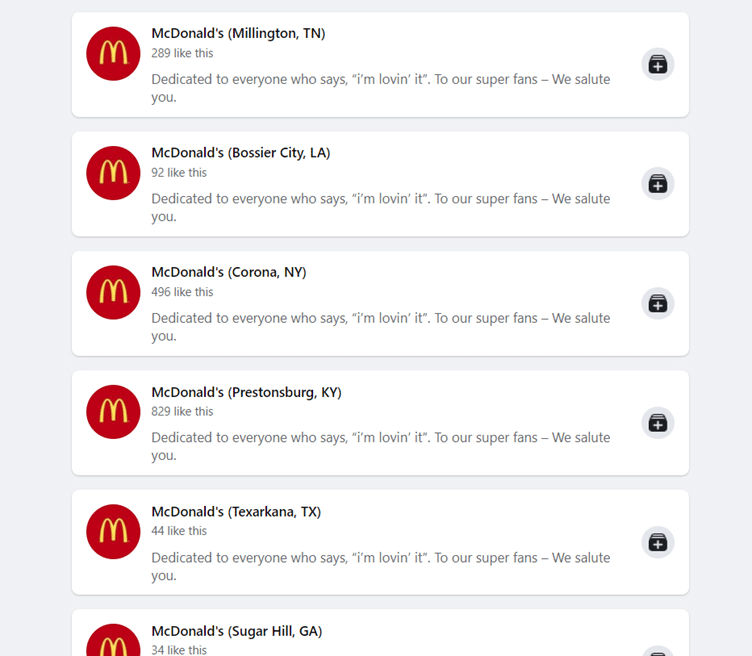 Brand consistency across channels is essential if you want to build a strong social media presence.
Mismatched logos, off palette images, and blurry or badly sized images all imprint confusion and can make you seem unprofessional or even fake.
The good news is, you don't need a full team of designers and photographers to stay on brand.
Here are some takeaways.
How to be consistent with images
Take one round of high-quality team photos. Hire a photographer for the day, explain to him /her that the images will be used on social media, and should adhere to your brand style guide. You can then use these images for years to come, and they will be consistent.
Save your brand values in Canva Teams. Canva teams are great for keeping everyone aligned with brand colors, styles, and sizes. It allows you to easily create social media images on the fly but remain on-brand.
Use the same filters. If you have a particular filter you like on Instagram, stick to it. Use the same fonts, lettering, and overlay, too.
Correctly size images. This is so important if you want to build a strong social media presence. Your designs should be sized correctly for each channel to avoid blurring or incorrect cropping of images that looks amateurish.
Provide image libraries for franchises. If you're working with franchises, partners, and affiliates, provide them with a library of correctly sized and on brand images for social media. If you don't, they will make their own. Trust me on this! Additionally, you should provide ongoing resources and updated images they can use throughout the year. For example, Independence Day, Black Friday Sales, and Halloween.
2. Develop a Multichannel Social Media Strategy
One of the reasons it can seem like big brands are everywhere, is that, in fact, they are everywhere.
Developing a multi-channel social media strategy is an important step in building a strong social media presence organically. But, we're not talking about copying and pasting your Facebook post over to Twitter, Instagram, and LinkedIn.
Today, there are multiple platforms available and each has a different audience. That means you need to tailor your content for each channel while maintaining a consistent brand voice.
For example, the channels of a brand might look like this:
If your brand voice and imagery are consistent, having a multichannel strategy will spread more brand awareness about your business. It will also improve the quantity and quality of conversions because you are tailoring content for the audience on each channel.
A great example of a brand winning the multi-channel social media game is ASOS. The online clothing retailer has nailed its brand voice and applies it uniquely across the various social channels.
That means fans on LinkedIn see posts about recruitment, ethical supply chains, and corporate responsibility.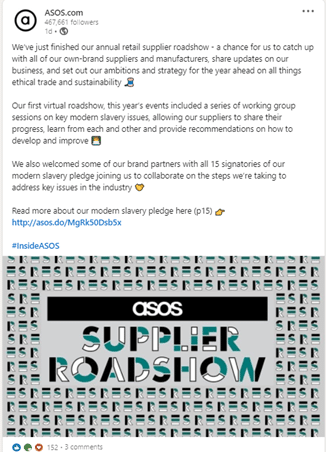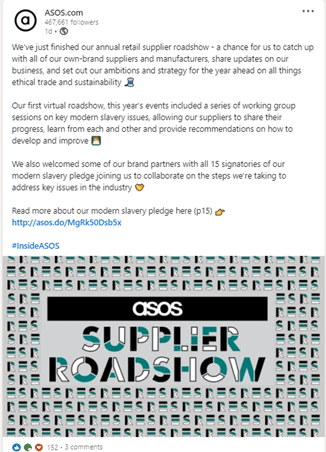 On Twitter, ASOS fans get GIFs, polls, and contests. They are especially known for their spontaneous flash sales or tag a friend contests that keep fans on their toes.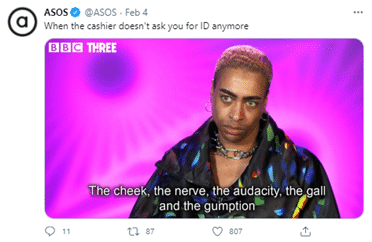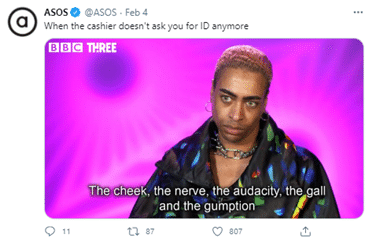 On Facebook, they're all about UGC (user-generated content), sharing funny fan tweets, popular memes, and Instagram posts. They rarely promote their products or discuss fashion or beauty trends.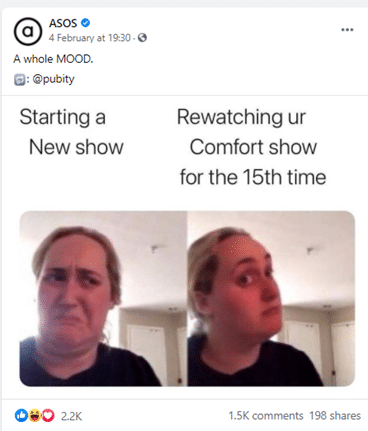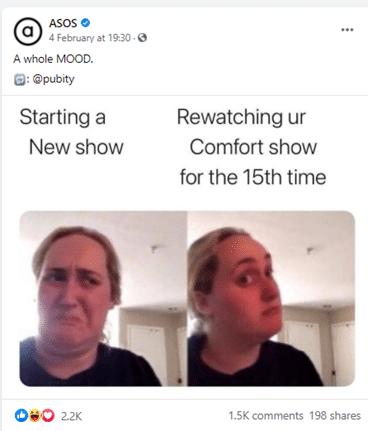 And on Instagram they're hardcore fashion-focused, featuring a diverse range of beauty and fashion influencers. This nails the fan base and the nature of Instagram, which is photo-based, fashion-focused, and now offers shopping through Instagram Checkout.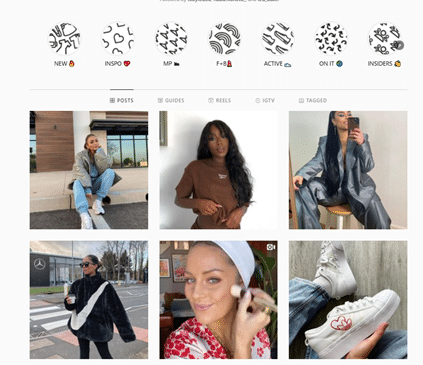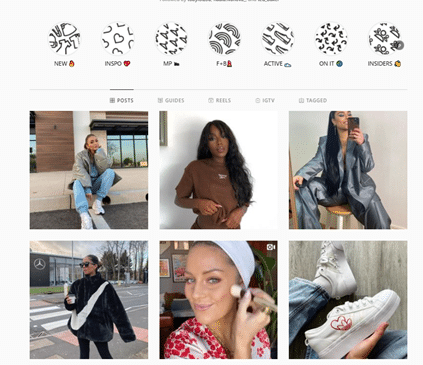 How to perfect your multichannel social media presence
Know your audience demographics for each channel. Understanding the type of posts that will work on each social media channel will take some research on your part. Once you know where your fans hang out and what is expected on each channel, you can document some rules in your social media strategy.
Decide on your customer support channel. Today 86% of fans expect a response from a brand within six hours. Having multiple channels is great, but you will need to support questions and complaints on each channel. Or you might decide to link to your live chat support from each social media channel.
Use the right images for each channel. In addition to sizing images correctly for each channel, you should also decide on the type of images you will use. For example, photos and videos on Instagram, memes, and screenshots on Facebook and JPEGs, infographics, and Slideshares on LinkedIn. You don't have to be rigid with this, but it helps to have a clear direction for each channel.
Schedule your posts. You will need to use an advanced social media calendar like the one from Agorapulse to help you plan content for multiple channels. A calendar allows you to repeat posts on channels like LinkedIn. To time your posts for maximum engagement on each channel and avoid repetition across channels. Running a busy marketing agency like Contentworks, this tool is essential for planning.

Dismiss channels if they don't fit. Many businesses make the mistake of thinking they must be everywhere. While I advise brands to obtain their username or handle on all social media channels to protect their brand, I don't advise them to be active everywhere. For example, most fashion brands targeting Gen X, Millennials, and Gen Z will be on Facebook, Instagram, LinkedIn, and possibly TikTok. They don't have to be on Twitter, Pinterest, Clubhouse, Tumblr, and YouTube as well. Remember, if you're on lots of channels, you will need lots of resources. Be brave and dismiss channels that don't work for you. Look at Apple on Twitter. 7.3 million followers and not a single tweet or reply.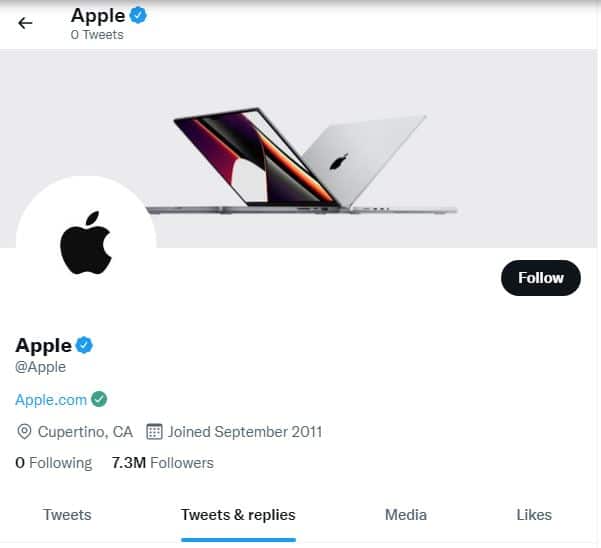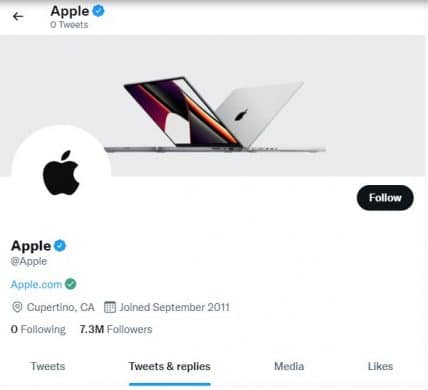 3. Build Community, Not Just Followers
Many brands get hung up on follower metrics. But, having 100K followers is meaningless if they're not engaging with you.
Building a strong global community is key to having a strong social media presence. It means you're being talked about, mentioned, and referenced, so your brand name will be prominent across social media platforms.
How to build community on social media
Create a branded hashtag to draw conversation and get noticed on your social media channel. Hashtags are particularly effective on Twitter and Instagram, and can be divided into three types: brand hashtag, product hashtag, and community hashtag. GoPro has always been focused on building a strong community, which in turn delivers jaw-dropping UGC. Using hashtag #mygopro across its channels, the brand builds a strong community and stands out. Want to see just how powerful that is? Check out the number of posts using that hashtag on Instagram alone.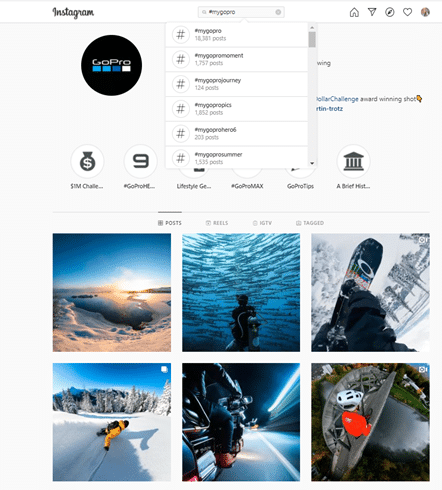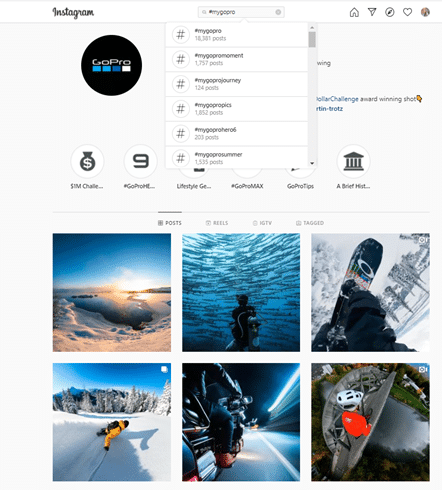 Always @mention people you reference in your social media posts or blog articles. If you hosted some great guests on your podcast or featured UGC on your Instagram, be sure to tag and thank them. Check out this great UGC example from Boohoo.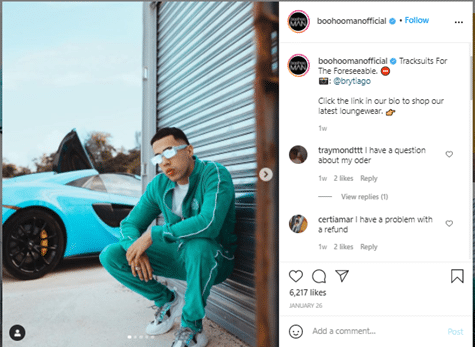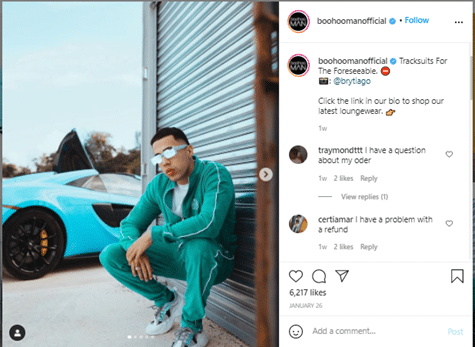 Don't be promotional all the time, instead focus on your fans, their wellbeing, their likes, and their dislikes. 73% of consumers cite customer experience as an important factor in their purchasing decisions and 79% say that UGC highly impacts their purchasing decisions. In other words, building community and a strong social media presence will boost your sales.
Answer questions from social media fans to show you're listening and able to provide help. If it's a good question, why not share it so others can see the answer? 80% of users search Instagram for information on a product or business. Even more revealing, 78% favor businesses that are more active on Instagram than businesses that are inactive.
Create a group where your fans can chat, swap tips, and make friends. This is an especially popular way to build community, maintain a strong social media presence and create brand advocates. Additionally, brands can nominate admins to manage the groups free of charge taking their weight off their own social media managers.
If you want to see how other busy social media managers are keeping up on all their social media accounts without going bananas, check out how Oh So Social rocked the shared calendar for its growing company.
4. Piggyback on What's Trending
There is so much scope for brands to build a strong social media presence organically by piggybacking on trending news. Breaking news, trending memes, and hashtag campaigns open tons of opportunities to build brand buzz.
But you should also exert caution.
Serious campaign hashtags, tragedies, and disasters or off-brand hashtags should generally be avoided unless you can genuinely contribute something positive.
How to piggyback on what's trending
Share relevant news and ask your fans to comment. This is a good strategy to build a strong community if the topic is relevant to your page or group. For example, new legislation on paternal leave would be a good discussion point on a parenting group.
Join trending challenges on Tiktok or duet with another brand. This is a fun way to stay relevant and build a strong social media presence. Learn more about TikTok marketing.
Check Twitter for daily trends that you could use in your content. Be sure to understand the meaning of the hashtag before you use it. For example, looking at today's trends, I could use #Dogetothemoon for a finance brand as it references cryptocurrency DogeCoin. But I would not use any others as they are not relevant.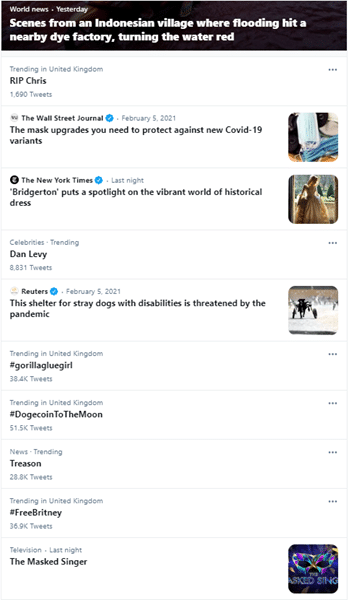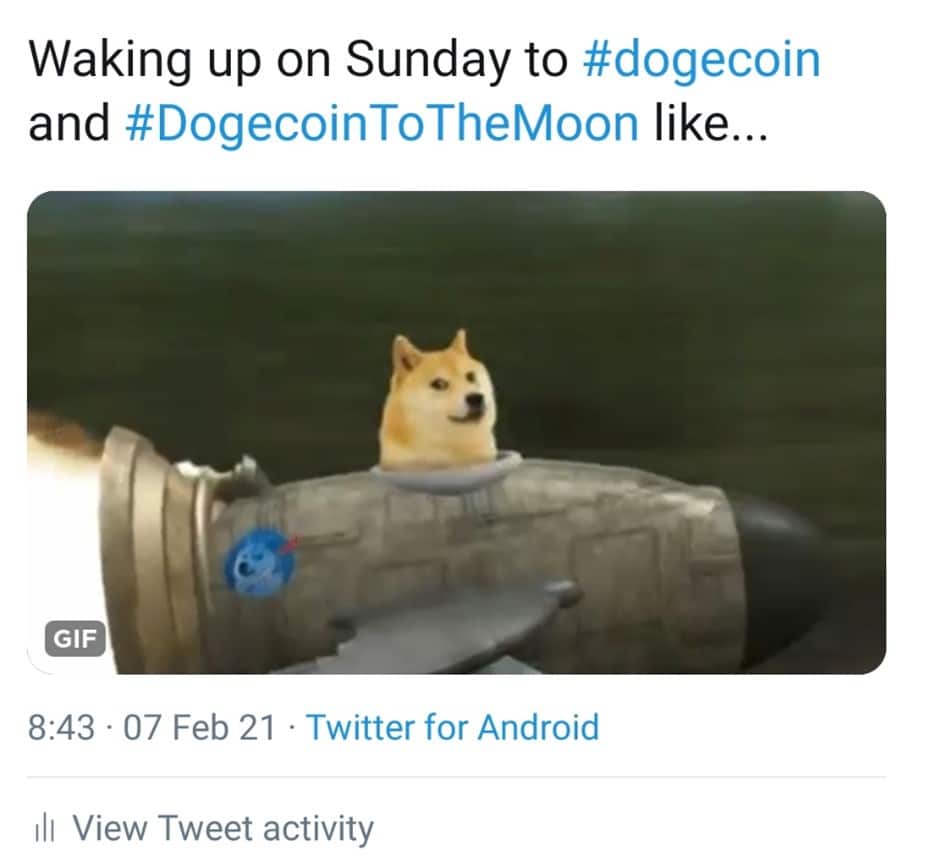 Using a hashtag if it's relevant, you really mean it, and can back up your involvement is a great way to piggyback on a trend. But be careful. Using a hashtag that's sensitive or emotive can backfire. Kenneth Cole used the trending hashtag #Cairo during the Egyptian Revolution alongside a promotional message about the brand's new stock. No. Just no.
Bonus Tips for Building a Strong Social Media Presence
What else can you do to make sure your brand is searchable and strong on social media?
Here are some more tips:
Post frequently. Set a schedule for each social media channel and stick to it. Too many posts or too few posts can lose you followers and mean your brand is not easily discoverable.
Use keywords. Using brand and product keywords in your social media posts can help build a strong social media presence by boosting your SEO (search engine optimization). Keywords can be used in your posts and profile bio but avoid overstuffing. Great content should always be human!
Team up with micro-influencers. Teaming up with micro-influencers, your top fans, or local businesses is a great way to build up your social media presence. You will gain exposure to a whole new set of relevant and engaged fans.
Ask engaging questions. Asking engaging questions or starting discussions are great ways to build a strong presence. When your fans comment on posts it will draw in other users and help to grow your community.
Link to social media from PRs. Traditionally, press releases link back to blogs or landing pages, but you can also try linking to social media. If your article is about a new product launch, link to the shoppable post on Instagram, for example
Listen for brand mentions. Using listening tools like Agorapulse, you can listen for brand mentions and insert yourself into conversations.
Incentivize engagement. Incentivizing social media engagement with a contest, caption competition, or tag a friend is a great way to build community. You can give away products, a discount or a free service. You could also give users exclusive access to a new product.
Get started on saving time and energy on your own social media management! Check out our free trial of Agorapulse to help you schedule, track, and measure all your social media efforts.