With Agorapulse's new TikTok integration, you can schedule content, publish TikToks on other channels, manage comments, and get Power reports that include your TikTok channel. Let's walk through how to use Agorapulse for TikTok.
Why Do We Care About TikTok?
The app is rapidly approaching Facebook and Instagram for popularity. TikTok users on average spend 26 hours a month on the app and open it 8X times per day. In turn, marketers are seeing great results with the platform.
Higher organic engagement on TikTok means more fans, more interactions, more web traffic, and a higher social media ROI. TikTok's average engagement rate is 10.53%. For reference, Instagram is 0.96%, Facebook is 0.38% and Twitter is just 0.08%. Seasoned marketers are also growing tired of the old networks which, in addition to poor engagement, also provide poor customer support, low value advertising and an aging (perhaps off-target) demographic. TikTok is fun, fresh, and offers a chance for marketers to reinvent themselves.
For example, this @contentworks TikTok channel features client problems, agency chat, and behind-the-scenes antics.
What You Can Do With Agorapulse's TikTok Integration
I've been experimenting with the TikTok Agorapulse integration. Here are some quick-fire takeaways to save you time:
Can you connect your personal TikTok Account?
Only TikTok Business accounts can be connected to Agorapulse. If your TikTok account is not a business account, visit this TikTok article to learn how to change it. If your TikTok account is for a business then it's a good idea to switch, as there's no risk of litigation if you're a business using the TikTok sound library. It's free to switch to a business account.
Can you add multiple TikTok accounts?
Yes, you can if you're on a subscription plan that has space for more social media profiles. When you add another TikTok account, select Switch Account and log into each TikTok account to connect them. To check which plan you're on, you can visit the Organization settings > Subscription menu.
Can you personalize the thumbnail of the video?
No, this can only be done from within TikTok's API. If you're sharing a TikTok video to other channels, you can upload a thumbnail or a gif and add the video link in the captions.
Can you add filters?
No, this can only be done within TikTok's API. The same applies to overlay text, voiceovers, Duets and greenscreen.
Can you permit Duets?
Yes, Duets are automatically enabled when you upload a video, and so are Stitches. You can disable them before you hit post if you don't want it (more on that later).
Can you perform social listening?
At the moment, no. TikTok and LinkedIn are the two channels that do not provide access within your Agorapulse panel.
Can you manage and reply to comments?
Yes, with Agorapulse connected to your TikTok account, you can reply to comments in the same place as your other connected profiles. This excludes Direct Messages. You can also assign comments the way you do in other channels.
Can you publish your TikTok videos to other channels?
Using the advanced Agorapulse content calendar, you can save the TikTok video to your asset library and share it to your other channels later or upload from your desktop or phone.
Can you include TikTok in your Power Reports?
Yes, TikTok can be included in individual or aggregated Power Reports. Power Reports are a must-have for showcasing results and proving the social media ROI of your efforts. This applies whether you're a social media manager or a marketing agency.
Want to learn more about TikTok marketing? The TikTok blog library covers all the essentials. Now, we can dig deeper into how TikTok looks in the Agorapulse platform.
Free Ebook: How to Launch a Brand on TikTok
Add TikTok to Your Agorapulse Panel
First, you should add your TikTok Business account to Agorapulse. To do this, click the '+' icon in the bottom left of your screen and select Add a social profile. On the main Connect page, you will see the new option for TikTok Business account.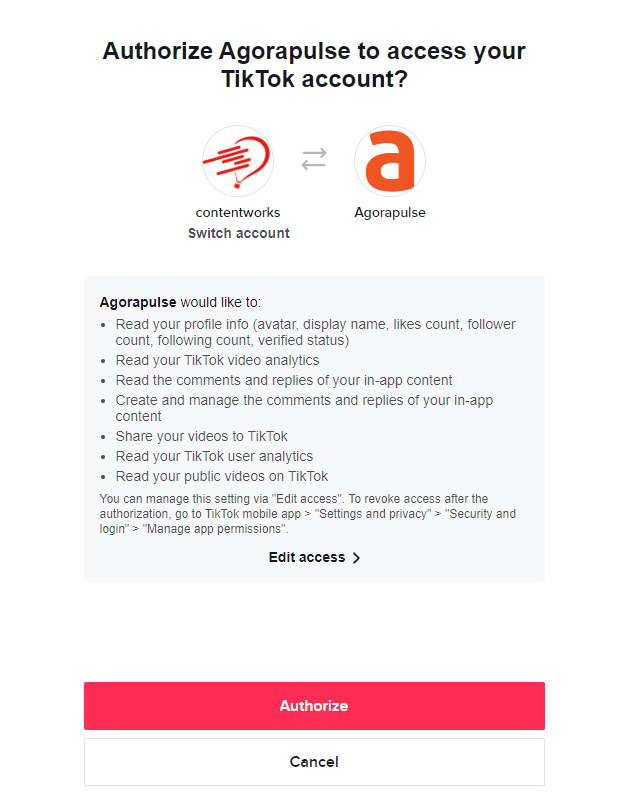 Once you tap that + you can authorize your TikTok account by logging into it. If you're logged into the wrong account, as I always am, you can just switch accounts and add the login credentials of the one you want to add.
TikTok tip: If you want all your channels grouped together, you can move them around in your dashboard in Settings/Organizational Settings/ Menu Groups. There you can drag and drop your profiles into the order you want them.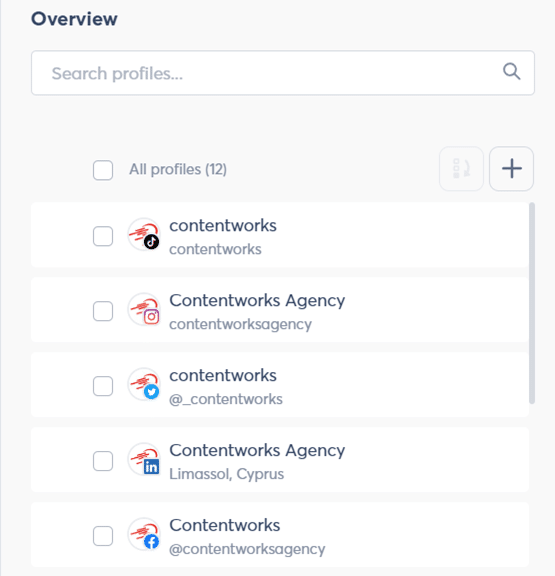 Remember to Add Your Social Media Dream Team
When you add a new social media profile to your Agorapulse dashboard, don't forget to add your team members! Each social media channel can include the team members you want and you can also adjust their permissions. This is a great feature for companies with a social media manager and community manager. One will upload and manage the content creation, and the other will handle comments. For a marketing agency like ours, we only put team members directly handling the account as Admins. An Admin role can publish content, perform listening searches, and produce reports.
How to Publish TikTok Videos from Agorapulse
Publishing a video to TikTok can be done from your desktop or mobile Agorapulse app.


To publish a video from Agorapulse to TikTok, open your calendar and choose the date and time you want to post on. Select TikTok from the left-hand profile list then write your caption and upload your video.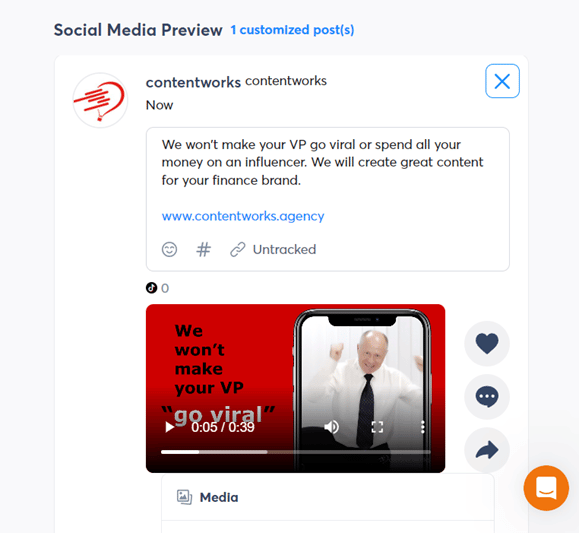 Remember that Comments, Stitches and Duets are automatically enabled the same as they are in the TikTok app. If you don't want them, just click on the pencil icon to customize your post and switch the toggles off.
Note: You will limit your own engagement and reach if you don't allow other TikTok users to interact with your brand!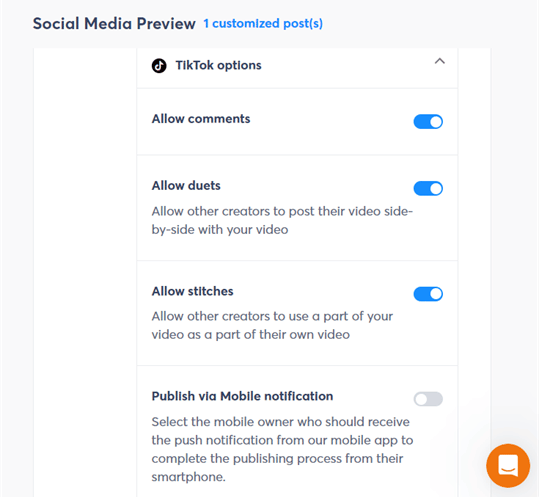 Related reading: Power Up Your TikTok Marketing Right Now
TikTok tip: Create a TikTok Video Library. A marketer's phone is full to the brim with videos that we can never locate when we actually want them. If you've created some fun videos, create a TikTok folder, and upload them to your content library. That way you can find and add them to posts later. Sharing your TikToks to other channels isn't the right route for all brands, but doing so can import more fans to follow your TikTok channel. This is especially true if your TikTok content is unique.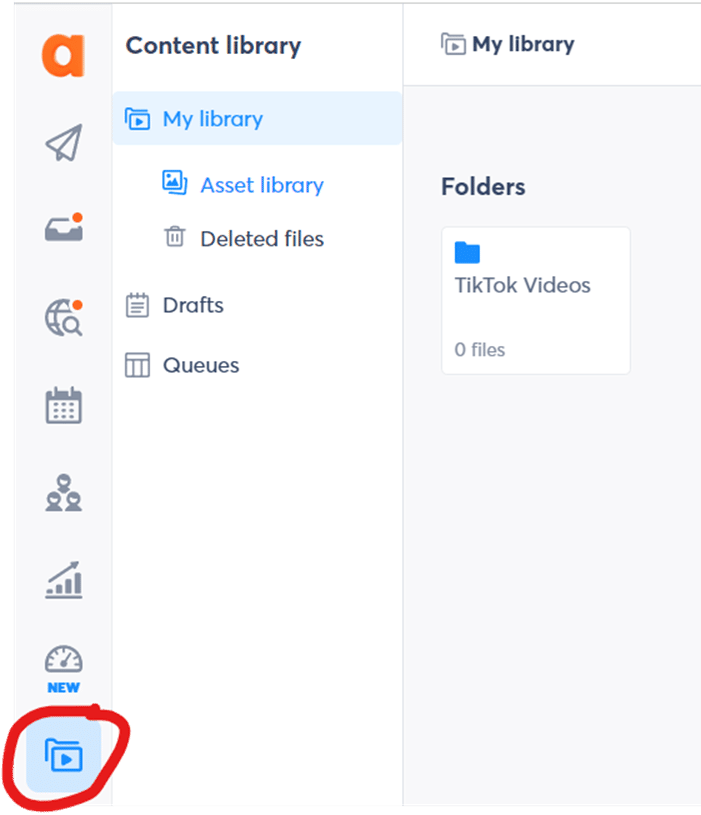 Quick Stats About TikTok
With Agorapulse, just click on a published TikTok to see the stats. There's no need to pull any reports or set parameters. These stats echo the ones available within the TikTok app so you can get them here without having to open it and poke around on each video.
You can see from the video below that we have an 18.4% completion rate on the video. That means despite only being 30 seconds long, 81.6% of people didn't watch it till the end. However, the video got 303 views, which is great given that our fan count on this channel is under 1K. We have had similar views on our Facebook page, which has 31L fans. The important thing here is that you can easily see and interpret your TikTok data. This is great for improving future videos and benchmarking progress.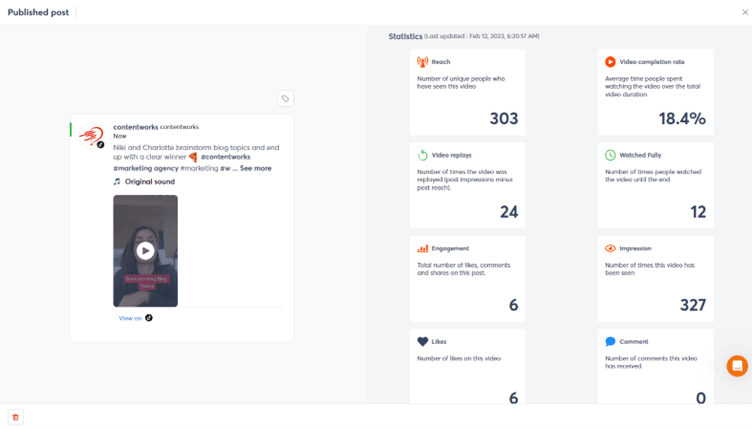 Related reading: How to Go Live on TikTok
Social Media Inbox
With Agorapulse, you can see all your TikTok video comments in one place. You can review them, assign them, mark them as done, and reply to them there, too. The comments load in real time, so you won't miss out on the chance to engage with your fans while they are online.
The only thing that isn't available yet (due to TikTok's API limitations) is Direct Messages and Listening. With Facebook, Twitter and Instagram, you can monitor brand mentions across the platform, but with TikTok and LinkedIn you cannot. Additionally, with Facebook, you can connect your Ad account to Agorapulse but as yet we can't do this. The social media landscape moves fast though, so that might change soon.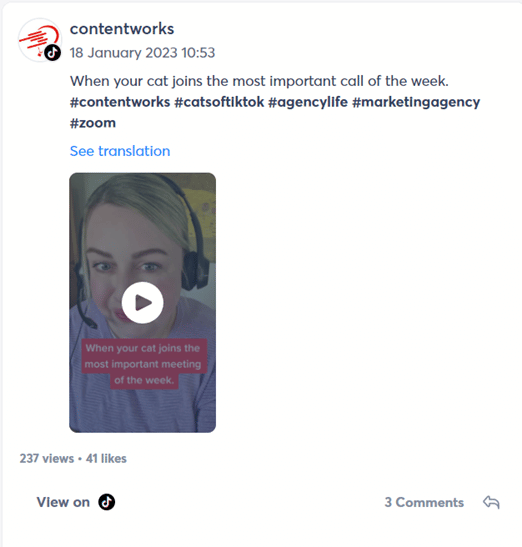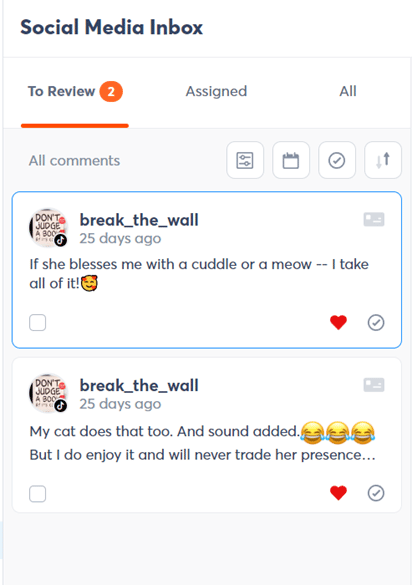 Power Reports & TikTok: The Dream Team
I make no secret of the fact that Power Reports is one of my favorite features at Agorapulse. Running a busy marketing agency means that the ability to generate in-depth reports on content, engagement, comments, and audience demographic is a win. This stuff takes hours to accurately collate manually. And if you're creating reports for multiple channels then it can take a whole day.
You can generate individual reports for your TikTok Business accounts. TikTok accounts can also be added to aggregated reports (in the Power Reports feature).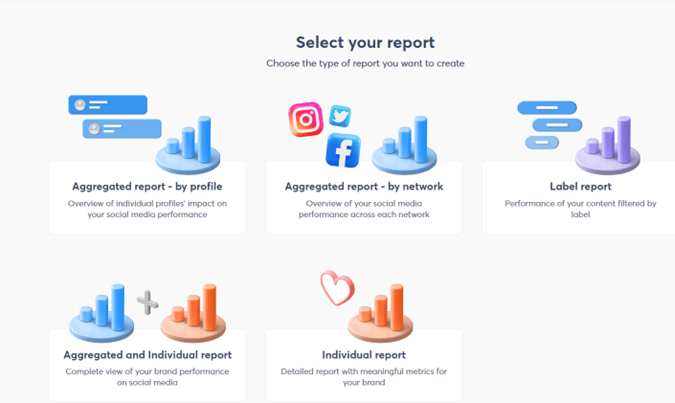 What Power Reports Look Like with the New TikTok Integration
First you can see an immediate report on your audience, content and community management. The audience tab tells you your follower count, average engagement and impressions. It also tells you your audience demographic region and popular online hours.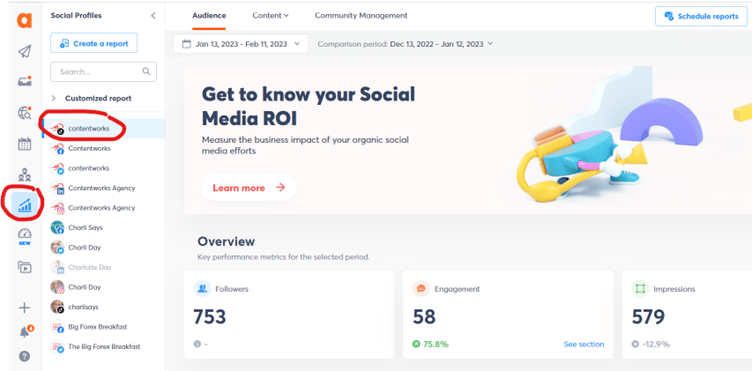 If you hit the Content tab, you can get an overview or deep dive into your content performance. If you're publishing a lot of videos, this is helpful for "at a glance" comparisons.

And lastly, there is the community management tab, which shows you how many replies you sent and the time it took you to respond. As you can see, we took 33 hours and 26 minutes to respond. But (upcoming disclaimer!) that was before we added TikTok to the Agorapulse app. Now we can respond in real time and bring that number right down!
But there's more in the reporting department for you to try! Click on Create a Report, and you will be entering Power Reports territory. Here you can create your report in a variety of formats from single channel through to aggregated or both if you want a really in-depth report.
Let's compare TikTok with Facebook for the same period of time in an Aggregated Report by Network.
Here's our top Facebook content for that period.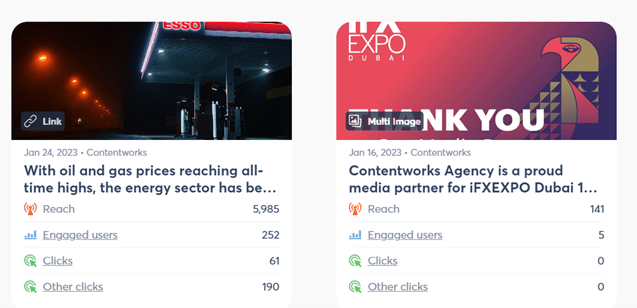 And here is TikTok.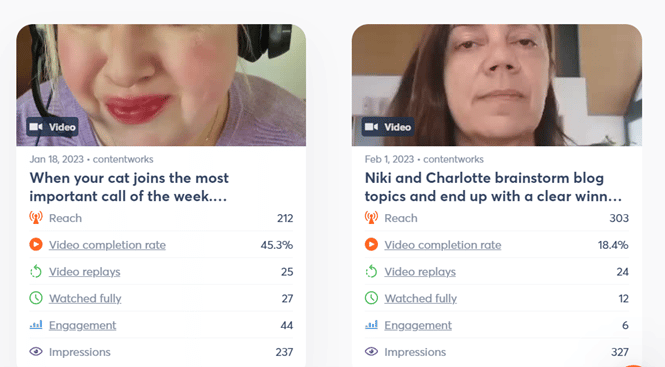 You can make comparisons between the two channels with aggregated reports but do also consider:
The type of content you post
What time you post
Your fan count
Your audience demographics
Also note that the aggregated report looks different on each network, due to the stats available and whether it's a video or static post with a link.
You could also add other social media channels to the report. We will usually do this when we send a report to our clients. That way, they can view the content and analysis for all their channels in the same place. The addition of TikTok to the Agorapulse dashboard completes the report!

In Conclusion
Having TikTok on Agorapulse is about to make your life a lot easier for replies, comments, scheduling, and reports. And the feature has everyone's attention.
Sign up for a FREE demo to see what Agorapulse can do for your TikTok marketing.