[[updated March 30, 2018]]
Dear Rivka,
I am a social media manager who handles up to 23 different Twitter accounts at any given time, and I feel like I am at the end of my rope. There is so much happening all the time that it seems impossible to keep up! Can you help?
Sincerely,
A frustrated social media manager
Okay, I haven't ever gotten that exact email, but I have gotten many like it.
In fact, I could have written it at one point in time.
The good news in all this is that there are specific things that you can do to make managing multiple Twitter accounts easier, and dare we say – even fun! So here are some tips that will help you defeat the overwhelm monster and start seeing Twitter as a productive use of your time again.
Monitor Multiple Twitter Accounts
Make A Plan
Establish a plan of what to do when you manage your various Twitter accounts. From most important to least important, make sure you are doing the following:
Respond to mentions
Make sure you have content scheduled to go out throughout the day
Monitor keywords and hashtags that are important to your brand
Check direct messages (DMs) and respond as needed
Use any relevant trending hashtags to get higher views
Welcome and review new followers
One of the mistakes that new social media managers make when managing multiple Twitter accounts is trying to log in and out from each account in order to manage it. This is where social media management tools come in.
You can use something free (for now), like TweetDeck, as a good starting point. However, if you are managing 23 different accounts, it is definitely time for something more powerful.
For example, a social media management tool like Agorapulse provides you with a single unified dashboard where you can monitor all the incoming direct messages and mentions, reply to them, and more.

Utilize Evergreen Content
Another challenge in managing multiple Twitter accounts is how to keep the flow of tweets going.
This is also something that a tool like Agorapulse can help with. Rather than just scheduling content once, and having to come up with new content constantly, put some thought into how you may be able to use evergreen content as a part of your strategy. Your blog posts, popular quotes, or testimonials from your clients or customers are all the type of thing that can be shared more than once.
In Agorapulse, you can do this through scheduling tool when you turn on the function to repeat the post. One thing that is critical in order to get this to work for you is to take the time to schedule enough content that it will still feel fresh and new. You don't want to repeat the same three tweets over and over again!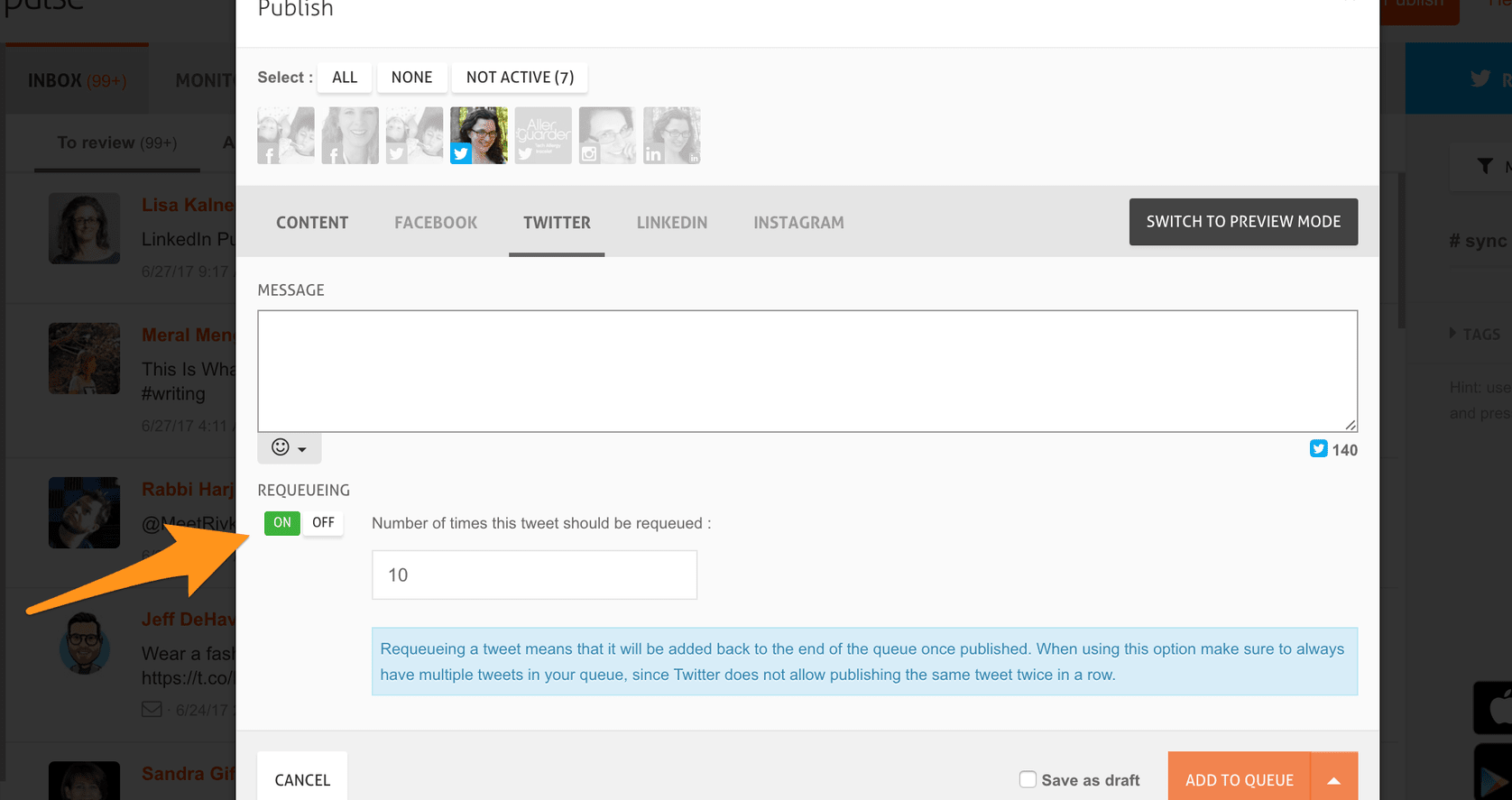 Once you've got a good amount of evergreen content, or the mood hit you to nail out 40 tweets in single sitting and bulk upload them in a spreadsheet, you can ahead and start to organize and strategize how these will be pushed out. This is where publishing categories comes into play. You can create individualized queues of evergreen content for each topic that is relevant of that brand, and set a posting frequency for it.
Catch Important Keywords
One of Twitter's strengths as a platform is to help you to discover new information using keywords and hashtags. This can also give you powerful insight about your brand and how other people are talking about it online.
There is just one catch. This information only does you any good if you find it.
The first step is creating a list of keywords or hashtags that you want to monitor Twitter for. You might start with things like:
your business name
your product or service name(s)
key words that your ideal customer may search for
relevant hashtags that are used often for your type of product
searches for your competitors name or products
hashtags used for the pain point or frustration that your product or service solves
Now you can start by searching Twitter every day for all these terms. Or, you can let your social media management tool do it for you.
In Agorapulse this is available under the "monitoring" tab on your main dashboard. Simply set up rules for Agorapulse about what you want to keep a look out for on Twitter, and then what to do with that type of content when it is found. Taking the time to set up good automation rules could save you a few hours a week for every single Twitter account you manage!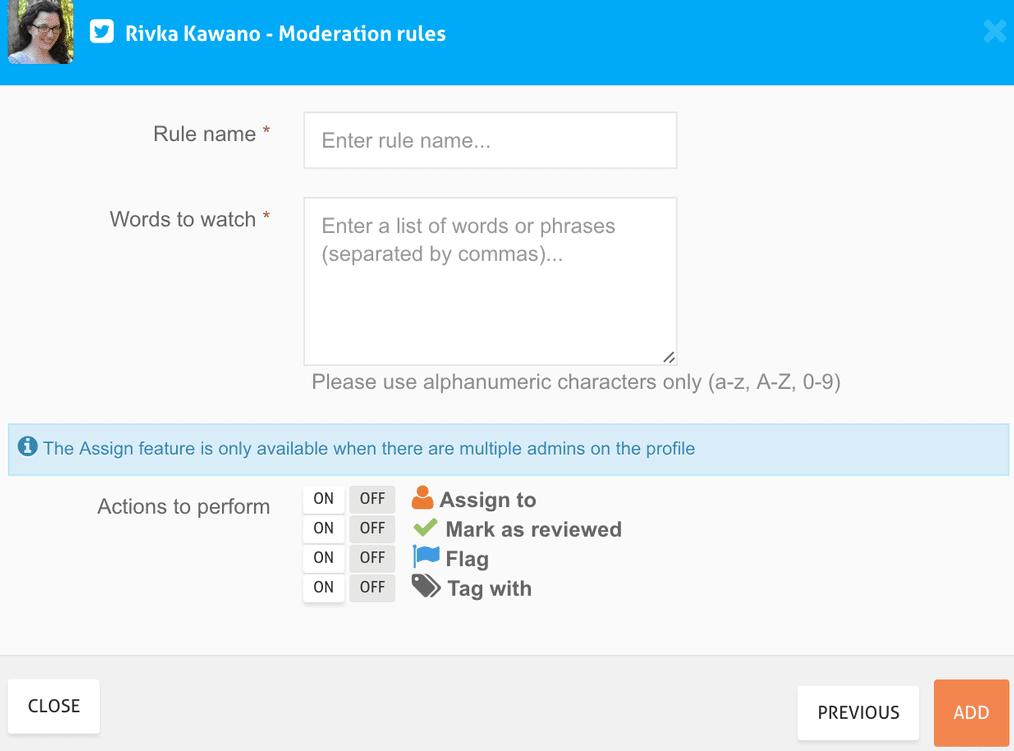 Delegate to Your Team
You might have noticed in the automation rules option above that one of the choices was "Assign to." When you are managing multiple Twitter accounts, it is important to be able to know when and how to get support to give your customers the best possible service. Agorapulse makes this especially easy by allowing you to assign messages to a particular person. You can even include a note about what needs to be done to follow up.
If you are an individual freelancer you can add your clients to their own accounts for an easy way to pass on messages and comments that they need to personally handle. Or if you work in an agency or small team it can help with coordination between members of your group.
Are You Managing Multiple Twitter Accounts?
How many Twitter accounts are you managing right now? Which of these tips will you be implementing to make your job easier? Let us know in the comments!