ODD Bureau is an international digital creative agency that mixes tech expertise with a human component. This approach has attracted worldwide customers in fields as diverse as animation, soccer, healthcare, e-commerce and space tech.
The Problem:
Posting content at scale with ease
To make social media one key element for a brand's success, ODD Bureau needed a "bold content strategy and the right tools to bring it to life," explains Emanuel Silva, Director of Social Media with the agency. He sought a tool to easily schedule content across multiple social media platforms and accounts.
The Test:
Trying several social media posting tools simultaneously
After a Google search mentioned Agorapulse, Silva and his team gave the tool a try and immediately loved Agorapulse's easy, intuitive interface. They were already using other social media management tools, so they decided to use all the tools simultaneously and see which one surfaced on top. Through this unique test, the social team was able to take informed decisions on a company-wide level.
And Agorapulse came out the winner.
The Solution:
Viewing content from all angles with Agorapulse
ODD Bureau loves Agorapulse's dashboard-like approach to managing social media.
"Agorapulse makes it quick and easy to monitor, interact and go through all of our clients' accounts. The more information we can capture in just a glimpse, the more effective we can get at analyzing, scheduling and publishing," Silva remarked.
Silva also views his content from an analytic perspective using Agorapulse's reporting features. He incorporates the downloadable PowerPoint stats to incorporate in his client's customized reports. "With the PowerPoint format, it's easy to move the files internally for quick edits and for effortless copy-pasting across documents. Agorapulse reports are a time saver, providing us with a simple solution to one of our daily challenges."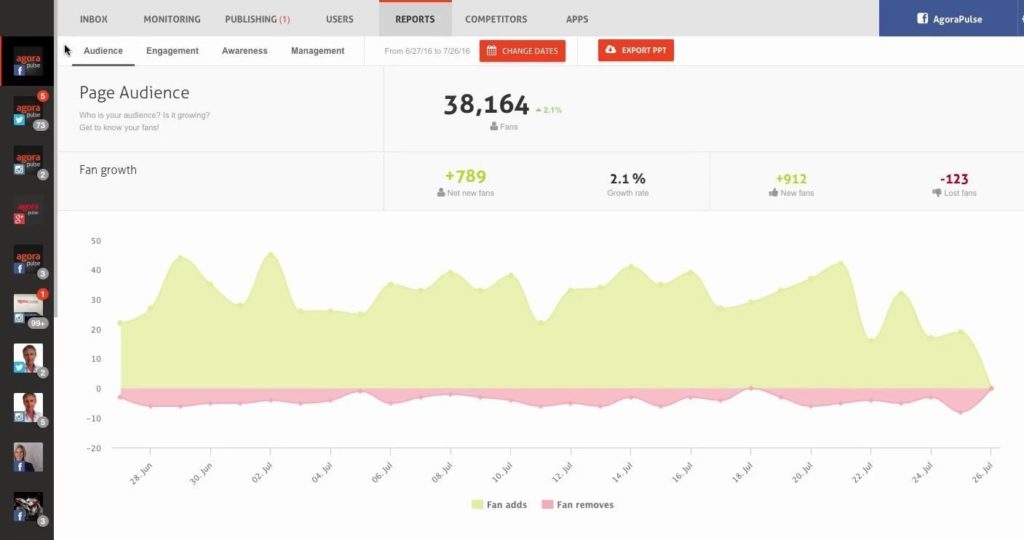 Silva adds, "As social media evolves, we need a tool we depend on to continually improve. And it's even better when it kind of anticipates our needs. Agorapulse has quickly become that tool, replacing other apps we were using in our daily routines."
Want to learn how Agorapulse can save your digital agency time and money? Why not take your free trial of Agorapulse today?