Not feeling comfortable with TikTok just yet? Need to figure a few things about TikTok? Here's a deeper look at TikTok marketing and some answers to your most pressing TikTok questions.
I get a lot of questions about social media marketing—especially TikTok. In this article, I'm answering your top TikTok marketing questions and looking at the brands who are killing it on this fun video platform!
1. Why Is TikTok So Successful?
About 10 years ago, we would all agree that Facebook is the most popular social media platform, and it seemed unlikely to change. But it has changed. TikTok is keeping Facebook shareholders up at night—and for good reason!
TikTok's engagement keeps on crushing its competitors–it's currently at 26 hours per month with Facebook at 16.5 hours! The TikTok app has now been downloaded over 2.6 billion times and has over 1 billion active monthly users.
There are several reasons for that so here's my take on why TikTok is so successful:
The content is positive. I love the upbeat challenges, silly videos, pranks, and dances on the channel. Contrasting sharply to #ToxicTwitter and #Fakebook (popular terms for the other channels), TikTok seems much lighter and less confrontational.
The younger audience is expanding. TikTok started as a Gen Z platform, but it's now popular with millennials and Gen X. In contrast, Facebook is attracting more baby boomers and is becoming an "older platform." Do teenagers want to be on the same social media platform as grandparents sharing election posts? Possibly not.
It has amazing creative tools. TikTok forged its reputation as a platform for creative people. It did this by providing built-in recording and editing capabilities that make it easy for content creators to quickly record, edit, and post video content on the platform. Add to this tons of fun effects, filters, trending sounds and greenscreens, and the platform is winning.
2. What Is a TikCode? And How Do I Use It?
The TikCode is a unique QR code assigned to your TikTok account. In my experience, these are more popular in Asia than in the UK and Europe. However, they are widely recognized and used. As a TikCode is unique, you can use it to promote your TikTok account.
How to get your TikCode
Next to your name at the top, tap the hamburger menu.
Click on My QR code.
Save it or share it with friends.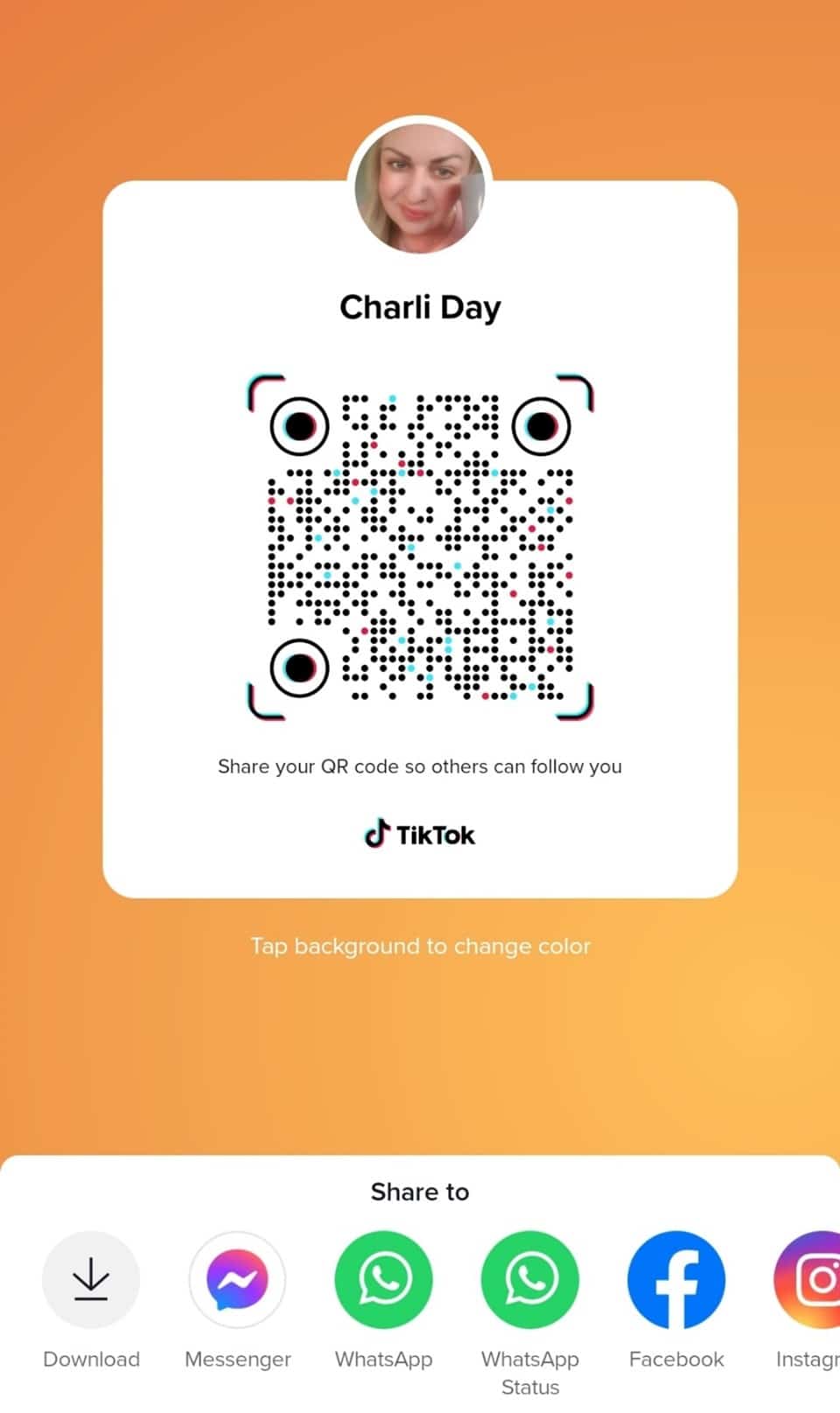 The QR code remains on your channel and won't change, so you can share it as much as you like. If you have a brand account, add it to your marketing materials or even a business card so others can find your channel.
In the same area, you can tap the small QR icon at the top right and scan QR codes of others to follow them.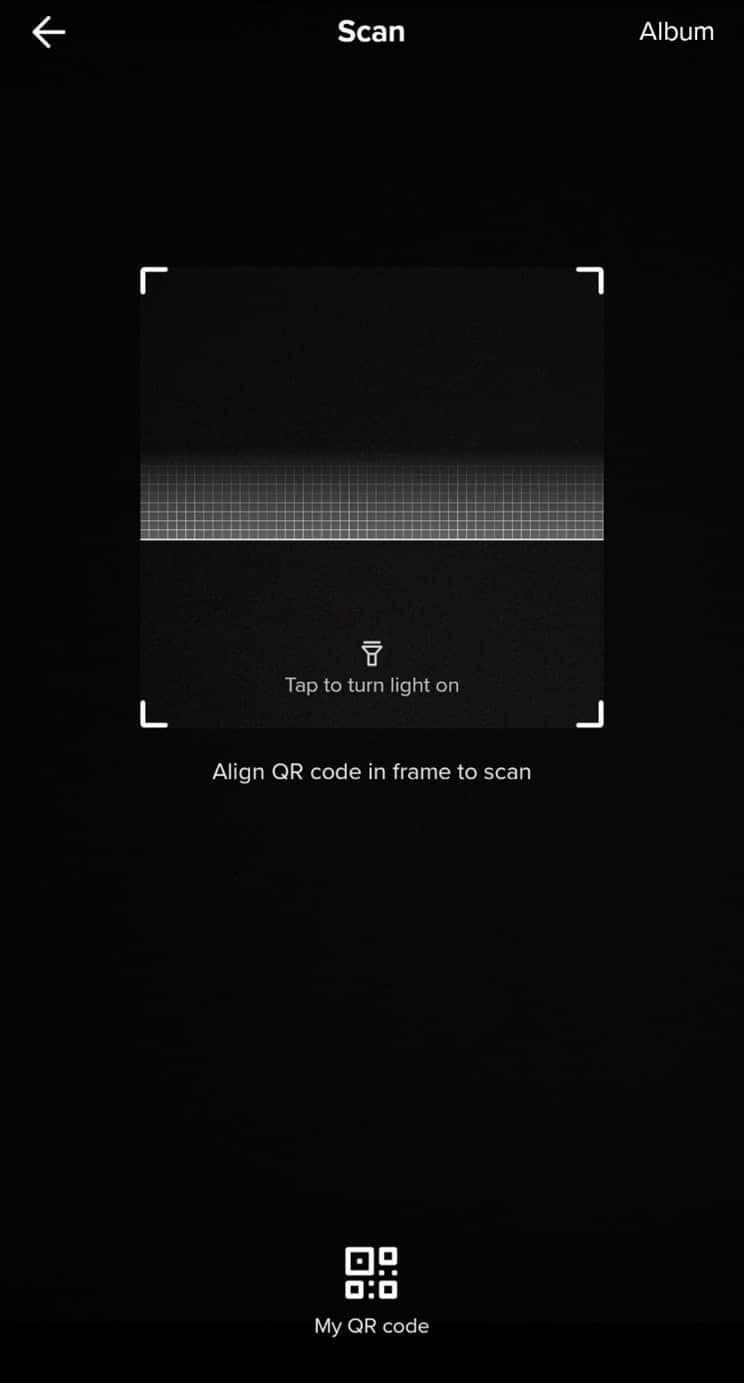 You can share the QR via your website, email, in magazines, on business cards or on the go at expos. TikTok users can scan the TikCode to quickly see your TikTok profile and easily follow you.
If your target market is young millennials and Gen Z, incorporating TikTok QRs is something to consider.
TikTok marketing tip
If your channel is new and you haven't made any videos, don't promote your QR code. Instead, dedicate some time to following your favorite brands and interacting with their channels to inspire you to start creating.
3. What's TikTok Duet? Should We Use It?
TikTok Duet is a feature that allows you to duet side by side with another user on their video. A split screen, to put it another way. The duet might be with your own videos if you haven't disabled the feature.
How to duet with another user
Find a video you want to duet with.
Tap the Share button on the right of the video. (It's grayed-out if the user has disabled duet.)
Tap Duet, and the screen will split into two with you on one side (or my cat Pie for demonstration purposes!)

Record a clip by tapping the red Record button.
Edit it by adding your usual effects like sound or filters.
Tap the Next button.
Adjust your preferences to private or public.
Hit Post to publish your Duet which is then available to your fans and to the fans of the original video creator.
If you Duet with a Duet as above, the original Duet will appear next to your video on the right.
There are lots of fun ways to use Duet. You can challenge the original creator, react to their video, answer their questions, or follow their instructions. Fails tend to work better here and will get more traction.
For example, you Duet with a cooking expert and catastrophically fail to cook the meal they demonstrated. Or you're a chef and Duet with a terrible cookery demo to give commentary.
The Duet below shows one of my fave creators @brunchwithbabs (AKA Everyone's Grandma) giving a demo on how to clean a washing machine and @sarah._,frank (the duet) who definitely never cleaned a washing machine, reacting.

Remember: Opening your Duet option also opens your brand to videos of ridicule or criticism. Consider public sentiment surrounding your brand, and, if in doubt, disable the feature. Similarly, don't bring any bad vibes to other brands. Aim to keep Duets light, interesting, or funny.
Related read: How Agencies Can Manage Their Clients' TikToks
4. Should I Add Music to My Videos? How Can I Do It?
Yes, you should add some music to your TikTok.
TikTok has a great sound library. Tapping into this can increase video views.
Trending sounds on TikTok include full tracks or sound bites and utilizing the platforms tools, you can chop and play with the sound effects and timings. If you're a regular TikTok user, you will get to know certain songs as they trend on the platform and are frequently used in clips.
TikTok's algorithm is smart, and it will recommend songs that match your uploaded or recorded video. So, if you're taking a video of your cat, it will recommend some popular cat-related tunes.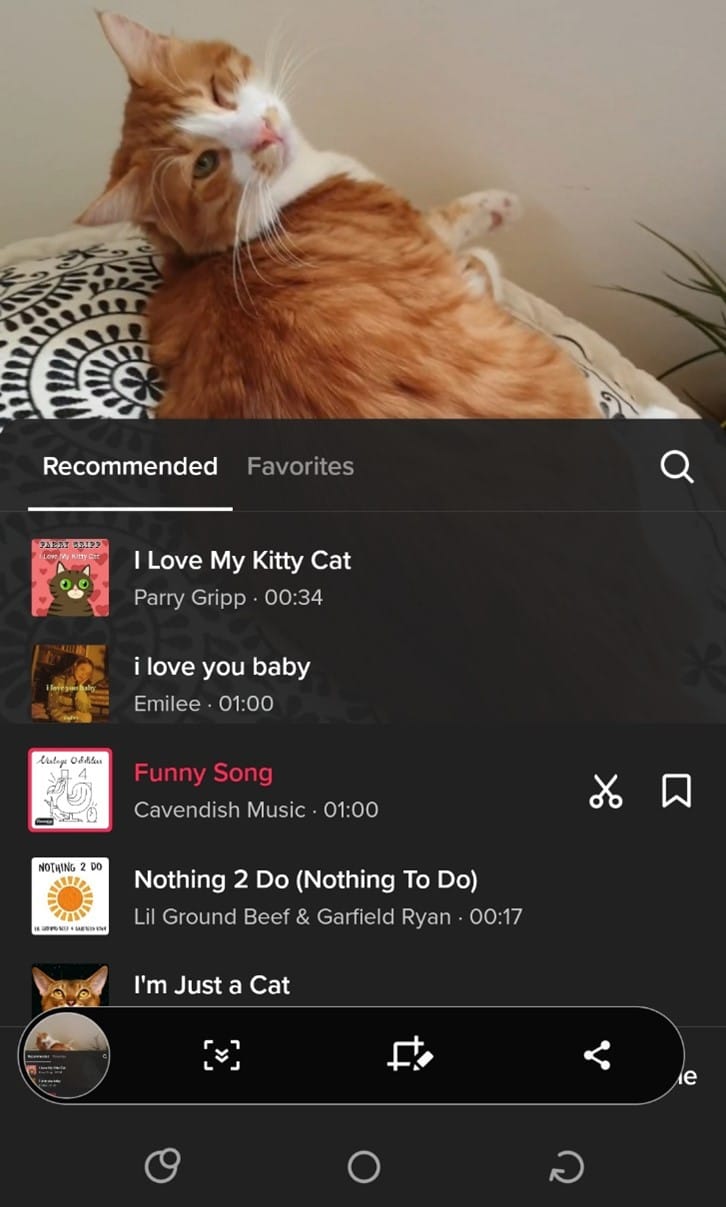 But to get the maximum traction on your video, it's good to add a viral hit. You can do this by tapping on the magnifying glass and searching the sound library.
Here you can see different music categories like Classical Music, Memes, Pop Hits, and importantly, TikTok Viral.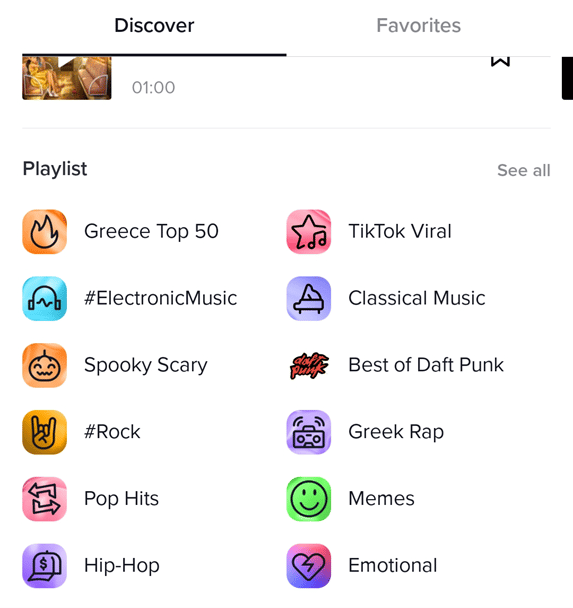 TikTok Viral will display the most popular songs on the platform. From there, you can tap on each one to listen to it before adding it to your own video. To add it to your video just hit the red tick next to the song.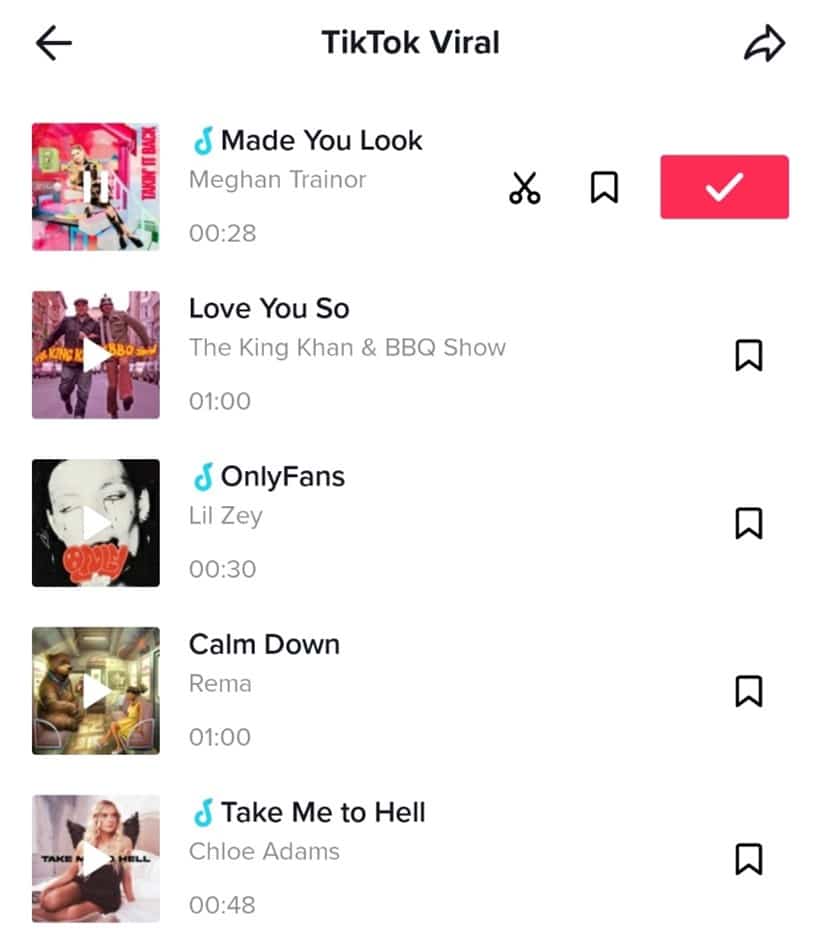 TikTok offers plenty of sound edits, too.
For example, you can adjust the original video sound to make it higher or lower. And the added sound to make it background music or the main sound. By selecting Cut (scissors icon), you can edit the sound clip or head to audio editing to edit the voice effects.
You can also add sound effects to your videos like turning on a machine, keyboard typing, clock alarm, animal sounds, and many more.
You can drag the added sounds to the part of the video where you want them to appear. And, relax, everything can be undone or discarded (unless you published the video), so you can take several attempts at getting it right.
Fun Fact: Simon Cowell and Syco Entertainment partnered with Universal Music to create StemDrop, a new evolution of musical collab and artist discovery. It will be launched exclusively with TikTok and Samsung. Expect TikTok to become a musical talent hub!
5. How Can I Start a Viral Challenge?
Whoa there! Hold your horses! Before we talk about "going viral," let's talk a bit about challenges.
Challenges are so popular on TikTok, and they're a great way to boost engagement for your brand. A challenge will start from a creator or brand who will make the first video. It's usually easy to copy and has a set of instructions or a pattern to follow. It usually has a hashtag associated with it too, such as #In2022IWill.
This challenge utilizes in-platform tools to generate a random prediction for 2022 like stop smoking, stop being so dramatic, be healthy, get a cat, start a business, and hundreds more options. The user can then react accordingly and post the video with the hashtag to gain traction.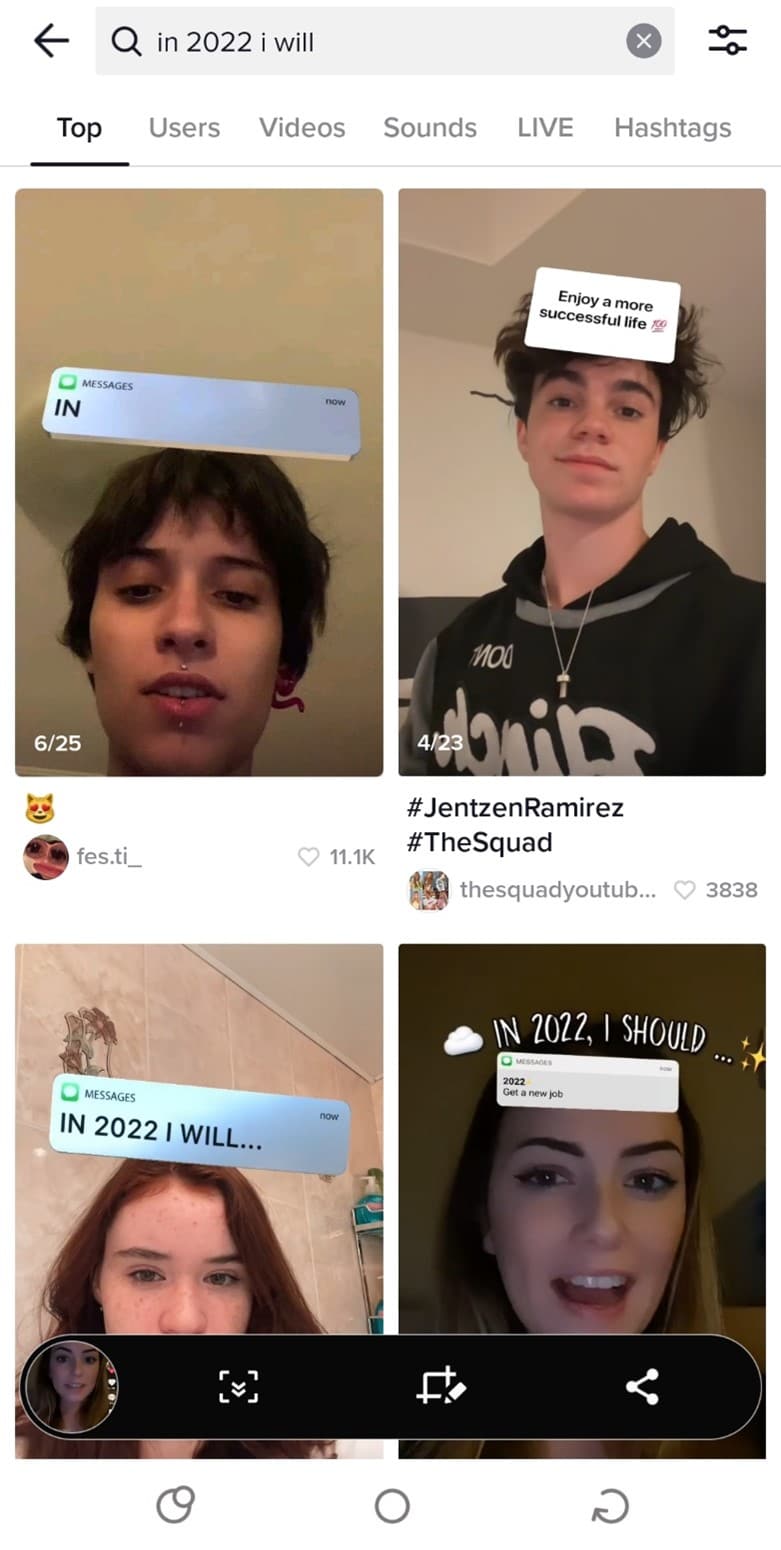 In addition to the challenges, there are trends to follow, such as glow-ups and transformations, discussing mental health and wellness, and embracing body positivity.
So, getting back to the original question: How can I start a viral challenge? If you're a new brand, then you can try participating in a challenge to build up your following. This will help you to get used to the platform and find your own unique style.
If you want to start your own challenge, then you should stick to these rules:
Don't be too promotional. If you're a huge brand then the challenge could feature your product. But making an overly promotional challenge if nobody has heard of you could be a downer. Always aim to make the challenge fun and slot your brand into this.
Be inclusive. Take a moment to think about whether your challenge is inclusive for most platform users. For example, if you're a shampoo brand then a challenge that involves sitting on your long hair will only work for people with super-long hair (not many people). Similarly, there have been a number of dangerous (non-branded) challenges, and we want to stay away from anything like that. Can TikTok users easily take part in your challenge safely and for free? If so, then it could be a winner.
Keep it simple. Asking fans to follow too many instructions will seem hard and they probably won't bother. Remember the Famous Chipotle Lid Flip Challenge? It wasn't complex, but it was easy and fun which meant everyone tried it.

6. What Content Works Best on TikTok?
Great question and one that's important to analyze before you start creating! After all, there's no point in uploading unpopular content.
Let's look at some popular content areas on TikTok and the brands using them.
Creative challenges
We talked about challenges and brands are using them to create a buzz around their videos. If you launch a challenge, start with some employee advocacy and ask your company to share videos if they have TikTok. You could also create a prize for your favorite or some incentives for everyone who takes part.
Pets
Just like on Twitter, Instagram, and, well, every channel, TikTok users love their pets, especially cats. Videos including hashtags #cats #cat #catstagram #catlovers #catsoftiktok have over 5 billion views.
Does that mean you need to go out and get a cat to make TikToks? No. But you could get involved with your local animal shelter to raise money for some kitties or pups. Remember #PetBff? TikTok worked with animal shelters and animal welfare organizations worldwide in a global campaign to mark International Homeless Animals' Day. For every video posted, TikTok donated $1 to its animal protection partners. 490K videos created, 2.4B video views.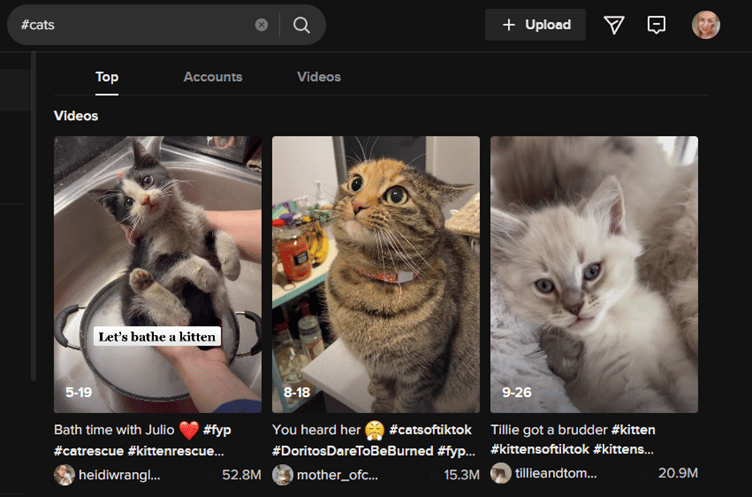 Humor
The top viral Tiktok videos have included humor. Check out what's trending and see if you can add your own creative spin on it. Making it relatable for your sector and area of expertise is great too. At Contentworks Agency, we use our TikTok channel to share funny agency stories, crazy client requests, and marketing nightmares.
Check out this video which got great traction when shared to professional platform LinkedIn.
Authentic content
If you're planning on crafting a serious video featuring your CEO talking about your brand, think again. There is nothing more appealing to TikTok users than a brand that is authentic.
Think behind the scenes, secret insights, hidden camera. You can script your video to keep you on track, but you need to be your real self.

Short videos
TikTok videos can now be up to 10 minutes long, but shorter videos get more engagement. Trying to cram too much info, too many stickers, or too much text into one video is a killer. Stick to one message and create a series of videos if you want to make a series.
7. Do Companies Use TikTok for Marketing?
Yes, they absolutely do, and some of the companies using TikTok might surprise you. We all know that the young and cool brands have been on TikTok from the start.
But what about the older and more established brands? There's a home on TikTok for most brands if they are willing to adapt to the platform or find their alter ego fun brand personality.
Let's look at how companies are using TikTok for marketing and the brands you might not expect to find there:
Demonstrate your product
The TikTok community loves watching product demos, especially if they're short, fun and easy to follow. Show how to create an up-do for hair, how to create the perfect winged eyeliner (which I still cannot do), or how to re-cover an old sofa.
Whatever your skill, if you create a fun and easy-to-follow video, you will find your audience. Would you have expected Target to be so much fun on TikTok? They're there, they have 2 million followers and they're having a lot of fun. Also, gingerbread whipped cream? Living the dream!
Share your behind the scenes
Marks & Spencer, a UK retail store, is known for being a conservative place to shop. The clothes and food are great but are they a fun brand? Traditionally, no.
But over on TikTok they found their fun side. With behind-the-scenes, staff dancing, silly pranks, and Percy Pig (their candy-inspired mascot) they're giving us all the good vibes. I love this behind-the-scenes video for the Christmas ad this year. Look at how they remind us they were established in 1884!
Share your sales
Got an incredible offer? A flash sale or a seasonal event? Get that baby shared on your TikTok channel! Ecommerce brands can do really well on TikTok with the right content. Add links for shopping and any deadlines for the end of the offer to prompt some FOMO.
For example, Sephora below teamed up with beauty influencer Alexa Johnson to promote their offers. The video is very visual, clearly showing the products on offer and how much you can save.
Share interesting info
TikTok users want to be entertained. And entertainment can also come in the form of weird facts, fun stuff, or how-to videos. I love IBM for this. The tech giant, established in 1911 is rocking TikTok with over 20K followers and some fun content. Like this video that demonstrates how they test mainframe stability through earthquake simulations. Who knew?
8. Should TikTok Be in Your Marketing Strategy?
It's important to look at your brand, current demographic, target demographic, product, resources and KPIs before you start. All this sounds like a lot. But all I'm saying is:
"Is your brand a good fit for TikTok? Do you have the time to add another social media channel?"
TikTok is a great place to be and there are some very good reasons why your brand should do TikTok marketing.
You have a young audience (or you want one!)
60% of TikTok platform users are between the ages of 16-24, and millennials and Gen X are rapidly joining too. If your product or services are aimed at the younger end of the spectrum, then you really need to have a presence on TikTok. If you're an older and more established brand, you need to find the Gen Z angle.
You're an ecommerce business
If you're an ecommerce brand, TikTok could be a win for you. B2C products like home décor, make-up, food and drink, and fashion are easily represented. Service based-brands like insurance or banking are harder to showcase on TikTok (although not impossible). Banks and travel companies are carving out the Gen Z space on TikTok and finding creative ways to reach their audience.
You want more brand awareness
TikTok is a powerful platform with some good search engine and brand awareness clout. Engagement on TikTok is better than the other channels too at 6.72%. If you're a new brand aiming to gain more international recognition, the right TikTok marketing strategy could get you there!
You're ready to be authentic
TikTok users love authenticity and will instinctively reject overly promotional, staged or fake videos. You already have channels to sell and promote your product (Facebook, Twitter, LinkedIn, and your website). So, use TikTok for something else, such as behind the scenes, team interviews, funny fails, or how you make your products. Be ready to answer questions and engage with fans, too. That's all part of being authentic.
In Conclusion
There are some elements of TikTok marketing that remain the same as on other social media platforms. Writing great social media captions, using hashtags, sharing your videos, and checking your analytics. All these still apply on TikTok. But what's likely to be different is your approach, your willingness to master in-platform video editing tools and how open you are for some TikTok style challenges and trends.