TikTok's winning short-form video format is piquing the interest of clients who once dismissed it as "something for teenagers." But does TikTok fit into the outsourced marketing agency model? There are some very specific challenges that managing multiple TikTok accounts presents.
TikTok is my new BFF in the social media space. I love the format, creativity, tools, and music.
Plus, TikTok offers so much for brands looking to:
Refresh their image
Target a younger audience
Get creative
Switch their attention from more dated platforms.
As a marketing agency for the finance sector, we at Contentworks have been remotely managing client Facebook, Instagram, Twitter, and LinkedIn accounts for years. But what about TikTok? Can a marketing agency manage multiple TikTok accounts for clients?
Related Read: Power Up Your TikTok Marketing This Year
Here are the top three challenges that marketing agencies encounter when taking on TikTok management.
TikTok Marketing Agencies' Challenge 1
Which TikTok marketing services to offer
Let's start by stating the obvious: TikTok is a video platform, so someone needs to be creating videos.
For large full-service marketing agencies, video creation is already a part of what they do. But are polished animated or stock footage videos going to cut it on TikTok?
Your options as a marketing agency would be as follows: (The costs of providing these services gets higher as we go down the list.)
To opt out of offering TikTok marketing altogether
Offer strategy and consultation only. This could include defining a target audience, strategizing on creative direction and ideas, performing a competitor analysis and setting social media KPIs.
Provide scripts and creative direction for your client to create videos inhouse. You can include visual direction, effects and captions.
Upload, style and manage videos your client has created inhouse. This means you will be responsible for adding the effects, captions, onscreen stickers, greenscreen, and music.
Strategize, script, and create animated or stock footage videos. Upload and manage them for your client. They won't feature your client unless they send you video clips that they have taken themselves.
Strategize, script, and record the TikToks at your client's premises or in a green screen studio. Upload them and manage all content and ads.
Solutions
Consider your resources, location, client base, and price sensitivity. Will your average client be willing to pay thousands per video?
If you want to go big into the TikTok marketing space then you will need to learn how you can collaborate with TikTok influencers, TikTok Creators, Recording Studios, and possibly other marketing agencies.
Showcase your TikTok work to start building traction. The TikTok case studies from Pulse showcase their work perfectly.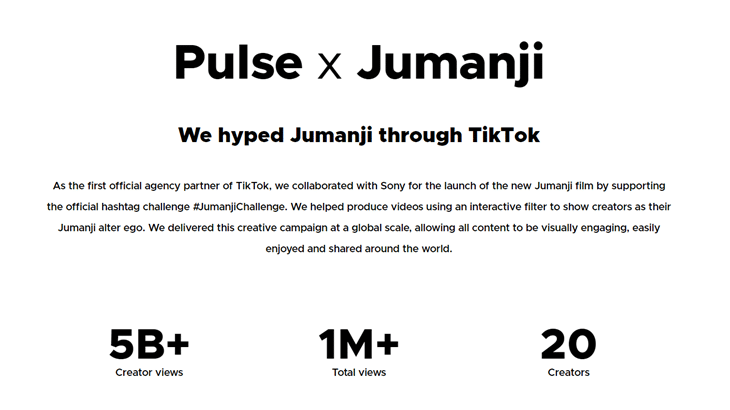 TikTok Marketing Agencies' Challenge 2: Budget
The real cost of TikTok for agencies
One of the biggest marketing challenges for TikTok is the cost. Of course, it's free to create organic videos. They can definitely hit the big time. Many of the top viral TikToks of 2023 have been organic featuring funny pranks, cute dogs and cats or lip synching.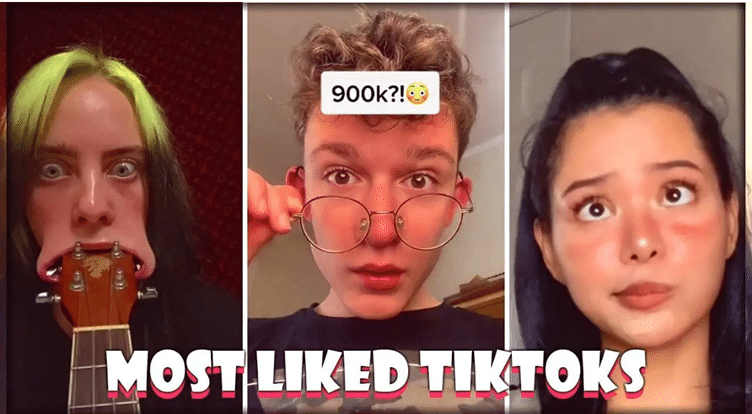 But as a marketing agency director I also know that our clients will be watching brands like Nike and Disney, which have very deep advertising pockets. And you need them if you're planning to go from zero to hero on this platform.
TikTok total revenue is projected to hit more than $11 billion by 2024 and take up 3.5% of digital ad spending. But that's largely dominated by big players at this time.
Think about your clients. Will they swallow these costs?
TikTok ads start at $10 per CPM (cost per 1000 views). They also require you to spend a minimum of $500 on a campaign. This cost does not include your time as an agency or actually making the video.
Brand Takeovers include TopView, In-Feed, and Branded Hashtags all at once but they don't come cheap. The starting cost for a Brand Takeover is around $50,000 USD per day. Yes, per day. Again, this doesn't include the cost of your agency making and uploading the video and managing the comments.
The cost of a promoted hashtag challenge is around $150,000 for six days. Of course, you can make organic hashtag challenges, but they are unlikely to have the same reach.
And then there's the TikTok influencer elite. Marketing agencies are constantly being asked for unrealistic influencer pairings. The TikTok we made below is based on a true story. We had clients with low budgets wanting Rihanna to dance and sing about their brand.
To put it in perspective, the top paid TikTok celebrities and influencers earn as much as $500,000 per post, with an average of $100,000 to $250,000. That does not include the agency fees or the cost of making the video.
Solutions
I find it best to be upfront about TikTok costs and the additional agency costs for managing and creating videos and video engagement. There's no point in entertaining huge plans if you don't have a huge budget to match them. If the budget isn't there, then that's no problem.
Related Read: How to Make an Affordable but Engaging TikTok
We need to work with what we have and make excellent TikTok videos with our best marketing practices.
These include:
Creating authentic, snappy content
Taking part in trends
Using the right hashtags
Engaging with your audience
Learning to use TikTok's tools
Having a TikTok posting schedule
Working with micro influencers (TikTok creators with 15,000 followers or less have higher engagement rates!)
TikTok for agencies tip: Just because your clients don't have the budget to go big, it doesn't mean you can't get excited about brands that do. Watching TikToks from big brands is great for seeing what's possible.
This mini epic adventure from Gucci, set to the vintage hit 24 hours from Tulsa is absolutely exquisite. Did it cost a fortune? Yes absolutely. But it's fitting for their brand, budget and audience. I'm here for it.
TikTok Marketing Agencies' Challenge 3: Logistics
Pain points of TikTok
Another challenge for agencies managing TikTok accounts remotely is the logistics.
Here are some of the pain points:
Transferring video files. Whether your client is transferring videos to you to upload, or you're transferring them to be approved. Logistically this can be time consuming and difficult.
Time sensitivity. Trends move fast–but clients sometimes don't. Yes, I said it. Getting content approvals, legal concerns, and compliance approvals can mean that "trending videos" are no longer trending or relevant.
Managing multiple TikTok accounts. This can be really time-consuming especially if you need to log in and out of different client accounts to upload videos and manage comments. And if you want to share the TikTok to other channels and manage the comments there, it can be time consuming.
Maintaining consistency. As a marketing agency, you need to be consistent with your posts on social media. TikTok is no different. Depending on your budget and resources, you may be publishing three TikToks per week or 1 per week. Clients often don't understand the importance of being consistent and big delays in communication or approvals can leave gaps in your schedule. This leads to engagement drop offs, lost fans and poor algorithm pickup.
Handling comments. Posting your TikTok video is only part of the social media journey. Reading and responding to comments, answering questions and directing fans is another area. Agencies managing multiple TikTok accounts might find themselves swamped with thousands of comments on hundreds of different brand videos.
Solutions
Agorapulse has the solution to all the logistical challenges we talked about above. And they're all housed in one shiny orange dashboard!
Let's look at how Agorapulse helps agencies to manage client TikToks:
Agorapulse has a built-in image and video library. That means your clients or team can upload videos and store them for each client. You can name the folders just like you would on a server. Then you just drop them into your TikTok post when you create it.
​

You can easily report on client TikToks! This is a huge win for us because clients increasingly want to see social media ROI from our activities, even when they are organic. Once you connect your client's TikTok account to Agorapulse, you can access all the analytics without logging into the platform. And.. you can pull off killer reports in minutes.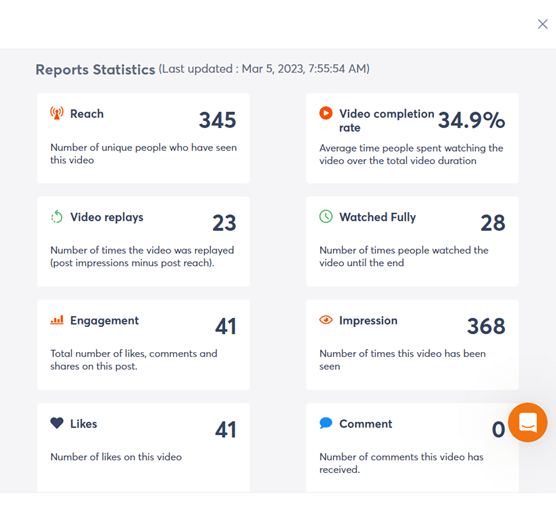 Schedule and share TikTok content with Agorapulse. You already know that Agorapulse has a winning content calendar. But did you know that TikTok is now in it, too? You can schedule TikToks just as you would on other channels. And you can share them to other social media channels, too. This keeps your schedule consistent. Also, it allows you to plug any gaps by repeating evergreen content.
Manage all your TikTok comments in one place. You won't miss out on video comments with Agorapulse because they're all in your inbox! You can respond to comments without leaving your dashboard making it much easier to manage multiple TikTok accounts. Plus, you can drop in saved replies saving time on frequently asked questions. And seeing this notice when you've handled them all is a great feeling!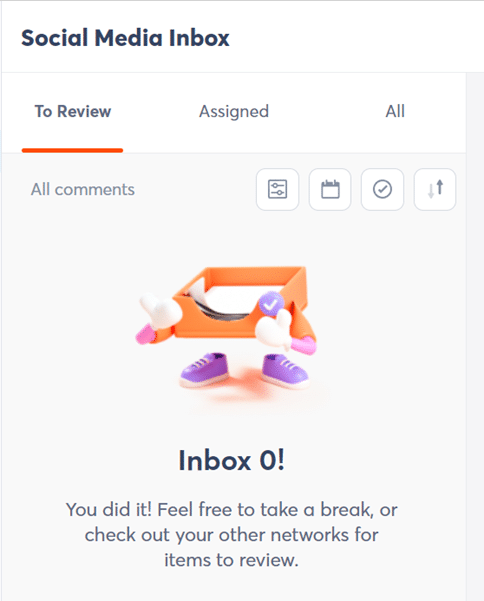 Assign content for approval. This is a good feature for our agency as we work with heavily regulated finance brands. Content can be approved by email, or you can choose to gain approval directly inside the Agorapulse platform. Simply upload your video, write your caption and then instead of posting it, hit assign. For large agencies the assign feature could be used internally to gain management approval before posting.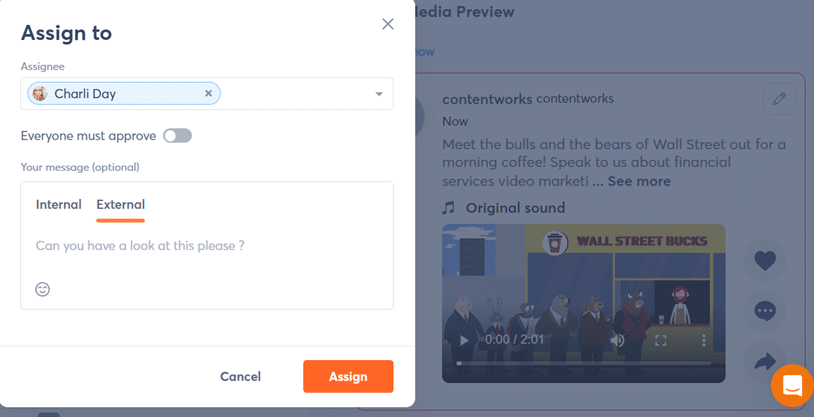 In Conclusion
if you're a marketing agency, it's a good time to DTR (define the relationship) between you, your clients and TikTok.
Consider which services you will provide, how you will price them and identify any challenges you may encounter. Be sure to check out our TikTok blogs too, we've got you covered on all things TikTok marketing.
Get a free Agorapulse demo and see how you can effortlessly manage TikTok through our social media management tool.