Do you want to use your social media expertise to help other businesses and entrepreneurs grow their brands? Launching a social media consultancy can be a great way to share your skills and get paid for your extensive industry knowledge.
So, what's the first step you should take? Find out how to start a social media consulting business and discover why becoming a consultant could be a smart career move.
What Is a Social Media Consultancy?
A social media consultancy is a business that provides social media marketing advice to companies, creators, and marketers. A consultancy can employ several experts or a single social media consultant.
Similar to social media agencies, consultancies can come in all shapes and sizes. Your consultancy can provide expert advice on virtually every aspect of social media marketing—or it can specialize in a select few areas or industries.
How is a consultancy different from an agency?
Most social media agencies offer done-for-you services that involve executing social media campaigns and strategies. For example, agencies often manage social media accounts, create organic content, engage with followers, and run paid campaigns.
In contrast, a consultancy typically focuses on analysis and insights instead of managing content creation.
For example, digital marketing consultants often analyze campaign results, review competitive intelligence, and recommend social media strategies.
5 Reasons to Create a Social Media Consultancy
Perhaps you're trying to decide between starting a social media management consultancy and launching an agency. Or maybe you're considering becoming an independent social media marketer.
Here are some compelling reasons to launch a social media consultancy.
1. You're an expert social media marketer
Before you can advise clients about using social media for marketing, you need extensive firsthand experience.
How much experience do you need? There's no set number of accounts you should have managed or years you should have worked in social media.
But you should have managed enough accounts and worked in social media for enough time to feel confident in your expertise.
In other words, you should understand how to:
2. Your social channels are models for brand growth
As a social media marketer, you may have managed accounts for your employer, your agency clients, or your own business.
No matter where you've gained experience, however, you should apply what you've learned to your own social media accounts.
In other words, your social channels should serve as models of healthy brand growth.
Think of your social channels as tools for building trust. Potential clients should be able to look at your social profiles and see how you've grown and how you implement smart strategies.
Have you been too busy managing client or corporate accounts, leaving you with little time to build your own social profiles? Before launching your social media consultancy, it's a good idea to take some time to build a portfolio.
3. You've built an impressive network
Building a social media consultancy—or any kind of marketing business—from scratch isn't easy. But if you already have a network of supporters and potential clients, you may find it a little less difficult to launch a successful consultancy.
If you're concerned your network is too small or if you haven't developed one yet, start working on yours now. A simple way to get started is to leave helpful, insightful comments on social media content that peers and potential clients publish.
How to Succeed as a Social Media Agency: Tips for Newbies and Pros
4. You're skilled at marketing your social media services
Cultivating a supportive network is just one of the many steps you'll need to take before you sign clients. It's also important to know how to market your social media services.
After all, you have to convert followers into paying clients.
If you're already a pro at marketing yourself, you can check this item off the list. But if your self-promotion efforts need some work, use your social media expertise. Put your knowledge of social media funnels to work as you develop paid and organic campaigns to promote your consultancy.
5. You prefer teaching and problem-solving over executing strategies
When you know that you want to build a business focused on social media, you might naturally gravitate toward offering done-for-you services. But before you begin offering social media management services, think carefully about your strengths.
If you excel at teaching people about social media marketing and training them in best practices, becoming a social media consultant may be a better choice. Similarly, if you prefer solving problems and troubleshooting issues over executing strategies, a consultant role may be the ideal career fit for you.

How to Start a Social Media Consultancy
Do you want to become a digital marketing consultant—but don't know how to get started? Follow the steps below to build your own social media consultancy.
1. Research the competition
First, survey the landscape and do some competitive research.
Before you launch your business, it's essential to get a sense of what's already happening in the industry. That way you can position your social media consultancy and price your offerings effectively.
If you've worked in social media for long, you probably already have a few competitors in mind. To survey a bigger slice of the market, use search engines and social media platforms to look up other consultancies.
Then make note of factors like:
Location and service area
Specialties and services offered
Packages and pricing
Team size
Unique selling point (USP)
2. Decide on services or industries
It's normal to share a few factors with other consultancies. But it's important to differentiate your business from the competition. Naturally, you want to give clients a reason to choose your consultancy over the other options. In many cases, you can stand out from the competition by focusing your business on a certain industry or set of services.
For example, do you have tons of experience managing social media marketing for a single industry—such as tech or software as a service (SaaS)? If you opt to consult only with tech firms or SaaS companies, your industry experience can be a key part of your social media consultancy's USP.
In other cases, the services you offer can set you apart from other consultants in your space. Here are a few social media consulting services you can consider offering:
Strategy development and review for paid or organic campaigns
Profile audits
Competitive and market research
Reporting and analysis
Training and coaching
3. Create packages or set a fee structure
Once you've confirmed which services you'll offer, decide how you'll package and price them. In some cases, offering one-off projects may make the most sense, given your clients' needs. But when you want to maximize the value you deliver and the revenue you generate, packages tend to be better options.
Your consultancy might combine social media audit and competitive research services into a single package to encourage clients to purchase both. Along the same lines, you might offer a small discount to clients who purchase training for two or three social channels.
For example, The Social Network offers one-time troubleshooting calls or long-term strategy packages.
In some cases, you can even turn one-off projects into recurring services that generate revenue every month or quarter. For example, you might offer quarterly strategy reviews or biannual training updates.

For example, eVision Media offers monthly packages that include weekly strategy calls and email guidance.
4. Adopt tools and develop workflows
Next, invest in the tools you need to run your social media consultancy.
Depending on which services you offer, you may need a few different categories of tools.
For social media reporting and analysis, Agorapulse is a smart solution. With Agorapulse's reports, you can analyze audience, engagement, and content performance for all major social media channels—and even use the built-in comparison tool to see trends over time.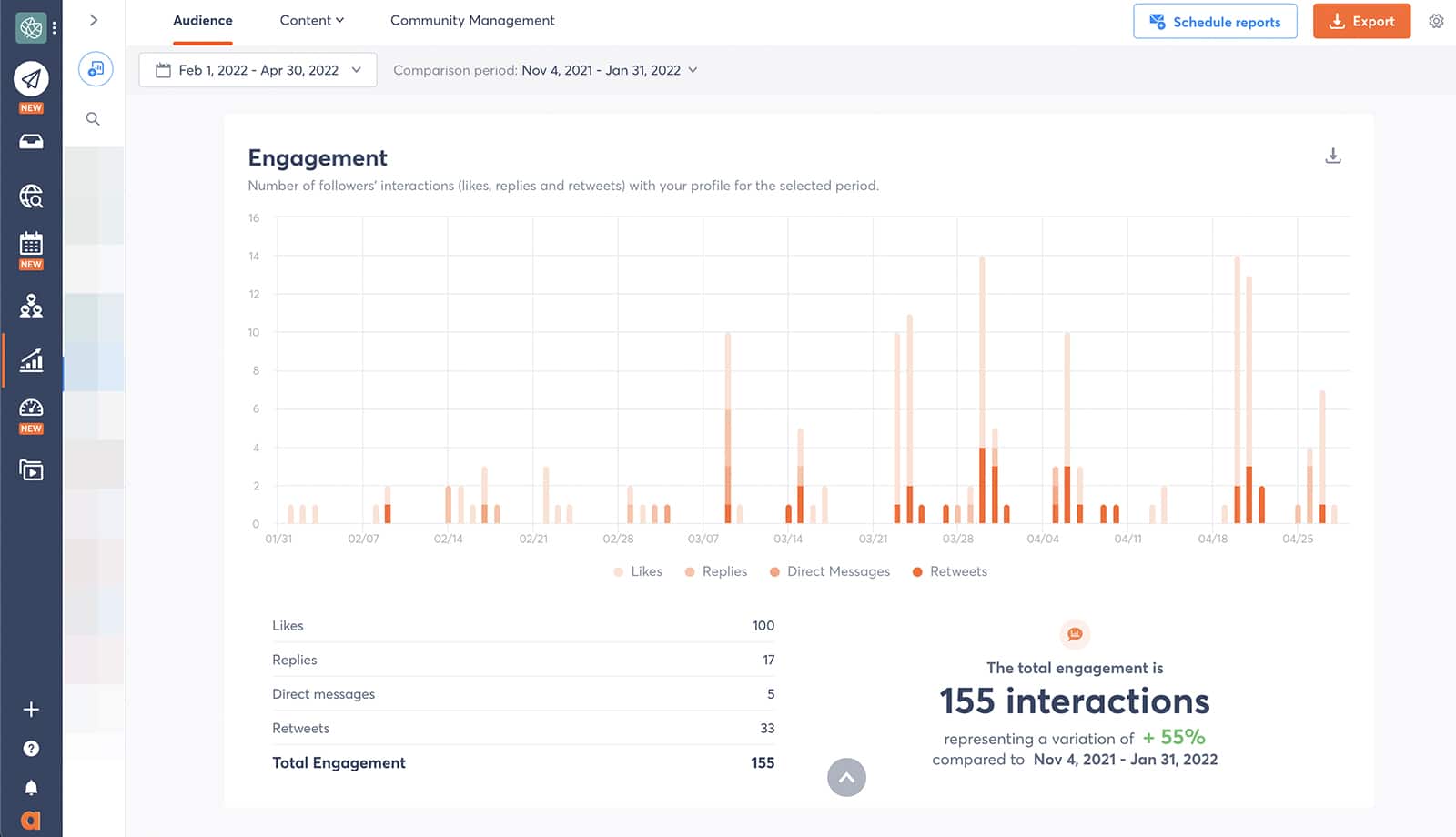 For training and coaching, video apps like Loom can help you record simple tutorials. When you want to teach in real time, video conferencing platforms like Zoom work well. And if you want to market your social media course, consider using a platform like Kajabi.
To save yourself time and hassle, it's also a good idea to create repeatable workflows. Apps like Process Street make it easy to record your workflows so you or your team members can use them to get reliable results again and again.
5. Market your social media consultancy
Once you've structured your business, you need a marketing plan and a sales funnel. To boost awareness of your consultancy and your expertise, share helpful content that educates your audience about the types of services you offer.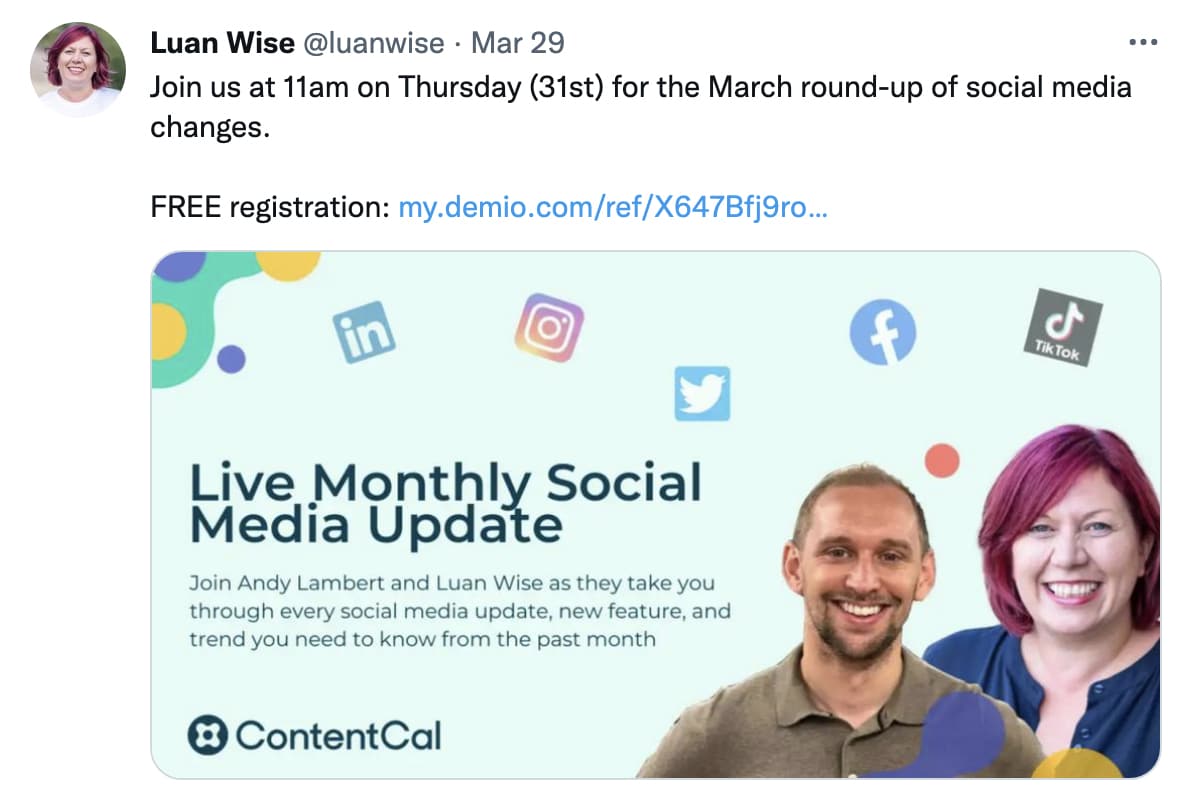 To increase interest in your consultancy and to encourage prospects to consider your services, share lead magnets like guides, ebooks, or webinars. For example, social media consultant Luan Wise promotes her webinars and other training resources on Twitter.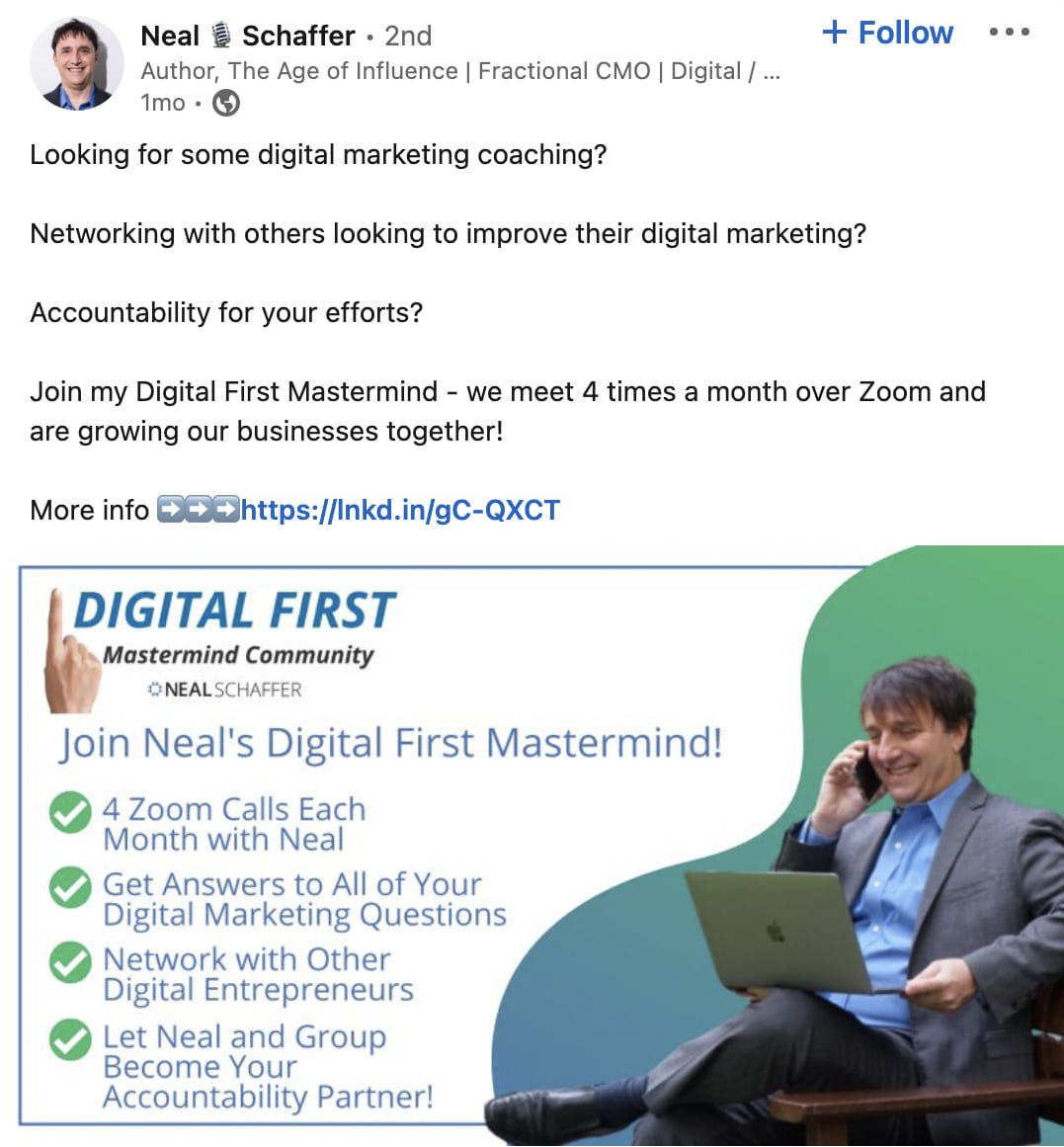 To get leads to purchase your services, create conversion-focused content that features irresistible offers. For example, social media consultant Neal Schaffer promotes his digital marketing coaching services on LinkedIn.
6. Make a plan to grow your business
At first, you might establish your social media consultancy as a one-person operation. Over time, however, your business may grow—and you may not be able to manage it on your own. When you have more business than you can handle, it's a good idea to create and implement a growth plan.
To ensure that your business grows the way you want, think carefully about who to hire. If you have tons of potential clients on your waiting list who want exactly what you offer, then hiring another consultant with similar skills is a good idea.
But if you have a lot of leads who have asked for consulting services that you don't currently offer, consider seeking out an expert with complementary skills. That way you can expand your services and continue growing your business.
How to Measure the Success of Your Social Media Consultancy
Now that you've built a foundation for your business, you need a way to assess your achievements.
For most social media consultancies, business success begins with setting goals and monitoring metrics.
Below, we'll look at a few key metrics that every social media consultancy should track. When deciding on key performance indicators (KPIs), keep in mind that every business is different. Your KPIs may be completely different from your competitors, based on your location, specialties, and scale of operations.
Leads and conversion rates
To keep your client roster as full as possible, you need a steady stream of leads. In most cases, you can't expect to convert all the leads who enter your sales pipeline. But over time, you can track the number of leads you attract and the number you convert.
Using these figures, you can calculate your conversion rate. Then you can use your conversion rate as a benchmark, which can keep you on track and help you focus on your goals over time.
You can also use your consultancy's conversion rate to calculate the number of leads you need to generate. For example, if you have five client slots to fill and your conversion rate is 10%, then you can be reasonably sure you need to generate 50 leads to reach your goals.
Revenue
No matter the size of your social media consultancy, revenue is a critical metric to track. To set revenue goals, calculate how much you need to earn each month. First, add up all your expenses—from team members and taxes to office space and software.
Next, consider how much profit you want to generate or how much you want to invest back into your business. Then add up all those numbers to get the total monthly revenue goal for your consultancy.
If you've built your business around monthly retainers or recurring packages, you can predict revenue for upcoming months much more easily. That way you can increase or decrease your lead generation efforts as necessary to reach your goals.
Return on investment (ROI)
Individually, both revenue and expenses are important to track. Yet it's also helpful to compare them so you can make sure you're getting enough value from your efforts.
To calculate ROI, add up revenue and investment for a period of time or for a specific initiative. Then divide revenue by expenses and multiply the result by 100%. Here's a simple formula you can use:
ROI = Revenue / Expenses x 100%
For example, say you brought in $25,000 and spent $10,000 over the course of a month. Your ROI would be 250%. Although that sounds like an excellent ROI, it's important to compare it to your goals and to previous months to confirm how successful it truly is.
Customer lifetime value (CLV)
Acquiring new clients can be expensive—and it almost always costs more than retaining existing clients. The cost of landing a new client can be 5X higher than the cost of continuing a relationship with an existing client.
Many social media consultancies prioritize client retention over acquisition, as longer relationships can lead to higher CLV. Upselling and cross-selling related services can also help your consultancy increase CLV.
CLV = Average Client Value x Average Client Lifespan
To calculate CLV, you need to know the average amount you charge clients for each purchase (i.e., the project or package size) and the average number of purchases a client makes. Then use the formula above to find your consultancy's CLV.
Churn rate
If your social media consultancy offers packages and retainers, then you have a built-in method for retaining customers. If you typically focus on one-time projects, however, you may have more clients who only work with you once.
Either way, it's helpful to calculate your churn rate, which reflects how well your consultancy retains customers. The lower your churn rate, the better your business is at keeping customers. Here's a simple formula for calculating churn rate:
Churn Rate = Lost Customers / Total Customers x 100%
For example, say you lost two customers out of 10 total over the past month. Your churn rate would be 20%. If you wanted to decrease it, you could brainstorm ways to encourage clients to sign on for recurring services—and potentially increase CLV at the same time.
Wrapping Up What We Learned About Starting a Social Media Consultancy
With social media expertise, a solid network, and a strong business plan, you can start a successful social media consultancy. Use the tips above to build your consulting business and ensure that it remains successful for years to come.
Get started on saving time and energy in managing your clients' social accounts! Check out our free trial of Agorapulse to help you schedule, track, and measure all your social media efforts.