You want to do more with your beauty brand? Here are some social media management tips for beauty brands you don't want to miss.
My favorite brands to do social media management for are the beauty brands.
Why? Because the hair and beauty industry is huge! No, wait … Gigantic!
Social media networking and the beauty industry are truly perfect partners. The visual nature of the beauty industry, when combined with the aspirational nature of social proof, makes for a heady combination filled with opportunities for marketers.
The global cosmetic market alone is expected to reach $675 billion by 2020. Categories that fall under the banner "beauty" include skin, hair, oral and cosmetic. However, skincare has the highest market share, and oral cosmetics is the fastest growing market, says Business Wire.
Perhaps unsurprisingly, the USA is the biggest cosmetic market in the world.
Related Posts: Social Media Management
Which Beauty Brands Are Doing Social Media Right?
Looking for inspiration? These popular beauty brands are rocking the social media world and for a good reason. Each brand has tapped into its audience sentiment to give followers exactly what they want.
Let's take a quick look at my top 5 and how you can steal their style for your beauty brand!
Essie's social pages focus on nail inspiration and DIY "how-to" videos. It is skilled at using hashtags and has acquired over 3 million followers on its Facebook account alone.
Essie has nailed the art of running contests via its social media pages, and you can, too!
Steal Essie's style by mastering the art of Facebook page contests. They allow you to create contests, quizzes, polls, and much more to encourage social sharing and post virality.
Remember to announce winners, post regular contests, and offer prizes that promote your hottest beauty products.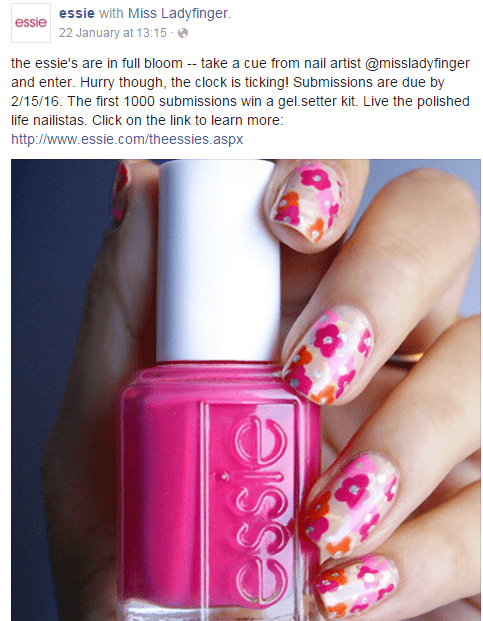 With its cute 1950s retro style, daily e-cards, and quotes, Benefit has cornered the market for working women who also love to play.
The brand's Instagram page has 3.4 million followers and its email marketing campaigns are highly shareable.
Steal Benefit's style by sending out high quality and sharable emails to subscribers.
Provide sneak previews, product tutorials, makeup tips, and special offers—and you will retain and grow a loyal following.
Building and managing your email database is easy using a service, such as Benchmark, Constant Contact, or Vertical Response.
Lush has cornered the "cruelty-free" market, which is now a growing influence in beauty purchases. Tapping into this theme, Lush has garnered over 277K followers on its Twitter account alone.
Lush posts cute animal pics, petitions for animal welfare and fab product photos. The brand also nailed the art of timing as its "Popcorn Day" celebratory tweet and matching hashtag below illustrates.
Steal Lush's style by understanding the identity of your beauty brand. Whether you are a hair salon, nail bar, or supplier, you need to know your core values and showcase them via your social channels.
By understanding your core ethos, you can effectively target the right customers through paid advertising on social media.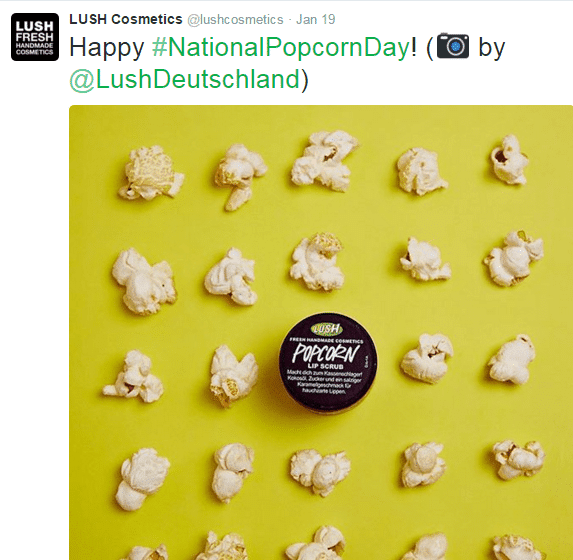 This brand boasts over 1.5 million Facebook likes, 454K Twitter followers, and 51K Pinterest followers … WOW! What's really obvious about the Bobbie Brown success is that the brand is not just selling a product; it's selling a lifestyle.
Take a look at its Pinterest boards and you can see that there's a whole world of Bobbie Brown to delve into. With a clear understanding of the type of woman it wants to reach, the brand showcases its product range, makeup tutorials, and ethical community involvement.
Steal Bobbie Brown's style by communicating with your key demographic and listening to their ideas. You can see by viewing their social channels that this is a brand that responds directly to fans.
If you post a makeup tutorial, be ready to answer questions from fans and wherever possible increase your ROI by driving traffic back to your site or landing pages.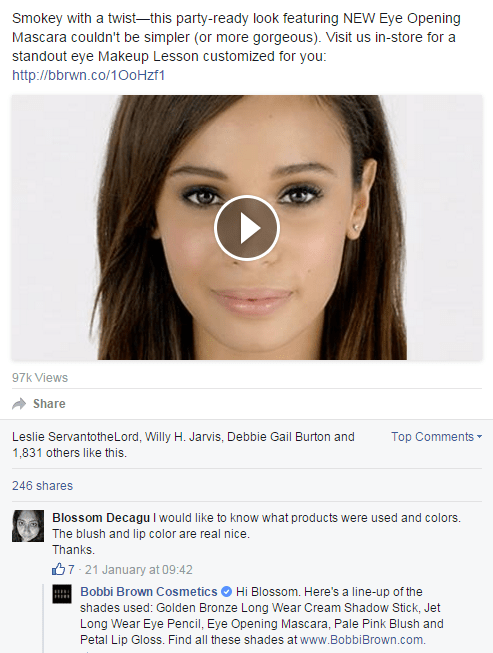 Avon has really taken flight via its social media channels. With over 15 million Facebook fans, this brand understands the power of customer and easy advocacy.
Its posts feature real people and behind-the-scenes insights into product development encouraging fans to understand and love the brand.
With its short and informational videos accessible on its YouTube channel, the brand is offering valuable information to anyone following the channel.
Steal Avon's style by using employee advocacy to push your brand on social media. This may be interviews with employees, beauty tutorials that feature staff instead of models and, of course, behind-the-scenes photos taken at your salon or office.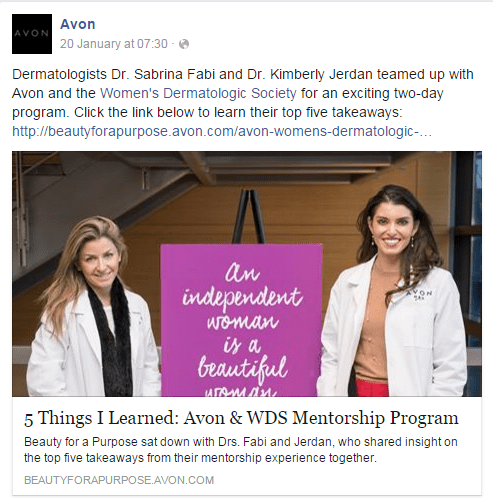 5 Social Media Management Tips for YOUR Beauty Brand
Related Post: How to Use Psychology for Better Social Media Management
1. Pick the right channels
Generally speaking, the top three channels for beauty brands are Facebook, Instagram, and Twitter.
Instagram particularly is teeming with opportunity. In fact, Shopify reported that Instagram's e-commerce influence yields $65 per order on average.
Make sure you are properly utilizing the "Buy" functions on both Instagram and Pinterest to ensure that all those gorgeous beauty products can actually be purchased by your fans!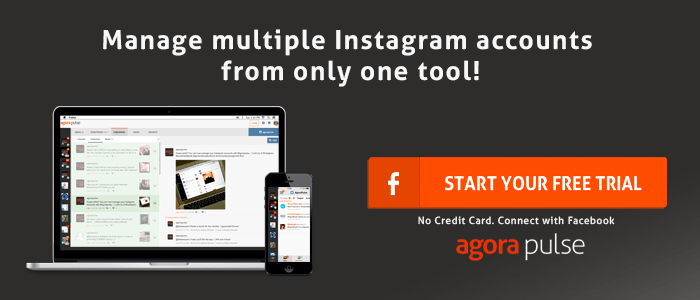 Conversely, unless you are focusing on gaining affiliate business then I wouldn't worry too much about Linkedin for your beauty brand.
2. Understand your demographics
A recent survey by Pew showed that 74% of women use social media sites. With women also being the big spenders of the beauty industry, it is easy to see why.
However, that said, it is important not to neglect the boys in all this. A quarter of all hair salon customers are now male according to a recent UK survey by Salon Services, which reflects an overall global trend led by image-conscious males.
Be sure to understand your demographics, which include…
Age
Gender
Race
Location
Interests
Behaviors
You can monitor audience demographics with Agorapulse to be sure that you are providing relevant content for your target and existing audience.
3. Keep up with trends in the beauty industry
This is your chance to gain additional fans through the correct use of trending hashtags.
For help here, check out this list of the most popular tags on Instagram and this guide on how to use Instagram hashtags.
Remember to pay attention to special days, too. International Women's Day, Mother's Day, Valentine's Day and Christmas are just a few that you should be preparing for.
Of course, following trends also means following fashion trends, so you are the first to jump on the latest hair, beauty or fashion craze!
4. Get a good camera
Good visuals increase people's willingness to listen to your message by 80% so if you're serious about marketing your beauty brand via social media then it's ideal for you to invest in a good camera.
I have taken numerous beauty product shots with my android. But if you are going really high profile, invest in the right equipment.
Think, too, about how to showcase your product, so don't just take a photo of it on the shelf! If you are selling a rose lip balm, tadd a vase with roses, a string of pearls and some vintage lighting filters … You get the idea!
5. Don't forget review sites
67% of consumers rely on reviews to make their purchasing decisions. Consumers of beauty products are especially affected, so you shouldn't neglect review sites.
Encourage happy clients to leave product reviews, testimonials, and photos of themselves using your products.
Remember to follow up on any negative reviews and respond politely to the user.
* * *
Sign up now for a FREE demo.