The terms social media monitoring and social media listening are often used in an interchangeable way. But did you know there are subtle differences between them? And times when you might use one, but not the other? Let's look at some examples and talk about social media monitoring vs listening for your brand.
Social Media Monitoring vs Listening: Quick Overview
Simply put, social media monitoring will focus on a brand, product, or campaign hashtag. For example, #Barbie or #BarbieTheMovie. Social media monitoring allows you to monitor the popularity and sentiment around a product launch, movie release or brand name. It also allows brands to answer questions about a campaign.
Social media listening is broader and allows you to get snapshots into your audience sentiment. Social media listening can include your brand name, but also your competitors, sector keywords, phrases or questions that relate to your niche. Social media listening allows you to be part of a conversation that might otherwise lie outside of your brand's radius.
Example of social media listening
Budget airline Ryanair is a master of social media listening, inserting itself into trending conversations in a humorous way:
When Do Brands Use Social Media Monitoring?
The two are different but how are brands using them? Let's look at some examples of social media monitoring in action.
1. To answer questions
Big brand retailers utilize social media monitoring to answer questions about their brand or product. The nature of social media, and especially retail, is very fast and so monitoring in real time allows for fast responses.
Online retailer Marks & Spencer is effectively utilizing media monitoring to answer customer questions on Twitter. I love this very human interaction. It's personalized, helpful and fast!
With Agorapulse, direct mentions and brand tags appear immediately in your social media inbox so you can respond in real time!
2. To quickly resolve complaints
An unresolved complaint on social media can grow from an anthill into a mountain in a very short space of time. Something that could have been resolved easily then becomes fractious and complicated as thousands of social media users pile on. A good example of this was a US professor's UK vacation upon which he discovered that the bedroom and bathroom were one and the same. A tweet detailing his AirBnB (nicknamed AirBAndPee) experience has 15 million views and counting on Twitter.
AirBnB were responsive, so they certainly utilized social media monitoring. However, they failed to swiftly resolve the situation leaving it open for others to pile on with their own experiences. Responding is not the same as resolving, so this one escalated in a monumental way!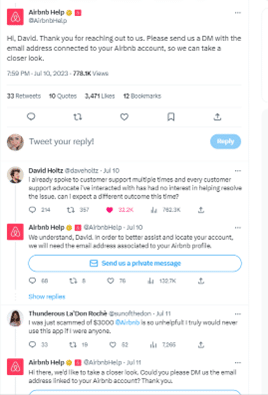 Complaints need to be addressed quickly in today's social media centric landscape and social media monitoring and social media crisis planning are both essential for brands.
3. For user-generated content
We're back in the happy place again because user-generated content (UGC) is a great reason to use social media monitoring for your brand. That's right, people are out there saying lovely things about your brand, and you can utilize it in your marketing! If you embed an Instagram post positively reviewing your products on your website, you will provide social proof. Social proof is a powerful persuasion tool that helps customers feel safe while making a buying decision. It boosts conversion rates, ROI and the authenticity of your brand.
Examples of UGC
Positive reviews on your social media pages or Google Business
Photos of happy customers wearing your clothes or using your products
Positive testimonials and case studies
Recommendations and positive mentions in posts or tweets
Video reviews which you can share or embed
Page admins can visit their "mentions" or "notifications" tab on Instagram, Facebook, Twitter, TikTok, and LinkedIn to find awesome UGC posts like the one below. But if you run a busy marketing agency like we do, there's no way we're logging into every brand page and profile on every channel, every hour, to check notifications! Nope. We're going to our Agorapulse dashboard to get them all in one place.

Remember: If you're going to use someone's review or post in your marketing, it's good etiquette to ask them first and thank them for their interaction. And if you want to inspire more UGC, treat them to a surprise gift or voucher.
When Do Brands Use Social Media Listening?
Social media listening involves pulling more advanced data from all social media platforms to get a bigger picture. It's more time-consuming than social media monitoring, making it an additional service for most social media marketing agencies. So why would you put extra time and budget into social media listening?
1. To find brand ambassadors and micro influencers
Social media listening is a great way to find brand ambassadors and micro influencers without spending a huge budget. But wouldn't they tag your brand? No, because they don't know they're your next brand ambassador yet!
A great match could be any of the following:
Someone with a large following in your niche (e.g., makeup)
A person with an outlook that matches your brand (body positive/inclusive/ activist/edgy/humorous etc)
A user who has enjoyed successful partnerships with other brands in your niche … perhaps even your competitors!
An influencer who often talks about issues surrounding your industry (such as cruelty-free or vegan beauty products).
I'm using beauty as an example, but there are brand ambassadors and influencers to be found in every space.
Utilize the tools in your Agorapulse platform to easily identify brand ambassadors. By tapping on the Fans & Followers tab on the left and choosing your social media platform, you can see who is engaged there and who is an ambassador. Check out our guide on writing a killer influencer contract before you approach them with an offer.
2. To track audience sentiment
Now we're talking about tracking mentions and industry-related topics when you're not tagged. How does your audience or target audience feel about key issues relating to your brand? Are they an active social media community? What hashtags, phrases and topics do they talk about? This is social media listening and its vital information because it will help shape future marketing campaigns and how you market your products.
What to listen for
Which of your competitors get the most mentions
Trending news based on keywords relating to your brand
The most popular topics and hashtags in your sector
Your audience language and style
Prospective customers and through dissatisfied competitor interactions
Feedback that hasn't been given to you directly via a tag
Complaints that mention but don't tag your brand
Let's look at an example concerning electric auto maker Tesla. Tesla employs social media monitoring and will respond to direct tags. But in regards to social media listening, they might be missing out. This tweet mentions Tesla Model 3 and is both a complaint and a question about parts. Had Tesla been actively utilizing social media listening on the phrase Tesla Model 3, they could have entered this conversation with a solution.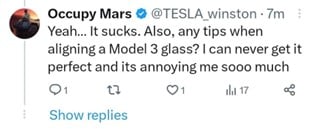 Social media tip: You can easily set up social media listening in your Agorapulse dashboard. Enter the keywords, phrases, hashtags and questions you want to monitor on each platform. You can always edit and remove them later!
3. Keep an eye on your competitors
Want to know what your competitors are doing and even better … what people are saying about them? It's all down to social media listening. By listening in, you can steal inspiration from their successes and sidestep their failures! You can follow conversation threads to see how they interact, respond to complaints, garner good engagement and capture trends.
Agorapulse lets you add 100 competitors into your reporting dashboard to compare Facebook pages! Once you've entered them, Agorapulse continually monitors how many people are talking about them, fan posts, page posts, interactions and engagement!
The dashboard also allows you to input numerous competitor hashtags, keywords, and phrases. You can create up to 30 searches for each channel, and edit and delete them as you go. In this instance, a search could be the name of your competitor's campaign and all associated keywords and hashtags.
Remember: You need to be a certain kind of brand to roast your competitors or comment on their posts. This is definitely not for everyone and in most cases you will be using this feature for gathering intel. Unless you're Aldi that is. When British retailer M&S announced it was suing rival supermarket Aldi over a caterpillar cake trademark, we just couldn't get enough of Aldi's hilarious trolling.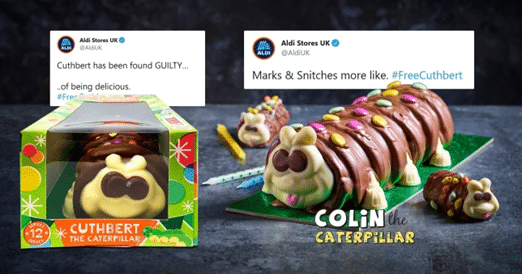 And other British supermarkets were hot on the caterpillar listening too by following the #FreeCuthbert hashtag.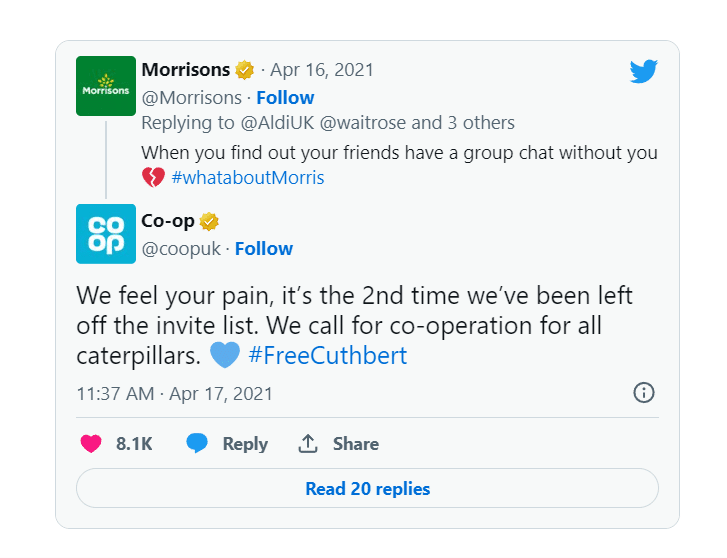 In Conclusion
If you've never done any social media monitoring or listening for your brand, we've got you. This is your starter pack of things to add to your monitoring and listening dashboard:
Your company or brand name (Include common misspellings.)
Any campaign hashtags should be added as you create them
Industry words or phrases directly relating to your brand
Your slogan and direct competitor's slogan
Your product and its names (e.g iPhone 15 or iPhone)
Social media monitoring is essential for customer care, while social media listening is valuable for gaining much deeper insights into your audience and sector.
Start social media monitoring for your company right away by signing up for Agorapulse's free trial.