If you're targeting Gen X, Millennials, or Gen Z, TikTok is the platform for you. Plus, TikTok can yield great sales results if you get the formula right.
Here's how to sell almost anything on TikTok.
The Cash Registers Are Ringing at TikTok
From cakes, lip balms, and jewelry to dresses, cars, and laptops, TikTok is a hive of ecommerce activity:
35% of TikTok users will buy something they've seen on their TikTok feed.
37% of TikTok users have an annual household income of over $100,000.
People spend around six hours per week on TikTok.
In 2022, e-commerce brands spent over $29 million on TikTok advertising, in just one quarter.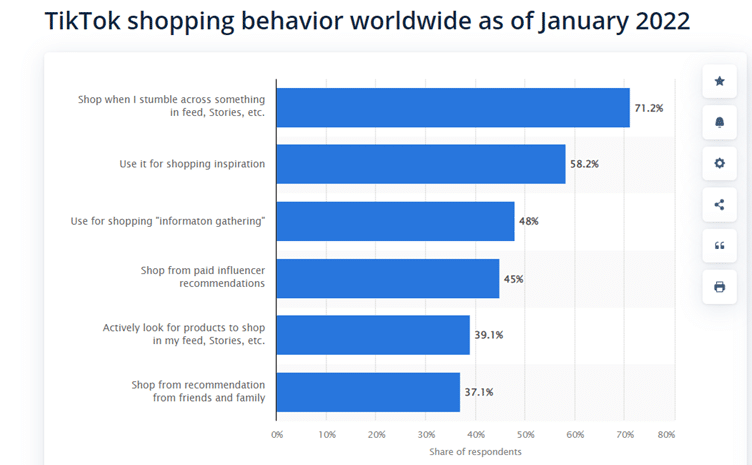 17.2% of TikTok users are open to buying something if they stumble across it on their feed.

58.2% of TikTok users use the platform for shopping inspiration.

People are 1.5X more likely to buy something they've seen on TikTok compared to other social media networks.

TikTok users are 2.4X more likely to tag a brand after buying a product than they are on other social media networks.
Prohibited Items on TikTok
As with all social media platforms, there are some items you're not allowed to sell on TikTok: They won't tell you what you can sell but they will tell you what you can't.
What you can't sell on TikTok
Prohibited items include:
Firearms and weapons
Toxic substances
Fireworks
Human body parts (Scary that this is on the list!)
Specific animal and plant products
Adult content, products or services
Illegal drugs
These are all obvious things to ban, but the following items might surprise you:
Food additives, food processing enhancers, micronutrients
Caffeine (TikTok classifies this as a drug.)
Gambling products, including scratch cards, lotteries, and slots
Review this list of prohibited items before you try to sell on TikTok. It doesn't just cover banned products; it also includes forbidden wording and methods of sale.
Did you know that the hashtag #TikTokMadeMeBuyIt has billions of views? It's used by e-commerce brands and TikTok users who want to showcase the products they've purchased on the platform.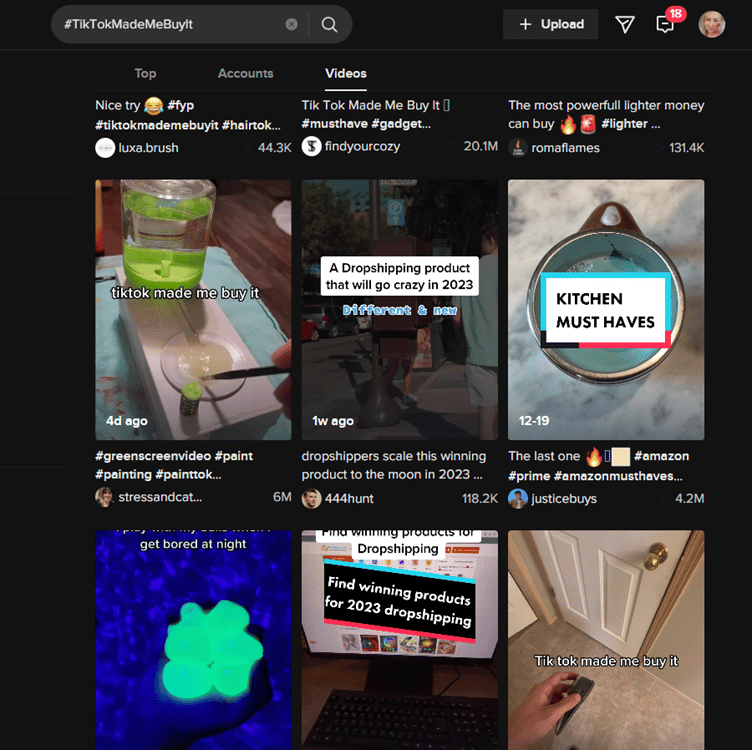 Now we've covered the basics, let's get into the juicy stuff.
5 Rules for Successful Selling on TikTok
How to sell on TikTok rule #1: Switch to a business account
When you create a TikTok account, it's automatically classified as a personal account. If you want to sell on TikTok, you'll need to switch to a business account.
A TikTok business account has a ton of benefits, one of them being access to essential ecommerce insights. Switching to a business account is quick and easy.
It can be done in your settings: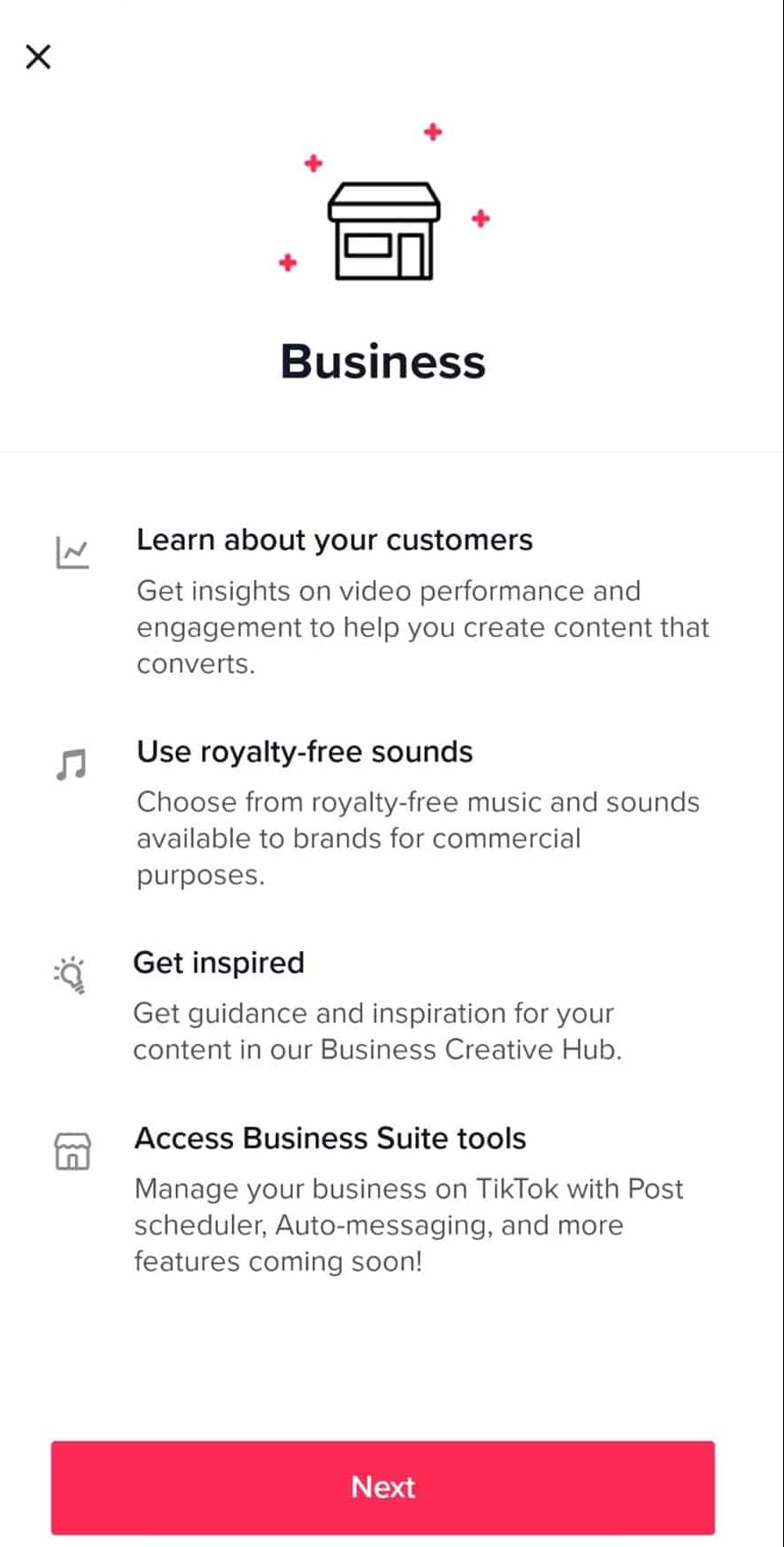 Once you've switched to a business account, you should:
Get familiar with your performance and audience data.
Visit the business creative hub to view case studies and get inspiration.
Boost your content by browsing through 150,000+ royalty-free songs and sounds in the commercial music library.
Update your business account profile with links to your website, email, and other social media accounts. You can also add hashtags and emojis.
Add your products to the TikTok Shop from the Seller Center, and manage your inventory, orders, promotions, creator partnerships, and customer service queries from one place.
To get more sales, include direct links to your products in your bio, and every video you upload. Fewer clicks mean a smooth and seamless checkout.
We don't sell anything on TikTok at my agency, Contentworks Agency, so our bio looks like this.

However, an ecommerce bio like Clinique's will contain a shopping link.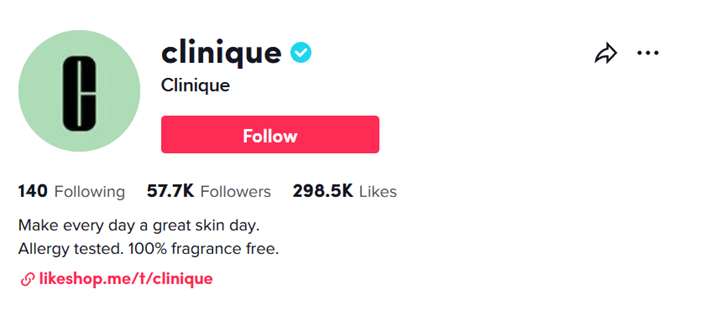 Some brands use LinkTree to add their shopping links to their TikTok bios. That means that visitors can click on one link to access a list of different links.
Here's an example from Jamie Oliver. Your LinkTree link can be used on any of your social media platforms and is a great tool if you want to sell on TikTok.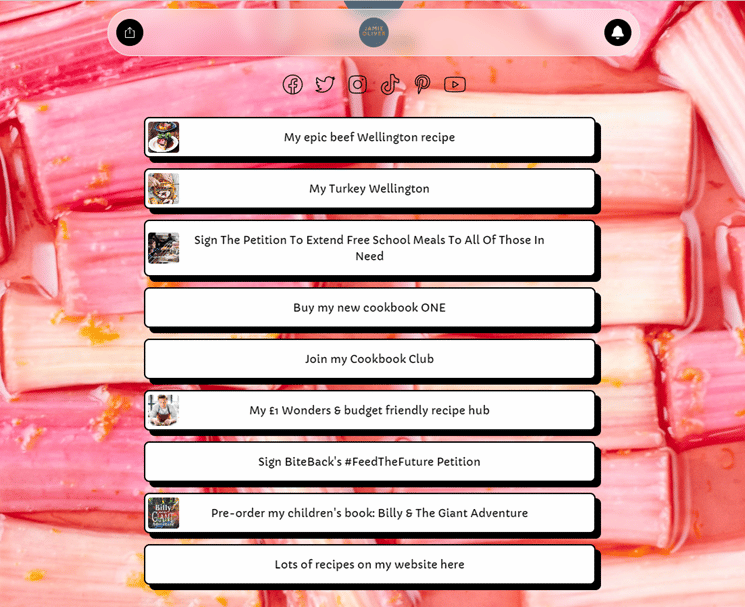 Did you know: TikTok is partnered with ecommerce platforms like WooCommerce, Shopify, BigCommerce, and Square Online to help ecommerce retailers connect their online stores to their social platforms.

How to sell on TikTok rule #2: Tell authentic stories
One of my favorite things about TikTok is that it encourages authentic storytelling. Everything from your caption, the music, your voiceover, and the background in your videos, should tell an authentic story.
The benefits of authentic storytelling on TikTok include:
Solving a problem or sharing an experience in under 30 seconds.

Increased audience engagement from start to finish (This is great for your account ranking.)

Presenting your brand as trustworthy, authentic, and likable.

Building a loyal fan base that identifies and engagement.
British beverage brand Yorkshire Tea posts relatable but hilarious videos like Life Hacks with Brian from HR. Short, funny, and authentic stories in just 15 seconds? The comments that these posts get, show that fans are engaged with this type of content.
Yorkshire Tea also runs an ongoing series that focuses on dipping biscuits into cups of tea. They rank the biscuits for taste and durability. It's 30 seconds of wholesome loveliness!
Or you could take a more whimsical approach like Gucci in The Clock does. Brands like Gucci have huge marketing budgets, though. Don't compare your business with a behemoth like them.
Did you know: Your TikTok stories don't need to be 10 minutes long each time. The longer your video, the fewer full views you're likely to get as audiences have short attention spans.
How to sell on TikTok rule #3: Provide value
Forget the relentless promos, the pushy ads, and the "5 reasons to buy my product" messaging. One of the best ways to make e-commerce sales on TikTok is to provide value.
5 ways to provide value on TikTok
Show viewers how to use your product with a demo or tutorial.

Share related hacks. For example, if you're selling makeup, post a hack for preparing the skin for makeup.

Offer money-saving ideas. For example, post tips on how to get discounts and offers for your product, or how to make it last longer.

Give your opinion or open a live Q&A, so TikTok users can get answers from someone they see as an expert.

Share funny videos. Make your viewers laugh and feel good about themselves.
Check out one of my favorite beauty brands on TikTok: Bobbi Brown. Not only do Bobbi Brown's TikTok tutorials show the product in action, but they also include the name of the product being used, in the description. This is so important if you want to sell on TikTok. If you don't, you'll have done all that hard work, for nothing. Remember to write your product name exactly as it appears in your ecommerce shop.
Did you know: Using only flawless models to sell your products on TikTok is likely to alienate a large chunk of your potential customers. Use a diverse range of ethnicities, skin types, body shapes, physical abilities, and genders in your TikTok content.
Related reading: What to Know About TikTok Ads
How to sell on TikTok rule #4: Feature unboxings
There's something about watching someone unbox a product that gets us itching to purchase! Viewers are up to 85% more likely to buy after watching a product unboxing video.
Unboxing videos are now a standard part of the research consumers do before making a purchase. It also explains why the hashtag #unboxing has 57.9 billion views on TikTok.
Watching someone else open a beautiful gift can often trigger the Fear of Missing Out emotion. For instance, how many of us have bought ourselves a gift while shopping for someone else because we hate missing out? It's a similar concept with product unboxings on TikTok.
What does a typical TikTok unboxing video look like?
The TikTok creator will excitedly receive a package.

The package will be beautifully presented, so the TikTok creator will show it off to the camera and take a moment to admire it.

The TikTok creator will then open the package and take out the contents.

Each item will be shown to the camera and explained to the viewers.

At the end, a shopping link or discount code will be shown. A

ffiliates

and partners often use unboxing as part of their sales strategy, so they'll usually add an affiliate code to these links.
Tech and electronic products take center stage in the product unboxing show: #iPhone14unboxing is one of the most popular hashtags on TikTok. But everything, from cosmetics and clothing to toys, and household items, can be unboxed. The key is to create hype, showcase the product, and provide a way for viewers to buy it.
To really ramp up your e-commerce sales, you need to capitalize on the power of sound in your TikTok product unboxing videos. For example, 39% of TikTok users say that "lifting their spirits" is a key factor to consider when they're buying a product. So, use music to focus on the light and happy side of TikTok, and leave your viewers feeling happy and ready to purchase.
Learn how to add music, sounds, and effects to your TikTok videos.
Did you know: Big brands like Swarovski employ top influencers like Bella Hadid to unbox and showcase their products. But to employ someone like Bella would cost you over $100,000 per sponsored post. And that's just for a post, not even for a video!
Instead, why not team up with a micro-influencer or a top fan for your unboxing videos? We know that micro-influencer marketing sells products, so why not draw up an agreement with your ambassadors in return for some free samples or merchandise?
How to sell on TikTok rule #5: Use the right hashtags
Unlike platforms like Facebook, hashtags really do matter on TikTok. You could use campaign-specific hashtags like Nissan USA did in this funny TikTok #NewFrontiers.
Or like fashion brand GAP does. When it they ran its inclusivity campaign, GAP used the hashtag #gapkidsbelong across all of their social media channels.
Having one campaign hashtag and using it across all your social media networks will allow you to tap into campaign-specific pickup, engagement, and even ROI analytics.
@gap Everyone Belongs 🤝 Back to School. This fall we're celebrating kids coming together — just as themselves, just as they are. We got a little help from Author Heather Avis and her book "Everyone Belongs", where a group of kids come together to shine ⭐ Come join #gapkidsbelong ♬ original sound – gap
Or instead of using one campaign-specific hashtag, you could utilize several hashtags related to your product. Doing so will widen your reach and help you generate more TikTok views.
If you're serious about getting more views and followers, then explore TikTok's hashtag challenges. Any ecommerce brands, big or small, can jump onto a relevant TikTok hashtag challenge and boost their exposure on the platform.
TikTok hashtag challenges are trends that usually start with one person or brand but, if they catch on, soon go viral as more and more people want to take part. TikTok hashtag challenges can be about anything: sports, cooking, makeup, or transformations, to name just a few.
The top TikTok hashtag challenges in 2022
In 2022, I Will…

Simple recipe to make Birria Ramen Noodles

The Learn Something New Challenge

The Empath TikTok Challenge

The Journal Challenge
Capitalizing on TikTok hashtag trends will help you increase engagement on your videos, which can equal more sales. Monitor trends on the platform and think of creative ways to jump on board. Remember, they don't always need to be promotional!
What We've Learned About Selling on TikTok
Of course, you could simply leverage paid ads to sell almost anything on TikTok and boost your ecommerce sales. However, I would recommend that you build your channel organically, first.
Find your niche, hone your video style, utilize the platform's tools, and streamline the ecommerce journey.
Reach your audience with the right hashtags, and engage them by posting fun, useful, and authentic content that provides them with value.
Don't just post your video and forget about it, though. Monitoring popular content, the comments and interactions you receive, and the number of fans you have, will help you establish your ecommerce ROI, which is incredibly important.
Fortunately, you can do all that with Agorapulse. You can schedule and publish content, manage comments, and generate reports for multiple social media platforms, including TikTok.
Schedule a FREE demo with us to find out how you can start using TikTok as part of your marketing mix.