Whether you're launching a new brand or you want to grow an existing business, TikTok is a critical platform for brands to leverage. With more than 1 billion active global users, TikTok is the place for brands to boost awareness, build engaged communities, and drive sales.
So how can social media marketers use this short-form video platform successfully? Find out how to make a TikTok video and learn how to use the platform's tools to make more engaging content for your brand.
How to Make a TikTok Video Using Existing Clips
Like Instagram reels and YouTube shorts, TikTok gives creators the option to make videos using either existing or new content.
First, let's explore how to create a TikTok video with pre-made content.
Upload a pre-made clip
To start creating, open the TikTok mobile app and tap the plus sign in the bottom menu. By default, TikTok usually creates 15-second videos. But you can swipe the time frames above the red record button to create a 60-second or 3-minute video instead.
To access your device's gallery, tap the Upload button in the lower right corner. Navigate to the Videos tab and select the video you want to share.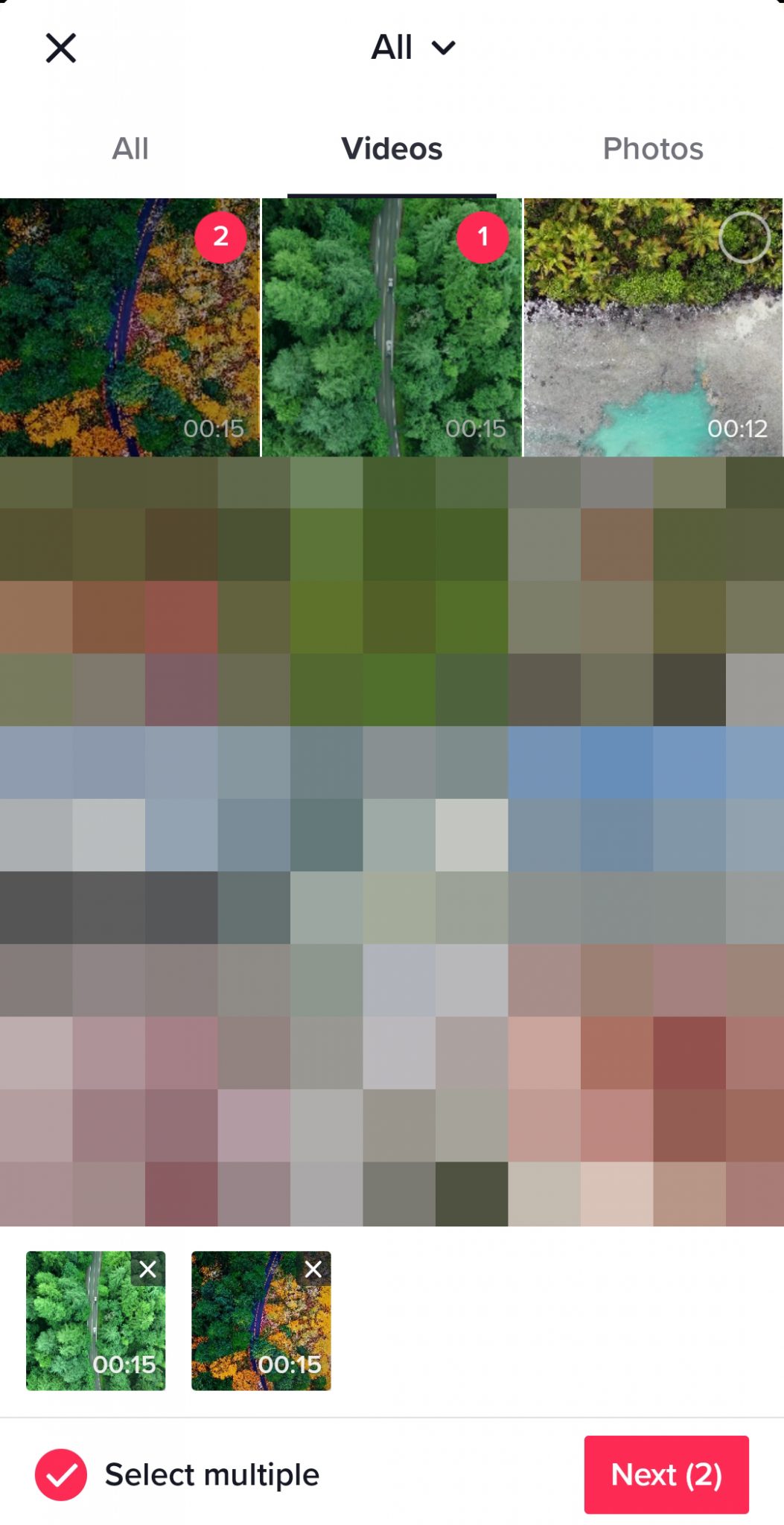 Do you want to include multiple clips and add creative transitions in between? Tap the Select multiple option at the bottom of the screen, and choose all the clips you want to use.
You won't see an option to add more clips later.
Use TikTok's editing tools
Now, it's time for the fun part! TikTok has tons of built-in tools you can use to make your video stand out.
You'll find all of these tools in the app's right-hand menu.
Effects
TikTok's effects add overlays, visual components, and interactive elements to videos. It's easy to get overwhelmed by the sheer amount of available effects, but the Trending tab is a good place to start since it displays what's popular now.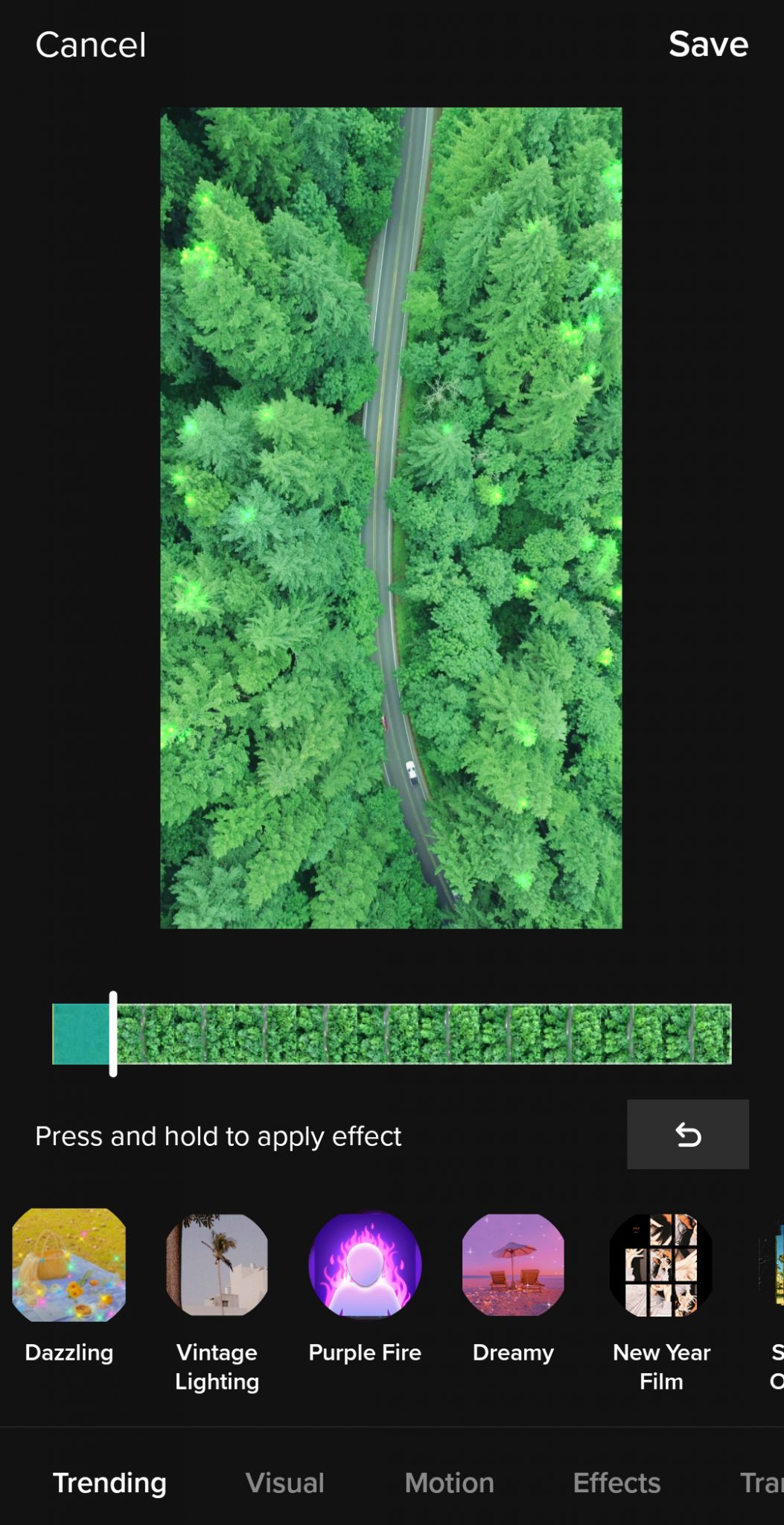 One major difference from Instagram reels is that TikTok allows multiple effects in a single video. To apply an effect, press and hold. Then scroll to another part of the video to apply it again—or choose another effect to use.
Filters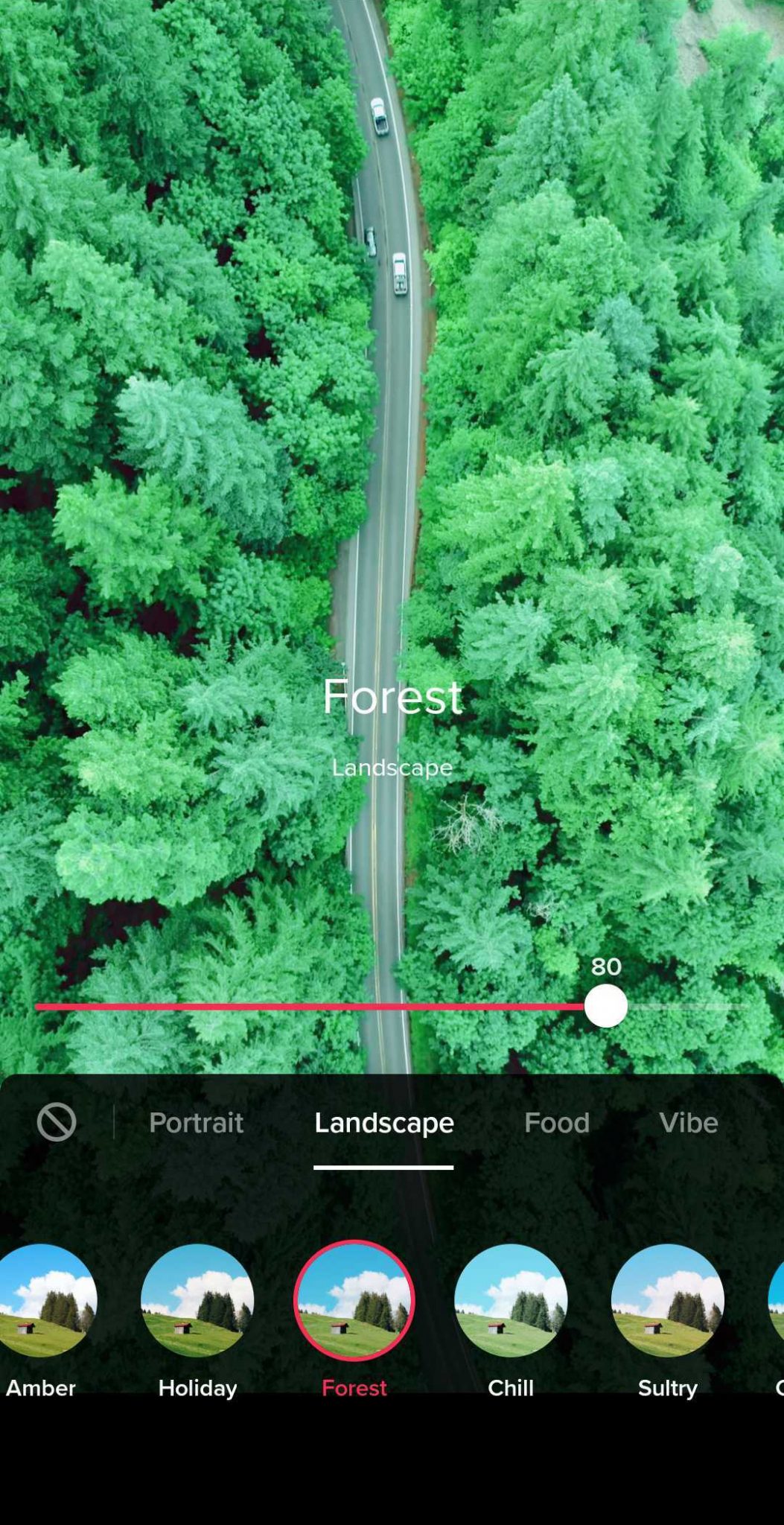 Unlike effects, TikTok filters apply to the entire video and primarily change the color, saturation, and contrast of the video.
To find the right filter for your video, start with category tabs—including Landscape and Food. Then scroll through and preview your choice of filters.
Text
Text overlays are your ticket to adding commentary to TikTok videos. Tap the Text button, add copy, and choose the color and font for the overlay. Then drag and drop to position the text on the screen.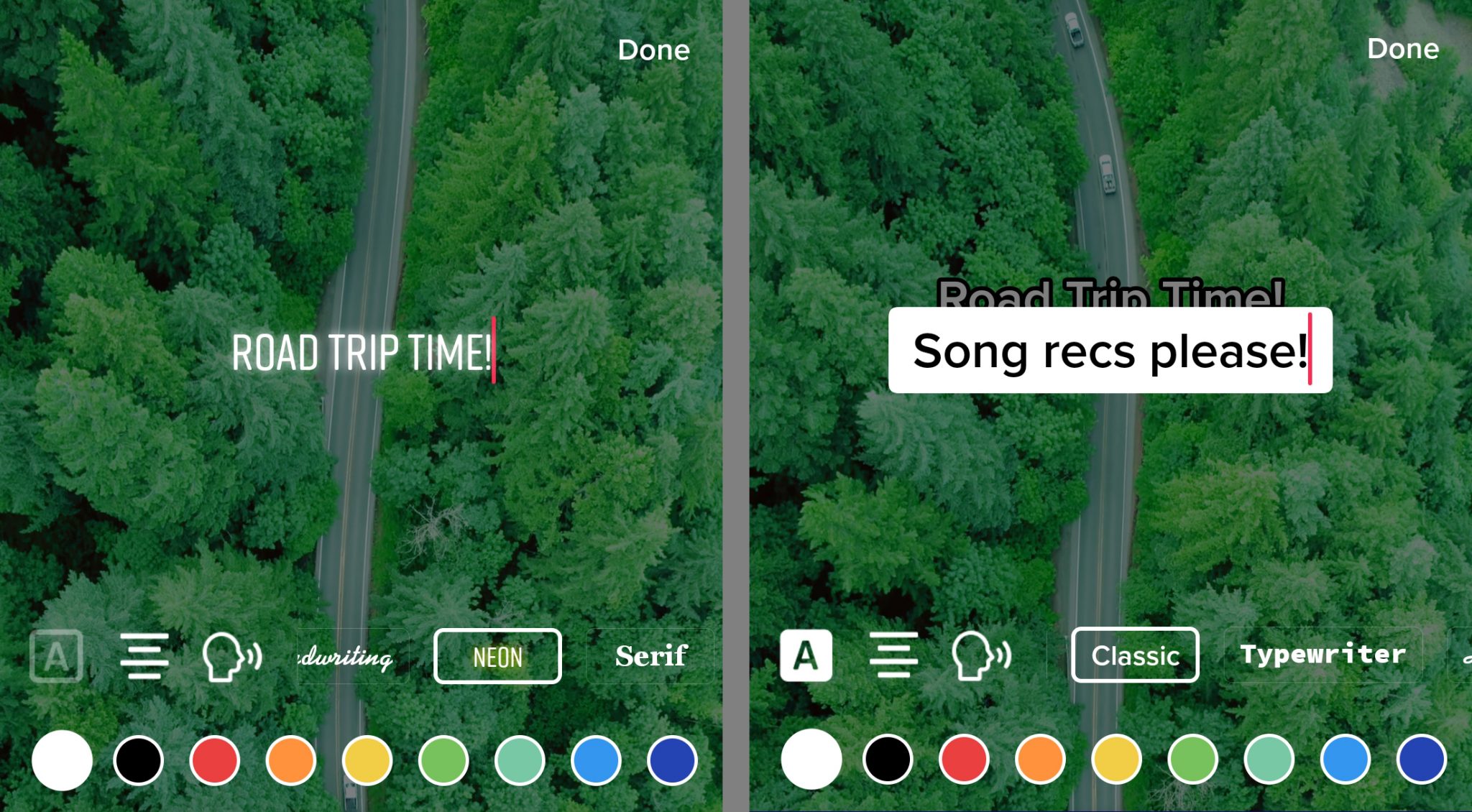 You can add as many text overlays as you like to guide viewers through the video. We'll cover how to adjust the timing for each element below.
Stickers
TikTok has two types of stickers. Most stickers are visual only, meaning they let you add graphics and emojis for context or entertainment.
But some stickers are interactive, meaning viewers can tap them to see more information or interact with your brand. To add interactive elements to your TikTok, tap the Stickers button and browse the Recommended options.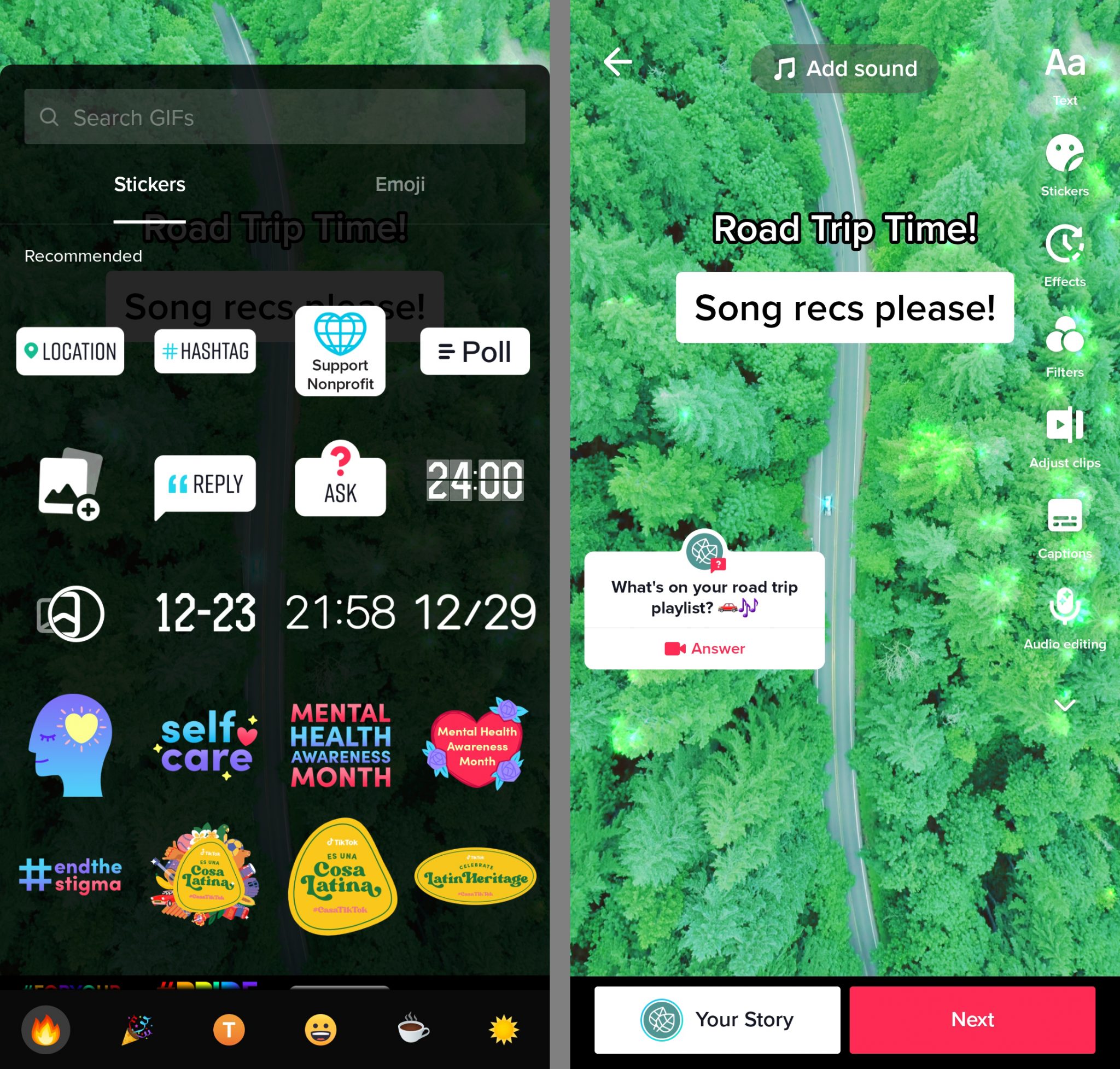 For example, the Ask sticker above lets you pose a question to viewers. Anyone can tap to respond to your prompt with a new TikTok.
Audio
If the video clip you uploaded already features original or royalty-free audio, you're good to go. But if your clip is silent, make sure to add sound through TikTok's audio library.
Sound is a key component for TikTok videos, especially for brands. Reports state that audio is critical for improving brand awareness, increasing consideration, and driving sales.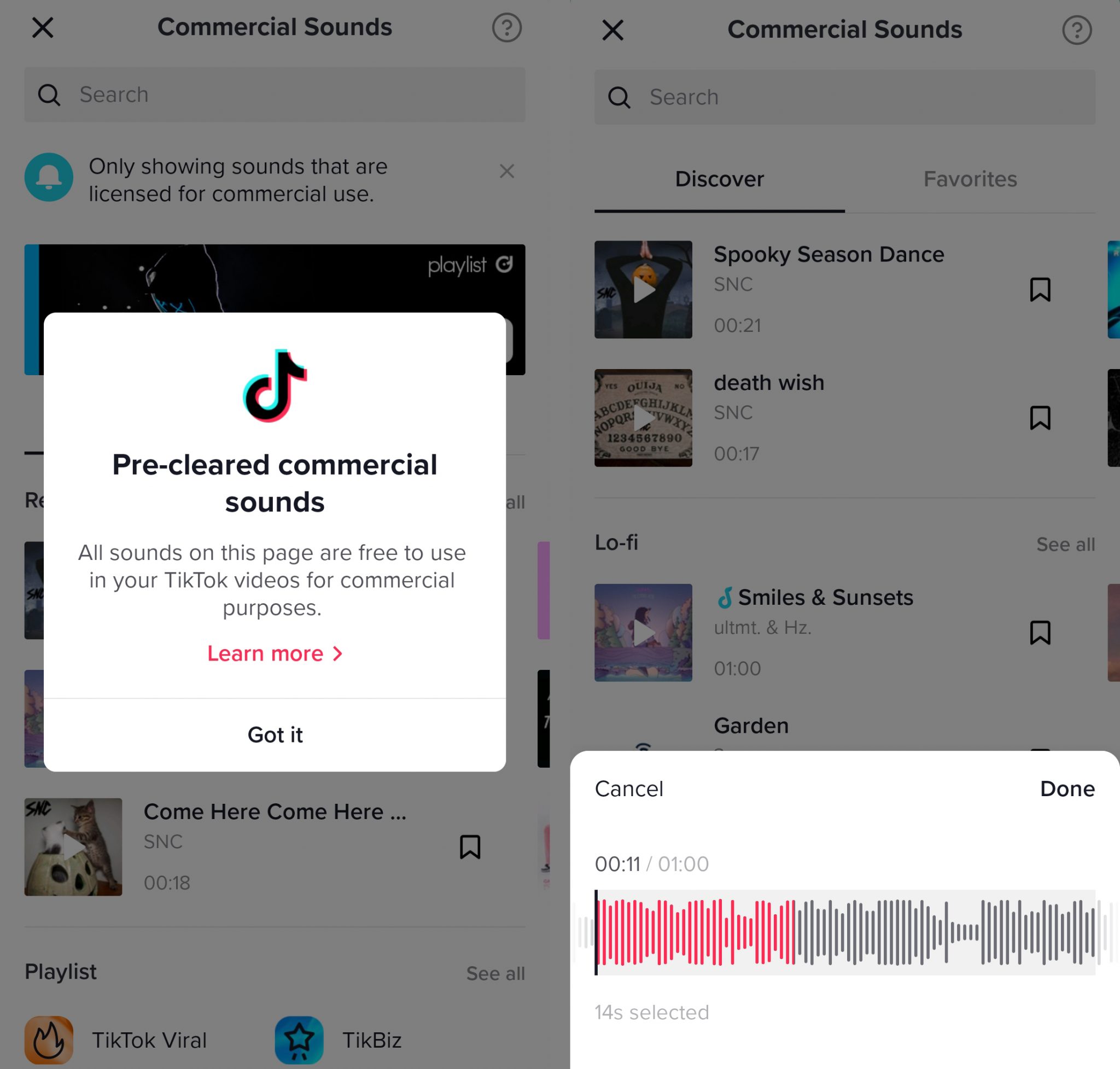 The easiest way to include audio in your TikTok videos is to tap the Add sound button at the top of the screen. If you signed up for a business TikTok account, you'll get access to the Commercial Sounds library—which brands are free to use.
Scroll through the library, and tap to preview any song. Tap the red checkmark to add any song to your video, or tap the scissors icon to select a specific section of the song. TikTok automatically credits the creator in the published video.
Adjust clips
To make any final edits to the video before publishing, tap the Adjust clips button in the right-hand menu. Then toggle between the tabs at the bottom of the screen to edit the content.
For example, you can trim the clip, rotate the video, or adjust the speed. You can also adjust the timing of the text overlays, so they appear on the screen at specific times.
Optimize and publish
When you're finished editing the video, tap Next to add final touches. First, add a caption. If you used an interactive sticker like the one above, TikTok automatically adds relevant caption data. You can add more hashtags and mentions or even tag existing videos.
To add more context to your video, you can add the location, tag other brands or creators, or add a link to a supported app. You can also adjust the settings for comments and TikTok's Stitch and Duet features.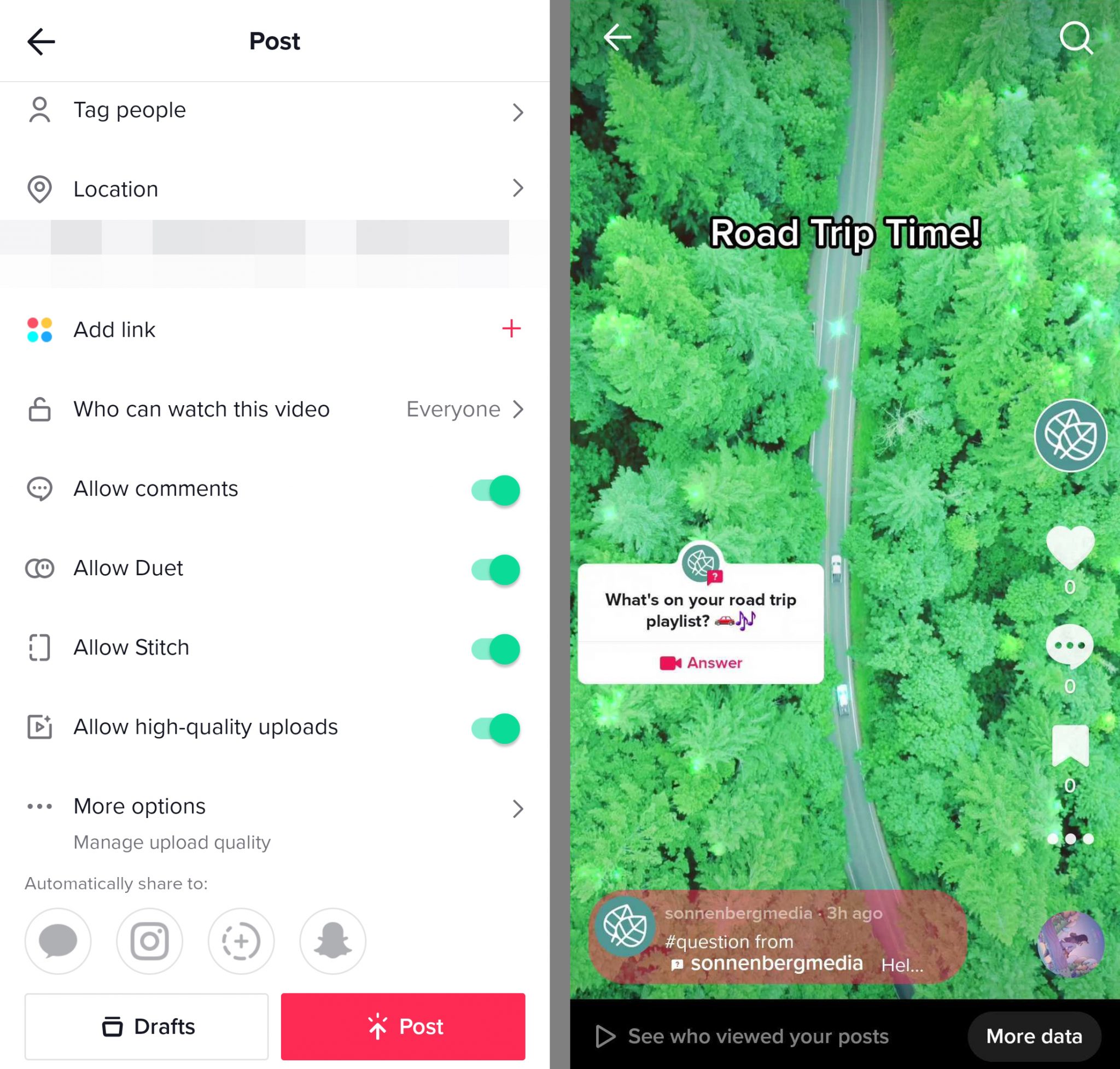 Do you need to run the video by a team member before publishing? Tap Drafts to save the video.
Are you ready for the video to go live? Tap Post to publish.
How to Make a TikTok Video with New Content
Do you want to create a TikTok video in the moment? Though you can still use all the editing tools we already covered, the content creation process is a little different.
Let's look at how to film new content for a TikTok video.
Get creative
Open TikTok and tap to create a new video.
First, adjust the timing for the TikTok, and then change the speed if necessary. If you need to set up a shot, use the countdown option to start recording at a preset time.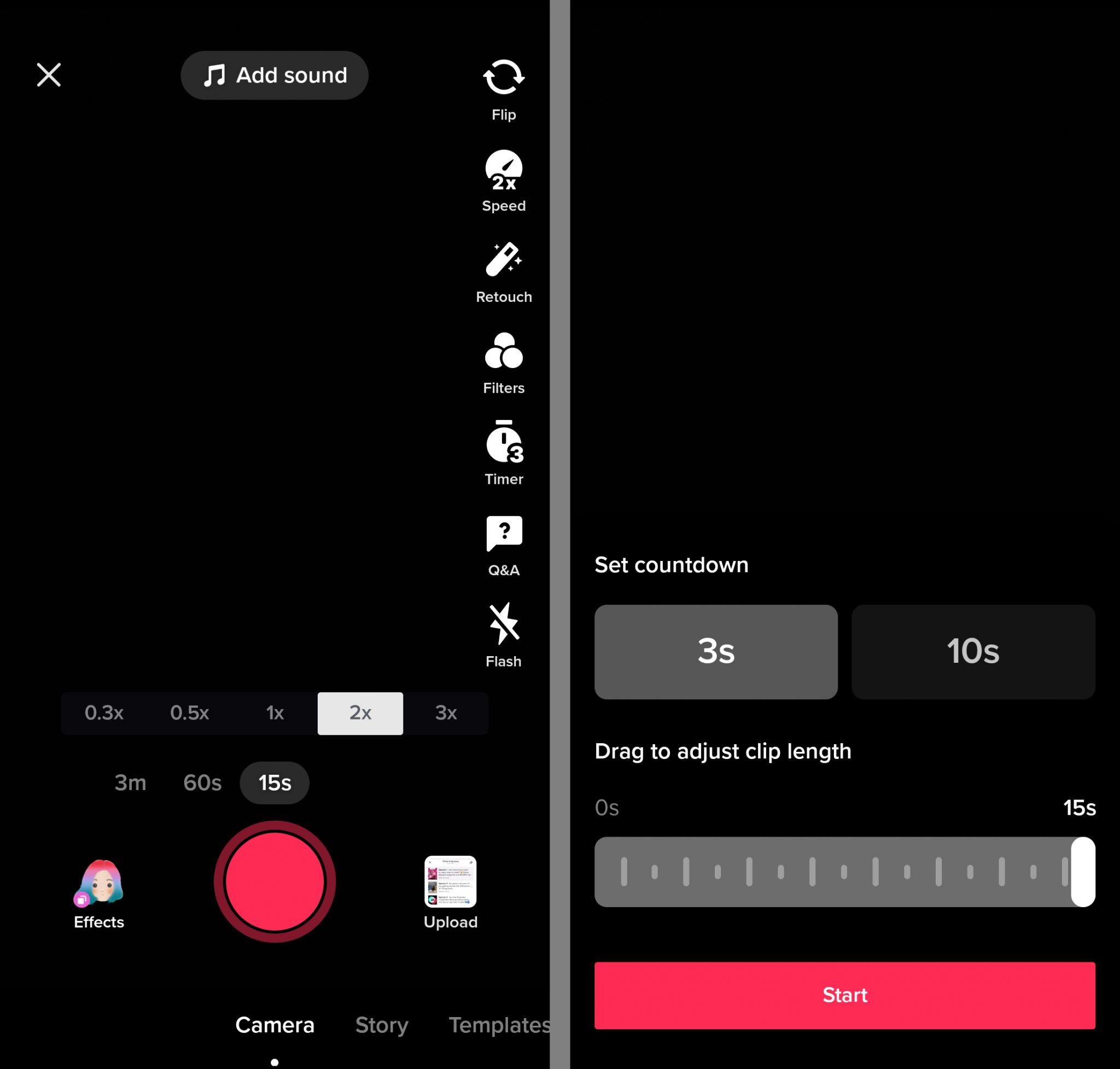 When you record new content in the TikTok app, you can access a much wider range of effects. Tap the Effects button in the lower left corner to browse the options and apply one to your video.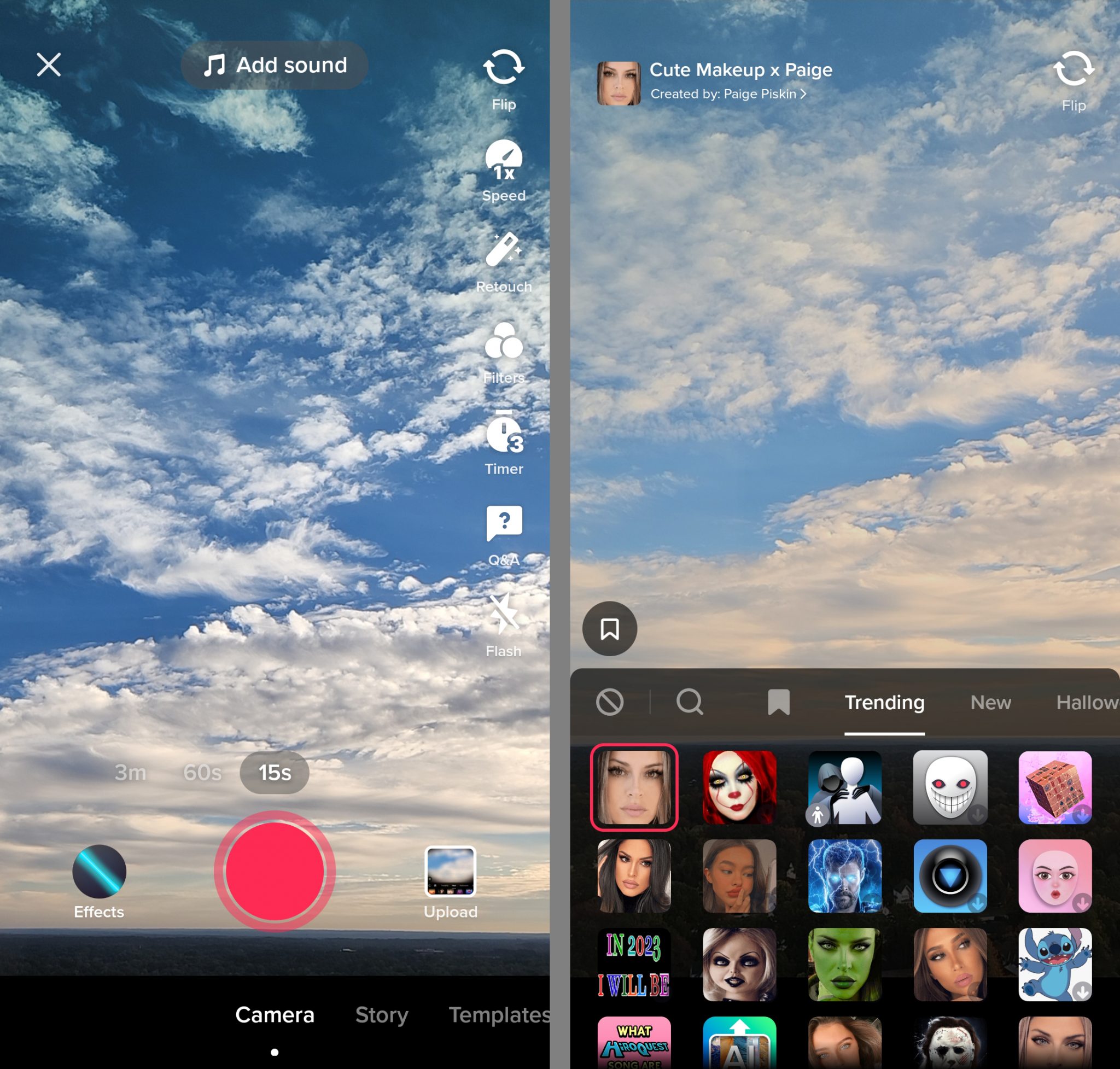 After recording a clip, the app automatically directs you to the editing screen.
If you want to add more clips, tap the back arrow in the upper left corner. Then record additional clips until you reach the time limit.
You can't change the timing after you start filming, so make sure to plan the time frame in advance.
Edit, optimize, and publish
After creating a video, you can use all TikTok's editing and optimization tools. If you included dialogue or narration in the video, you could also add captions. Tap the Captions button to prompt TikTok to auto-generate them.
You can review and edit them before saving.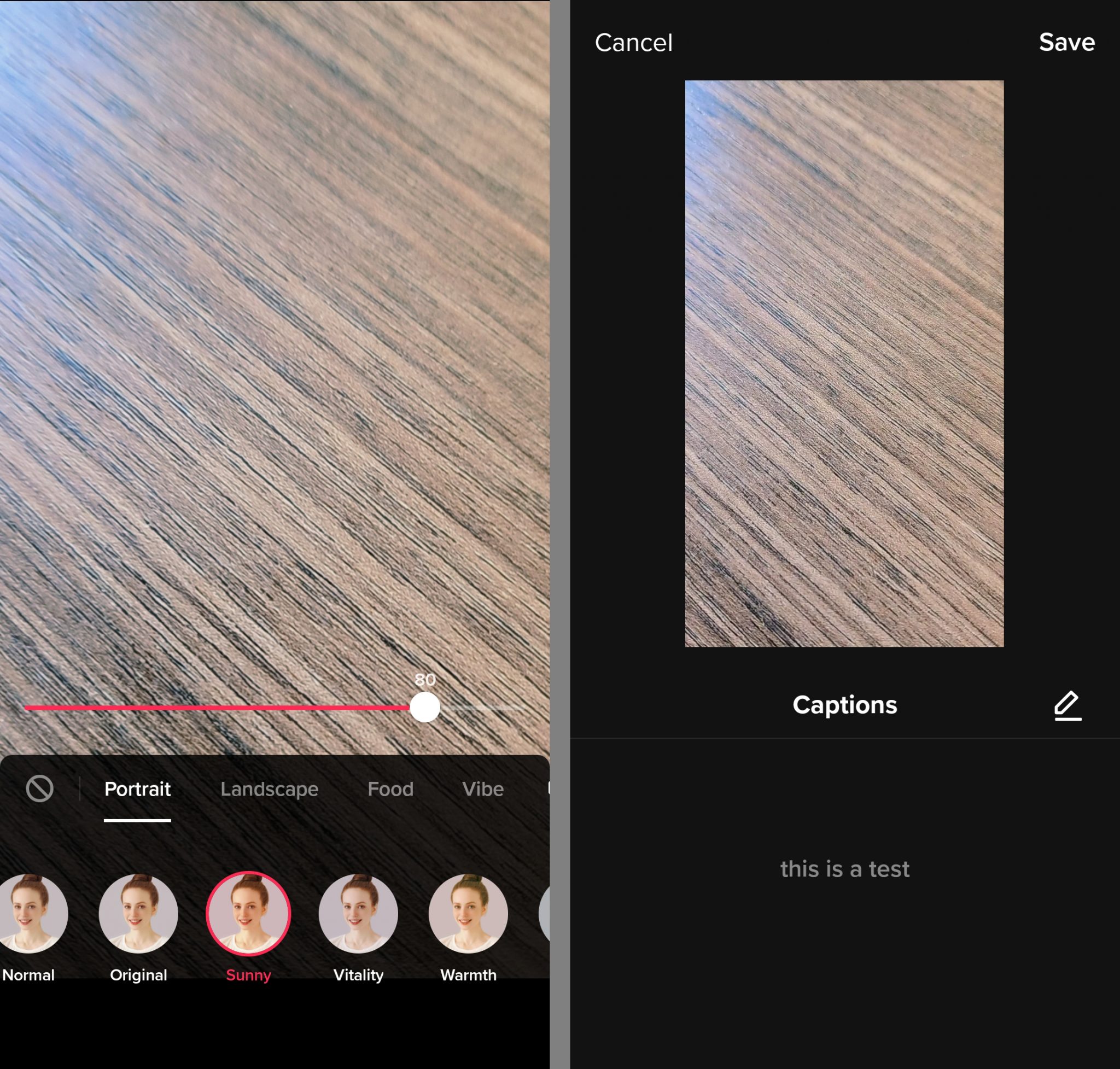 Then use the workflow above to wrap up your video. You can save it to drafts or publish it immediately.
How to Make a TikTok Using Photos
Although TikTok is a short-form video platform, it lets creators use still images as source material. Let's look at how to create TikTok content using photos.
Open the TikTok app and start creating a new video. Tap the Upload option, and go to the Photos tab. Check the Select multiple option at the bottom of the screen and choose all the photos you want to feature in the video.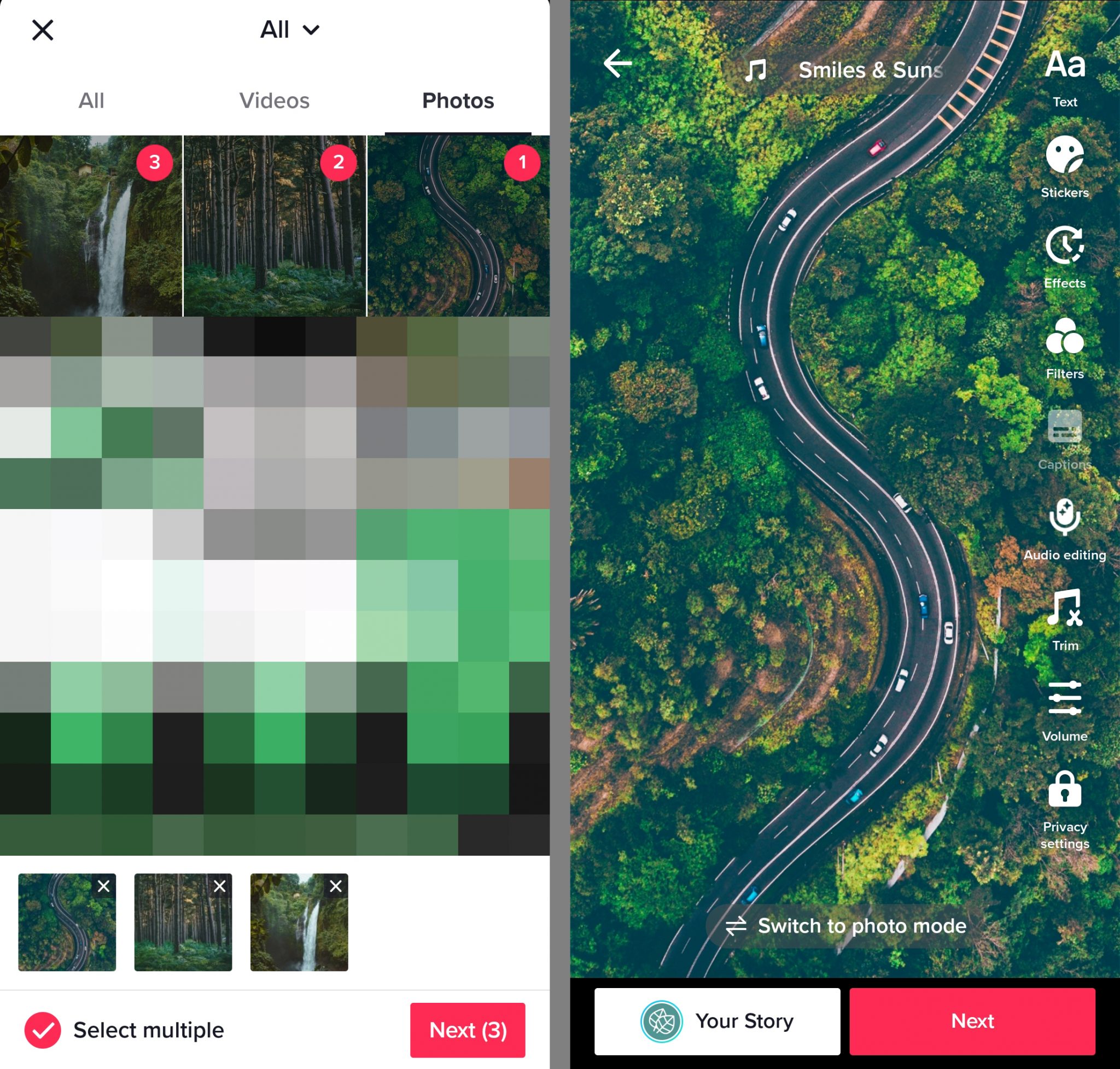 TikTok automatically turns the photos into a video, with each image displaying for 3 seconds. You can switch to displaying them in photo mode instead, but video mode is your best bet for leveraging TikTok's short-form video feed.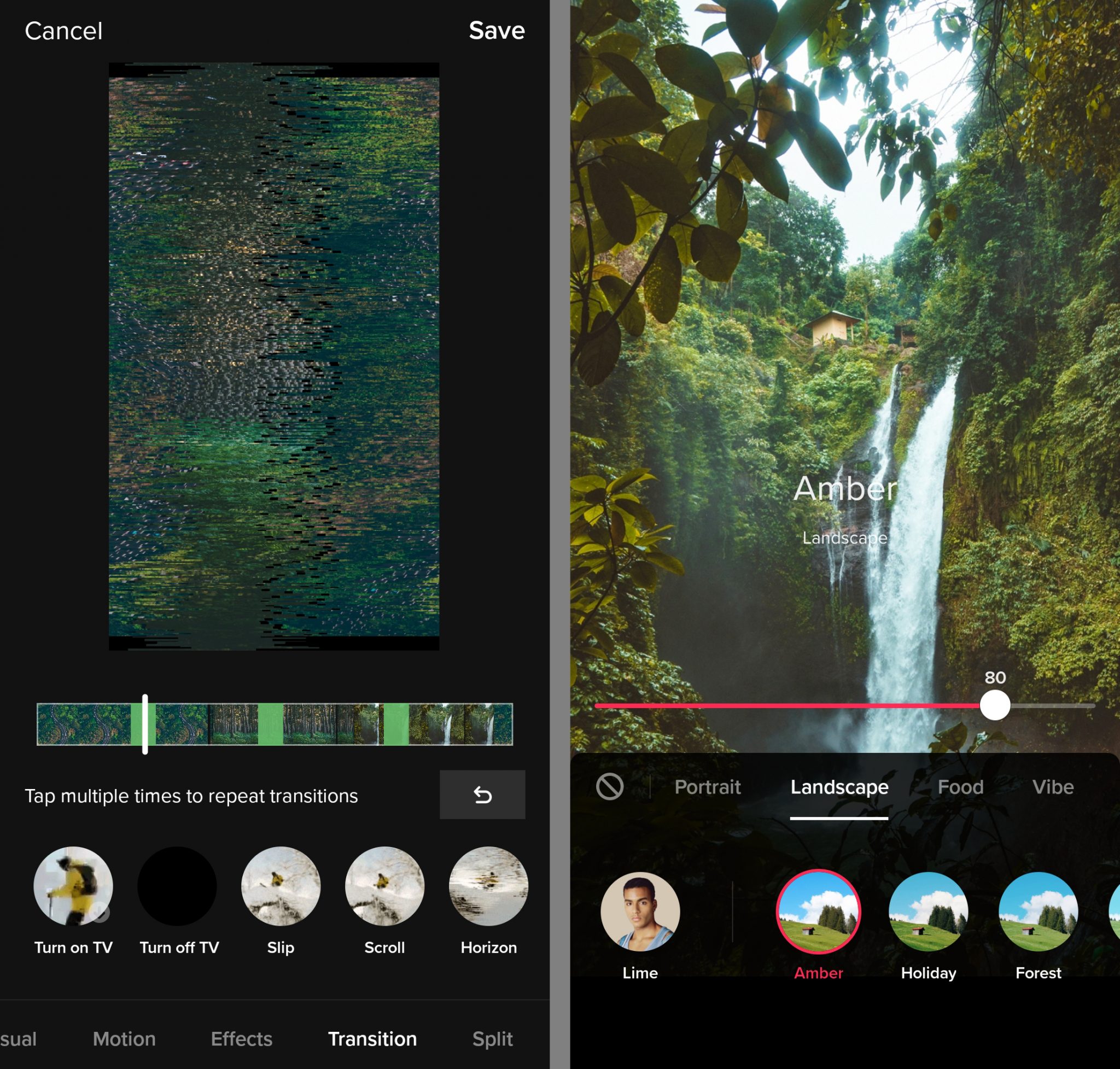 Next, use TikTok's editing tools to make your video shine.
Don't like the automated transitions between photos? Use the app's built-in effects to add a more engaging transition.
You can also use text, filters, and stickers to make your video more vibrant.
After editing, follow the steps we covered above to optimize your photo-based TikTok video. Then save for review or publish to your brand's TikTok profile.
7 Tips for More Engaging TikTok Videos
TikTok is built to drive discovery. It's less about attracting a huge following and more about creating engaging video content that's easy for your target audience to find and enjoy.
The best way to get your brand discovered on TikTok is to land on users' For You Page (FYP).
Use the tips below to boost engagement and increase the chance of getting on the FYP.
1. Make the first seconds count
TikTok is a fast-paced platform that users can navigate at lightning speed. If you want your target audience to stop and watch your content instead of scrolling past, you have to hook your audience right away.
Here are a few ideas to maximize the first few seconds:
Show movement right away rather than starting slowly.
Include a text overlay or narration that captures interest immediately.
Use storytelling techniques to draw viewers in and get them to keep watching.
Add a cut or a transition to keep the action moving and hold viewers' interest.
2. Get interactive
Likes, shares, and comments are great. But great TikTok marketing requires more creative engagement.
For example, interactive stickers are a great place to start. In addition to creating question stickers, you can host polls that help you get to know your audience.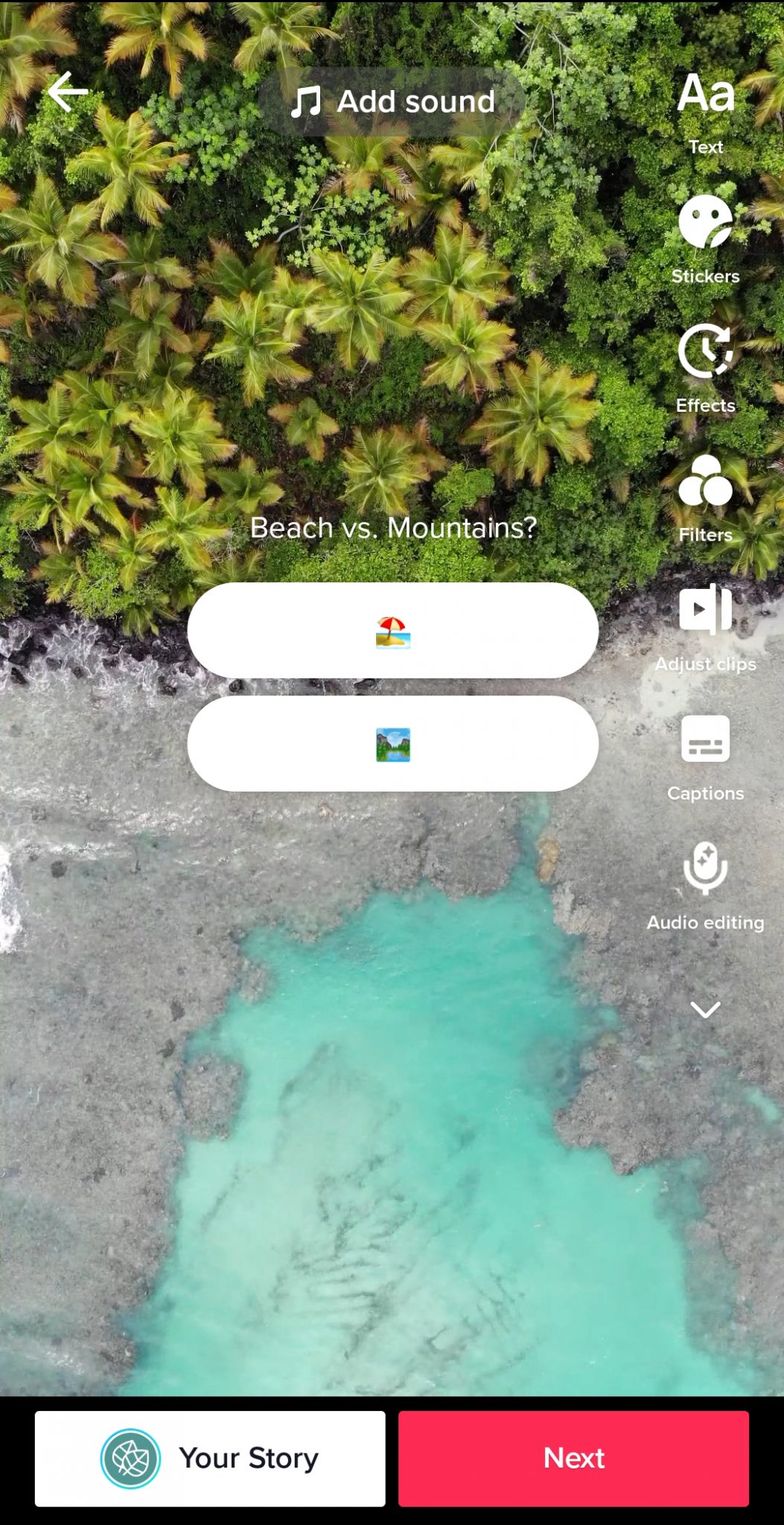 When you create TikTok content, you can enable Stitch and Duet features that let your audience interact with your content. But you can also use Stitch and Duet features to interact with other brands' or creators' videos.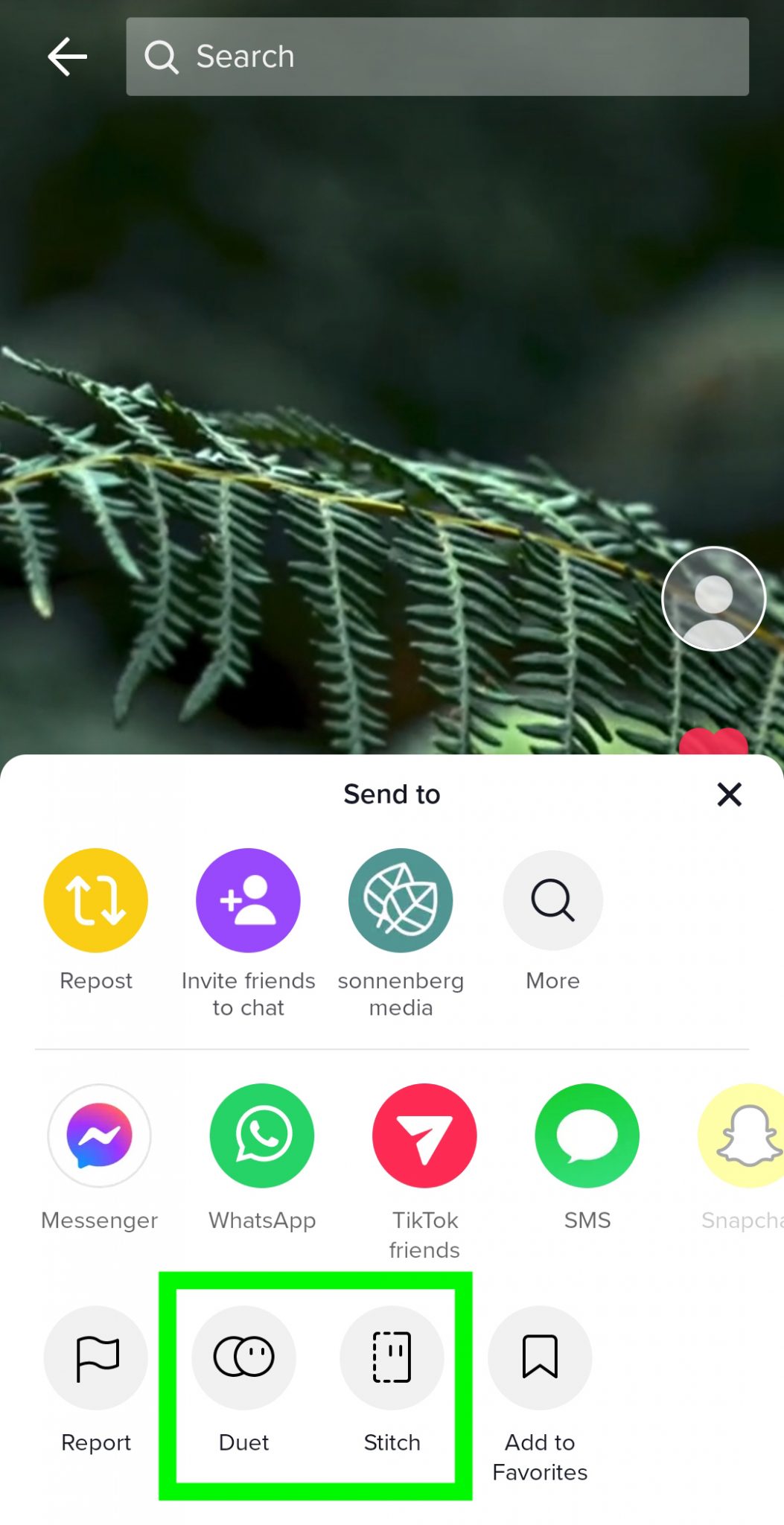 To access these features, open any video and tap the Share arrow. If the creator has enabled Stitch or Duet, you'll see these options listed. Tap either option to get started.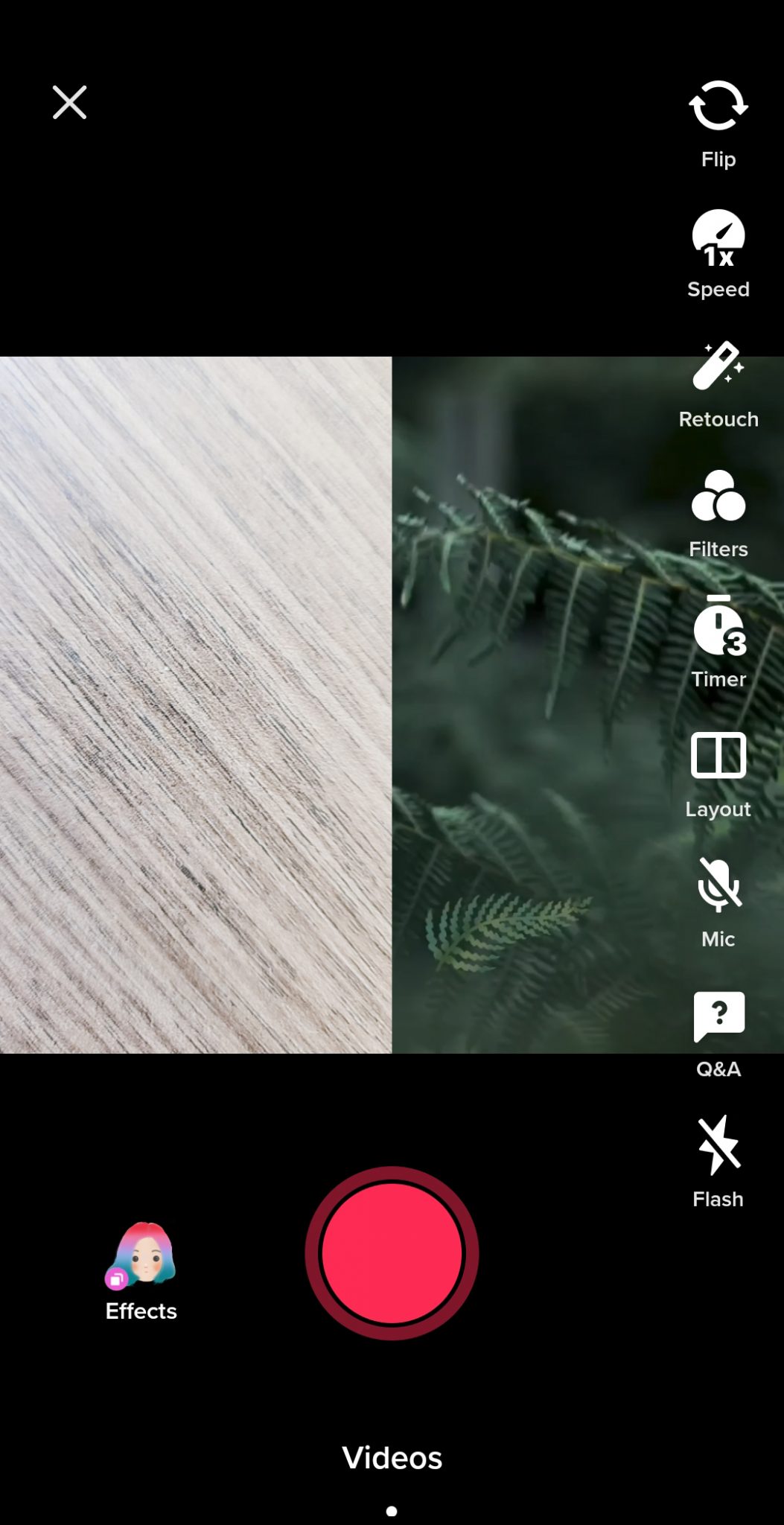 Duet (pictured above) lets you create a new video alongside an existing TikTok. It's ideal for showing a reaction or adding more context to the original video.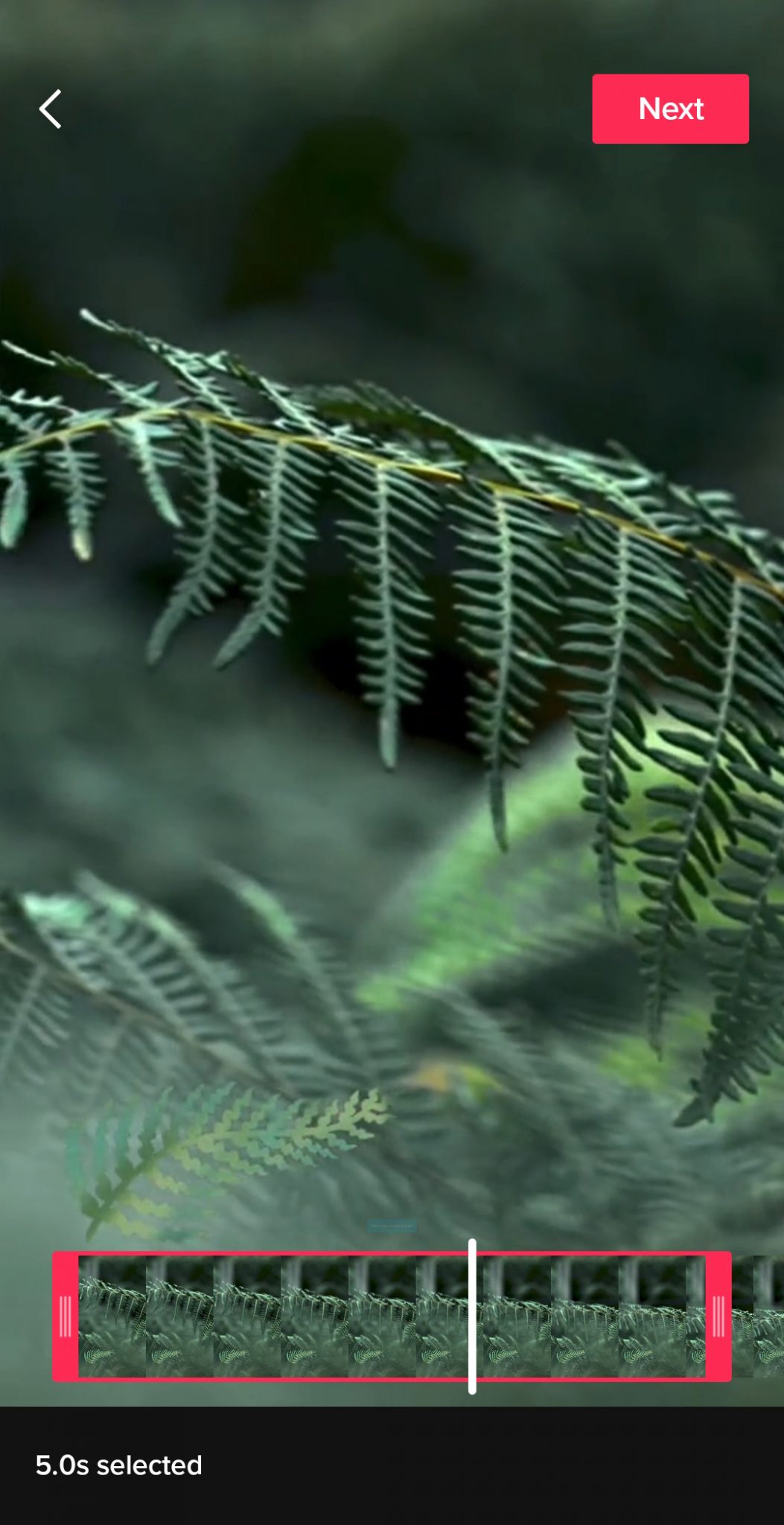 Stitch (pictured above) lets you trim up to 5 seconds from another creator's video to use at the beginning of your own. It's helpful for adding your take on trending content.
3. Make the most of TikTok audio
Trends come and go quickly on TikTok, so it's important to hop on them quickly—especially when adding audio to your videos.
Although you can identify trending songs by scrolling through the app, the TikTok Creative Center makes finding popular songs easy.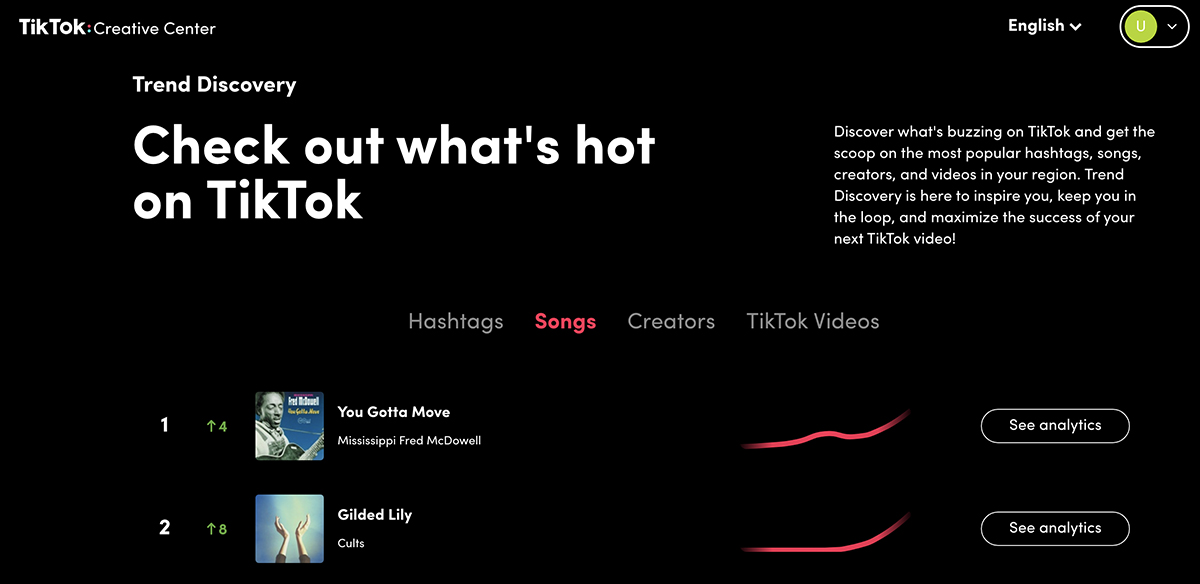 For business accounts on TikTok, accessing trending audio isn't always possible because of licensing restrictions. Fortunately, you can always create your own original audio in the app—which other creators can use in their own content.
Wondering how to make a sound on TikTok? Record your own original audio using your voice, background noise, or other elements. TikTok automatically labels it as original audio. When you publish your video, others can repurpose the audio in their own content.
4. Know your hashtags
Hashtags are essential for improving visibility, driving discovery, and adding context on TikTok. Along with adding contextual and industry hashtags to your videos, consider exploring branded and trending hashtags.
Branded hashtags can help fans find your content more easily.
Already have a branded hashtag on Instagram or another social channel? You can easily carry it over to TikTok.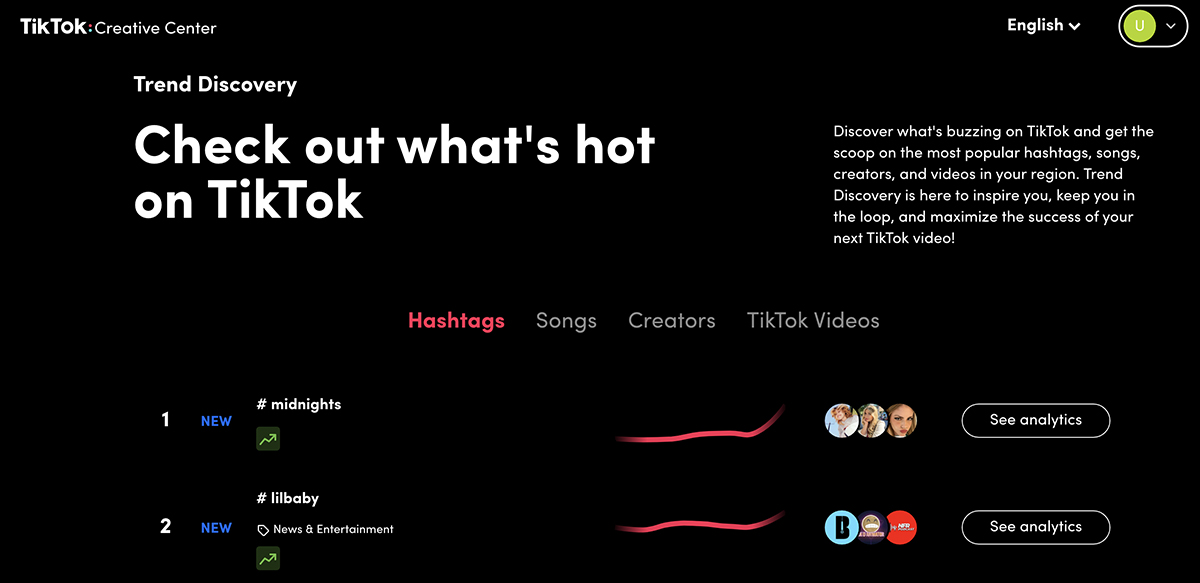 Trending hashtags can help you increase reach and give you ideas for new content to create. Use the TikTok Creative Center to get an idea of what's trending now.
5. Make a TikTok playlist
Another way to increase views and engagement is to direct viewers to your best content.
Curious how to make a playlist on TikTok, similar to the one on the official TikTok account below? If you have access to the playlist feature, follow the steps below.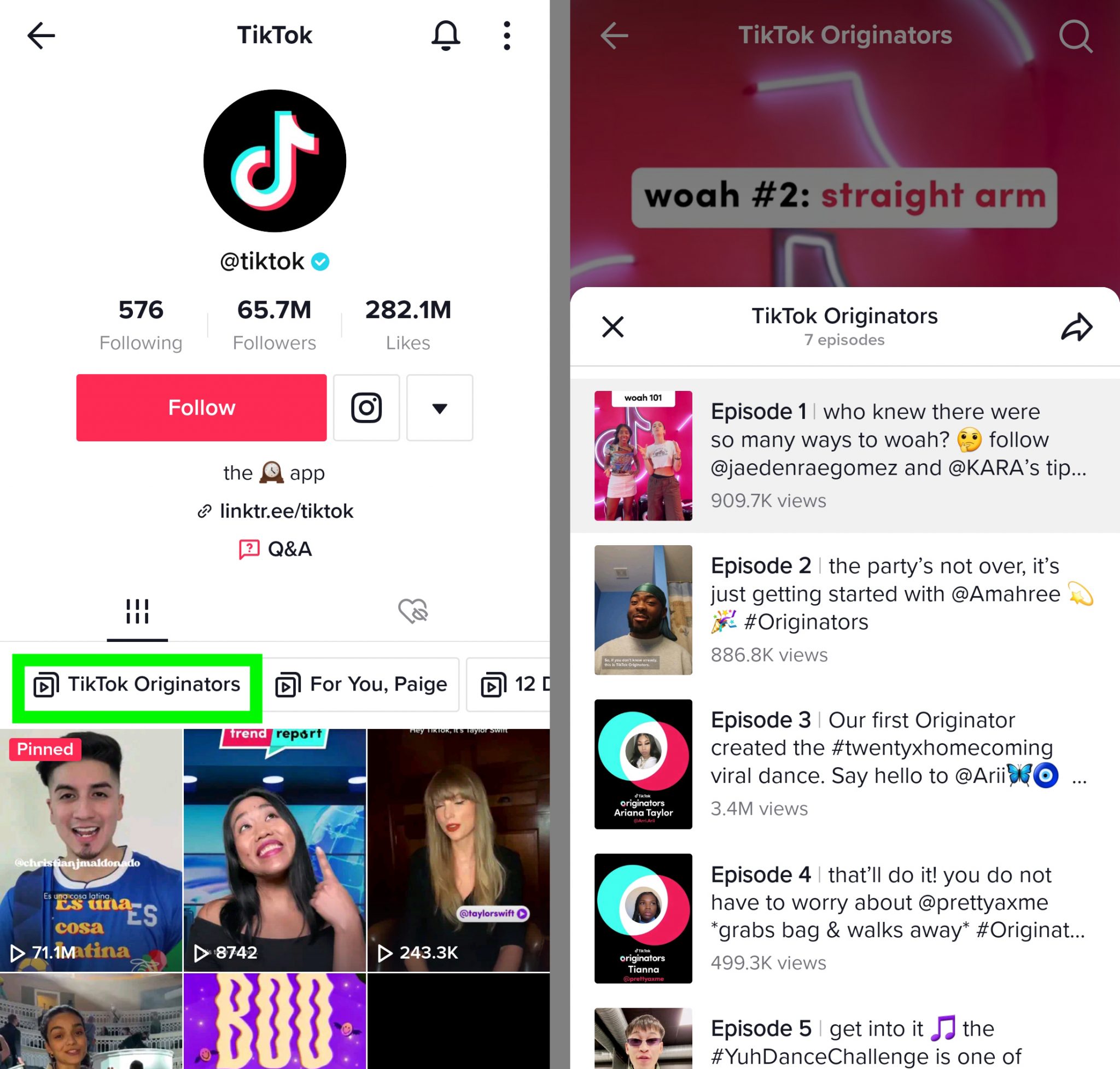 Go to your profile and open the Videos tab. Tap Sort videos into playlists and start organizing your content. The playlists you create appear on your profile so your audience can easily browse and watch.
6. Review TikTok Insights
Trends are a major part of the appeal of TikTok—and leveraging them can help your brand succeed on the platform. But it's also important to create content that reaches and resonates with your audience.
Review your brand's TikTok analytics regularly. To find your content insights, go to your profile and open the menu in the upper right corner. Select Business suite and tap Analytics. Here, you can get overviews of engagement, content, and followers.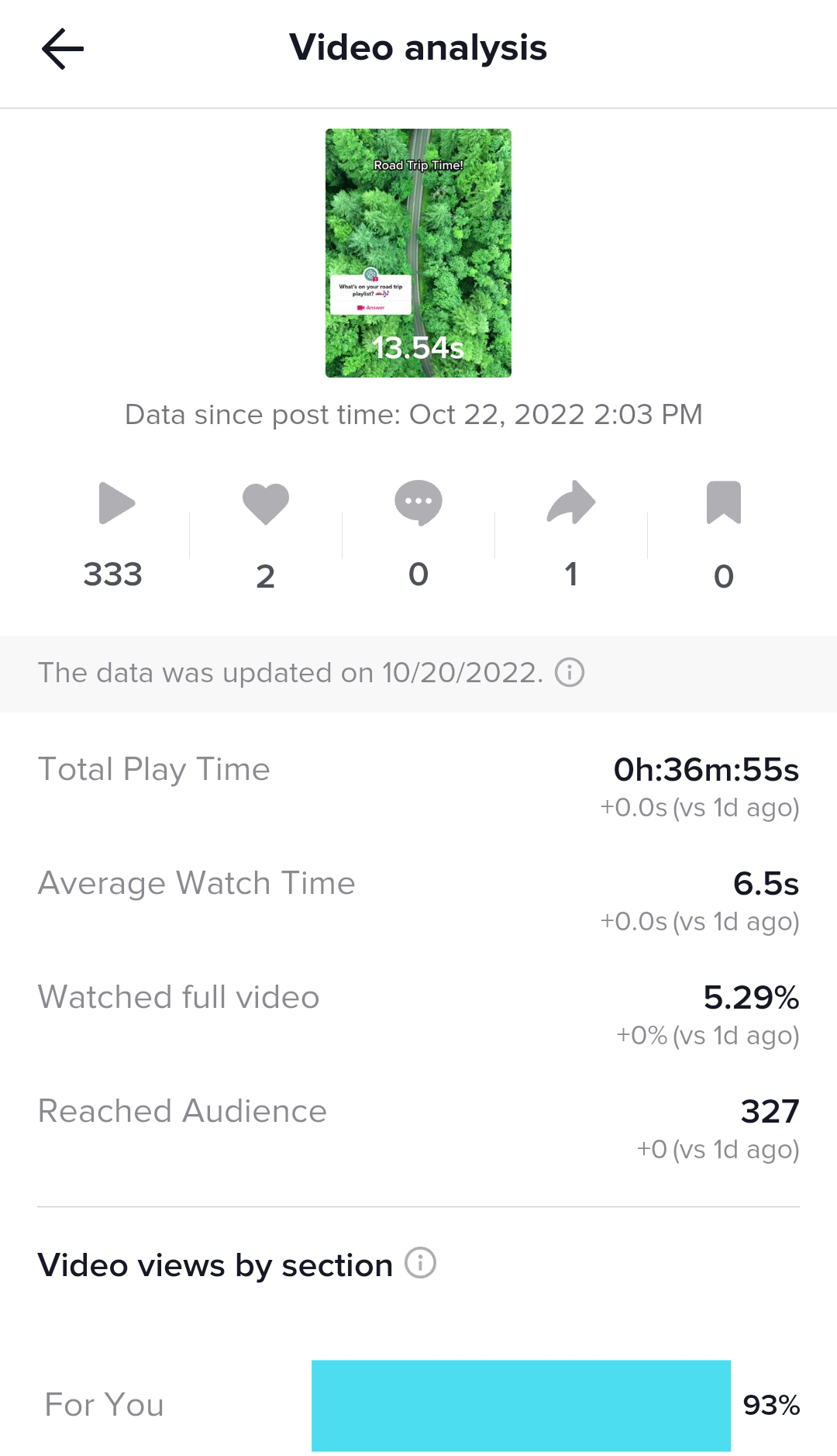 For TikTok video analytics, you can also open any video and tap More data in the lower right corner. Here, you can gauge reach, plays, and engagement.
Use Average Watch Time metrics to see whether viewers are watching all or just part of your video. If they're scrolling away after a few seconds, you may want to work on adding better hooks at the beginning of your videos.
You can also use the Video views by section panel to understand how viewers are finding you.
Are most viewers coming from your account? There's a good chance you have an engaged audience.
Are most viewers finding you through For You? There's a good chance the hashtags you're using are boosting discovery.
7. Schedule TikTok content
TikTok revolves around timely content. But for busy social media managers, creating content in the moment isn't always feasible.
Fortunately, TikTok offers an easy option for scheduling content. You can create, upload, and schedule content in advance using the desktop version of TikTok.
Open TikTok in a browser, sign into your account, and click the Upload button in the upper right corner. Upload the video file you want to share on TikTok and create a caption. You can add mentions and hashtags to expand the reach of your video.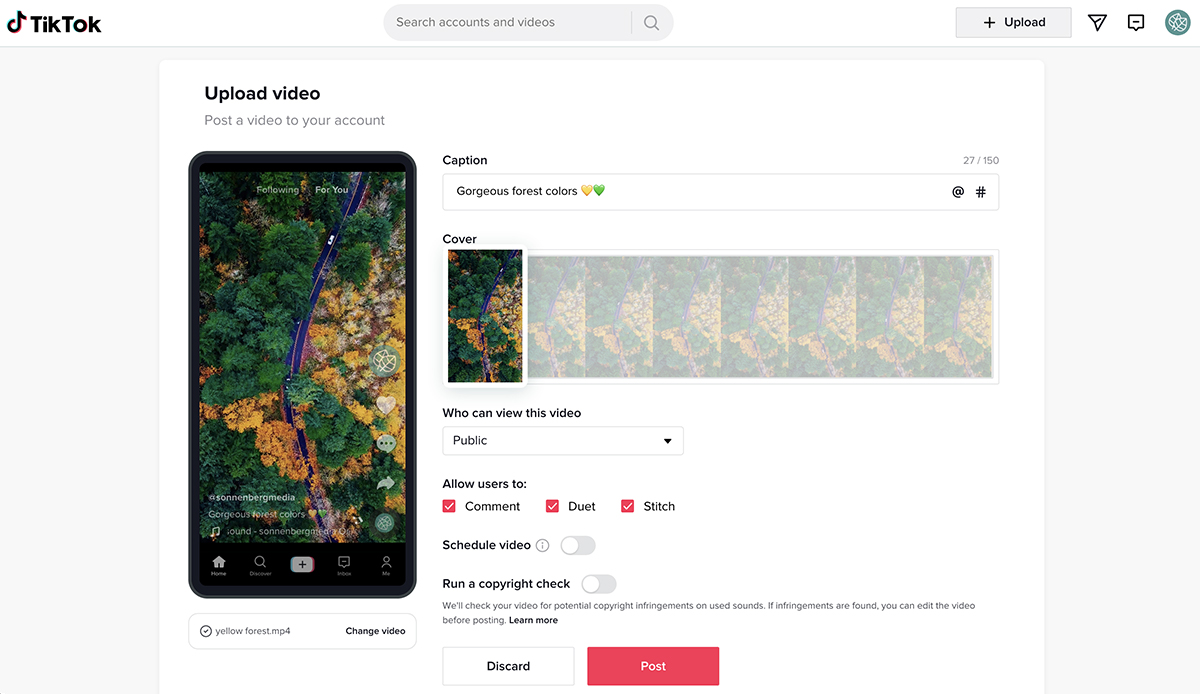 Don't like the auto-generated cover for your video? Choose one of the other thumbnails that better represents your content.
Then double-check the settings for your video. You can enable or disable comments, Duet, and Stitch.
TikTok also gives you the option to run a copyright check before uploading so you can avoid issues later.
Instead of posting instantly, toggle the Schedule video option. Then choose the date and time when you want the video to go live. TikTok allows scheduling up to 10 days in advance.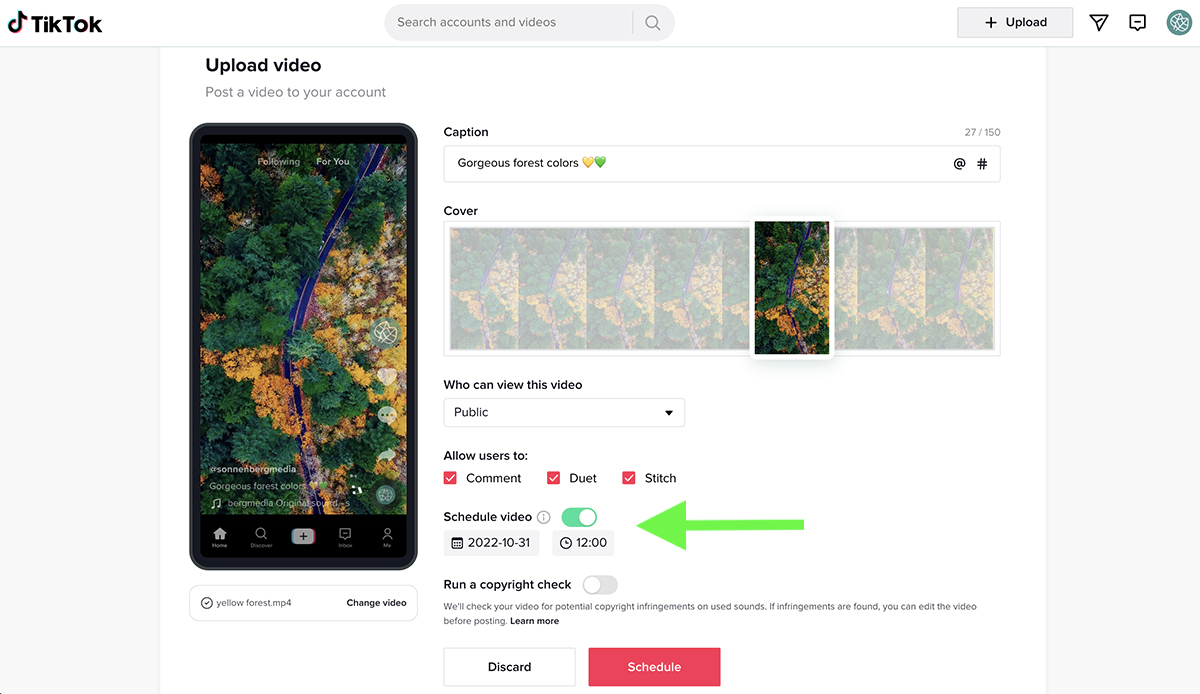 The only catch? The desktop version of TikTok doesn't include any of the editing or creative features the mobile version offers. Before uploading a scheduled video, consider using CapCut, Canva, or other third-party video tools to add effects and audio.
Wrapping Up What We Learned About How to Make a TikTok Video
From B2C to B2B, brands in almost every industry can use TikTok to connect with their audiences and expand their customer bases. With the tips above, you can leverage TikTok effectively and create a successful social media strategy using this channel.