At Agorapulse, we're always working to develop and launch new features to make our social media solution more efficient and effective than ever. In 2021, we introduced more than a dozen features and updates to streamline your workflow and help you get more out of our publishing, engagement, listening, and reporting tools.
Have you put all these new updates to the test yet? Take a look at our top new releases for 2021.
January
Label reports for multiple profiles
Social media reports are essential for tracking your progress and improving your results. Standard Agorapulse reports include tons of helpful information—ranging from reach and impressions to audience growth to engagement and top content. But sometimes standard reports don't provide the level of detail you need.
In 2020, we launched Power Reports, which let you customize the reports you prepare for your team or clients.
With Power Reports, you can create custom reports that track performance for specific publishing labels or campaigns.
In January 2021, we added even more functionality to these custom campaign reports. Now, you can create label reports across profiles. That means you can track campaign performance across multiple social channels—and summarize everything in a single report.
To create one of these label reports, open your Agorapulse dashboard, and go to the Reports tab. Click the Create a Report button in the upper left corner and choose Label Report. Select the social profiles to include in the report.

Then choose the label you want to include for each profile.
Next, choose the data you want to include in the report. By default, it includes all sections. Remember to choose the metric you want to use to determine Top Content for each channel.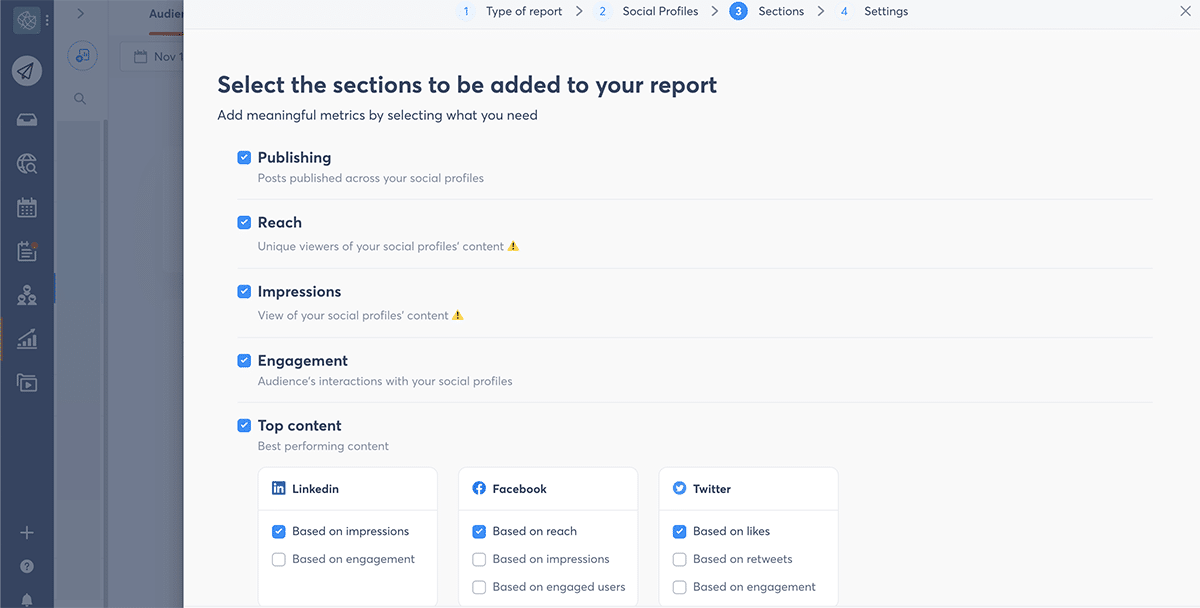 Then complete your report settings, including giving it a name and setting a time zone.
You can also opt to schedule the report to send automatically, so it lands in your colleagues' or clients' inboxes every week or month.
Shared Calendar shortcut
If you manage social media for clients, you were probably thrilled to learn about our Shared Calendar tool. Launched in January 2020, Shared Calendars let you collaborate with clients, even if they don't have access to your Agorapulse dashboard.
With Shared Calendars, clients can see all the posts you've already published or scheduled for the future. You can also use this tool to assign publishing items to clients for approval or to solicit comments and feedback.
To make Shared Calendars easier to create and use, we added a shortcut to the Publishing window in January 2021.
Now, you can click the Shared Calendar icon in the upper right corner (next to the Publish button) to access settings.

From there, you can create a new calendar or edit settings for an existing calendar—including adding and removing points of contact or linked profiles. In this window, you can also grab the link to your Shared Calendar so you can easily add the link to a client email or chat.
Image Cropper for mobile users
If you're a long-time Agorapulse user, you may recall that our team launched the Image Cropper tool in February 2020. This handy tool lets you crop or resize images manually. That's great if you already know the best dimensions for your social media images.
But what if you aren't sure how to size images for each social media channel? You can use the Image Cropper's preset dimensions to resize creative assets (automatically!) for your social channels.
In January 2021, we launched the Image Cropper tool for our mobile app. That means you can easily resize or crop images for Facebook, Instagram, LinkedIn, and Twitter—even while you're on the go.
To access Image Cropper, open the Agorapulse mobile app and navigate to your social profile of choice. Tap the Calendar tab, and then tap the blue paper airplane icon in the lower right corner to open the Publishing interface.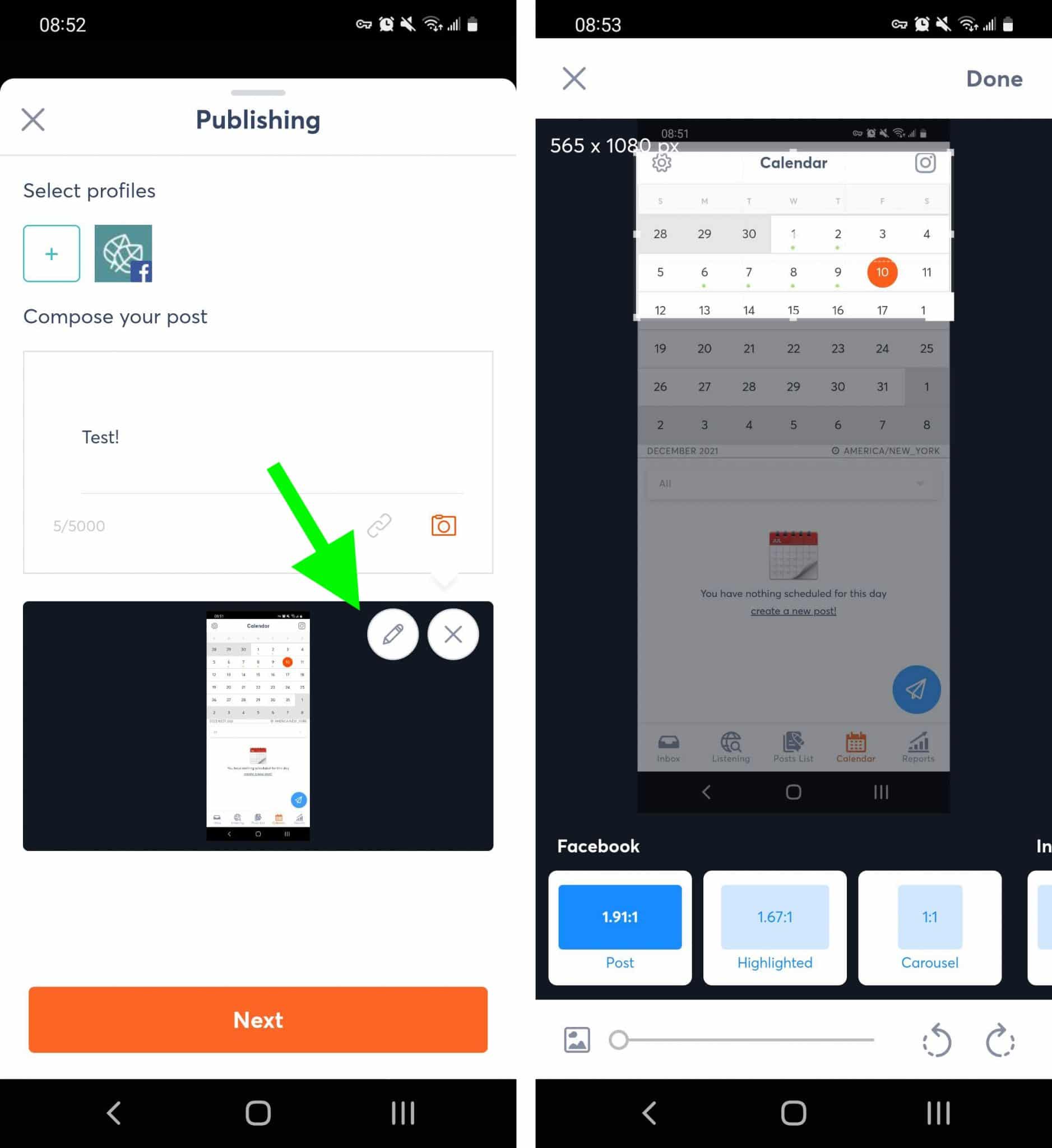 Upload an image to your post, and then tap the pencil icon to use the Image Cropper. There, you can crop the image manually, use the slider to resize the image, or scroll through the presets to find the ideal ratio for supported channels.
What does this launch mean for your team? Now you can make sure you always publish optimized images on social media, no matter which desktop or mobile device you use.
February
Mobile app signups
As remote work becomes increasingly common, many of us are spending more time than ever working on mobile devices. Although you can complete just about any social media management task using the Agorapulse mobile app, you couldn't open a new account via the app—at least until recently.
As of February 2021, you can create a new Agorapulse account from the mobile app. Then you can proceed to set up and manage your social media accounts, all from your mobile device.
April
Expanded custom reports
When we released custom reports in 2020, we designed them to be as powerful as possible. After all, we want them to provide the exact level of detail you need to track progress and optimize performance.
That's why we expanded our custom reports in April.
Now, you can add up to 12 social profiles to your custom reports, whether you want an overview of your performance or a detailed cross-channel campaign report.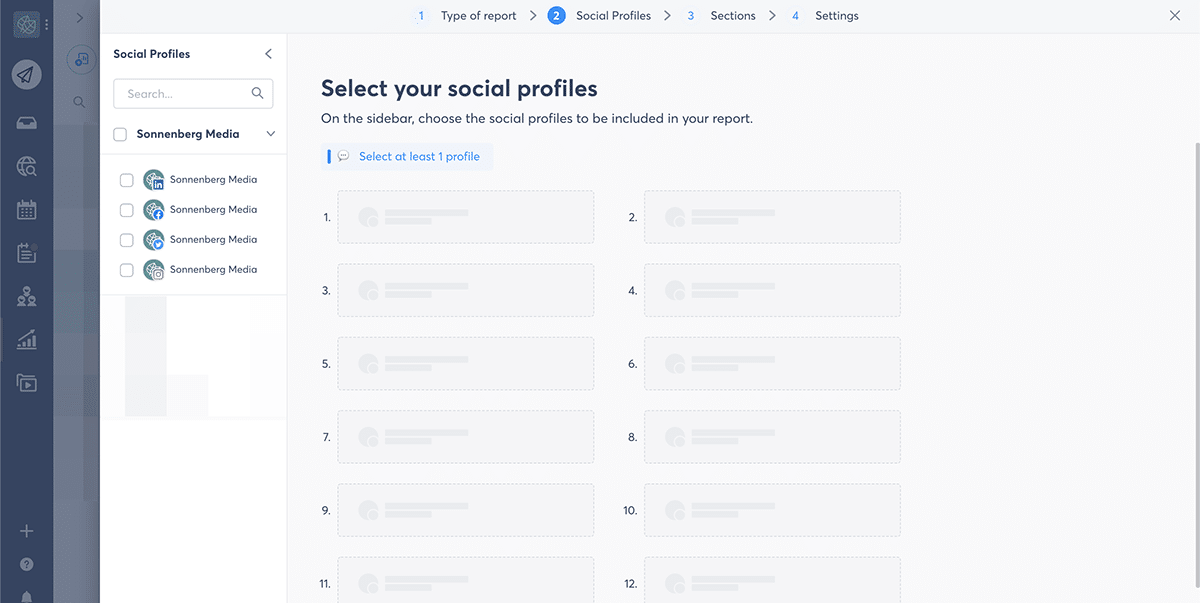 To create reports for your company or clients, go to the Reports tab in your Agorapulse dashboard and click the Create a Custom Report button in the upper left corner. Choose the type of report you want to create and add profiles.
Then select the sections to include in the report, and choose a format and title. You can also schedule custom reports, so your analytics land right in your inbox every week or month.
Personalized onboarding process
We know that navigating new tools can be challenging—so our team strives to make Agorapulse as easy as possible to set up. In April, we launched a new onboarding process that's automatically customized to your goals.
Rather than completing the exact same steps as everyone else, the prompts that new users now see depend on their social media management goals. That means new users can get started with Agorapulse more quickly and feel more confident about their understanding of the platform.

May
Canva integration
Maybe you're a one-person social media marketing team who handles everything from creating content to producing reports. Perhaps you collaborate with a design team who manages most of the photos, graphics, and videos you publish on social media.
Either way, the new Canva integration for Agorapulse can streamline your workflow. With this integration, you can access preexisting designs in Canva or design from scratch—without having to switch to another window or export and save designs.
To use the Canva integration, go to the Publishing Calendar tab and create a new post. Click the camera icon, and then click the Design with Canva button. Choose the dimensions for your image, and Canva will automatically load with a blank design.
You can design your post using all the standard Canva tools, including templates, photos, text, and overlays. You can also access all your designs, folders, and app integrations.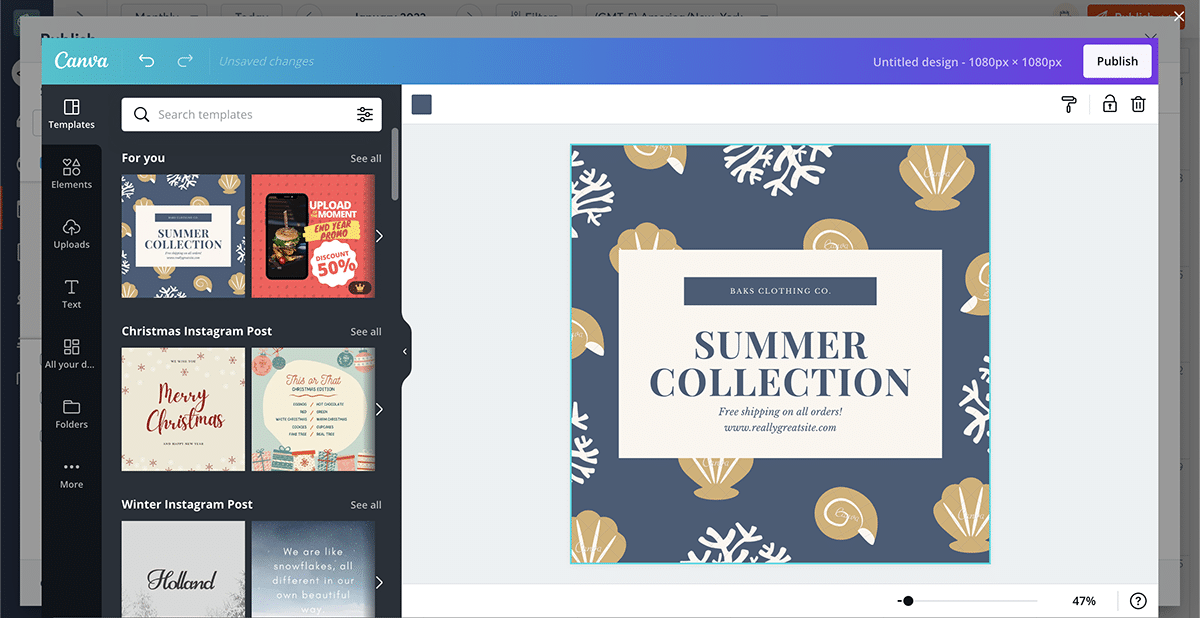 When you're finished designing, click the Publish button in the upper right corner. You'll be redirected back to Agorapulse, where you can finish creating your post—complete with the Canva design you just produced.
Mobile app update
For Agorapulse, the year 2021 was all about rethinking our brand identity and refreshing our look across our social media dashboard, website, and blog.
In May, we updated the mobile app to reflect our new appearance.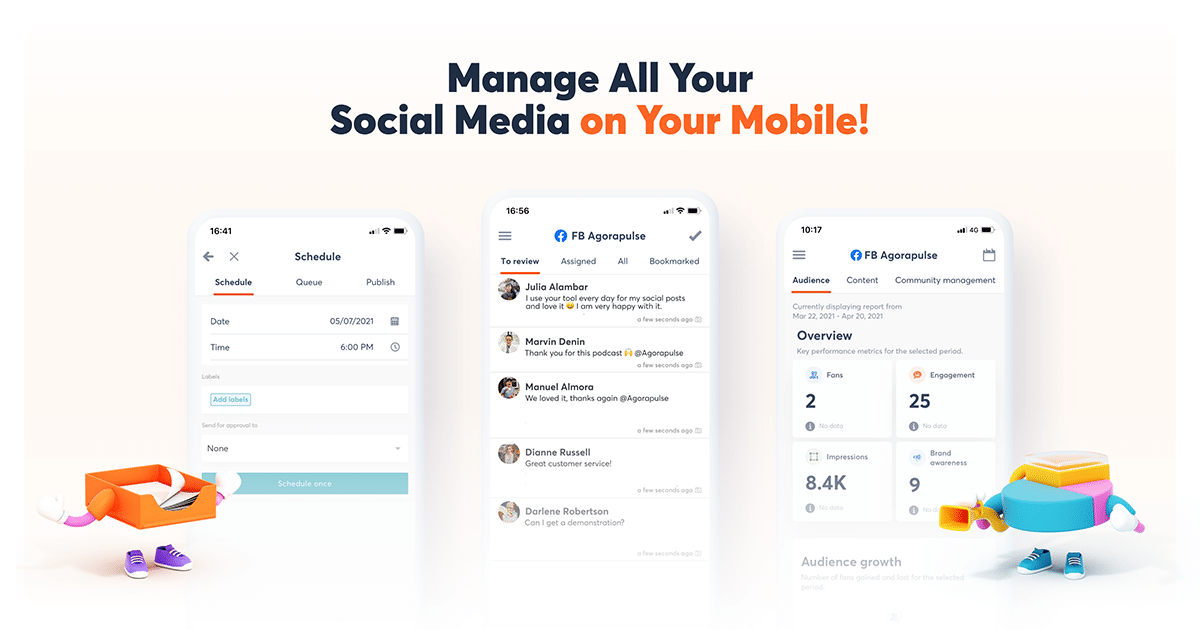 Do you want to see the mobile user interface (UI) for yourself? Get started by downloading the Agorapulse mobile app and signing in to your account.
June
Instagram DMs and Story mentions
The Instagram API hasn't always made it possible for social media tools like Agorapulse to manage your DMs. As a result, it hasn't always been easy to manage all your Instagram engagement in one app.
Fortunately that changed in June, when our team began rolling out DM and Story mention management for Instagram Business accounts. Now, all business accounts can access and respond to Instagram DMs and Story mentions in Agorapulse.
To find DMs, open the Inbox tab in your Agorapulse dashboard. You'll find both comments and DMs in chronological order. To see DMs only, click the All Items menu and select Direct Messages from the dropdown.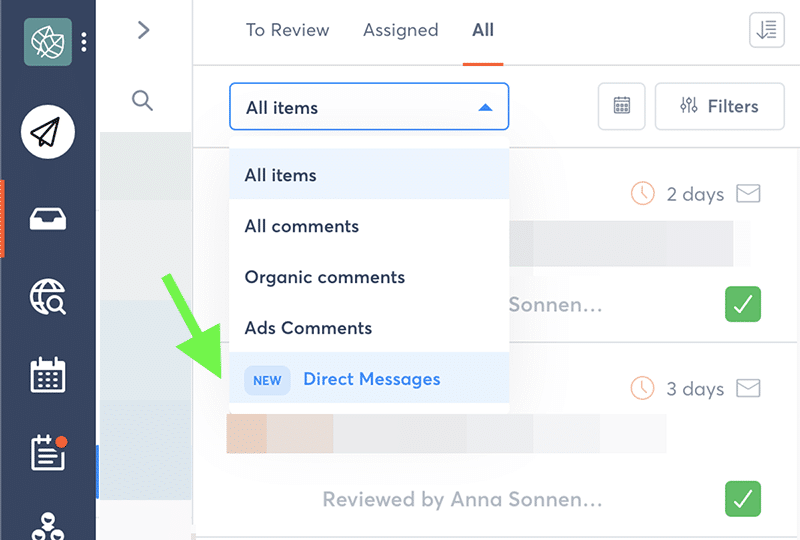 To find all your mentions in other accounts' Instagram Stories, go to the Listening tab in your Agorapulse dashboard. Click the All menu and select Story Mentions from the dropdown.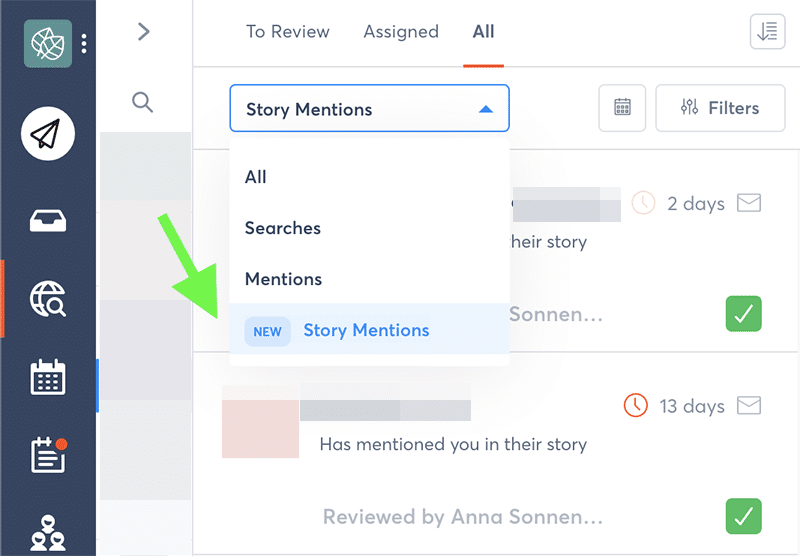 Instagram DM and Story mention reports
Instagram DMs and Story mentions represent much more than vanity metrics. They can tell you a lot about awareness and interest levels. They can also help you assess the conversation about your brand on social media.
That's why in June, we also added Instagram DMs and Story mentions to our standard reports. You can find them in the Engagement and Brand Awareness sections, where they're automatically broken down by day and calculated into your awareness score.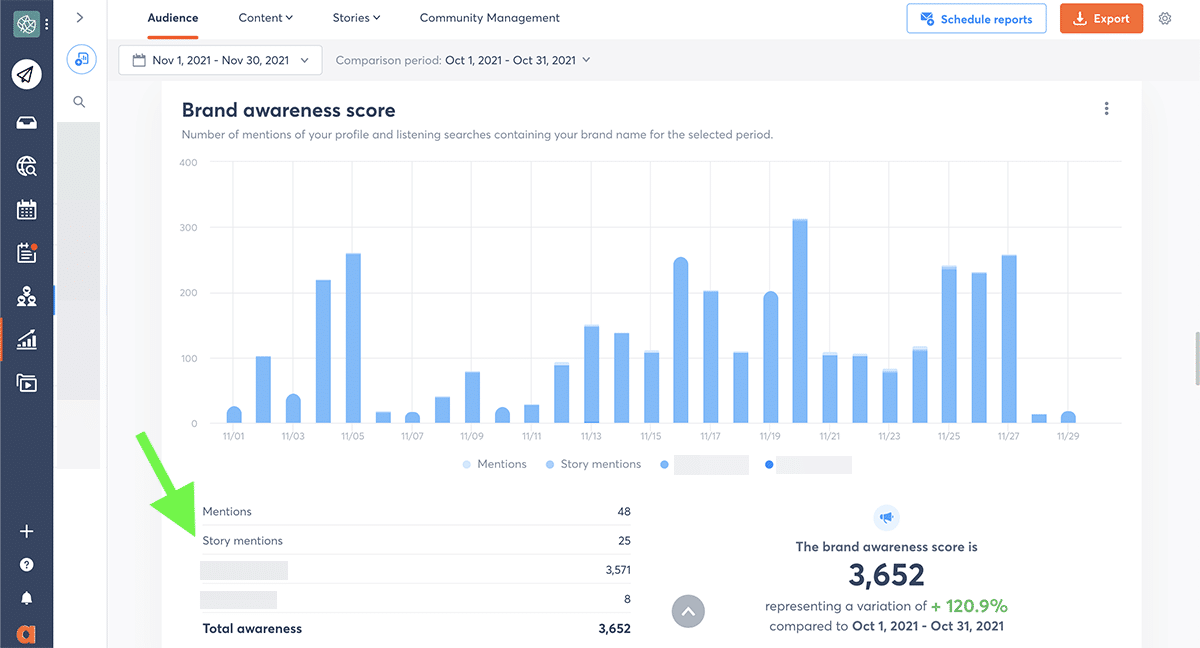 July
Label report improvements
In July, our team made a key improvement to label reports so you can glean even more helpful insights from them. Once you select a label for the first profile on your list, Agorapulse automatically recommends a related label to choose for the other profiles. This smart label suggestion can help you create better reports more efficiently.

August
Facebook Pages for store locations
Do you manage social media for a company with multiple store locations? Agorapulse now supports syncing for Facebook store locations. When you first connect the Pages to your Agorapulse account, you can link both the main Facebook Page and any store locations.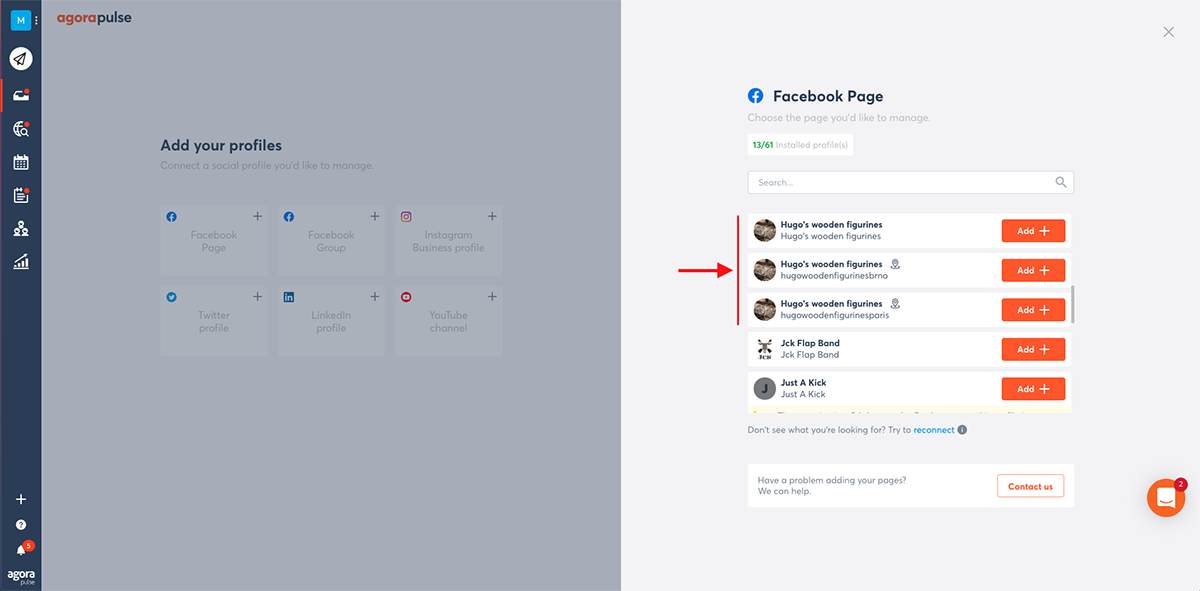 After connecting your store locations to Agorapulse, you can manage them like you would do for other Facebook Pages. You can publish and schedule content, respond to engagement, handle listening, and create reports.
Sharing via the mobile app
When you're managing social media on a mobile device, efficiency is key. You may not always use a standard workflow to publish content or even have time to open the Agorapulse mobile app before you begin creating a post.
That's why our team was so excited to launch new mobile sharing features in August. Now you can easily share text, links, and photos directly from the source.
For example, you can share a tweet by tapping the share icon in the lower right corner and then tapping the Share via … button. Then select the Agorapulse mobile app to open the Publishing interface and start composing.
On an Android device, you can share a photo from your camera roll by tapping the Share icon in the lower left corner. In the Share to Apps menu, tap the Agorapulse icon or find the app by tapping the More button.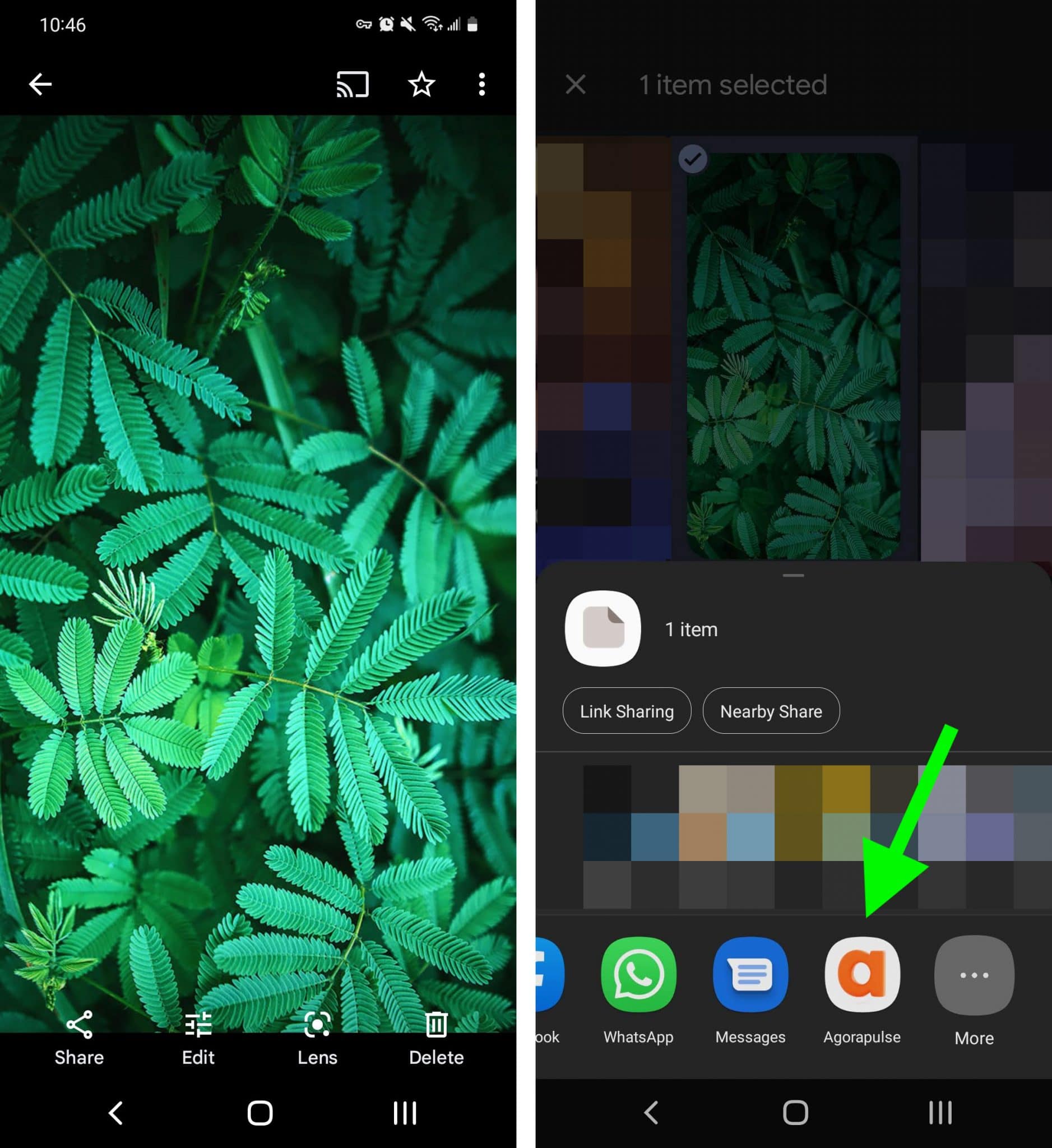 September
Agorapulse in German
A global team runs, develops, and supports Agorapulse—and our user base also hails from all over the world. That's why we were so excited to launch a German version of Agorapulse in September.
Agorapulse is now available in German, English, French, Portuguese, and Spanish.
October
Google Business Profile reviews
Does your company receive a lot of reviews on your Google Business Profile? Have you been looking for an easy way to manage and respond to your reviews? In October, we rolled out a Google Business Profile integration to help you do just that.
Now you can connect multiple Google Business Profiles to Agorapulse and respond to reviews from your social media dashboard. You can also label reviews to gain deeper insights or use saved replies to work more efficiently You can also assign reviews to colleagues to ensure your team crafts the ideal response.
Mobile navigation updates
Our team strives to make sure the Agorapulse mobile app's user experience (UX) is as intuitive and efficient as possible. In October, we updated the mobile app navigation to make it even easier to use.
You can access your Inbox, listening, posts list, calendar, and reports with one tap on the bottom menu. From any tab, you can tap to switch to a different social profile or change filters.
Instagram DM replies for mobile
In October, we expanded DM management to the Agorapulse mobile app. Now you can manage Instagram DM replies and comments more efficiently from your mobile device.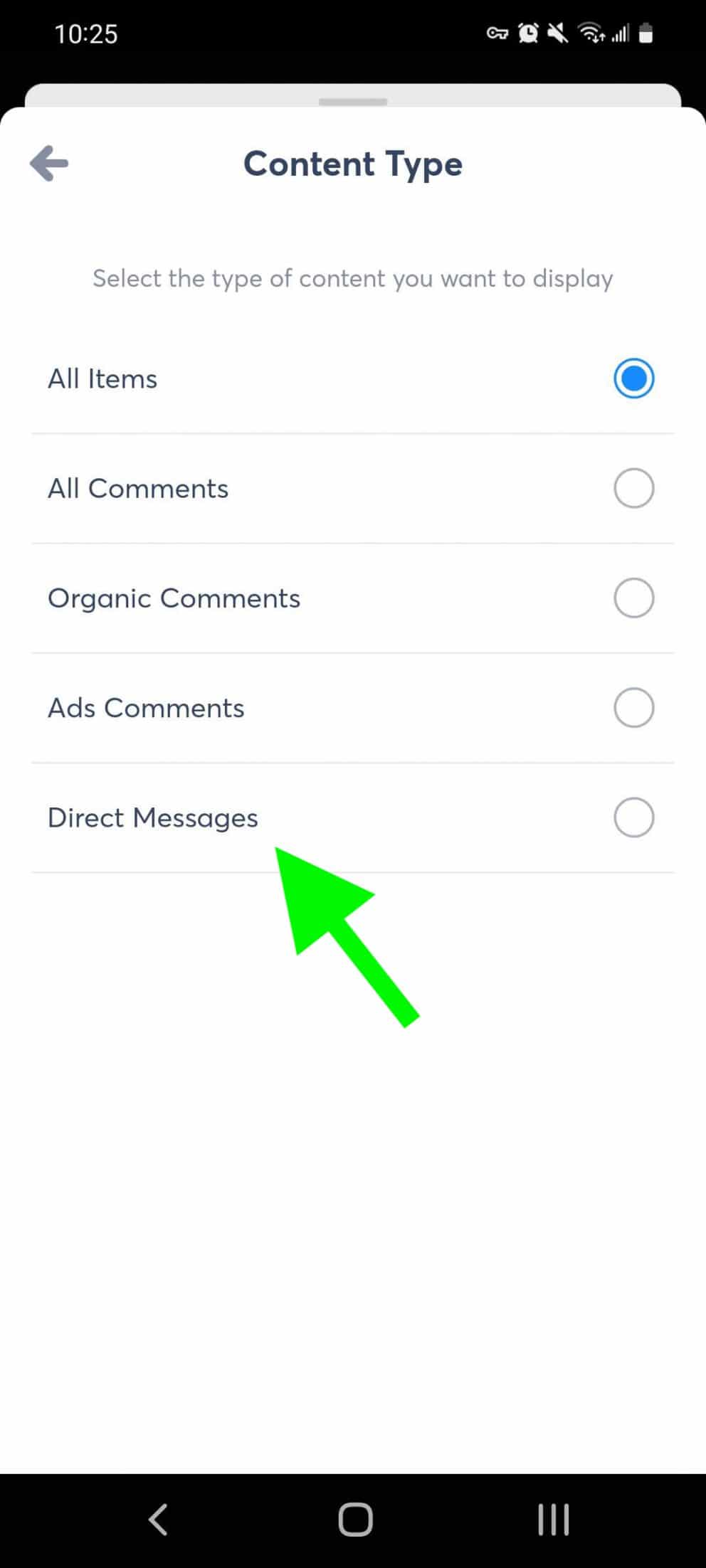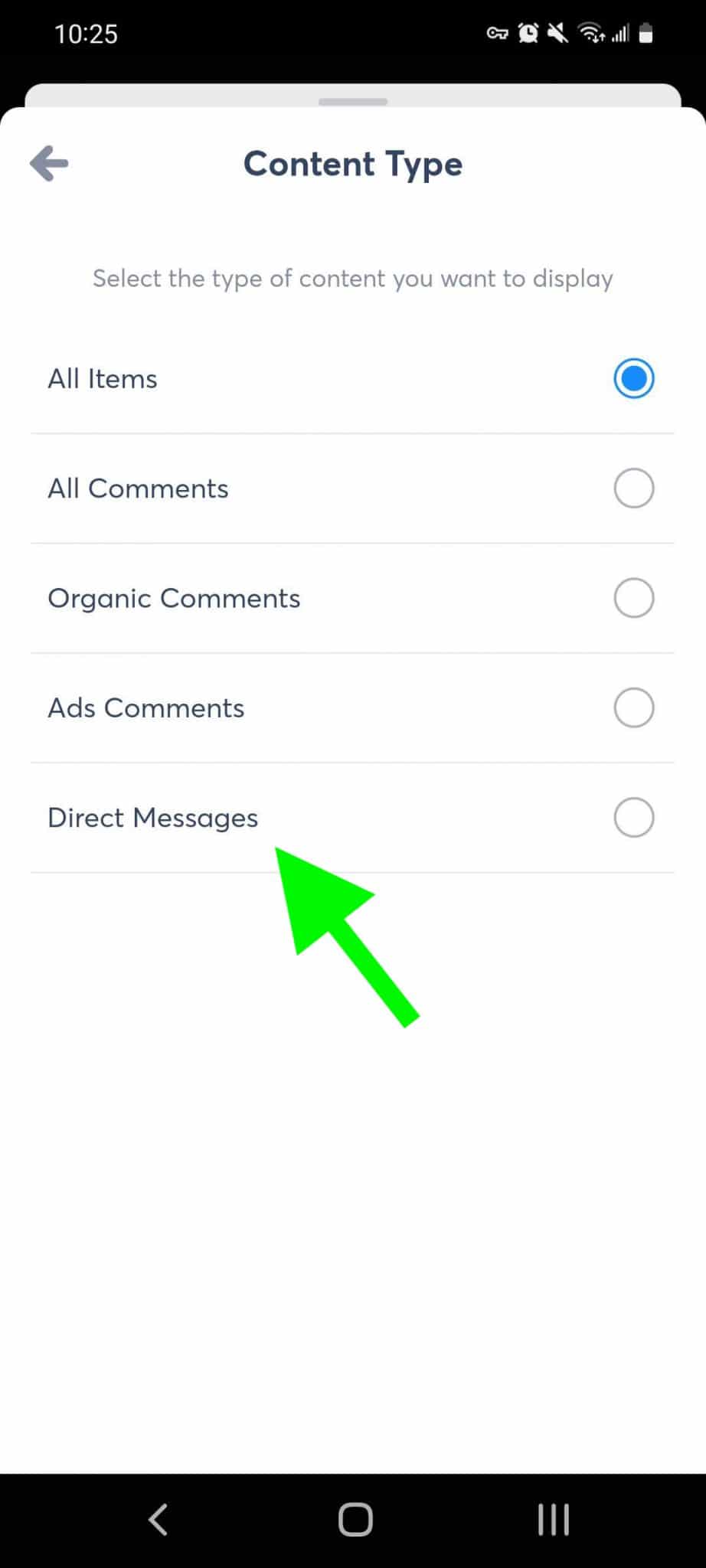 It's also easier to view engagement types in your mobile Inbox. In the lower right corner of each Inbox item, you'll see either an envelope icon for DMs or a message bubble icon for comments. You can view one type of engagement at a time by tapping the filter menu in the upper right corner.
November
Asset Library launch
Do you waste tons of time managing creative assets for social media? We launched the Agorapulse Asset Library in November to streamline the way you store, publish, and even track images and videos.
The Asset Library supports multiple sub-folder levels, so you can organize content by client, campaign, channel, or any other way that works for your team. Each asset can include a title, labels, alt text, and internal notes for your team.
Everyone on your Agorapulse team can access the library, making collaboration easier.

Do you want to import assets directly from Canva? Click the Create New button and select Design with Canva to add new designs to your Asset Library.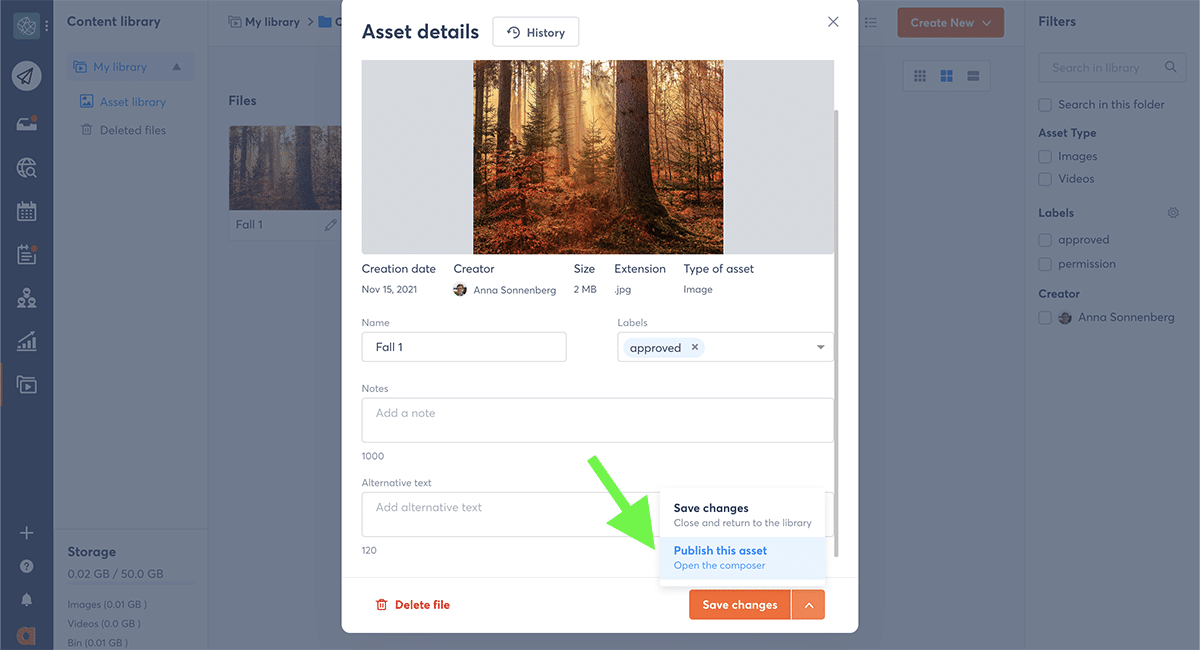 Once you add items to your library, you can find them easily by using labels or the search function. Select any asset, and you can click the orange button to start creating a post instantly, right from the library.
Asset history
Are you looking for unused creatives or wondering whether your team has already added an asset to a social media post? Open any asset and click on the History button at the top of the screen. You can see everything that's happened, including when the asset was created, edited, or published.

Post drafts
The Asset Library also makes it easier to create draft posts that won't be published until you complete them. In your library, click the orange Create New button and select Create New Draft. Alternatively, you can use the This Is a Draft toggle in the Publishing Composer to save any post as a draft.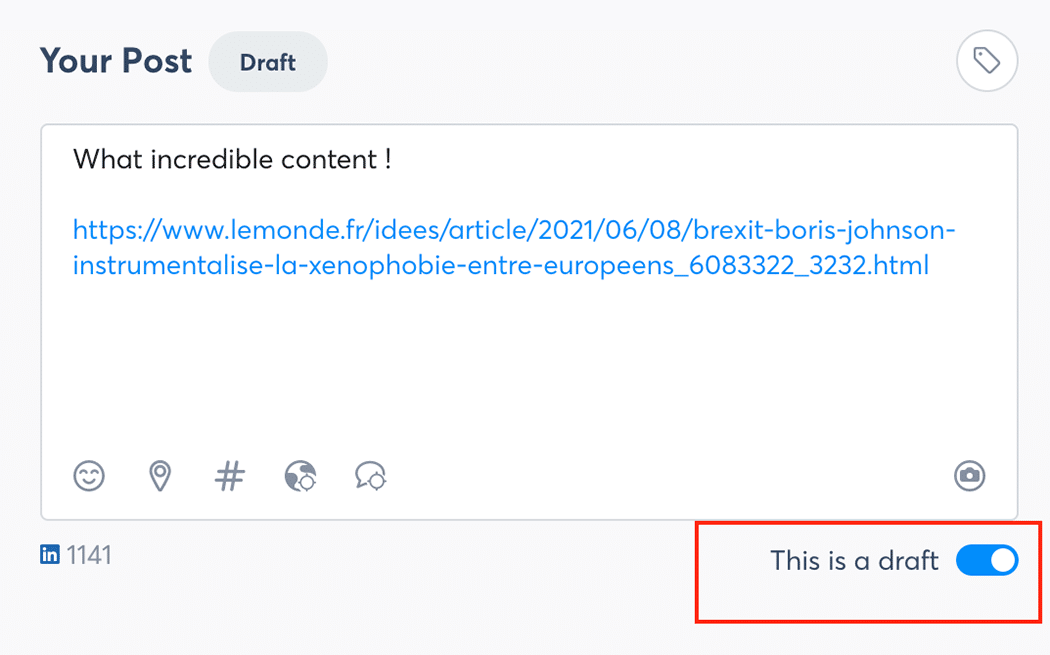 New Agorapulse Features in 2022
As you can see, 2021 was an exciting year for our social media management solution. We have big plans for 2022 as well, which means you can look forward to new Agorapulse features launching throughout the year.

Do you want to learn more about our new features? Subscribe to Agorapulse Release Notes to get the scoop or try Agorapulse for free to test out all the new features for yourself.