How do you choose the right social media management tool out of the hundreds out there?
You do your research.
Luckily, I've done it for you. I've taken on the job of researching two popular social media management tools (Agorapulse vs Eclincher) to establish which one is truly the best.
I signed up to trial both tools, I used them to complete my social media tasks, and I compared the reviews and scores from the renowned review site G2.
Let me level with you. Before I trialed both tools, I did a little digging on G2 to see how both tools fared. On paper, when compared to Agorapulse, Eclincher seemed to "clinch" the top spot for being the best social media management tool.
But, when I used both tools, things came out a little differently …
TL;DR
If you're short on time, read these key takeaways:
With a score of 8.9 (compared to 8.5) Agorapulse has the best features for saving you time and making your job easier.
If you want a social media management tool that's easy to set up and use, with a score of 9.1 (compared to 9.0) you should choose Agorapulse over Eclincher.
Agorapulse is the best option for reporting on performance and proving social ROI. It scored 8.6 for its reporting and analytics features, whereas Eclincher only scored 8.0.
Choose Agorapulse if you want the highest level of support and guaranteed response times. Eclincher doesn't give you any guarantees on response times, and reviewers found the quality of support lacking.
What Do You Need From a Social Media Management Tool?
Social media is fickle, ever-changing, and unique to every brand. So, although we might have the same or similar job titles, the job you do in social media will be different from the job that I do.
But there are several key things that we all need as standard from a social media management tool:
Features that will save us time and make our jobs easier
A clean, simple, and easy-to-use interface
A way to see (and prove) how effective our social media content and campaigns are
Dedicated, 24/7 support from a helpful and reliable support team
So, how do Agorapulse vs Eclincher compare in regards to these key requirements?
Let's see …
Agorapulse vs Eclincher: Which Social Media Management Tool Will Save Me Time and Make My Job Easier?
We need a social media management tool that will help us with those everyday admin tasks that are usually the easiest to do but often take the longest to complete.
Tasks like these, for example:
Creating, publishing, and scheduling content for multiple platforms
Planning content and getting it approved by clients or stakeholders
Responding to messages, comments, and interactions from across multiple social media channels
Though those tasks are important, they don't require much of our skills, experience, or brainpower.
To make the best use of our time, we need a social media management tool that will take the grunt work off our plates and leave us free to focus on the higher ROI tasks that will make a difference and push our social media strategy forwards.
So, out of Agorapulse vs Eclincher, which tool will make our jobs easier and save us time?
Agorapulse vs Eclincher: Which Is Better for Creating, Publishing, and Scheduling Content?
Rather than manually posting content to each of your social media channels one by one, both tools allow you to create content within the platform and then post it to multiple social media channels (such as Facebook, LinkedIn, Instagram, Twitter, and YouTube) or schedule it to go at a later time/day.
The main differences between Agorapulse vs Eclincher's creating, publishing, and scheduling features are:
Previewing content. While both platforms allow you to preview the content you're creating before you publish it, with Eclincher you can only preview it by opening up a different window. That means that before you're ready to publish anything, there tends to be a lot of back and forth between the content you're trying to perfect, and the preview window.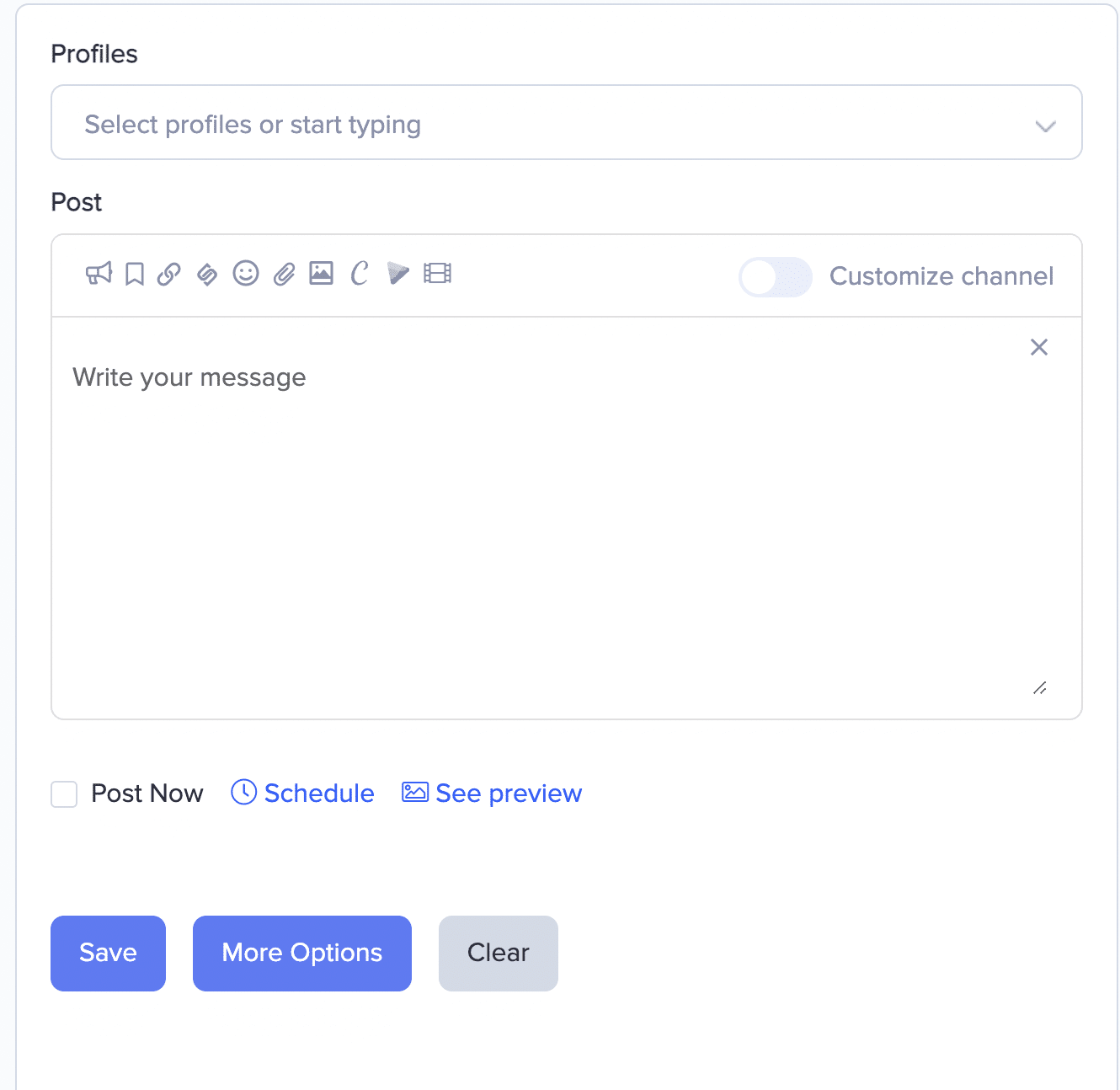 With Agorapulse, however, you can preview your post in real-time, as you're creating it. As you type, you can see exactly what the post will look like. This makes the process of editing and refining content so much quicker and easier.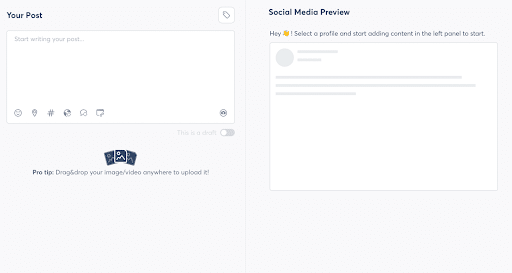 Media library. Again, both tools let you add videos and images to your posts. Whereas Agorapulse lets you store images and videos in a media library, which is handy for when you're upcycling old content, Eclincher doesn't give you access to a media library until you're on the more expensive plans. The media library isn't available on their cheapest plan, but it is with Agorapulse.
Related read: Agorapulse vs Sprout Social
Agorapulse vs Eclincher: Which Is Better for Planning Content, and Getting It Approved by Clients or Stakeholders?
Having a content calendar that lets you see all your content, mapped out, for the days, weeks, and months ahead is vital.
A decent content calendar should let you see at a glance, what content is going out and when; if there are any gaps in your content strategy, and what content you need to create in advance.
An excellent content calendar should also give you the ability to get your social media content plan, plus the individual posts you've created, approved by your key stakeholders or clients.
Both Agorapulse and Eclincher have a content calendar, but key differences between the two make one "good" and the other "excellent":
Filters. With Eclincher, you can filter the content displayed in your content calendar by things like Scheduled Posts, Draft Posts, Approved Posts, and Rejected Posts. Those filter labels are also color-coded, so you can easily see what stage each piece of content is at.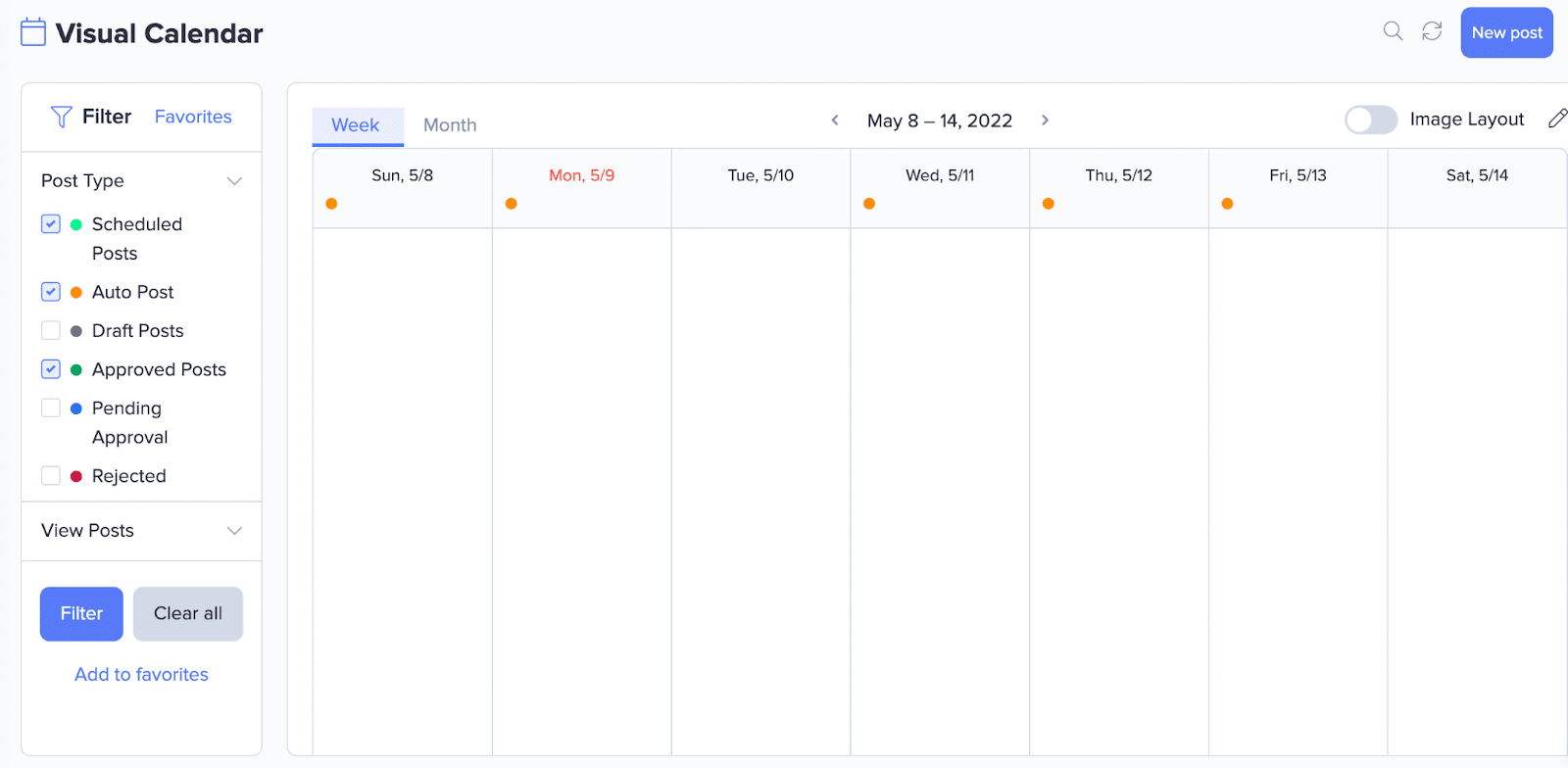 Agorapulse's content calendar does all this—and more. To help you find content, you can use pre-set filters, or you can choose to create your own.
You can choose to view the content in the calendar by type (videos, images, text, or links) allowing you to see where the gaps in the content are.
Also, you can send draft content to internal and external stakeholders, add notes to each piece of content, and also see any notes that other team members or clients have added.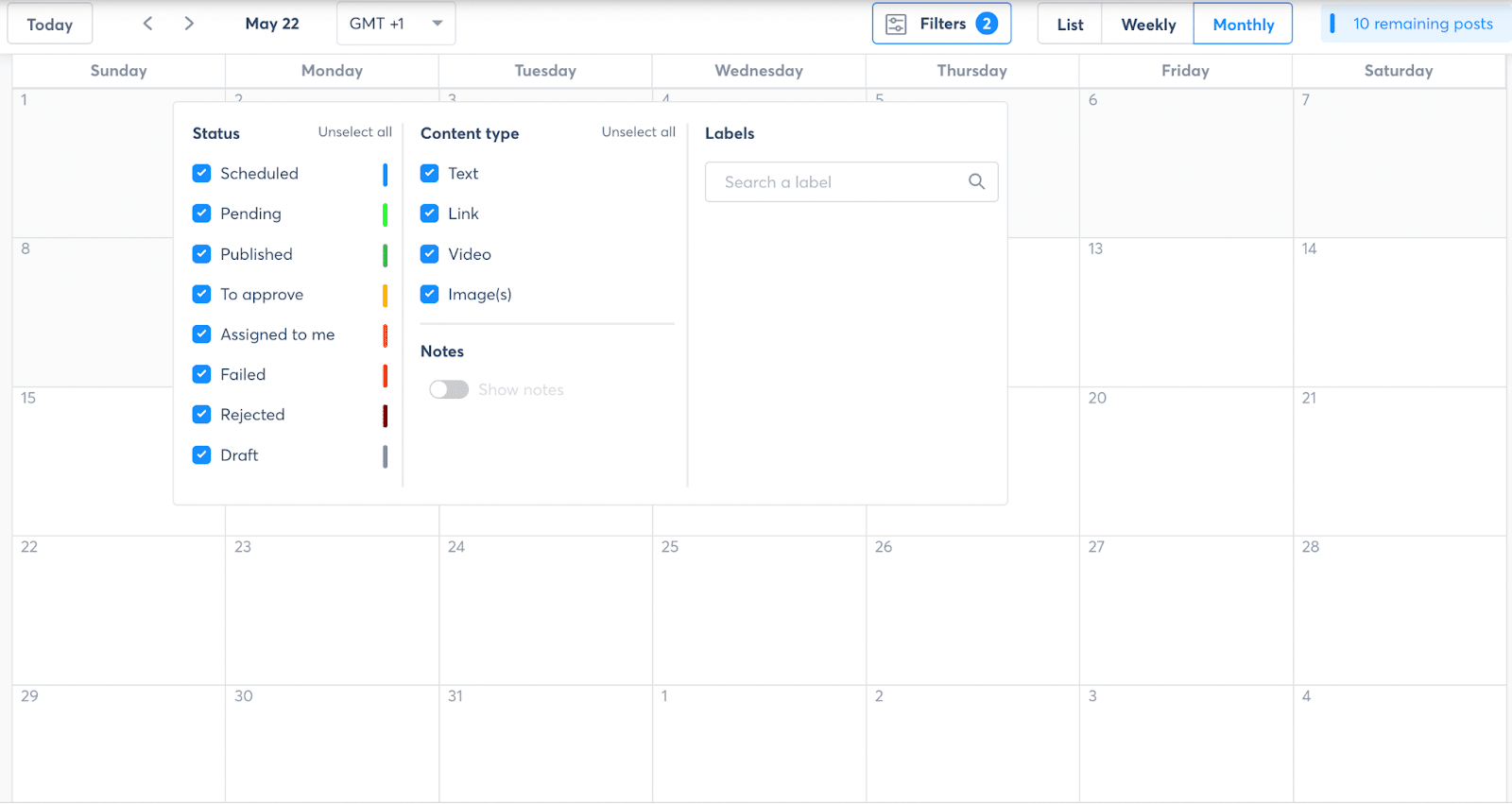 Shared calendars. Bot tools allow you to share your content calendar with external and internal stakeholders, so they can view the content coming up, add feedback, and approve or reject posts. But whereas this feature is available on two out of three of Agorapulse's plans, it's only available on Eclincher's most expensive plan. You have to pay top dollar if you want to share your Eclincher calendar with internal and external people.
Agorapulse vs Eclincher: Which Is Better for Responding to Messages, Comments, and Interactions From Across Multiple Channels?
Whether you run one busy social media account or several, you're going to be dealing with comments, messages, and interactions from your audience on a daily (sometimes, hourly) basis.
Though it's easy enough to reply to specific messages, knock out a few standard responses, and return a few fire emojis, the time it takes to do all that, soon adds up.
Plus, if you're managing several accounts, it's time-consuming to manually check and re-check each platform for new messages, comments, or interactions.
This is where the Social Inbox comes in. Both Agorapulse and Eclincher have a Social Inbox where you can see and respond to all the messages, comments, and interactions from each of your social networks, in one central place.
But what are the key differences between Agorapulse and Eclincher in regards to their Social Inboxes?
Manage ad comments. With Agorapulse, all comments from your Instagram and Facebook ads will pull through into your social inbox, in real-time. This allows you to review and respond to hot leads quickly, and means you'll never miss a key interaction again. Eclincher doesn't pull through comments from ads, you have to go into each ad manually.
Saved replies. Agorapulse has a brilliant little time-saver called the Saved Reply. You can create a bank of responses to standard questions and use these to reply to commonly asked questions or comments. Eclincher doesn't have this feature, so you still have to respond to comments and messages manually, and on an individual basis.
Filters. With Eclincher, you can only find key comments and messages by using the Completed or Sent filters. With Agorapulse, you can filter your inbox messages by things like Assigned to, Reviewed by, and Bookmark, which makes it much easier to find what you're looking for. Plus, you can sort your inbox from newest to oldest like you can with a standard email inbox.
Inbox assistant. Agorapulse also has a unique inbox assistant, which you can set up to automatically assign, sort, and label your comments, messages, and interactions so you can keep your inbox organized and feel reassured that you'll never miss a new engagement. Eclincher doesn't have this feature, so reaching 'inbox zero' is much harder and takes way longer.
A word of warning: Several Eclincher users have complained that they can't 100% trust that all the comments, messages, and interactions will show up in their Social Inbox, all the time:
"Not all the comments show up. Most days I have to recheck comments on Facebook to make sure I didn't miss any." – Eclincher user in Financial Services
While I didn't personally experience this while using the platform, it's still something to be wary of.
Related read: Agorapulse vs Zoho
Summary: Which Social Media Management Tool Will Make My Job Easier and Save Me Time?
I think the scores in G2 speak for themselves in regards to which tool will make your job easier.

Agorapulse vs Eclincher: Which Social Media Management Tool Is Easier to Use?
We don't want to invest in a social media management tool that is clunky, unintuitive, and has a steep, ongoing, learning curve. We simply don't have the time or the patience, right?
It's therefore obvious. The social media management tool you choose needs to be easy to use, simple to navigate, and everything should be where you'd expect it to be.
Which out of Agorapulse vs Eclincher is the easiest to use?
These days, a social media management tool wouldn't make it past go if it wasn't easy to use.
Having said that, some platforms can be over-complicated and fiddly to set up, and then frustrating to use daily.
When I first signed up to trial these tools, they both asked me to connect my social media accounts. And, both made this process quick and easy so you felt like you were up and running, straight away.
However, there were a few differences that made one easier to use than the other:
Agorapulse scored higher than Eclincher for its 'ease of set up' and 'ease of use'.

Moreover, Agorapulse has also won the G2 award for how easy it is to set up and use: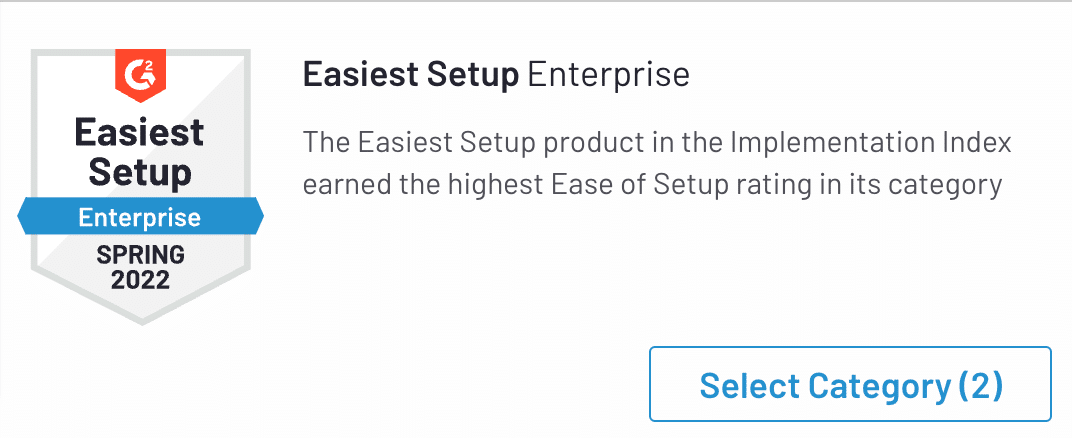 And it's easy to see why:
Agorapulse has an informative introductory video that explains the platform and its features with a good level of detail. It also has these helpful, non-intrusive pop-up notes that explain what each feature is, what it does, and how to use it. It's a great way to guide you gently through the platform and lets you learn as you go.
Eclincher does have brief information notes that appear if you hover over features. These were helpful, but they didn't go into the level of detail that they did on the Agorapulse platform.
Plus, instead, of gaining high scores and a prestigious award for its clean, easy to use, navigable user interface, Eclincher appears to have gained a lot of negative feedback:
"In terms of look and feel, it does look a bit clunky and the layout isn't as easy on the eye as tools like Agorapulse." – Matthew C, Digital Media Coordinator
"Eclincher is very clunky. It takes a long time to load, it has certain strange rules regarding linked Instagram and Facebook accounts. Multiple times it has notified me that something I scheduled has been posted when it has not." – Danielle R, Director of Operations
"Setting the post date/time for future scheduling is a little clunky. So is rescheduling if you need to go in and change a date/time later. I also feel like the feeds are a little weird to use. They are set up in such specific ways as to sometimes be unhelpful." – Sierra D, Small-Business
"The app is very clunky and relies on deleting cookies from the browser a lot… the application has lost a lot of our client's work and content." – Administrator in Public Relations and Communications
"I dislike how frustrating it is to interact with the site. There are many quick and easy things they could add that would significantly speed up my time, as well as a more visual approach. It's not intuitive." – Administrator in Financial Services
As a (personal) side note: When I used Eclincher, I found it frustratingly difficult to reset my password. In today's digital-first climate, this should have been a quick and easy task. Instead, I was taken through several rounds of entering passwords, re-entering passwords, and then being denied access (and before you ask, it wasn't down to "user error"). Although I was eventually able to reset it, my experience made me wonder what other features and functions might be as unnecessarily convoluted.
A social media management tool that makes your job harder, wastes your time, and fills you with frustration every time you use it is not a tool you should invest in.
Agorapulse vs Eclincher: Which Social Media Management Tool Makes It Easy to See Performance and Prove ROI?
To secure a bigger social media budget or grow a bigger social media marketing team, you need to prove the ROI for the content you create and publish.
To do this, you need to track, analyze, and see how effective your social media content and campaigns are.
Therefore, you need a social media management tool that:
Lets you easily track the performance of all your social content
Clearly displays key performance metrics
Allows you to generate detailed performance reports and send them to internal and external stakeholders
Agorapulse or Eclincher: Which Has the Best Reporting and Analytics Features?
According to 1,203 G2 reviewers, Agorapulse was better than Eclincher for specific analytical and reporting features.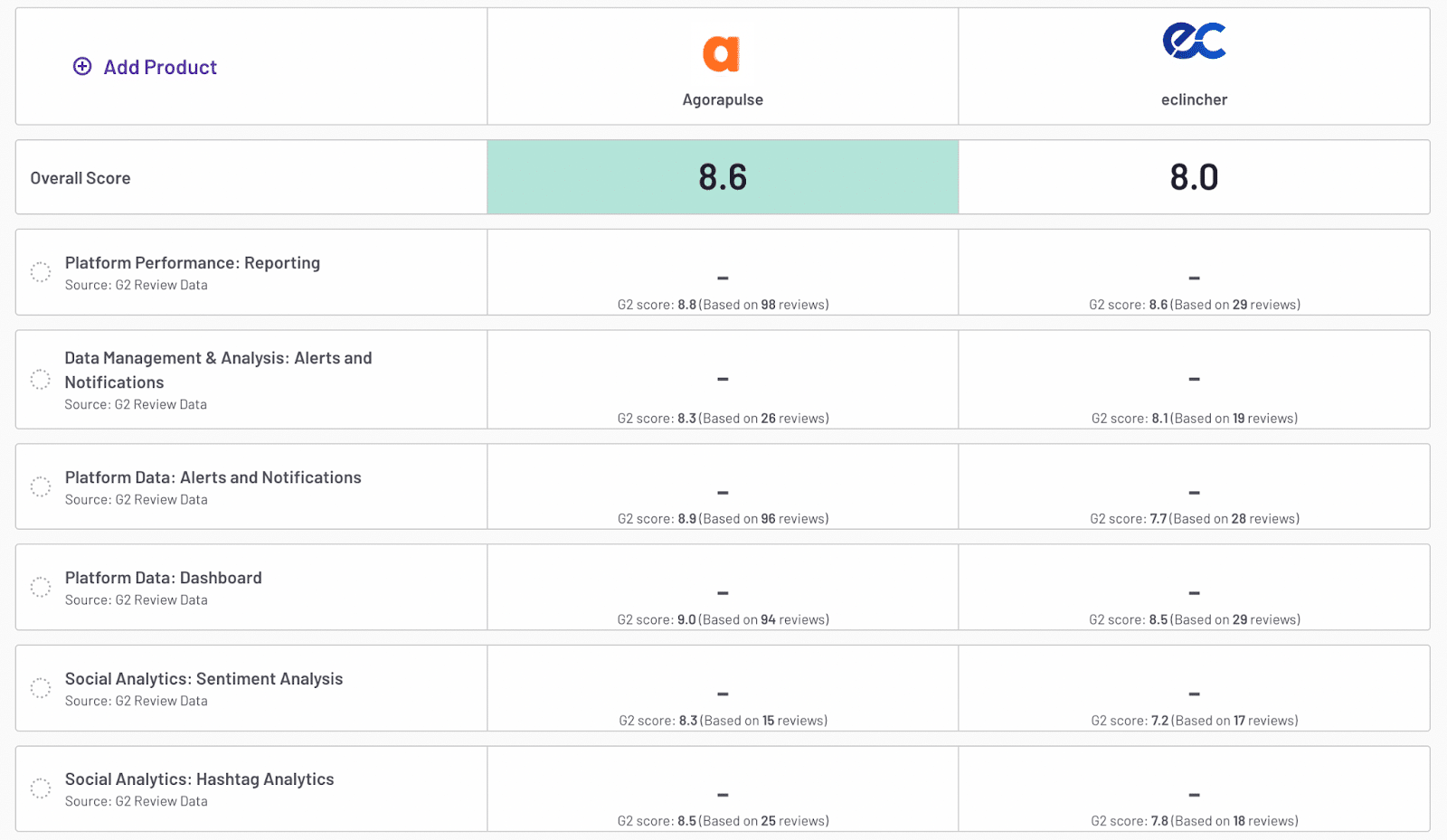 Both platforms have built-in analytics. Both have clear reporting dashboards that display valuable metrics. Both allow you to run regular performance reports, and both connect to Google Analytics, so you can accurately track the performance of each post or campaign.
But Agorapulse beats Eclincher to the punch when for other reporting and social ROI features.
What makes Agorapulse better than Eclincher for reporting and proving social ROI?
Agorapulse has a more intuitive dashboard and better notification systems for such social media tasks like competitor and hashtag monitoring.
Plus, with Agorapulse, you can create custom-designed reports that include specific metrics, timeframes, and data from multiple networks. You can set them up to run automatically at certain times each week or month, and you can even email them directly to your team or your clients. Those reports can also be downloaded as PDFs, CSV files, or PowerPoint presentations which makes life easier. While some of these features are available on the Eclincher platform, too, you can't access them on their lowest tier. You can with Agorapulse.
Agorapulse also has a dedicated social ROI feature that automatically adds UTM parameters to content and then collects data from Google Analytics, so you can see exactly which posts are driving the most sales, leads, and traffic across your social platforms. And you can do all this without having to access Google Analytics too. Eclincher doesn't have that unique social ROI feature.
Agorapulse vs Eclincher: Which Social Media Management Tool Offers the Best Customer Support?
Whether you're experiencing technical difficulties with your social media management tool or you have a question about a particular feature, you need to know that you've got the help and support of a proactive and reliable support team at your fingertips.
Agorapulse vs Eclincher: Which social media management tool offers the best support?
Both Agorapulse and Eclincher offer their customers 24-hour support, 7 days a week, regardless of what type of plan they're on.
The social media management tools both also offer self-help materials ,such as FAQs, articles, and tutorial videos, which is exactly what you need from a social media management tool.
However, there are a few differences that make one tool a better option than the other in regards to the level of support they offer:
Agorapulse offers a 30–60-minute response time for customers on their top two plans. Otherwise, they guarantee a response within four hours or less. Eclincher doesn't guarantee a response time on any plan.
Agorapulse also offers support in multiple languages. Eclincher only offers support in English.
Looking at the reviews for customer support, Eclincher received comments like:
"As a CEO of a tech company and a sports media company, I know what service is about and the importance of customer experiences … This was NOT a good one and not a brand I will EVER use or ever recommend." – Todd J, CEO
"We'd have problems and issues and support couldn't help us out. Most times, it felt like we'd ask them something and they couldn't comprehend what the issue was." – Administrator in Marketing and Advertising
Whereas Agorapulse received comments like:
"The customer support is also second to none! They have a very helpful onboarding process, a very responsive technical team, and they work tirelessly to ensure you've found the answer to your query before signing off." – Bobby B, Marketing Communications Manager
"Customer support has been very helpful and immediately responsive when I have had issues – and I've only had a couple, Agorapulse is extremely easy to use." – Emily P, Digital Marketing Specialist
Bonus: Agorapulse also gives you free access to Social Media Pulse. Social Media Pulse is a community that's built just for social media managers. It offers everything from educational courses and peer networking to mentoring, news, tips, and job listings.
Social Media Pulse doesn't specifically provide you with help and support for the Agorapulse platform. You have a dedicated support team and an abundance of self-help material for that. But it does give you access to helpful advice and support from your fellow peers, and people within the social media industry.
Do You Pick Agorapulse or Eclincher to Be Your Social Media Management Tool?
I've done the research into these two social media management tools for you. But, as with any new tool, the proof lies in the pudding.
The best thing to do is road test each tool for yourself. Sign up for a free trial and have a play around. Connect your accounts, complete your daily tasks, and run all your reports. And don't be afraid to reach out to the support team either. You've got to see which social media management tool is capable of meeting your individual needs.
It's also worth noting that if after your free trial ends, you're still unsure which tool to go for, Agorapulse does offer a free plan option. This means you could keep trialing the tool for a bit longer if you need to.
Get started on saving time and energy in managing your clients' Instagram accounts! Check out our free trial of Agorapulse to help you schedule, track, and measure all your social media efforts.