A few weeks ago, I was trying to decide between two social media management tools: Agorapulse vs Zoho Social.
To help me make my decision, I signed up to trial both tools, used them to complete my daily social media tasks, and looked at real-time reviews from more than 2,000 current users on the renowned review site G2.
And this is what I found …
TL;DR
Don't have time to read the whole review? Here are the key bits:
If you need high-quality support during your hour of need, Agorapulse is the best tool for this. It scored 9.2 for quality of support, compared to Zoho Social, which scored just 8.7.
Agorapulse also offers 24/7 support and can respond within 30-60 minutes. Zoho Social only offers 24/5 support.
If you want to track social ROI and make sure your social content is performing, choose Agorapulse. Its reporting and analytics features scored an 8.8 compared to Zoho Social's 8.6.
Agorapulse has a more intuitive and responsive social inbox, better Instagram capabilities, and a more comprehensive calendar view than Zoho Social.
Agorapulse vs Zoho Social: Key Facts
Before we get into the review, here are some key facts about both social media management tools.
Agorapulse
Agorapulse is a social media management platform for businesses and agencies:
It's used by more than 31,000 marketers globally.
It launched in 2012, and now has a team of over 150 people based all over the world.
It scored 4.5/5 stars on G2.
Zoho Social
Zoho Social is a social media management tool for businesses and agencies:
It's the younger sidekick of Zoho CRM software.
It launched in 2015 to help its existing users manage their social media accounts.
It also scored 4.5/5 stars on G2.
What Should I Look for in a Social Media Management Tool?
Regardless of how big or small your organization or agency is, social media management is a busy, stressful, and high-pressured job.
As a social media manager, you need a social media management tool that can help and support you with your daily task list.
So, this tool needs to:
Have features that take care of the everyday, laborious tasks. You're then free to work on the higher ROI tasks like planning a successful social media strategy.
Help you prove social ROI. You need to see what is and isn't working, and ultimately secure a bigger social media budget.
Have an on-point support team. So, any technical problems or issues get sorted fast.
Be easy to set up and use. You need to get up and running quickly. You don't have time for complications.
How do Agorapulse and Zoho Social stack up against this list of social media management tool requirements?
Agorapulse vs Zoho Social: Which Social Media Tool Has the Best Features to Help Me Do My Job?
Both Agorapulse and Zoho Social have the features that we'd expect from a social media management tool:
Publishing and scheduling capabilities
A calendar view
Social listening and monitoring functionality
Audience, CRM, and community building features
Analytics and reporting
Team collaboration features
Which is great, of course. But three big differences make one social media management tool better than the other.
1. Social Inbox: Is Agorapulse a Better Alternative to Zoho Social?
The social inbox is a big one for me. I need a quick and easy way to keep track of what, how, and when people are engaging with my social content.
Also, I need to be able to reply to them as quickly as possible. I want to be able to see and respond to all my messages, comments, and interactions from across all platforms, in real-time, from one place.
Agorapulse
Agorapulse gives me all that, and more. It's just like a regular email inbox, but with a few extras:
When someone leaves a message, comments on a post or Facebook/Instagram ad, or interacts with your content, you receive a notification in real-time. You can then respond to these messages, interactions, and comments directly from within the inbox.
It has an incredibly useful feature called Inbox Assistant, which automatically assigns, reviews, and labels all interactions, bringing order to my chaotic inbox.

Agorapulse lets me filter all interactions by things like Assigned To, Removed By, and Bookmarks, which makes finding important messages or comments quick and easy.
To top it all off, the Agorapulse social inbox has the Saved Reply. I can draft out common answers to messages and repurpose them, so I don't have to manually type out the same response over and over and over again. The Saved Reply is such a timesaver.
By comparison, instead of an inbox that collects all your engagements and allows you to manage and respond to them directly, Zoho Social just has a stream that pulls in messages and comments (not from Instagram or Facebook ads, though, unlike Agorapulse) from your social media accounts.
But Zoho doesn't let you directly respond to your interactions. You have to go into a separate tab for that. It also doesn't have the saved reply feature. My inbox was a mess the entire time I was using this tool because I couldn't label any messages or comments, and there was no handy inbox assistant.
2. Instagram capability: Is Agorapulse a Better Alternative to Zoho Social?
I don't know about you, but Instagram is key to my success as a social media manager because it drives so much engagement. So, I need my social media management tool to let me create, schedule, and add posts, stories, and carousels to Instagram. And I need the social media management tool to let me track how my Instagram content is performing.
Zoho Social
With Zoho Social, the only content they sync is from Facebook and Twitter. Zoho Social doesn't give you the option to reply to Instagram DMs. Plus, while you can create and add regular posts to Instagram with Zoho Social, you can only schedule them if you're on a paid plan, and you can't create, post, or schedule carousels or stories on any plan. So, you can't track or report on story or carousel engagement to see what is and isn't working.
To add insult to injury, you can't upload high-resolution images or photos when posting to any social channel. With Instagram especially, I found this disappointing and incredibly limiting.
Agorapulse
With Agorapulse, though, you can create, add, and schedule regular posts as well as Instagram stories and carousels, regardless of what plan you're on. Plus, you can upload high-resolution images to any channel and also report on the key Instagram post, carousel, and story engagement metrics.

Calendar: Does Agorapulse or Zoho Social Have the Best Calendar View?
Both Agorapulse and Zoho Social have calendar views, which allow you to visualize your upcoming posts, and filter content (e.g., scheduled, draft, approved, etc.). And both allow you to see posts that didn't publish correctly.
However, Agorapulse's calendar view has two extras:
Agorapulse lets you filter your content calendar by text, video, and image which makes it so much easier to find the content you're looking for.
Agorapulse has a unique Shared Calendar function, which allows you to not only share content with your internal team or external clients but also directly collaborate on upcoming posts while you're still in the planning stage.

Who Wins on Social Media Management Features: Agorapulse or Zoho Social?
Let's recap:
Agorapulse has a social inbox, Zoho Social does not.
Agorapulse allows you to create, publish, and report on Instagram stories and carousels on any plan, Zoho Social does not.
Agorapulse has a filter feature on its calendar view to help you find content and collaborate with internal and external stakeholders, Zoho does not.
It's a no-brainer: Agorapulse wins for me, hands down.
As a side note … While we're talking about key social media management features, it's worth noting that with Zoho Social, you can only connect to Pinterest and YouTube Channels and use the bulk scheduling feature on their Premium plan.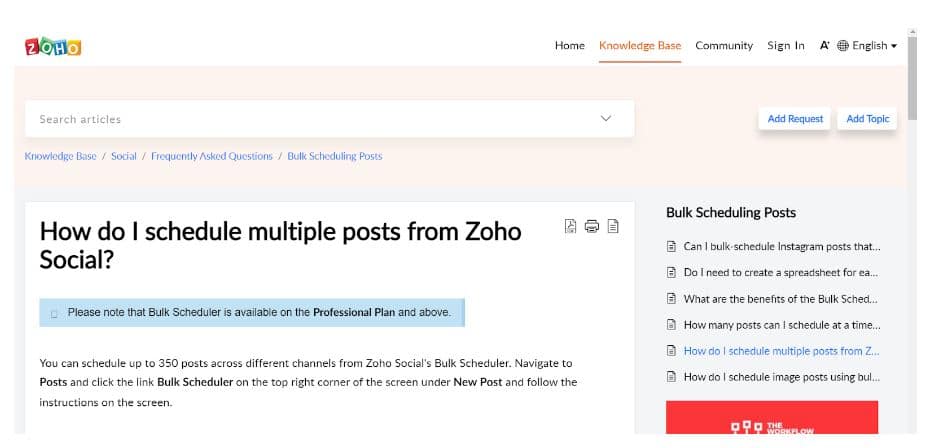 You can bulk schedule posts and connect to all platforms (including YouTube and Pinterest) on all tiers with Agorapulse.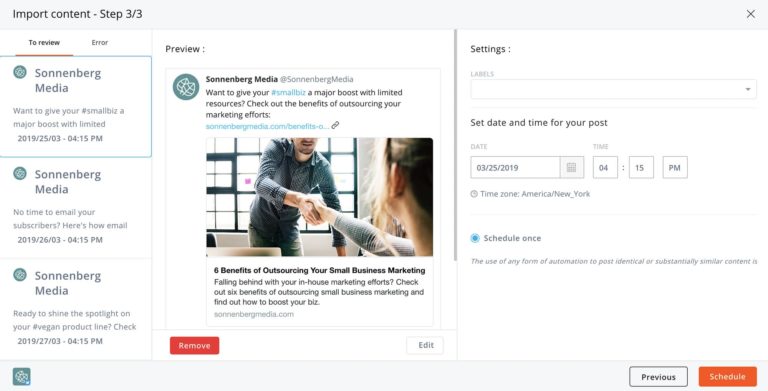 Agorapulse vs Zoho Social: Can I Prove Social ROI With These Social Media Tools?
You don't need me to tell you how important analytics and reporting functions are in social media management. They're key to tracking and proving social ROI. Social analytics and reporting allow you to see what is and isn't working, so you can make sure that your content is resonating with your audience at all times.
So, whether you're checking your social accounts' daily stats, or pulling reports for your team or clients, you need the analytical and reporting functions on your social media management tool to be seamless.
Stand-out observations after using Agorapulse's reporting and analytics features
Agorapulse's Reports tab opens up into a dashboard, where you can see granular statistics about your audience, engagement, reach, content, stories, community management, and even response times.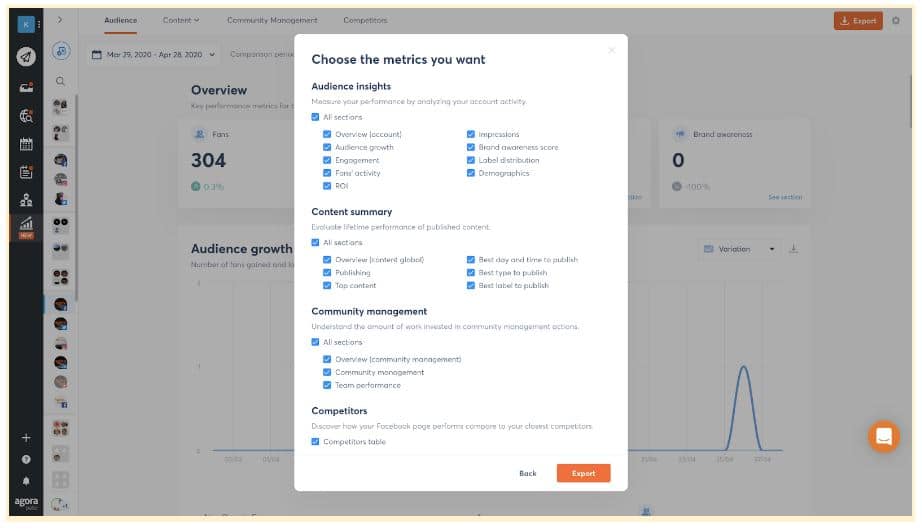 Data can be exported in several formats, from CSVs to PDFs and PowerPoints, either manually or you can get it sent straight to your inbox.

It pulls data from Google Analytics, which enables you to report on the revenue generated by every campaign, without having to access Google Analytics (always a winner if you can avoid accessing Google Analytics).
It has a unique social ROI reporting feature that tracks UTM parameters within your content and then collects data from Google Analytics, so you can see which posts are driving the most sales, leads, and traffic across your social platforms.
Stand-out observations after using Zoho Socials reporting and analytics features
Zoho Social's Reports section opens up into a dashboard, too. It lets you see basic statistics about your audience, engagement, general performance, and reach.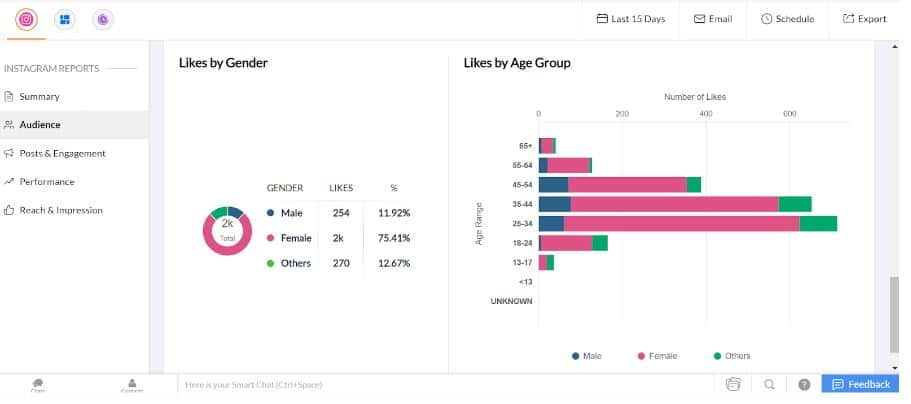 Like Agorapulse, Zoho Social lets you also run and schedule automatic reports to go directly into your inbox. Unlike Agorapulse, you can only export them as PDF or PNG files.
It doesn't let you report on some useful metrics like hashtag performance or response times.
It doesn't use UTM tracking so you don't get the same level of granularity, accuracy, or consistency with your performance analytics as you do with Agorapulse.
Who wins on analytics and reporting features: Agorapulse or Zoho Social?
There's no beating around the bush regarding which social media management platform has the best reporting and analytics.
The scores speak for themselves:
Agorapulse is the clear winner, both in my eyes and in the eyes of more than 800 G2 reviewers. And it's easy to see why.
The deep level of detail that Agorapulse allows you to get into when tracking the performance of your social content makes proving the ROI for your social media activities easy. And that's all that matters.
Agorapulse vs Zoho Social: Which Social Media Software Can Offer Me the Best Support?
The stress, pressure, and fast-moving pace of the social media world means that I probably have at least one major meltdown per day: missed deadlines, unseen typos, unfinished content, platform glitches, mistakenly posting on the wrong channel … The list could go on.
So, the last thing I need is a social media management platform that doesn't support me when something terrible happens.
I need a support team that will be there for me at all times of the day and night. (No, I'm not exaggerating.) I need them to fix stuff when it's broken, and I need them to give me helpful solutions or advice if I can't, or don't know how to do something.
Zoho Social's customer support
I have to be honest. Zoho Social let me down when it came to their level of support. For a start, their support team is only available Mon.- Fri. Sometimes, though, I need to post social content over the weekend. I need to know I can get hold of a member of the support team, 24/7.
But the real letdown came when I actually did have a problem. The team was incredibly slow to respond, and the responses I got were unhelpful. Something along the lines of: "Sorry, we can't replicate the issue" isn't what you need to hear in the middle of a crisis.
Zoho Social does have a good selection of webinars, product guides, FAQs, and also a help forum, but I'm looking for hands-on help and support in addition to the self-help material.
Agorapulse's customer support
Agorapulse, on the other hand, gave me access to a variety of product guides and FAQs, plus access to their support team 24 hours a day, 7 days a week. And, what's even better, is that two out of three of their plans offer a response time of between 30-60 minutes.
I didn't run into any issues when I was using the Agorapulse platform. Having read some of the user reviews on G2, however, I don't feel concerned about their support level in the slightest:
''The customer support is probably the best I have ever encountered. The whole team are the friendliest, most helpful people you are likely to meet that truly want you to have a fantastic experience using their product.'' – Lauren M, Social Media Manager
''Their customer support is one of the best I've encountered and is one big reason to use this platform.'' – Alexander E, IR-Manager and communications
''Friendly user interface full of tutorial videos…their support was great… If you can't get something to work, definitely reach out as they react quickly!'' – ​​Lee D, General Manager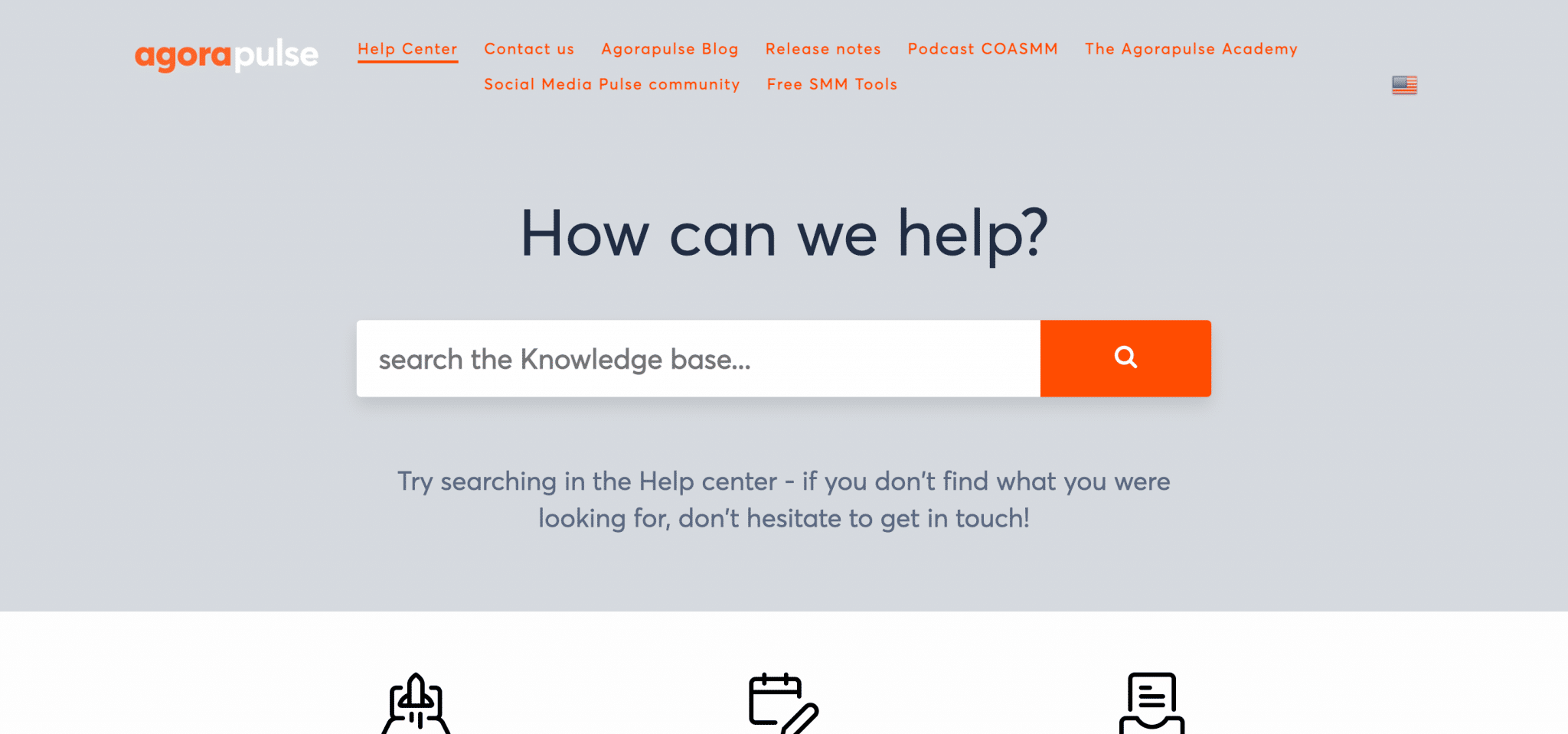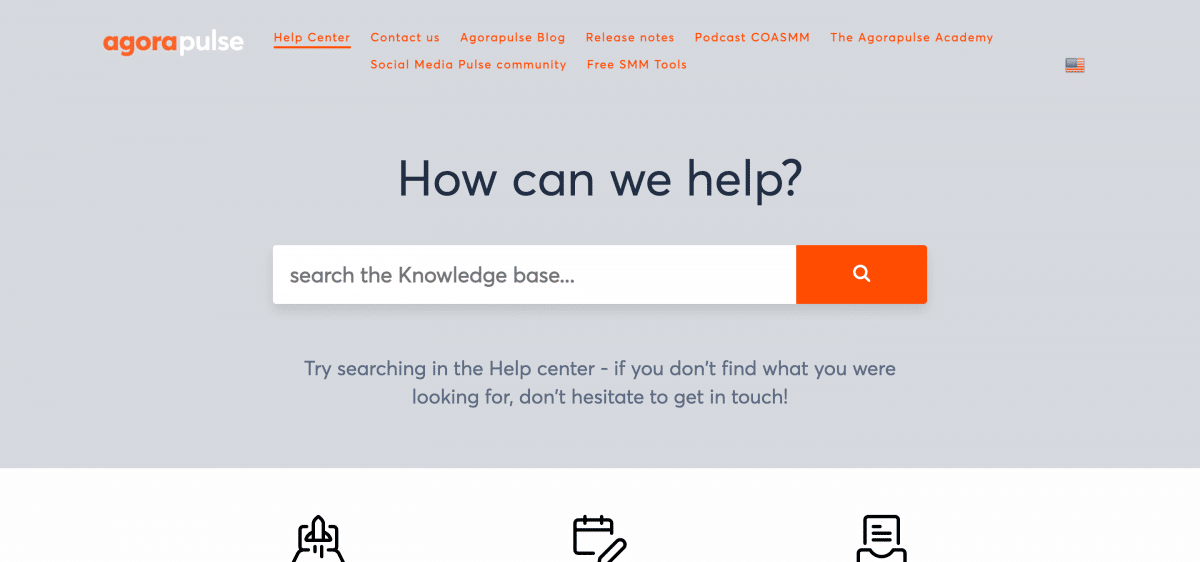 Who Wins on Quality of Support: Agorapulse or Zoho Social?
"When comparing the quality of ongoing product support, reviewers felt that Agorapulse is the preferred option." – G2

I wholeheartedly agree with the above quote and scores.
Agorapulse wins my vote in terms of the quality of help and support they give to their users. Not only because they offer 24/7 support and the opportunity to get a response in 30-60 minutes, but because the support team has a super-patient, helpful, and proactive reputation. You know that Agorapulse's Customer Support is there, by your side, ready to fight the fires with you.
Agorapulse vs Zoho Social: How Easy Are These Social Media Management Tools to Set Up and Use?
Despite working in digital marketing, I'm not a technical person. I need my social media management platform to be simple to set up and easy to use. If it isn't, I simply won't use it. And that would be a dreadful waste of my social media budget.
Luckily for me, both tools were easy to set up. They both asked me to connect my social media accounts and it was a quick, easy, and simple process.
Once I was into both social media management platforms, however, I found the Zoho Social interface generally disorganized and unintuitive in comparison to the Agorapulse one.
Agorapulse is clean, simple and so easy to navigate. Everything is where you'd expect it to be.
Agorapulse also has these small cues, like sticky notes, that guided me through my first steps when using the platform. It was a nice way to get familiar with the product at my own pace.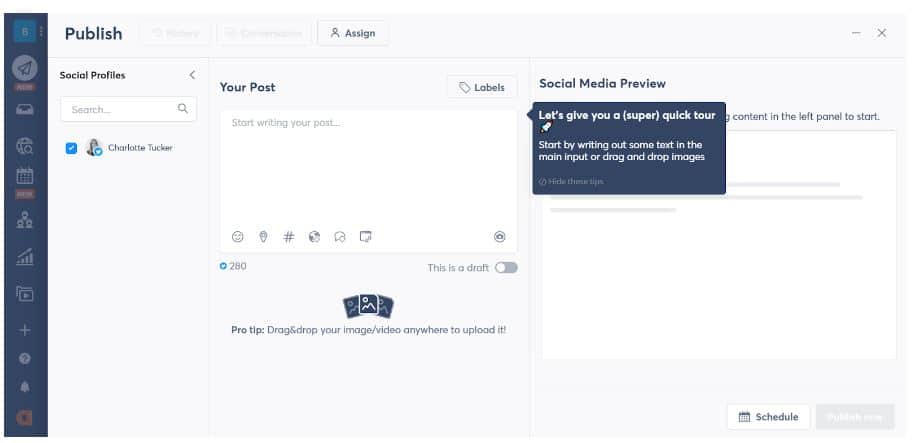 Zoho Social doesn't use cues from the beginning, but there were a few onboarding aspects that popped up and gave me some tips on how to use certain features.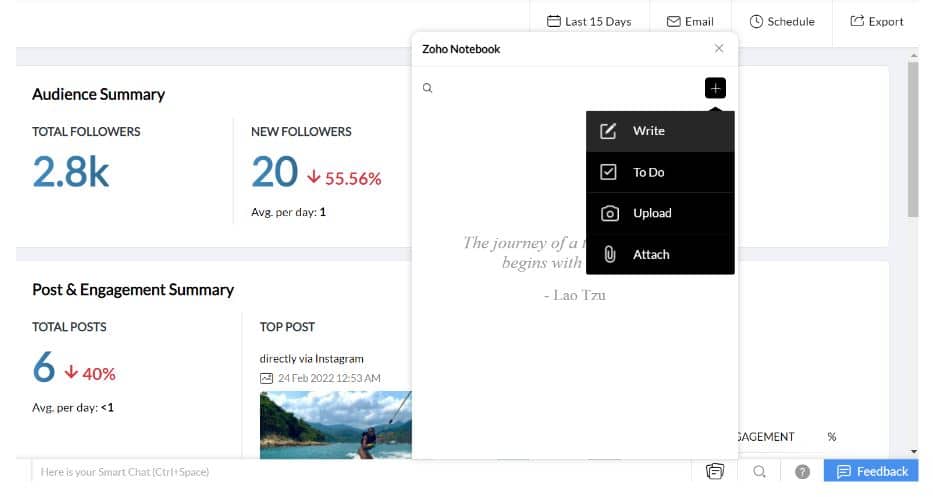 Who Wins on Ease of Set-up and Use: Agorapulse or Zoho Social?
While both tools are simple and easy to use, Agorapulse is a touch easier to navigate. This meant I was up and running in no time, and could get stuff done quickly, from the very beginning.
This is why they won the G2 award for having the easiest product to set up:
Agorapulse vs Zoho Social: Which Social Media Management tool Should You Choose?
Choosing between two social media management tools can be time-consuming and confusing, especially if they're similar, as Agorapulse and Zoho Social are.
If you've checked out the features in this article and you're still struggling to decide which tool is best for you, ask yourself or your team which tasks are the most time-consuming or difficult to complete. Then, establish which out of the two social media management tools will help you the most with those tasks specifically.
It's also worth setting up a free trial for the different tools and spending an hour or two switching between them to compare the usability, look, and feel.
In any case, I do hope this article has helped you on your journey to finding the social media management tool of your dreams.
Get started on saving time and energy in managing your clients' Instagram accounts! Check out our free trial of Agorapulse to help you schedule, track, and measure all your social media efforts.