Video marketing is undoubtedly the best way to communicate a message in 2023. And 73% of marketers incorporate a brand video into their marketing strategy. But what is a brand video? Who's doing it well? And most importantly, how can you get started?
What Is a Brand Video?
A brand video focuses on the brand, employees, or core products and services. They can be one minute to 10 minutes long, and are usually professionally produced.
(At Contentworks Agency we also make brand videos for clients looking to launch, relaunch or celebrate a business milestone.)
5 Types of Brand Videos
1. Company culture video
This type of brand video will go behind the scenes to look at the company's values, team and working culture. Check out this warming brand video on employee diversity from Apple.
The video can be used for human resources for recruitment purposes or to raise brand awareness and align with your target demographic. For company culture videos, authenticity is key.
Brand video marketing tip: Avoid using models, fake locations, and made-up stories as your audience will quickly see through the facade.
2. Milestone video
This is our most requested brand video type. A milestone video will celebrate a work anniversary or financial milestone. For example, a 50-year company birthday or a record turnover or shareholder profits. It inspires trust and confidence by showcasing the company's history, successes, or founder pedigree.
Great milestone videos will feature storytelling, authentic videos, and photos from the company's history and key stakeholders who will either participate in the video or contribute to the footage.
Brand video marketing tip: A milestone video is not for marketers to make a sale. Avoid adding any CTAs like "buy now" or "try now" at the end of a milestone brand video. Instead, keep your video classy, and end it with a logo, website URL, tagline, or a quote from your founders.
3. Launch video
This explains the brand and gives an overview of its mission, values, and key offerings. At my digital agency, for example, we also produce pre-launch videos that seek investment or signups before the company is officially launched. This funny mockumentary video was made by Subway to launch their meat free meatball sub.
Launch videos are often made in full length format and then cut down to 30 seconds. The 30-sec. video would then be used on social media or AdRoll with a link to the launch landing page.
Brand video marketing tip: You can be more promotional at the end of a launch video with a clear CTA on what should happen next. "Try our meatless meatballs," "Sign up to join our community," or "Invest now!" The tone should be exciting, inspiring, or to prompt an action.
4. Case study/Testimonial video
These brand videos may include partners or clients who will review and describe their experience with the company. Depending on the sector, these brand videos may go into technical depth on how the brand supported their business needs. In this nicely executed video, Superdry Norway talk about the integration of Samsung into their stores.
Brand video marketing tip: Don't fake testimonials! If you're a brand new company then you likely won't be able to produce a case study or testimonial video just yet. And that's OK. Put it on your back burner and wait a year until you have real customers and real testimonials to include.
5. Product video
A product video will explain a specific product or service.  After a surface look, the product video may dig into a tutorial on how to use the product and its USPs. These brand video types are best for physical products that can be displayed and are popular in the beauty sector. Check out this product video from The Lip Bar.
For all brand videos, you will need to film in high resolution with professional videography equipment. That is especially true for a product video, which will need to give close-ups on the details of a product or its results like the video above.
Brand video marketing tip: Identify clearly the product you're talking about. Don't try to cram everything into one video. Trying to include too much content will result in a muddled video with no clear message. Being succinct can be a struggle for marketers, as shareholders often see product videos as a chance to include everything!
All these brand video types have the potential to go big. But the way they are received will depends on several factors including:
The message
Overall vibe
Music
Scripting
Execution of the videography
Editing
How well the brand videos are promoted online

Where Are Brand Videos Shown?
Brand videos are filmed and produced in high-res formats and can therefore hold up to a wide variety of placements. That is unlike a video recorded on a smartphone, which wouldn't be OK on a cinema screen, for example. Brand videos are shown in cinemas, big screens (for conferences), Time Square-level electronic billboards, on website home pages or landing pages, cut down for AdRoll and on social media.
How to Make a Brand Video
If you're in a large organization then you might be able to make your video in house.
A quick checklist for brand videos
Here's a brief list of the resources you will need to create a brand video:
Professional videographer
Expert equipment (cameras, lighting, microphones, tripods, drones, Go Pros, and gimbals to allow the camera to rotate smoothly along an axis)
An expert content writer with experience in script writing
A soundproof studio with green screen
Access to recording studio (for voice-overs)
Video editing software and a person who knows how to use it
Understanding of music and stock footage licensing
Social media specialist to advise and oversee the launch
This is an expensive operation to have in-house. Most companies choose to outsource brand videos to a marketing agency who will manage their brand video from start to finish. In this case, the company needs to assign the right people to be involved in the video and provide information and buy-in decisions.
1. Get decision maker buy-in
Before you do anything, you need to get buy-in from the brand's decision-makers. They must approve the budget, concept and general idea before you move forward. A professional brand video will cost $5,000 to $20,000 per minute so you need that to be approved. You should also be realistic about timeframes and avoid leaving everything until the last minute. A professional brand video will usually take 4-6 weeks to produce. And that's if everyone is aligned and things go smoothly.
2. Lay out your direction
Once the budget and overall idea is approved, you need to nail down a specific direction. What will the video be focusing on? Who will appear in it? What are the key messages? Will it be filmed in a studio or in your premises? Where will the brand video be used?
3. Source a great script writer
Sourcing a content writer with experience in script writing isn't easy. Most brands will have a content writer for social media, website copy, and emails. But that doesn't mean they can write great scripts. Generally speaking, a script writer will charge $1,000 and up for a one-min. script. And don't cut corners. A poor script will lay the foundations for a poor brand video.
4. Hire a professional videographer
Remember, we're not filming the brand video on our smartphone. To create a stunning and immersive video ,you will need to hire a videographer with proven success in brand videos. Take the time to browse different portfolios and see what you like.
Some videographers specialize in commercial or advertising videography. Other videographers may have more experience in documentary or storytelling. It's important that you provide your videographer with a clear brief. Will the video be used on social media? Will it need captions or on screen text? What is the key message and who will be watching it.
5. Have a kick-off meeting
Your kick-off meeting should include the brand's decision makers, the script writer, and the videographer. Include any project managers. Ideally, you will not add any surplus attendees because this will slow the process down.
At the meeting, you should ensure you're all on the same page, and set some deadlines for script completion, script approval, and filming. Get approvals in stages to avoid any huge rewrites or edits at the end.
Here I am at a 6AM shoot with professional videographer Peter from MotionMilk. It's a good idea to take photos during your shoot for some behind the scenes social media posts later.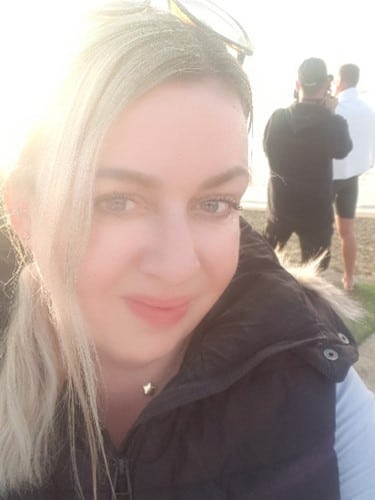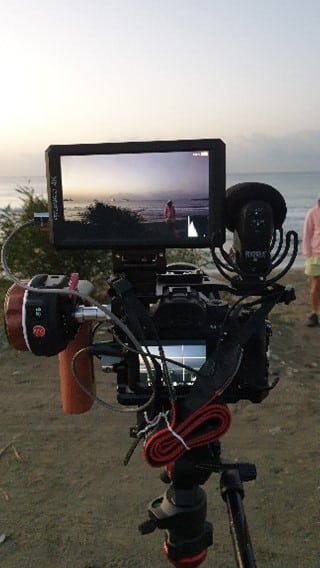 6. It's filming day
Be prepared for filming day! Print off several copies of the script, agree your schedule in advance, and prep anyone appearing in the video on clothing. Certain clothing may not film well (very vivid stripes and patterns) and you need to agree an overall look.
Consider a backup plan in case it rains. Get permission to film in your chosen location and think about timings to avoid (or capture) traffic, rush hour, and crowds. Your videographer will also be concerned with lighting, so follow his/her lead on this.
7. Choose the right music and voiceover
Once the video has been recorded, you can choose the music and a voiceover. Any music you use should be paid for and licensed. A voiceover can be arranged with a professional recording studio where you can choose from a variety of voiceover artists. Take your time and choose carefully. The voiceover you choose can really impact your video. Check out Turkish Airways Pangea, featuring Morgan Freeman. His voice is, as always, deeply impactful.
Remember to upload captions. 80% of people are more likely to watch a video with subtitles available. You can also add other languages to reach a greater audience.
8. Launch the video
You need a launch plan for your brand video and this will usually involve your entire marketing team. When will you upload the video? Where? What will be your caption or landing page text? Will you promote the video and how much will you spend doing that? It's important to be coordinated. Especially when you've spent time, budget and resources on making a great video.
9.  Monitor the video uptake
If you're not monitoring your brand video uptake then you're missing a hugely important step. A brand video isn't usually to raise revenue. But it is meant to generate brand mentions, improve brand trust, spark discussions and garner engagement. With Agorapulse, you can accurately monitor and report on your brand video uptake.
How to Monitor Your Brand Video 
Promote across multiple channels
With Agorapulse, you can easily upload your video to other channels, repeat it at different times, and schedule for different time zones. While you will only upload the video to channels like YouTube once, you can repeat your shares on channels like Twitter. You can change your caption and thumbnail too!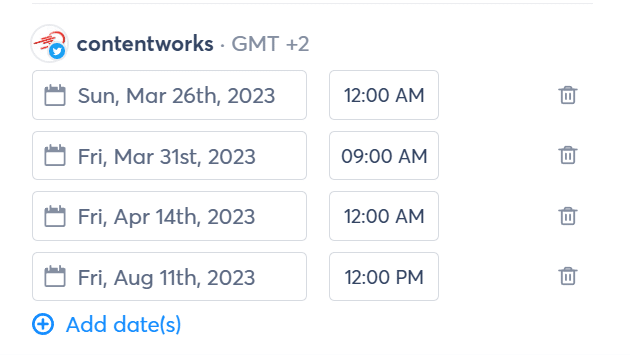 Monitor engagement
Brand videos are a highly engaging form of content marketing, but you need to dig into your stats. With Agorapulse, you can see at a glance how your video post (Reel or Story) has been received, with top level engagement analytics. You can also see analytics for TikTok, the newest addition to the dashboard. If your video has comments then be sure to respond where you need to.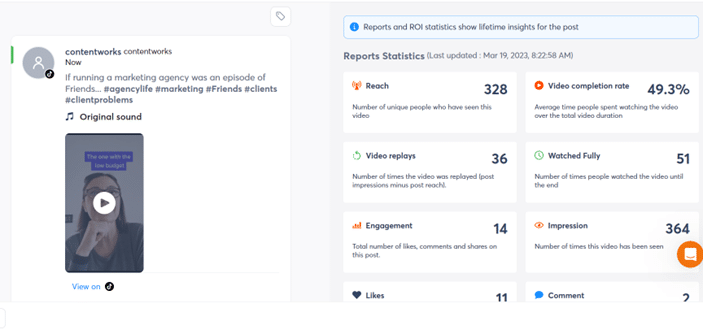 View social media mentions
With Agorapulse, you can set your panel to report on certain keywords, phrases, or hashtags. When you launch your brand video, be sure to add its hashtags or the title of the video to your dashboard, so you can monitor your mentions. This will show you how many people are talking about your video and an overall snapshot of the sentiment. You can also see how many new organic and paid fans you've gained during the period when you launched your brand video.
Uncover deeper data
Now, you can connect your Facebook ads account and Google analytics account to your Agorapulse panel. This gives you a coordinated snapshot of your social media interactions and how they relate to paid ads, website traffic and ultimately conversions or sales. Whilst most brand videos are not created to generate ROI, you can still set parameters and monitor it on your dashboard as shown below. A brand video may take up to a month to see tangible results, so don't be too tight on your date range!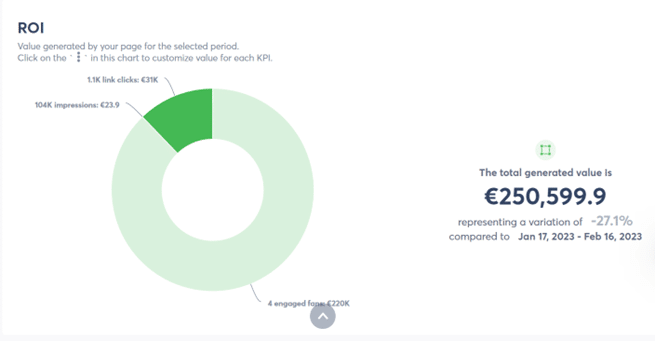 In Conclusion
A brand video is a brilliant jewel in your company treasure chest when executed properly. It can introduce your brand, build trust, launch new products and tell your company culture story.
Sign up now for a free demo and find out what Agorapulse can do for your video content.