Are you building a brand-new video marketing strategy for agency clients or looking to level up your organization's video content? Either way, focusing on video is a smart move for social media marketers.
Over 90% of consumers want brands to produce more video, and two-thirds of social media users think short-form video is the most engaging type of content. That means video should be a key component of your social media strategy.
Surprisingly enough, however, only 7% of marketers are using video to its full potential, according to a recent Content Marketing Institute on video marketing.
In this guide to video marketing, we'll cover everything from content formats and editing tools to tips for creating and scaling a successful strategy.
Why Video Marketing Is So Important for Social Media
Video marketing works across virtually every social media network, from Facebook to YouTube. It can help your team reach goals that span the entire marketing funnel, from building awareness to creating conversions.
So why is video marketing so effective? And why is video marketing especially important on social media?
Storytelling. Whether your videos educate or entertain, they can weave complex narratives that would require multiple images or a novel-length caption. They're ideal for storytelling from the point of view of your organization or your customers.
Mobile-first format. Did you know that 99% of social media users log in via mobile devices? Short-form videos tend to be brief (i.e., fewer than 3 minutes) and have interactive elements. All that makes video ideal for mobile users.
Increased reach. Without video, you could be missing out on a lot of potential reach across social media channels. TikTok generates about 1 billion views per day, and YouTube shorts tally about 30 billion views per day.
Lead generation. Video content can do much more than improve brand awareness. When you create content for the middle of the funnel and add relevant calls-to-action (CTA), your videos can also generate marketing qualified leads.
ROI. Whether your team uses video to generate leads or drive revenue, this type of content can prove to be a smart investment. Over 90% of video marketers think this content type provides a good return on investment (ROI).
Free Ebook: The Art of Brand Storytelling for Modern-Day Marketers
10 Types of Marketing Videos to Create
Video is a much more versatile medium than you might think. Here are 10 types of marketing videos to consider adding to your social media marketing strategy.
1. Brand videos
Do you want to introduce your brand and tell your target audience what you're all about? With brand videos, you can share what your brand does, show customers what you can help them achieve, and express your mission and values.
As an example, the Savannah Bananas video above captures the baseball team's values. In a few short seconds, this TikTok video announces the team's return for a new season of having fun and entertaining their audience.
2. Explainer videos
Though brand videos can be longer and may include multiple concepts, explainer videos generally zero in on one specific idea. They're ideal for showing how your brand, product, or service can solve a certain problem or provide a benefit.
3. Product videos
With product videos, you can highlight individual products or your company's full product line. This type of video can showcase multiple perspectives or demonstrate how your products work.
4. Demo videos
For more complex products and services like software and technology, demo videos are often essential. Demo videos walk prospects through the product, so they can better understand features and functionality.
As an example, the ClickUp video above walks users through the project management tool and shows them how to use the software. At just over 30 minutes, this type of YouTube video marketing can help with lead generation and converting high-intent prospects.
5. How-to videos
Want to give viewers step-by-step instructions for using your products or services? How-to videos are great for helping current customers use their purchases more efficiently, which can increase loyalty and lead to happier customers.
As an example, Jacob Hilpertshauser in the Agorapulse video above walks viewers through how to animate social media ads. In under a minute, the Instagram reel provides actionable steps that users can follow right away.
6. Behind-the-scenes videos
Want to give your audience a peek behind the scenes of your business? This type of content is great for building trust, as it shows how (and often why) your organization operates—in a genuine way.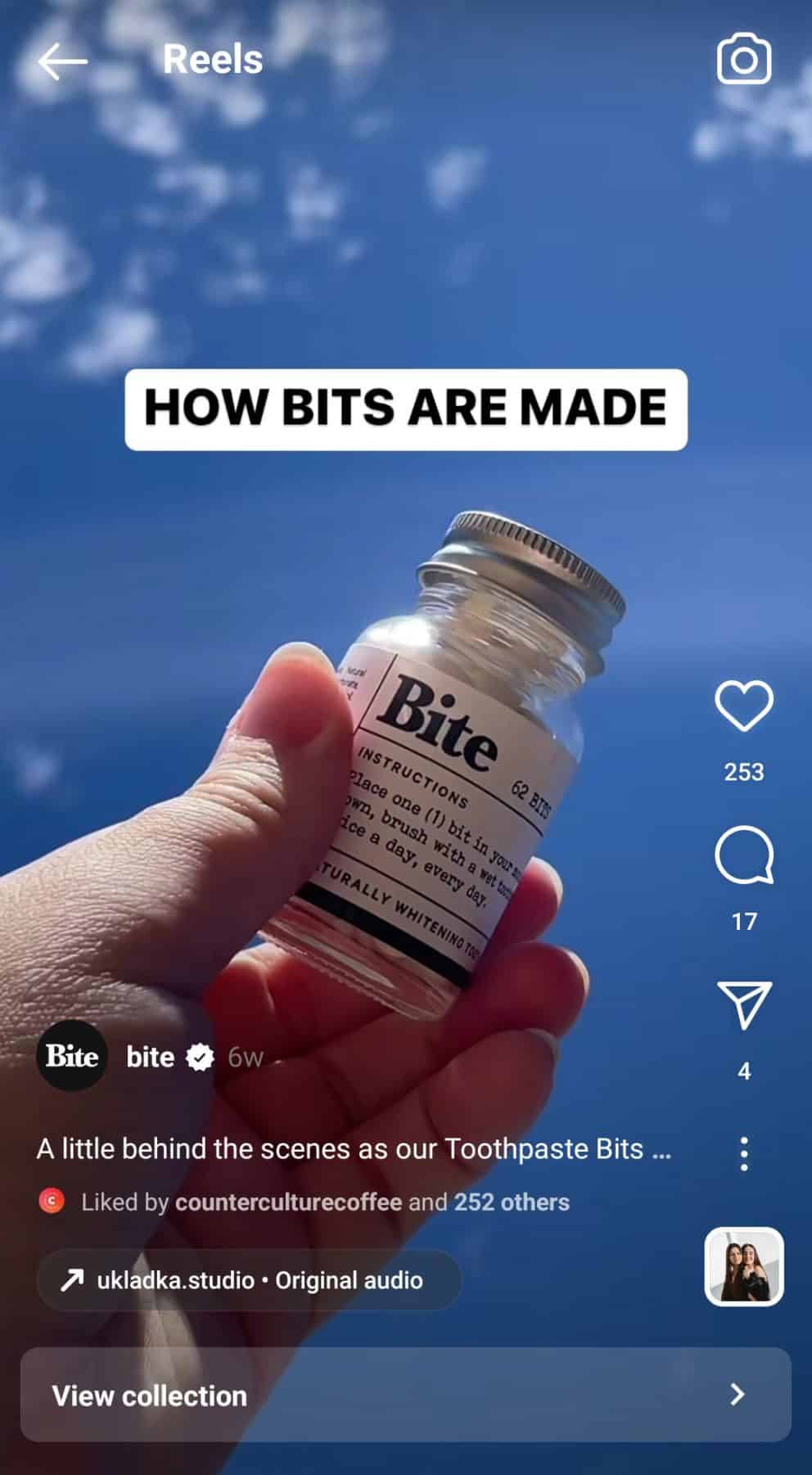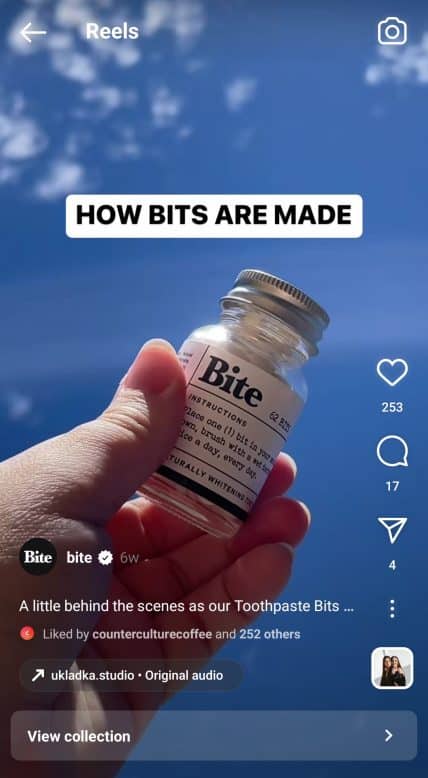 As an example, the Bite video above reveals how the brand makes its toothpaste. The Instagram reel takes viewers behind the scenes, cutting together a series of short clips from the company's production facility.
7. Event videos
Need to generate interest or increase attendance for online or offline events? With event videos, you can compile footage from past events to get your target audience excited about upcoming events.
As an example, the Content Marketing World 2023 video above features a montage of short clips from its yearly conference. It concludes with information about the organization's next event, including a prompt for viewers to mark their calendars.
8. Customer stories
Has your business solved major problems for clients? With customer stories and case study videos, you get to show prospects how your organization can help—through the point of view of someone just like them.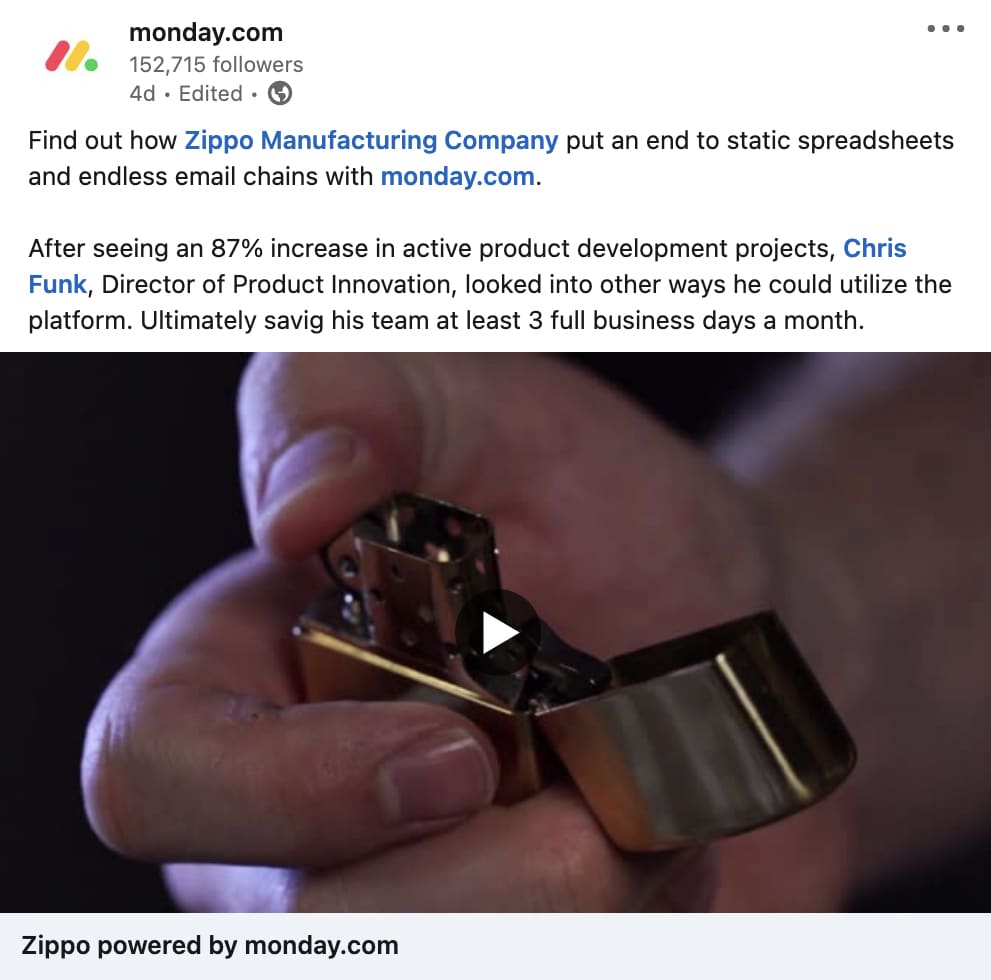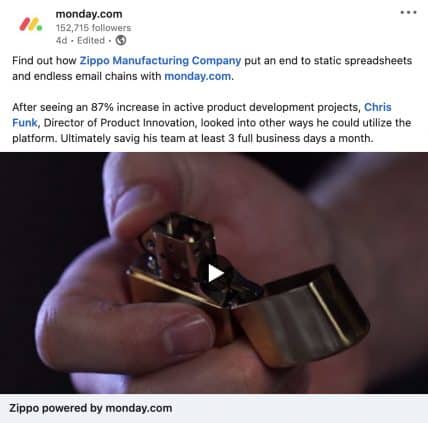 As an example, this customer story from monday.com explores how the project management platform helped Zippo save time. The 3-minute LinkedIn video uses interviews to explain the problem and share the solution from the customer's perspective.
9. UGC videos
In most cases, your team will produce marketing videos for your organization. But you can also use customer- or fan-created videos in your social media marketing strategy. By sharing user-generated content (UGC), you can let customers and fans speak about your brand authentically—from their own perspectives.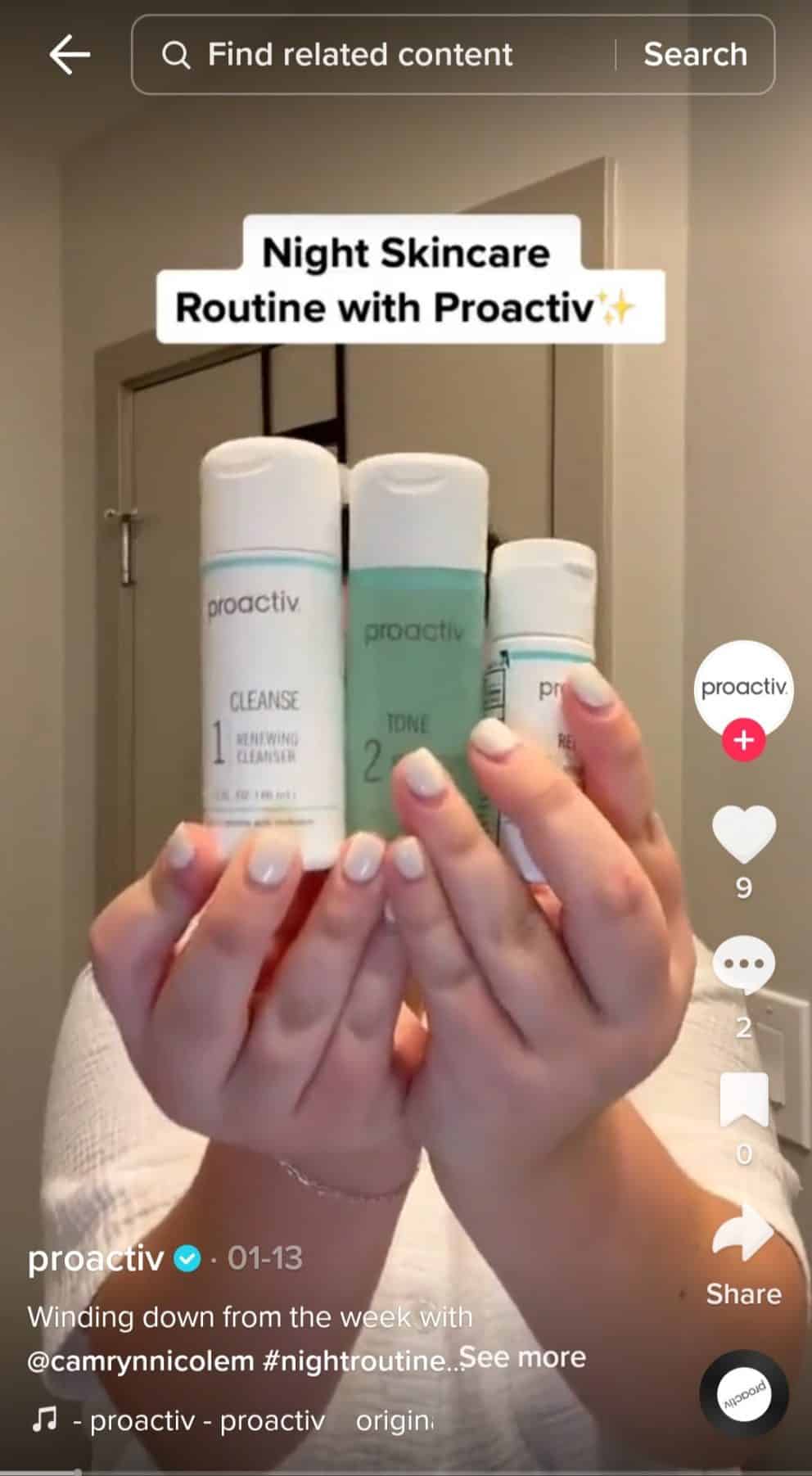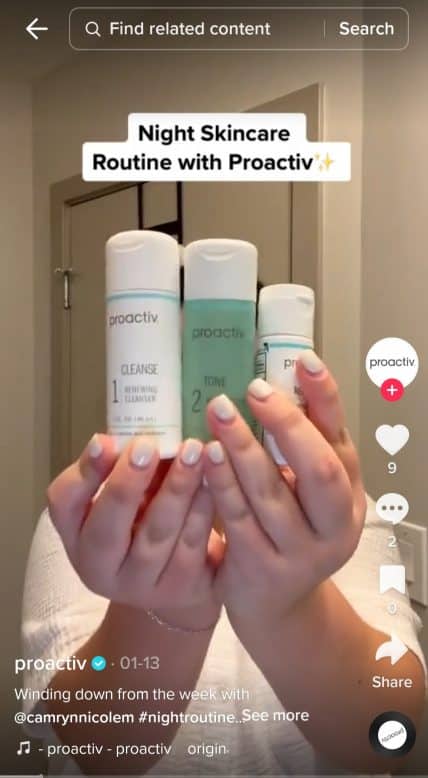 As an example, the Proactiv video above features content from a TikTok creator. The TikTok highlights the products the creator uses and shares her skincare routine, providing social proof for the brand.
10. Live streams
In many cases, your team will probably produce marketing videos well in advance of when you plan to publish. One exception is live streams, which let your organization connect with customers in real time. When you go live on Facebook or other channels, you can share exciting news, answer questions, and build relationships with your target audience.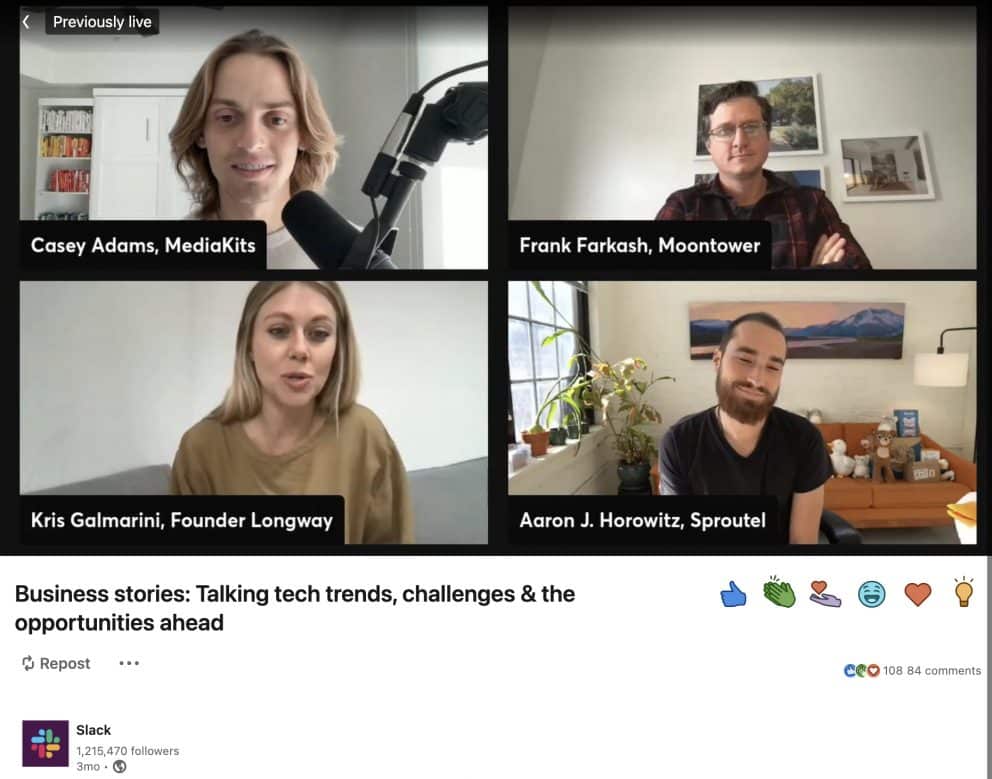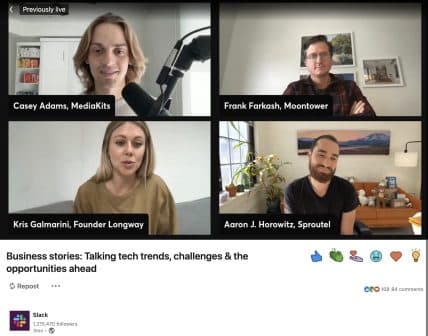 As an example, the Slack video above includes several contributors, all of whom spoke about tech trends and opportunities for small business owners. Rather than promoting the communication platform, this LinkedIn Live event focuses more on community building.
Sign up for a FREE trial of Agorapulse and make your workday easier!
Top Video Editor Tools for More Creative Content
Each social media network has its own built-in video editing tools—such as filters, effects, and text. But you don't have to rely on these options alone. Here are a few of the best third-party tools for video creation and editing.
Canva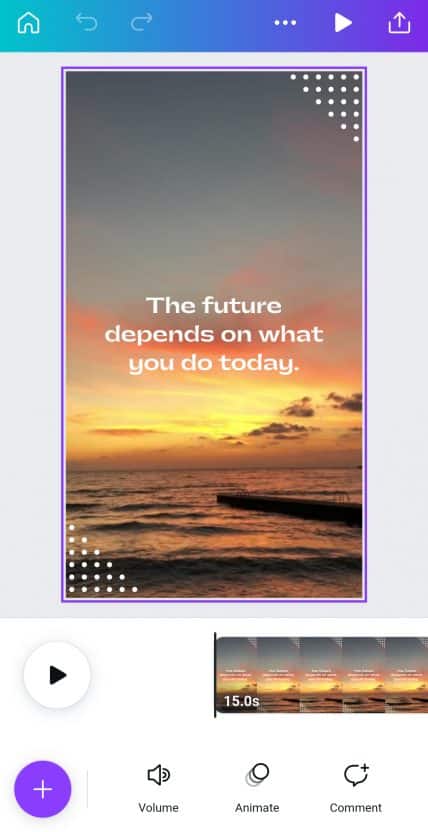 If you're creating short-form marketing videos for YouTube, Instagram, Facebook, or YouTube, Canva has all the editing tools you need. You can get started with templates, cut clips together, add filters and effects, and insert text at specific timestamps. If you need to supplement your video or audio content, you can purchase from Canva's premium library.
CapCut

Although it's primarily designed for TikTok, CapCut is great for designing short-form videos for any social media network. With CapCut, you can choose effects and filters, add sound effects, insert subtitles, and use advanced editing options like background removal tools.
InShot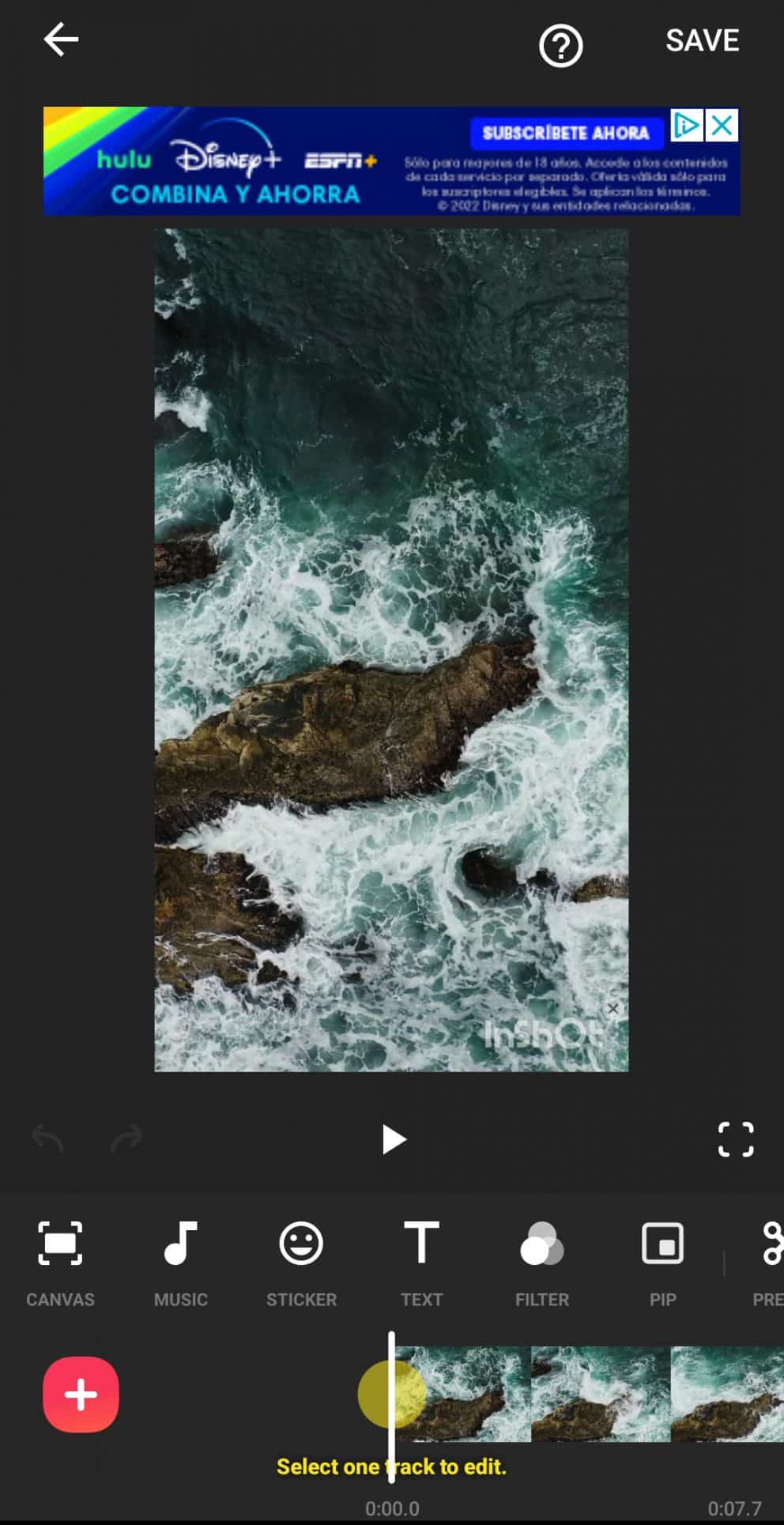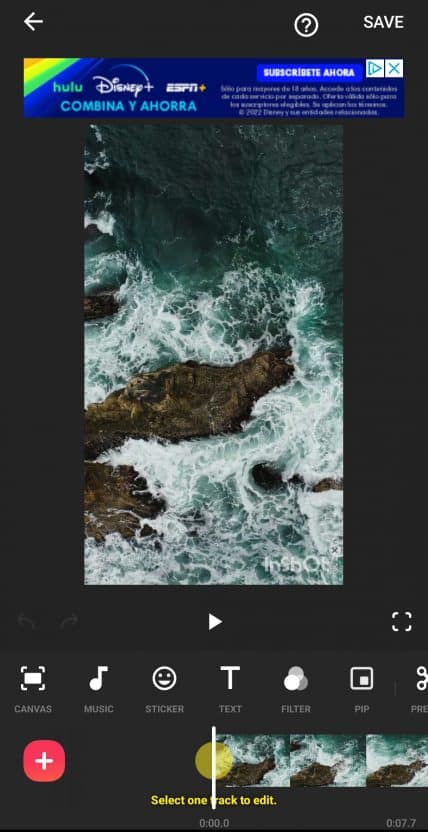 From merging and trimming clips to adding stickers and music, InShot is another good choice for editing short-form videos. While InShot offers a free version, it's important to note that you have to pay for the pro version to remove watermarks.
Adobe Express

When you want to create longer product, explainer, or how-to videos, Adobe Express is a good pick. With this tool, you can design long-form videos from templates or do simple edits (i.e., merging and resizing) for short-form videos.
How to Create a Video Marketing Strategy
Now you have an idea of what kinds of videos to produce and how to edit them professionally. So where should you start and how can you measure your results? Let's walk through the steps of creating a video marketing strategy.
Set video marketing goals
First, clarify the objectives you want to achieve with video marketing. If you've already developed a social media strategy for your organization, identify how video can help you accomplish the goals you've already set.
Keep in mind that video can help you achieve goals throughout the marketing funnel. In other words, you can use them to boost awareness, assist with research, guide purchase decisions, and improve loyalty.
Whether you plan to use video to reach one or all stages of the funnel, make sure to set SMART goals. With specific, measurable, attainable, relevant, and timely objectives, you can better guide your efforts and analyze your results.
Choose social media channels
Video marketing works on virtually every social media network. But that doesn't necessarily mean your organization needs to create content for every channel.
Use your social media strategy and your buyer persona to guide your approach. For example, if your audience is on Instagram, you'll want to create Instagram reels. If you want to get your brand found in search, you'll want to create search engine optimized YouTube shorts.
Keep in mind that some social channels use specific formats, which means the type of content you can create may be somewhat limited. For example, you'll need to create full-screen vertical videos for TikTok and Instagram.
Map out a video marketing calendar
Next, get together with your team to create a video marketing calendar. Again, if you already have a marketing or social media calendar, you can easily plug video into appropriate spots.
If you're creating a social media calendar completely from scratch, start by making note of the campaigns and initiatives you need to carry out over the next month or quarter. Then decide how often and the best times to post on social media.
Plot any time-sensitive campaigns on the calendar, leaving plenty of time for teasing big events and getting the conversions you need. Then fill in the rest of the time slots with evergreen content that spans the marketing funnel—from product plugs to case studies.
Storyboard your marketing videos
Once you've decided on the kind of content you need to publish, create storyboards for your videos. With a storyboard, you'll know exactly what shots you need and how to set them up—which means you can produce content much more efficiently.
You can make the storyboarding process as simple or as detailed as you like. On the simple end of the spectrum, jot down your ideas and turn them into a basic outline. On the detailed end of the spectrum, create sketches for each cut you plan to film.
As you plan your marketing videos, make note of everything you'll need to film. Write down props you need to acquire, people you need to participate, and locations you need to secure.
Produce and edit your videos
Now it's time to create video marketing content. Whenever possible, create videos ahead of time in batches. Batching content creation tends to be more efficient and can help you create videos that appear more consistent.
In some cases (i.e., live events) you won't be able to create content in advance. In that case, have your storyboard in hand so you know exactly which shots you need and when you need to get them.
Always save unedited copies of the marketing videos you film so you can repurpose them more easily. Then use the tools above or the social media apps' built-in tools to add effects, stickers, and other elements.
Schedule and publish marketing videos
Finally, publish or schedule your content at the time you planned. If you've created content in advance, you can easily schedule it from your Agorapulse dashboard. Just upload the video, add a caption, and choose a time to publish.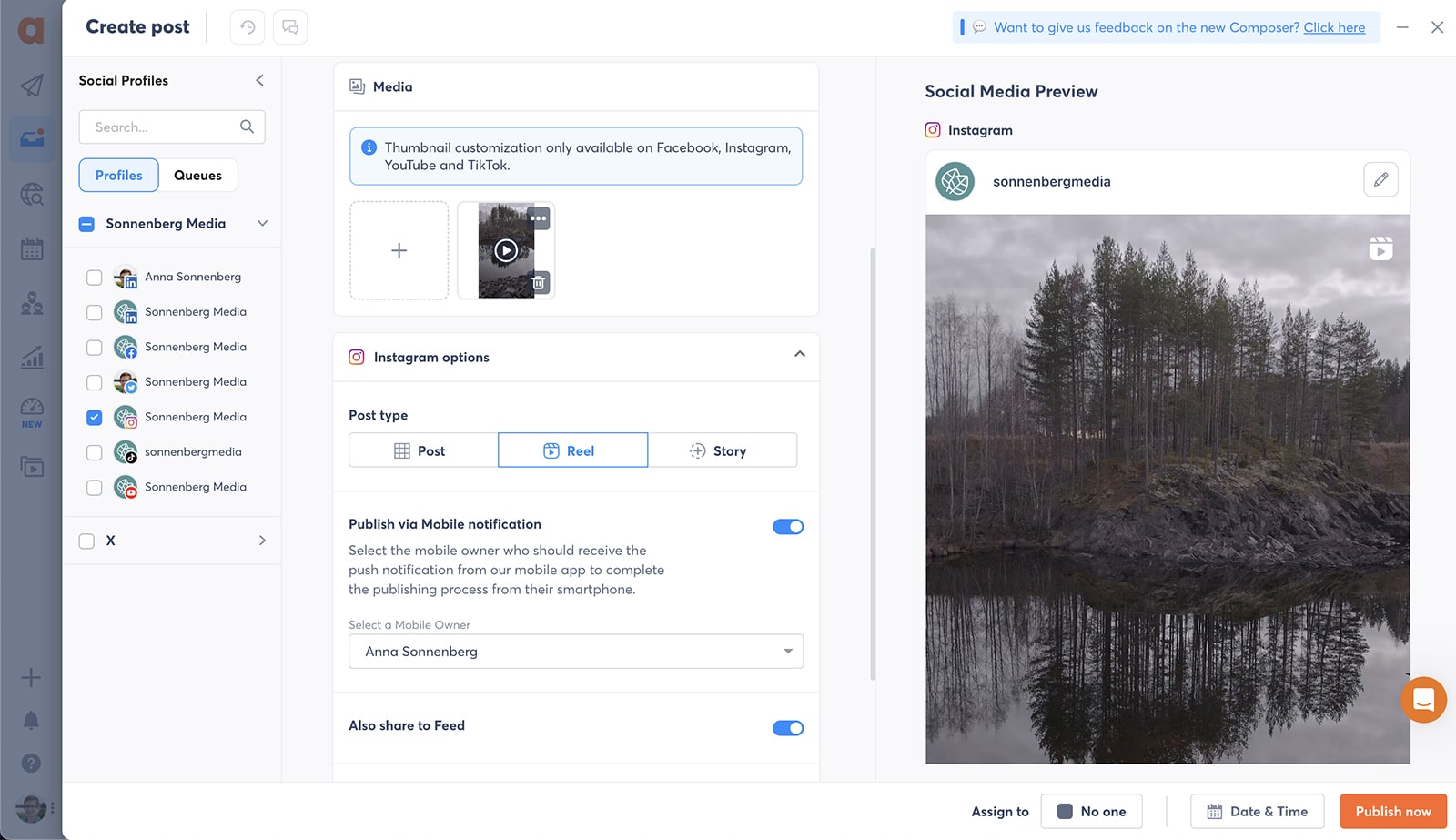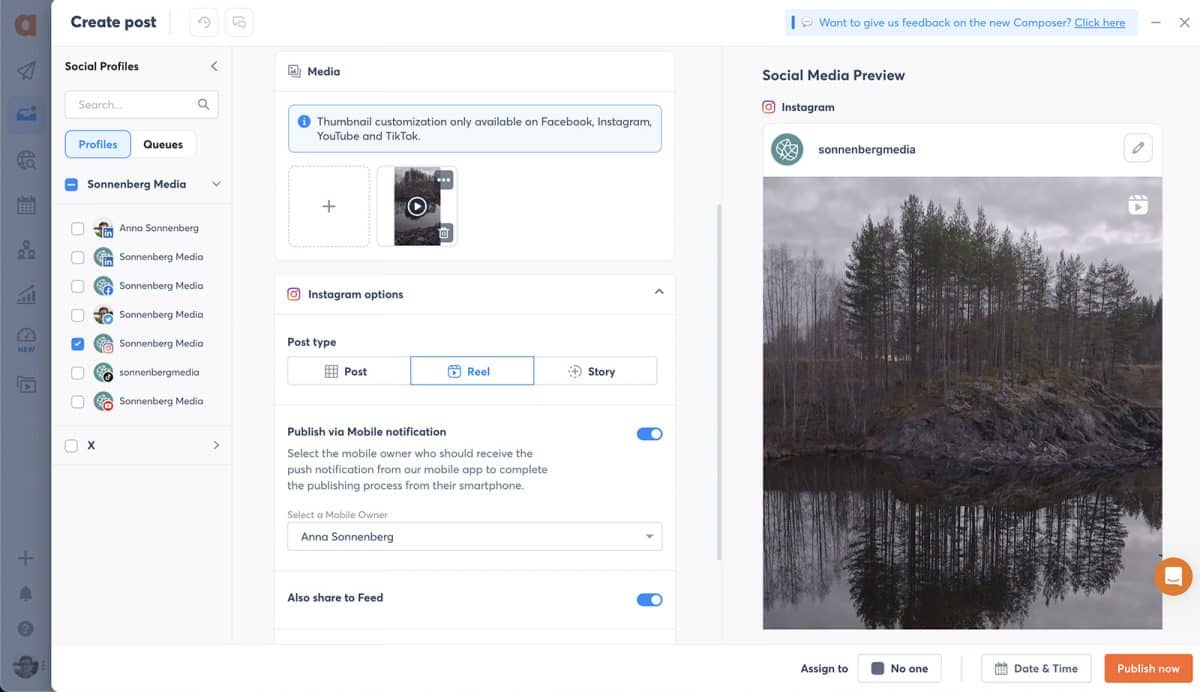 If you plan to publish to TikTok or Instagram, you have the option to publish directly or via a mobile notification. If you opt for the latter, you'll receive a notification on your mobile device, prompting you to download the video, copy the caption, and publish the post.
When you use this method, you can add in-app touches right before publishing. For example, you can write copy, add filters and effects, place interactive stickers, choose audio tracks, or add subtitles. You can also use in-app features like adding product tags or inviting collaborators.
Review video marketing analytics
After publishing marketing videos, review the results to find what's working and what isn't. From your Agorapulse dashboard, you can measure video marketing metrics for Facebook, Instagram, LinkedIn, TikTok, and Twitter.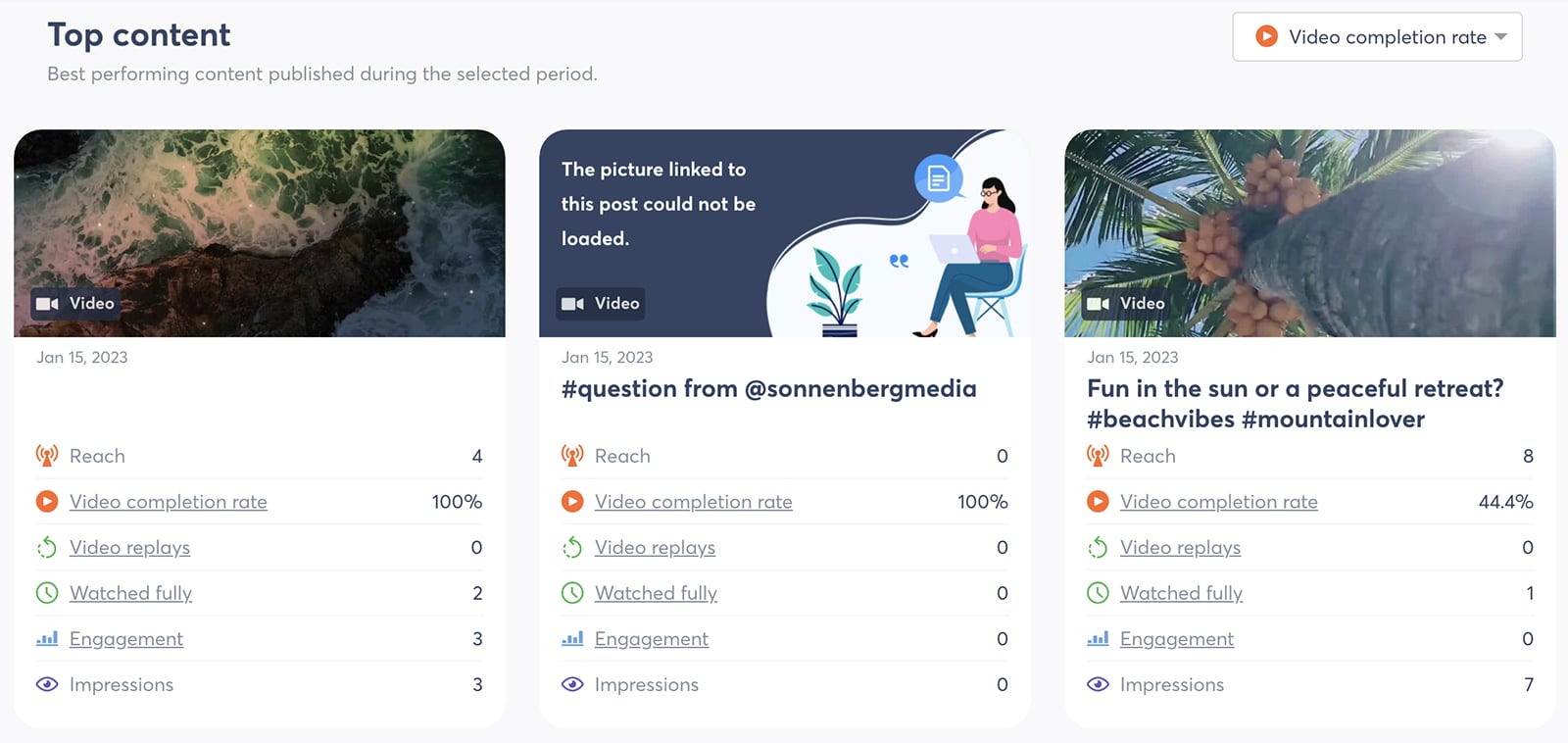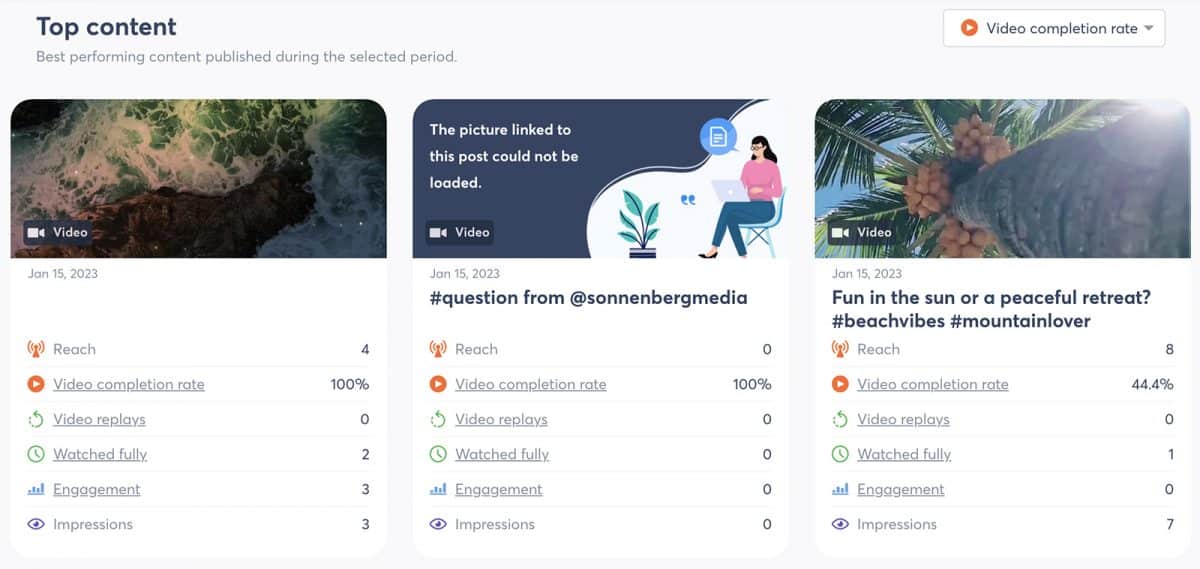 With Agorapulse's reporting templates, you can quickly identify top content and share engagement metrics with your team. You can also compare content types and see how your video content contributed to impressions and audience growth. Then you can use your insights to do more of what worked and less of what didn't.
If you've added links to your video posts, you can use Agorapulse's ROI report to measure the value your content created. This dashboard reveals the total visitors, transactions, and revenue your social media efforts generated—including breakdowns by channel, profile, and even post.
How to Scale Your Video Marketing Efforts
Once you start to see positive results from your video marketing strategy, you may want to scale your efforts so you can continue to increase your ROI. Use these tips to create more video content more efficiently.
Invest in short-form video content
Producing long-form video content can get expensive quickly. When you want to produce more on a limited budget, it's important to think about alternative video creation solutions—like focusing short-form content.
With short-form videos, you can film content using only your phone. Then you can use free apps like Canva or native tools like Instagram and TikTok filters to edit the content. You can also use each social media network's audio library to add royalty-free music.
Repurpose marketing videos across channels
Whether you focus on short-form or long-form video, make a plan to repurpose content across channels. An easy way to share content across channels is to upload videos to YouTube and post links to Facebook, LinkedIn, and other channels.
But you're likely to get much better results if you publish content natively on each platform. As you create your content plan, think about how to clip long-form videos for TikTok, YouTube shorts, and Instagram reels—and how to leverage each platform's native tools to make the content stand out.
Hire a video marketing agency
You don't necessarily have to create all your content in-house. Rather than managing every step of the content creation process, consider outsourcing some elements to a freelance social media manager or a content creator who offers video marketing services.
Alternatively, you can work with a video marketing agency that specializes in this type of content. When you hire an agency, you can use their expertise to improve your video marketing and create more targeted content that gets better results.
Wrapping Up What We Learned About Video Marketing
From TikTok and Instagram to YouTube and LinkedIn, video marketing can help you reach a wider audience, tell more complex stories, and build deeper relationships with customers and prospects. Whether you want to improve brand awareness, sell more products, or accomplish other marketing goals, make video a key part of your social media strategy.
Sign up for a FREE trial of Agorapulse and make your workday easier, more efficient, and just plain happier.