Are your Instagram captions as stunning as the photos you're posting? If not, your target audience could be scrolling on by. Don't neglect this small but mighty component of a successful social media post. A good Instagram caption means more Instagram followers, higher site traffic, and more product or services sales.
Instagram Caption Structure: What You Need to Know
Instagram captions can be 2,200 characters. But wait—long captions are truncated at 125 characters for mobile. That means that the start of your caption should either reel audiences in, or convey your message clearly.
A truncated Instagram caption looks like this. The first image is how mobile scrollers will read the caption.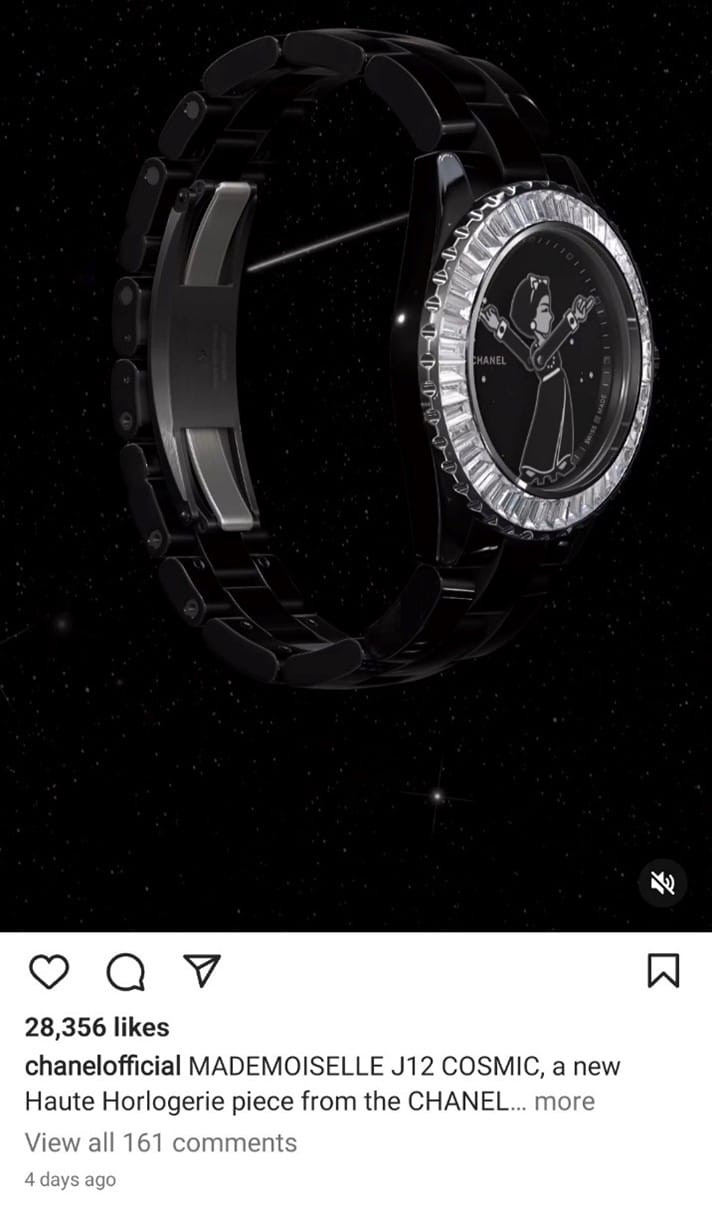 The second is how desktop users will see the caption or how it appears when you hit "Read More."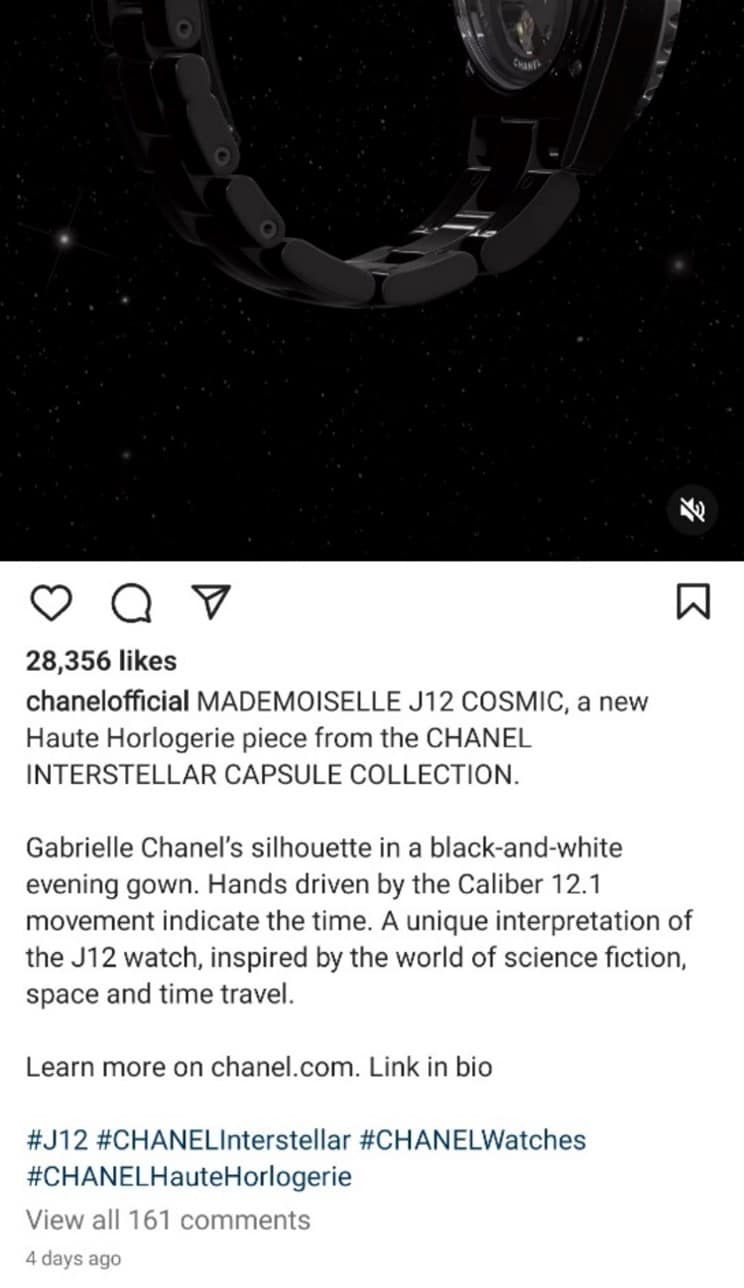 Another core point to remember is that links aren't clickable in organic Instagram posts. There isn't much point in adding them because followers would need to copy, paste into a new web tab and then visit. Which they probably won't do! Many accounts will say, "Click the link in our bio," but if you're promoting a specific product and your link just drops users on your homepage, you probably won't make any sales.
You can up your Instagram caption game by creating a Linktree account. One bio link opens a link tree that you fully customize to link to your blog, shop, sales items, promotions, events, and other profiles.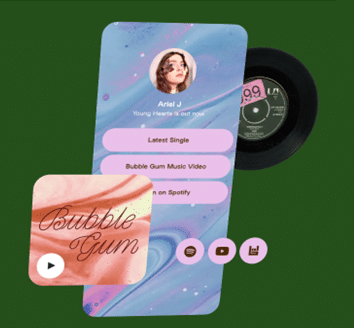 Lastly, an important point about inclusion and accessibility: Choosing pretty (but unrecognized) fonts, multicolored writing, tons of emojis, and symbols can mean that you're making life difficult for people with disabilities. Screen reader software, also known as text-to-speech, reads captions aloud for visually impaired users. And it won't make sense if you pack your caption full of emojis.
For example, this caption:
Let's go get some 🥘and 🍾 to celebrate 🤤 🥳
Will be read aloud as:
Let's go get some shallow pan of food and bottle with popping cork to celebrate drooling face partying face.
If you hold your mouse over each emoji in an emoji keyboard, you will see what the description is and therefore what is read aloud. That's not to say you can't use emojis in your Instagram captions. But it's more inclusive to include them at the end of a sentence and not to replace words.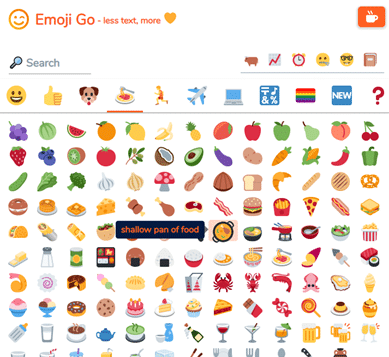 Checking out your competitors or other brands in your space is a great way to revive flagging creativity or writer's block. It's also good to spend some time scrolling and reading the captions of your favorite brands. What pops? What makes you want to click and what turns you off?
Let's peek at some great Instagram captions and see how to steal their style.
1. Use trending hashtags and emojis
On March 17, we're all about St Patrick's Day! And on social media that means green emojis like Irish four-leaf clovers for some Irish luck. Banking app Chime kept its caption simple but on trend, with a lucky clover and their signature green card. Look how that worked out: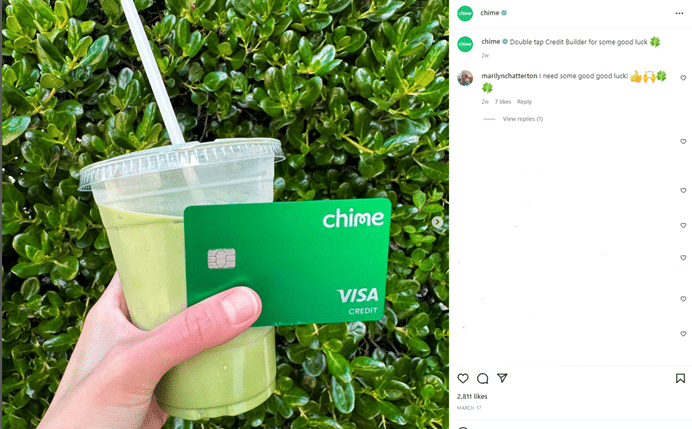 And it's important to use trending hashtags if you want more eyes on your posts. #Irish has 8,524,238 posts and #StPatricksDay has 7,704,114.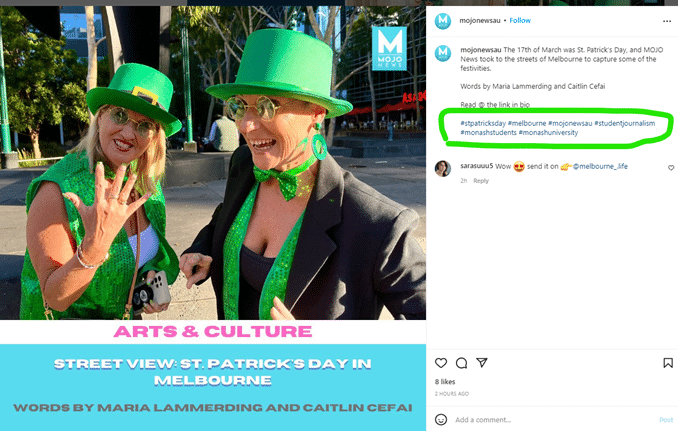 Writing tip for your Instagram captions
Plan ahead and include days you know will trend on social media like St Patrick's Day. This is important for hashtags as well as emojis. With Agorapulse, you can schedule content into your calendar months in advance so you know it's locked in. Add the short but sassy caption and the right emojis and your caption will pop.
Related read: What Is the Best Time to Post on Instagram?
2. Nail that first sentence
We talked earlier about how Instagram hides your caption after 125 characters. So, you need to make the most of your first sentence when writing your Instagram captions. When writing your Instagram captions, remember:
Discounts or offer should be in the first sentence. How to get the discount can be in the Read More.
Big announcements should convey the main message in the first sentence then expand on it below.
Ask a question or make a bold statement. You don't always need more than 25 characters!
Stories should reel in scrollers to stop and hit Read More. You can do this by creating intrigue and teasing about what's to come.
For Instagram Reels and Stories that are fast-moving and mobile-optimized, less is definitely more.
Writing tip for your Instagram captions
Check out Waterstone's bookstore for some one-line inspiration and a strong buying game. First of all, they tagged the author Margaret Atwood and the direct link to the book in their store. Then you have the first line of the caption that name drops the author, creates excitement, and leaves you hanging wondering what the collection will include.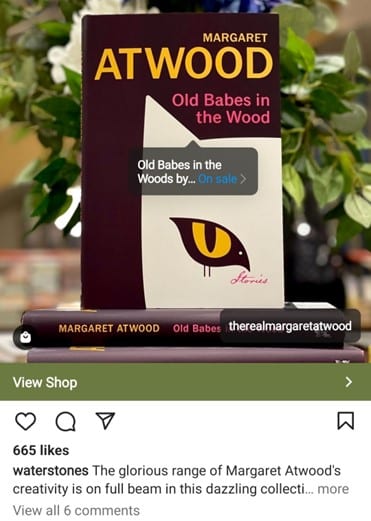 Then the caption continues to include other great authors, a full description and a tap to shop CTA.


Related Read: Your 2023 Instagram Guides
3. Don't forget your CTA
A CTA (call to action) gives your Instagram caption purpose and intention, but CTAs are often misunderstood. Clients often tell us, "We don't want to be salesy and include CTAs on our posts." We hear you. But a CTA doesn't have to be salesy or even be about making a sale. It's simply asking your readers to take an action.
Non-sales CTAs include:
Comment below and share your thoughts!
How are you celebrating *insert day*
Tag a friend who needs to hear this
Repost to share the love
This cute Instagram caption from Aldi UK encourages fans to click the bio to get the recipe. Raspberry Bread and butter pudding? Yes, please!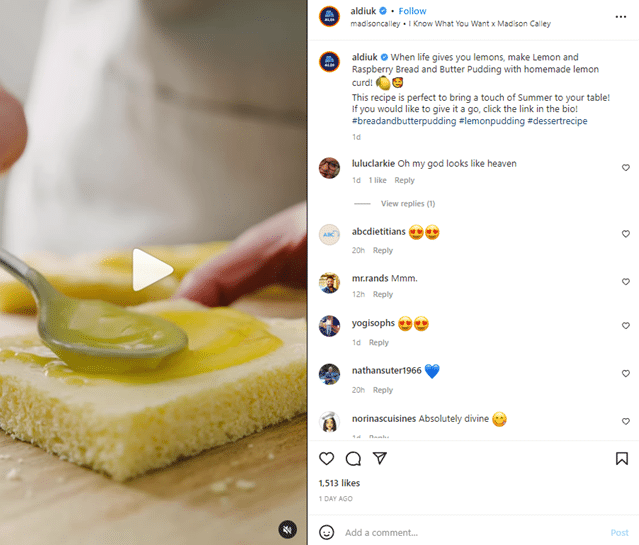 Then of course you have your more salesy CTAs. These will work better for retailers with physical products to sell as opposed to service based business accounts.
CTAs that generate sales include:
Shop the sales with *insert code* for 20% off 🛒
⚡ Flash Sale now on – shop now!
Browse our brand new summer range. Hit the link in our bio! ☀
Last ones left – don't miss them! ⏰ (Remember that all important FOMO)
Adding emojis at the beginning or end of your CTA softens the hard sell and makes the caption more fun to look at.
Writing tip for your Instagram captions
Here's a great example of a non-salesy CTA from Accessorize. People love to comment and share info about themselves, so this is a great way to boost engagement, comments, and account visibility. It's also a subtle nod to the products they have on offer. (Even as I'm writing this, I'm wanting to comment hair slides, earrings, and purse!) Their Instagram caption "We'll start" immediately makes the post into a fun conversation or game like you might have with friends. Writing like a human and not like a bot is a very important part of writing Instagram captions that grab attention and engage fans.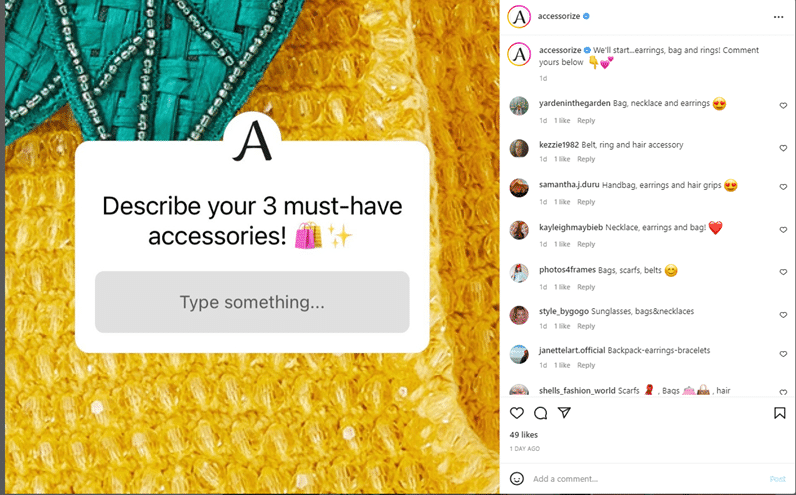 4. Tag influencers and customers
Tagging is great for your Instagram captions. You can tag using hashtags, directly tag other accounts, locations, or products. You can also repost Stories and posts from happy customers, ambassadors, or employees. Tagging works because it opens your post to a larger audience and shows that you're employing social media listening.
For example, Boots (The UK Walgreens) did a joint post with ambassador @indiyahhp that built hype and expectation on what will come next. With one million followers, Indiyah adds clout to the 1 million followers Boots UK has.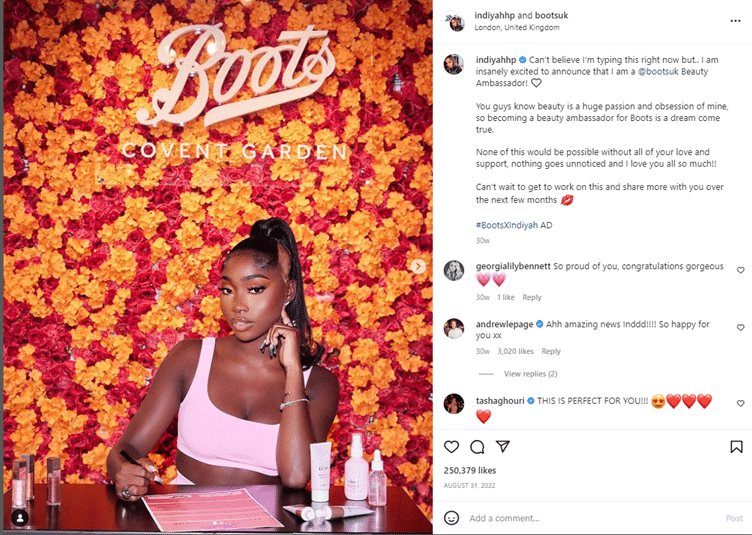 Writing tip for your Instagram captions
Tagging businesses that complement your own is a great way to boost your Instagram captions game. And extra points if that tag supports a charity or good cause!
Check out Starbucks tagging Dress For Success during International Women's Day and Women's History Month. The CTA to get involved in this community initiative is scoring top marks with me.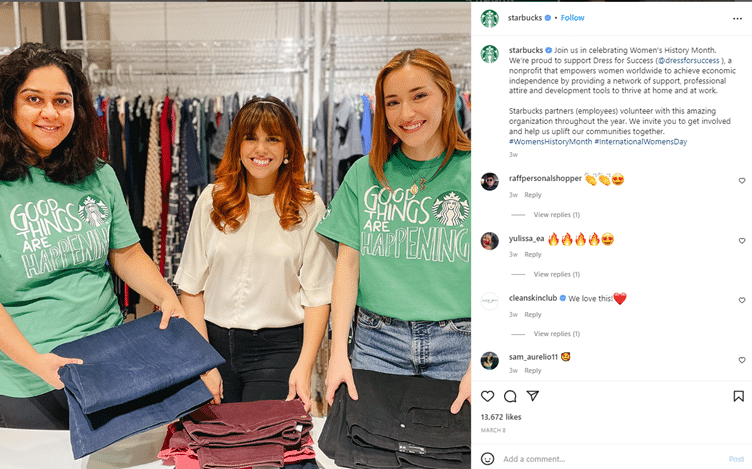 Remember: Although you can add up to 30 hashtags into your Instagram caption, it can look spammy and ruin the caption's aesthetic. Instead, research trending hashtags and those relevant to your post and use them instead. (I tend to just use a few in my Instagram posts.)


5. Use humor for great Instagram captions
Humor won't work for every brand. That said, appealing to your audience emotionally will ramp up your brand's engagement. And staying on the lighter side creates a feel good vibe around your brand and its products.
Here is your checklist for posting humorous captions:
Is it too risky?
I trust my instincts on risky captions and usually don't post them. Fifteen minutes of fame on Instagram isn't worth upsetting or alienating your audience. An example of this was the Will Smith slap memes. I discouraged our clients from jumping on this trend because it had a dark edge to it. If in doubt, get a second or third opinion.
Is it a complicated joke?
Will your fans get the joke? Or is it something only a brand employee or marketer would understand? Expect radio silence if it's too complex.
Is it on brand?
Does your brand normally post things like this or is it way off brand? Remember to consult your tone of voice documentation before you post and remember who your audience is.
Remember when Burger King tried to be funny with their "Women belong in the kitchen" tweet. It got a ton of engagement … but it was all negative and goes down in social media history as a very poor attempt at humor.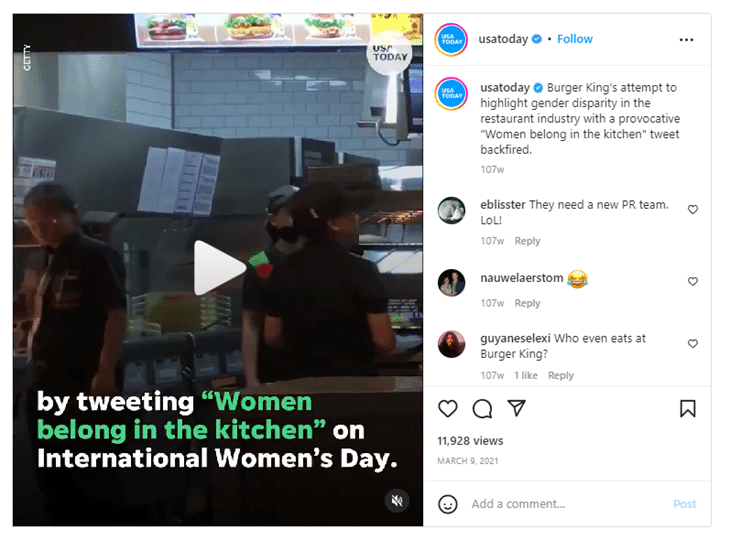 Writing tip for your Instagram captions
Sassy brand Wendy's throws in a large pinch of salty humor with this short sporting caption. Wendy's is known for trolling other brands, roasting fans, and being sarcastic about competitors. It's their tone of voice and style, and works really well for them. It won't work for everyone, though, and it's important to remember that their captions and posts are well planned and strategized.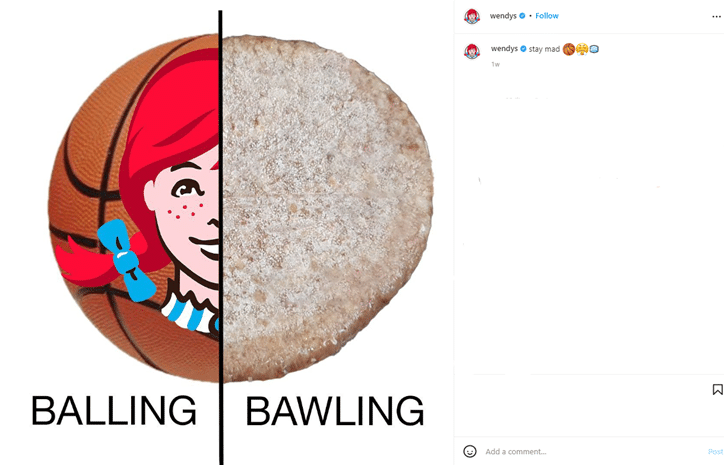 Remember: Being funny doesn't mean that all other rules fly out of the window. You still need to write great content and proof your Instagram captions for spelling and grammar. Curse words are rarely OK in Instagram captions, even if your brand is on the edgier side.
Your Instagram Captions Checklist
Let's run through some essentials for writing Instagram captions that grab attention.
Check what's trending and plan for upcoming trends. You can monitor keywords, phrases, and competitors on the Agorapulse dashboard!
Remember to write with purpose. What do you want your fans to do? Keep it simple, and don't ask too many questions or give multiple instructions.
Have a library of images ready. You need to be able to see the image to write a great caption. Try to work ahead with an evergreen image library you can caption and schedule in your Agorapulse dashboard.
Get a second opinion. With Agorapulse, you can assign posts to team members for a second opinion or edits. If you're working in the finance space, this is also good for a compliance check.
If everyone is unsure then don't post it. It's a sign.
Monitor the success of your Instagram posts. This is such an important step, but it's also the most overlooked. An Instagram report takes seconds to generate and will show you your most popular Instagram posts. From this you can take inspiration and craft more winning content for the months ahead.
Fun fact: I sometimes think I post too many photos of my cat Pie. But my popular content report says otherwise 😊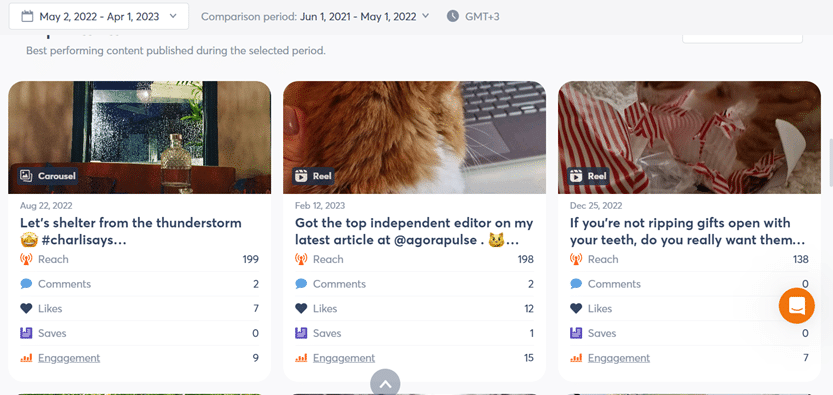 In Conclusion
Though great images grab attention, an engaging social media caption will direct that attention into an action. Instagram is filled with beautiful images, but how many of them got you to comment, click a link or make a purchase?
Start crafting some amazing Instagram captions, scheduling your posts, and more with Agorapulse. Schedule a FREE demo today!