When you use a Facebook Group for business purposes, you get direct access to customers for enhanced relationship and community building, an improved organic reach, and better feedback than you could imagine.
So, if you've put off starting a Facebook Group until now, don't worry. We've got you covered.
In this post, we're going to look at how to use Facebook Groups to grow your business and engage customers.
What's the Difference Between a Facebook Page and a Facebook Group?
We're asked one question a lot: If I already have a Facebook Page for my business, why do I need a Group, too?
The short answer: They are not the same thing.
Facebook Pages
You likely already have a Page on Facebook. That is a professional profile for your brand, where you can share posts, collect reviews, create events, and store core business information.
Users can make posts on your Page, but they'll automatically be sorted to the "Community" tab. The main form of engagement that's happening is users commenting on your post. They're automatically public.
Facebook Groups
Groups are completely different. They're closed communities of users who need to either be invited or request to join if you choose.
You can add different levels of privacy to the groups. It's much more common to see people engaging because of that, posting their own content, and interacting with other customers.
Groups come with distinct benefits, too. Because the algorithm deeply favors groups but doesn't prioritize Pages, you'll increase your organic reach among users, which is invaluable.
Also, Facebook Groups are a direct line to customers, allowing you to really build a community around your brand, making you more valuable.
Note that you can link a Page to your Group (which we'll show you how to do in a moment), creating a branded experience while also offering value so it doesn't feel like a continual sales pitch.
Different Ways to Use Facebook Groups for Business
If you're wondering exactly how to use Facebook groups for business purposes, the good news is that there are plenty of options available to you.
Let's take a look at some of the more popular options.
1. As a customer support community
This is one of the most common uses of Facebook groups for businesses.
You create a group exclusively for customers, like "Publix Shoppers Unite," and everyone who shops at Publix is welcome to join.
People could ask questions about products they purchased, find out where to get special orders, and get first access to Publix's cooking classes.
You can also use this as a learning and engagement tool.
The team behind Publix (which is a popular grocery store in the Southern US, for anyone who doesn't know) could host live videos. For example, Publix could share tips about how to find the best BOGO deals or how to select a perfectly ripe avocado.
Finding ways to offer value to your Facebook Group is crucial.
Wondering how to attract more people to your Facebook Group?
2. As a place for fans to connect with each other
If you're able to create a community centered around your brand, customers will become much more loyal than when they only like your product.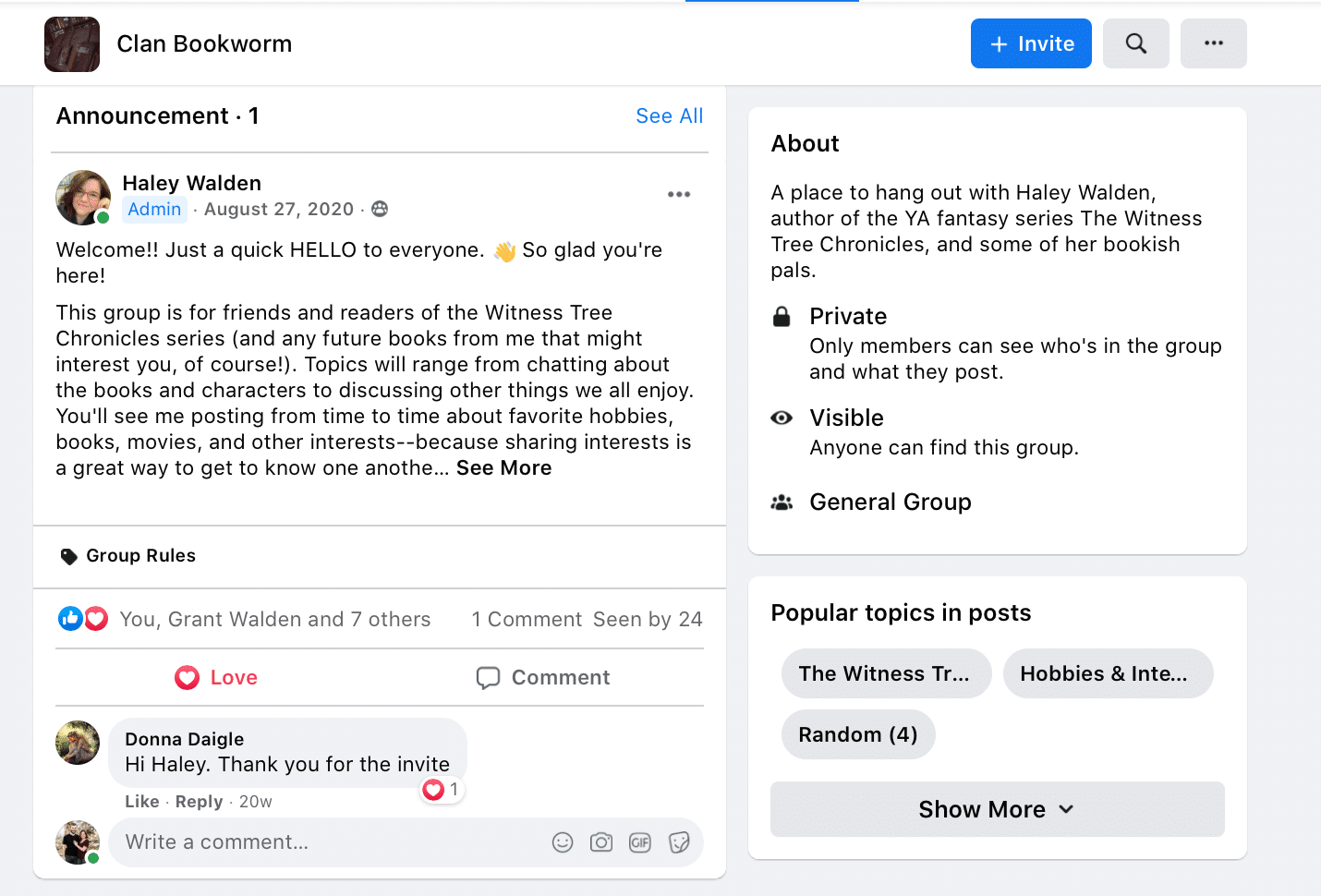 As an example: A photographer I worked for family pictures (which,m yes, was me, my husband, and our three dogs) had a private group meant to empower women. Her clients were all invited, but so were all other women. She had private networking groups, and she encouraged people to share their own resources and post to the group.
It is a thriving, engaged community. She has a Facebook Group that makes her and her brand invaluable beyond her services.
3. As a forum to receive feedback
You can absolutely use a Facebook group as a feedback forum and as a place to find insights for your brand.
Are you considering developing new features for your SaaS tool and want to know which new features your customers find helpful?
Another example: Maybe you have a meal subscription service, and you want to ensure that all the items are reaching your customers fresh and in excellent quality.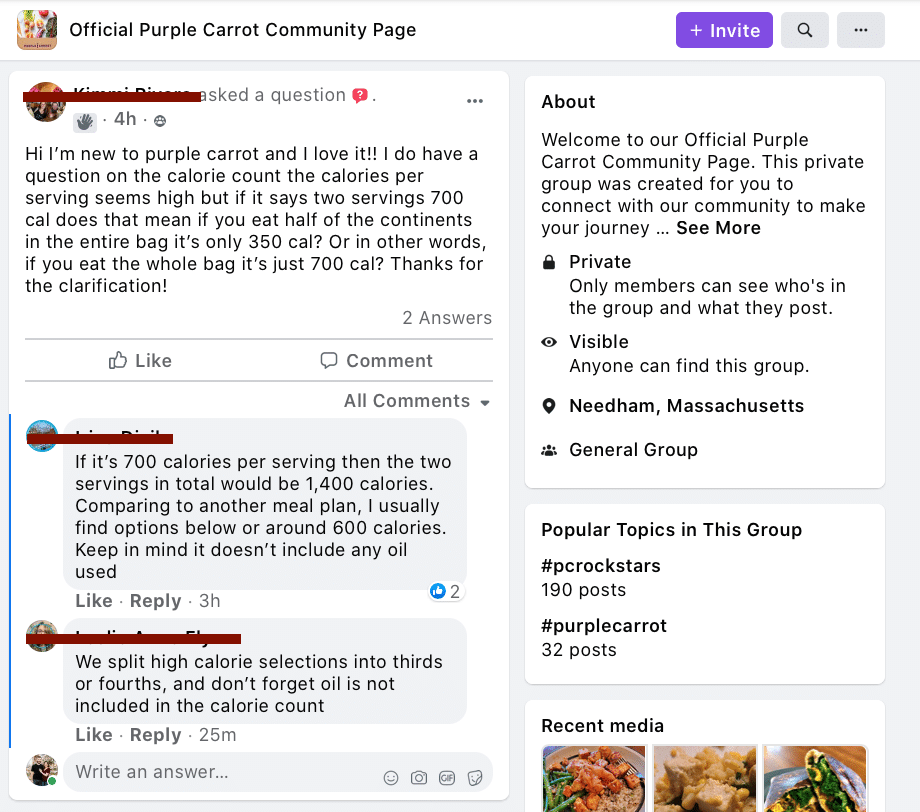 You can even use groups to gain new ideas for blog posts and lead magnets.
4. As a revenue stream
Facebook does allow certain Pages to create Subscriber Groups, where users pay a monthly fee to stay in the group. That is most commonly granted to Creator Pages with large, engaged followings.
Unless you have access to the Subscriber Group features, you aren't supposed to charge for access to a Facebook Group. It violates Facebook's terms of service.
The good news, though, is that there is a workaround. If you include access to a Group as a free perk of a larger package, that can help sell the package and get you the results you want.
5. As an incentive for leads to convert
As we mentioned above, you can grant access to Facebook Groups to users who are customers, who are students of a specific course, or who take part in a particular paid subscription plan or product.
You can see the example from Jon Loomer here: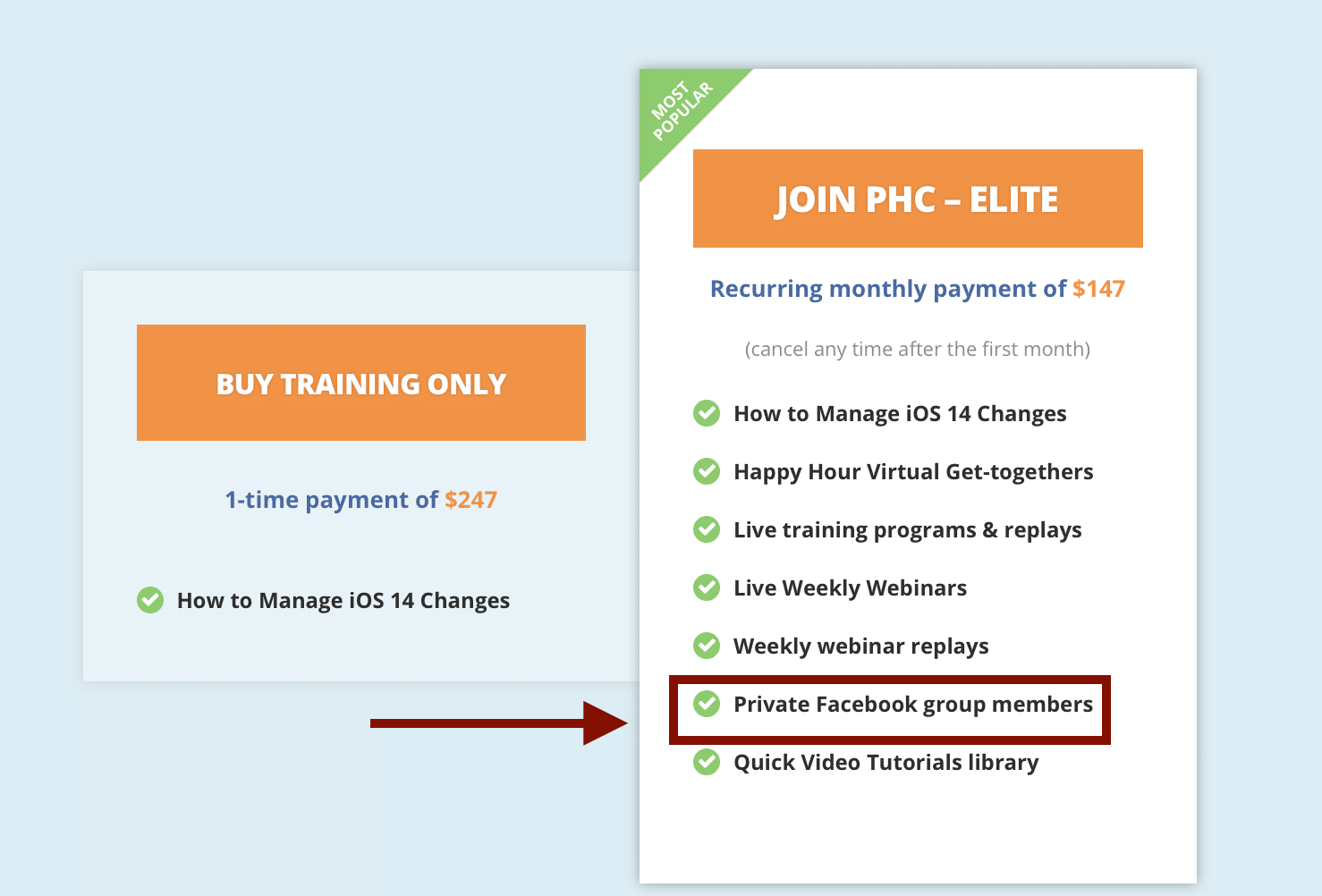 You can't charge for the group, but it can be an incentive for people to convert, especially if you're sharing high-value exclusive content and direct access to your team of experts.

6. As a way to find beta testers, brand ambassadors, and affiliates
It can be difficult to find high-quality beta testers, affiliates, or brand ambassadors.
Finding people who are highly engaged with your brand in groups, however, is a good start. These are people who care about your brand and your product, which can make them suitable for all of the above.
You can use Agorapulse to find your fans and followers, and discover how engaged they are with your Facebook channel.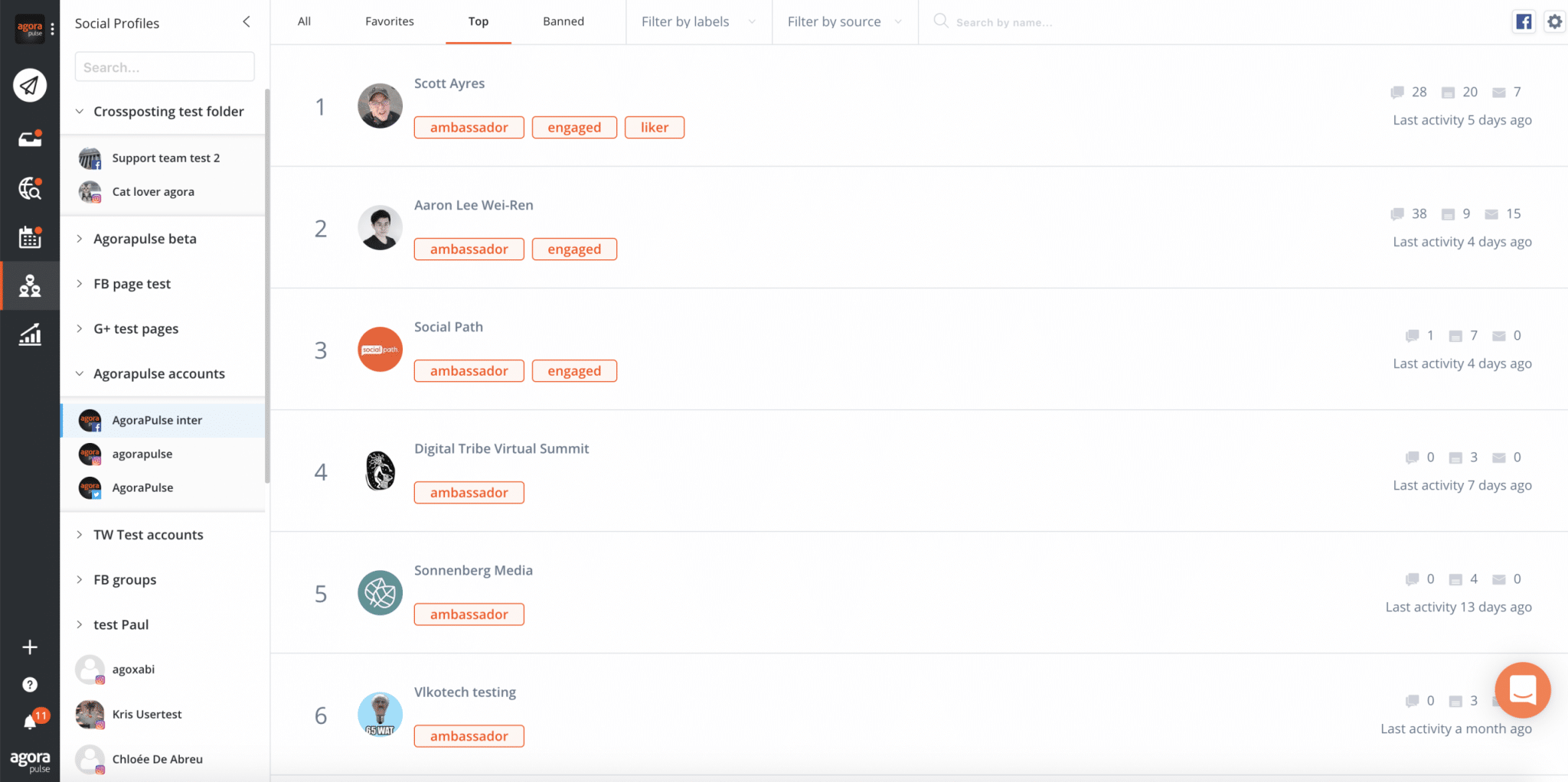 Also, you may want to dig into your Facebook metrics to better understand how your social media efforts on Facebook are going.
How to Create a Group on Facebook
Ready to create your own Facebook Group for your business? The good news is that this is exceptionally simple to do.
To get started, find the + next to your profile picture and name at the top right-hand corner. Click it, and then click "Group."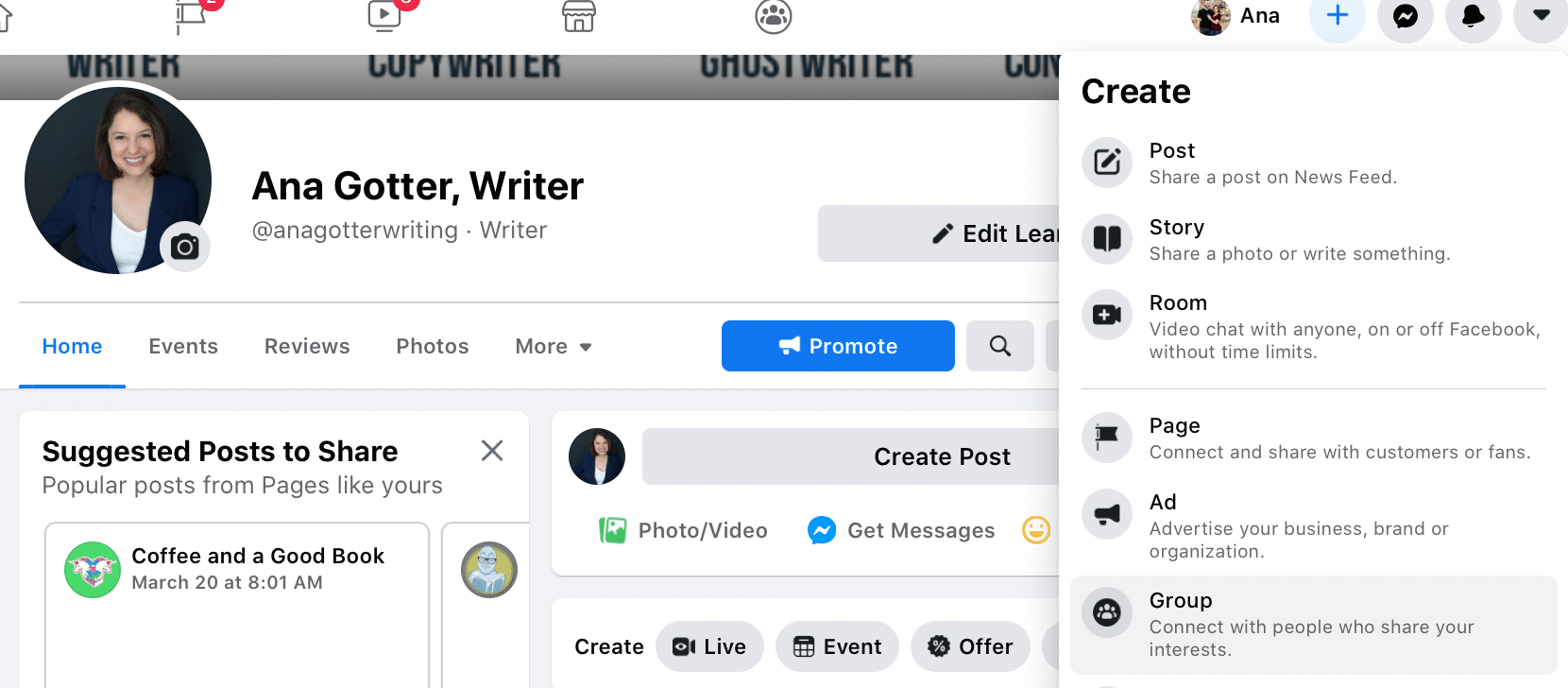 Doing so will bring a pop-up, which allows you to name your group, choose its privacy status (which we'll discuss shortly so wait to create your group until you've read that!), and invite friends if you want.
I recommend waiting to invite friends until the Group is fully optimized.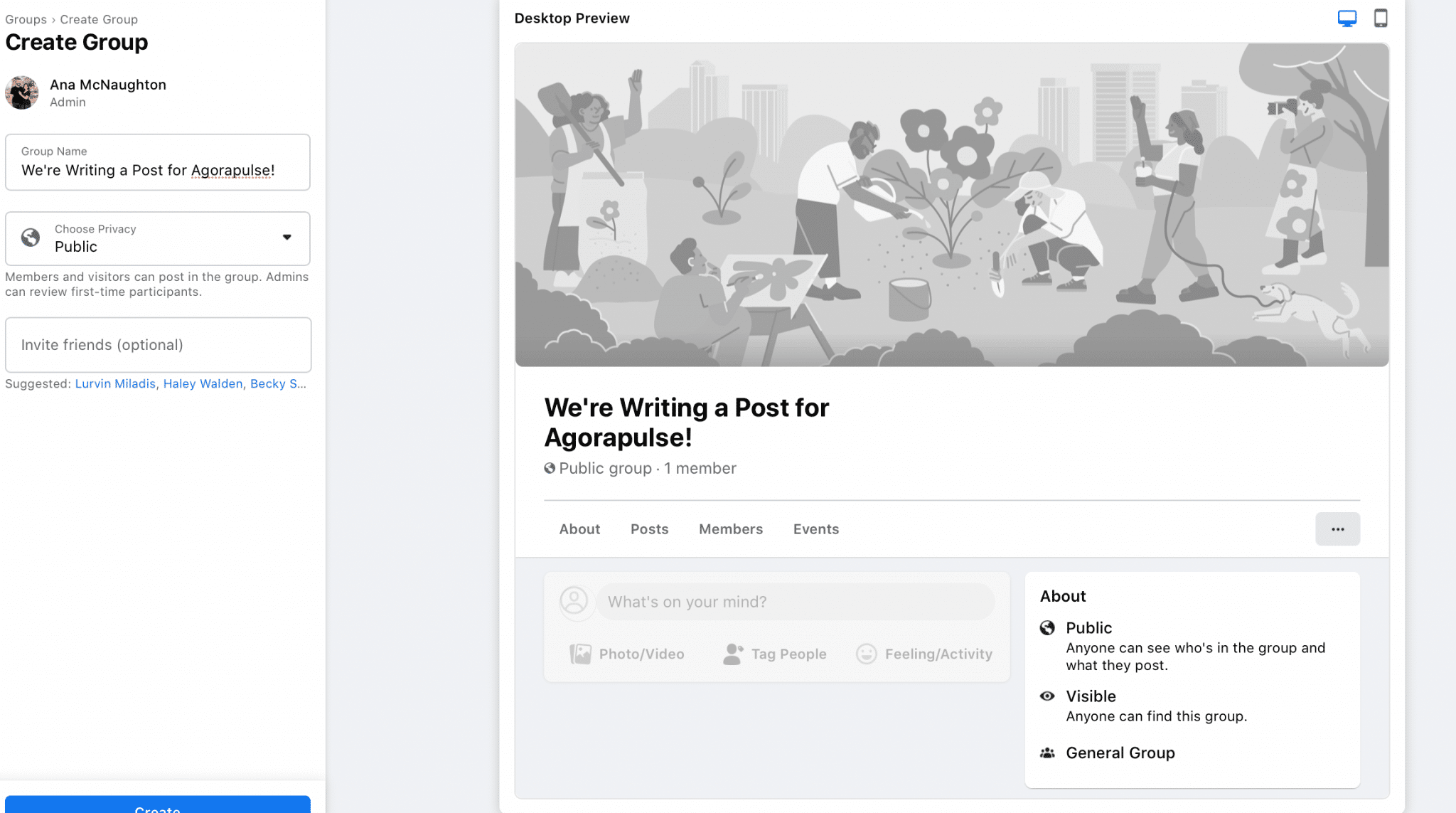 How to Set Up Your Facebook Group
There are a few things you'll want to do right away before you invite anyone.
1. Choose a cover photo
You can upload one or choose from Facebook's library. (Always go custom.)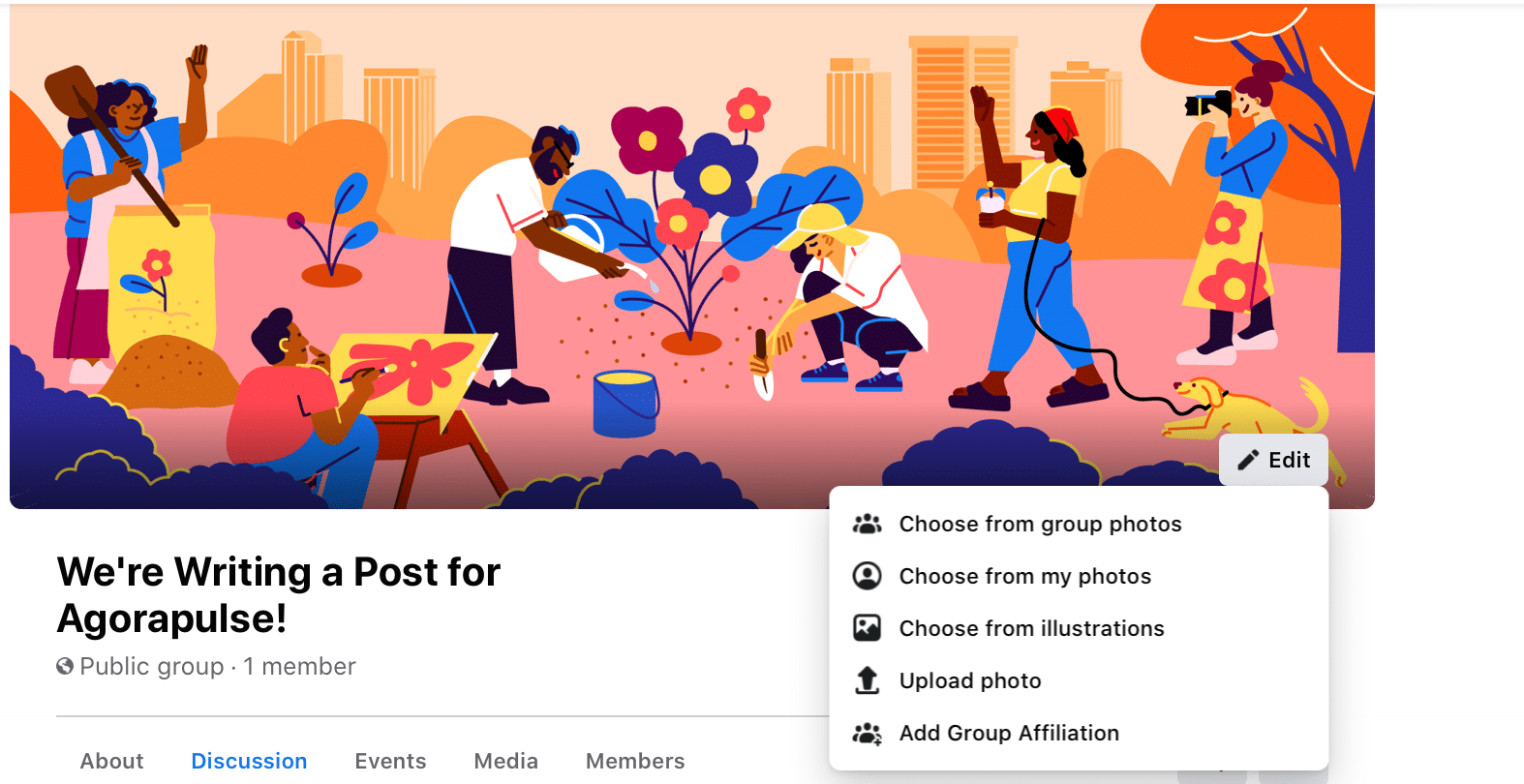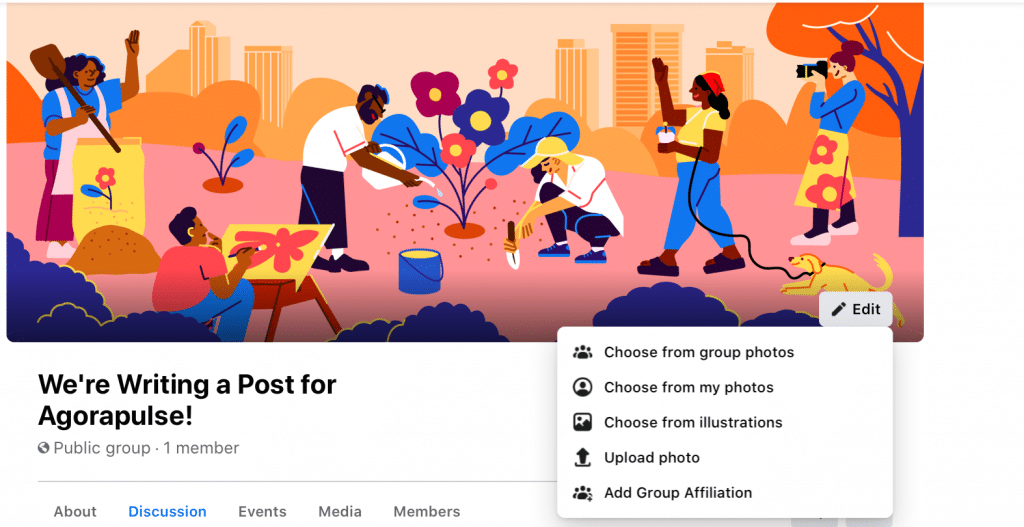 2. Write your group description
Explain what the Group is about. Make sure that you clearly offer the value. If membership is meant only for certain users, mention it here to avoid angry emails.

Need help crafting a description? We've got writing tips to make you sound like a pro.
3. Set up your approval process
Do you want all members to need to answer a few questions before joining the Group?
You can also decide if you want all posts to go to the feed automatically, or if they need to be approved.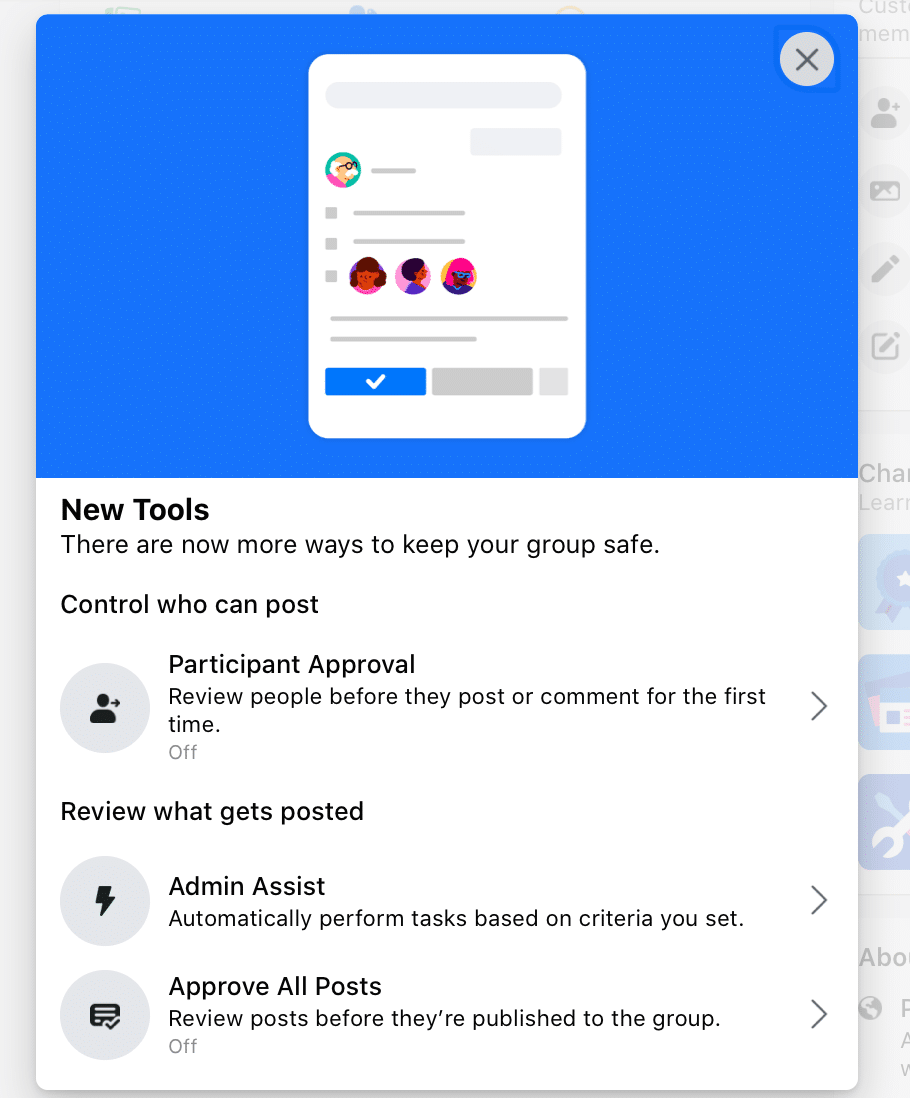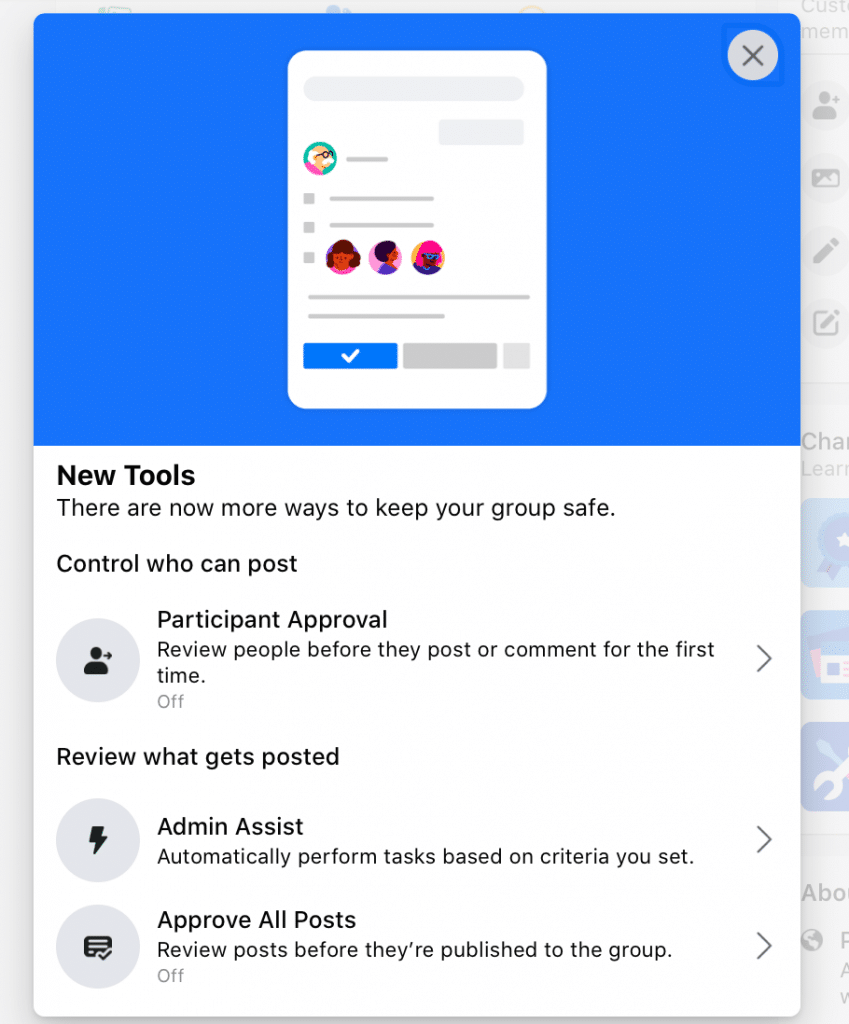 4. Create Group rules
You always want to create a clear code of conduct before anyone is even invited so everyone is on the same page.
Common rules include no self-promotion and no hate speech. You can find this as an option in the left menu of the Group dashboard.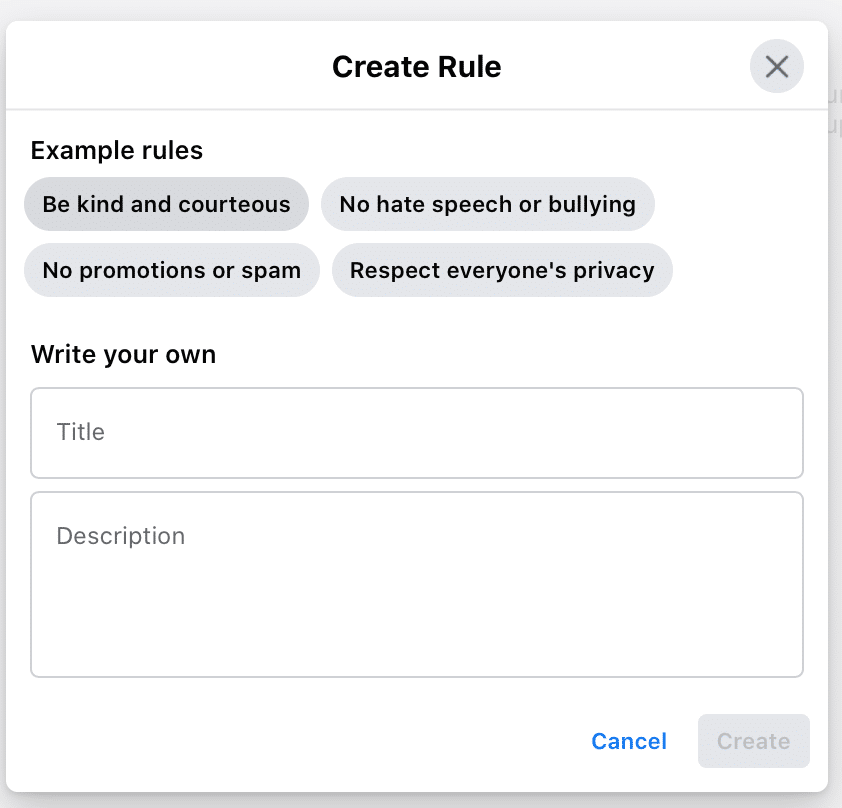 5. Link your Page to your Group
You want to connect your business Page to your Group.
Go to "Settings" in the bottom left corner, and then scroll all the way down until you find "Linked Pages."


Then it's time to learn how to post in a Facebook group. Just head to your feed and create your first post!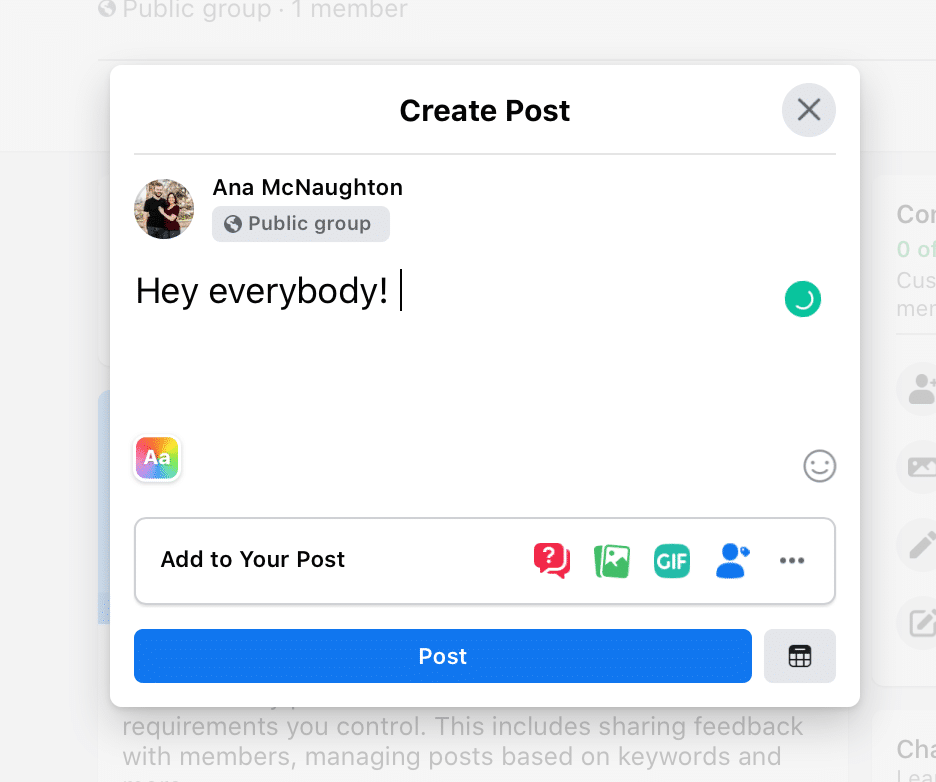 Which Facebook Group Types Should I Choose?
There are essentially four different criteria that define who can see and join your Facebook Group, broken down into two levels of decision making.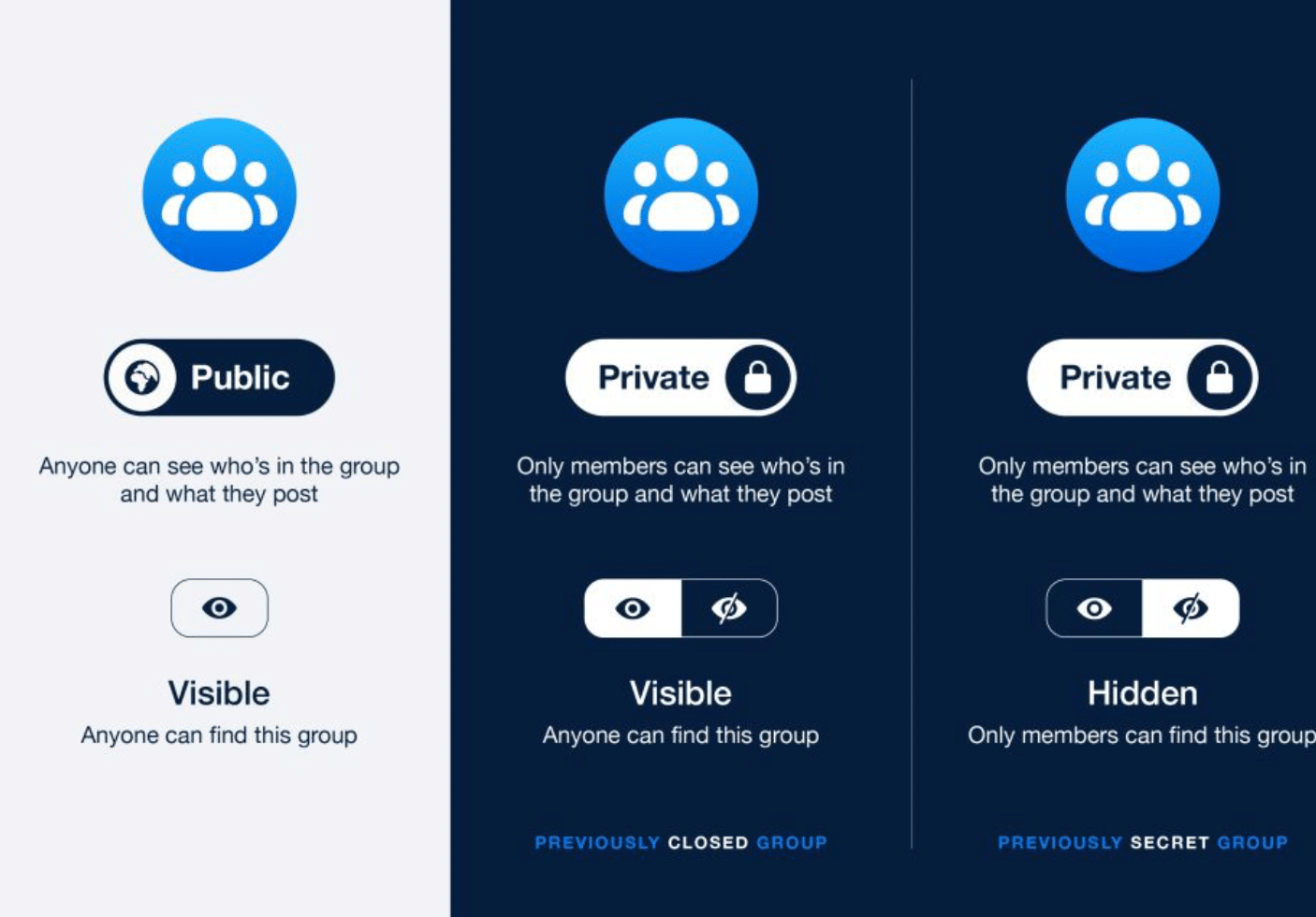 Public groups vs. private groups
Public groups can be seen by everyone on Facebook, and all of the content within them can be browsed by non-group members, though people often need to join to comment or engage.
Private groups allow you to control membership and the visibility of your group, and Group content can only be seen by members.
If you choose a public group, your decision-making is now complete! I typically don't recommend Public groups for business-related accounts, as it can prevent that exclusive feeling you want and thereby reduce engagement.
Types of private groups
If you choose a private group, you'll now choose between a hidden or visible option.
Here's the difference:
Private and visible. You control membership, but the Group itself can be found by searching. People can see your rules, cover photo, and request to join. No other Group content is visible until joining. This is a good option for most business-related Groups that want active growth but a closed community.
Private and hidden. This option allows you to be completely off-the-grid. People can't search for it, and they must be invited. You can only be found by members. I recommend this if you're offering exclusive services or those that require confidentiality, like a Facebook group in exchange for a coaching group about anxiety management.
How to Get the Most Out of Your Facebook Group Marketing
Want to make sure that your Group is a success? Check out these tips and features for Facebook Group marketing to increase engagement and to keep everything running smoothly.
1. Engage consistently … but not too much
In most cases, you'll get out of Groups what you put into them. Engage consistently while you nurture community engagement by not drowning out everyone else.
You want the community to flourish around your brand, and take on its own life. This means letting users post asking questions and having others answer.
Monitor all posts and comments, and you always want to step in if needed (and we'll look at more moderation features shortly). Share your appreciation, respond to questions, and offer expert tips, but make sure to stress that you want other members to share their own posts, too.
2. Upload welcome posts frequently
For many groups, making it a habit to post regular welcome messages is a good choice.
These are simple. Announce that you have new members, tag them, and ask a relevant question.
For example, for a pet store company, this might be "What type of dog do you have?" A B2B brand might ask "What's your biggest challenge with marketing?"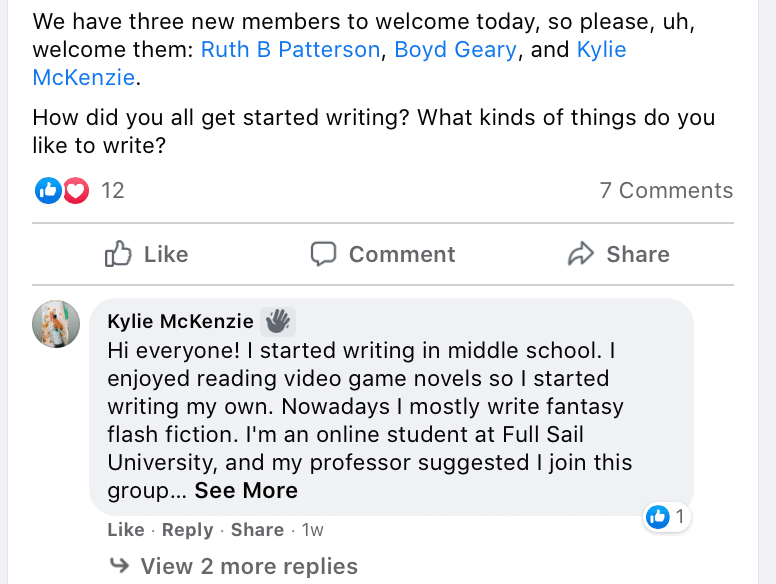 These are standard posts. You can use a standard template to keep things moving faster even if you want to switch up the question to generate more engagement and keep things interesting.
3. Publish announcements to keep everyone up to speed
Announcements are an excellent Group feature that can ensure any essential branded posts from you aren't drowned out by community posts.
Types of posts that make great announcements include …
Updates about new products or services
New rules being added to the Group list
A standard welcome message for all new users to read
Updates about happenings within the Group itself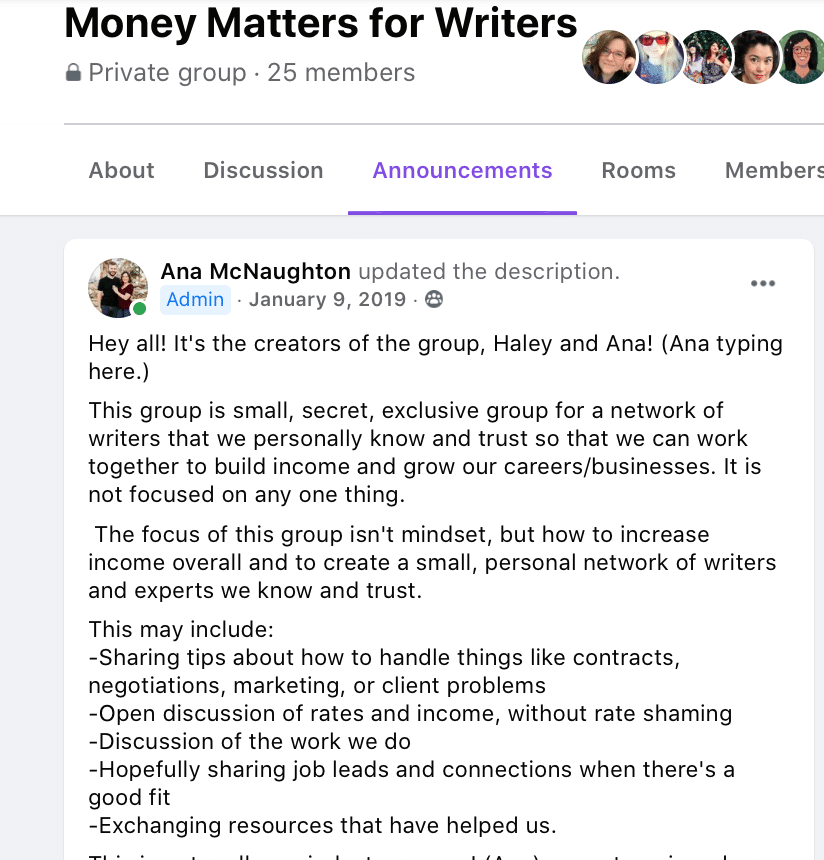 4. Create a clear code of conduct
We mentioned how important it is to create the rules, but we want to really drive that point home here.
If you don't have rules, it becomes a free-for-all shockingly quickly. It's a semi-scandal if you kick someone out over something that wasn't an official rule.
I've seen it happen to too many community managers, and it's been too many headaches.
Start with strong rules, but you can add new rules as needed.
But remember to make it fun and add your branded voice to it. Again, BARK Alphas is a great example of how to do this.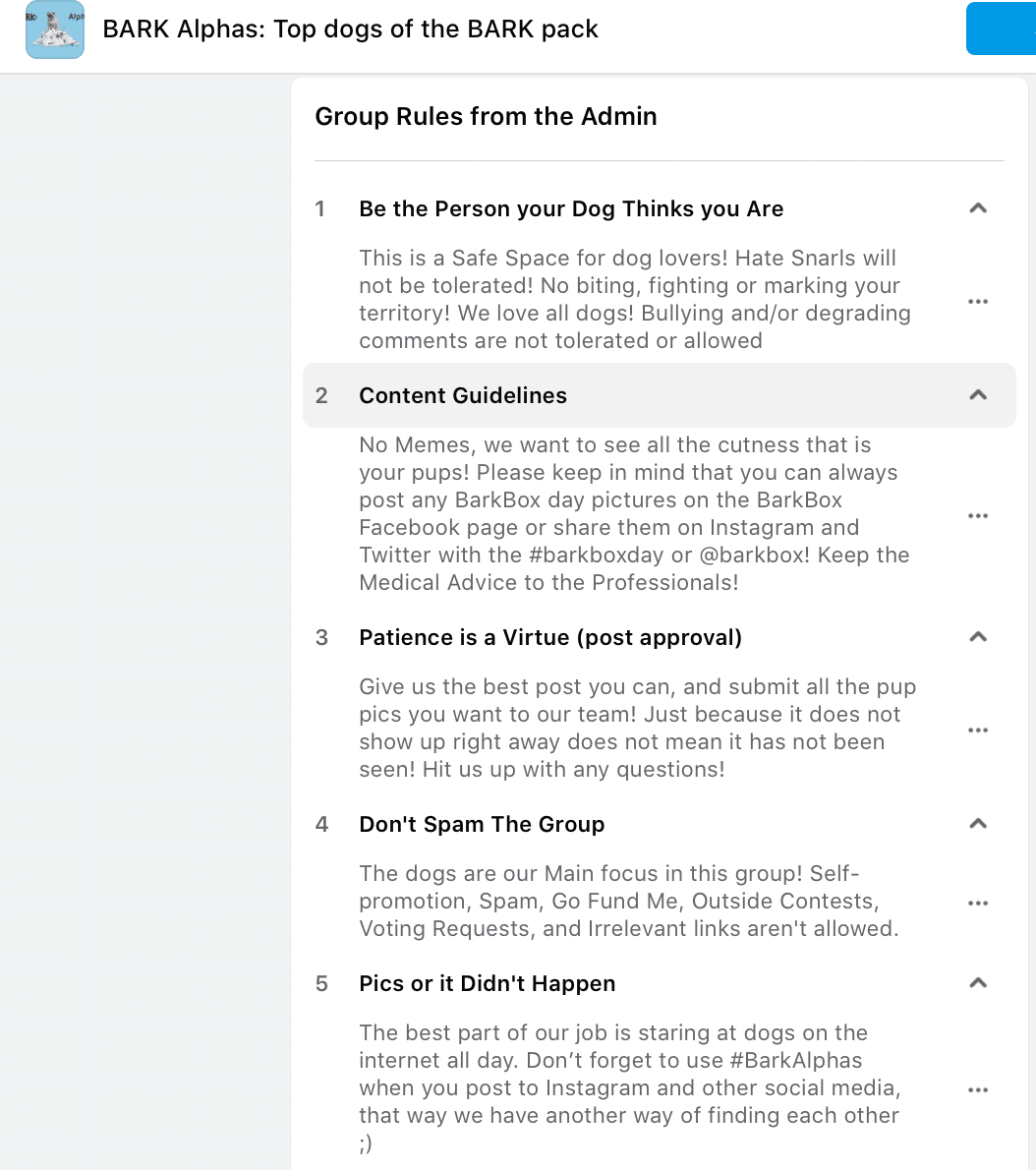 5. Use moderation features to your benefit
Facebook Groups come with pretty fantastic moderation features nowadays.
You have the option to automatically do the following:
Require admin approval before member posts go live
Set up automatic member approvals depending on criteria like where they live or how long they've been friends with someone already in your Group
Receive notifications when certain keywords are used in posts or comments, which should always include controversial or discriminatory language at the least
Engagement alerts, which can alert you to top-performing posts or even posts that meet criteria like a certain number of comments, likes, or angry reactions within a set period of time.

Group moderation is difficult and time-consuming. There's really no getting around that.
Using moderation features to help with this is so important.
6. Schedule posts for peak times
While Facebook's algorithm doesn't prioritize the time when content was posted, having a post go live right at or slightly before a peak posting time can help you get more momentum that drives more visibility. This is true for Group content, too.
Because it's so important to publish content at the right time, we strongly recommend scheduling posts in advance for your group.
Create content that can be added to the Agorapulse queue to publish later, schedule content to be published on a set date, or even publish the content right away. (You can do all that with Agorapulse's publishing feature.)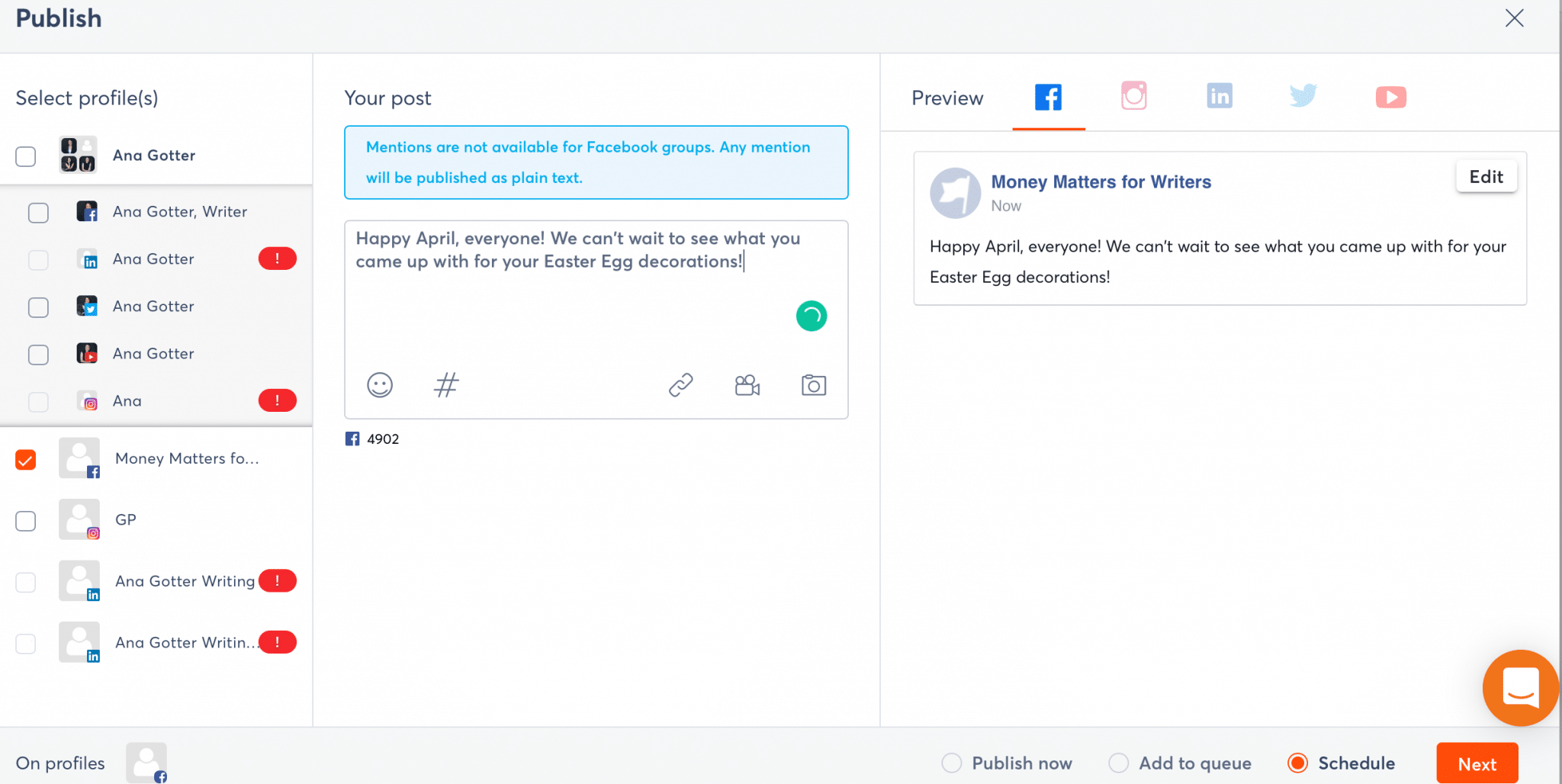 You'll never miss a peak posting time when everything is mapped out in advance.
7. Use questionnaires to limit membership
Even if you want your Group to grow quickly, you only want it to grow with high-quality members.
You can require that users must fill out a questionnaire when requesting membership to groups. This can help filter out bots, trolls, and people who don't care enough to join to answer a few questions (and who therefore wouldn't bring much to the group to begin with).
You can find this option under the Admin Tools.

Ask up to three questions, even if they're simple like the following:
Why do you want to join this group?
What value will you bring to the group?
What industry do you work in?
What do you hope to get out of this group?
8. Edit down your membership list as needed
Sometimes, Groups grow too much. The quality and engagement can go down if it becomes too big, even though this is the last thing you'd think would happen.
If you're needing to make a quick trim, then consider the following:
Quietly remove users who don't engage
Make an announcement and say that all users who don't comment will be removed and need to request to join again
If absolutely needed, start a new group and refer new desired users over to it
9. Invite members from other platforms
Want more growth with relevant, engaged users and you aren't too picky about the specific individuals who join?
Send out messages with links to the group through your email list. Post about it on Twitter or Instagram.
Make sure that your entire following knows about your Group and knows where to request to join.
In Conclusion
Facebook Groups can be incredibly beneficial for your brand. But remember that they're no small undertaking. You'll need to continually undergo community management to ensure that it's a success.
By following our guidelines above and remembering to always keep Page and Group content unique, allowing the group to offer exclusive content and a tight-knit community, you'll be off to a great start.
Ready to take control of your social media? Start your free trial with Agorapulse here!