Need tips on how to increase engagement on Instagram and deepen connections with existing followers? Check out these tips from an expert relationship marketing brand manager.
We recently interviewed Julia Jornsay-Silverberg, relationship marketing brand manager of the NOW Marketing Group, about her upcoming session in the Social Pulse Summit: Instagram Edition and asked her about creating deeper connections on Instagram.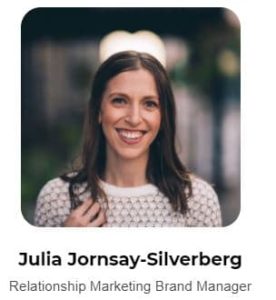 Here are her quick and actionable tips for increasing engagement on Instagram and making most of existing relationships on Instagram.
1. Avoid focusing on the highlight reel
Agorapulse: What's the biggest challenge to creating deep connections on Instagram?
Julia: I'd say the biggest challenge is the highlight reel aspect of the platform.
Instagram is known for being a platform that has a negative impact on our mental health. A lot of people are posting their "best," and we need to keep that in mind, so that we don't compare and despair.
I think the biggest challenge is to NOT focus on vanity metrics and the highlight reel on a platform that is so centered around beauty.
That said, focusing on quality over quantity when it comes to followers and content is how we can really create those connections.
Related Post: What Instagram Reels Mean (and Don't Mean) for Social Media Managers
2. Show up as your real self to increase engagement on Instagram
Agorapulse: What does it mean to "humanize" content on Instagram?
Julia: It means to show up as your real self, as you are. Oily hair. No makeup. Stained t-shirt. Dirty kitchen floors.
We want to see the REAL, not the "perfect."
Gone are the days that polished content wins.
We want to see you as you really are. Don't be afraid to pull the curtain back a little bit and talk about what makes you, YOU! What are your quirks? What lights you up? What triggers you?
Be honest and be yourself. That's humanizing content.
3. Beware of oversharing on Instagram
Agorapulse: What's the biggest mistake that gets made when humanizing content?
Julia: I think it's easy to overshare.
There's a difference between being human and transparent, and sharing too much.
For instance, in my talk for the Social Pulse Summit, for both the Twitter and Instagram editions, I mention the fact that I called off my wedding. That said, I don't go into details and explain why. That's not relevant to the point that I'm making, and it doesn't do anything but distract the audience.
We want your human content, but we don't want you in the middle of your mess.
Share the takeaways and highlights. Make sure that your content still has VALUE for your audience.
4. Define deep connections for yourself
Agorapulse: How would you define a deep connection on Instagram?
Julia: I would say a deep connection is someone who really knows you. I don't just mean knows your Instagram handle but someone who knows your language.
A deep connection is a friend, someone with who you share interests.
You two message back and forth. You support each other from a distance and feel like you really know each other even if you haven't met in real life.
5. Show the people behind the brand
Agorapulse: How can a business begin to increase engagement on Instagram and deepen those connections?
Julia: Start showing the PEOPLE behind the business.
You guys do this really well at Agorapulse. Like, we (our team at NOW Marketing Group) know you!
As a business, we want to see the faces of your brand. Don't be afraid to show them!
THAT is what we connect to a lot more than a logo.
6. Post and share quality content
Agorapulse: What's your biggest advice for someone starting to deepen relationships on Instagram?
Julia: I've got two pieces of advice.
The first is post quality content. Not just fluff. Put time and thought into what you're posting and aim to entertain, educate or inspire with everything you create.
Also, don't be afraid to "slide into the DMs" but in a super-respectful way, with the goal of connecting. Seriously.
Share people's content on your Stories and tag them. Comment on their posts. Show up for those people that are creating content that you resonate with, and I promise that you'll see relationships start to be built!
7. Be real to increase engagement on Instagram
Agorapulse: What's the biggest lesson you've learned about Instagram from when you started your career to today?
Julia: People are here for the REAL stuff.
When I started my career, I was ALL about social media. My content was focused on sharing tips for Twitter chats and Facebook Lives.
I shared about my personal life, but nothing TOO deep. I stuck to mostly social media UNTIL I called off my wedding. I got super-vulnerable and shared a lot about my feelings and how I was showing up to love myself, and I started to get so much more engagement.
I started to make so many new friends … in Buffalo and other cities. And a light bulb went off for me. I realized that THIS was what people connected about.
People can relate to feeling sad a lot more than they can relate to geeking out over a hashtag. So, my focus shifted.
I'm no longer the social media woman. I'm the anti-highlight reel enthusiast who is here to help you take up space online.
Social Media Summit: Instagram Edition
Agorapulse's Social Pulse Summit: Instagram Edition begins on Wednesday, Feb. 24. 2021, at 8:30 AM (Eastern time).
Agorapulse: Why should someone attend your session?
Julia: I can almost guarantee that my session is going to leave you feeling inspired and excited to start showing up with more vulnerability online.
I am going to break down the kinds of content that you can create, how to dive into the data to know what's working, what tools you can use to stand out, and share a special 4-part system on how to really create deep connections on Instagram.
Agorapulse: What's your tip for attending the summit?
Julia: Show up with energy because the lineup of speakers here is fantastic. I am SO excited to speak alongside some of my favorite humans in this industry, and I look forward to these summits so much.
The quality of the content is fantastic, so come with a notebook and tons of coffee!
Agorapulse: What's your Instagram tip for 2021?
Julia: Be intentional with how you use the different kinds of content that Instagram presents to you. I'm starting to post a lot fewer photo posts in my feed, and starting to really dive into Instagram Live that become IGTV videos as well as Reels.
I am using IGTV for education and Reels more for entertainment-y education.
It's all about making use of the different kinds of content that Instagram lets us post and having FUN with it!
Finding ways to share our core message across different content styles is a fun way to connect to our audience.
Conclusion
Want to learn more about Instagram from terrific experts like this one? Social Pulse Summit: Instagram Edition is free and happening on Feb. 24. Reserve your spot today at summit.agorapulse.com.
You can catch Julia Jornsay-Silverberg's session, "How to Use Instagram to Create Deep Connections," to learn more about how any brand or business can utilize Instagram's various features and functionality to create deep, long-standing connections. Julia will share her HUMANS system, which will detail exactly how individuals can use the platform to humanize their content and really drive meaningful conversations through valuable content.
Get started on saving time and energy on your own social media management! Check out our free trial of Agorapulse to help you schedule, track, and measure all your social media efforts.