Interested in expanding what your social media agency can do for your clients? Consider Instagram Live collaborations. Check out these how-to tips and examples of Instagram Live collaborations. 
A successful live video is at creating trust, sparking engagement, and driving sales. But is that the same for Instagram live video collaborations?
There are many advantages to an Instagram live collaboration. You can use them to:
Build brand awareness. Align your new or unknown brand to a well-known individual or brand to establish awareness.
Establish trust. If you're asking fans to invest in a product or service, then partnering with someone they are familiar with will establish trust.
Broaden your content strategy. A live collaboration can add something different to your usual marketing mix. This can reinvigorate flagging engagement levels. It can also bring you fans who wouldn't otherwise follow your brand.
Amplify reach. When you work with another brand or influencer, your message is shared on more channels and is therefore amplified. You will get new fans, additional views, and greater engagement as your message will be amplified.
Strengthen community. Forging brand partnerships can strengthen your position in the community. This goes for local communities as well as online communities. Helping one another is essential in trying times.
In this article, I've rounded up my marketing agency's favorite examples of Instagram live collaborations. We're going to look at why they're awesome and the lessons we can take from them.
Choose the Right Partner for an Instagram Live Collaboration
A successful Instagram live collaboration means finding the right brand or partner.
Here are a few quick tips on what you should be looking for. Consider partnering with those with:
Similar services, but not a competitor! Good examples include gyms and beauty salons. Some examples of Instagram live collaborations are: nail salons and hair salons, libraries and coffee shops, sunglasses retailers and swimwear brands, or florists and wedding planners.
Shared marketing goals. Do you both want to increase brand awareness? Perhaps you can run a joint offer to increase business? An effective collaboration must be beneficial to both parties.
Similar follower count. If your brand has 100,000 followers and the brand you want to team up with has 500, then will you really benefit from the collaboration? This works both ways of course.
Once you find the right partner, you want to make sure to lay some groundwork for the Instagram Live collaboration.
How to Run an Instagram Live Collaboration
1. Work out the deal you're offering before you start
How will fans get your offer? How will you split profits or commissions with your collaborative brand? Who will answer questions from fans?
2. Have a plan
Work out clear instructions for the person or brand you're collaborating with and figure out how long you'd like your live session to be. I find that writing a bullet point script is helpful.
3. Be intentional
Think about why you're creating this Instagram Live collaboration and what you'd like your audience to get out of the experience. You don't want to create content without having a clear reason for it. And knowing the "why" can keep you focused during the collab and let you stay on course. If you need help focusing on your goal, download this free goal planner for social media marketing. (It's packed with ideas and examples of Instagram live collaborations, plus room for your own planning.)
4. Smile and have fun!
Part of going live is taking your followers and fans behind the scenes. Smiling and enjoying yourselves will draw in viewers and make them want to connect with your brand. If you make a mistake, roll with it. It adds to the authenticity.
5. Interact with your audience
The whole point of your collaboration is to increase audience interaction and drive business. Failing to respond to comments or questions from your audience is counterproductive.
6. Share your Live to your Stories
You can share a live video in real-time for up to one hour. Once a live video has ended, it's no longer visible in the app, unless you share a replay of it to your stories. So … share it to your stories!
7. Learn from the experience
Look at your key performance indicators (KPIs). Have you met your targets? Did your collaboration drive up engagement or conversions? If not, try to analyze why that might be. If it did, then great! Maybe it's time for another collaboration.
Examples of Instagram Live Collaborations
1. Tutorial 
Beauty brand Benefit Cosmetics is no stranger to show-stopping Instagram live collaborations. In fact, the company regularly partners with founders, beauty influencers, pop stars, and celebs to show off its products. And because Benefit Cosmetics is a pretty cool brand to be associated with, there is no shortage of willing volunteers.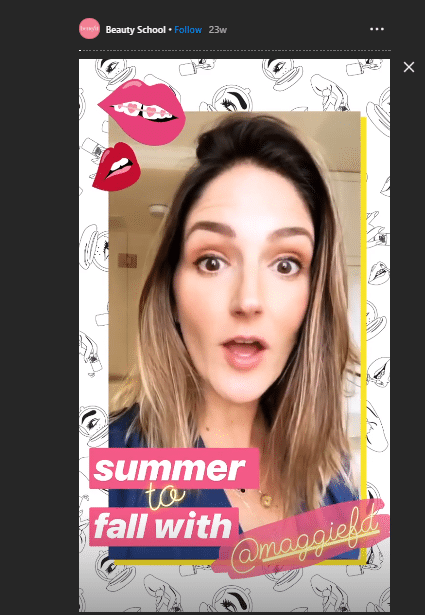 The brand often does live collabs with beauty influencers like @allieballiemakeup pictured below. They are showcasing Benefit's own products through quick tutorials and beauty tips that are highly engaging. This is a super-smart collaboration because those beauty influencers have hundreds of thousands of followers and add plenty of credibility to the feed.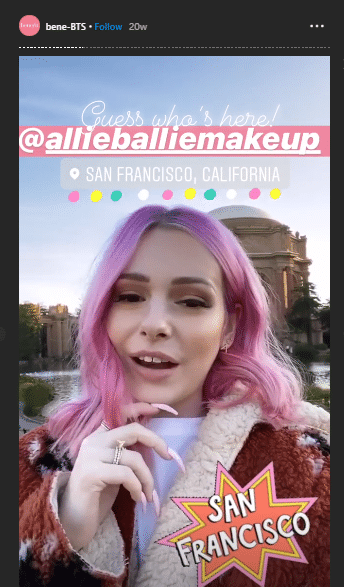 Why this example of Instagram Live collaboration worked
Each tutorial is clearly laid out to feature particular products. Perhaps it's a focus on eyebrows or cheeks, which clearly shows the relevant product shades, name, and how it's applied. Other themes may include "Achieving a look" with a range of products. In the videos, products are clearly labeled and shown at the foot of the screen. This is important to create product association and help users pick those products when they shop.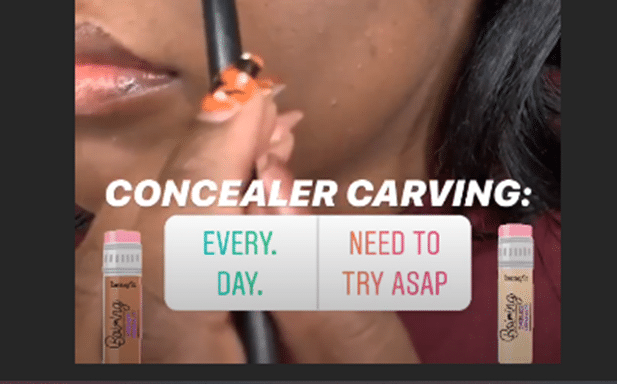 The beauty influencers used are diverse to emphasize the brand's excitement to embrace individuality and acceptance.
2. Event  
Instagram has always been the best platform for fashion and beauty, thanks to its visuals and—dare I say it?—more glamorous appeal. In fact, over 200 million people follow fashion accounts on Instagram. During New York Fashion Week, fashion designers filmed behind the scenes, interviewing top models, collaborators and influencers. In fact, the event was a hive of collaborative Instagram live activity. Fashion influencer Chiara Ferragni partnered with Moschino for example, and bmwusa ran a paid partnership with designer Christopher John Rogers pictured below.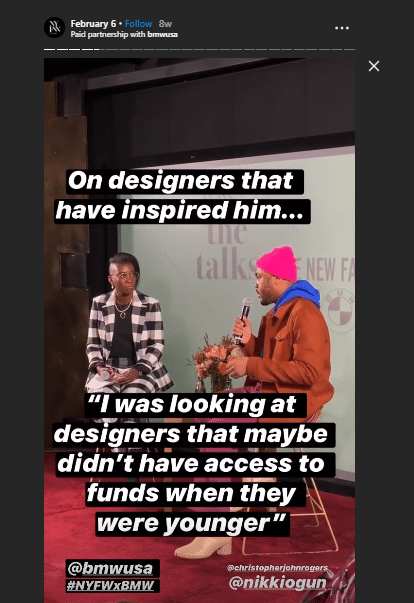 With 736,000 followers and only space for 126,000 attendees throughout the week, Live Instagram videos are a must for New York Fashion Week. It works as a collaboration because the event promotes its own designers, creating hype around the collections and aligning similar brands and ideals.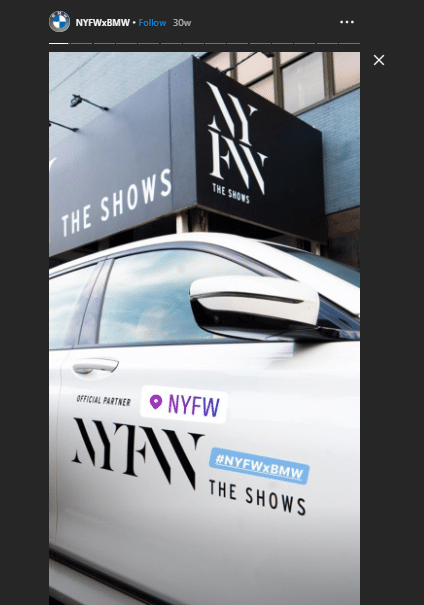 Why this example of Instagram Live collaboration worked
High-end clothes and BMW cars, for example, go very well together. (Check out their collaboration here.) That is a great example of aligning two brands that can both benefit one another.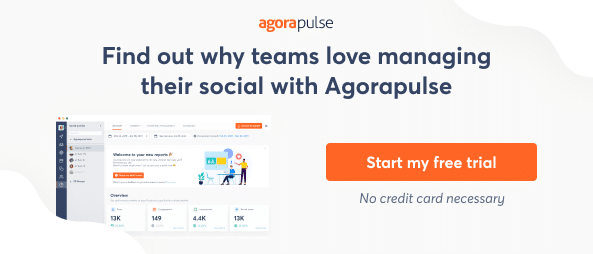 Owners of high-end BMW cars will aspire to high-end fashion. And those already wearing high-end fashion may be in the market for a new car. It also worked thanks to the use of tagging, collaborative sharing, and hashtag #NYFW that drew in event followers.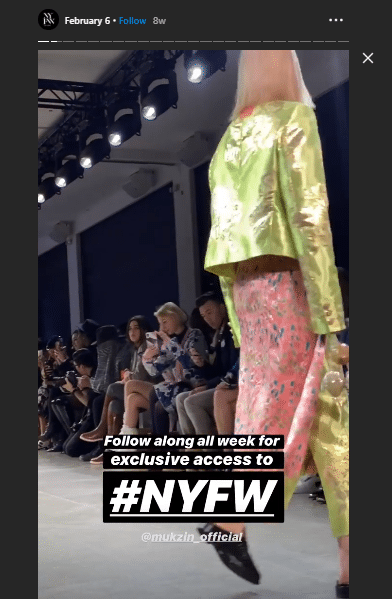 Related reading: Instagram 101: What Every Smart Social Media Manager Needs to Know
3. The Giveaway 
Hair and beauty brand Dove teamed up with the maker of yummy donuts for a great pop up giveaway on National Coffee Day.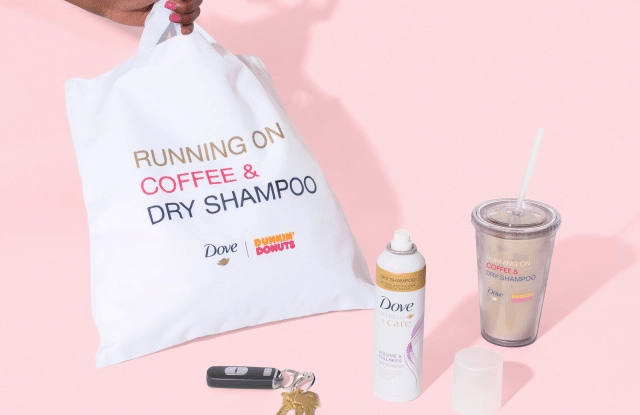 The Dove X Dunkin' Styling Cafe offered passersby free styling appointments using Dove's dry shampoo products and complimentary Dunkin' coffees.  There was also Dove x Dunkin' giveaway bags. Rounding out the partnership is a social media sweepstakes for a year's supply of Dunkin' coffee and Dove dry shampoo. (Jealous!)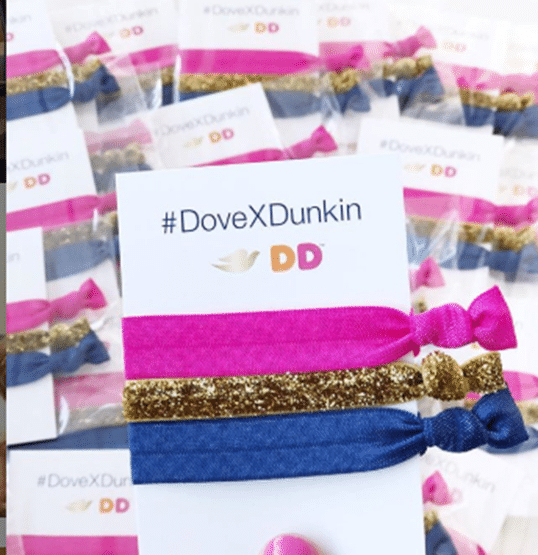 The collaboration was a play on the phrase popular with Millennials on the Internet: "running on coffee and dry shampoo." It also highlights two Millennial cultural obsessions—preserving blowouts by going several days without washing one's hair, and the Starbucks vs. Dunkin' debate.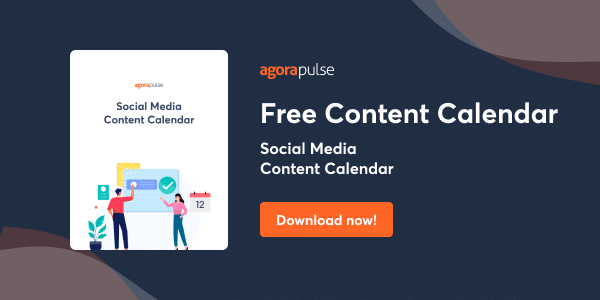 Instagram Live was used to create short product videos and to livestream the event. Entrants were encouraged to share photos on Instagram and Twitter of their "busy mornings" using the hashtags #DoveXDunkin and #DxDSweepstakes.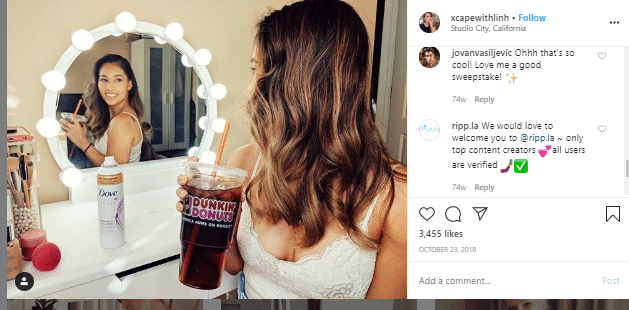 Why this example of Instagram Live collaboration worked
Dunkin' is a 68-year old brand aiming to modernize its image, and Dove was looking to tap into the morning coffee drinking market. A total of 64% of Americans drink an average of three cups of coffee every day and the worldwide dry shampoo market is projected to reach $4.11 billion by 2022. So, these are both deemed to be essential products. Finally, the campaign was highly interactive with hashtags, polls, and calls-to-action for both brands.

4. Social responsibility  
Dubai-based Huda Kattan is also one of the world's leading social media influencers with an enviable Instagram following upwards of 37 million and over 3 million YouTube subscribers. The influencer and beauty mogul teamed up with Dubai Cares to pack school kits for underprivileged children.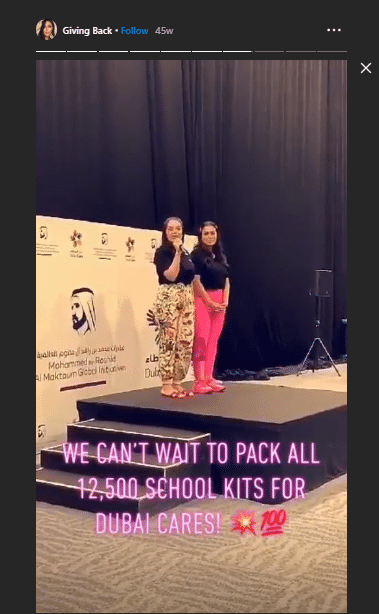 The short videos show the team gathering to help the charity, meeting the children and then making a short speech about their collaboration. They show an energetic, passionate team keen to create a positive impact. Note that the aim of social responsibility is not to sell products. However, 81% of Millennials place a premium on corporate social responsibility (CSR) efforts. Additionally, 67% of consumers believe brands should raise awareness around social issues on their social platforms. So, it is likely that charitable collaborations will get positive results on their own.
Why this example of Instagram Live collaboration worked
The live collaboration showcased the Huda Beauty team while highlighting the important work of Dubai Cares. It places the brand as one which takes part in national and international philanthropic organizations that are raising funds and awareness for women and children around the world.
In Conclusion
It's certainly time to try a live collaboration if you haven't already. If you're on a budget then team up with customers, employees, or founders, and go live with one of the ideas we talked about above. Instagram has some awesome video editing tools to try right now so there's never been a better time to get started.
Sign up now for a free trial or demo at Agorapulse.