Which types of social media posts you should post now, schedule, or queue? It's time to find out and improve your social media management.
Do you imagine that the best ideal social media managers always have their cell phones in their pockets 24/7 to take out and post something witty at the moment? After all, don't they always need to be on?
Maybe you imagine another type: super-schedulers who spend one day a week masterfully queuing up content—like a parent who cooks once for the whole week and then puts it in containers in the freezer for later.
Both of these types exist and both have their upsides and downsides.
The social media managers creating content 24/7 never really get a break. And they can often miss the bigger picture and don't have a strategic flow to their content.
On the other hand, once-a-week schedulers are missing real-time opportunities to engage with clients. They also risk their "freezer meal" content feeling a little stale or getting ignored all together.
That's because some content is most successful when posted at the moment, other content is best scheduled ahead, and some content is best queued using a Social Media Post Scheduler.
The very best social media managers know why each post type works—and when to use it.
Fortunately, we've got some tips for how you can best tackle the social media management of content to post now, schedule, or queue.
Posts to Send Right Away
Some posts only make sense to publish at the moment. This type of content can't be prepared ahead of time.
When you get this right, you have the opportunity to get attention in a big way. The most famous example of this is Oreo's post during the Superbowl Blackout.
So what type of content should you be thinking about posting in real-time?
Content from live events
Say you have invited a distinguished guest to speak at your event, and this person shares something that your audience will love. That is a great time to tweet an image of the speaker or publish a quote from the speech to Facebook.
You can't schedule this type of content.
Most of the tasks that you can perform at an in-person event you can also do with a virtual event.
For example, the language learning platform Duolingo did a great job of this, bringing its annual conference "DuoCon" online for 2020. While Duolingo live-streamed the speakers, it was also sharing highlights on social media.
You can glean all kinds of content from such an event:
Speaker quotes
Live video
"Handshake" photos (Tag everyone if possible for even more reach!)
Close-ups of the sights and sounds of the event (Tap your inner artist and snap pics of a really beautifully laid food table, the pile of name tags, the lights on the empty stage right before your headliner goes on, etc.)
Request for questions to ask the speakers
Real-time testimonials from attendees
Announcements
While you should be prepared for anything, you should do a bit of prep work to make the most of the opportunities provided by your live event.
Make a list of all speakers and organizers along with their social media handles for easy tagging.
Create a "shot list" of ideas of types of content you want to capture.
Ask your audience ahead of time what information they want to learn at this event.
Have logos and headshots handy to create visuals on the fly.
Decide ahead of time what hashtags to use for the event.
Remember that while you are capturing and posting live, you can also repurpose this content later with:
Write-ups of the event
Q&As of the speakers
Short videos or a compilation video
A blog post about the event takeaways
Some of this content may end up being good evergreen content. But be aware of the "expiration date" of each piece of content you create.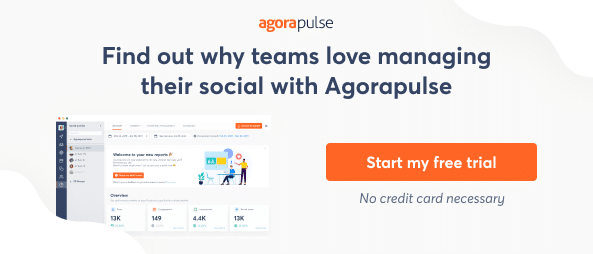 Live video
Imagine you're at the top of a mountain on a beautiful hike. You could take some photos to share later, but you feel that pull to go live on Instagram and show everyone the glory of the sunrise. (If you want to start a Facebook live, we've got some tips about doing so.)
You want to chat with your followers (who also happen to be early risers) about where you are and how long it took you to get there.
Every major platform now has a live video option. Whether you are most active on Twitter, Instagram, Facebook, live video can be a great tool. If you want to do video on Linkedin, then you will need to apply for "live" access.
Choose desktop or mobile.
On Instagram and Twitter, the only way to do live video is through the mobile app.
But on Facebook, you will need to decide on mobile or desktop.
For capturing spontaneous things, mobile may be better.
But if you are doing a Facebook live then desktop may be the way to go. The Facebook desktop version gives you lots of added features including screen share, in-video graphics, questions and polls, and more.
Scheduled or spontaneous
My family used to tease me when my very type-A self used to add "spontaneous time" to my schedule when I was a kid.
In reality, there are some things you can't plan.
But you can plan a lot of live videos in advance, such as interviews or special announcements.
If you are planning it ahead of time, create a post to let people know to watch out for it (or create it as a scheduled event on Facebook).
Congratulations and "thank you" posts
Did you just find out that someone in your community won an award?
The moment you find out is probably the best time to send your congratulations. The same goes for a thank you … If someone does something nice, like share your blog post with their followers, you'll want to thank that person in a timely fashion.
Some weather-related posts
Maybe there's a blizzard outside and you're closing early. Or perhaps you want to gush about how beautiful it is outside today, so your followers will get motivated to take your yoga class in the park.
You can't schedule a rainy day post for another day and hope it's raining that day, too.
Milestone celebrations
Unless it's an anniversary, hitting a milestone can't be timed. You don't know when you'll hit your 10,000th Facebook fan or the exact date the organization giving you an award will publish that press release.
You might know roughly down to the month or week, but a day or hour is tricky.
In this type of situation, you can put together a draft and save it until you know for sure when it's appropriate to publish.
To be ready for these, make a list of milestones (for you or your customers!) that you want to track and be ready to post about.
DuoLingo does a great job of real-time engagement with its customers about wins.
Posts to Schedule
While all this real-time content creation is great, as a social media manager or social media agency, you need to find ways to "scale up" your efforts and do more with your time.
If you are only posting live content you will be much more likely to burn out and miss the big picture.
Scheduling is helpful because you can compose posts in batches on one day and schedule these posts to publish throughout the week.
When you group your tasks together in this way, you save time that is otherwise wasted switching from one task to another.
So what types of content are best for this strategy?
Related Post: How to Schedule Facebook Posts
Get more viewers for your live video
As mentioned, there is a value to sometimes planning your real-time video content.
If you want more viewers to show up, give them a heads up.
If you decide you will be doing a live video tomorrow, schedule a few reminder posts to go out before then, even up to an hour or ten minutes before you plan to go live.
How many reminders to post depends entirely on the platform.
On Facebook, you are better off just doing one or two posts. On Twitter, you can post much more frequently. On Instagram, consider creating a "can you make it" poll in a story to really drive the engagement.
After the live event
Just like live events, live streams can be utilized after the event, depending on the platform.
Here are some ideas to consider:
Boost on Facebook to get higher reach.
Add to your Story Highlights on Instagram.
Pin to the top of your Twitter feed.
Embed on your website (with a blog post to expand the content).
Add the recording to your scheduled content in the future.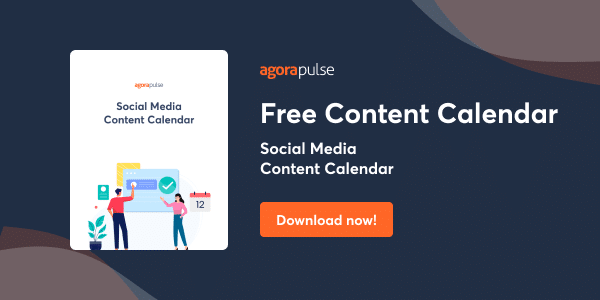 Event promotion
You know when your event is happening and likely where it's going to be.
Don't keep reminding yourself with sticky notes that you need to publish another event promotion post. Just schedule all of them at once for less stressful social media management.
Doing so will help you vary the language as well. (Scheduling, in this case, can help it feel less automated to your audience.)
To make it super-easy, use your content calendar. Read up on what your marketing should look like before, during, and after an event.
Then schedule your posts in one day and let them auto-publish through Agorapulse's easy-peasy social media scheduler.
Some ideas for event promotion posts include:
A post per speaker/presenter to introduce them (tag if possible!)
Invitation for questions or topic ideas (when you are still in the planning phase)
Highlights from past year's events to create some FOMO
Direct calls to action such as to buy tickets, especially when deadlines are approaching
Teasers and invitations for your audience to make guesses about what is planned
Information about different parts of the event
A video announcing the event
Scheduled parts of your event
While there are many opportunities for in-the-moment content, there are also things you can plan on too.
And the more of these you pre-populate into a scheduling tool, the more time you have to capture the surprises.
Some of these types of posts include:
Thank-yous to sponsors
A welcome post
Thank you for coming
What's scheduled next (a few minutes before it is scheduled to begin)
Tips, FAQs, and general information
Scheduling these types of posts the week leading up to the event will save you headaches during the event, and make sure nothing critical is missed.
Wishing everyone a Happy Friday
Because hey, it's Friday. This could apply to holidays or other special days too. You know this day is coming … There is no "rain date" for the first day of Spring. You can schedule this content with confidence.
Promotions, sales, and discounts
Are you doing a Labor Day Sale or promoting a 48-hour discount code?
Schedule all your content leading up to the discount and post reminders through the days your sale is live. Maybe even throw in a "surprise, you get an extra day!" post.
Blast to the past
Sounds ironic that you'd schedule a #throwback for the future! But think about it: Whatever it is, it happened years ago. There's no urgency to talk about it. So schedule it for a time when it seems perfectly relevant.
For example, on your business's five-year anniversary, post a photo from your opening five years ago.
Post to Queue
Some types of social media posts should be queued, not scheduled. Queuing is a feature available in your Agorapulse dashboard and it is so clever that international social media influencer Jeff Bullas takes full advantage of it.
Queuing is especially effective for evergreen content (content that doesn't isn't tied to a particular date and can be useful well into the future).
With these pieces of content, there's no need to select a specific time for your post to publish.
Instead, add these posts to the queue as you go, and Agorapulse will send them out in a steady stream.
Not only that, but you can set Queue Categories, meaning you can have certain types of content go out on specific days of the week and times of day.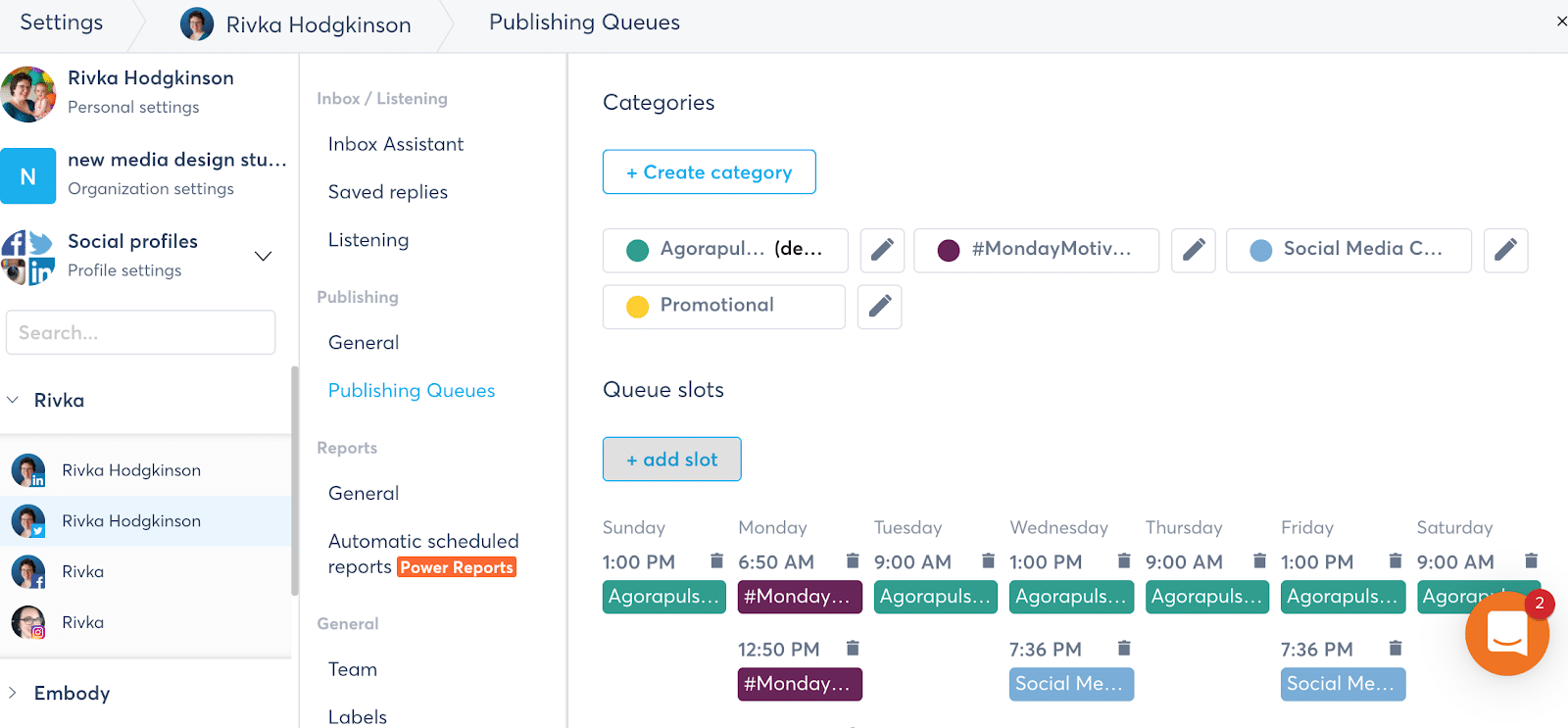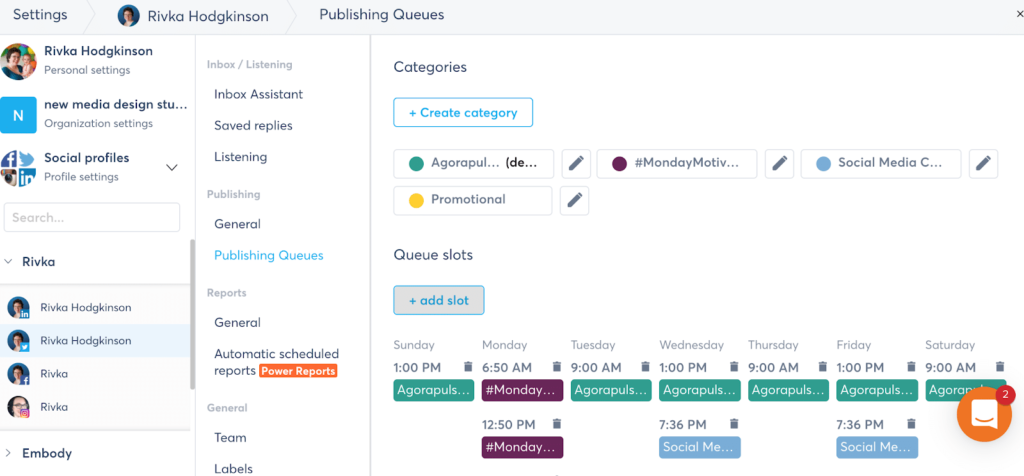 When you run reports, you can see which times and days are the most effective and easily change your schedule in one place.
Then all your content will shift accordingly to fit the new schedule.
This makes it easy to build up high-quality content that you can share on an ongoing basis with your audience.
Promote your blog posts
When you've written an excellent blog post, a single social media post isn't enough to promote it. You could go in and schedule a post to go out every seven days, but if you have other content to promote as well, you don't want to constantly shift the dates around.
People are increasingly more interested in building a brand on Instagram, so this Agorapulse article is worth posting quite frequently. A PERFECT queue candidate.
So instead of all that constant scheduling hassle, you can queue your post. That way, as you queue other blog posts, you can keep adding to the mix.
In Agorapulse's queue feature, you can drag and drop queued posts to reorder them quickly.
Or use the shuffle button to instantly rearrange all the content in your queue!
To make the most of this feature, remember to customize your content for each social media platform that you are sharing it to, and to only requeue as many times as it will be relevant.
Promoting others' content
Here's a tip: Make sure you share other people's content and not just your own. This could mean featuring a local business, sharing customers' success stories, or sharing useful articles from other sources.
All of this content usually doesn't have a specific date it needs to be posted, and you don't want everything you found today to go out today. So queue it up!
For example, this article about how to maximize your reach on YouTube from Neil Patel. This information will be helpful to its audience at any time, so it was a perfect candidate for the "others" queue.
With Agorapulse's queue categories, you can categorize content so that it's published in a balanced way.
For example, you might first queue up all your blog posts, then move on to queue up posts from other sources.
Instead of going in and reordering all posts to create a balance, you can just create two queue categories: Mine and Theirs. "Mine" posts can go out every morning and "Theirs" can go out every evening.
Again, one of the great things is that you can control how many times the item is queued for, when the queued content "expires" if you choose unlimited, and if you want different rules applied for each platform.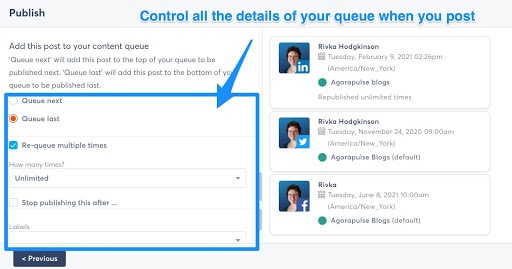 Highlight products or services
What I love about Agorapulse's queue feature is the ability to queue specific types of posts on set days. This means that I can have a steady stream of posts, but also make sure that all my product posts don't go out too close together.
So pick a few days, maybe Tuesdays and Thursdays, and a time on those days, for the queue to send your product-related posts. Then, as you compose your post, select the product category, and let Agorapulse do the rest.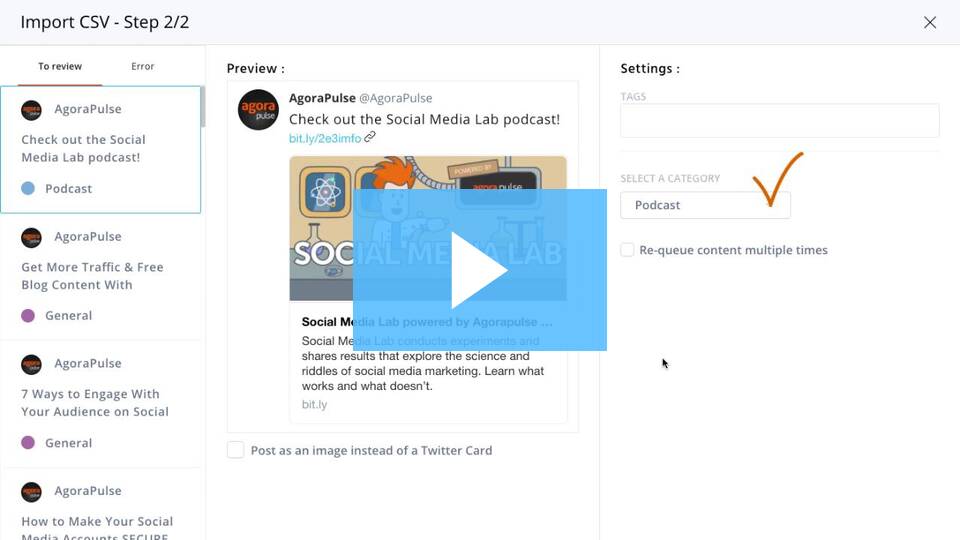 Post Now, Schedule or Queue?
Now that you have an idea of what types of content are appropriate to post now, schedule, or queue, plan your content with these types in mind. Remember, it is important to do a social media audit at least quarterly to make sure everything is up to date. And don't forget to include procedures for your scheduled and queued content in your social media policies in case of emergency or sudden change of events.
* * *
Get started on saving time and energy on your own social media management! Check out our free trial of Agorapulse to help you schedule, track, and measure all your social media efforts.