If you have a social media agency or work within one, you know there are countless tasks, projects, and social media platforms to manage, Using the right productivity tools is a key element of running a successful marketing agency.
These tools can either make or break your business – so choosing the right ones is something that shouldn't be taken lightly.
But how do you know which tools are right for you?
Well, luckily we've got you covered with this list of must-have productivity tools to help you make your decision.
Let's go ahead and get into things, shall we?
What are Productivity Tools?
Productivity tools are software applications that make work easier by helping people manage tasks, stay organized, collaborate with others, streamline workflows, and automate repetitive tasks. These tools are designed to boost efficiency and effectiveness while minimizing time, effort, and resources. Essentially, they help you get more done in less time.
Productivity tools come in different forms, such as project management software, file-sharing and storage apps, communication and collaboration tools, time-tracking software, and automation platforms.
They can be used for personal or professional tasks (or both) and they are essential for individuals, teams, and agencies looking to boost productivity.
Why Use Productivity Tools
By using productivity tools, agency owners can organize their projects, track their progress, share files and ideas with team members, communicate in real time, automate routine tasks, and manage their time effectively.
This helps streamline team workflows, eliminate unnecessary tasks, and focus on what matters most. With these tools, marketing agencies can improve their processes, optimize content production and track client data and analytics.
Overall, productivity tools are essential for any business to work efficiently and effectively – especially in an agency setting where you are juggling many different clients and tasks at once.
With the right productivity tools, agency owners can increase their output, exceed client expectations, and reach their overall agency goals.
Key Features to Look For In Productivity Tools
When selecting productivity tools for your agency, it is important to consider several key factors to ensure that the tools meet your specific needs.
Ease of Use
One primary factor to consider is the ease of use of the tools. You want to choose tools that are user-friendly and intuitive, with a simple user interface, allowing team members to quickly understand and navigate the platform.
Flexibility
Additionally, flexibility is crucial when it comes to productivity tools. Look for tools that can easily integrate with other tools you are already using, as well as those that offer customization options to fit your agency's unique workflows.
Security
Security is also a top concern when it comes to productivity tools for your agency. Keeping your client information safe is of utmost importance, so be sure to look for tools that have robust security measures to protect any confidential client information and data.
Collaboration
Lastly, collaboration features are essential to productivity tools, allowing teams to work in real time and seamlessly share files. Look for tools that offer features such as document collaboration, task management, and team communication.
By considering ease of use, flexibility, security, and collaboration features when selecting productivity tools, your agency can improve efficiency and meet client goals effortlessly.
Now without further ado, let's take a look at the different types of productivity tools that are out there. Plus, we'll share the best tools that will keep your agency running smoothly.
Social Media Tools For Agencies
Social media management tools are essential for any agency looking to boost its social media marketing efforts. From tracking post engagements to monitoring competitor activity, social media management tools provide valuable insights to help agencies make data-driven decisions.
Agorapulse
One of the key benefits of Agorapulse is that it enables agencies to design, schedule and publish content to multiple social channels in one place, eliminating the need to log in to different accounts. Its user-friendly content calendar feature allows agencies to plan out their social media content in advance, saving time and effort.
Additionally, Agorapulse has advanced analytics features for tracking all your important social media metrics.
Other notable features include the ability to track key performance metrics, and create customized reports for clients.
With the Power Reports feature in Agorapulse, agencies can generate comprehensive reports quickly in downloadable formats, which can be shared with clients, showcasing the value and results of their social media efforts.
BUT WAIT. There's more!
Reports aren't Agorapulse's only time-saving tool.
Agorapulse helps agencies keep track of inbound messages and comments from customers, enabling them to quickly respond to any issues and monitor sentiment towards their clients' brands.
And if you have team members managing multiple accounts on Facebook, Twitter, and Instagram, Agorapulse's team collaboration features make sure that each person knows what comments have been answered—and by whom.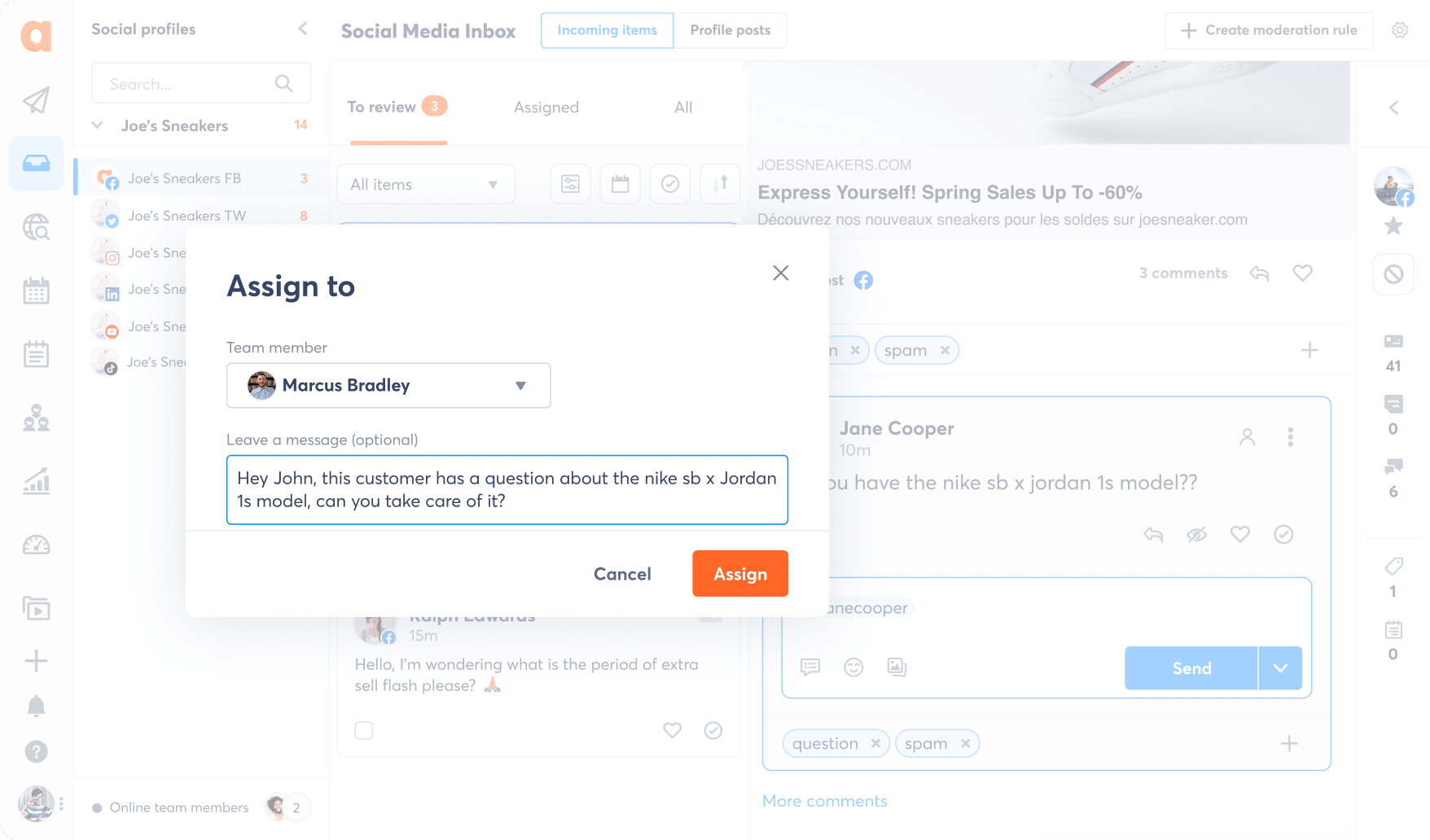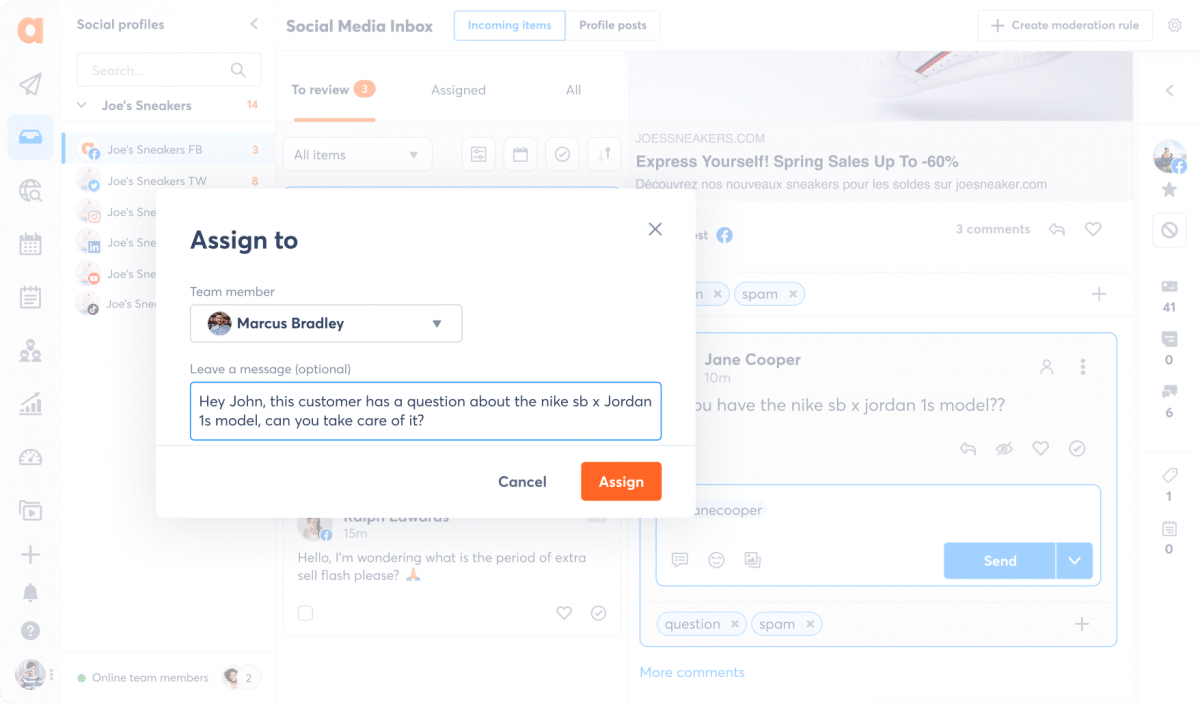 Overall, with its wide range of features and capabilities, Agorapulse is an essential tool for agencies looking to streamline their social media management and improve productivity.
Its powerful user interface, unlimited user accounts, and cost-effective pricing plans make it an ideal choice for any agency looking to up its social media game.
Buzzsumo
Brainstorming topics that are most likely to be read, shared and loved on social media is a time consuming task. Buzzsumo is a tool that analyzes what content performs best for any topic or competitor. It can help kick off those brainstorming sessions.
This is a huge benefit to agencies wanting to be efficient not only with their time but with the content they deliver for their clients on social media.
Discover
Use the discover tab to find content that is trending categorized by topic.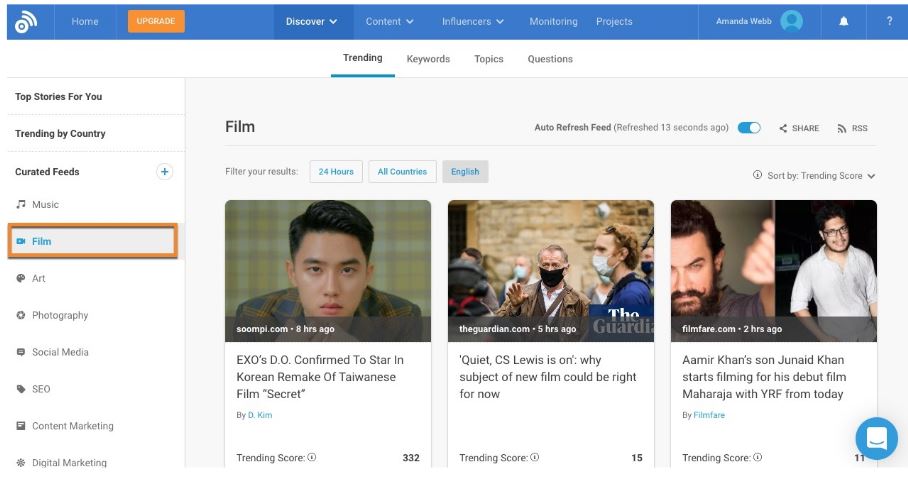 In the content tab, you can find content that is getting widely shared related to any keyword you add.
The results are broken down by shares on Facebook, Twitter, Pinterest, and Reddit engagement. It also tracks the number of links that content received.
Here's results from my search term 'Cats.'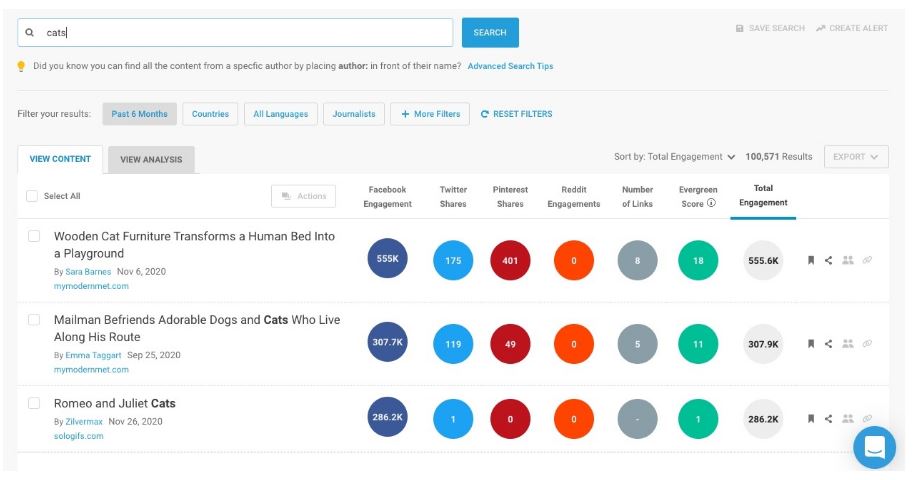 Influencers
As well as helping you find topics and research popular content you can also use Buzzsumo to find influencers.
You can search for influencers based on Twitter as part of the free plan and expand this to YouTube and Authors if you upgrade.
What's great about Buzzsumo is that you can search not just by keywords included in a profile but also by articles they have shared.

As well as categorizing results with statistics, they are also tagged. In the search below, you can see that the first result is tagged as a blogger and influencer.
The results also link to an associated Instagram account if found.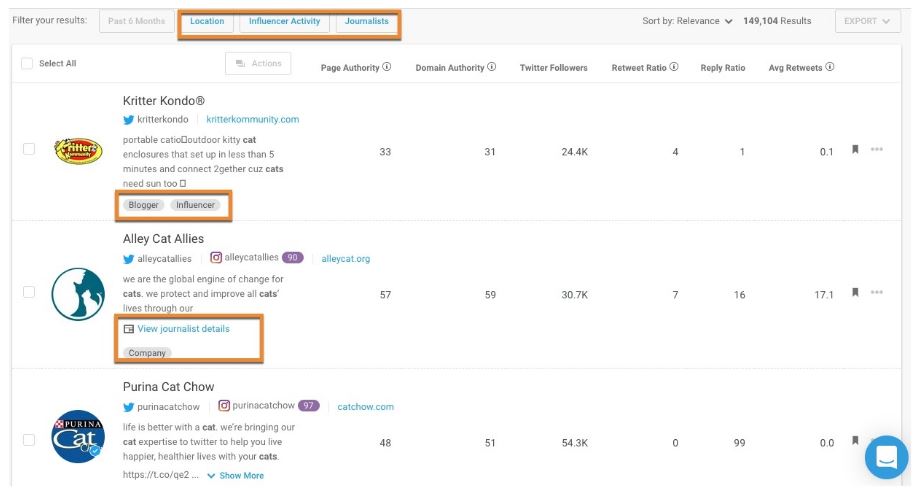 Project Management Tools For Agencies
Having the right project management tools can make all the difference in keeping your agency organized and productive. From keeping track of tasks and deadlines to streamlining communication between team members, project management tools can help save time and boost efficiency.
Whether you're working with an in-house team or a remote one, here are some essential project management tools to consider implementing in your agency.
Trello
There are so many elements to client projects. There are simple things to keep tabs of like contact info and links, and then also more complex tasks like reporting, ad creatives, and processes.
Trello is a popular project management tool that can help you keep track of all these moving parts and access them all in one place.
Based on the Kanban system, it acts like a series of index cards. Each one can contain information, resources or a subproject like an ad campaign, content or research.
Cards can be assigned to team members, you can add attachments, create checklists and assign tasks from those checklists to team members. Trello also offers features such as attachments, labels, and comments that enhance teamwork. Additionally, Trello integrates with a host of other productivity tools like Google Drive and Slack.
Asana
Another highly recommended product management tool is Asana.
Asana is great for tracking and managing multiple projects of varying complexity. Its user-friendly interface encourages team collaboration and helps ensure all tasks are completed on time. Some of its features include task assignments, calendars, and timelines.
Asana also offers templates to set up regular workflows, and integrations with many apps such as Dropbox, Google Drive and more.
ClickUp
ClickUp is an all-in-one productivity tool for agencies that helps them manage tasks and projects in one central place. It is a cloud-based platform that allows teams to easily collaborate, complete tasks, and track progress on projects from the same interface.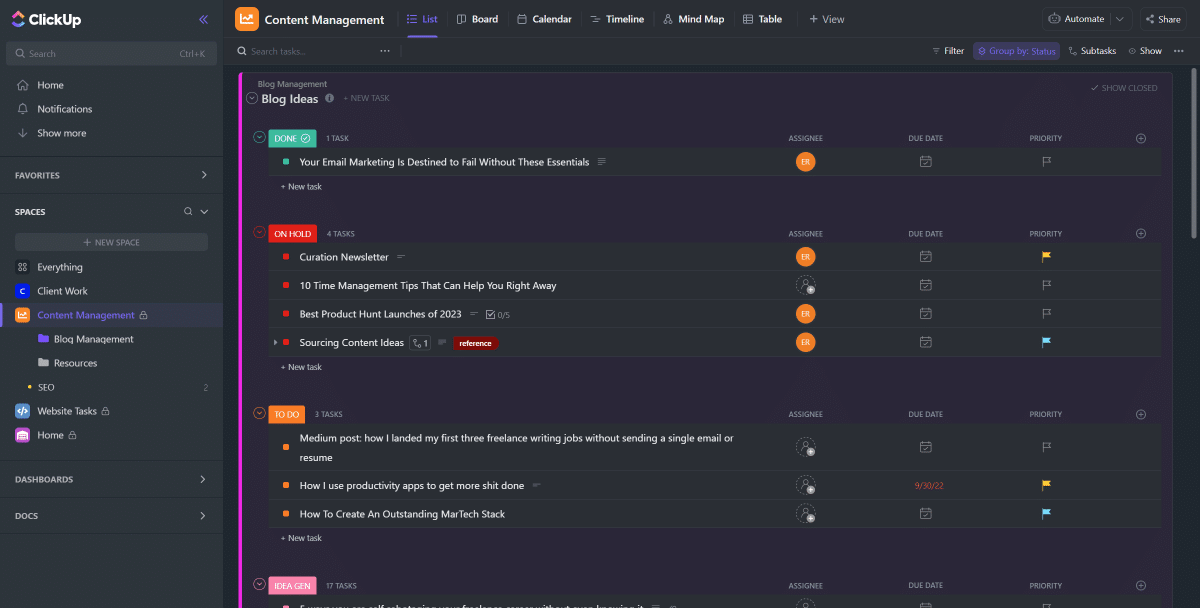 With ClickUp, teams can customize their workflow, prioritize tasks, create checklists with sub-tasks, set due dates and reminders, create and share docs, and so much more.
It is a great tool for agencies because it can be customized entirely depending on your needs. ClickUp also allows you to share calendars, tasks or projects with your agency clients, without giving them access to your entire workspace. This makes getting client approvals easier and more efficient.
Communication Tools for Agencies
Communication is key to success in every agency, and that is why you need to make sure you have the right tools to effectively communicate with your team, clients, and other stakeholders. Here are some of our top picks for better team communication.
Slack
Slack is a team communication tool that can significantly improve productivity for agencies.
Slack's messaging feature allows team members to communicate in real-time, reducing delays and missed messages that can hinder productivity.
The tool's file sharing function makes it easy to share and collaborate on documents, improving efficiency in workflows. Additionally, audio and video calls in Slack permit teams to connect remotely without sacrificing the quality of communication.
Organizing communication through channels improves team productivity as it ensures that conversations are related to specific topics, reducing the confusion and noise that can arise from several discussions at once.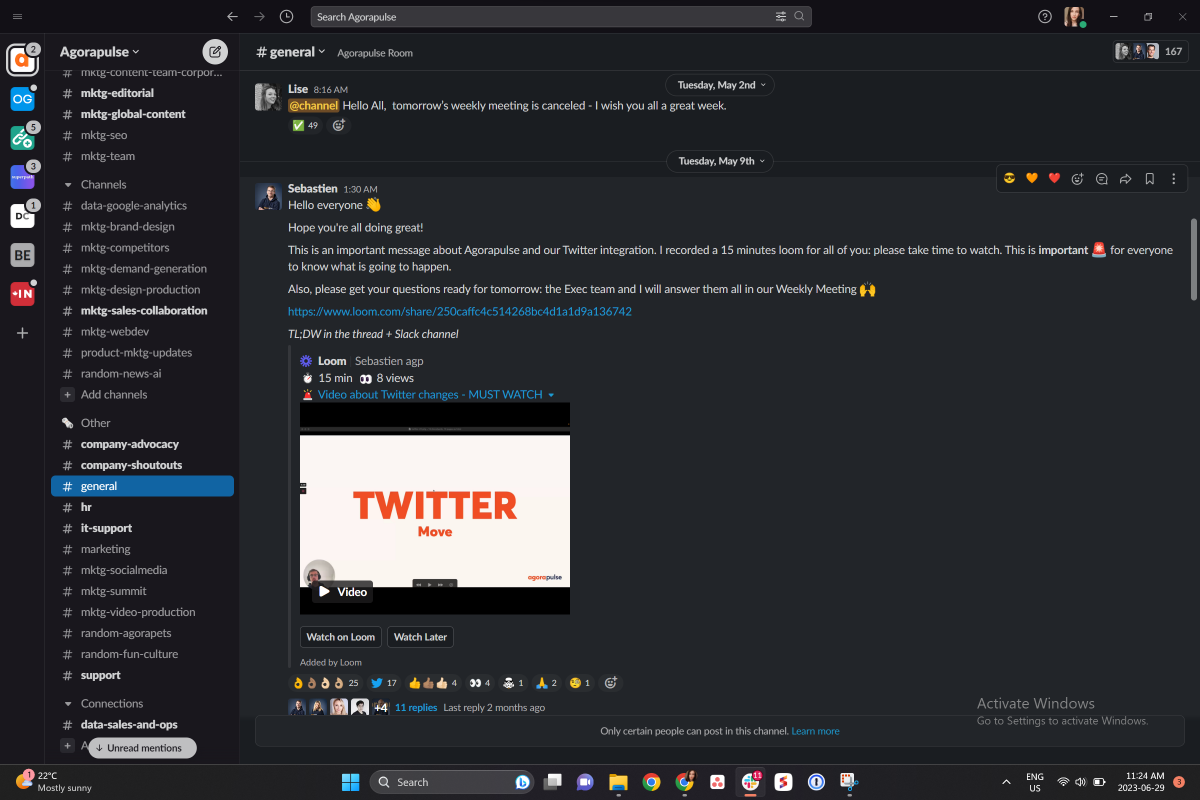 You'll see here that we use Slack quite a bit for team communication at Agorapulse. We even use it to share Loom's. Which brings me to the next must-have tool!
Loom
Loom is a powerful video communication tool that allows teams to communicate more efficiently and productively through screen recordings and video messages. With Loom, teams can record their screen, webcam footage, or both, making it possible to create comprehensive tutorials, demos, or explanations that help in effective communication.
Loom helps teams to be more productive by enabling them to easily create and share clear instructions for their projects. This helps to reduce the amount of confusion and miscommunication that can happen pretty easily on remote teams. It also promotes visual communication, making it easier for teams to understand complex concepts, and work more efficiently.
Seriously, I don't think I could go back to communicating without Loom. I use it daily to save time explaining concepts or sharing feedback with my team. It is much faster than writing lengthy emails that no one wants to read anyways!
Miro
Miro is an essential collaboration tool that can greatly benefit marketing agencies. It provides an avenue for better communication, brainstorming, and team planning, especially if you are growing your agency.
One of the major advantages of Miro is that it allows teams to visualise their ideas. With its intuitive interface, marketers can display their thought processes, create wireframes and mind maps, and organise projects on a single platform. This allows teams to collaborate more effectively, and plan better campaigns.
In addition, the tool promotes remote work and is perfect for teams spread across different locations. Miro's real-time collaboration feature and advanced communication capabilities allow for seamless remote brainstorming sessions and team planning meetings.
The platform also integrates with over 130 different apps, including Google Workspace, Microsoft Teams, and Slack, making it an essential tool for agencies.
Writing Tools for Agencies
Google Docs
Google Docs is an online word processor that makes it easy to create, edit, and collaborate on documents. It's like Microsoft Word, but way better, and also without the annoying paperclip guy.
Google Docs includes useful features such as version history, and also the ability to track changes made by each user in the document. There are a number of add-ons that you can get as well, which can supercharge your Google Doc capabilities.
Google Docs is a favorite for agency owners because it boosts overall efficiency by making it easy for your entire team to work together on documents in real time.
Text Expander
There are words and phrases like your email address, your website address, your home address for deliveries that you type over and over again, sometimes many times in a day. There are emails you send that are almost carbon copies of each other but you find yourself typing them out from scratch every single time.
How much time could you save if you didn't have to do all this typing?
Text Expander is a desktop (and mobile) app that will do the typing for you.
You program in the shortcode for your words, phrases and form emails and it populates them for you.
As an agency, you won't just save time on form emails and typing repetitive phrases you can also use them to quickly access client ad accounts, social pages and analytics. Plus, you can use it to shortcut links to insert into emails or conversations on social.
Setting up a shortcut in Text Expander takes seconds.
Start by creating a 'Group,' which is a folder for your shortcuts.
Click the 'New Snippet' icon. Add the text you want to be expanded into the main section.
Add the shortcut to the 'Abbreviation' field. I tend to prefix all my snippets with a + to ensure there's not accidental expanding.
Now when I type my shortcut anywhere on my computer it expands to the full link.
One nice extra you get from Text Expander is a monthly report by email that tells you how much time you have saved by using snippets.
Knowledge Base Tools for Agencies
Knowledge base tools help to store and organize all of an agency's resources in a central location. This includes information on clients, products, services, and processes.
With a knowledge base tool, employees can quickly access the information they need to complete their tasks, reducing time spent searching for information and increasing productivity. Knowledge base tools can also be used to document processes and procedures, making it easier to onboard new team members.
Slite
Slite is a knowledge base and training tool designed for agencies to enhance their productivity and efficiency. Its core purpose is to help teams create a central database for information that is easily accessible. With Slite, your entire team can collaborate in real-time, organize notes and share knowledge with each other effectively.
Slite is also unique in that it has an AI tool built-in that you can simply ask where to find something in the database, and it will bring you to that exact page.
I personally find this incredibly useful, as sometimes I forget where to look for crucial data. Using this built-in AI feature in Slite makes finding that information much faster and less of a headache.
Notion
Notion is a powerful productivity tool for agencies to help them organize their day-to-day operations. It is an all-in-one workspace designed to manage projects, tasks, and create a central knowledge base, in a single platform.
Notion is incredibly flexible due to its customizable workspaces, and it can be used for many different applications. Realistically, it could be classified as a project management tool, collaboration tool OR a note-taking tool, because it is all of these things (and more!)
Notion's features enable teams to collaborate and share resources effortlessly, reducing the time wasted on context switching between various tools and applications.
Design Tools for Agencies
Design plays a crucial role in the success of any creative agency. From graphic designing to web development, every design team needs the right tools to boost their overall productivity and efficiency to craft beautiful design pieces.
Figma
Figma is an all-inclusive design tool that enables agencies to collaborate in real-time to create beautiful designs and prototypes.
The platform offers advanced vector-network manipulation, reusable component libraries, and responsive design features, making it a powerful tool for agencies to work at scale.
Pixabay
With more than 590,000 photos and counting, Pixabay is a great resource for any social media agency. All images and videos on Pixabay are officially released free of copyrights under Creative Commons CC0.
This means that you can download, modify, distribute, and use them royalty-free for anything you like, even in commercial applications.
Images are organized in various categories, which makes it easy to sort through and find vibrant photos that can bring a social media feed to life.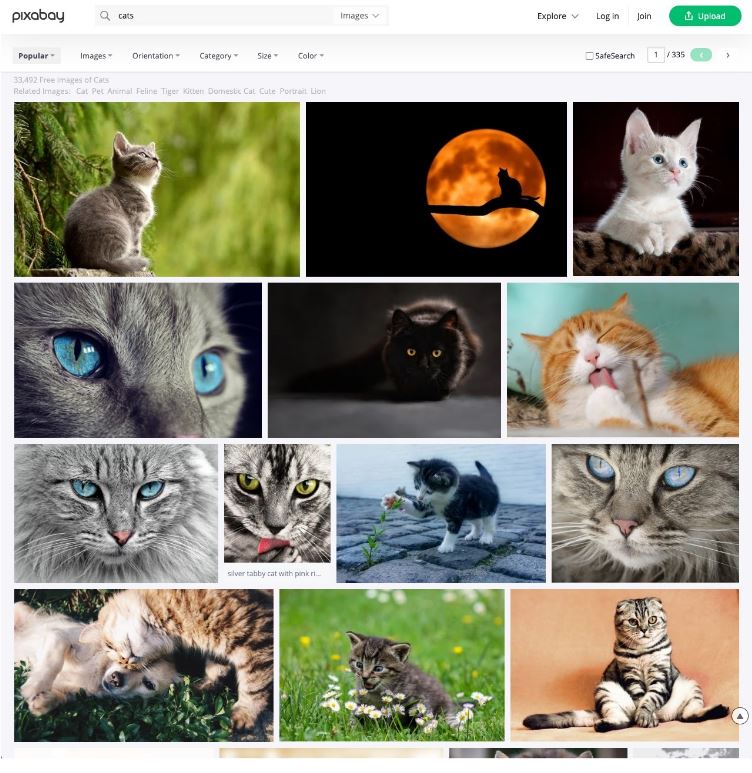 Canva
Canva is a popular graphic design tool that has become a go-to for marketing agencies and businesses across the world. It's kind of like Photoshop, but waaay easier to use, making it more accessible for beginners.
The correct social media image sizes are programmed in, and they have a gallery of templates for you to choose from. You can customize one of these templates with your clients brand colors, text, and images, or create your own templates. On the pro plan, you can resize graphics for different social media placements, which saves a ton of time.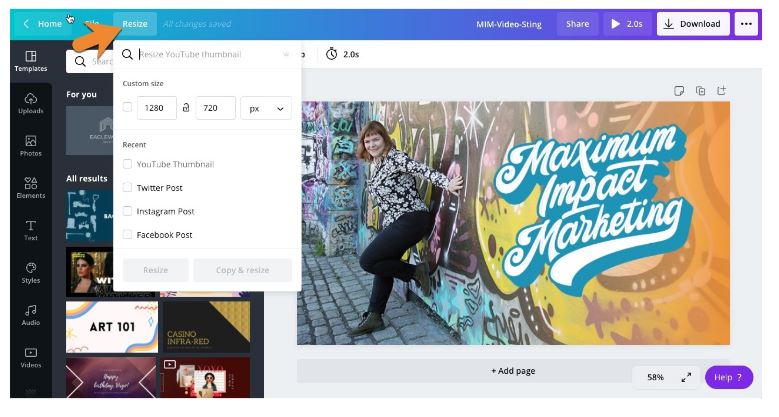 To manage your visual content, you can create folders for each client or project making it much easier to find and replicate designs in the future. This, along with the option to 'share' an editable image with a colleague, makes this tool fantastic for social media agencies with multiple team members assigned to a particular project or client's work. Canva is a great tool for any kind of social content, from Instagram carousels to Facebook ad creatives. Plus, it is also great for creating flyers, business cards, newsletters, one page websites, and even printed banners, t-shirts and more.
It provides a wide range of design elements, graphics, and fonts to assist users in creating visually appealing designs, and is a must-have tool for any agency.
Note-taking Tools for Agencies
Note-taking tools come in handy for both individual and team productivity. These tools enable you to organize your thoughts, concepts, and ideas effectively. They make it easy to access and share crucial information with other team members.
Evernote
Note-taking is an indispensable aspect of any agency's workflow. From meetings to brainstorming sessions and discussions, it is crucial to capture information accurately and ensure that it's easily accessible for future reference.
All of this can be done within Evernote.
Evernote is compatible with all major operating systems, including Windows, Mac, iOS, and Android, allowing users to sync and access notes from all their devices. I find this particularly useful for making notes on my computer and picking them up on my iPad later on to review.
The WebClipper browser extension available for major browsers such as Chrome and Firefox allows for efficient saving and annotating of screenshots, giving users the ability to capture ideas and information in real-time.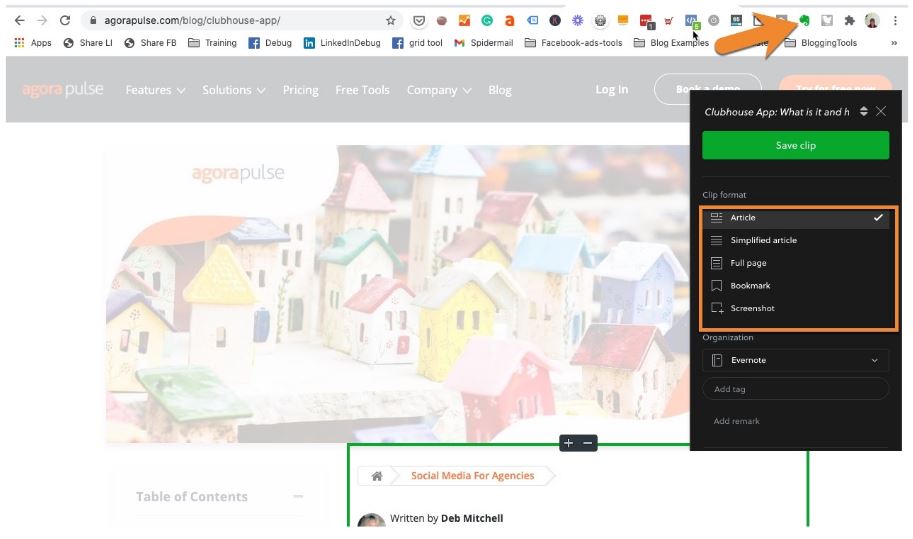 You can also use it to scan documents. This saves me time routing around for instruction manuals, I can just search for instructions in Evernote.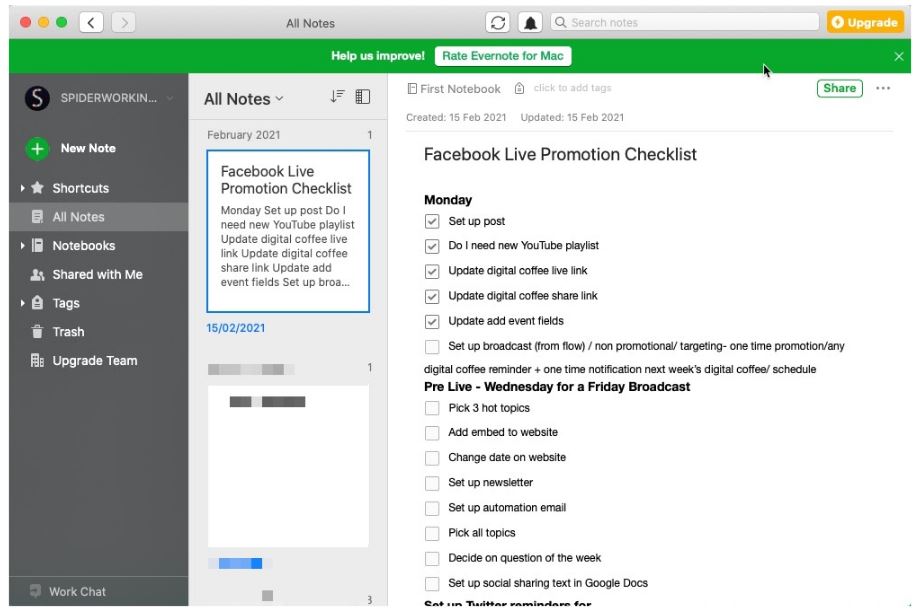 For recurring tasks, you can create checklist notes, this ensures that every part of every task is completed without you having to think about it. And you can share all of this with team mates when you upgrade to one of their premium plans.
Nimbus Note
Nimbus Note is one of the lesser-known note taking tools that is great for agencies, freelancers, and small business owners alike. In Nimbus Note you can create tasks and lists, wikis, plus easily organize and share notes and team assets.
For agencies or businesses, Nimbus offers an organization console that allows managing users, workspaces, billing from a higher level. This allows you to create as many isolated workspaces as you need, and is the perfect solution for creating separate, organized workspaces for each agency client.
Google Keep
Google Keep is a free, web-based service offered by Google that enables users to store short notes, lists, and images. It is ideal for both personal and professional use as it allows users to quickly create reminders, checklists, and other types of information that can easily be shared with others.
Google Keep is integrated with the Google Drive platform which makes it easy to back up your notes and access them anywhere. There also is a Google Keep application available for both Apple and Android mobile devices so you can add or modify your notes while on the go.
Time Tracking Tools for Agencies
Toggl
Before you can look at being more productive, you need to understand how you are spending your time.
Toggl is a timer-based system that monitors the time you spend on projects.
I'm using the browser-based version, but there's also a desktop and mobile app.
You can get started straight away by signing up for a free account, opening it in a browser, and clicking the play button. The timer starts straight away. Stop it when you complete your task.

For a more detailed experience, click on the 'Clients' tab on the sidebar.
Add your client names here.
Click on the 'Projects' tab and add any projects you're working on.

For each project, you can add a client and a color code.
Scroll down to the 'Tags' menu. Here you can specify tasks like phone calls, scheduling content, creating content, and creating ads.
When you return to the Timer tab, you can select a project and tags to add to your timer both before you click play or, if like me, you forget, after you've finished.
On the free plan, you can add up to 5 teammates, which makes this a must tool for agencies.
Clockify
Clockify is a time tracking and productivity management tool that's perfect for agencies. It offers an impressive list of features including the ability to add unlimited users, create projects and tasks, and manage team hourly rates and billable time. Clockify's format can be accessed through their website or mobile apps, making it convenient for teams who are always on-the-go.
Clockify's time tracking features are intuitive and easy to use, making it a breeze to manage your entire team's productivity. It's a powerful tool that can help streamline routine tasks and improve workflow automation in your agency.
If you're looking for a team productivity tool that can boost your agency's productivity, Clockify is definitely worth checking out.
CRM Tools for Agencies
Customer Relationship Management (CRM) tools are essential tools for any agency looking to manage their customer interactions. With the right CRM tool, managing customer interactions and inbound sales is much more efficient, and can help your agency ensure nothing falls through the cracks.
HubSpot
HubSpot is a powerful productivity tool for agencies, equipping you with a wide range of features for sales, marketing, and customer service. With HubSpot's all-in-one software platform, you can easily create marketing campaigns, optimize customer experiences, and measure success through analytics.
It comes with a user-friendly interface that allows businesses to effectively manage their workflow, automate routine tasks, and track customer interactions across various channels.
HubSpot also offers a free plan for businesses starting out, making it a great option for small agencies. From creating content to generating leads and closing deals, HubSpot's suite of features has all the tools you need to manage and grow your agency.
Pipedrive
Pipedrive is a user-friendly CRM tool that offers a visual sales pipeline for businesses to track their sales progress. It also integrates seamlessly with other tools such as Google Calendar, emails, and social media, making it easier for businesses to manage their workflow. Pipedrive also offers mobile apps, making it easy for remote teams to stay connected and productive.
Analytics Tools for Agencies
Analytics tools are essential for agencies to help them better understand their audiences, improve their marketing strategies, and measure the success of their campaigns. With the right analytics tools, agencies can gain valuable insights into how people interact with their website or app, track user engagement and activity, identify trends in customer behavior, and optimize campaigns across multiple channels.
Google Analytics
Google Analytics is a widely recognized analytics tool designed to analyze website traffic. Being both robust and powerful in its services, Google Analytics enables businesses to track who visits their websites and how they navigate through the pages.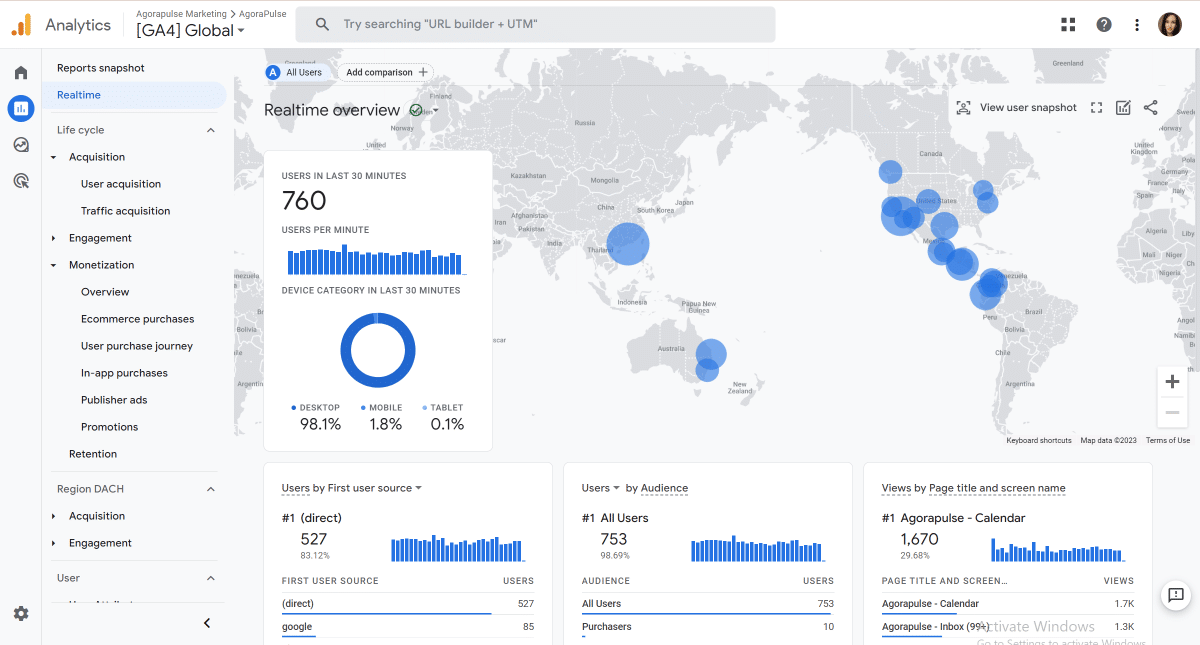 With Audience Overview, businesses can gather insights about their website's visitors including demographic information, interests, and behaviors. Additionally, the Goal Conversions feature allows businesses to design campaigns tailored to their goals, such as creating specific landing pages for visitors who clicked on an ad and gauging the conversion rate.
P.S. Did you know that Agorapulse has an integration that connects directly to your Google Analytics account? That way you can have even more accurate data to use in your customized client reports (which also can easily be created in Agorapulse, BTW.)
SparkToro
SparkToro is an analytics tool that crawls over 80 million social profiles and web pages to find what (and who) your audience reads, listens to, watches, follows, shares, and talks about online.
Want to know the subreddits that are frequently used by scientists? Or want to find out which podcasts are subscribed to by interior designers? SparkToro is the tool you need to find these things out.
SparkToro provides deep audience intelligence by allowing users to discover the interests, demographics, and behavioral patterns of their target audience. With access to this data, marketing agencies can create more targeted and personalized campaigns, tailor their messaging, and allocate resources more effectively.
Hotjar
Hotjar offers website heatmaps and click-tracking features that visually represent user interactions on websites. This information helps agencies understand user behavior patterns, identify areas of high engagement, and optimize website layouts, navigation, and content placement.
One of the neat features of Hotjar is the ability to record and replay user sessions on your website. These recordings provide a detailed view of user interactions, including mouse movements, clicks, and scrolling behavior.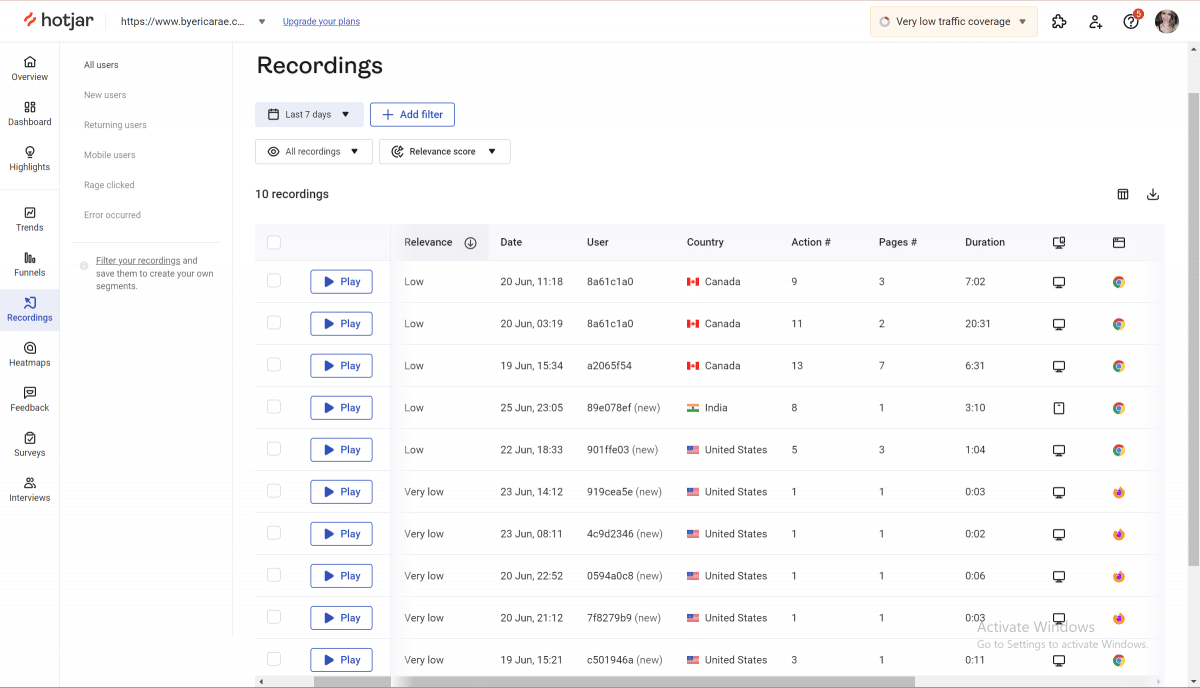 By watching session recordings, agencies can uncover usability issues, identify pain points, and gain a deeper understanding of how users navigate their websites.
For example, Hotjar enables agencies to analyze conversion funnels and identify drop-off points in user journeys. By setting up funnels, agencies can track how users progress through specific conversion processes, such as form submissions or checkout flows.
This data helps agencies pinpoint areas where users abandon the conversion process and make targeted optimizations to improve conversion rates. Insights like these are invaluable for agencies looking to improve user experiences and make informed design decisions.
Automation Tools for Agencies
As an agency, managing various tasks simultaneously can be overwhelming. Your team may face challenges when it comes to juggling between routine tasks, project delivery, and managing multiple social media channels.
This is where marketing automation tools come to your rescue. By using these tools, you can save time and effort, streamline your processes, and improve your team's overall productivity.
Zapier
Zapier is a powerful automation tool that can significantly boost productivity management for agencies. The tool allows users to automate repetitive tasks and integrate thousands of apps to create automated workflows.
With Zapier, agencies can eliminate time-consuming manual workflows, streamlining their operations and focusing on more important tasks.
One of the best features of Zapier is its ability to seamlessly integrate with a wide range of applications, including Google Drive, Slack, Trello, and many more. This allows users to easily create customized workflows that incorporate their favorite tools and apps, making their workflows more efficient and effective.
With its advanced automation capabilities and wide range of integration options, agencies can save time and boost efficiency by adding Zapier to their toolbox.
IFTTT
IFTTT (IF This, Then That) is a popular integration software platform that helps businesses automate routine tasks and manage workflows by connecting various apps and devices.
Its low-code applets offer an easy way to set up automated data transfer between apps and devices without requiring any programming skills.
As a connectivity standard, IFTTT offers over 600 apps and services to connect with, including popular tools such as Google Drive, Slack, Trello, and Salesforce.
IFTTT is an ideal platform for businesses, marketers, and individuals who manage multiple apps and devices and want to streamline their workflows. Its core features such as low-code applets, integration with hundreds of apps, and customizable workflows make it a powerful tool for increasing productivity and efficiency in an agency setting.
What We Learned About Productivity Tools for Agencies
There are many different tools available that can help you increase productivity and get more done faster. These tools can offer insights into website traffic, automate your tasks, and help agencies manage social media effectively.
Switching your productivity tools in the future can be costly, time-consuming, and frustrating. Therefore, it's crucial not to rush the decision-making process or hastily commit to a tool. By taking your time to find the right productivity tools for your business, you can create an optimized tech stack that boosts your team's efficiency and empowers your agency to scale effectively.
Luckily, most of these platforms offer free trials or demos, allowing you to assess their suitability for your specific needs.
Speaking of which… have you booked a demo to try out Agorapulse yet? Because it's free, so really, why not?