Social media marketing has a ton of moving parts, from developing a winning social media strategy to engaging with followers. Worried that you're going to get distracted and forget some of the basics? We've got you covered.
Use this social media marketing checklist to remind you of what to include in every post your team publishes.
Start With a Goal in Mind
Planning a single post? An entire campaign? No matter what your project, always start with an objective. When you establish a purpose for each post, you can give your content direction and use it as a stepping stone toward major strategic goals.
How to plan your social media goals
First, reflect on what you want to accomplish. Is it growing brand awareness? To build an engaged online community?
Then consider the key performance indicators (KPIs) you can track to measure your progress. For example, increasing post reach can indicate better brand awareness, and more comments can equal engaged followers.
Finally, think about how each social media post can help you reach those KPIs. For example, encouraging shares can increase reach, and prompting comment threads can boost engagement.
Get Attention With Eye-Catching Visuals
To attract the attention that your social media posts deserve, prioritize eye-catching visuals. (Platforms like Facebook, Instagram, and Pinterest favor engaging images.)
Though photos and graphics are important for telling stories and engaging with your audience, video can help you achieve your social media goals even more quickly. On Facebook, video gets almost two-thirds more engagement than image or text posts.
How to get more visual content
Work with your team to create a library of images and videos for your brand. Include videos and photos from brand photoshoots and graphics designed by your team. Supplement with user-generated content and high-quality stock images.
To add more design flair to your visual library, use free apps like Canva and Headliner or built-in video editors on Instagram and Facebook.
Create Well-Written Copy
Well-written copy is essential for adding context and engaging your audience. A sloppily written caption or a typo-ridden long post can take away from the power of the message you want to convey.
Make sure your copy shines.
Incorporate your brand voice
You'd get confused or suspicious if your friends or coworkers suddenly started speaking to you like a stranger. So, your followers are likely to feel the same if you use an off-brand voice. When you create social media posts, resist the temptation to sound generic. Instead, stick to your brand voice, and write in a way familiar to your audience.
How to craft your brand voice
Define your brand voice with the help of your team. Start by researching your audience's demographics, needs, pain points, and interests. Make note of the words and phrases they use when talking about subjects relevant to your brand.
Consider the values and culture your company wants to communicate. Then establish brand voice guidelines that outline the words, tone, and style you'll use to appeal to your audience.
Be positive
No matter what kind of messages your brand delivers on social media, make a point of being positive when you publish posts. Positive content gets more engagement on social media, which can help you accomplish your goals more efficiently.
How to stay positive
Skip the complaints and negativity, and focus on positive messages instead. Use your brand voice research to assess what makes your audience happy, and incorporate those good vibes into your posts.
Write for the Right Platform
Rather than copying and pasting the same post on Facebook and Instagram, rework copy for each platform. When you take the time to write for the right platform, you can improve your social media performance and get more out of each post.
How to best write for each platform
Know the limitations of each platform. For example, you're limited to 280 characters on Twitter, but you can write over 60,000 characters per post on Facebook. Instead of using every possible character, stay on top of best practices for each platform. For example, short posts with no more than 50 characters tend to perform best on Facebook.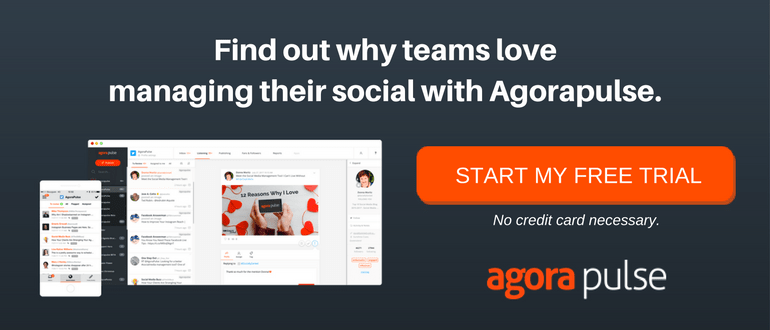 Use Emojis
When you want to expand your brand's reach and increase audience engagement, adding emojis to your posts can be a great tool—at least on some platforms. Agorapulse's Social Media Lab found that on Facebook, using emojis boosted impressions, engagement, and clicks.
Experiments on Instagram showed similar stats for posts that used emojis and those that didn't. On Twitter, tweets using emojis had fewer impressions overall.
How to wield emojis
Use emojis that mean something to your audience. Review posts from influencers or other brands in your space to familiarize yourself with your audience's emoji language. Reference Emojipedia to find, copy, and paste every possible emoji into your social media posts.
Include Tags
Whether you want to increase brand awareness or grow your community, you'll want to connect with other brands, from influencers to complementary companies. When you tag brands, you can attract their attention, introduce your brand, or build deeper relationships.
How to use the best tags
Find the brand in question, and make note of their social media handle for each profile. Tag them in your post by typing "@" followed by their handle. They'll get a notification that you tagged them, encouraging them to engage with your post. Be sure to tag other brands only when your post is truly relevant.
Overusing the tagging feature can cause other brands to ignore your posts completely, which can cause your plan to backfire.
Insert Relevant Hashtags
In addition to tagging other brands, you'll want to include hashtags in your posts. Using hashtags is a smart way to help new followers and influencers find your posts. It's also a great way to promote time-sensitive campaigns or boost your brand regularly.
How to incorporate hashtags
To create campaign or brand hashtags, brainstorm some catchy ideas with your team. Search for them on Twitter and Instagram to make sure they aren't already claimed.
To boost brand awareness with popular hashtags, use a free tool like Hashtagify for Twitter or Keyword Tool for Instagram. Type in a keyword or two to generate a list of trending hashtags, and pick out relevant ones to add to your post.
Add a Link
Want your audience to read a blog post, sign up for your email list, buy a product, or complete another action outside of social media? Add a link to your brand's blog, a product page, your email list signup page, or another relevant link. Although Instagram doesn't allow links in newsfeed posts, platforms like Facebook and Twitter do.
How to add links
Copy and paste the URL right into your post. Before publishing, double-check the link preview to make sure it looks as compelling as possible. If the page title, description, and image don't appear the way you want them to look, remove the link preview and upload an image to the post instead.
End With a Call to Action
If you don't prompt your audience to engage with your posts, you can't expect them to respond the way you want. That's why it's so important to add a call to action (CTA) to your social media posts.
How to write a call to action
Refer back to your social media goals, and think about the prompts that can help you achieve those objectives. For example, if you want to drive more sales, add "Order now!" or "Get it while it's hot!" followed by a link to your site. If you want to drive engagement, use "What's your take?" or "Tell us what you think!" to encourage followers to comment.
Whether you're a newbie or an experienced marketer, this helpful social media marketing checklist can keep you on track. Bookmark it as a handy reference for making your social media posts as effective as possible.
* * *
Sign up now for a FREE demo.