Meaningful social media measurement goes beyond vanity metrics like followers and favorites. But which analytics should you be tracking for your business or agency clients—and how can you monitor them efficiently?
Savvy social media managers and digital agencies know how to measure social media metrics and the tools you'll need to do the job well. With the right approach, you can find what's working and what needs improvement, so you can continue to deliver better results.
How to Measure Social Media Success
The No. 1 thing to know about social media measurement is that success means something different to every brand or user.
Your business's definition of social media success may not look like the competition's—yet neither one is wrong.
Instead, social media success all depends on your goals for social media marketing. To analyze your results and assess how well you've done, you have to know what you were aiming for in the first place. In other words, your success depends on your social media goals.
So before you jump into measurement and analysis, review your social media marketing goals. For example, your team may have set a goal to improve brand awareness or increase return on investment (ROI).
Then spend time analyzing the social media metrics that truly matter to your team. When you know your goals, you can focus on relevant metrics rather than waste time on vanity metrics that don't really matter.
Which Social Media Measurement Tools to Use
From native insights to third-party analytics, you've got options for accessing data efficiently and processing it effectively.
Let's look at the best tools for measuring social media results.
Native insights
Every social media channel from Facebook to TikTok offers native insights for business accounts. Using native tools, you can easily access engagement, audience, and content metrics at no cost to your team—but keep in mind that not every channel provides identical metrics.
As helpful and cost-effective as native metrics can be, however, they have several drawbacks. In most cases, native insights are relatively basic. Sure, they'll tell you how many likes your posts received. However, native platforms won't automatically calculate brand awareness, ROI, or other complex measurements for your team.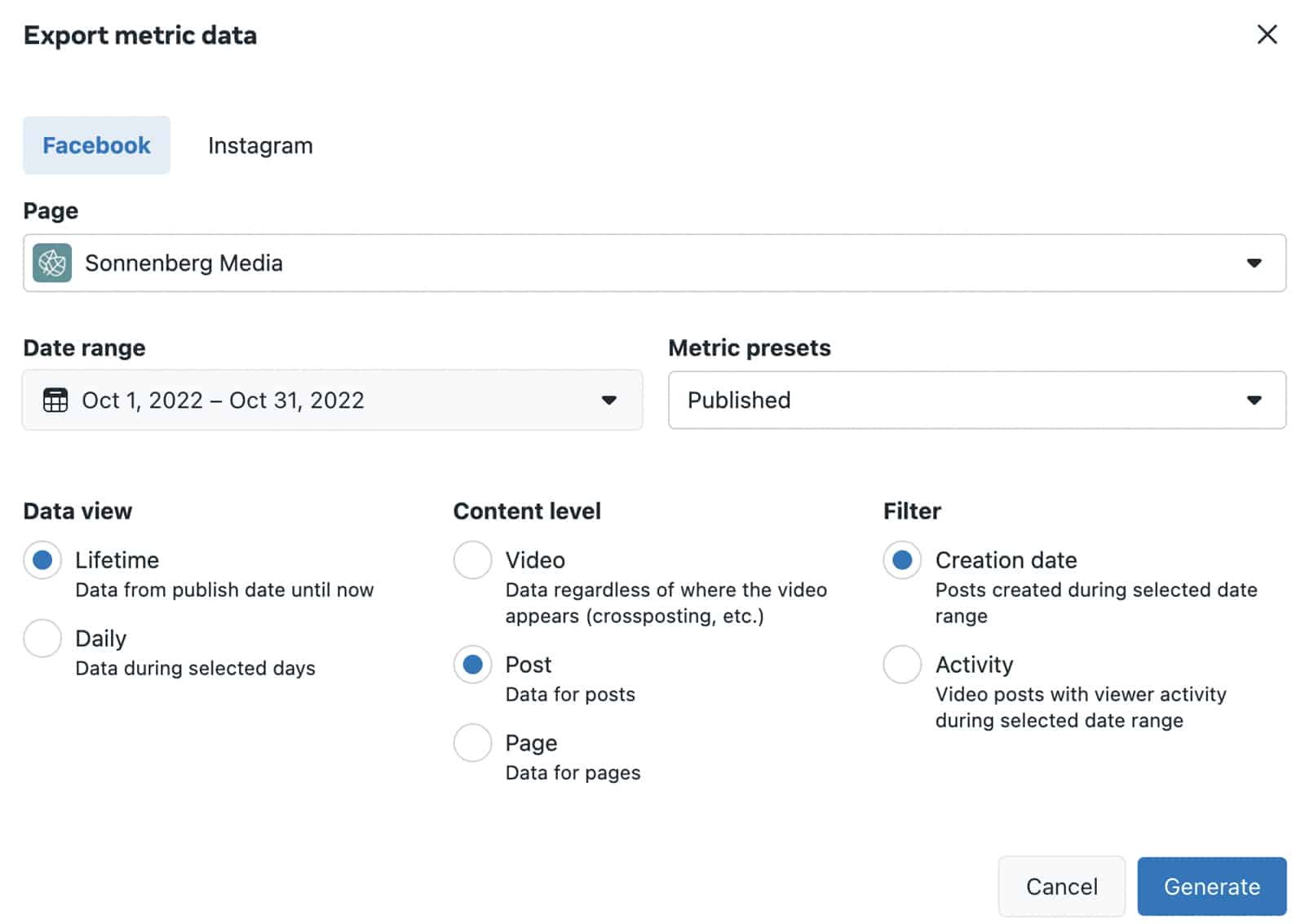 Native insights can also be relatively difficult to share. They may display nicely in the app or in a browser. But when you go to download them, you're typically stuck with a CSV file that's filled with raw data rather than neatly organized charts.
If you manage multiple channels for your company or clients, you'll have to navigate between several platforms and profiles to find and export data. Then you'll have to spend time processing data and building reports manually.
Agorapulse analytics
In some cases, native insights may be your only option for tracking metrics and analyzing performance for a social media channel. But in many cases, you can use Agorapulse for social media measurement.
With Agorapulse, you can analyze social media performance for multiple channels and profiles using the same dashboard. For example, you can access analytics for one client's Instagram profile and another's LinkedIn page with the same tool—saving you time and hassle.
If you're looking for more complex insights, there's a good chance you can find what you need in your Agorapulse dashboard. For example, Agorapulse automatically monitors brand awareness, tracks hashtag interactions, and calculates ROI.
Agorapulse also makes it easy to share social media reports with colleagues and clients. In addition to viewing analytics in your Agorapulse dashboard, you can click to export any social media report.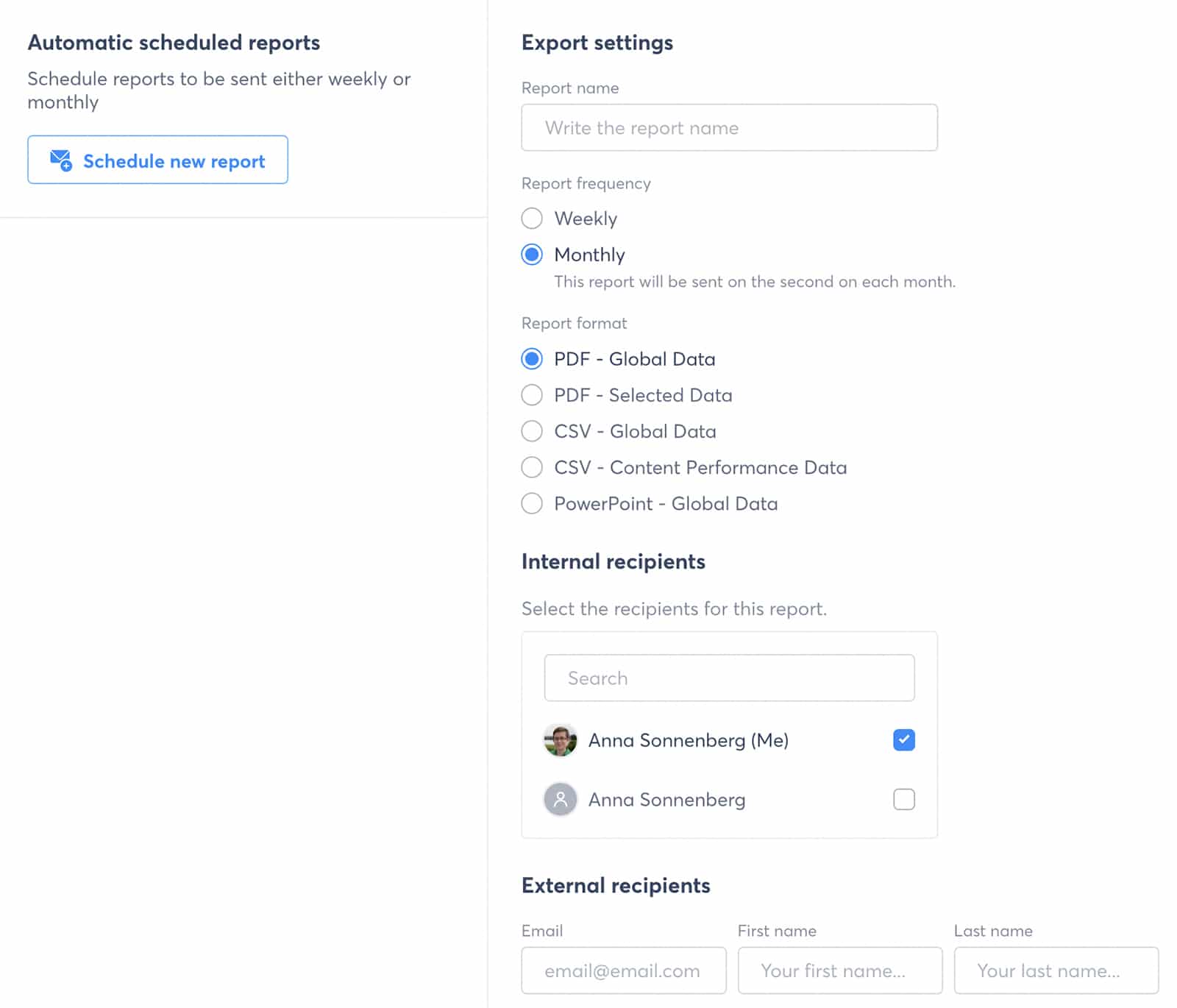 Although you can certainly export a CSV file, that's far from your only option. Agorapulse also gives you the option to choose from PDT and PowerPoint files that display easy-to-ready charts. You can even schedule weekly or monthly reports to automate the process.
Need more data than what the default Agorapulse reports display? With the Agorapulse Power Reports add-on, you can create custom templates and do social media reporting for multiple channels, profiles, or campaigns simultaneously.

How to Measure Social Media Growth and Visibility
Is your team focused on building an audience and reaching more potential customers? Use the metrics below to measure growth, visibility, and awareness.
Audience growth
When you measure audience growth, do more than tally the total followers for each social profile. Use audience insights to identify the days when your social media accounts gained or lost more followers than usual, and then try to determine the cause.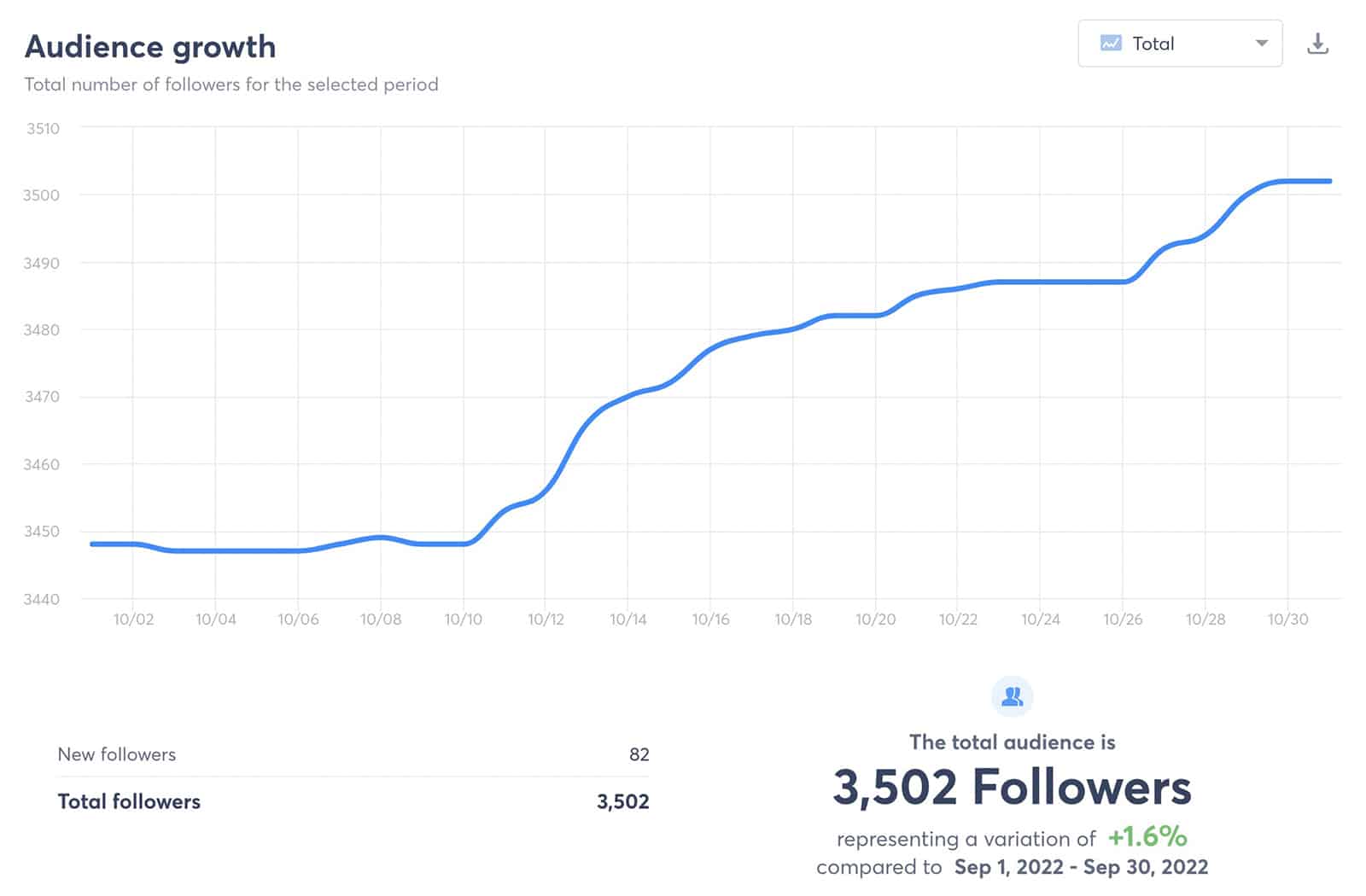 Use your findings to develop a growth-focused social media strategy so you can continue to build your audience. For example, you might find that viral posts or influencer partnership led to a lot of growth.
Agorapulse's audience growth report includes two layout options. The Variation chart is especially helpful for spotting spikes and dips in activity.
Impressions and reach
Like audience growth, impressions and reach mean much more when you consider them in context. Rather than focusing only on total impressions or reach, review performance throughout the week or month and identify patterns.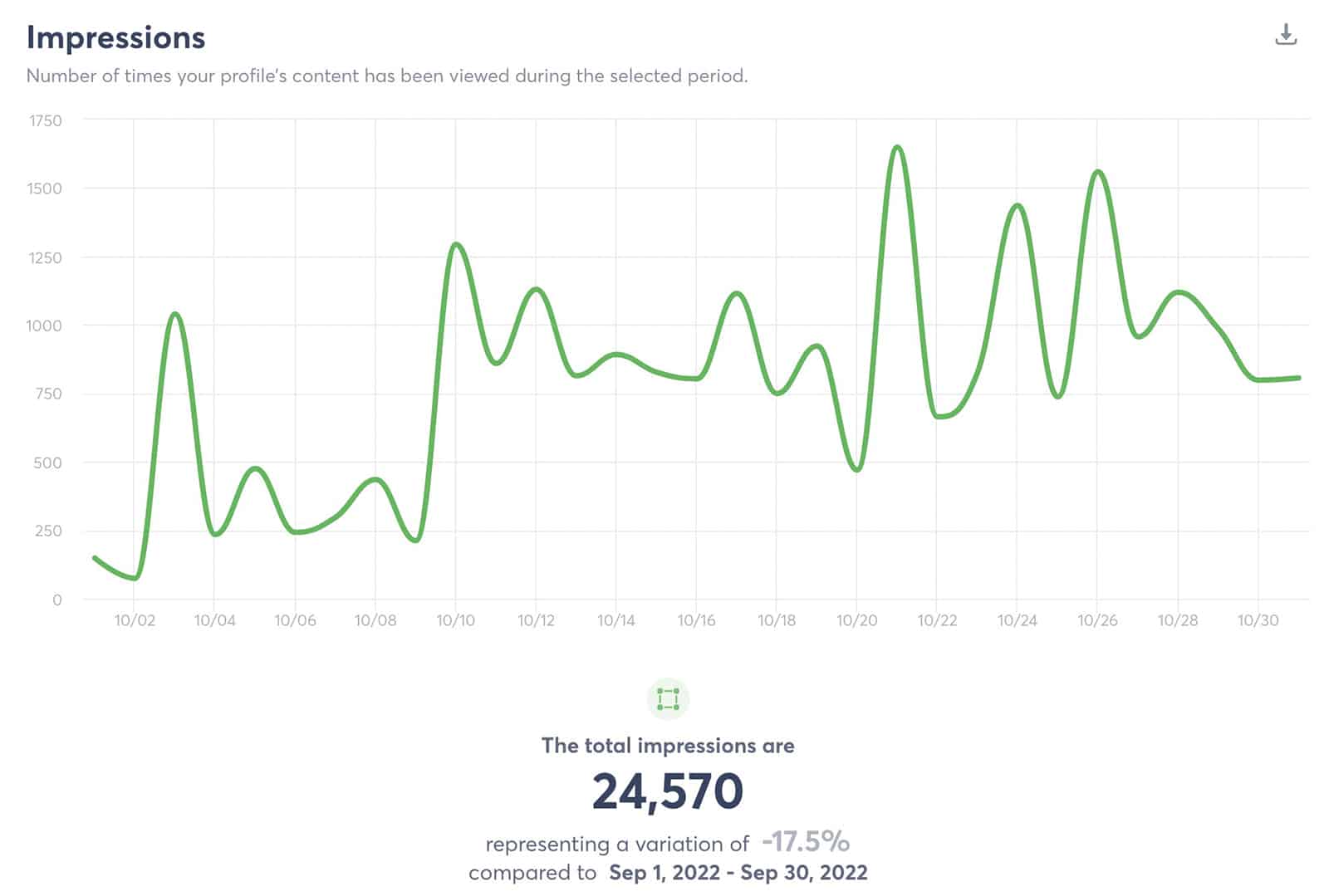 Did impressions increase over the course of the month, or did they spike on certain days only? Can you attribute performance to actions that your team took or content you published?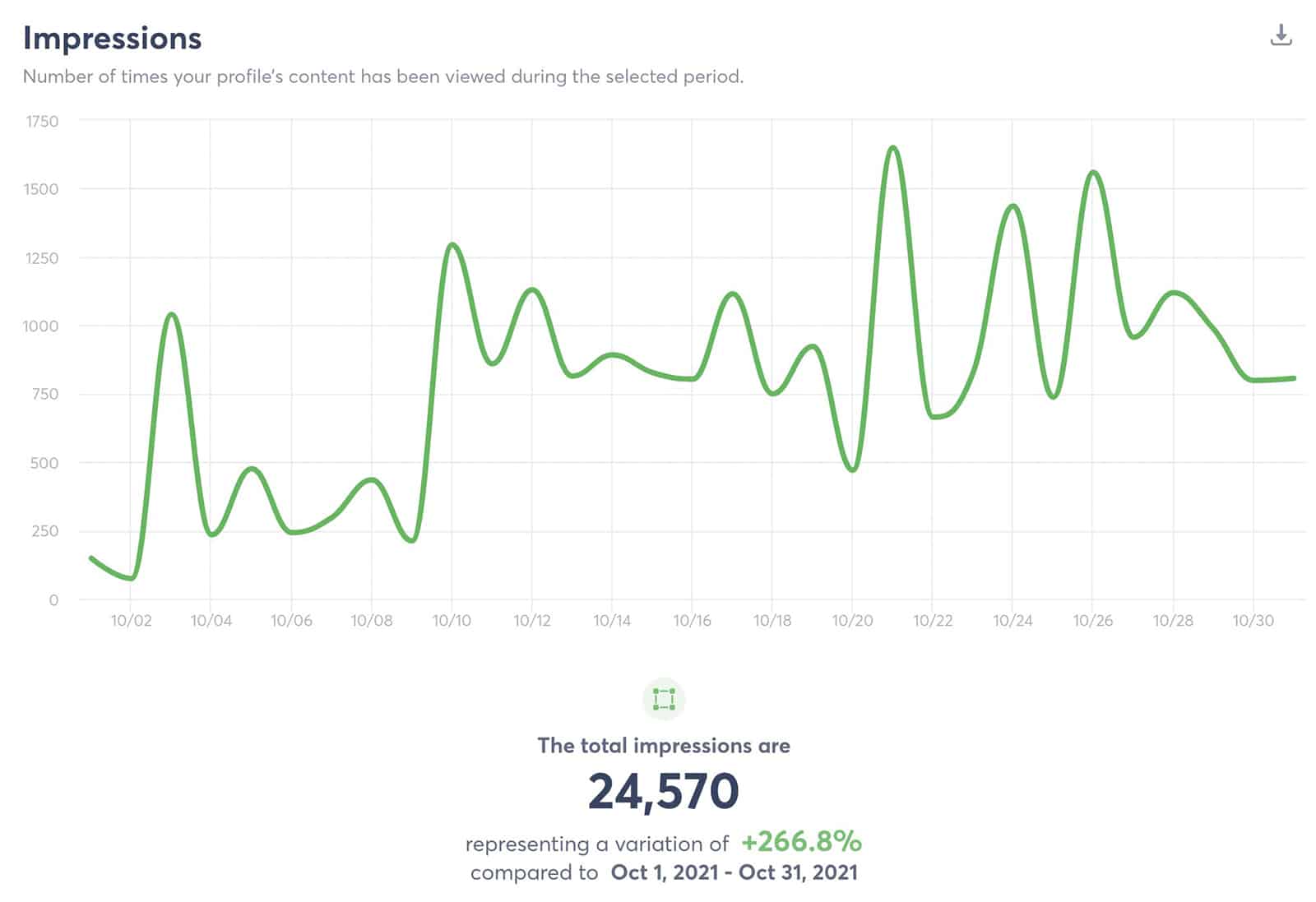 It's also helpful to compare impressions and reach for the current period against the prior period. Agorapulse automatically compares impressions and reach to the prior week or month. But you can manually select a custom period—like the previous year.
Video views
If your organization has invested in video content, then tracking video views can help you ensure you're reaching your audience effectively. In most cases, native insights work best for analyzing video performance.
For example, Meta Business Suite has a Minutes viewed report that tallies all your account's video views and charts them over the course of the week or month. To help you track progress over time, it automatically compares performance to the previous period.
Business Suite also gives you the option to break down views by organic vs. paid, followers vs. non-followers, and other comparisons. With these insights, you can determine the kind of content that helps you reach key goals.
Hashtag interactions
Hashtags can have a significant impact on discovery, especially on social media channels like Instagram and Twitter. By tracking hashtag performance, you can determine which ones improve discovery, boost visibility, and contribute to audience growth.

Agorapulse's hashtag reports make it easy to see which keywords generated the most interactions. Using the list view, you can sort by the number of interactions or the average interactions—both of which can help you identify top-performing hashtags.
Brand awareness
The metrics above can reveal how successful your team has been with attracting followers and distributing content. But has your brand created buzz or sparked conversations? You can answer these questions by measuring brand awareness.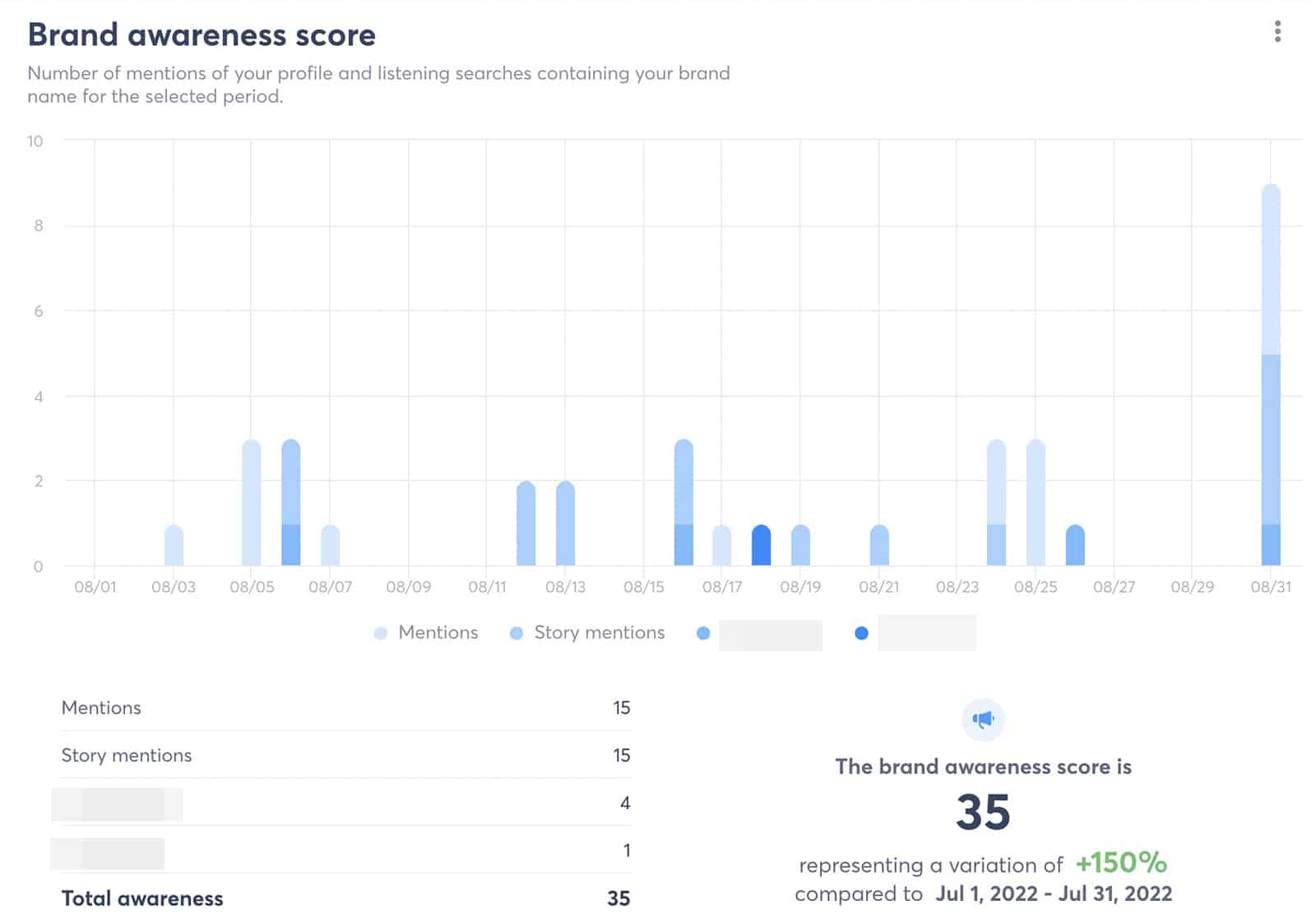 Agorapulse automatically calculates brand awareness based on metrics like mentions and branded hashtags. Using these insights, you can see whether people are talking about your brand—and identify actions that start conversations.
How to Measure Social Media Engagement
Do you want more followers to interact with your organization's content? Measuring social media engagement is helpful for gauging the success of your content.
Likes and reactions
When engagement is a top priority for your organization, measuring likes and reactions is a good place to start. Although likes aren't particularly nuanced, tallying them can help you understand if your audience is responding positively to your content.
For Facebook pages, Agorapulse breaks down reactions by type. With this data, you can get a better sense of the emotions your content elicited—from love to surprise to anger.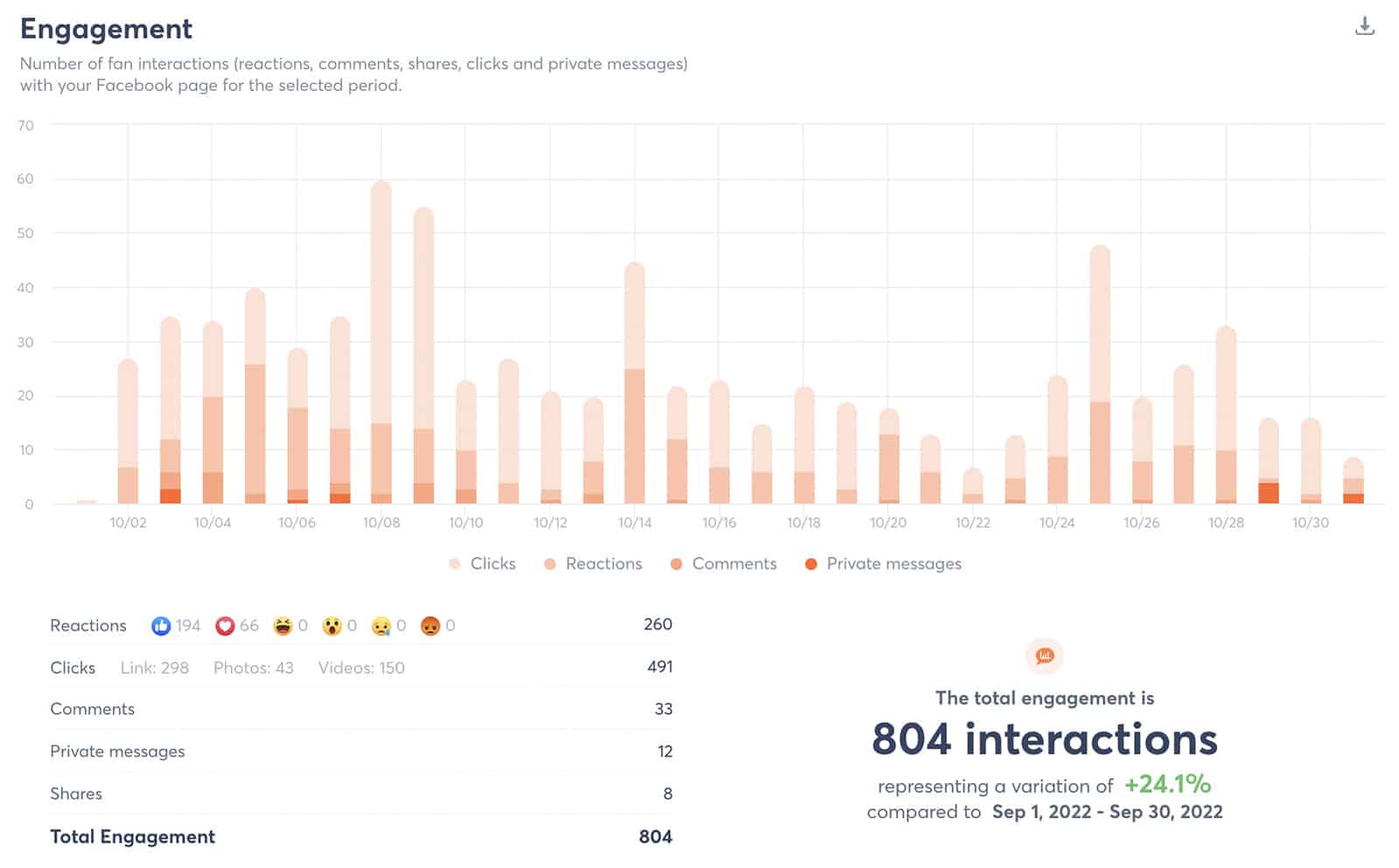 Did you get a ton of crying or laughing reactions on a certain day? You can review the content your team posted to see what prompted the response.
Comments and replies
Measuring the number of comments and replies you received is also a good place to start—especially if you compare the tally to previous periods. But simply counting comments doesn't tell you much.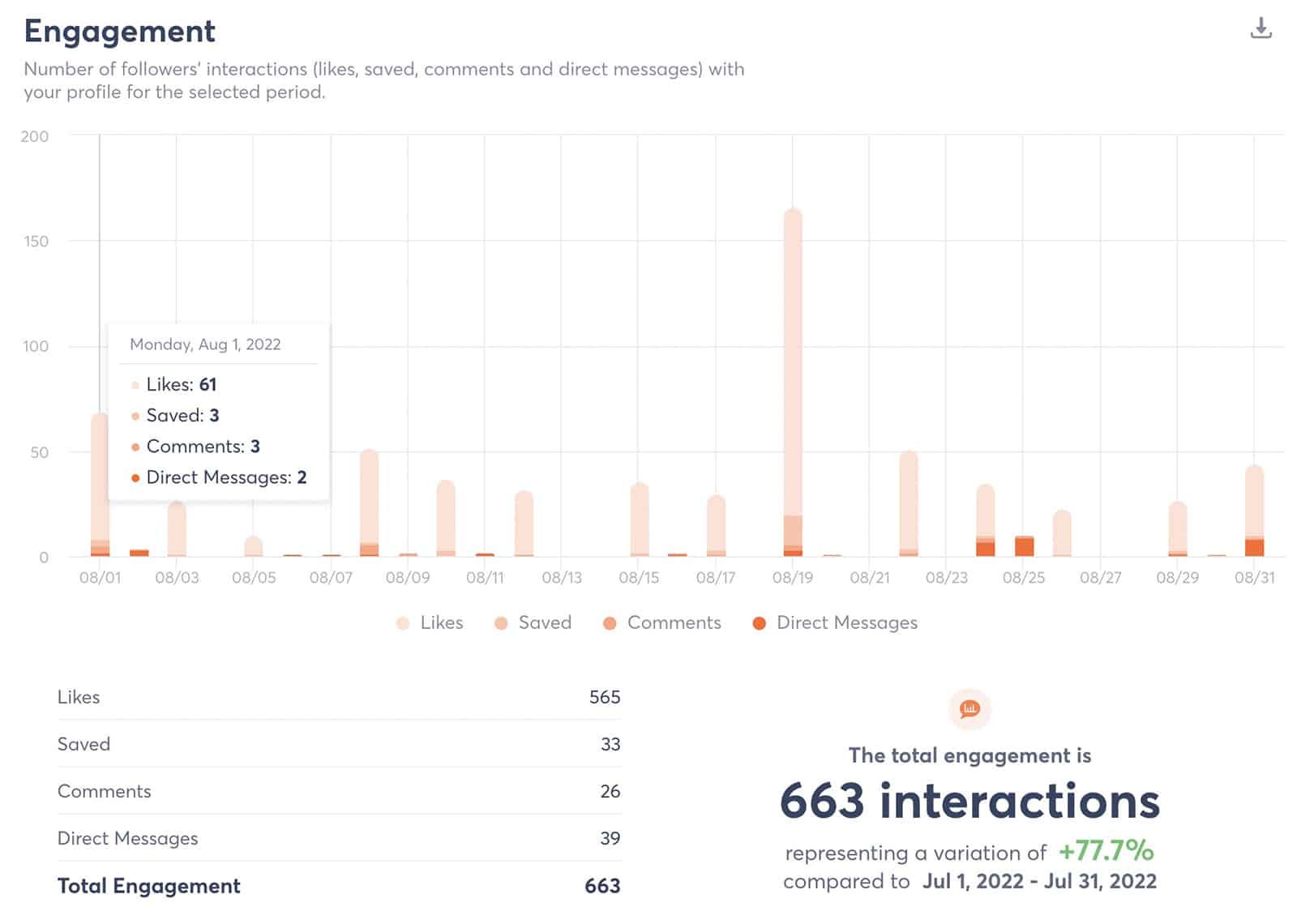 Instead, it's much more helpful to review the nature of the comments your brand received. Categorizing them manually can take a lot of time, but with Agorapulse, you can automate much of the process.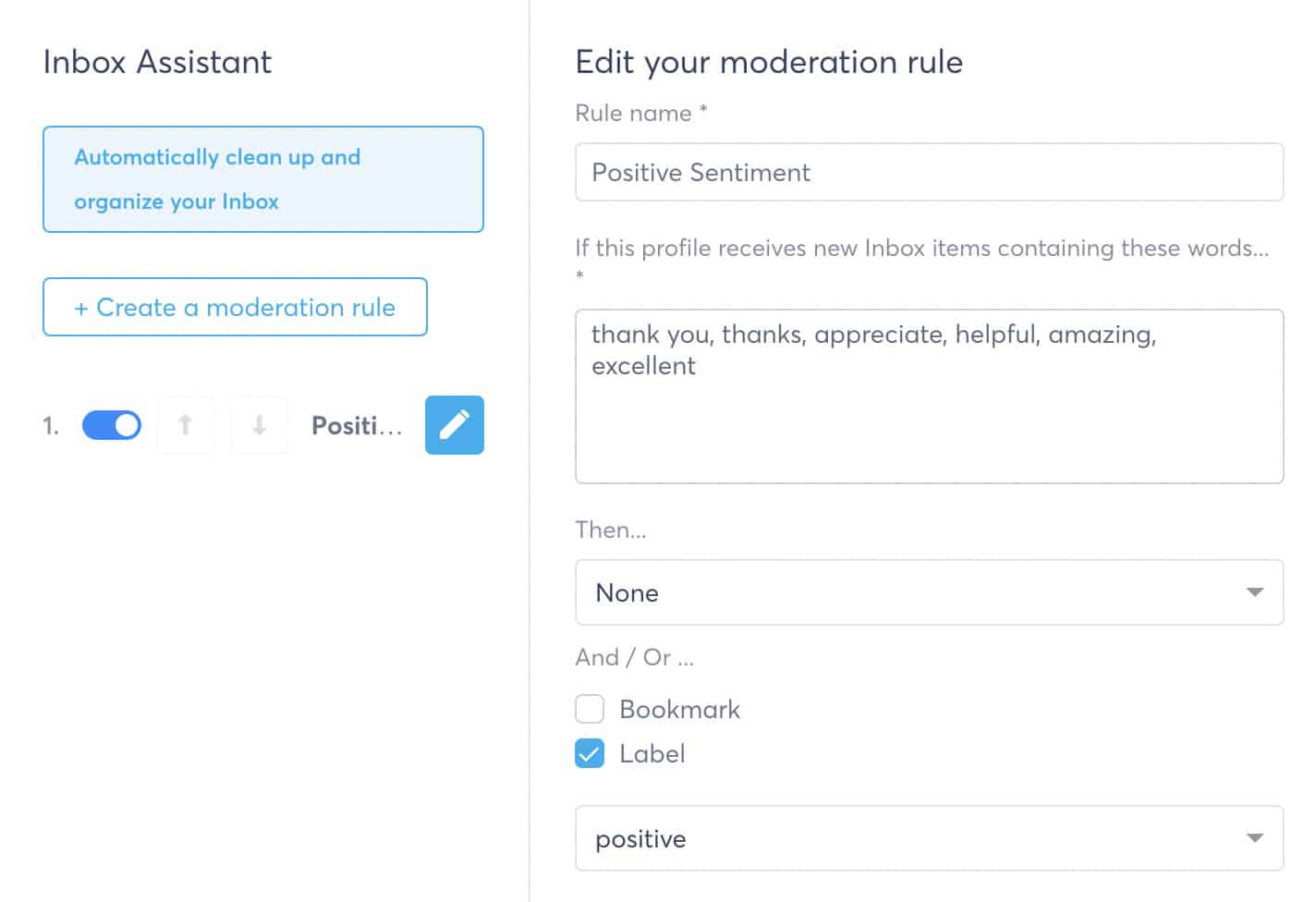 Start by creating inbox labels for the sentiments you want to track—such as Positive and Negative. Then use Agorapulse's inbox assistant to apply these labels to relevant content automatically. Then use Agorapulse's label report to measure sentiment.
Direct messages
Like comments and replies, counting shares and retweets can only tell you so much. By analyzing the content of the messages you receive and the sentiments behind them, you can better understand how your audience perceives your brand and offerings.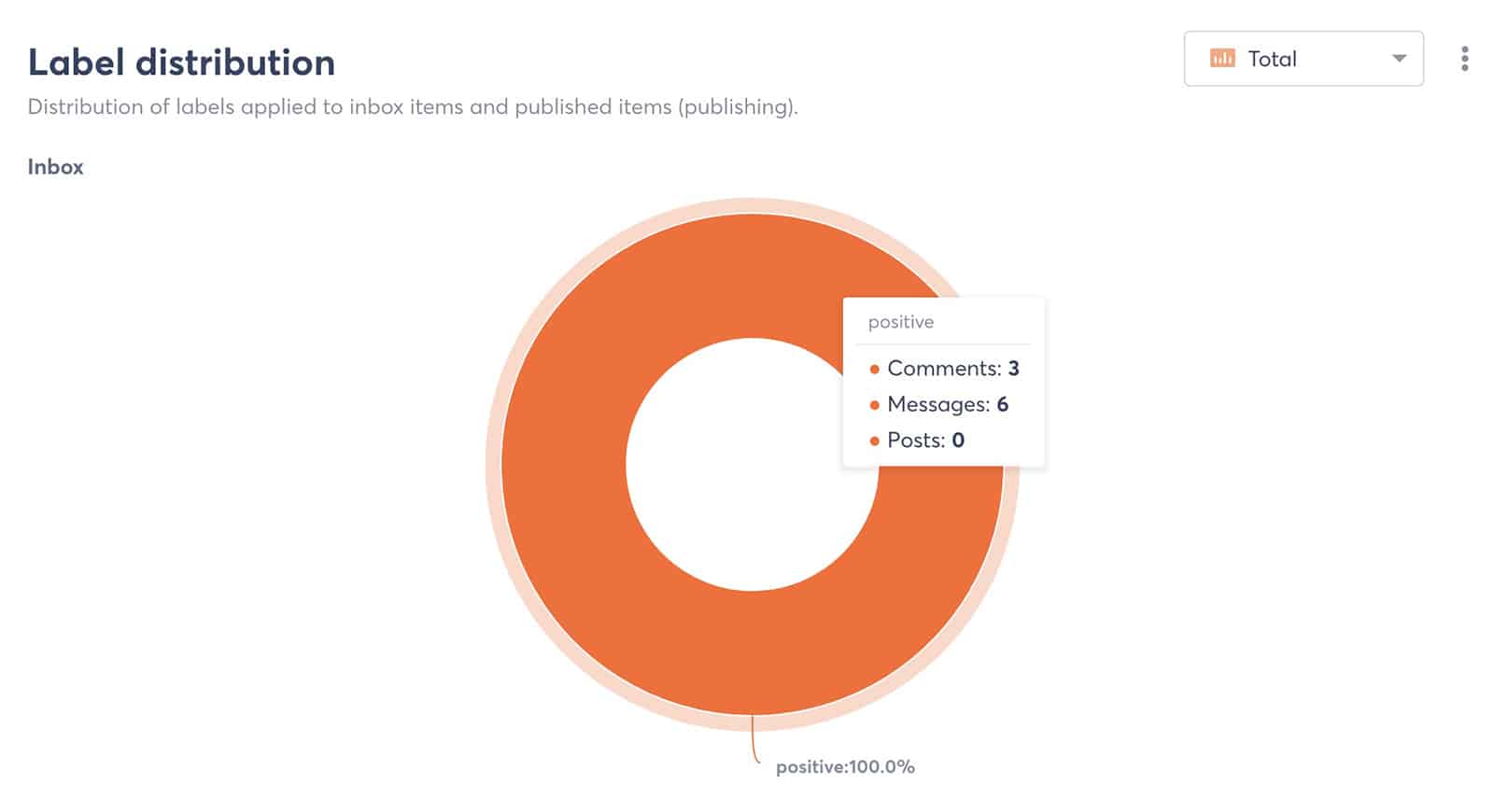 Agorapulse's inbox labels also work with messages. You can use the dashboard's inbox assistant and label reports to measure sentiment efficiently.
Shares and retweets
Are your followers and customers reposting your brand's content to their own timelines? By tracking shares and retweets, you can see whether your audience believes in your brand enough to promote its content.
Link clicks
Is your audience curious enough about your content to click the external links you share? Tracking link clicks can also help you gauge interest in your offers and content.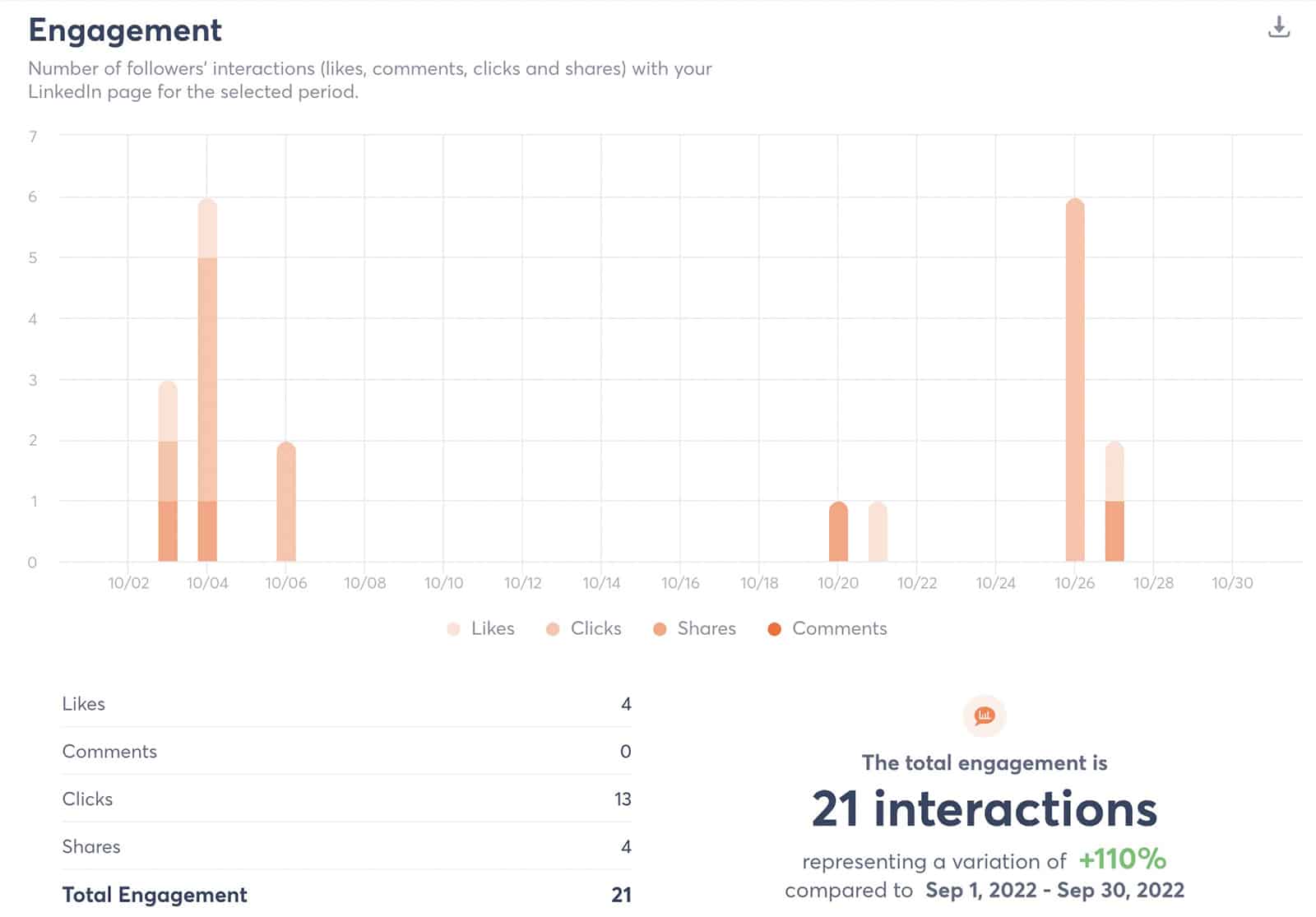 Agorapulse tallies link clicks for channels like Facebook and LinkedIn and charts them throughout the time period you select.
But if you want insight into the content people viewed or the actions they took on your website, you need a tool like Google Analytics.
How to Measure Social Media Content Performance
Wondering what types of posts perform best? With content analytics, you can identify top-performing posts and use your insights to develop better content.
Total engagement
The engagement metrics above can help you assess the health of your social media profiles. But when you want to identify what drives the engagement, you need content performance metrics.
Agorapulse lets you identify top content by total engagement or by metrics such as likes or shares—so you can quickly find the posts that get your audience to interact.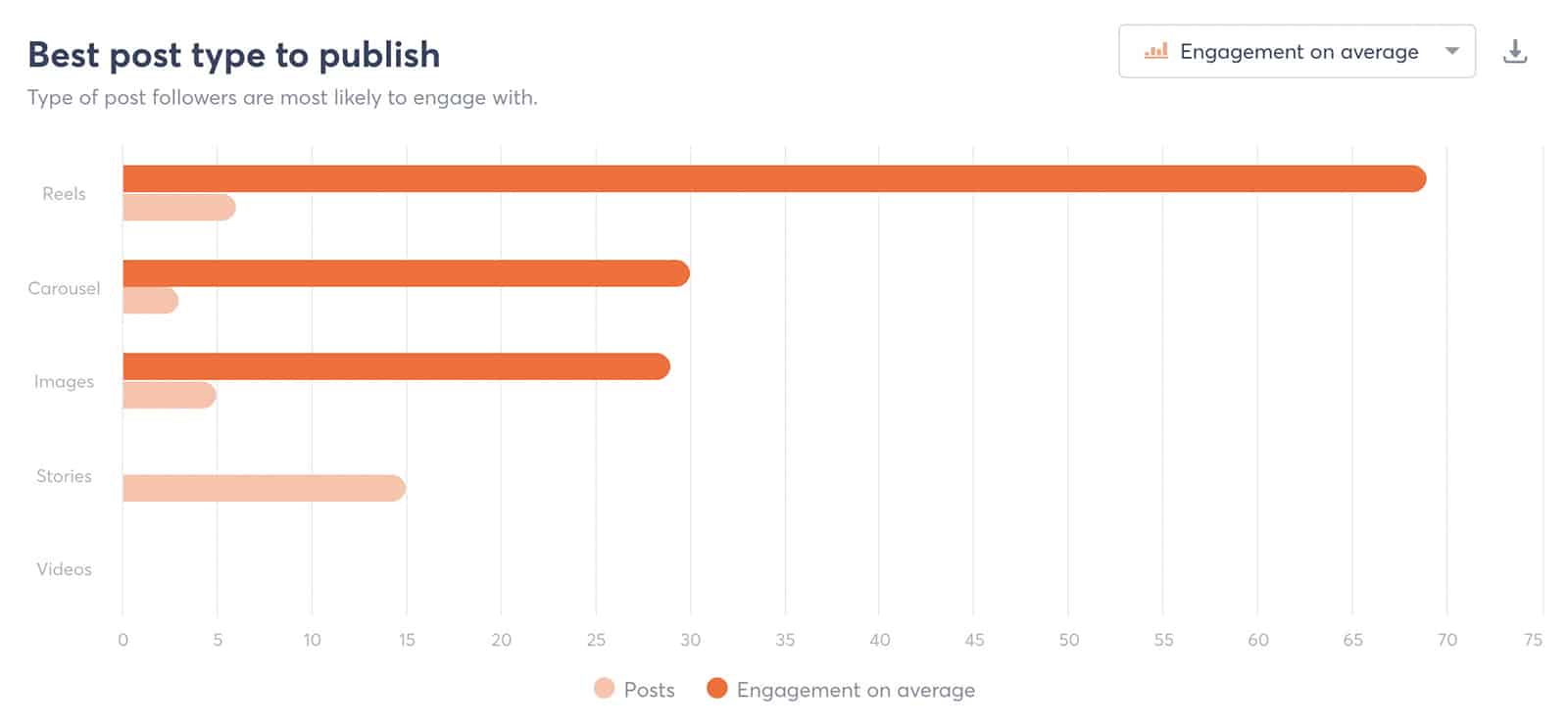 The reporting dashboard also breaks down average engagement by content type. With this information, you can easily see whether short-form videos, image posts, or other types of content lead to the highest engagement. Then you can make better decisions about the kind of content your team produces.
Total reach
Curious which posts your audience is most likely to see in their feeds? By measuring organic and paid reach, you can see which posts connect with the widest audience. Then you can use similar approaches to create more content that connects with your audience.
Video retention
If your organization produces a lot of video content, it's helpful to identify what keeps viewers hooked. Video retention metrics reveal when viewers tend to stop watching, which can help you understand how to create better content.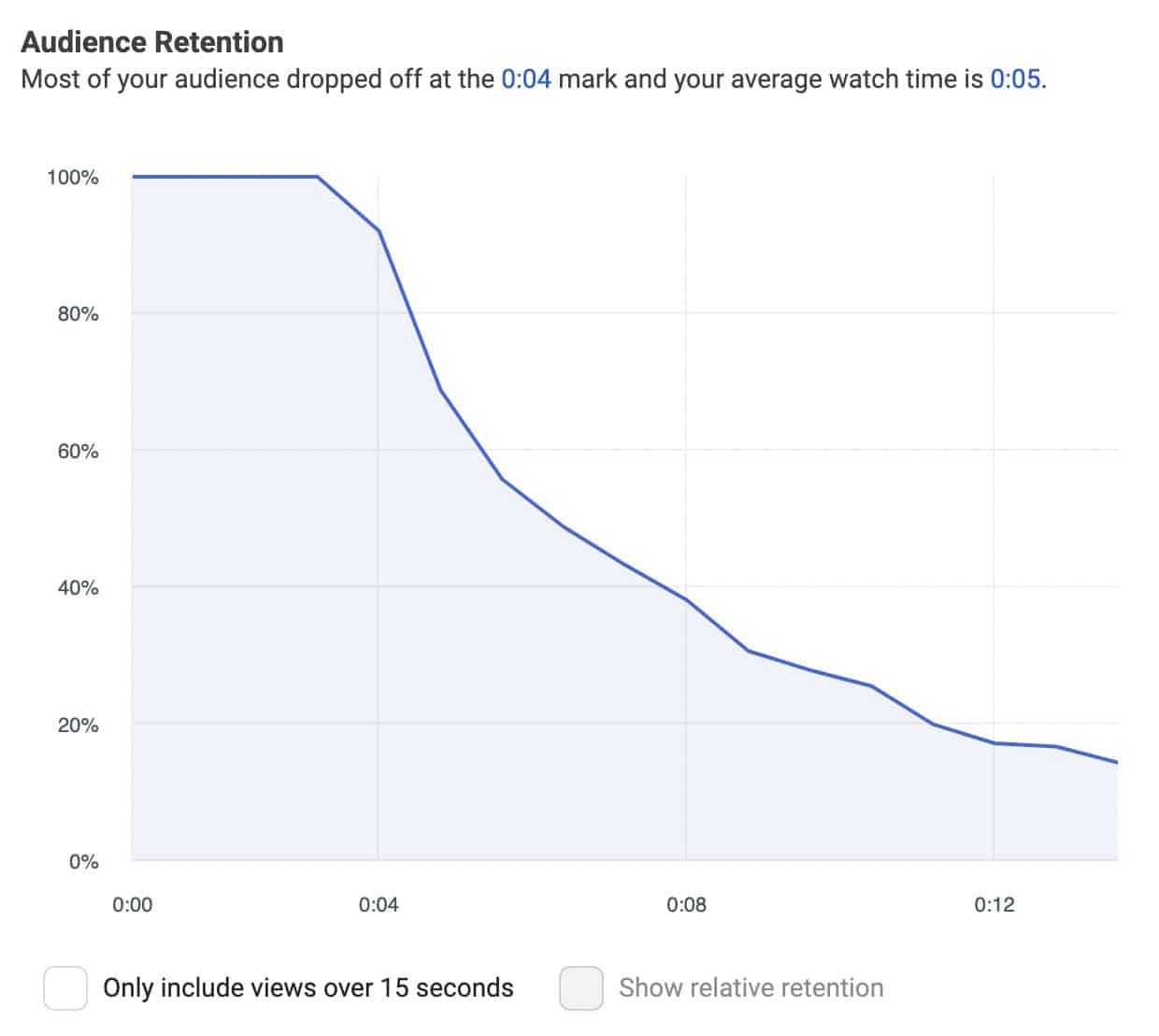 Business Suite has in-depth retention metrics for videos, with data like drop-off times and average watch times. Business Suite also shows how viewers tend to find your video content—which can help you learn whether recommendations, shares, followers, or other sources tend to attract the most viewers.

How to Measure Social Media ROI
Do you want to make more sales or drive more customers to your client's website? Measure social media ROI to prove the value of your work.
Visitors
With Google Analytics, you can easily monitor all users on your site. Once you connect your Google Analytics account to your Agorapulse dashboard, you can focus only on visitors who click over from social media channels.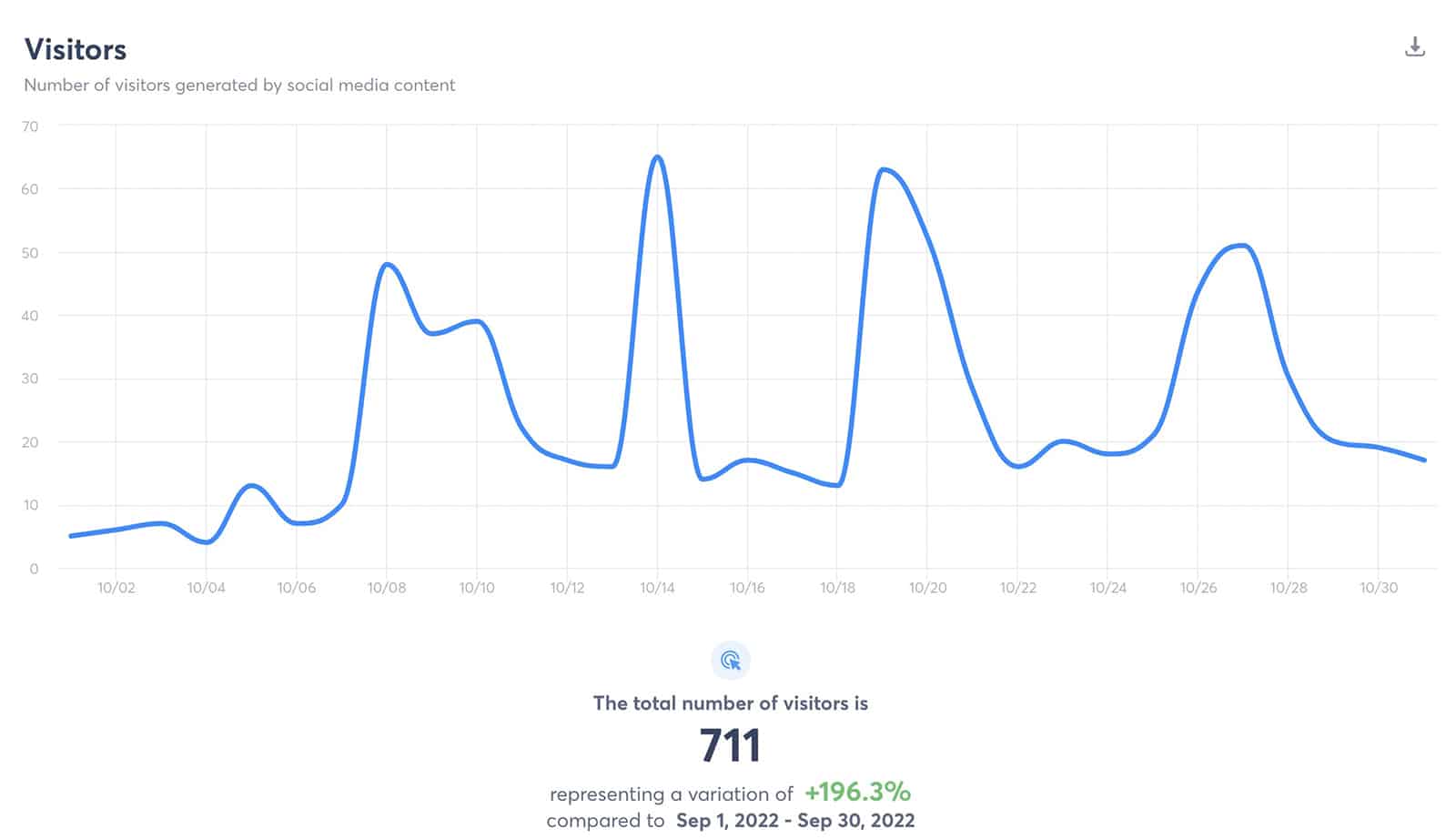 In addition to charting all your social media visitors, Agorapulse breaks them down by campaign, landing page, and channel. With this data, you can quickly identify what's driving all the clicks to your website.
Transactions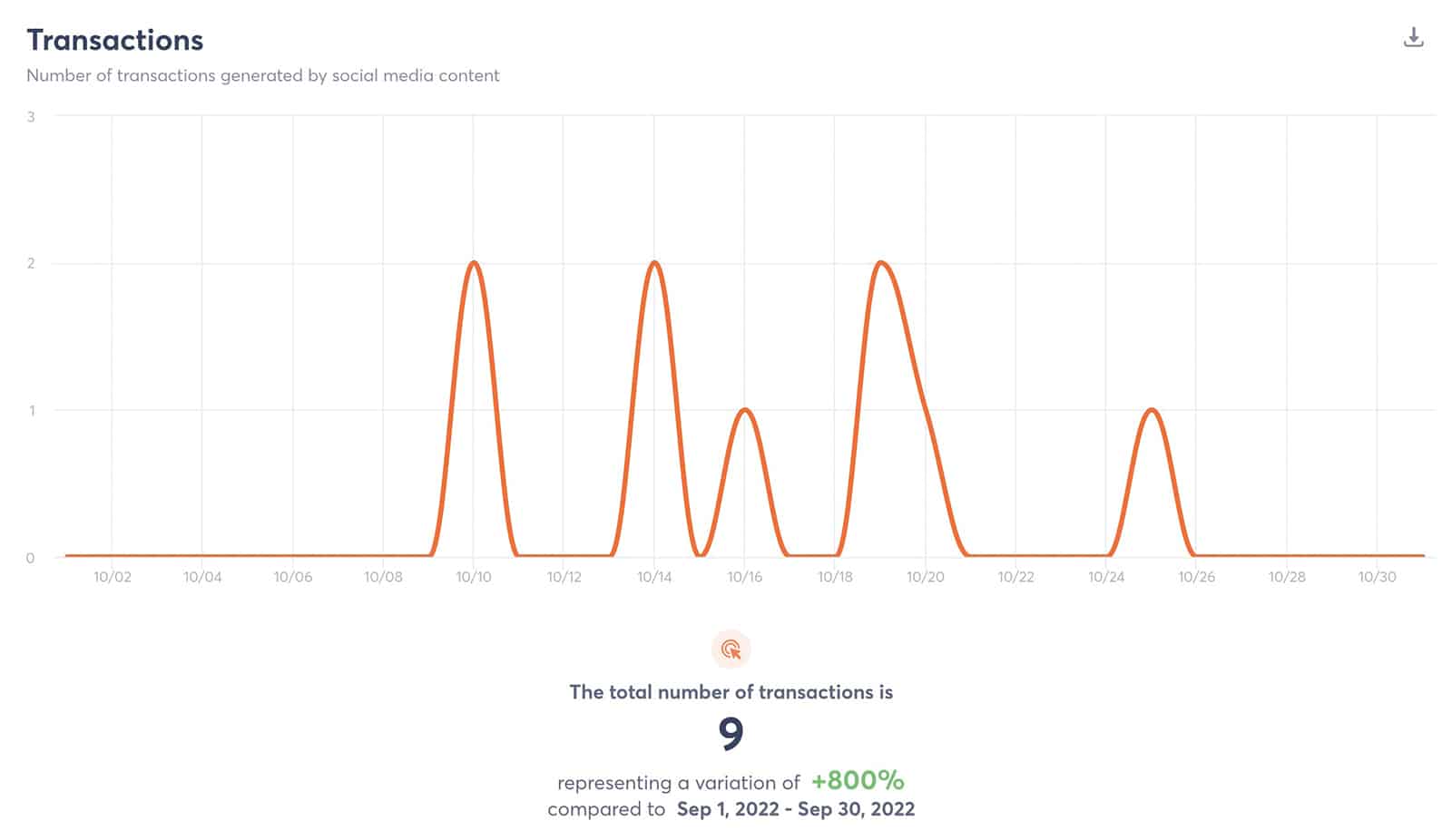 Curious which channels, campaigns, or landing pages have contributed to the most ecommerce transactions? Agorapulse offers similar breakdowns for transactions so you can see what drove the most purchases.
Revenue
If not every your customer purchase is created equal, you'll find Agorapulse's revenue charts helpful. With this information, you can see exactly how much revenue each social channel, campaign, or landing page generated.
If you use Agorapulse's built-in tracking tools, you can collect even more detailed data for social media measurement. When you publish a post with a link using the Agorapulse scheduling tool, enable campaign tracking. You'll need to create a campaign and adjust the UTM parameters as necessary.
In addition to tracking visitors, transactions, and revenue, Agorapulse identifies the content type and top content for ROI. The ROI dashboard also attributes metrics to the team member who published the post—which can help you figure out who's providing the most value for the brand.
How to Measure Community Management Metrics
Does your team want to deliver better customer service or attract a more engaged community? With community management metrics, you can track progress efficiently.
Replies
If you use social media measurement tools to track engagement, then you already know how many comments and messages your brand has received. But how many did your team respond to—and what's your response rate?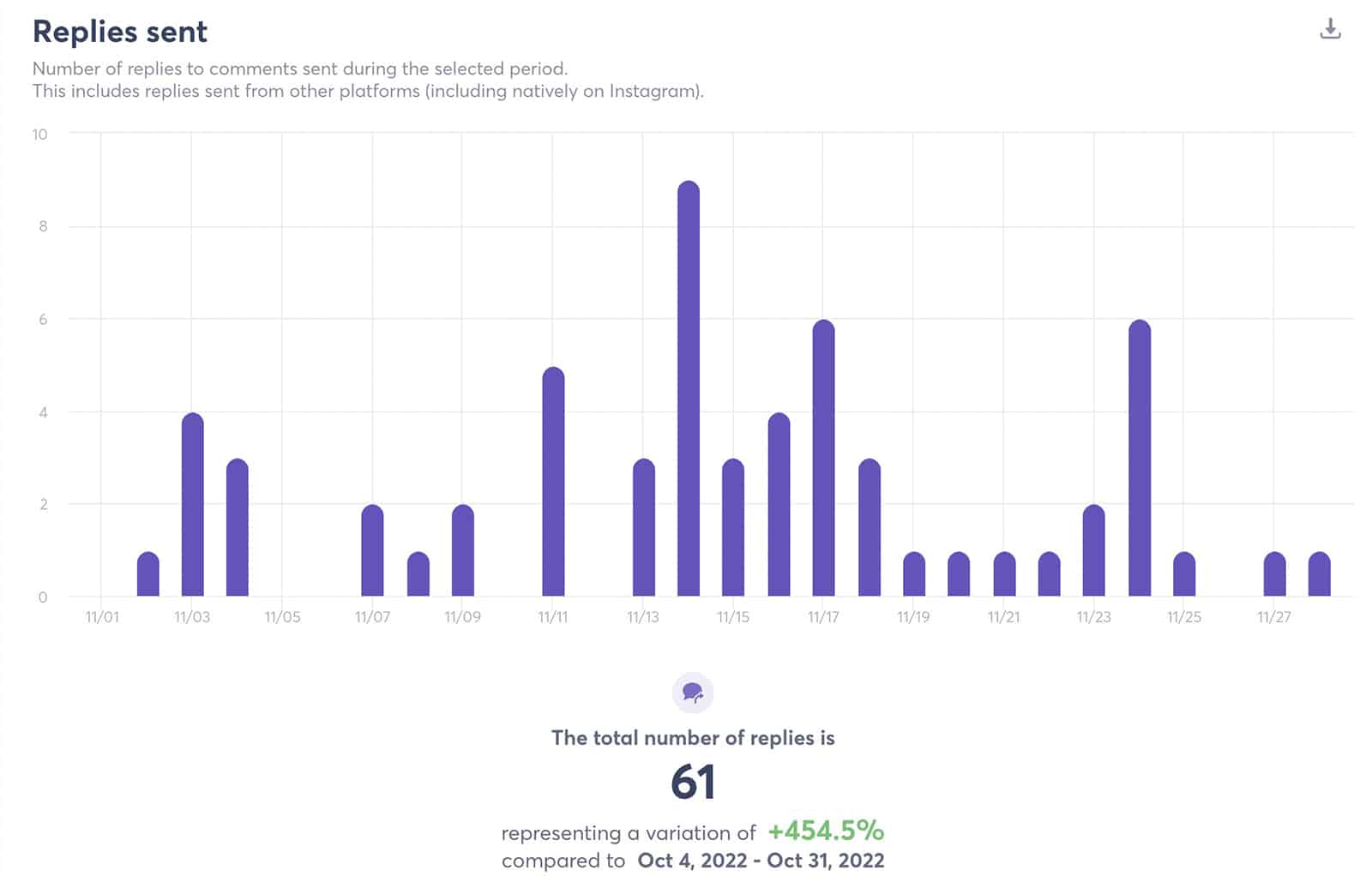 Agorapulse automatically tracks the number of replies your team has sent, including those that you sent in the Instagram app or via Business Suite. You can use the daily chart to see when your team sent the most replies. Going forward, you can ensure your team provides adequate coverage on the busiest days.
You can also use the automated comparison to see how replies have changed over time. If replies are increasing rapidly, it's a good idea to make sure you're using all available inbox assistant tools—like saved replies, assignments, and automated reviews.
Items reviewed
Wondering which team members are handling the majority of your community management? You can use Agorapulse's Reviewed items report to see the total tally, broken down by team member.

Agorapulse automatically factors in any inbox assistant activity. With this data, it's easy to see who's done the most manual work and determine how much your inbox assistant settings have helped.
Response time
Want to get that Very responsive badge on Facebook? Committed to handling customer issues more quickly? By analyzing response times, you can make sure your team is on track.

Agorapulse tracks average response times for your entire team and for individual team members. You can use these insights to reward top performers, incentivize slow responders, and keep everyone on the same page.
Wrapping Up What We Learned About Social Media Measurement
As you can see, there are plenty of options for tackling social media measurement. By referencing your team's marketing goals, you can zero in on the metrics that matter to your organization. That way you can avoid wasting time on vanity metrics and focus on making greater progress toward key goals.