College life may look a little different this summer and fall due to the pandemic. But what won't change is the desire for meaningful interactions between the university and its students.
That's where social comes in! Check out these tips about social media for universities.
If you're working in university administration, you're likely already hyper-aware of the fact that a large majority of your school's students are glued to their phones daily.
Students are frequent users of multiple social media platforms and often use a combination of social platforms that include Facebook, Instagram, YouTube, and TikTok at the least.
Some schools may view social media as a distraction from students' education. But social media is actually a powerful tool that can be used to keep your students engaged and excited about college.
If your school or your university client is regularly doing the work to promote social engagement, it very well could drive in-person engagement, too.
In this post, we're going to take a close look at several social media strategies that universities can use to increase student engagement.
1. Provide valuable resources and updates regularly
You want to give your students a good reason to follow you on social media. Providing valuable, relevant resources and updates that they need to know is a great reason!
An increasing number of students turn to social media platforms (particularly Facebook and Instagram) to look for key updates about brands, businesses, and organizations of all kinds.
Your university is no exception.
The coronavirus showed us this clearly … Even with organizations sending out emails, users were looking for public, frequent updates on social media.
Many schools have been great about offering updates (including safety guidelines, new restrictions, and precautions being taken) during the pandemic. The University of Central Florida even posts updates about employees returning to campus for students to see.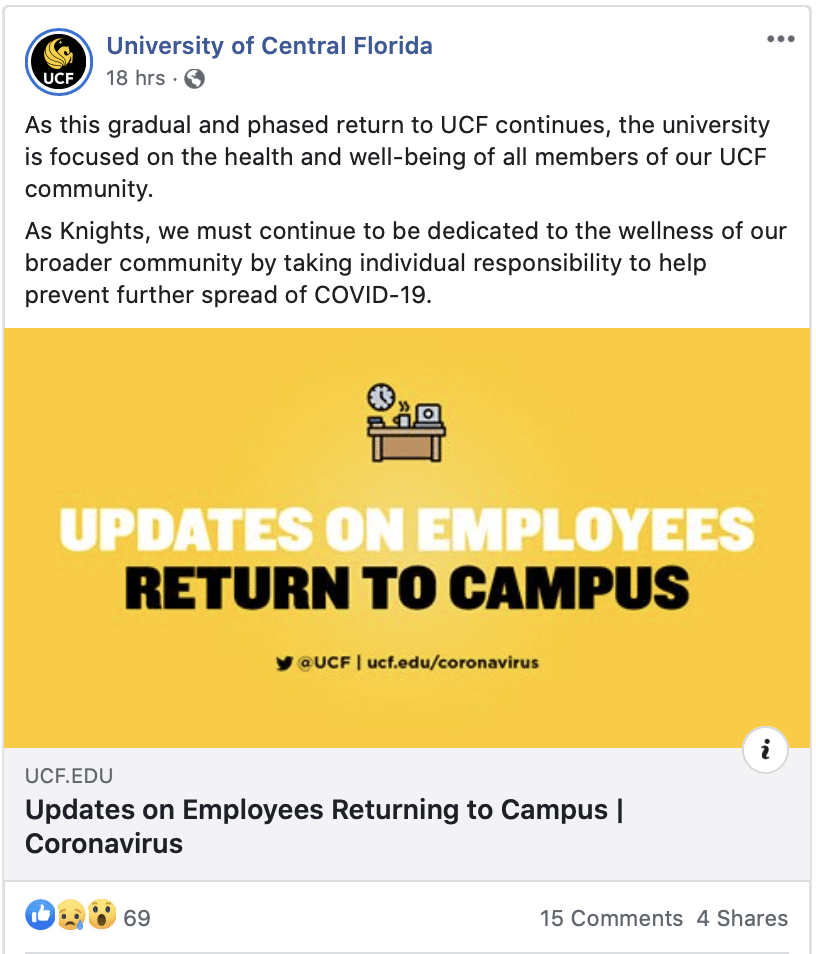 Even outside of crisis communications, though, updates and resources from universities are important to students.
Social media managers of universities can remind students about:
Free tutoring sessions
Counseling sessions
Health clinics
Include links in your social media posts about where students can learn more about the college or set up their appointments. Post the school's games and events schedule as soon as you have it, and immediately announce what events will be headlining at homecoming events as soon as you know. Talk about the painting of new murals, road closures, and construction around campus. Have your admissions department announce when acceptances will be released.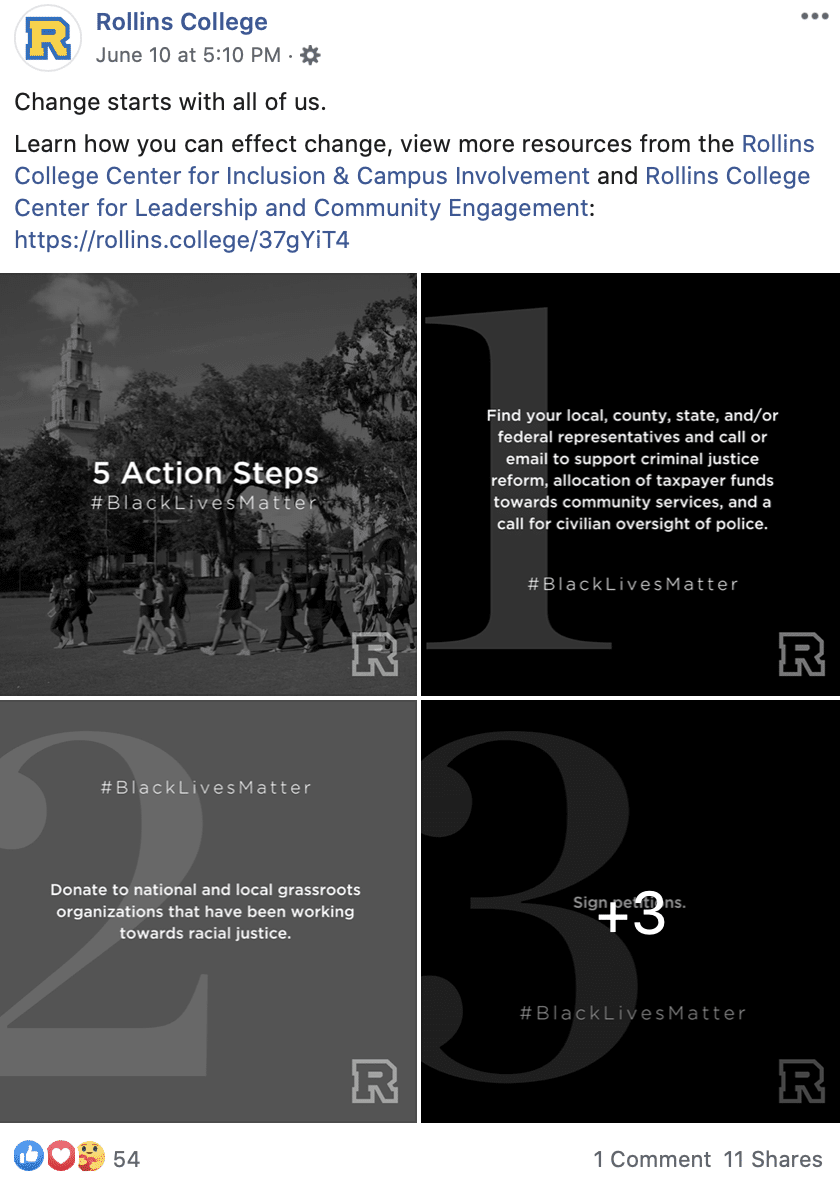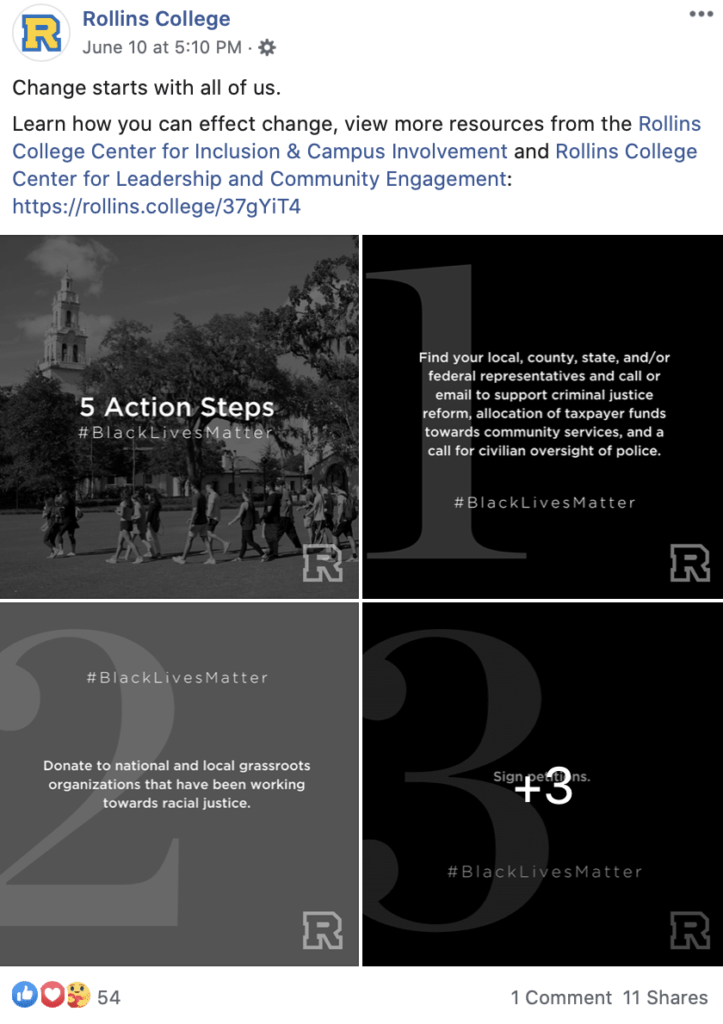 You want announcements to be made online, where they can be engaged with and shared, helping you generate hype and interaction with your student body.
Get your FREE demo from Agorapulse!
2. Create opportunities for students to ask questions via social media
If you want to keep your students engaged, give them an opportunity to do so! Social media, after all, is most beneficial for everyone involved when actual social interactions take place.
Social media engagement helps you build a relationship and also boosts your content in social algorithms. When Facebook, Instagram, and Twitter see that a large percentage of people are interacting with your content, they'll see it as important and relevant. Your content will then show up higher in users' feeds.
Use social media to encourage college students to ask questions and to discuss answers. You can end posts with prompts like "What do you think?" or "What are you most excited for when fall season starts?" to encourage conversations. You should also make a point to respond to as many user comments as possible, especially if they're questions.
You want your students to know that you care about them and that you'll be responsive on social media. If they don't know this, they won't bother engaging with your university.
College Case Study: Lone Star College-Montgomery's Social Now Shines Brightly With Agorapulse
A great way to give your students (both current and prospective) a chance to ask questions is to host regular Lives. Facebook and Instagram are the two best platforms for this, but Twitter also works. Have an agenda beforehand that you want to discuss (like about the admissions process, or housing guidelines), and make sure that you answer student questions as you go. If there are any questions you can't answer, go back and address them after the fact.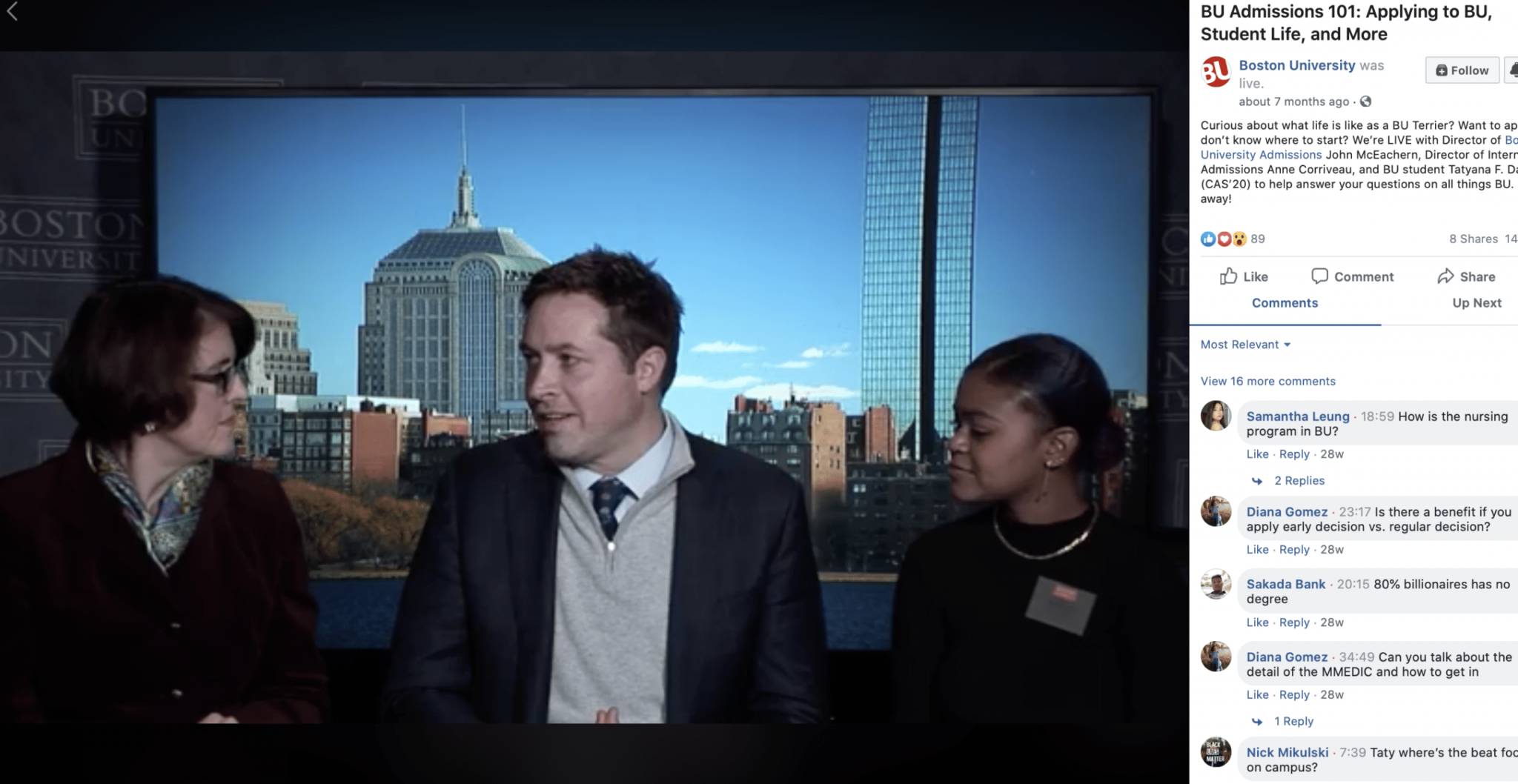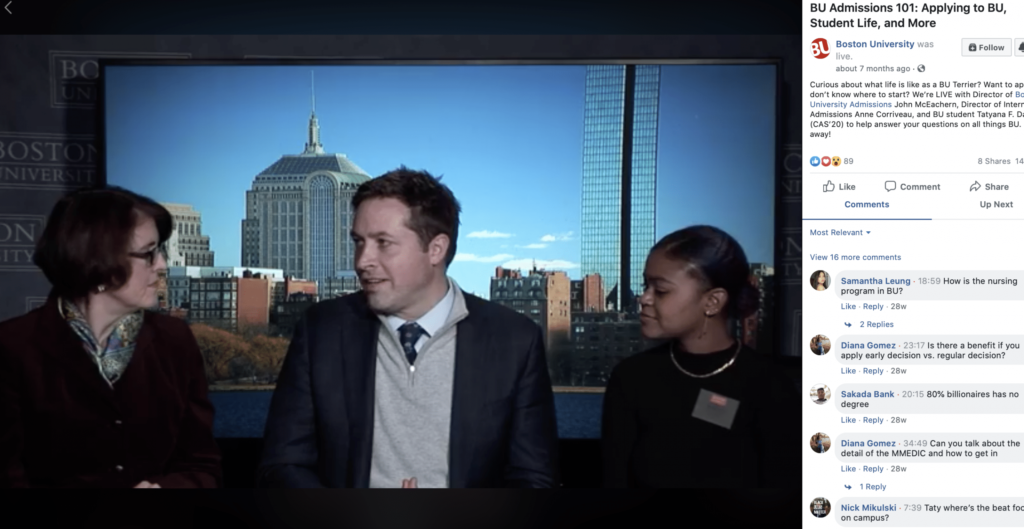 Always share your Lives once they're over, so all students can benefit from the discussions and questions answered.
Related Reading: How to Transform Your College's Social Media Strategy
3. Establish Groups on Facebook
Facebook Groups are one of the best tools any university can be using right now to increase student participation and engagement on social media.
Why is it so successful? First, groups have outstanding priority in algorithms. Group members will see posts from your group at the very top of their feeds, significantly more frequently than they'd ever see posts from your Page. Groups also create a stronger bond between members and the group creator alike.
You can create multiple different types of groups, but your school should be connected to (and manage) most of them.
Florida State University, for example, offers private groups for every new incoming batch of freshmen. Here people can meet new friends ahead of time, ask questions, and share resources and excitement. These groups stay live long after the freshman year, too, keeping this group open.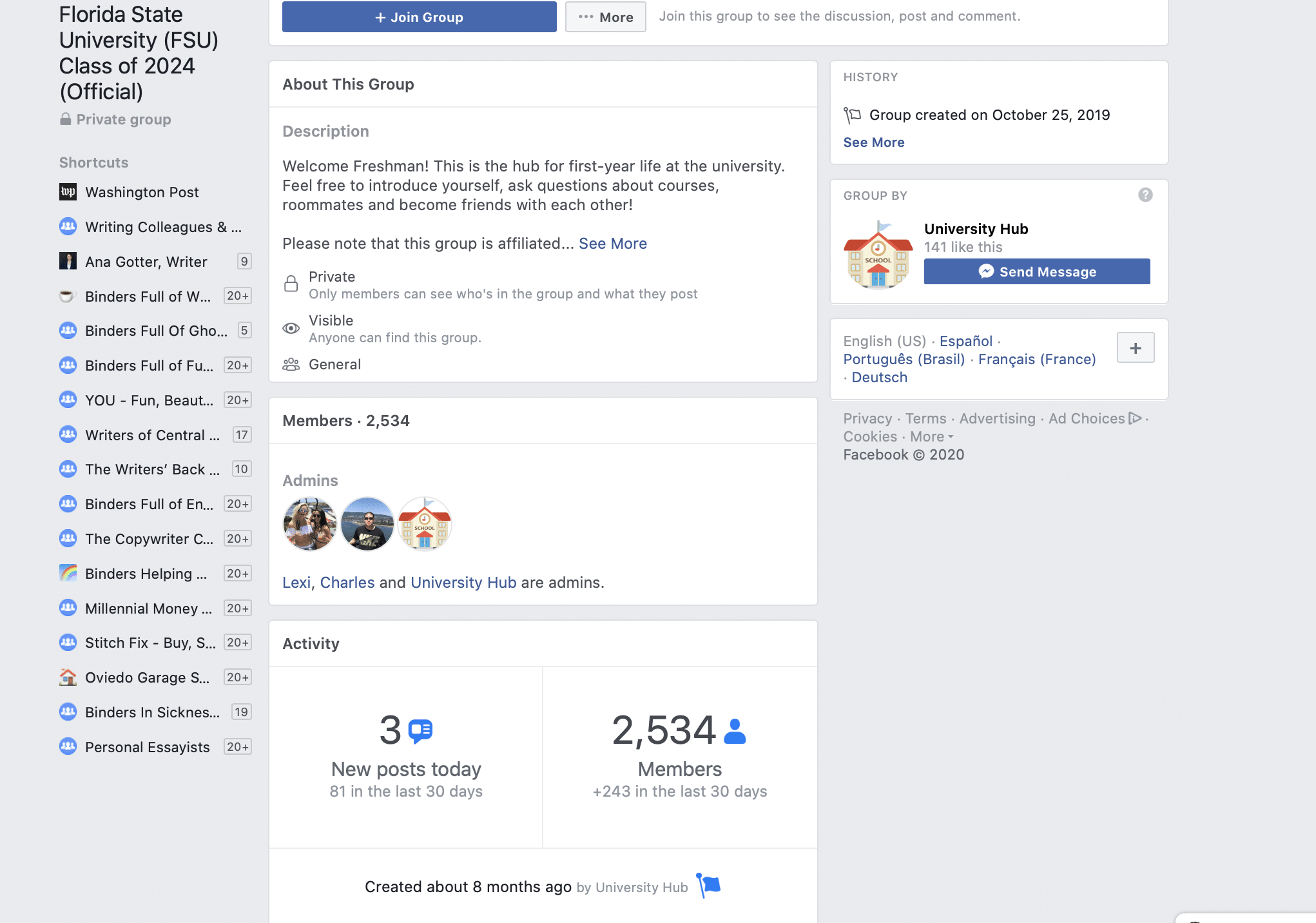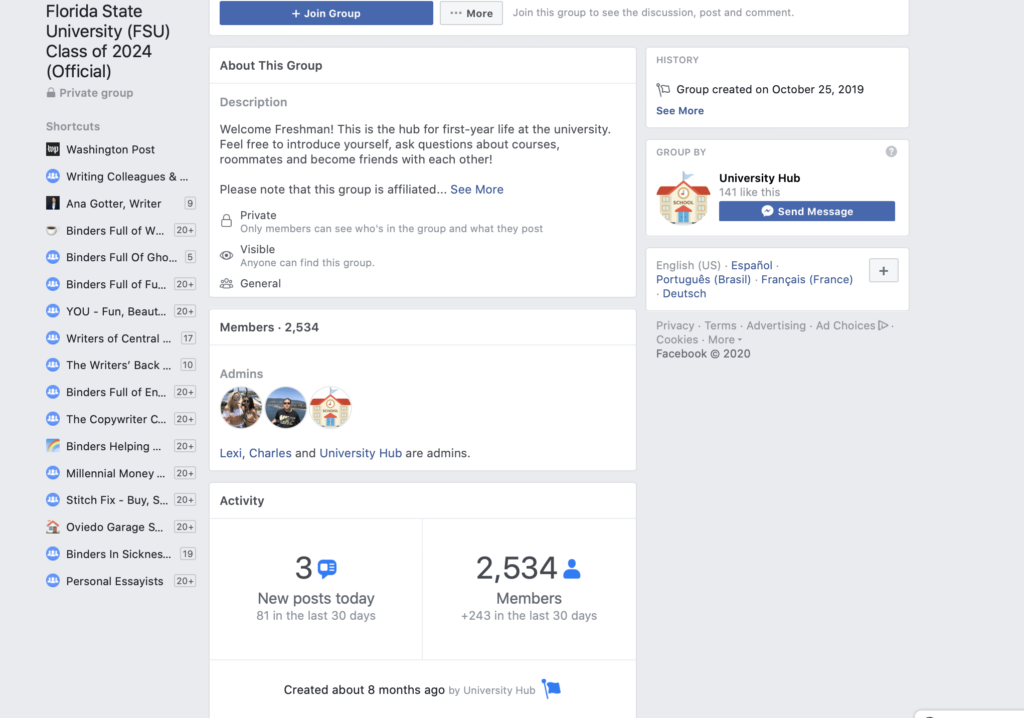 You can also set up groups for different areas of study. There are often groups for Women In STEM, or some for creative writing graduate students.
In addition to these core groups, consider encouraging clubs to set up their own individual groups, too. For example, the acapella group, the on-campus newspaper, and football teams might all love a semi-private space.
An important part of student life is to ensure that all students feel included and involved. Groups can help facilitate that while also centering on your university in a positive way. Make sure that you're heavily moderating these groups (check-in daily), so things don't go sideways. The last thing you want is to appear to tolerate behaviors like hate speech or misinformation.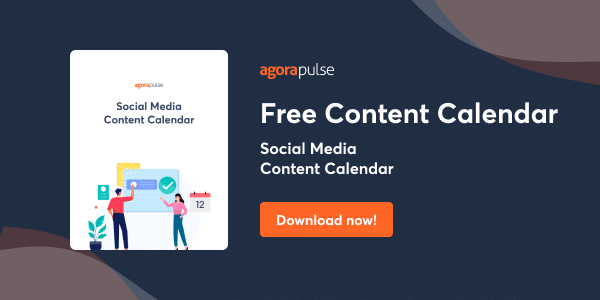 4. Share current student spotlights and student-created content
Want to keep students active on your social profiles? It definitely helps if you feature some students on the university's social channels!
Updates and information are extremely important, and they should be a core part of your social media work. But that doesn't mean posts should be all business and housekeeping, especially if you want students to be engaging with your Pages regularly.
Featuring alumni on your university's social posts can build authority and get students excited about your programs, but featuring current students is how to get them truly engaged and participating with you on social media.
For example, announce award winners. Share UGC and tag the individuals who created it originally. Have students create videos talking to other students. This helps reflect the true experience of what your school is like, and your students will love it.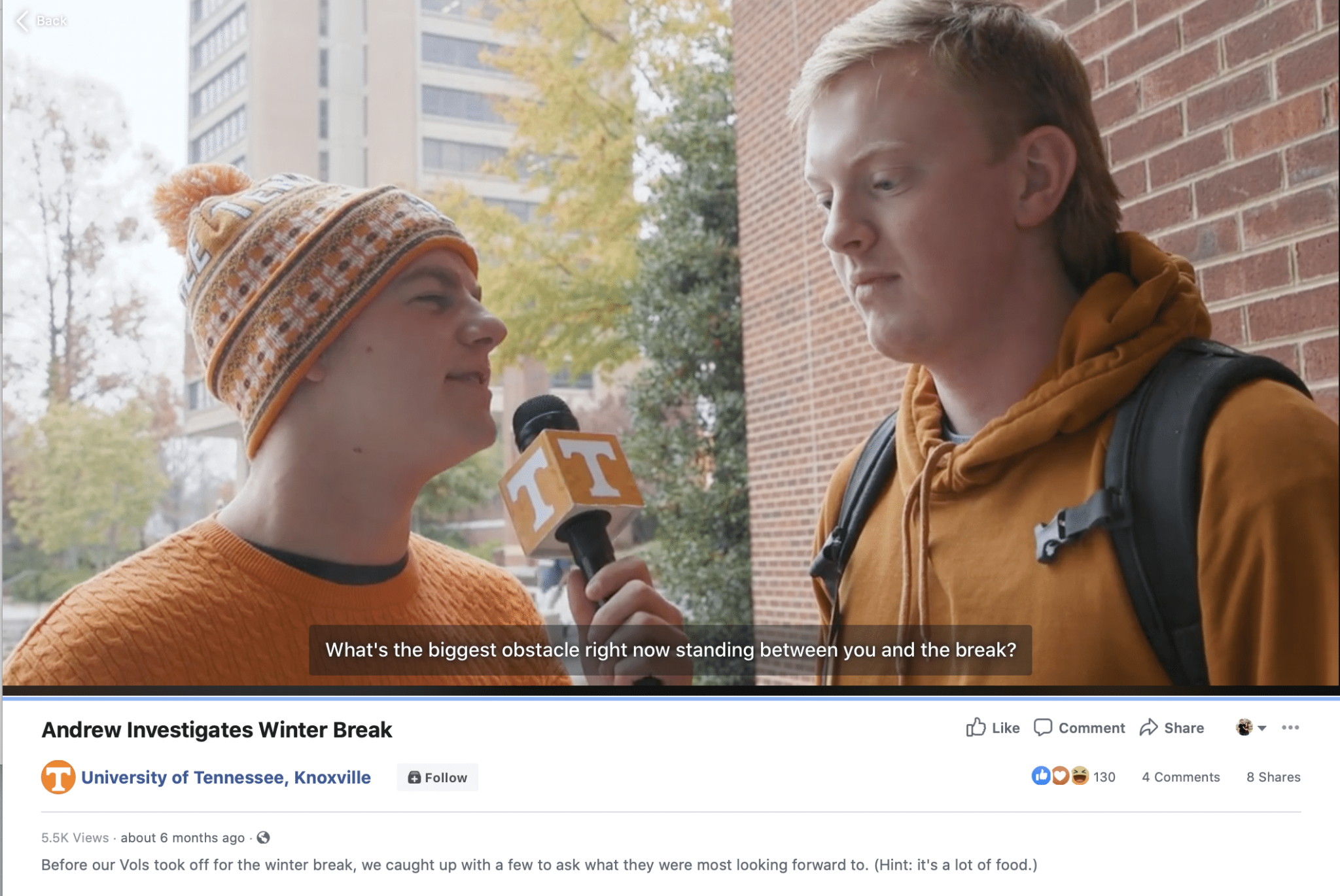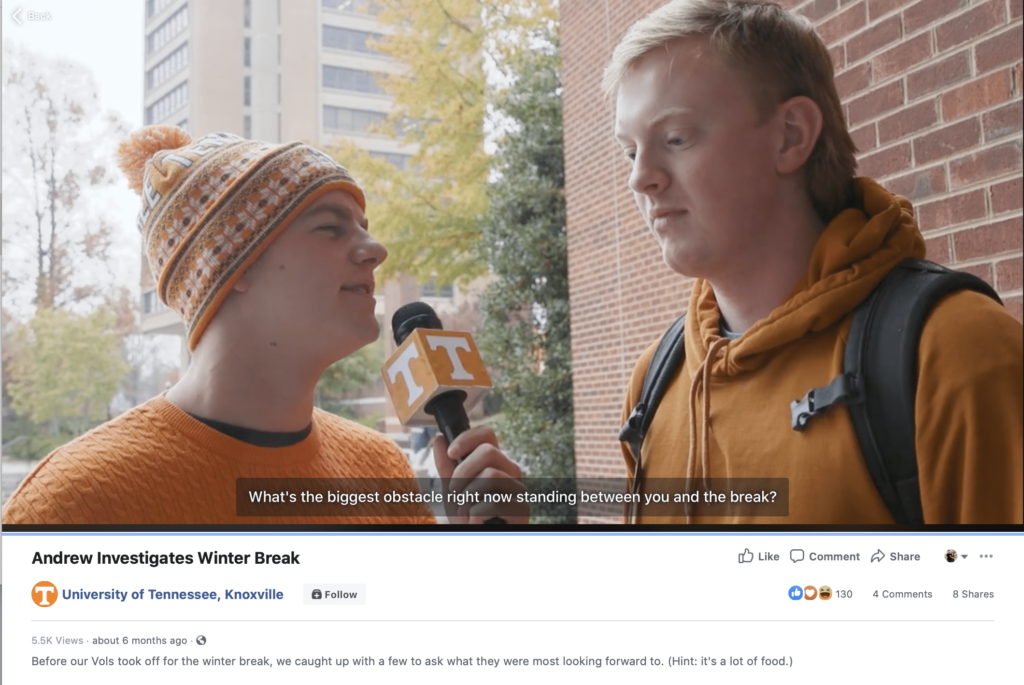 The University of Tennessee, for example, allows its student production team to interview other students for videos discussing things like what to do on campus. In the example here, one of their reporters talks to students about the then-upcoming Winter Break. It's funny, and it received more engagement than many of their other videos.
5. Regularly promote campus events
On-campus events may be slowed down for a little while due to COVID. In general, however, one thing that most students always want to find out more about is what's happening and where. And most universities are typically overflowing with student activities.
Events include:
Job fairs
Housing fairs
Alumni events
Student showcases
Club meetings
Acapella shows
Student plays
Concerts
Sporting events
Comedians
Movie nights
And so much more.
So many events! They can be a lot for anyone to keep up with, so regular promoting on social media gives your students a reason to follow you carefully and stay informed. FOMO is a real thing, after all, especially in younger generations.
Mention each upcoming event on your social media profiles, and make sure you add a link when you can. (On Instagram, using the Stories feature to do this is a good workaround.)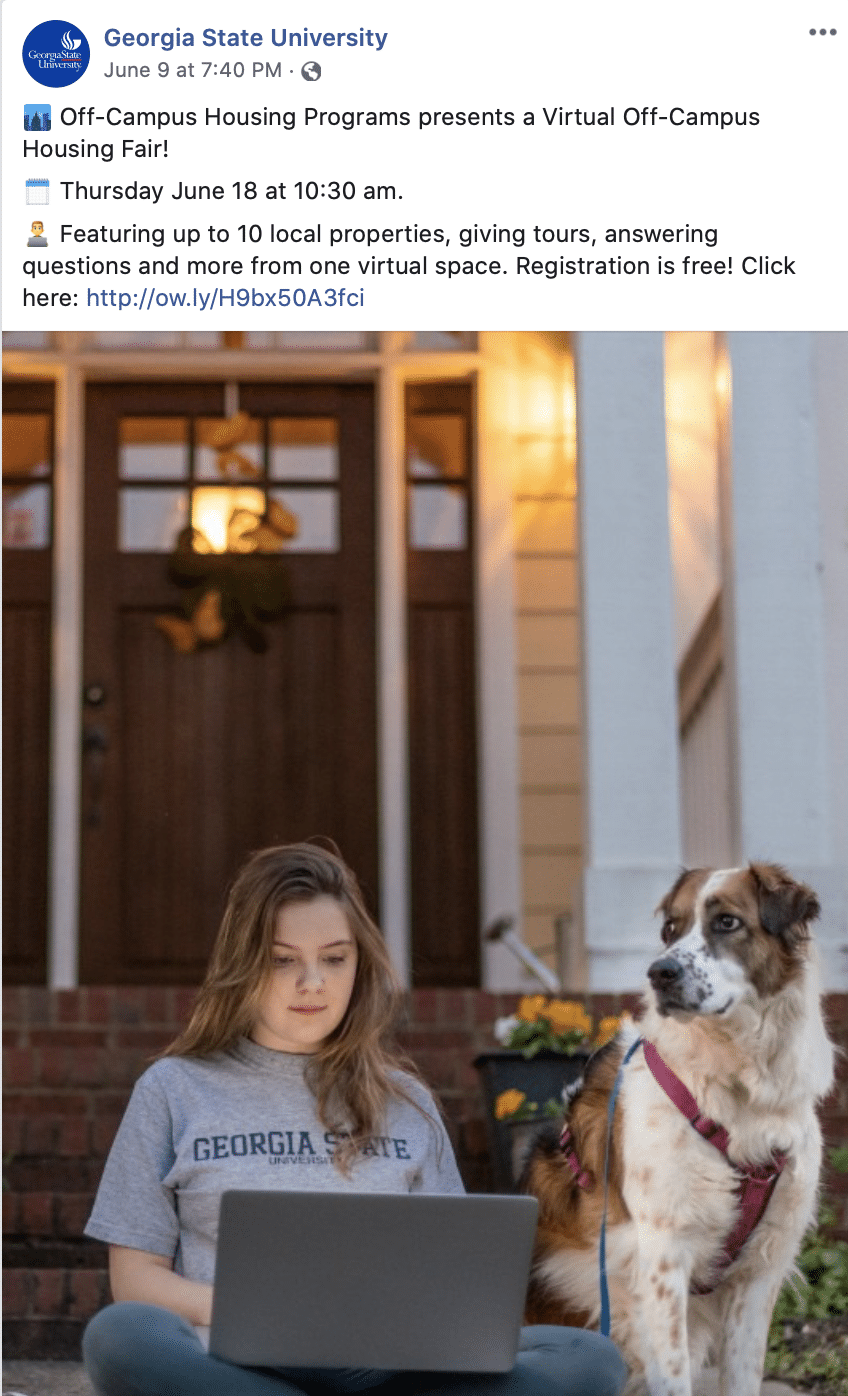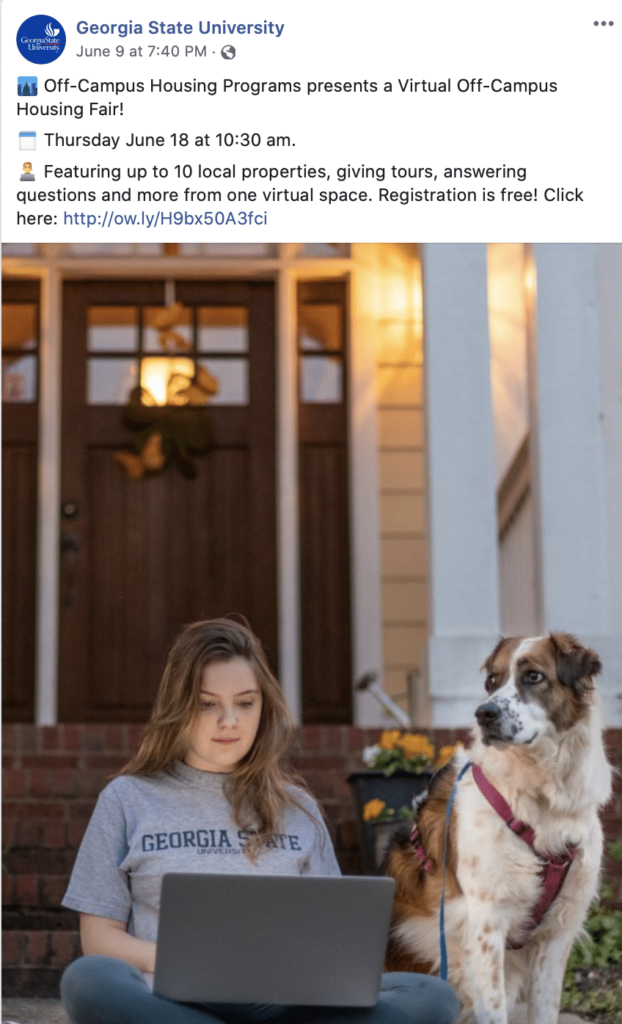 You should always create Facebook Events for each event when possible to increased visibility. Events do well in Facebook's algorithm; students see when their friends mark themselves as interested in or attending an event. They'll also now show up on an "Events" tab that you can add to your Page. This provides one easy-to-access hub of information that students can come to when they're looking for something to do on campus.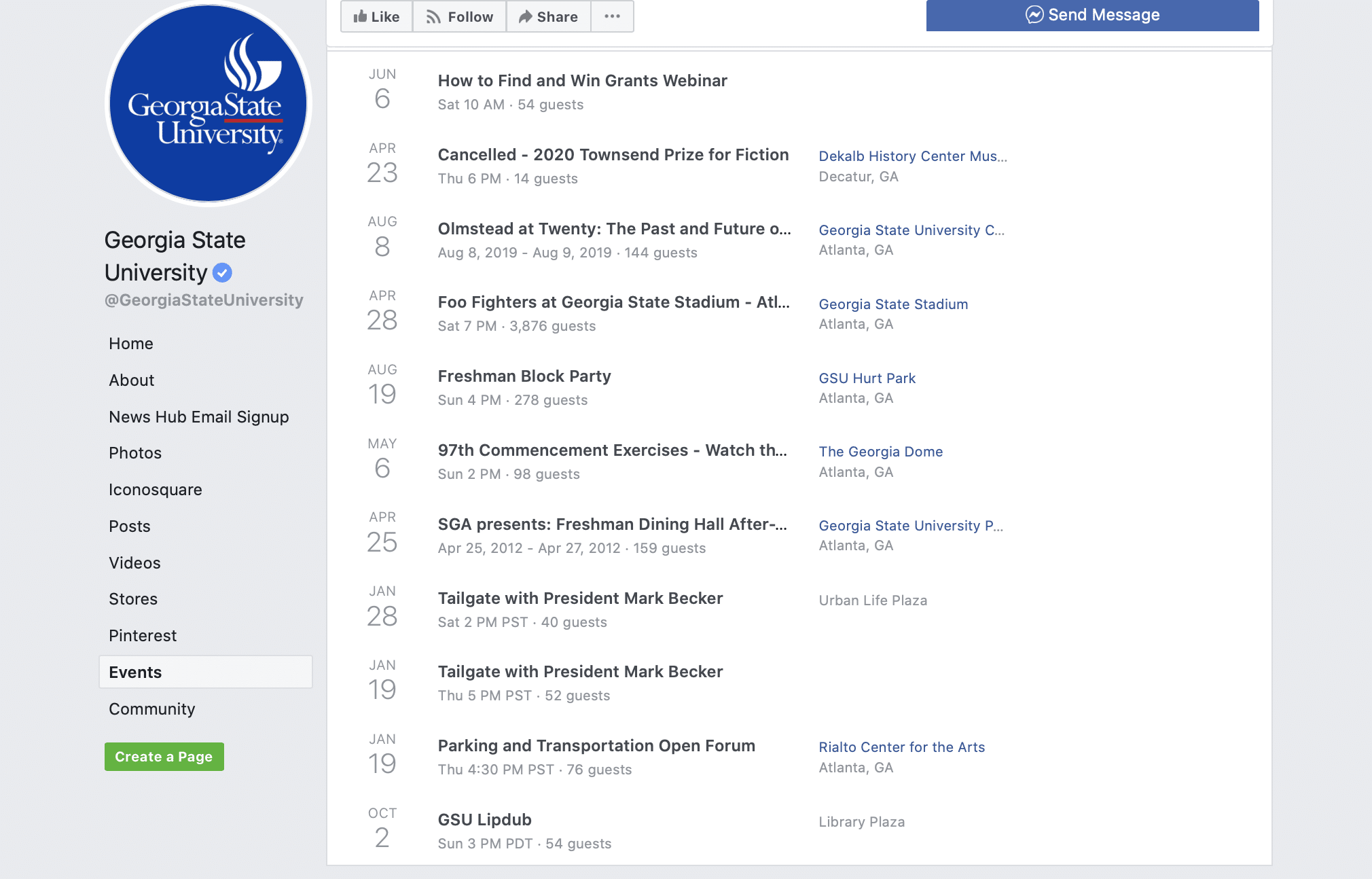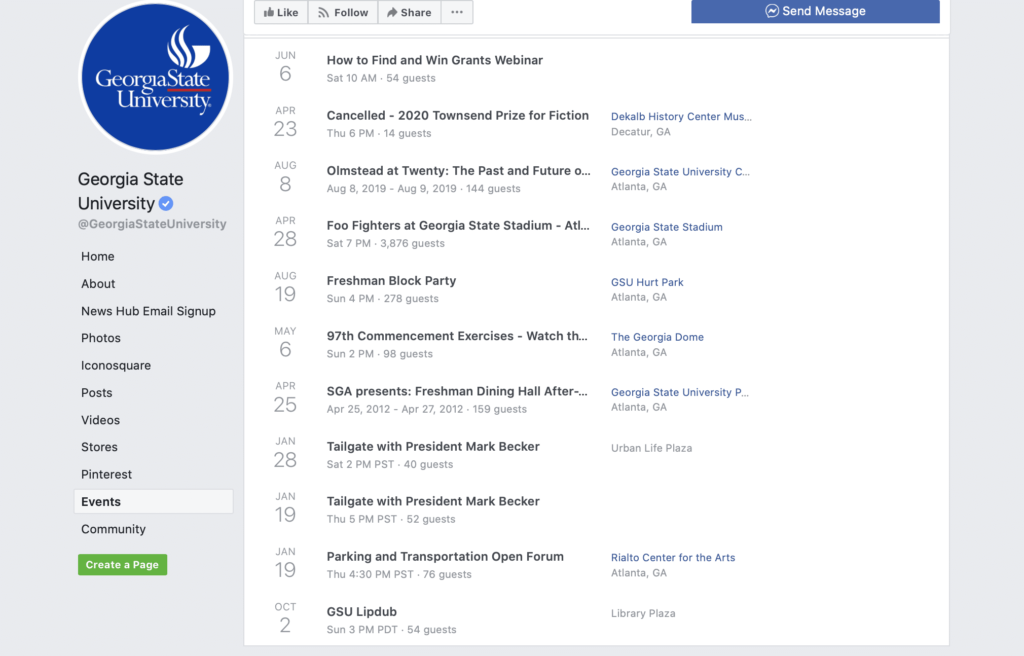 Final Thoughts
Social media is an incredible asset for universities. You can use it to stay in touch with your alumni network, connect with new prospective students, and even help demonstrate your programs' academic prowess.
However, what's easily the most beneficial daily use of social media for universities is the ability to build relationships with your students and foster a community among them.
Make sure to always watch your social analytics to see which posts your students responding to and which posts help drive engagement overall. Increase the production of similar content, and make your social profiles exactly what your students want to see.
* * *
Sign up now for a FREE demo.