Whether you handle paid or organic social media marketing, you need a way to quantify the results you've achieved. Instead of sharing social media metrics like clicks or engagement, focusing on the value you provide often makes a much bigger impact.
When you know the value of your work, you can partner with your boss or your agency clients to make smarter decisions about scaling campaigns or prioritizing tasks. With this data in hand, you can also make a better case for increased compensation or more responsibilities.
So how do you prove the value of your social media marketing efforts? You need to know the return on investment (ROI) of your work. Get up to speed on ROI, and check out a social media return on investment case study (or three) to light a fire under you.
What Is Social Media ROI?
Social media ROI is a metric that measures how much value your marketing efforts create. It essentially compares how much you spend on your efforts to how much you earn from them.
ROI is typically expressed as a percentage, revealing how much you've gained from a campaign or during a time period. Once you know your ROI, you can easily determine the monetary value of your efforts.
Social media ROI formula
To calculate social ROI, first define the campaign or the time period. Next, add up everything you've spent on paid and organic social media. Then add up everything you've earned from your efforts. Plug those numbers into this simple formula to figure out your social media ROI:
Social Media ROI = (Profit / Investment) x 100%
Social media ROI factors
It's easy to add up what you've earned from a campaign, especially if you use the right tracking tools (more on that below). But adding up all your costs can be a little tougher. If you're not sure what to include in your ROI calculation, think about costs, such as:
Ad spend for paid Facebook, Instagram, LinkedIn, Twitter, or YouTube campaigns
Photo and video shoots
Freelance contractors
Landing page software

Four Reasons Why Social Media ROI Matters
Not sure if it's worth the time and effort to track and calculate social media ROI?
Here are a few reasons why social media ROI matters to your business.
1. Track metrics that matter
Deciding which social media metrics to monitor can be tough. For example, it's tempting to track the followers and comments you get from each campaign. Yet these metrics don't often translate directly to revenue—which can make them vanity metrics.
In contrast, when you track ROI, you focus on value and other metrics that matter. That means you can avoid wasting time on vanity metrics and devote resources to understanding what you're getting out of your campaigns instead.
2. Pursue successful strategies
If you don't know how much value your social media marketing campaigns generate, you can't really know if they're successful. That means you may be making decisions based on irrelevant metrics.
For example, you may opt to replicate a social media campaign that generated a ton of revenue. But if the campaign had disproportionately high costs, it may not be as good of a choice as you thought.
When you take the time to track ROI, you can identify which campaigns are best to pursue. Then you can build a successful marketing strategy that helps you reach your business goals.
3. Allocate budgets effectively
When a campaign generates a lot of clicks, leads, or revenue, you may feel compelled to scale the spend. But how can you be sure that scaling is the right move?
When you monitor social media ROI, you can easily identify your highest-value campaigns. Then you can make data-driven decisions about adjusting budgets and scaling spend—now or for the future.
4. Demonstrate your value
Whether you manage agency clients, handle freelance clients, or take charge of your company's campaigns, your work creates value. By tracking social media ROI, you can quantify what you bring to the table.
Using this data, you can make more effective pitches. For example, you may be able to make the case for a bigger budget or a new team member. And if you provide a high ROI, you may be able to convince clients to hire you instead of another marketer.
Three Social Media ROI Case Studies to Inspire You
Ready to see the social ROI that some real-life brands have generated? Take a look at three case studies that explore the value social media campaigns can create.
Social media return on investment case study #1: Galaxy Theatres
Galaxy Theatres partnered with Bright Age to promote its chain of luxury movie theaters. The agency designed a Facebook and Instagram campaign to drive ticket sales and increase awareness of the brand.
Challenge
For more than 20 years, Galaxy Theatres has established a strong presence via multiple locations across the western United States. However, the theater chain wasn't leveraging social media to the fullest.
For example, the company didn't have a unique social property for each location. It also lacked location-specific social media content that would encourage customers to follow and engage. As a result, the theater chain wasn't communicating its offerings effectively.
Approach
First, the agency established separate Instagram accounts for each theater location. Then the agency developed an organic content calendar for each account, featuring location-specific content.
Due to the new accounts and additional content, the theater chain generated significantly more engagement and reviews. The agency provided social listening and community management to address these results.
In addition, the agency developed a schedule for boosting organic posts. With sponsored posts, the theater chain could reach local audiences to promote special offers and unique events.
To continue growing the theater chain's Facebook following, the agency ran page like ads. The agency also ran traffic and conversion ads to increase ticket sales for the theater chain.
Outcome
As a result of these paid and organic social media campaigns, the agency increased the theater chain's ticket sales by 72%. The campaigns also contributed to a better social media ROI in other ways. For example, Instagram followers increased by more than 200%, while Instagram likes increased by almost 400%.
Social media return on investment case study #2: Ashland University
Ashland University partnered with VividFront to market its master of business (MBA) program. The agency implemented a marketing campaign incorporating social media, email, and search engine optimization (SEO).
Challenge
Ashland University's MBA program has awarded graduate degrees for more than 40 years. However, the university needed to attract more applicants, which meant expanding its pool of applicants beyond the local area.
That also meant establishing the program's credibility more widely, a goal that an increasingly competitive industry made challenging. In addition, the university needed a more streamlined application process for potential students.
Approach
First, the agency developed three responsive websites tailored to the university's programs and prospective students' interests. Each site clarified program benefits, discussed degree options, and included SEO-focused content.
The sites also included built-in forms for applications and lead generation. The agency streamlined the form navigation, so prospects would be able to submit them efficiently.
To drive traffic to these targeted sites, the agency developed an integrated marketing campaign. The agency used paid social and search engine marketing (SEM) to reach prospective students on search engines like Google and on social media platforms like Facebook and LinkedIn.
Outcome
Altogether, the agency worked with the university for one academic year. During that time, the campaign generated more than 2,500 leads, which reflected an almost 50% increase from the prior year.
So what about social media ROI? The campaign drove a 3133.63% return on ad spend (ROAS), creating ample value for the university.
Social media return on investment case study #3: Retro Kids
Retro Kids partnered with The Good Marketer to increase the return on its paid social campaigns. The agency worked with the retro-style toy company to streamline its advertising strategy and improve campaign results.
Challenge
Retro Kids has a relatively diverse customer profile, as its toys and decor are designed to appeal to both adults and children. The company also has a relatively large product line, making it challenging to advertise all available offerings.
In the past, the company's paid social campaigns had resulted in high cost per action (CPA). The company also had relatively low visibility on social media, making its ad campaigns less efficient. To resolve these issues, the agency sought a lower CPA and an increased ROAS.
Approach
First, the agency reviewed the brand's buyer persona and Facebook advertising audiences. The agency determined that lookalike audiences would be most likely to drive conversions and began targeting Facebook users similar to the company's current customers.
In addition, the agency launched Google ad campaigns to reach a wider audience. To advertise the widest possible range of products, the agency chose Google Shopping campaigns over search.
To leverage increased customer shopping and spending, the agency recommended scaling the campaigns during the holiday season. The agency ultimately scaled these ad campaigns by 15% to reach more people and drive more conversions.
Outcome
The agency succeeded in increasing ROAS and lowering CPA, even considering the additional holiday season spend. Altogether, the campaigns drove 4.27 ROAS and over 200% more sales during the holiday season.
Over the course of three months, the agency reduced Retro Kids' CPA by 31%. And on Facebook, the campaigns increased reach by 51%, increasing the brand's visibility dramatically.
Ways to Optimize Your Social Media ROI
Concerned that your return from an average campaign is too low? With the ideas below, you can start optimizing the ROI of your paid and organic campaigns.
Check your tracking tools
If you're tracking social media ROI manually, you could be wasting tons of time or leaving money on the table. Fortunately, you can streamline the process with Agorapulse. Our social media management solution can automatically track the revenue your campaigns generate.
All you have to do is connect your Google Analytics account to Agorapulse. Once you do, Agorapulse can pull in your site's e-commerce and conversion data. That includes all the goals you've set up to track activity throughout your sales funnel.
While Google Analytics tracks conversions from all sources, Agorapulse focuses on the ones that come from social media. That means you can see the visitors, transactions, and revenue from your social channels with a quick glance.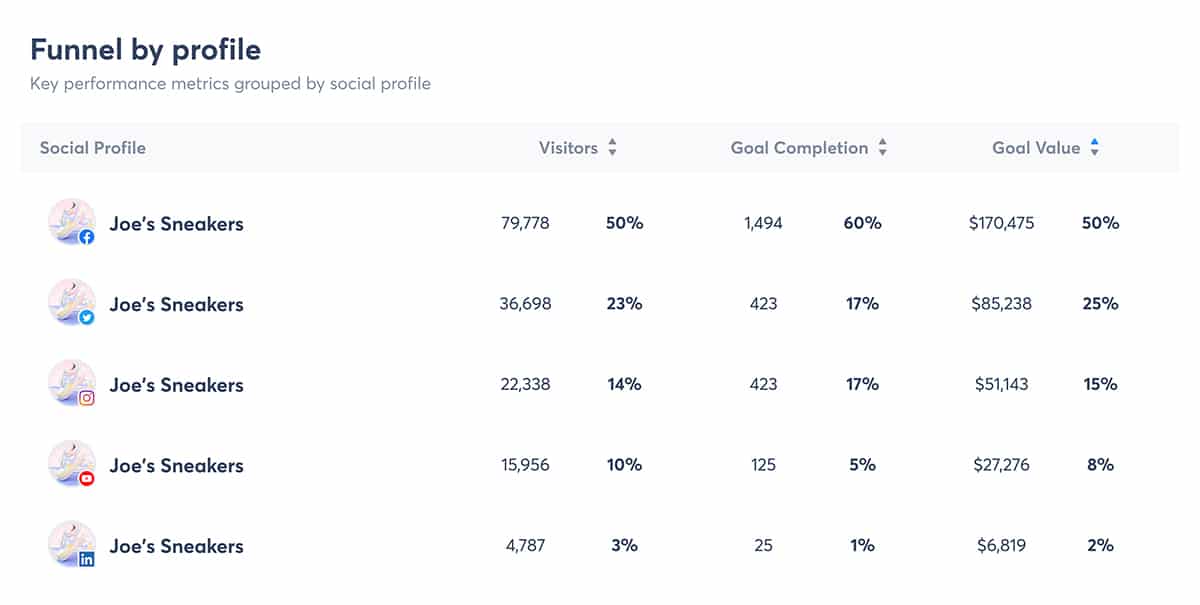 You can also dig deeper into the data by viewing social media metrics by social channel. That means you can easily identify the channels that are driving the most website visitors or the highest e-commerce ROI.
Agorapulse also tracks ROI metrics by landing page and campaign. With this landing page data, you can quickly determine the layouts and designs that work best for your audience. With the campaign data, you can learn which offers create the highest ROI.
Split-test campaign elements
Once you've set up social media ROI tracking tools, you can analyze campaign results more effectively. Have you noticed that one of your campaigns is underperforming? Running an A/B test can help you identify and resolve the problem efficiently.
For organic Facebook posts, the process is simple. First, use Meta Business Suite to create an A/B test with up to four versions of your campaign post. In the link section for each post version, add a URL with unique UTM parameters.
You can create them with Google Analytics Campaign URL Builder. Let the A/B test run, and then review the results.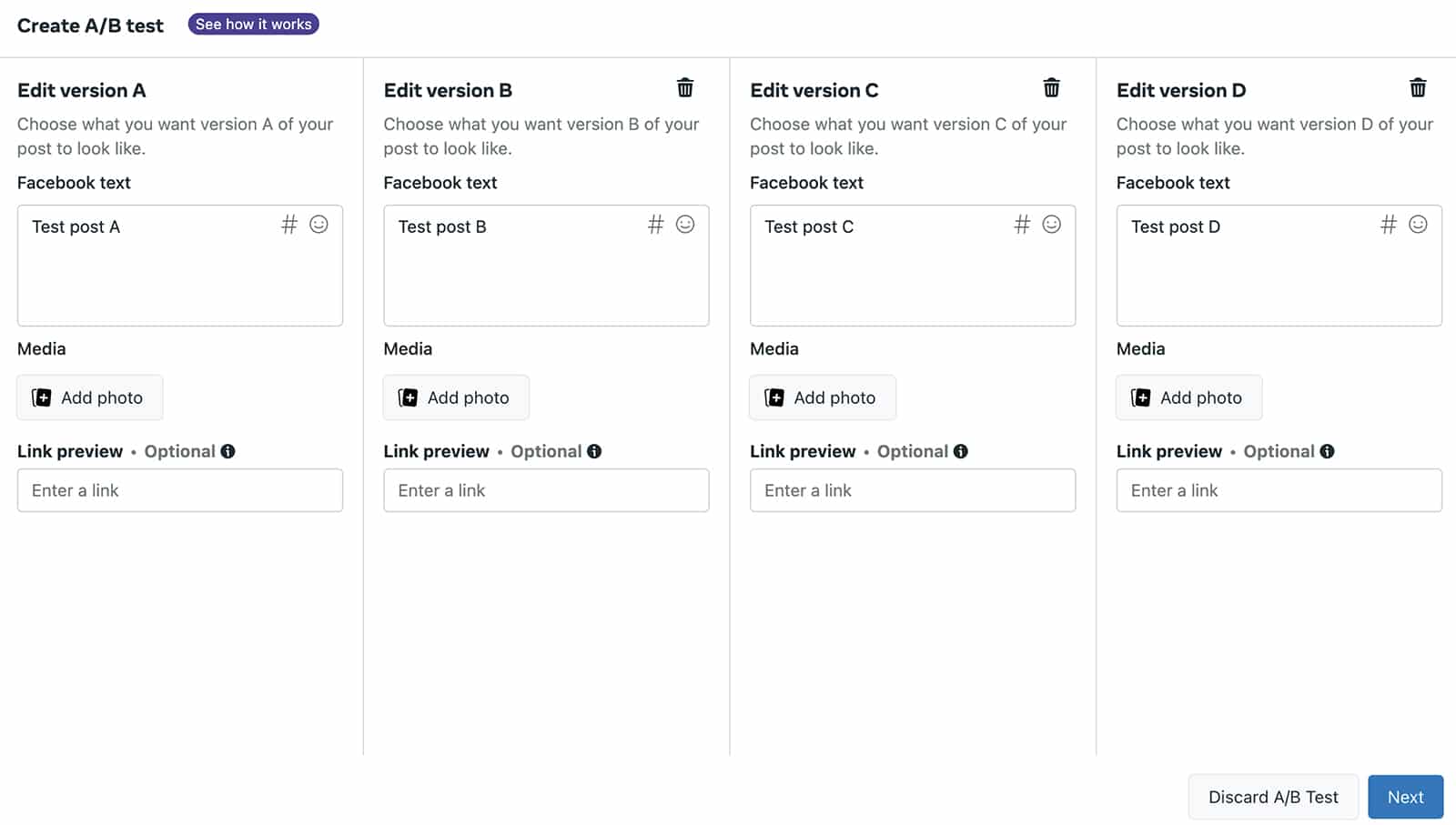 For Facebook ads, create an A/B test when you first publish a campaign or once it's live. First, choose the variable you want to test—including creative, audience, or placement.
Then pick the metric to determine the winner—such as cost per click (CPC) or cost per purchase. When the test ends, consider scaling spend on the winning version.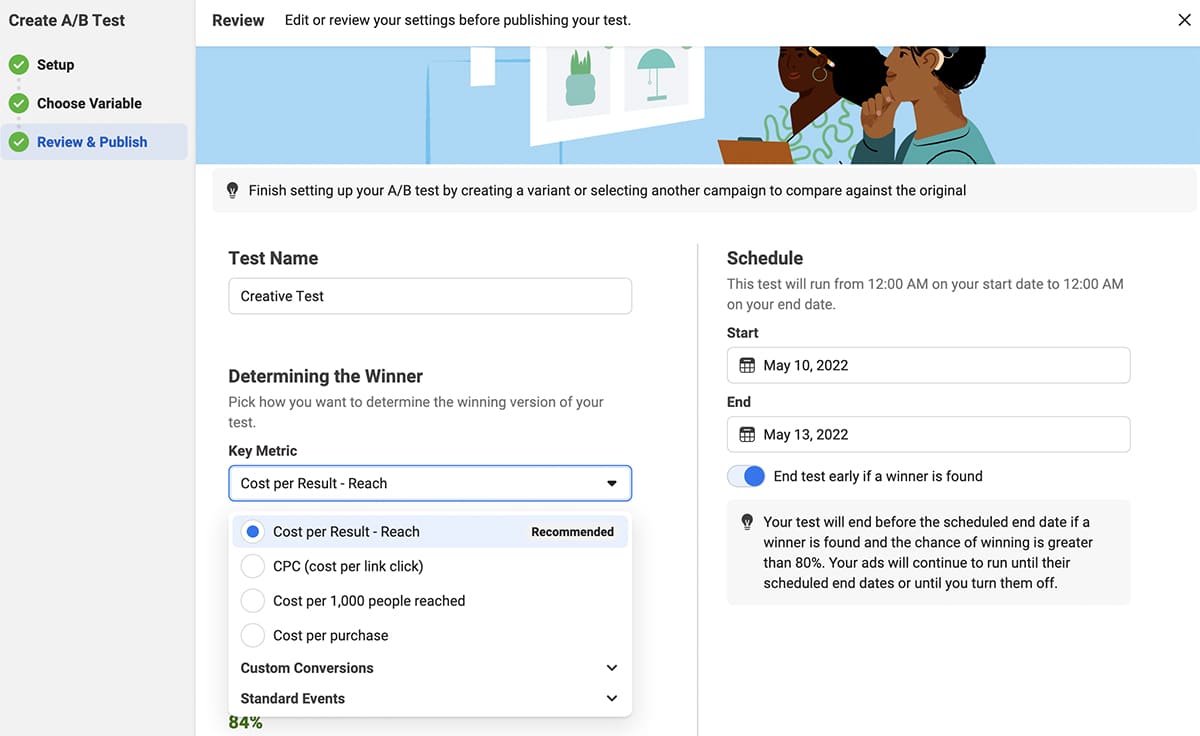 Build a smarter sales funnel
Are your campaigns consistently generating low social media ROI? The problem might be something bigger than your social media copy or creatives. Instead, your funnel may need some work.
To sell on social media, you typically need to lead potential customers through three stages.
Awareness: Introduce your brand to potential customers and keep your brand top-of-mind with informative content.
Consideration: Urge people to consider your brand by guiding them through your solutions or showing them how to use your products.
Conversion: Encourage customers to make a purchase by offering them a discount or gifting them a free trial.
Does your social media content address all three of these stages effectively? If your social media content mainly focuses on conversion-related content like sales and coupons, it may be helpful to create more top-of-funnel content to warm up your prospects first.
Test new types of offers
Do you have a solid funnel but relatively low ROI? If potential customers engage with your awareness and consideration content but drop off after viewing your conversion content, your offer may be the problem.
Fortunately, there are plenty of offer types you can consider:
Discounts and coupon codes
Free trials and product demos
Downloadable lead magnets
Webinars and virtual events
Free items with purchase
Test out the offer types that align best with your brand and your customers' needs. You can use Agorapulse's campaign tracking tools to monitor the results. When you create an organic post, open the tracker and configure the UTM parameters.
Once the post publishes, you can view results for the campaign on the ROI tab in your Agorapulse dashboard.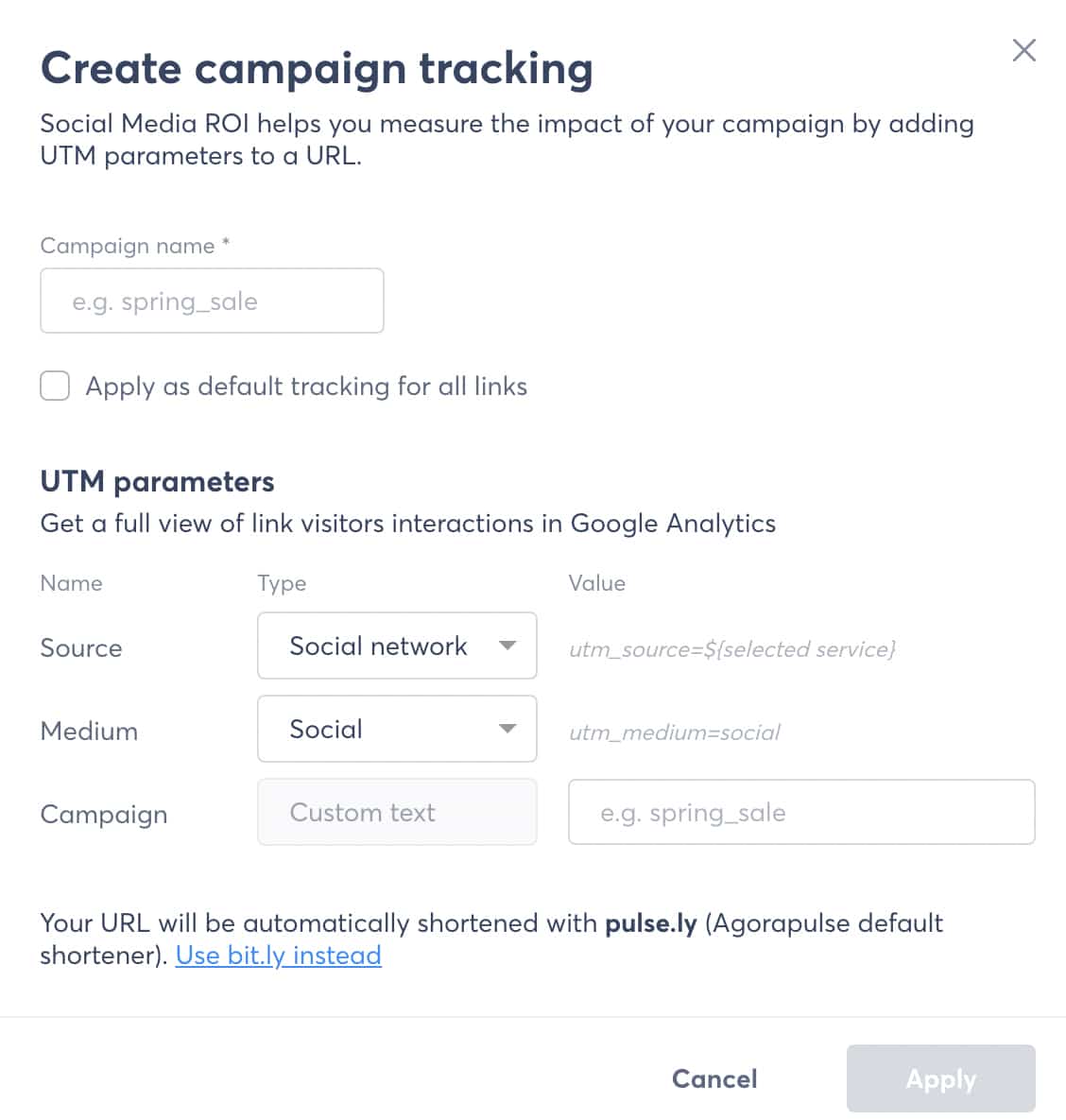 Update your target audiences
When you run organic campaigns, you can typically expect to reach some of your followers.
If they share your content, you may reach their friends, too. But when you run paid social campaigns, you get a lot more control over who you reach.
To optimize social media ROI, review your target audiences regularly to keep them fresh. For example, LinkedIn Campaign Manager has several options for retargeting people who have engaged with your content in various ways.

You can retarget people who interacted with your company page, your events, your ads, or your website. Have you been collecting leads on social media? You can also upload your lead list to LinkedIn so you can send targeted offers to prospects. Campaign Manager also supports lookalike audiences that allow you to reach more people similar to your best customers—which is a great way to boost ROI.
Wrapping Up What We Learned About Social Media ROI
Social media ROI is a critical metric to track. Whether you want to make better business decisions or prove the value of your work, ROI is key. Use the social media return on investment case study options above to develop a data-driven strategy and run more successful campaigns.
Check out our free trial of Agorapulse to help you get started on tracking your social media ROI.