You've tracked the Instagram engagement rates but need to put them in terms that your clients understand. Are these numbers good? Bad?
How do your Instagram engagement rates compare to the competition? Read on to find out what you need to know about Instagram engagement rates.
If you manage brands on Instagram, it's essential to monitor engagement metrics. Naturally, as a social media manager, you want to make sure your efforts help meet stakeholders' social media goals.
But what's a good engagement rate and why does it matter anyway?
Why Instagram Engagement Rates Matter
Unlike many vanity metrics, measuring engagement can be a smart way to chart your social media success.
Why? Because Instagram engagement rates track the following.
Audience interest
The more your Instagram posts appeal to your target audience, the more engagement they're likely to generate.
Reviewing your Instagram posts with the highest engagement rates can help you identify the topics, messages, and graphics that interest your audience most.
Brand relevance
Fans may engage with your content now—but how does this month's engagement rate compare with last month or last year?
Monitoring your engagement rate over time can help your brand stay relevant, even as audiences grow and sentiments change.
Social proof
As new customers learn about your brand, they may consider your engagement before buying. Influencers may also check your engagement before deciding to partner with your brand.
A high engagement rate can serve as social proof that your brand attracts happy, loyal customers.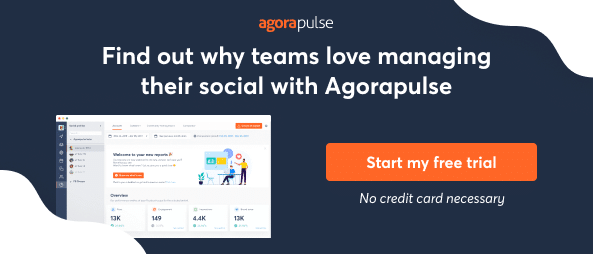 How to Calculate Instagram Engagement Rates
Most social media managers use one of the two most common options (among the many out there).
Choose one formula and stick with it for consistency:
More common with brands: Engagement Rate by Reach = (Likes + Comments) / Reach x 100
More common with influencers: Engagement Rate by Audience = (Likes + Comments) / Followers x 10
To get the data you need to calculate engagement, you have two choices:
You can check native Instagram insights—a manual process that can be time-consuming.
You can use a social media dashboard—an automated process that tends to be much faster.
Related: Instagram 101: What Every Smart Social Media Manager Needs to Know
How to track engagement with Instagram Insights
Open the Instagram app, and navigate to insights. View all your Instagram posts for the time period you're monitoring, such as the last week or month.
Then record the reach, likes, and comments for the posts in a spreadsheet app like Google Sheets. Make note of your follower numbers, too.
Finally, add up the engagement for the time period, and use one of the two formulas above to calculate your rate.
How to track engagement with a social media dashboard
Open your social media management app, and navigate to reports. Select the content report, choose the right time frame, and export the report to a CSV.
After downloading the report, add up the columns and use one of the two formulas above to calculate your rate.
If you just need a ballpark rate, skip the exporting step and use the average reach, likes, and comments to calculate.
What's a Good Instagram Engagement Rate?
A good engagement rate can serve as a benchmark for your team. But what's good for one brand might be bad for another.
Average Instagram rate
Overall, the average Instagram engagement rate by audience is 1.22%. But the average rate varies significantly by industry.
For example, for fashion brands, a 0.68% rate is average, but a 3.57% rate is typical for higher education organizations. Tech and financial services averages are somewhere in the middle, at 1.31% and 1.42% respectively.
Be accurate
When you compare your brand's engagement rate to average numbers, take a couple of steps to maintain accuracy.
First, make sure you're comparing your rate to the average for your industry.
When you compare to industry standards, always double-check that you're using the same formula as your benchmark.
Maintain a healthy perspective
It's also important to keep your engagement rate in perspective. Go beyond the averages for your industry or competitors, and review how your brand's rates have changed over time. Is your overall rate increasing or decreasing?
Do some posts have a far higher rate than others? You can use these observations to optimize your engagement rate continuously.
How to Improve Your Instagram Engagement Rate
Whether your brand's engagement rate is on the low side or already stellar rate, you still can take steps to get more comments and likes.
1. Publish at the best times
You can't expect great engagement if you regularly post content when your audience isn't using Instagram.
One of the easiest ways to improve engagement is to publish posts when your audience is already active.
Not sure what times are best?
Here are two ways to check:
Instagram Insights. Navigate to the Audience tab, and scroll to your follower data. You can see both days and times when your audience is active.
Social media dashboard. Navigate to the Reports section, and locate your audience data. You can see more granular data, with user activity by the hour.
Related Post: How to Schedule Instagram Posts
2. Use the right hashtags
Whether you love or hate hashtags, they can provide real value to your brand.
When you add the right hashtags to your posts, you can reach a much larger audience and connect with new fans.
If your content resonates with your audience, you can look forward to more likes and comments.
In regards to hashtags, be sure to follow Instagram best practices. Plan to use at least 15 and up to 30 hashtags per post. Use a mix of popular, niche, and branded hashtags to optimize reach and engagement.
To make hashtag management easier, save groups of keywords in your scheduling app.
When publishing a post, select the right hashtag group, and skip typing each one manually.
3. Engage with other accounts
No matter how great your brand's content is, always remember the social aspect of social media. Don't just stay laser-focused on publishing content and responding to comments. Interact with other accounts, too.
Make a list of peers, influencers, superfans, and other relevant accounts. Then make a point of liking and commenting on their content regularly.
Their audiences will see your engagement, which is likely to win your brand some new fans, too.
4. Get to know your audience
If you're not sure who you're creating content for, can you truly appeal to your audience?
A few times a year, take the time to review your audience stats to get a better idea of who's seeing and responding to your content. Then consider updating your copy or graphics accordingly.
You can access audience stats in two easy ways:
Instagram Insights: Go to the Audience tab, and find your follower demographics. You can see data for follower ages and genders as well as top cities and countries.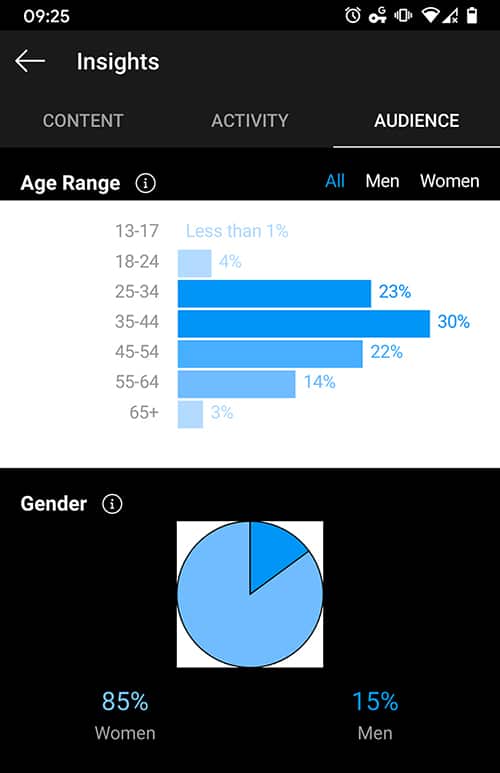 Social media dashboard: Go to the Reports tab, and find your audience data. You can get stats for gender, age range, city, country, and language.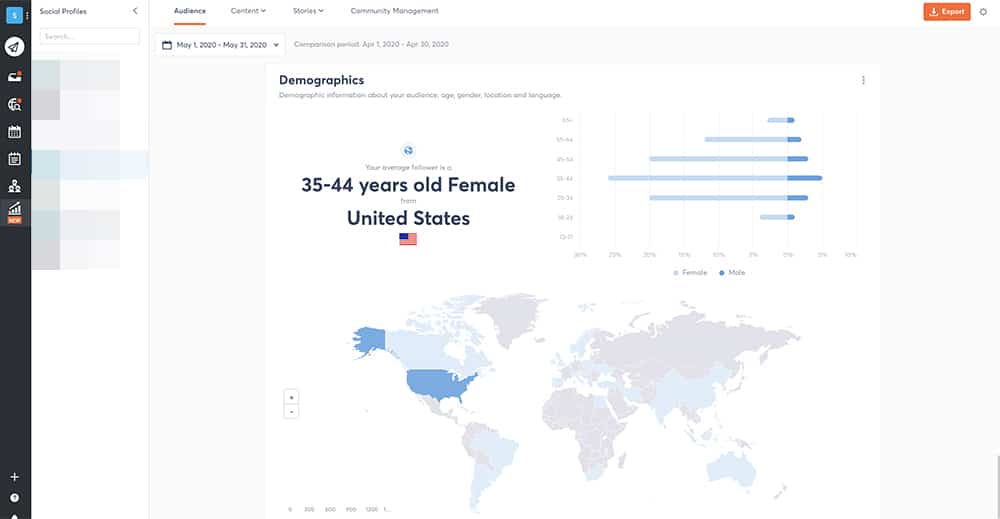 5. Write better captions
Your content may attract tons of attention. But if your captions fall flat, your audience might never respond to your content. Follow these easy tips for writing better captions:
6. Rethink your content mix
Don't be afraid to change up your visual approach, especially if you tend to post the same type of content regularly.
You can experiment with content like:
Images from brand photoshoots
Branded graphics
Behind-the-scenes videos
User-generated content
Instagram memes with your brand's unique twist
Monitor engagement rates for every post you publish and look for patterns. Maybe memes generate tons of likes but not as many comments.
Perhaps a video or user-generated content results in much higher engagement than still images.
Identify what your audience responds to best to find your optimal content mix.
In Conclusion
Tracking your Instagram engagement rate is a tried and true way to monitor content performance and brand relevance.
When you track it alongside other key metrics—such as mentions, clicks, and follower growth—you gain tons of helpful data that you can use to optimize your Instagram strategy.
***
Get started on saving time and energy on your own social media management! Check out our free trial of Agorapulse to help you schedule, track, and measure all your social media efforts.