Everyone can use a little (or a lot more) time in their busy work schedules. Especially digital marketing agencies. In a 24/7, always-on social media world, digital agencies can feel pressure and stress in getting everything done.
Fortunately, when digital agencies discover Agorapulse, they take control of their social media, saving time and energy.
Here's how one particular agency in Mexico saved 25 hours (and more) per month and increased its transparency.
Clicmark
Clicmark is a digital marketing agency thriving in Mexico. It specializes in growth strategies and social media marketing.
Key takeaways
Clicmark is an agency focused on implementing a range of digital marketing growth strategies.
The digital agency searched for an alternative to Sprout Social that would allow the agency to create in-depth reports for its clients.
Clickmark found a solution that has allowed the agency to save up to 25 hours per month in client reporting.
The granularity in its reports has helped the digital agency to increase client transparency and build trust—all in less time.
Challenge: Find a Scalable Tool That Delivers Efficient, Flexible Reporting
Manuel Romero is Head of New Projects and has been at Clicmark since 2012. One of his core responsibilities is working across the company to help deliver client results. That means collaborating with multiple teams to develop customized strategies that ensure their clients' constant growth.
A key part of Clicmark's approach to digital marketing is client reporting, an area in which Manuel has played a central role throughout the company's evolution.
Clicmark's marketing reporting dashboards are challenging to build because they manage multiple social media profiles for each one of their clients and they need to analyze significant amounts of data.
As the business grew, Clicmark was struggling to continue building high-quality reports for the agencies' clients with their former tool, Sprout Social. They discovered that sticking to that tool wasn't sustainable due to high costs, understaffed support, and insufficient features for agency growth.
The team understood that, for them to improve both the speed and the quality of their reporting, they needed to search for an alternative.
Luckily, they quickly found in Agorapulse a solution that enabled them to:
Manuel shared with us some examples of how they create reports using Agorapulse.
Solution: How Clicmark Uses Agorapulse for Stellar Client Reports
1. Campaign tracking with label reports
Tracking the performance of campaigns on social media has always been a challenge for agencies, especially when the campaigns are executed across multiple social media profiles.
According to Clicmark, there are three key items that they try to measure when creating a campaign on social media:
The impact of every asset separately on each social media network
The overall performance of the campaign across different social platforms
The "best" and "worst" performers of each campaign and on each social profile
Getting this information is important to provide clients with information on what is and isn't working … and to also analyze internally what could be improved in the campaigns.
However, getting these metrics is impossible using native tools because you can't easily gather insights from posts that belong to the same marketing campaign.
To get this level of insight, you must use an advanced social media reporting tool to gather and analyze information.
For Manuel and his team, gathering this information was a must-have as their team is highly focused on creating granular reports for their clients.
Once they switched to Agorapulse, Manuel and his team quickly adopted the 'content labeling' feature to create custom reports with data they weren't able to find anywhere else.
Now, when scheduling content for their clients, they add a label to identify which campaign the content belongs to, and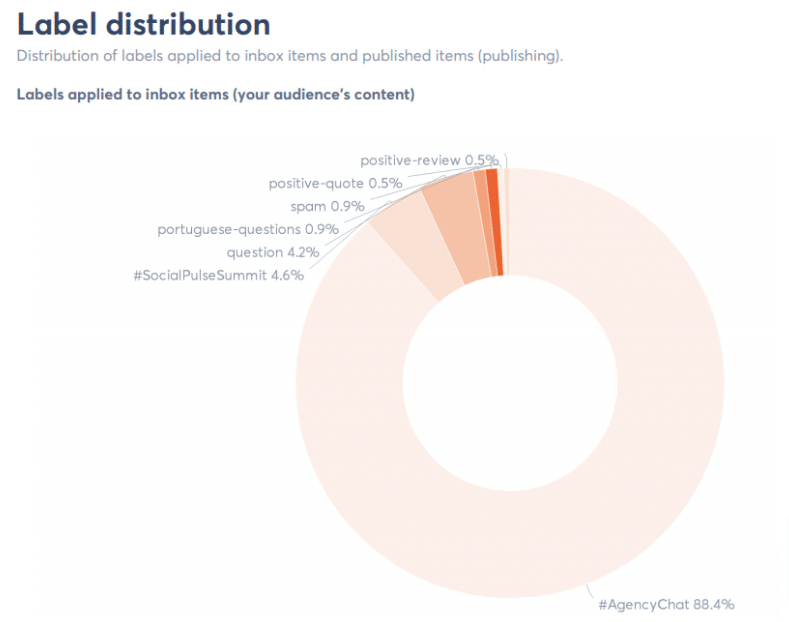 They report on social media metrics like:
Reach
Impressions
Engagement
"By using labels to identify our social media marketing campaigns, we have been able to gather performance data that was completely inaccessible before. The Label Report has provided us and our clients with data that we couldn't find anywhere else. This is a new level of granularity that we can offer our clients, and that has become a key differentiator of our agency."
2. Campaign performance through time
Another big improvement that Manuel and his team found in Agorapulse was the option to choose custom comparison periods for their social media reports.
Internally, these types of reports are helpful for Clicmark to understand how similar campaigns perform over time.
For example, this can help them analyze how the engagement with their content has increased on Christmas this year vs. last year.
Externally, by sharing these comparison reports with their clients, they can provide their clients with more detailed reporting on their social media campaigns.

3. Internal reports to keep everyone on the same page
The digital agency has the ability to schedule custom reports for internal and external stakeholders. This function has enabled them to keep their team on the same page without spending time on weekly meetings or having to create weekly report updates.
At their agency, this team receives weekly updates with all the information they need to know about their clients' performance. This data helps them quickly understand what's happening and take action if something needs to be adjusted.
Doing so has saved time internally, allowing them to focus on their strategy while cutting all the extra administrative work, long meetings, and more.

Outcome: Increased transparency and trust—plus saving time and money
Since using Power Reports, Clicmark has gained on both sides of the business by boosting client transparency and streamlining internal processes.
On the benefits for their clients, Manuel says:
"Power Reports help us display all our work at a glance, which is great to present the actual results to our clients—without all those irrelevant metrics that don't bring any additional value. Having all the data from multiple social media platforms in one single custom report gives us that clean-cut professional display, which helps our agency stand out from the competitors."
In terms of transparency, Clicmark has improved the way they present results to their clients. That improvement delivered unexpected benefits for Clicmark and their clients.
On this specific topic, Manuel explains:
"We also spend less time in client meetings to present and explain our monthly results. The monthly meetings with our clients are now shorter as we can present all the relevant information in just a few slides instead of hundreds of screenshots. No kidding—these types of meetings could take hours just to show the performance per social media network and explain the results of each one of them. The time savings go both ways as our clients really appreciate the fact that our meetings are more efficient while we still present complete reports."
In general, three concrete benefits that Clicmark has seen in their reports are:
Granular reports that provide their clients with more detailed reporting on a monthly basis and enable them to offer tailor-made recommendations based on campaign performance
Customized templates for each client
Different levels of reports for clients and internal stakeholders
In regards to cost savings, Clicmark is now saving up to 20% a year without sacrificing any of the core functions they need to continue growing.
If you'd like to try this strategy on Agorapulse, sign up for a free trial to start saving time and money right away.