Social media best practices won't tell you exactly how the Instagram algorithm works or how to grow your TikTok account overnight. But they will provide a framework for succeeding with social media marketing.
In this article, we'll cover 21 best practices that brands and agencies can use now to refine social media strategy, create a consistent content plan, build an engaged community, and reach key goals more reliably.
Why Social Media Best Practices Matter for Marketers
If you work in social media management because of the trends, the creativity, the brand interactions, and the fast-paced nature of it all, establishing best practices may not be at the top of your to-do list. But here's the thing about best practices: They can actually help you move even faster. Best practices are designed to improve efficiency and effectiveness, so you can work quickly while seeing better results.
When your team has standards in place, you won't have to rethink how to approach everyday tasks each time. You'll have a framework to follow, so you can focus more on being creative and experimenting with new ideas.
The guidelines below come from a combination of industry research and expert insights. They work for brands and agencies across industries, so they can apply to virtually any business—including yours.
Social Media Worst Practices, or What Not to Do
Before jumping into best practices, let's cover a few worst practices. Here are three things not to do on social media.
Don't feel compelled to be on every platform
FOMO (fear of missing out) is real when you work in social media. It's tempting to think your brand needs a presence on every social network. However, it isn't true.
Some social networks are bound to be a bad fit because of demographics, content types, or platform limitations. Make sure any network you choose meets your brand's needs before investing resources.
Don't plan to wing it
Planning every detail of your social media content months in advance isn't possible for many brands. But that doesn't mean you should take the opposite approach and wing it. If you do, you'll waste time wondering what to post every day.
To build your brand and meet your business goals, you need a plan—or at least a rough sketch of one. Start by plotting campaigns and content types on a social media calendar. Then you can delegate copy, creatives, and other tasks efficiently.
Don't forget to experiment
Don't let the act of following social media marketing best practices lead your team to post repetitive content or templated responses. Instead, use the framework to guide your team's decisions and workflows.
Ideally, end up with extra time and resources.
Use that extra capacity to test out new styles, features, or tools. If you experiment with new ideas while sticking to team guidelines, you can continue to keep your audience engaged and meet your goals.
Social Media Strategy Best Practices
Let's start with the big picture. With these guidelines, you can create a successful social media strategy for your team.
1. Establish social media goals
If you post social media content without goals in mind, you'll run into a couple of problems quickly:
You'll never be able to answer the question "Is our social media content working?" because you won't know.
You'll never be able to make a case for more budget or more resources to build out your social media strategy.
Every social media strategy should start with defining goals. I use the SMART goals framework, which focuses on specific, measurable, attainable, relevant, and timely objectives.
Once you've defined these objectives, rely them to guide everything you do on social media. Use them to inform what type of content you create and when, which calls-to-action (CTAs) you add to copy, and which metrics you measure.
2. Set branding guidelines
Goals tell you a lot about the kind of content you should create and why. But they won't tell you how the content should look, read, or sound. That's where branding comes in. Every brand should have two types of guidelines for social media:
Copy guidelines, which explain tone of voice, words to say (and not to say), hashtags, and emoji usage
Creative guidelines, which explain visual styles, color schemes, and aesthetic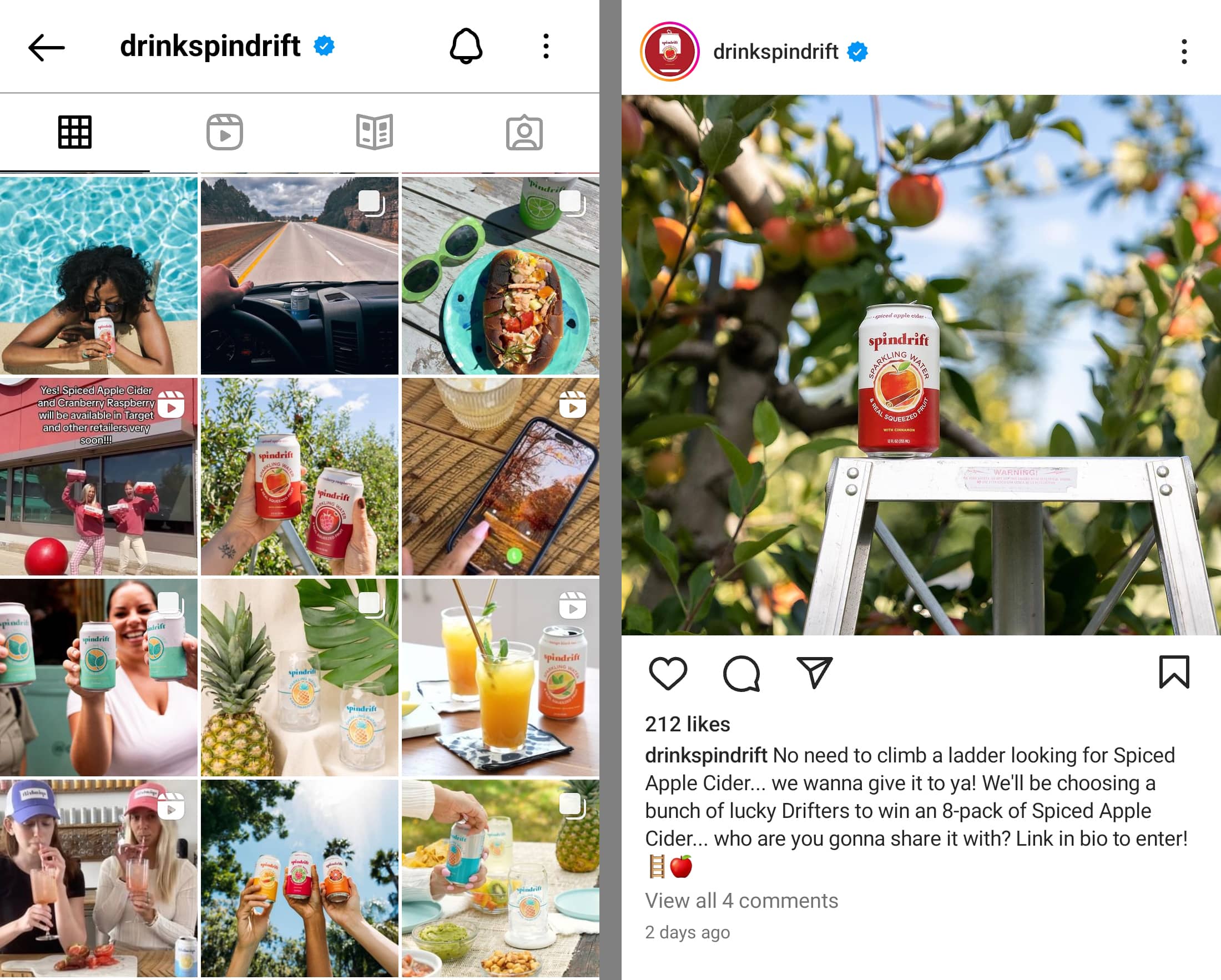 Branding guidelines shouldn't lead to cookie-cutter content. Instead, they should help your team create content that any follower can easily recognize as your brand's. For inspiration, take a look at Spindrift's signature creative and copy.
3. Tell a compelling story
Some of your social media posts may skew more informational or transactional. But storytelling should be the core of every brand's social media content strategy. Here's why storytelling is so important on social media:
Great stories are easy to retain, which can help customers remember your brand.
Stories create emotional connections, which may compel followers to engage.
Brands that share their purpose can reach a profit performance ratio 750x higher than peers.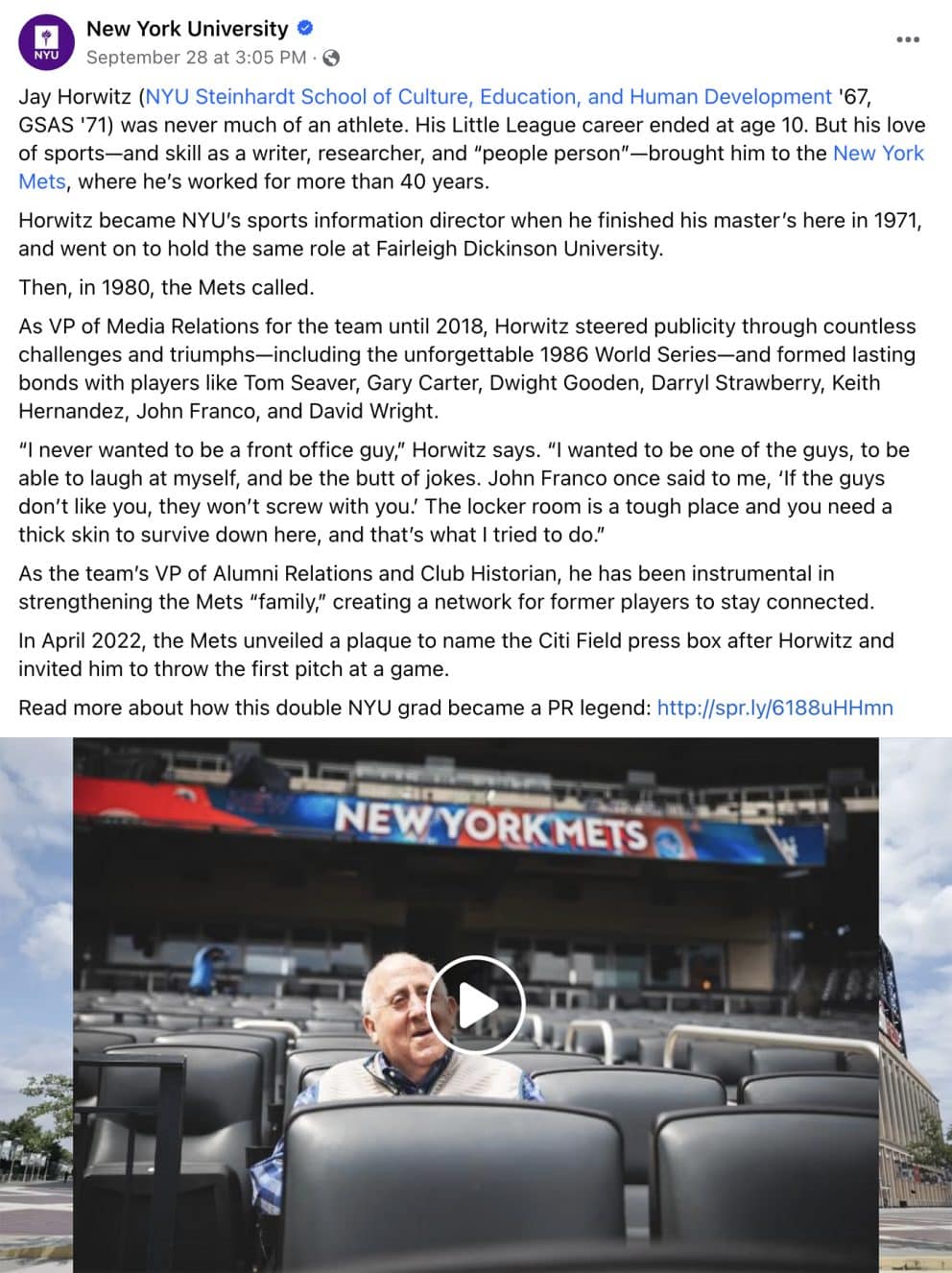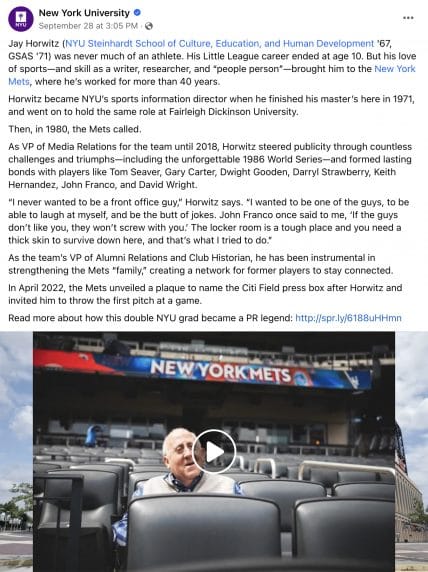 Higher education institutions like New York University excel at creating compelling narratives. For example, the Facebook post above highlights an NYU graduate's storied career, naturally weaving in mentions of the university.
4. Use efficient approval workflows
Whether you're the person who signs off on content or you're the one who's constantly waiting for approval, you need an efficient system. It's about much more than saving time—although that's certainly a factor.
With a streamlined social media workflow, you can publish content on time and make time-sensitive changes. Agorapulse makes approval workflows easy. Just assign posts to internal or external stakeholders. They won't publish unless approved.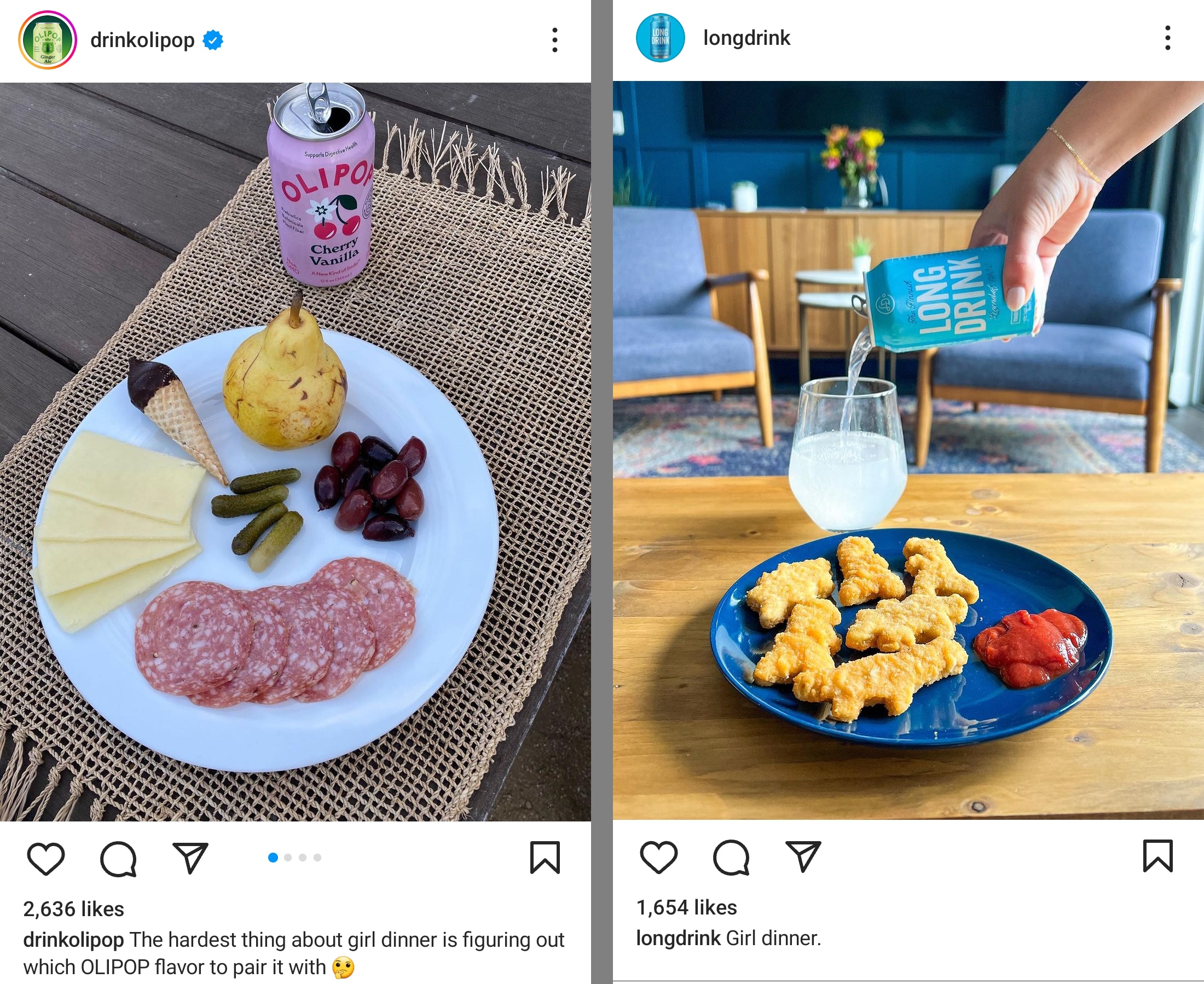 An efficient workflow can also let you hop on trends that fit your brand before they're over. For example, Olipop and Long Drink both hopped on the "girl dinner" trend, each making the concept relevant to the brand and appealing to the audience.
Best Practices for Social Media Content and Publishing
With some guidelines in place for social media posts, you can create high-value content that helps you meet your goals.
5. Write copy that hooks your audience
Social media copy has to draw in your audience in right away. If it doesn't speak to them or spark their interest, they're likely to keep scrolling.
"The lines or characters above the fold ('see more button') are 90% of the battle when it comes to writing social copy, especially for LinkedIn," explains Daniel Cmejla, VP of Community at Apollo.io.
"Be intentional about writing a hook that encourages people to engage with the post, instead of merely reading it or scrolling past. Here are some quick tips for writing hooks:
Articulate a complete concept before the fold.
Write something that encourages the audience to engage above the fold.
Leave the audience wanting more.
Make sure you don't cut yourself off mid-sentence.
Use emojis, all caps, or something that makes your hook stand out.
Make sure to build your hooks so they make sense on mobile and desktop."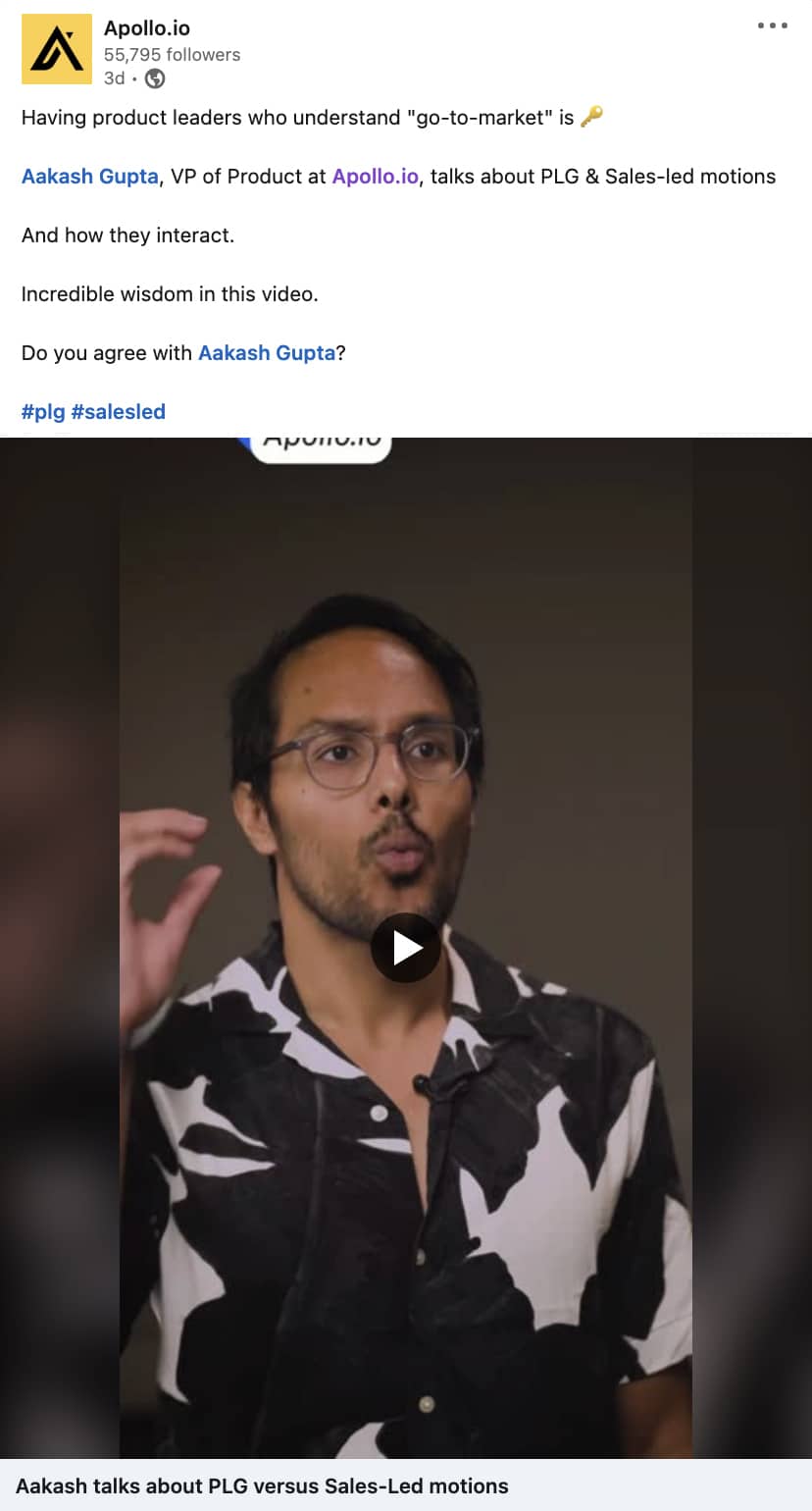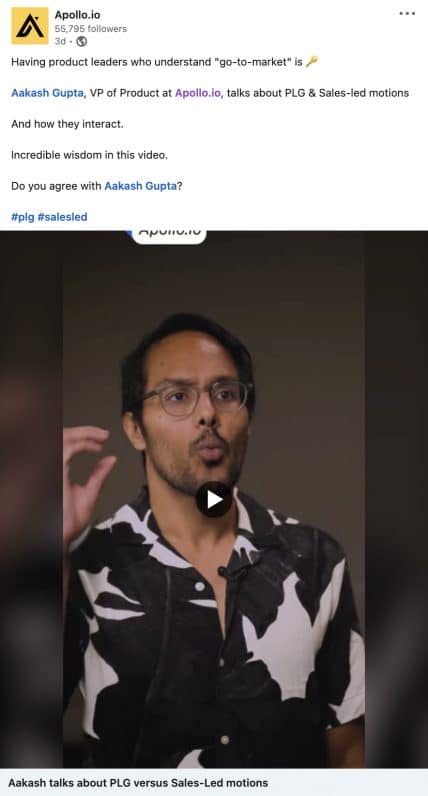 How much of a difference can this approach make?
In a typical month, Senior Social Media and Community Manager Meryoli Arias creates hooks that drive over 500,000 organic impressions for Apollo's LinkedIn company page. Many posts—like the one above—get 10,000+ impressions.
6. Know the audience and the platform
Looking for a formula for the perfect hook or a template for the ideal creative? There's no magic solution that works in every instance. Every audience has different interests, and no two platforms display social content exactly the same.
That's why it's so important to optimize content for the platform and the audience. For most social media managers, customer research is a crucial part of the content creation process.
But agencies often have to take extra steps.
When working with clients, "invest a significant amount of time in understanding the industry, the services, the offerings, and the nuances," advises Sachin Shah, Founder of The Hype Capital.
In addition to independent research, Sachin recommends getting this information directly from clients. "The more you do it, the better position you're in to create high-value content that others would struggle to do."
7. Prioritize short-form video
Short-form video content started taking off in 2022, and the format shows no signs of stopping. YouTube shorts monthly active users reached 2 billion in July 2023. On a daily basis, shorts get more than 50 billion views. Other platforms like TikTok and Instagram reels aren't far behind.
As a result, short-form video should be a key part of every brand's social media content plan. Experiment to see what kinds of videos work for each audience. For example, Agorapulse uses different video content plans for YouTube (below left) and Instagram (below right).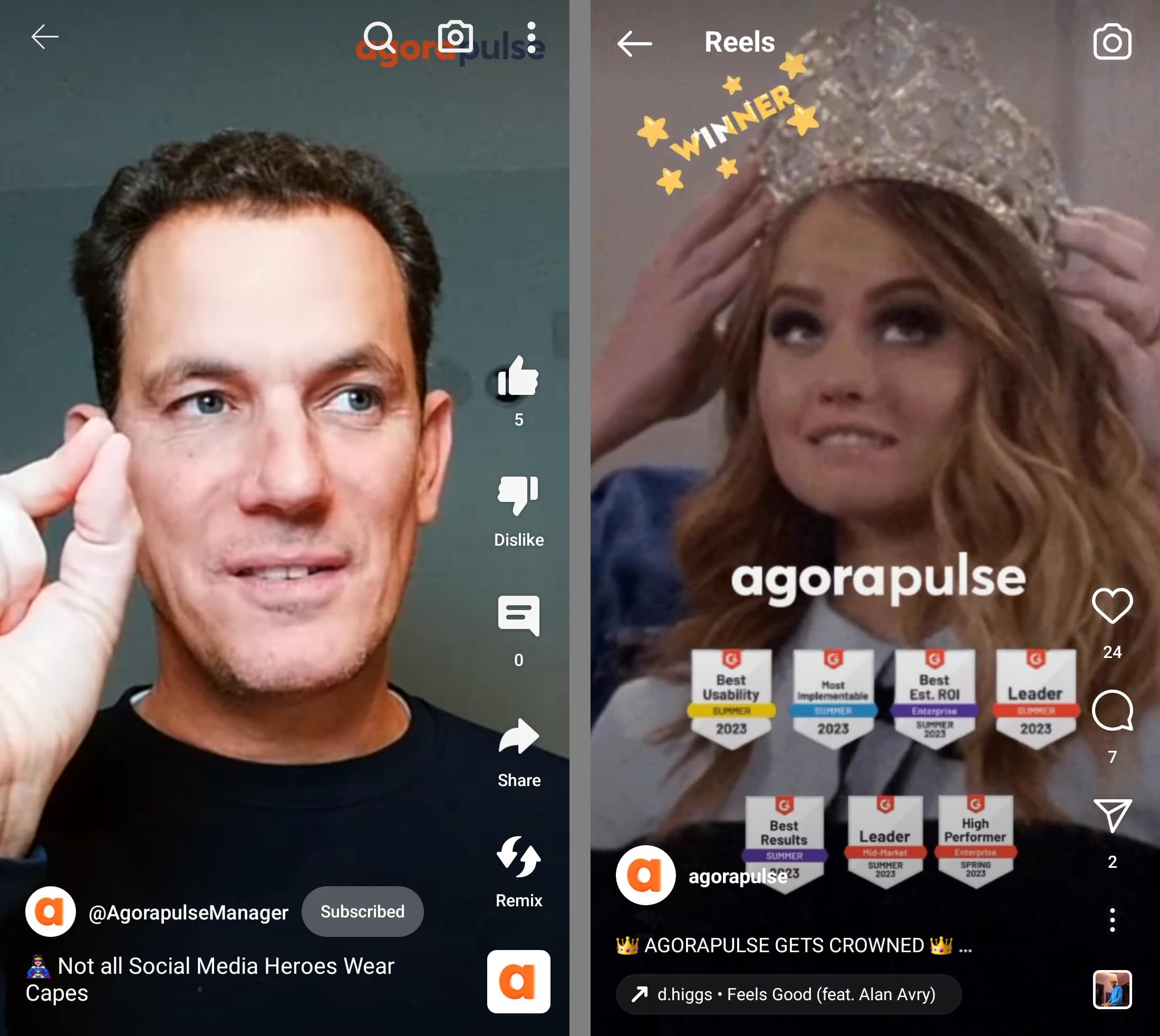 Need to create short-form content efficiently? Apps like Canva and CapCut are great places to start creating. When you publish the content, add final touches like audio and captions in each social media app.
8. Use AI tools strategically
For social media marketers, AI tools are becoming increasingly important to master.
Over 30% of businesses are planning to adopt AI in the next 12 months, and top-performing companies are already using it for marketing, according to Adobe.
So where should you start? To decide, get clear on your priorities. If you want to work faster or automate repetitive tasks, use AI productivity tools.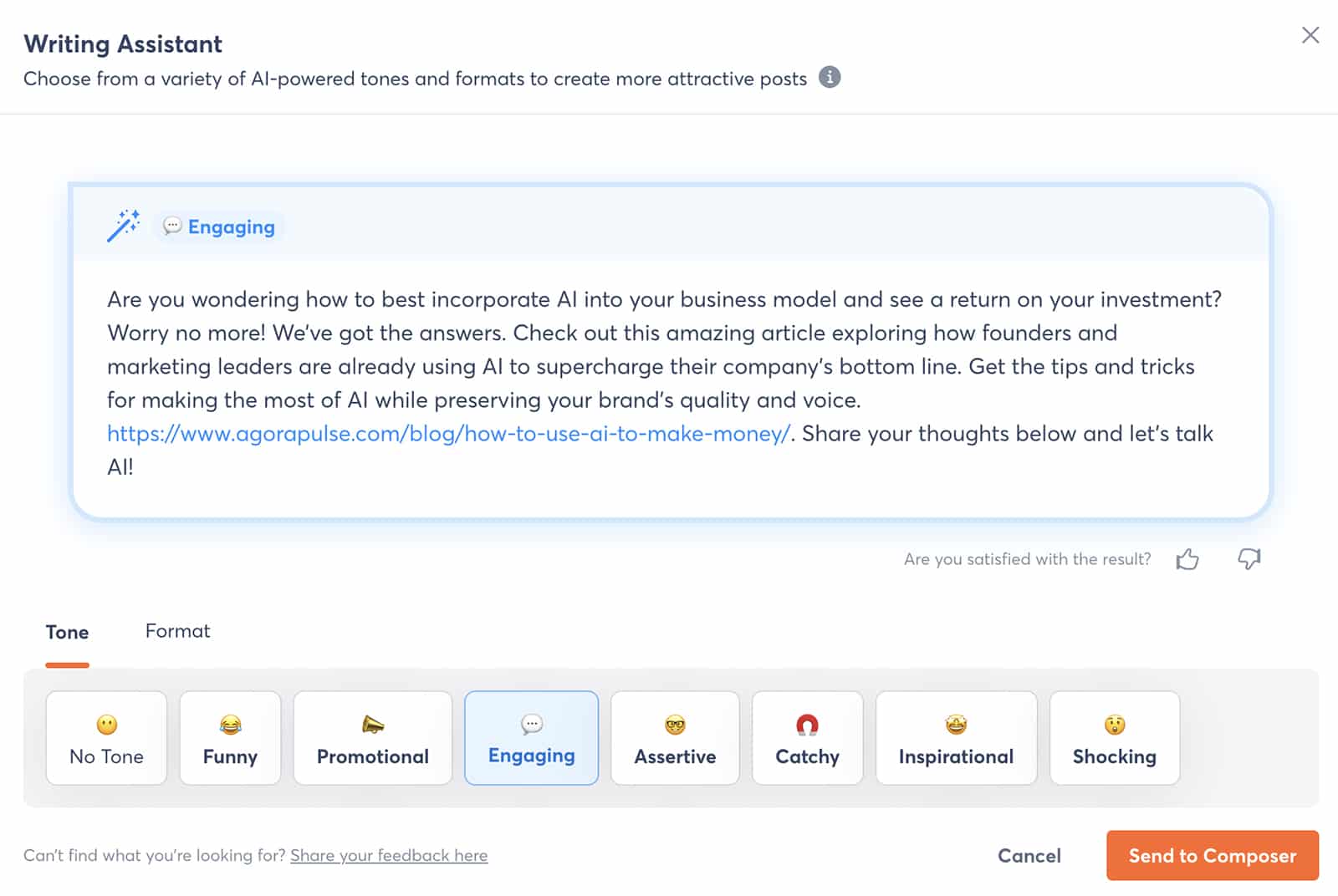 To streamline content creation, try tools like Canva's AI generator for creatives. For copy, I recommend Agorapulse's AI Writing Assistant. Once you input your copy, it applies your choice of AI-powered tones to add the ideal spin to your copy.
9. Source and repurpose UGC
Publishing user-generated content (UGC) to your social accounts is helpful for a couple reasons. Sharing UGC lets you highlight your biggest fans, which can help you build relationships with customers. If customers don't create much content about your brand, launch a UGC campaign to encourage more.
If your team has limited content creation resources, repurposing UGC can also help you publish more content on a budget. Just don't forget to ask the original creator for permission before publishing.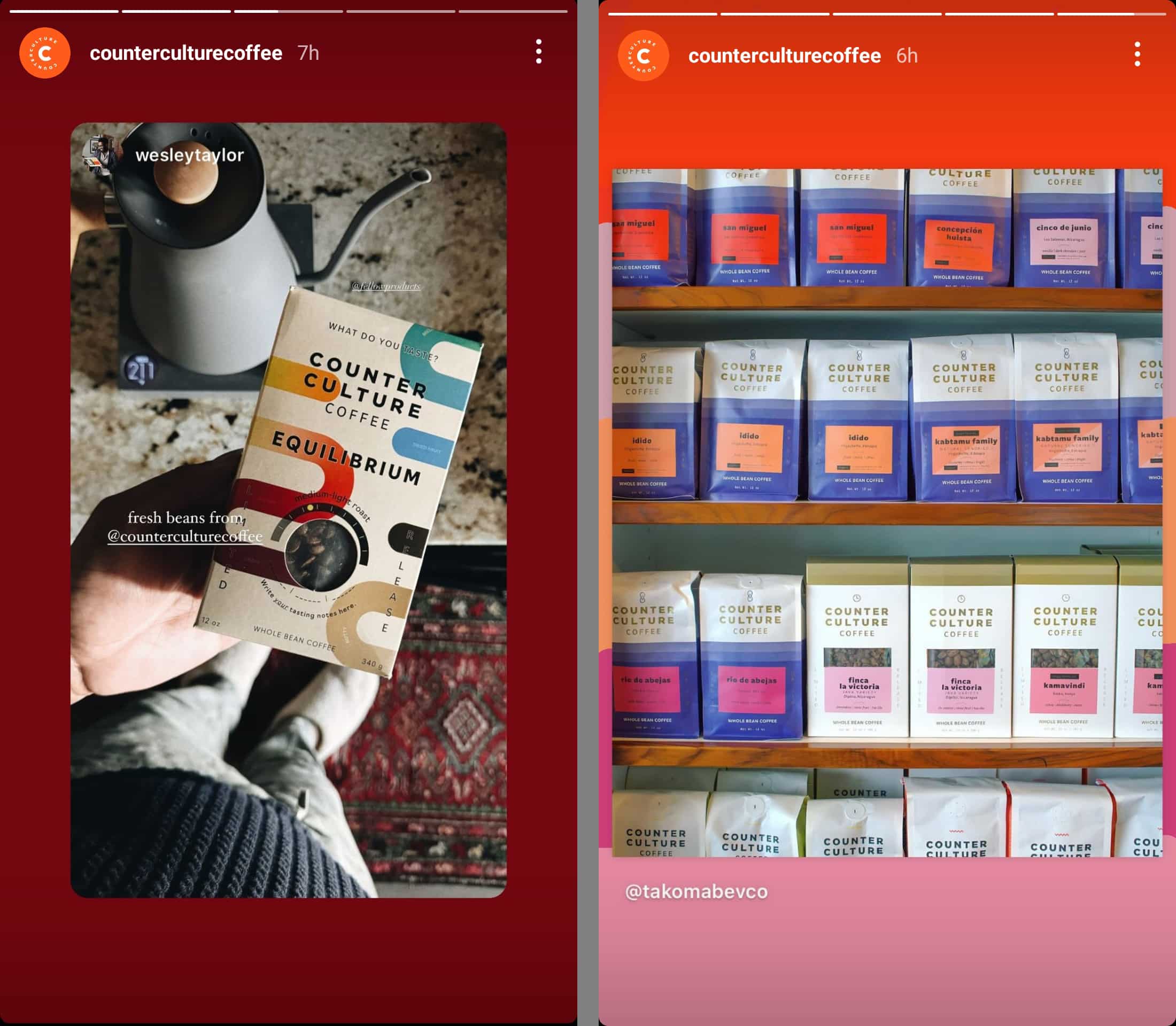 When in doubt, avoid publishing directly to your brand's profile. Instead, use the app's native sharing tools. For example, Counter Culture Coffee's Instagram stories include UGC posts and reels.
10. Get employees on board
For B2B companies, turning employees into advocates is one of the best ways to boost visibility and grow an audience.
"Social media, especially in B2B, is a team effort. We don't always get the benefit of having a 'fun' or 'exciting' product, but that doesn't mean you can't make your social media presence engaging!" shares Amber Rhodes, UserGems Social Media and Communications Manager.
"At UserGems, we do this in part by mobilizing our employees to join in the conversation in meaningful ways through our employee advocacy program. By training and supporting team members to post on LinkedIn in particular, we have been able to amplify our reach and raise brand awareness beyond what we could do from our brand page alone."
Amber cautions, "One important thing to note: participation in employee advocacy programs should be encouraged but optional! This is how you will get the most authentic, engaging posts—and those are the ones that really stand out."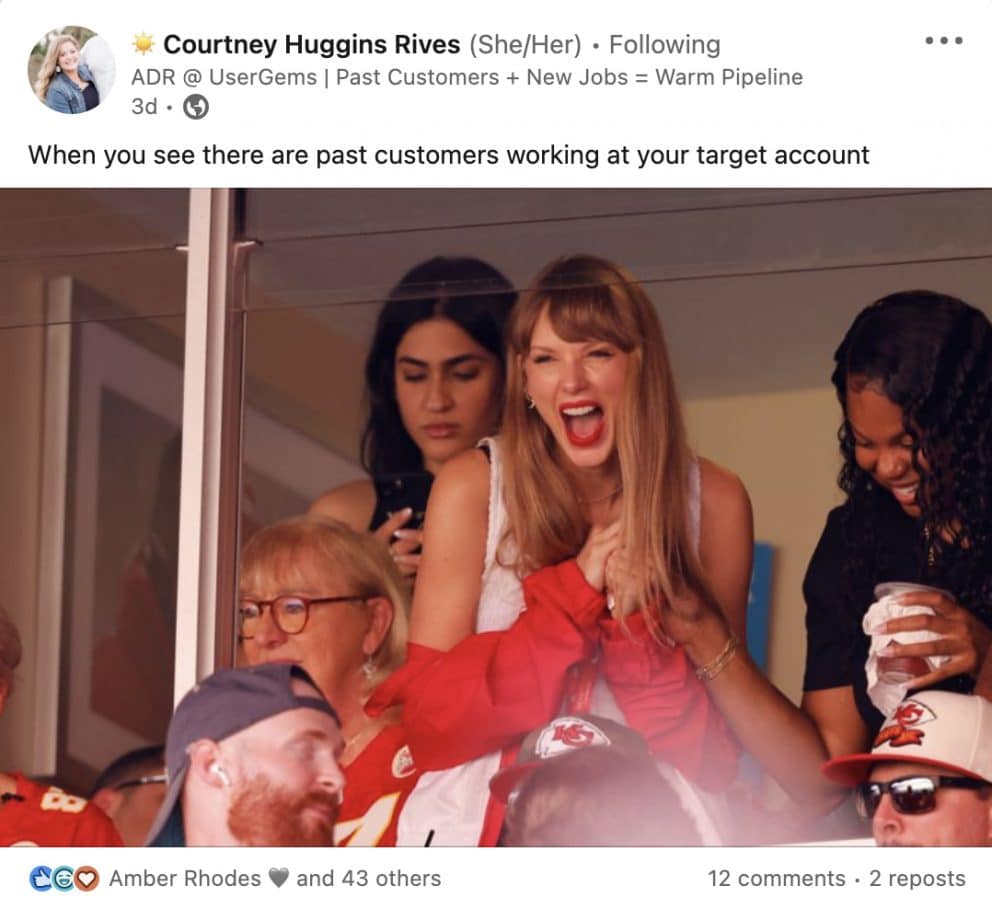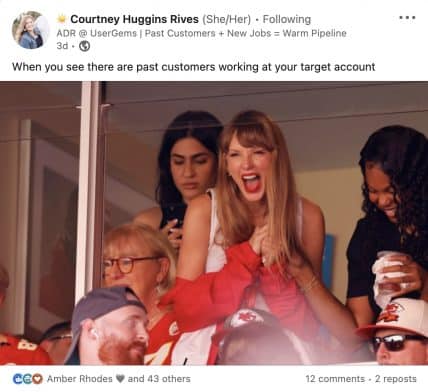 Case in point: the post by UserGems ADR Courtney Huggins Rives uses a meme to increase brand awareness.
11. Make conversions seamless
Not all of your social media posts will be geared toward conversions. Many of your brand's social media posts may focus on education, entertainment, or creating connections with your audience.
But in some cases, you may want followers to visit a landing page, download a resource, or make a purchase. When you do want your audience to convert, make the experience as seamless as possible.
Take the two Crocs posts below. The X/Twitter post on the left includes an interactive carousel with a link that followers can tap. The CTA prompts followers to shop, which they can do seamlessly from X/Twitter.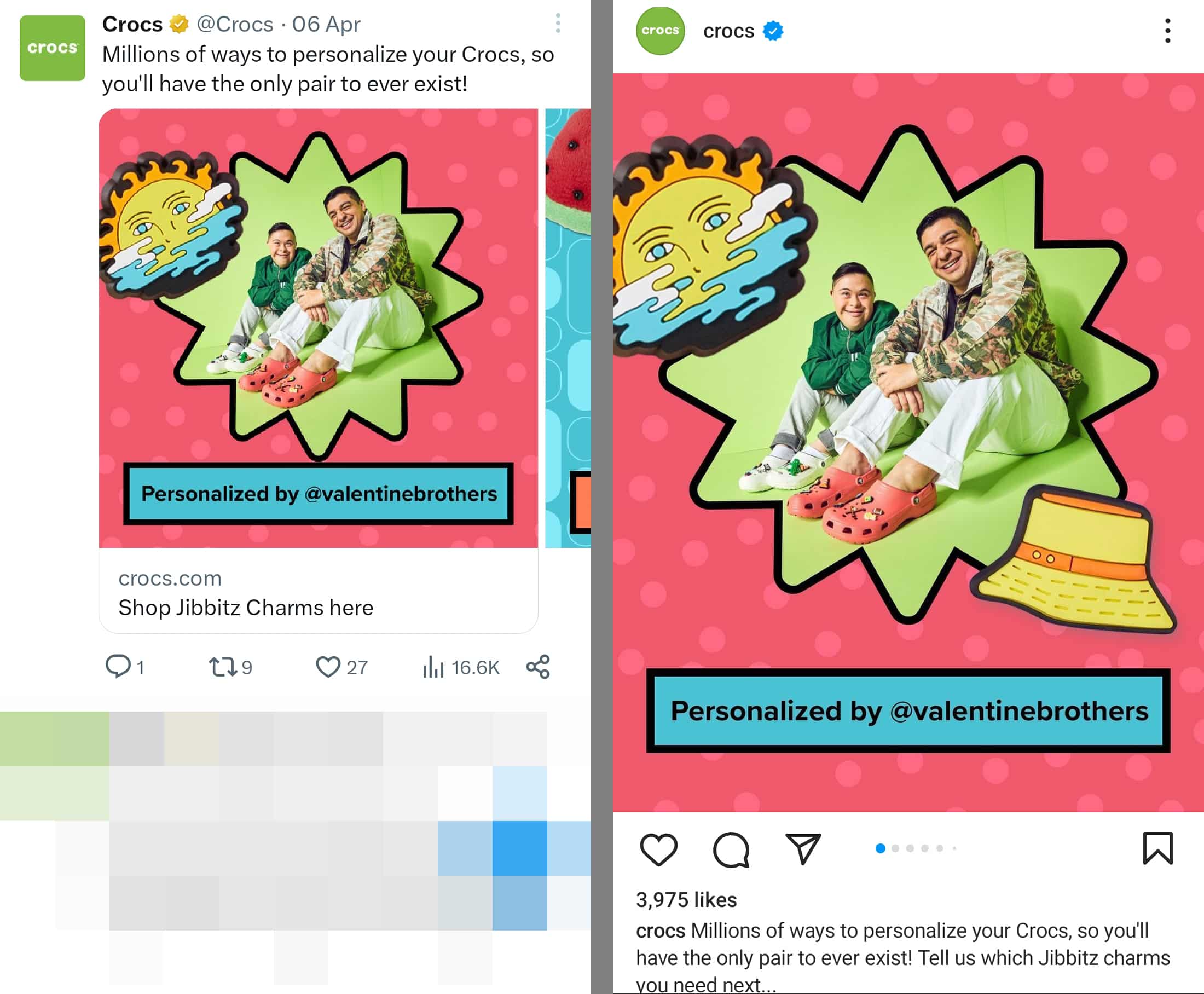 On Instagram, getting followers to visit an external URL isn't nearly as easy. The Crocs Instagram post on the right includes the same carousel, but the copy invites engagement instead.
You can also improve conversions by setting up social commerce tools. Then you can create a Facebook shop or add interactive product tags on Instagram.
12. Publish at optimal times
Timing might not be everything. But it can affect how successful your social posts are. If you post great content at a time when your audience is typically online, they'll be more likely to engage with it shortly after you press publish.
When that happens, social media channels are more likely to rank your content higher in the feed and on other surfaces. Popularity is a ranking factor for Instagram and other channels, so it can help you get posts in front of more people.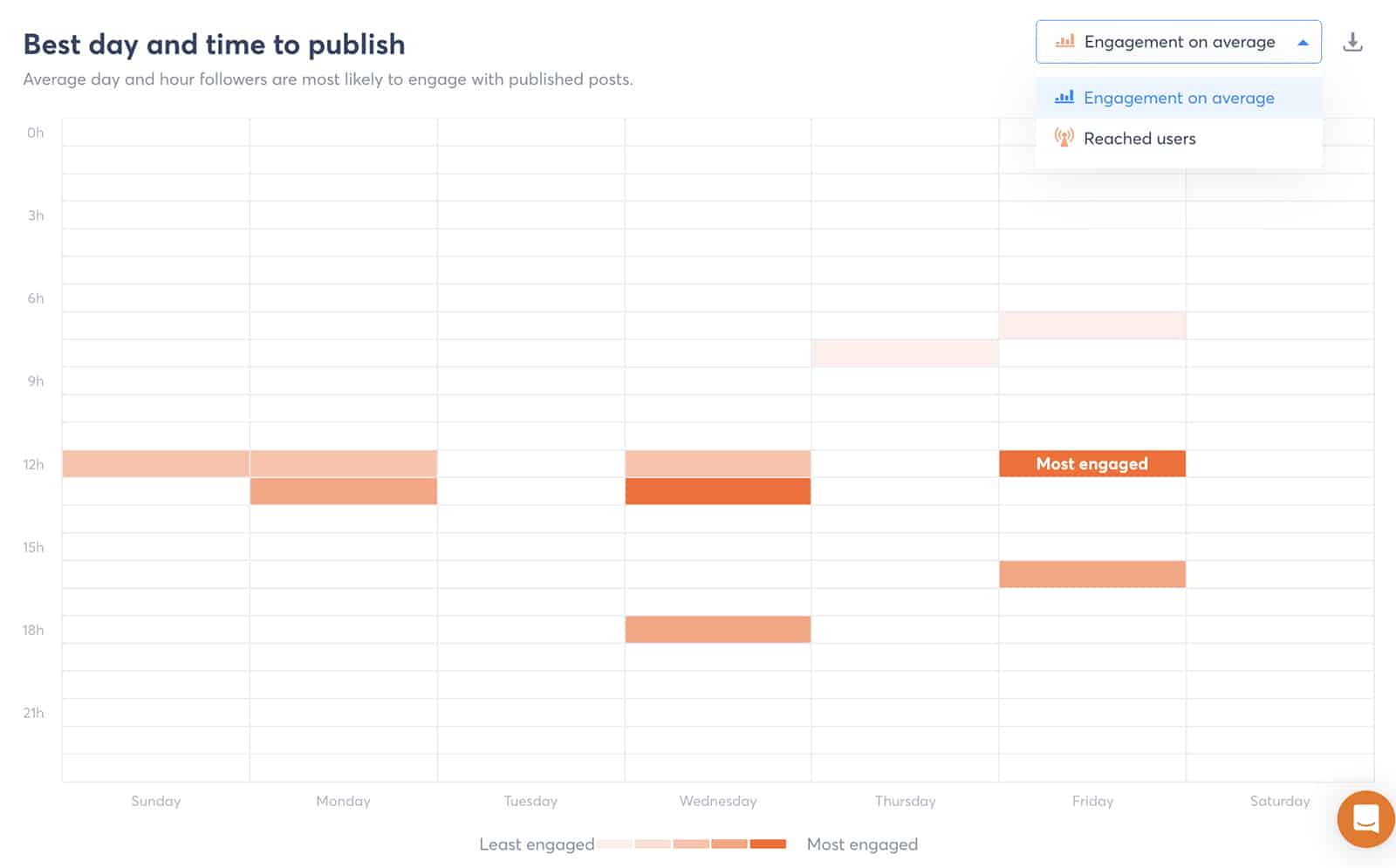 Not sure when to post? The Agorapulse reports dashboard displays suggested times for your connected profiles. You can check the data by reach or by engagement to make sure you optimize for the goals that matter most to your team.
Note that publishing at optimal times doesn't mean setting the same schedule forever. Test new times occasionally so you can make sure you're always reaching your audience at the optimal time.
Social Media Engagement and Community Best Practices
With these guidelines, you can engage with followers in a genuine way and build a loyal community.
13. Treat engagement like content
Publishing to your business page isn't the only way to get your brand in front of your target audience. By commenting strategically on content by influencers, creators, or other brands, you can make connections and increase awareness.
On X/Twitter in particular, "focus on engagement, not posting more. Your target accounts won't naturally come to you. You need a push strategy, and that's where engaging comes in," advises Deb Mukherjee, Head of Marketing at Numeral.
"Don't just write 'great job' as a reply. Make sure your replies add actual value. For instance, you can add an alternate argument to what they're saying or suggesting. Twitter is filled with intellectuals and they love a good debate."
Not all engagement has to come from your business account. As Deb suggests, "founder and executive accounts work the best. They add credibility by default so you should post and engage from your CEO's account if you have the permission."
14. Build genuine connections
Rather than viewing social media followers through a transactional lens, focus on building genuine connections with them.
"When someone worthy follows our account, we follow them back and screenshot the suggestions offered. We send it to them with this sentence: 'Thought you'd like to see who Twitter suggests to new followers. 🙂'" shares Sree Sreenivasan, CEO & Co-founder of Digimentors.
"Almost everyone, no matter how big an account, responds to say thanks and reflect on the suggestions. Just a little surprise and delight, Gary Vee's immortal words."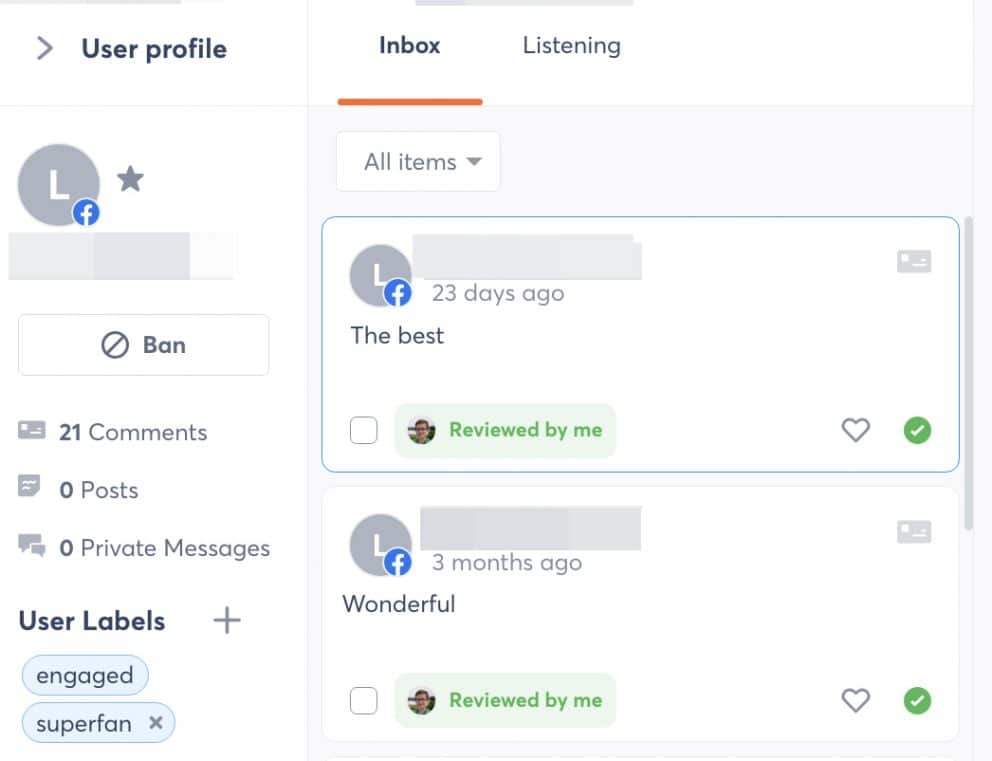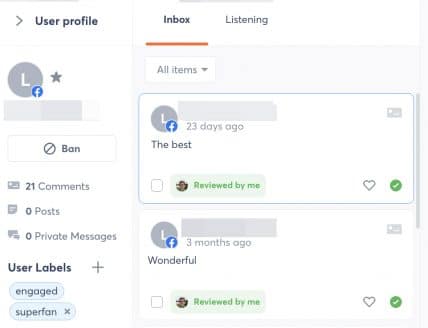 How can you continue to deepen the relationship after the initial follow? Reflect on past interactions whenever you interact. Agorapulse's user profiles are designed to help you keep track of all the interactions you've had with a social media user.
15. Use DMs wisely
From X/Twitter to Instagram, DMs are becoming increasingly important for building relationships and doing business. But there's a right way and a wrong way to use DMs.
"Deals close over DMs. Yes, I have personally brought in $500k in pipeline for Numeral by simply DMing prospects," shares Deb.
"Don't spam and write the same sh*t for everyone. Make sure your DMs are thoughtful and useful. You can maybe compliment some work they have done or recommend someone for a role they're hiring."
"Either way, you need to open a conversation before you can pitch," Deb advises. "Whatever you do, DON'T shoot your elevator pitch in your opening DM."
16. Respond as quickly as possible
In some cases, engagement may be the goal of your social posts. In other cases, it may be a nice bonus. Either way, it's more important than you might think to respond promptly—especially to questions and complaints.
How quickly exactly?
About 20% of American social media users expect responses immediately, according to Statista. Nearly 25% look for a reply within the hour, and over 30% want to hear back within the day.

The community management tab of your Agorapulse reports tracks the average time it takes each team member to respond. If you aren't meeting the time frames above, create a plan or allocate resources so your team can reply faster. Saved replies and inbox automation can help.
17. Listen to customers and competitors
It's easy to focus completely on the content you're publishing to your company page or how you're engaging with prospects' posts. But what are your customers saying on social media? How about your competitors?
Social listening tools are crucial for social media managers. With them, you can find posts that include specific keywords or hashtags across social channels.
Social listening can help you achieve goals like:
Hearing which other solutions your prospects are considering as they research a purchase
Finding current customer complaints so you can address them quickly
Discovering how customers and prospects feel about your brand
Seeing how competitors interact with their audiences—or how they talk about your brand
Finding posts about your brand, your competitors, or your industry is just the first step in any social listening workflow. From there, you can track customer sentiment or respond directly and join the conversation.
Best Practices for Social Media Reporting and ROI
With this framework, you can extract valuable insights from social media reports and measure the value of your work.
18. Focus on metrics that matter
Social media platforms track a lot of metrics, which can make the process of measuring results overwhelming. Rather than reporting on every single one, focus on the social media metrics that matter to your team.
It all goes back to your social media goals. What do you really want to accomplish? If likes aren't a top priority, for example, they shouldn't be the focus of your report. Instead, clicks may be far more important.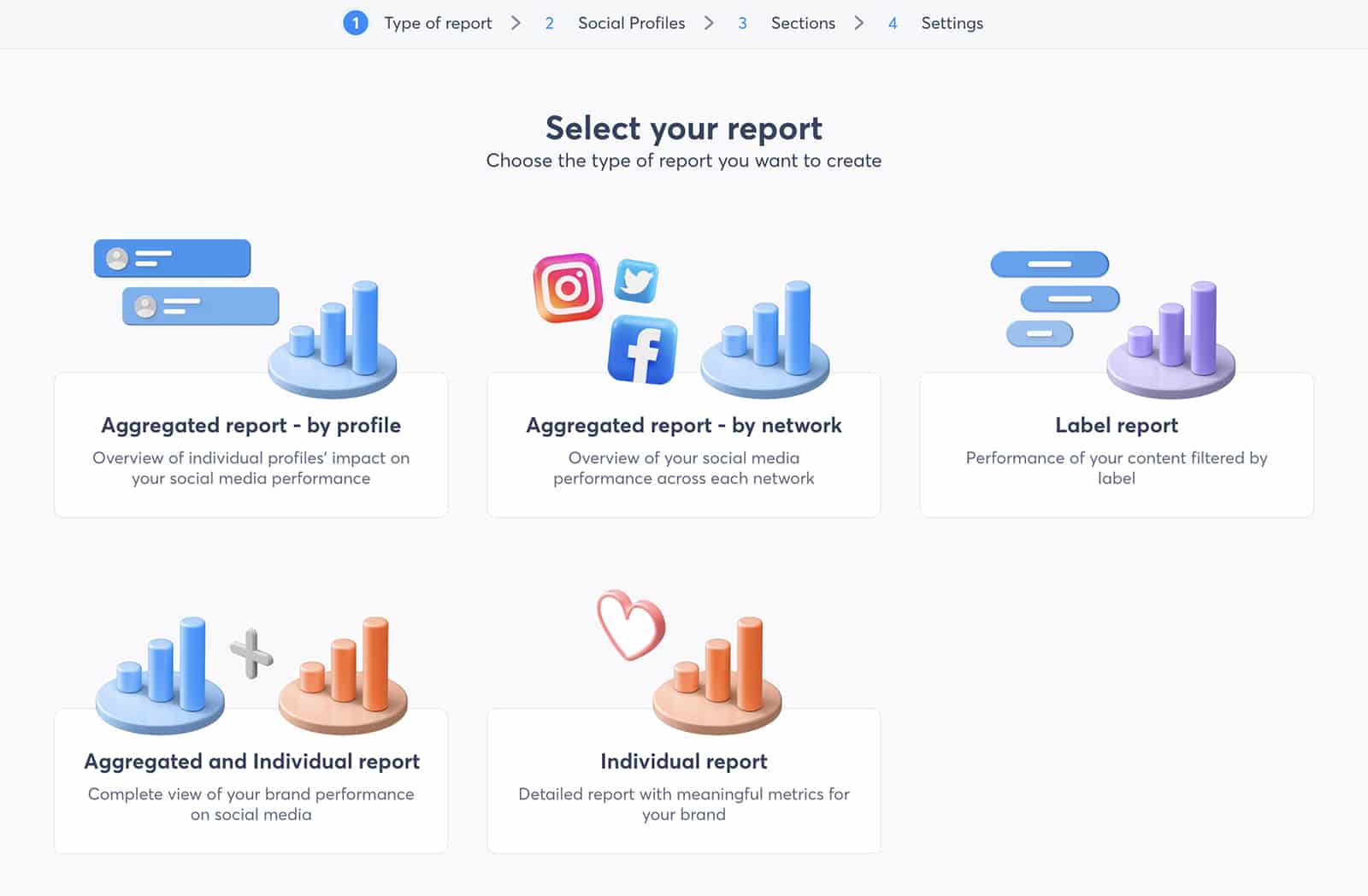 Standard reporting templates are a good starting point. But when you need to customize metrics and formats or even group accounts and campaigns together, a tool like Power Reports is much more powerful.
19. Measure return on investment (ROI)
Stakeholders often dismiss social media as a top-of-funnel (TOFU) channel that doesn't drive business outcomes. You can prove them wrong and quantify the value of your work by measuring social media ROI.
Tools like Google Analytics are helpful for measuring activity from all marketing channels, including social media. When you want to focus exclusively on social channels, Agorapulse's social media ROI tool tends to be faster and easier.

With this tool, you can track website traffic, conversions, and value from each social channel, profile, and campaign. You can also identify your most valuable channels and posts so you know what to prioritize in the future.
20. Look for patterns in the data
Whether you review social media analytics daily, weekly, or monthly, it's easy to get caught up in the numbers. When you have key performance indicators (KPIs) to hit, numbers are certainly important. But they don't tell the whole story.
"Don't focus on numbers. Focus on patterns because patterns don't lie," Sachin advises.
"We had an instance with one of our accounts where a specific type of unboxing video for the client worked well. We banked on that, created many videos like that, and boom! We saw a significant shift in engagement, inbound leads, and followers. We're at 40,000 followers on Instagram for that brand and receive 300+ inquiries for their products every week."
21. Make a plan to apply your insights
After reviewing numbers and finding patterns, the next step is applying these insights to your social media efforts. Here are some questions to ask yourself:
What are the numbers and patterns telling you?
Is your business alone in experiencing these social trends?
How can you adjust your social strategy to respond to these patterns?
Do you have the resources you need to do the work, or do you need more budget?
Can you estimate the ROI of responding to these trends? How about the cost of staying the course?
Once you've considered these questions, make a plan to move forward. Continue to monitor the same metrics consistently so you can track your progress and measure the business impact of your work.

Wrapping Up What We Learned About Social Media Best Practices
As helpful as these guidelines are designed to be, they're likely to change over time—or even overnight. To make sure you're always following current best practices for social media managers, monitor social trends, watch for new features, and look for algorithm updates. Then you'll be ready to react to changes while still hitting your goals.