What can clients expect from a social media marketing agency? Let's look at the expectations that clients have of social media agencies (and what social media agencies need to be clear about providing to customers).
Potential clients first start to consider working with a social media marketing agency or practitioner for many different reasons.
They might be too busy to manage their accounts themselves while still keeping up with the rest of their day-to-day tasks. They might be worried about the increased demand or activity across multiple social channels as their brand and following grow. Perhaps they are looking for expert help to come in and create exceptional strategic content.
No matter why clients choose to work with a social media marketing agency, however, they need to know what to expect—and for social media marketing agencies to be clear and focus on addressing expectations.
Though all digital agencies have their own distinct processes and systems in place, agency clients should reliably be able to expect some common things from most agencies.
1. Most social media agencies offer set services for flat fees
Social media marketing is a big field, so it only makes sense that social media marketing agencies can offer a large number of different services.
These services may or may not include the following:
Social media strategy
Content creation for each social platform
Creating, setting up, or optimizing existing social profiles
Running or managing different promotions
Creating, running, or managing social media ads
(Note: This is typically is not included by most marketing agencies, and instead are offered by advertising firms.)
Social listening and community management and engagement
Monitoring social media metrics
Many agencies will offer "tiered plans," so clients can choose the services and scale of work (including number of posts, or the number of platforms) that you need for a flat rate.
A client will typically sign a contract and a retainer at a social media agency. After doing so, the client will be charged a flat-rate at the beginning of the month. Some agencies require a three-month or six-month agreements, but many offer month-to-month services.
2. The agency will thoroughly learn about the client's brand
A social media marketing agency should ask an abundance of questions about a potential client's business, branding, product, and service.
If the agency doesn't, the client should run far and fast.
No one should be creating a strategy or posts and interacting with a brand's followers if they don't know enough that they could essentially act as an extension of that brand.
(If you're looking for a social media manager for your brand, you'll want to download this free quick sheet about what to ask when hiring one.)
The account manager will likely want to either set up a call to learn about the client's business or send a questionnaire to gather the information they need. (A client should expect a social media marketing agency to want to know more about its business!)
These posts are both for fitness brands, for example, but which clearly have two very different audiences: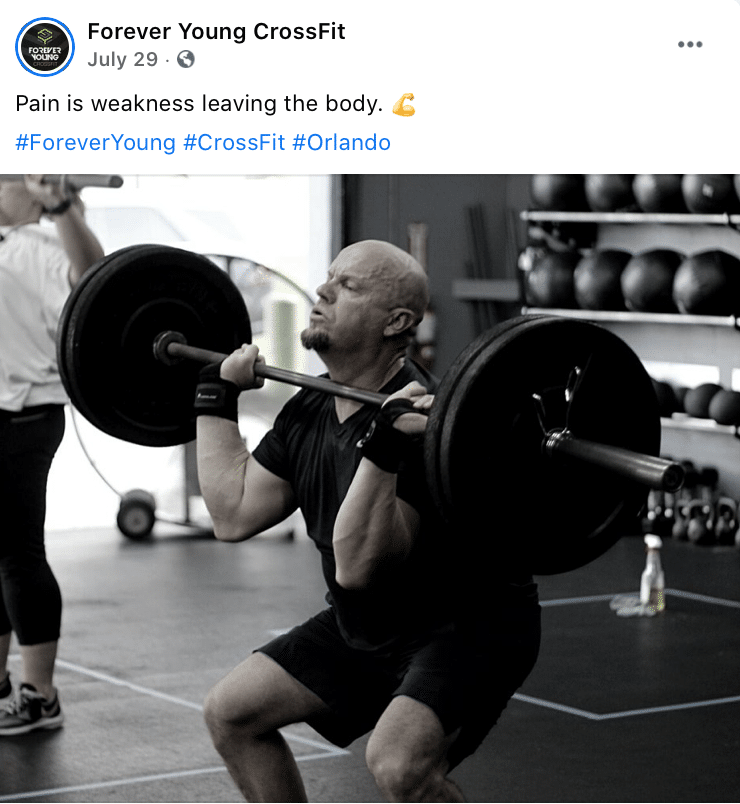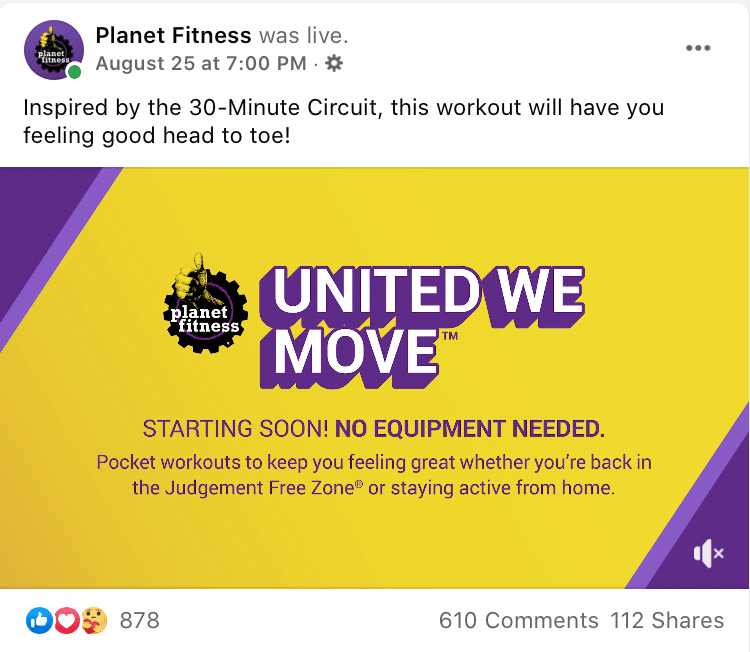 A social media marketing agency should ask clients the following:
Who makes up your audience is? Have you developed any buyer personas?
What are your customer's pain points?
What are your social media marketing goals?
What makes your product, service, and/or brand unique?
What language do you use or don't use?
What other essential brand policies do we need to know?
During this stage of the process where everyone's getting to know each other, be as detailed as you can be. With a good agency, that will likely increase potential success.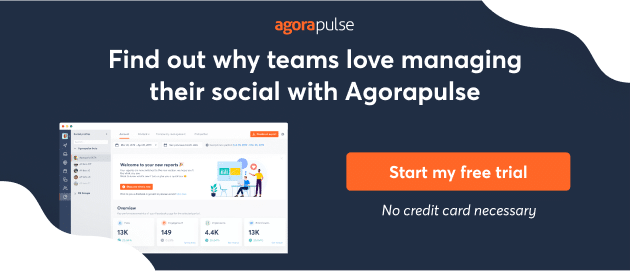 3. The client will grant the agency access to its social media accounts
Once a client has signed on with an agency, they need to grant the social media agency access to social accounts, so they can actually post to and manage their different social media profiles.
On Facebook (and thus Instagram), a client might consider using the Business Manager to give the agency posting access to their account.
You can also give other team members publisher access on YouTube and LinkedIn.
An agency may already use a social media management tool like Agorapulse to add specific team members to an account and grant them different levels of access, including the ability to create and publish content or respond to private messages.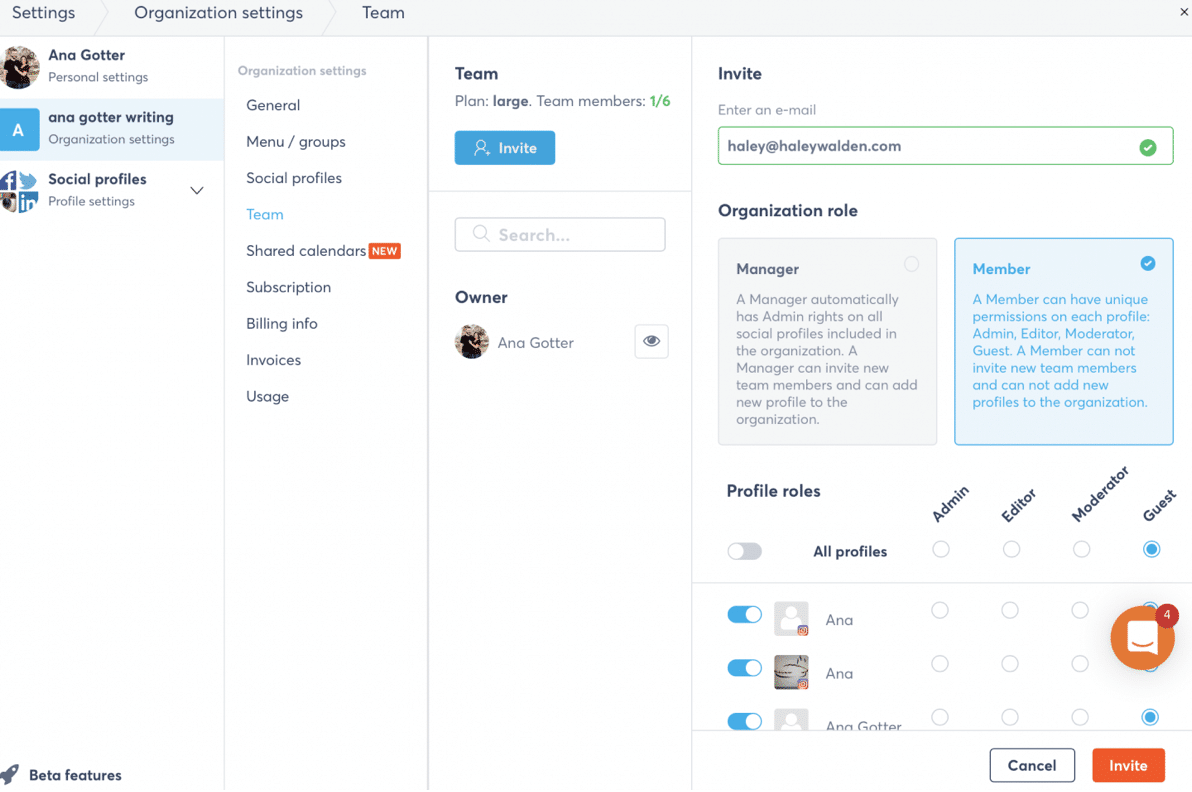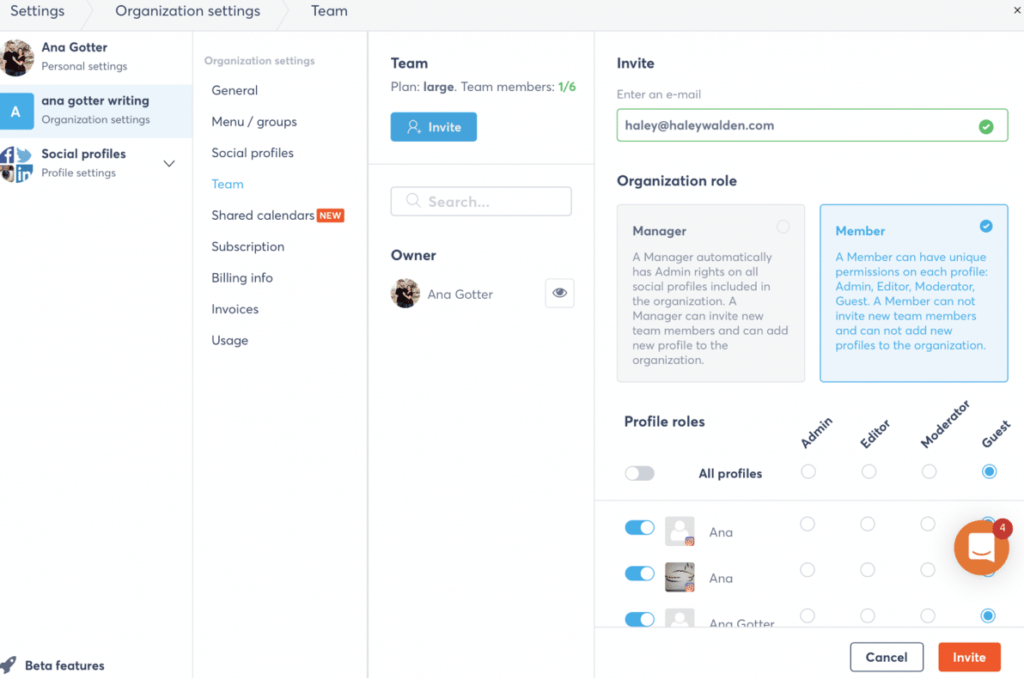 4. The social media agency will include industry experts
A client may not know about every new Facebook or Instagram algorithm that will quickly alter best practices and impact how their content ranks in the feeds … but its social media agency should.
Social media platforms change quickly, and so do their best practices and the tools available to increase results. Account managers should be well aware of all of these changes, along with extremely in-depth strategic knowledge that they can leverage to their clients' benefit.
Agency clients shouldn't be afraid to ask about the strategy that a social media agency has in store and how it plans on getting the specific results it has promised (or said that it is targeting).
If a social media agency can't give clients a clear answer, note that this may be a warning sign that they don't have a solid strategy.
The best agencies are all fully transparent, and this is something that should be expected. Clients are paying for a service, so don't feel bad about asking for this.
5. Clients can approve content before it is published
Some agencies may automatically have a system set up to get approval for social posts before they go live, but if not, this is something clients can ask about.
If a client has a strong brand voice, this maybe even more important.
An approval process can help clients double-check that they're happy with what's being put out.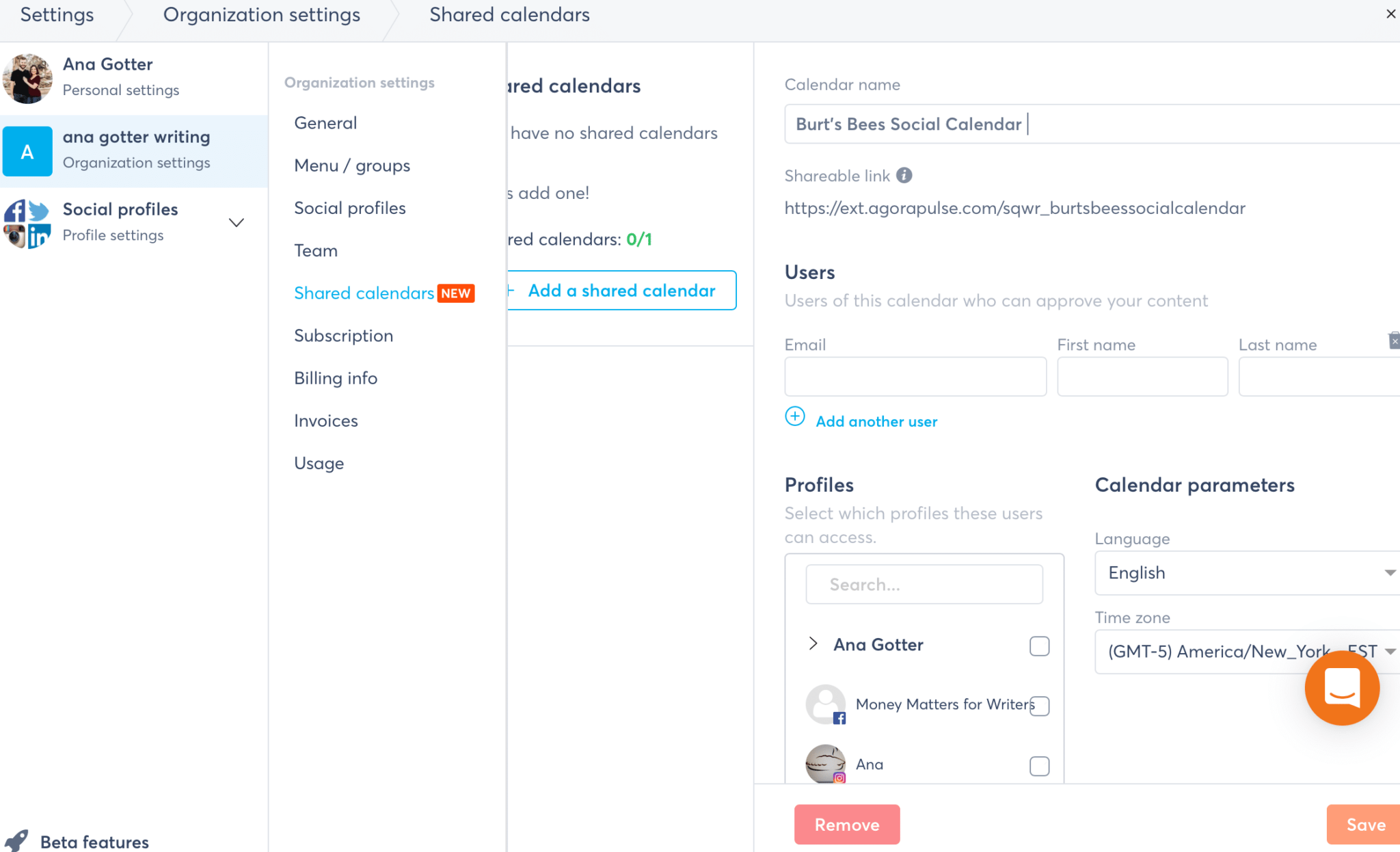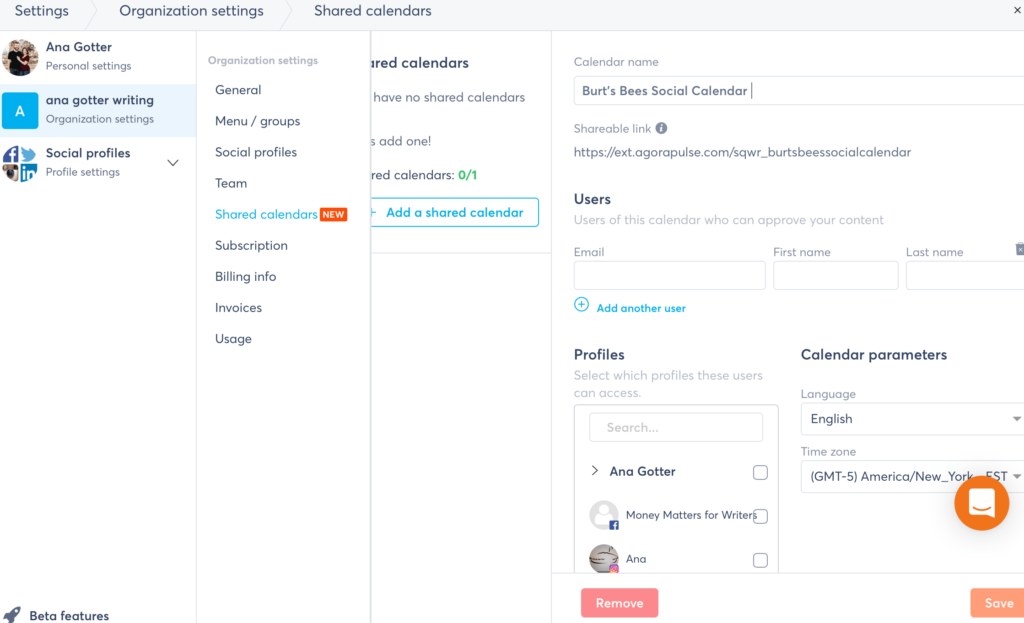 If a client wants to approve content before it's published, the agency may submit a list of posts in a Google Doc or Word Doc.
It's more common, however, for agencies to create content through a social media calendar tool like Agorapulse and submit either the calendar or individual posts for approval.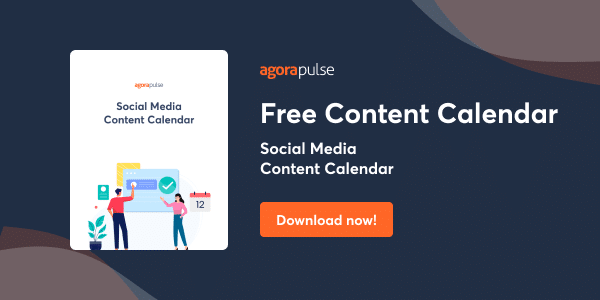 6. Clients of a social media marketing agency can be hands-off if they want to
Some businesses and organizations want to be hands-on, but many agencies will happily take the reins and tackle the tasks they've been assigned without much oversight. That's part of the reason a client hired them, after all!
They may need a client to provide new images or information that are brand-specific or to provide information on an ongoing basis.
For example, a dog rescue would need to share pictures and details of each new dog and their adoption status, for example, and a small ice cream parlor would need to share featured items or answer questions about ingredients.
That being said, a client can put the entire social management process in their hands if it chooses.
If a client is opting for a hands-off approach, it should pay extra close attention for the first two months to make sure things are how it was hoping.
After that, the agency is likely familiar with its business, and it can be smooth sailing.
Even if a client prefers a hands-off approach, it should be updating the agency regularly and checking in about potential promotions. An agency can't just run a contest with a $100 gift card giveaway to the client's business without talking to the client first. This will help the client stay involved and informed about the overall strategy, so the client and agency are both happy with the direction that it's going.
Which brings us to the next point…
7. Social media agencies should provide regular reports to clients
Strong social media agencies are going to be all about the data.
They're paying close attention to what types of posts perform best on each platform, including what drives the most clicks to a client's site, which videos have the best completion rates, and which tactics drew more attention to its Facebook event.
They should be keen on sharing the data with clients, too. This will typically take the form of a report on a regular schedule.
Some agencies send full reports monthly; others may send brief summaries monthly, but more in-depth reports quarterly. Those reports should show clear data about the performance of content on-platform that shows the progress that's been made month-to-month or quarter-to-quarter.


Reporting isn't just about knowing where the numbers are currently; successful social media agencies also place an emphasis on reporting so that clients know that they're getting what they paid for, too.
Conclusion
Working with a social media marketing agency is a great move for plenty of businesses. They're able to take advantage of the agency's expertise to increase performance. Even better, they can increase ROI potential while also scaling content and being able to take a step back themselves simultaneously.
Knowing what to expect from an agency upfront can help clients go into a working relationship with realistic expectations. It can also help a client find an agency that's right for them!
* * *
Get started on saving time and energy on your own social media management! Check out our free trial of Agorapulse to help you schedule, track, and measure all your social media efforts.