As an Instagram marketing pro, you know how to publish awesome posts, create engaging Stories, and leverage direct messages (DMs). But what happens when you have to juggle multiple Instagram accounts for your agency?
Handling more than one profile requires teamwork, planning, workflows, and a dedicated social media management solution. Fortunately, Agorapulse can help.
Find out how to manage multiple Instagram accounts while saving time, keeping logins secure, and monitoring all the metrics that matter to your colleagues and clients.
The Trouble With Juggling Client Profiles on Instagram
First things first: You may be able to get away with using Instagram's mobile app if you only need to create a single profile for your business. But if you need to manage multiple accounts—or a variety of channels—relying on native tools alone is nearly impossible.
The Instagram app allows you to switch between only five accounts on your device at any given time. Did you just take on your sixth client? You'll have to log out of one account to make space for another profile.
If you intend to do a lot of logging in and out on the Instagram app, be prepared to clear security alerts and redo account verifications with clients regularly.
Alternatively, you could consider investing in additional devices for extra client accounts—if you have the budget for it.
Even if you don't mind all the account switching or device management, the Instagram app doesn't make it easy to keep track of publishing, engagement, and social listening for multiple profiles. Instead of providing an overview of all your account activity, the app requires you to tap on each one to manage them all separately.
So what's the solution?
Agorapulse lets you add as many Instagram profiles as you need to your dashboard—anywhere from three (free plan) to 40+ (Enterprise plan). That means you can manage all your client accounts seamlessly without worrying about device limitations.
Add Instagram Accounts to Agorapulse
Let's walk through how to manage Instagram accounts with Agorapulse.
Start by opening your dashboard and clicking your profile icon in the upper left corner. Select Add a social profile. Then click Instagram Business profile.
You'll need to log into your linked Facebook account if you haven't already. Once you do, Agorapulse will automatically populate a list of the Instagram Business accounts you can access.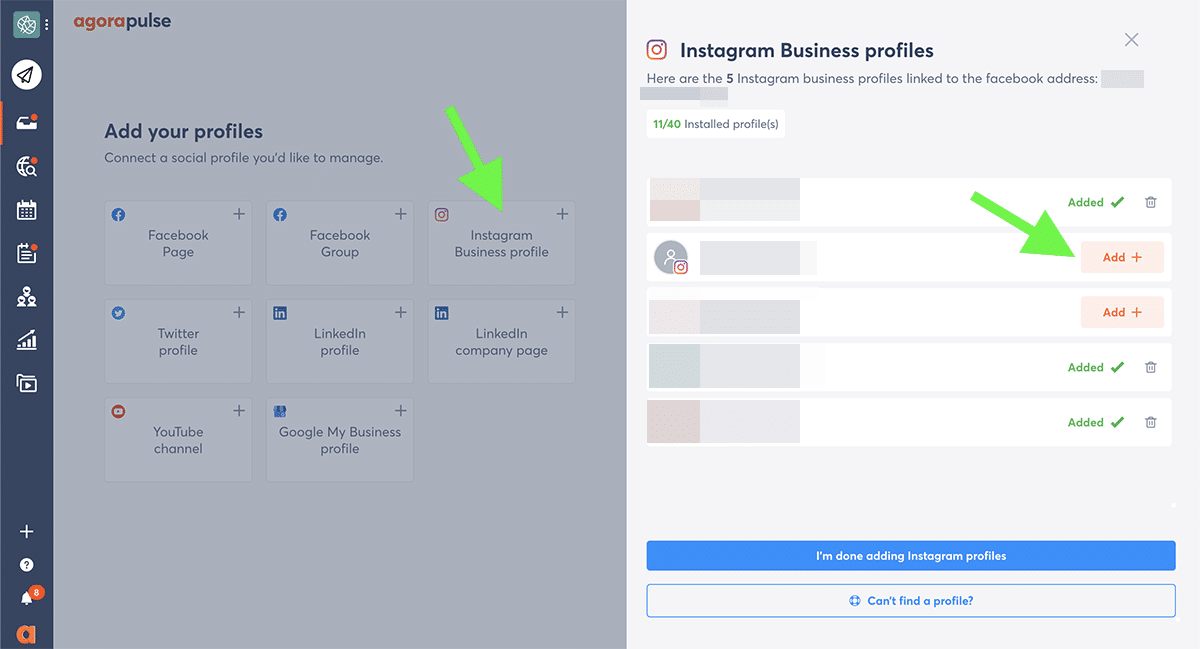 Click the orange Add button next to any Instagram account you want to manage. Then click the blue I'm done adding Instagram profiles button.
Now your clients' Instagram accounts are linked to Agorapulse, and you can start managing them from the dashboard. They'll stay logged in, so you don't have to worry about providing more verification codes or clearing more security alerts.
Assign Permissions to Team Members
Next, get your team members on board.
When you use Agorapulse, you can complete this step without having to get clients involved or clear more security checks every time you need to give a colleague access.
To assign permissions to a team member, click the profile icon in your Agorapulse dashboard. Open Organization settings and select Team. Then click the pencil icon next to any team member to change their permissions.

By default, team members don't get access to the new accounts you link. To grant access, toggle the account permissions on and choose a role. For example, Guests get read-only access, while Admins can do everything, including adding more team members.
When you're finished, click the orange Update button. Your colleague will automatically be able to access the Instagram accounts you selected on their Agorapulse dashboard.
Group Accounts in Agorapulse
When you link new accounts to Agorapulse, the dashboard automatically displays them in a long list. To make your clients' accounts easier to find and track, take a couple of minutes to organize them.
Click your profile icon and select Organization settings. Then choose Menu / groups. Now you can change the order of your social media accounts or organize them into categories.
Select Create new group and give it a name. Then drag and drop profiles into the group. When you're finished organizing, press the orange Save button. When you return to your dashboard, you'll see all your groups neatly organized in the left-hand menu.

The best way to organize client social media accounts depends on your team's goals and needs.
Here are a few ideas:
Create a group for each client's social channels.
Set up a group for each location or franchise.
Establish a group for each social channel, keeping all Instagram accounts together.
Note that these settings apply to your entire team. That means the groups you create can help your colleagues stay organized too.

Organize Creative Assets for Instagram
Are you ready to set up your content workflow? With Agorapulse's media library, you can upload and organize all your clients' creative assets. That way, you don't have to waste time sorting through emails or worry about posting the wrong photo or video.
Navigate to your Library and click the orange Create New button. Set up a separate folder for each client so you can find files easily, and use subfolders to add extra organization. For example, you might create a subfolder for Instagram content or for each campaign.
Now you're ready to start uploading content. You can drag and drop files right into your media library or click the Create New button to upload files.

Once you've added files, click on any one to edit. In the asset details window you can add alt text, apply a label, or write a note for your team. For example, you might apply an "approved" label if your client has signed off on a photo or video.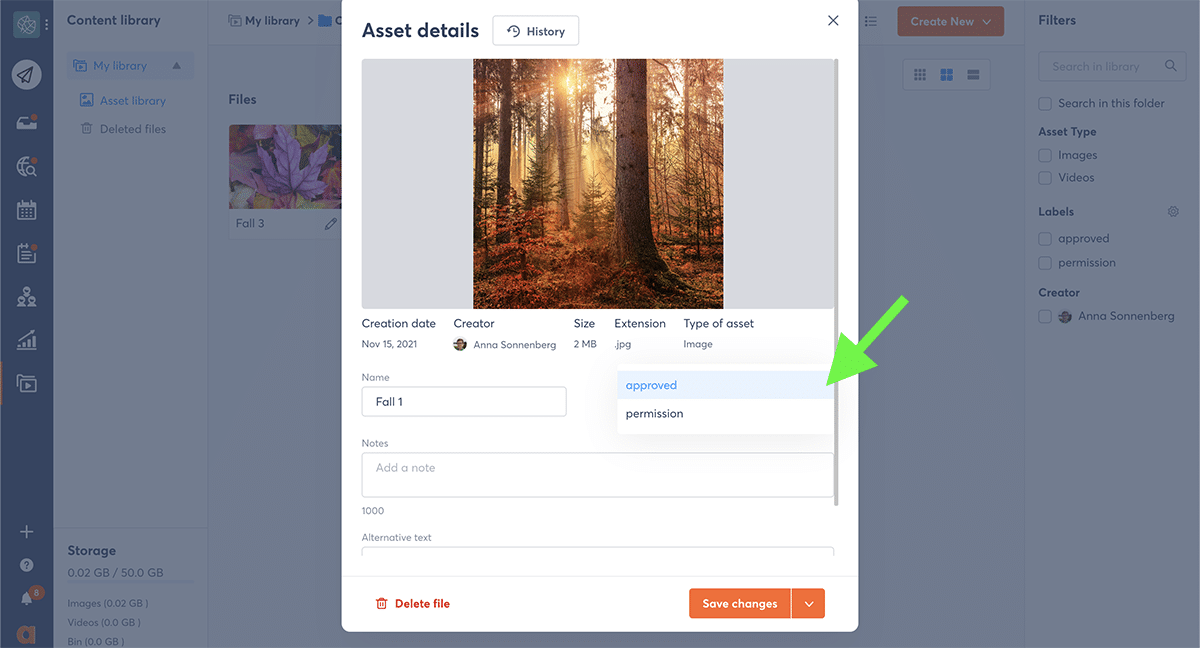 You can also add Canva designs to your media library via the Create New button. Through this integration, you can use a template, design from scratch, or grab a ready-made image from your Canva folders. Press the Publish button to finalize your design and add it to your Agorapulse media library.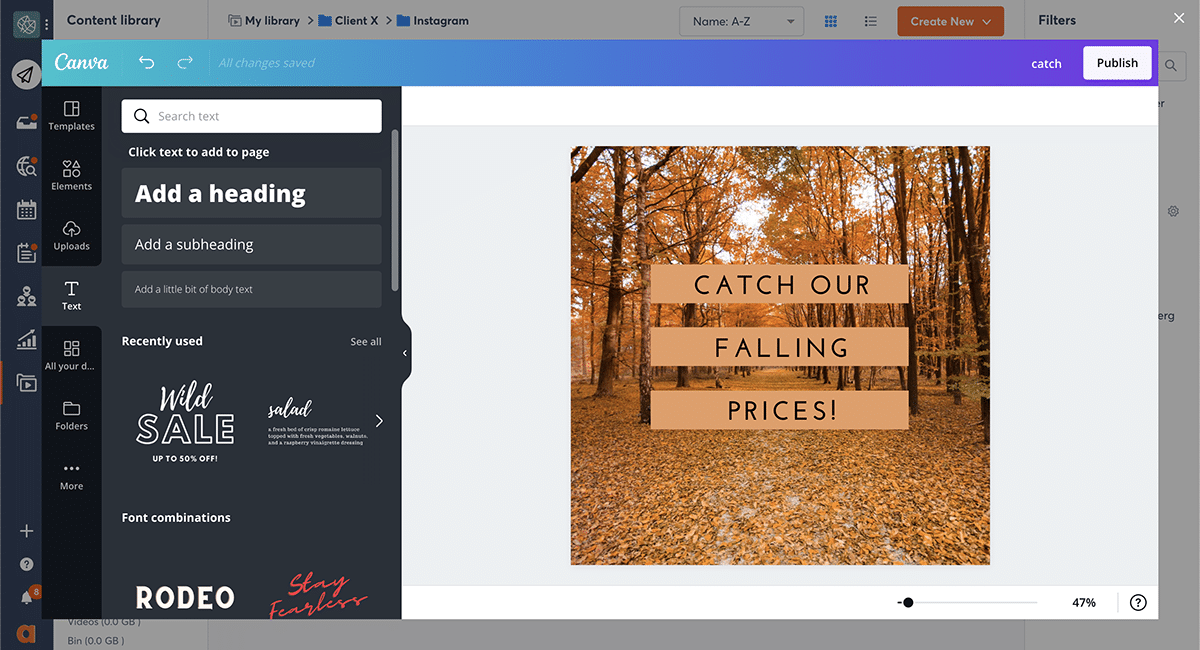 If you lose track of what you've uploaded, the media library makes it easy to search or filter. Select any label to see files with that label, or type any term into the search bar.
The best part? Your whole team shares the media library. That means everyone can work from the same files, which can save time and help avoid publishing mistakes.
Schedule Content on Multiple Client Accounts
Once you upload images and videos, you can publish Instagram posts directly from the media library. Select any creative asset, click the orange arrow in the lower right, and choose Publish this asset. The composer will automatically open so you can finish publishing. Alternatively, you can create a post directly from the Calendar tab.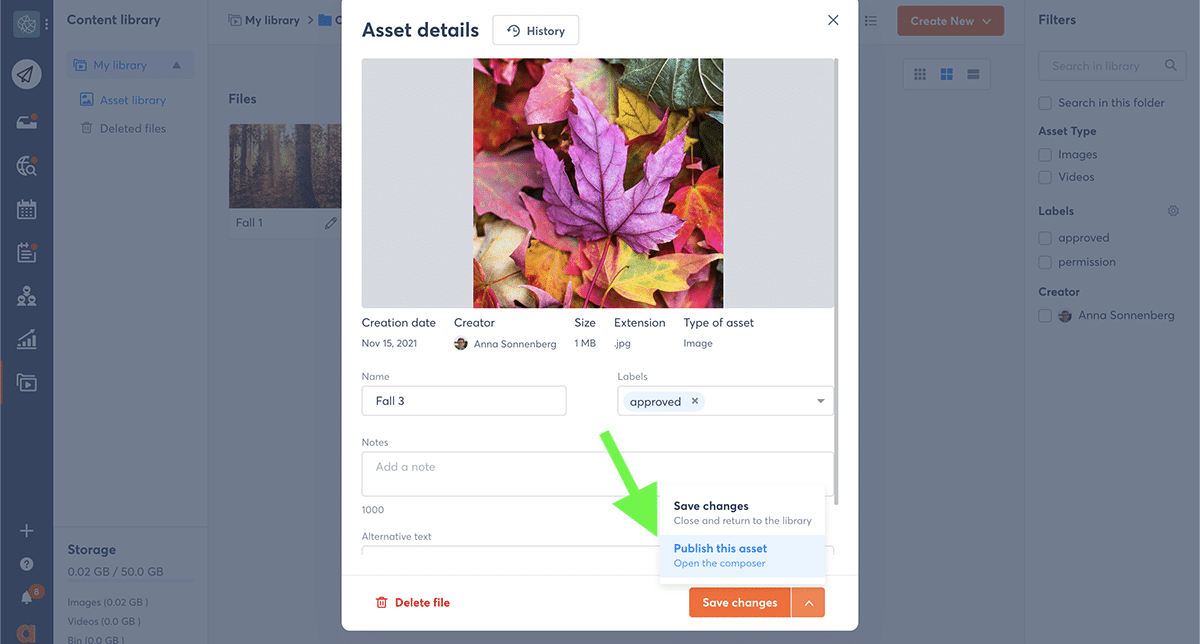 Select the Instagram account where you want to publish the content. Then create your post.
Here's what you can do:
Write a caption to share news, start a conversation, or get feedback.
Mention other accounts by clicking on the image preview.
Add hashtags to the caption or reuse a group of hashtags you already saved.
Tag a location.
After creating your Instagram feed post, you can select Publish now if you want it to go live immediately. If you're batching content creation or planning a campaign in advance, select Schedule instead.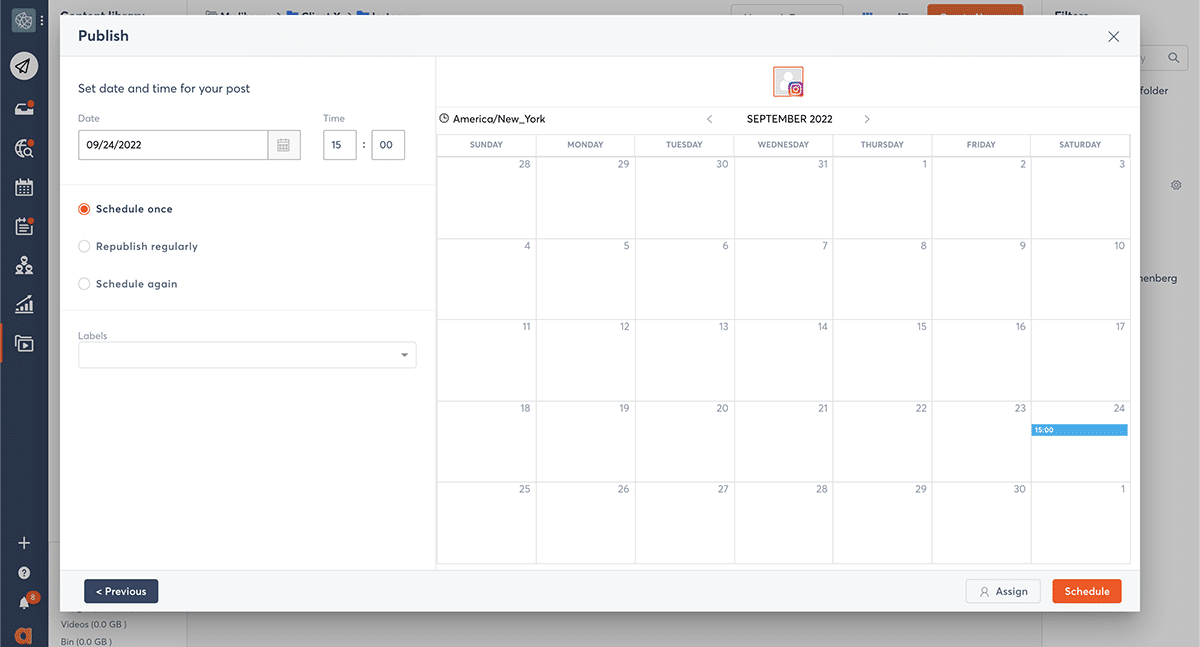 Choose the date and time you want to publish. Add optional publishing labels to keep track of the type of content you post (more on that below) and click the orange Schedule button to complete the process.
Do you want to schedule Story content instead of feed posts? Go back to the main composer screen and toggle the Send to mobile switch. Choose which team member should get a mobile notification when it's time to publish the Story.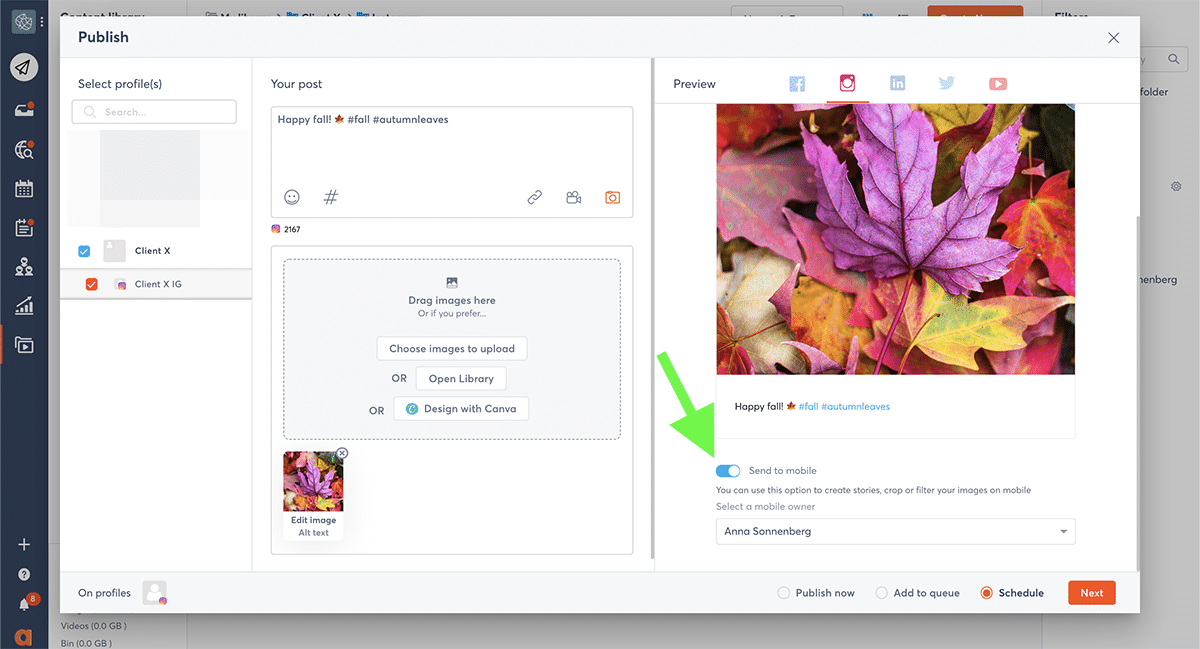 Then proceed with publishing or scheduling your content. At the appropriate time, the team member you selected will get a notification in the Agorapulse mobile app. They can post the content directly to Stories and add stickers, GIFs, or text before publishing.
Confirm Client Approval
Oops, did you need client approval before publishing that Story or feed post?
For many clients, seeing creative assets or reading Instagram captions isn't enough. Instead, they may want to see a preview of the post so they can review all the elements together.
With Agorapulse, you can loop clients in to the content creation process seamlessly.
You could add them as users in your Agorapulse account. But if you have a lot of clients, you probably won't want to give up that many user seats.
In that case, setting up a shared calendar is a better option. Rather than scheduling or publishing content, click the gray Assign button. Then click the link to create a shared calendar.
Select the Instagram accounts that should display in the shared calendar and add contact information for your client. Then click the orange Save button. Once you create a shared calendar, you can assign Instagram posts to anyone with calendar access—even clients.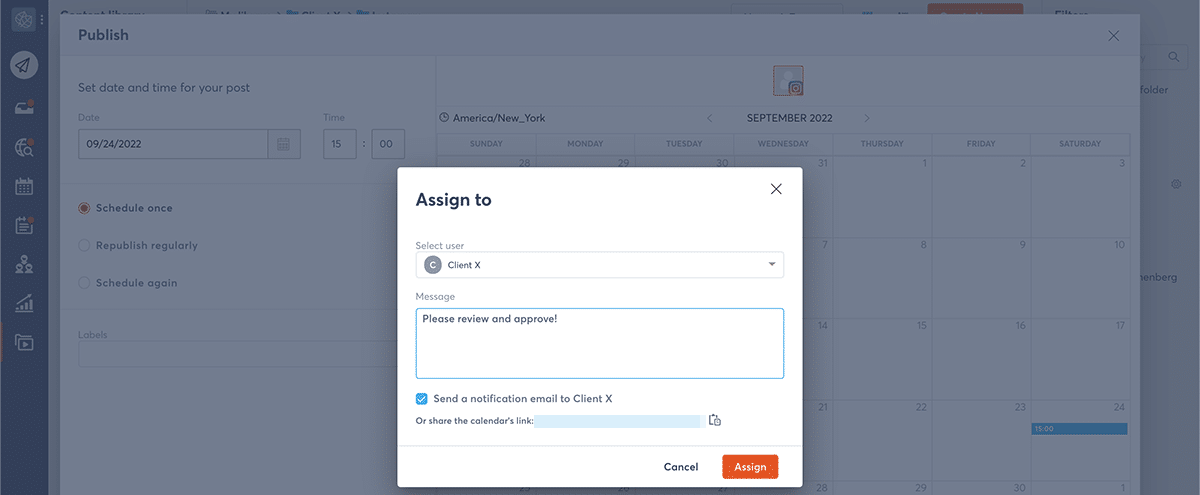 From the shared calendar, your clients can approve posts, write notes, or request edits. Content that you've assigned won't be published until it's approved, so you don't have to worry about mistakes.
Once you give clients access to a shared calendar, they can check it at any time, even if you haven't assigned them any new posts to review. That means they can always see what you've published or planned for their Instagram account.
Switch Between Instagram Inboxes
Did your Instagram posts generate tons of comments and DMs? You can track all your clients' engagement and manage their Instagram inboxes from Agorapulse.
Open your Agorapulse Inbox to see a tally of all the new engagement for each account. Then click any Instagram profile to start sorting through your inbox items.
When you want to reply to comments and DMs, you can do so directly from your Agorapulse inbox. You can also bookmark or label comments and conversations for future reference. For example, you may want to label a DM for follow-up or bookmark a comment to use as a testimonial.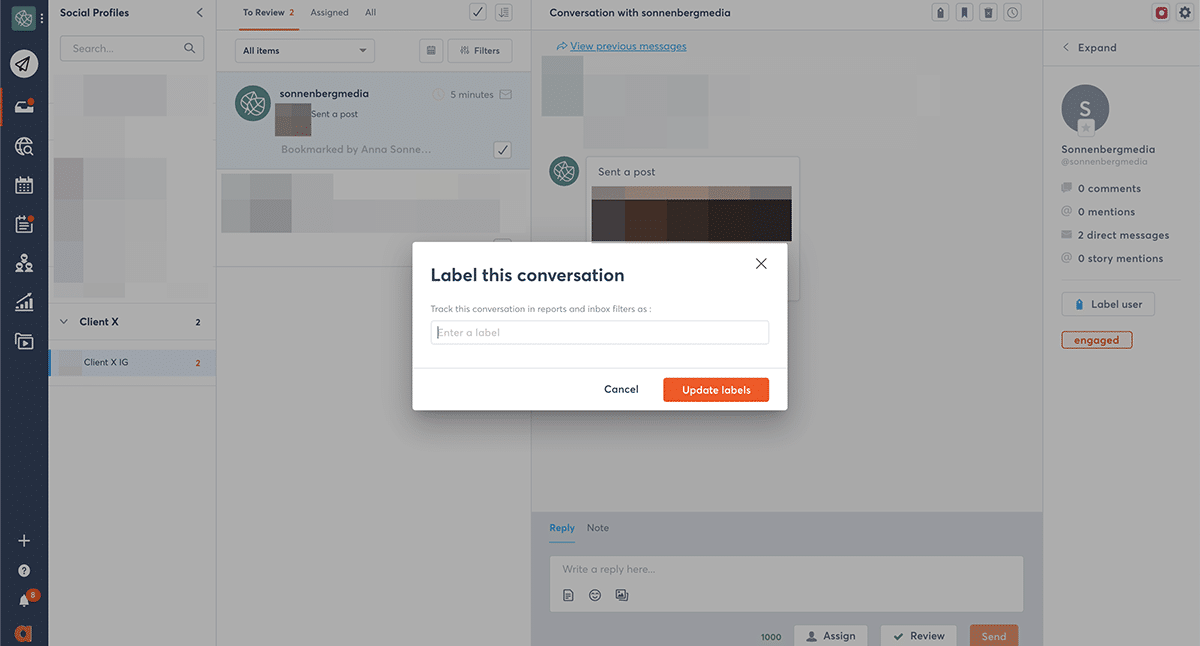 You can also assign any inbox item to a team member. This option works well if you get a tricky question that needs a specialized answer.
If your clients get a lot of Instagram engagement, you may find it helpful to automate part of the process. With Agorapulse's Inbox Assistant, you can automatically review, delete, or assign comments based on keywords and phrases. You can also bookmark or label these inbox items automatically.

From your Agorapulse inbox, you can also keep track of engaged users. This feature is particularly handy if you want to identify loyal customers, potential influencers, or even problematic followers.
To manage users, click to expand the right-hand panel. You can favorite a user or add internal notes for your team to keep everyone on the same page.

When you want to review your list of loyal customers or potential influencers, there's no need to sort through your inbox again. Instead, you can click the Fans & Followers tab to see a full list. You can sort by favorites, specific labels, or even keywords.
Manage Social Listening for Instagram
Do you need to monitor clients' brand reputation on Instagram or keep an eye on their competitors? Head over to Agorapulse's Listening tab to set up social listening for each Instagram account you manage.
Mentions in posts and Stories will automatically appear in the Listening tab. But you'll need to add other hashtags and keywords manually.
Open the listening tools for any Instagram account and click the Create a search link to set up a social listening search. You can monitor up to 30 hashtag searches for each Instagram account, so you have ample space to follow:
Branded hashtags
Campaign hashtags
Industry hashtags
Competitor hashtags

When setting up a hashtag search, you can even check the box to factor it into your brand awareness score (more on that below). This awareness option is especially helpful for tracking the impact of branded and campaign hashtags.
Once you set up hashtag searches, go back to the Listening tab to monitor the results. You can engage with any post your clients' accounts are mentioned in directly in the Listening tab.
Instagram's API doesn't allow third-party apps to support comments on posts that don't mention your clients' accounts. But there's a simple workaround. If you see a social listening item without a mention, click to open and engage with the post on Instagram.
Create Instagram Reports for Clients
Now you've published great Instagram content, responded to engagement, and used listening tools to track what people are saying about your clients on Instagram. But have you met your clients' Instagram marketing goals?
With Agorapulse's social media reports, you can keep track of your progress and continue to optimize your Instagram marketing strategy. Open the Reports tab and select any Instagram account.
Agorapulse automatically tracks essential metrics like:
Audience growth, including total count and variation over time
Audience demographics, including gender, age, and location
Impressions so you can make sure people are seeing the content you post
Engagement, including likes, comments, DMs, and saves
Top content so you can identify what works best for your clients' followers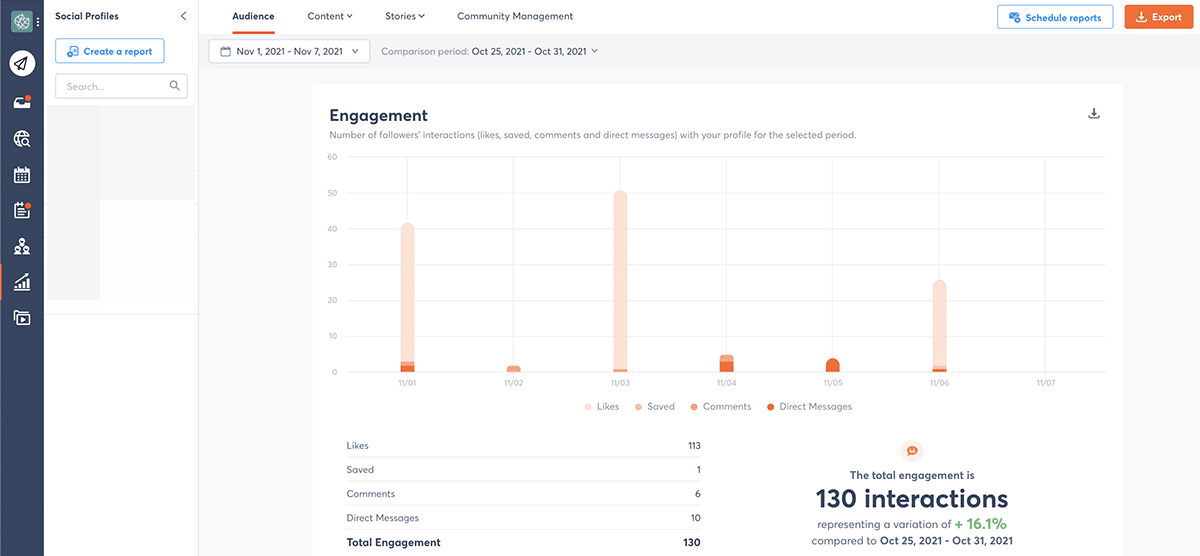 But that's far from the entire report. Agorapulse automatically calculates your clients' brand awareness score using post mentions, Story mentions, and branded hashtags.
The dashboard also keeps track of interactions prompted by hashtags in your posts so you can see which terms generate the most traction for your clients.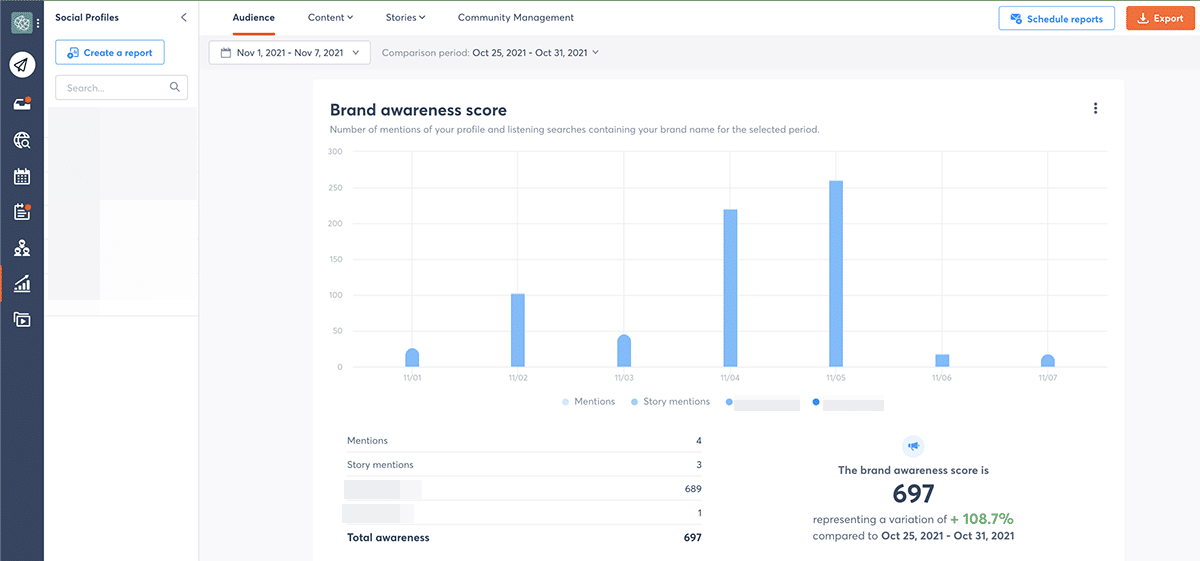 If you've added publishing labels to your posts, you can identify the type of content that works best for your audience. For example, you may find that sharing user-generated content (UGC) generates way more engagement than publishing branded content.

As Agorapulse collects engagement data for your clients' Instagram accounts, it tracks when followers are most likely to respond. You can use Agorapulse's Best day and time to publish charts to schedule content at the ideal time for your clients' audiences.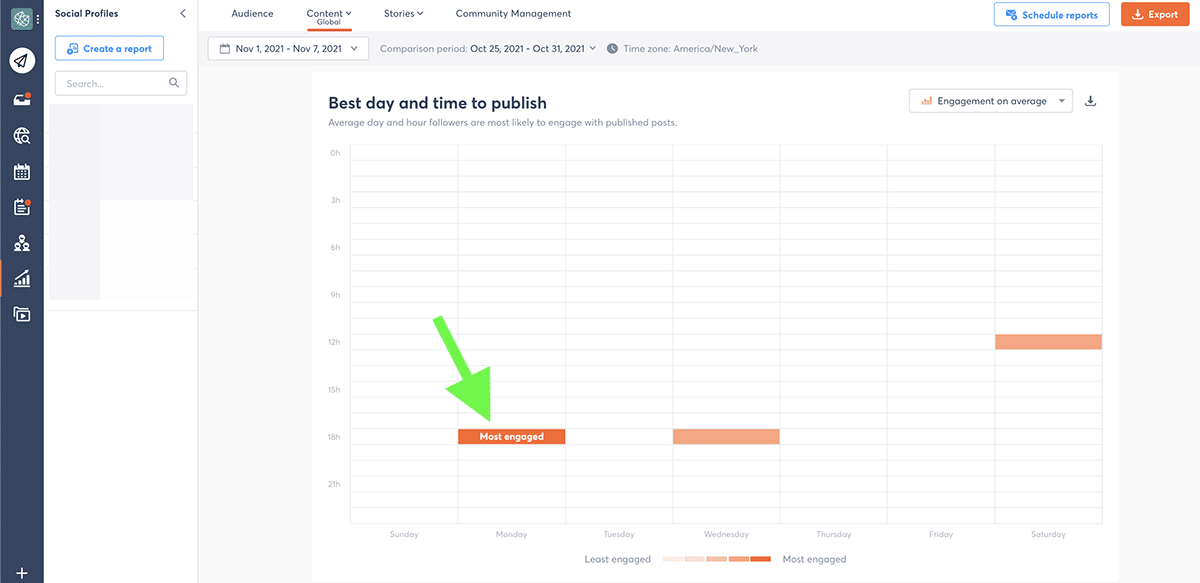 Your team members can easily access these Instagram reports. But what if you want to share them with clients?
Click the Schedule reports button in the upper right corner to send them to clients automatically. You can send every week or month to make sure your clients always have the information they need about their Instagram accounts and your team's results.
In conclusion
For social media marketers, knowing how to manage accounts on Instagram is an essential first step. But when you're responsible for multiple client profiles, you need a social media solution like Agorapulse.
With Agorapulse, you can handle everything from managing team permissions to scheduling Instagram content to preparing reports. That way you can help clients grow their accounts and reach their marketing goals while staying organized, collaborating with your team, and sticking to a time-saving workflow.
Get started on saving time and energy in managing your clients' Instagram accounts! Check out our free trial of Agorapulse to help you schedule, track, and measure all your social media efforts.